Comic Quest Weekly for 1/28/18
PREVIEWS EXCLUSIVE LOBO POP VINYL FIGURES ARRIVE WEDNESDAY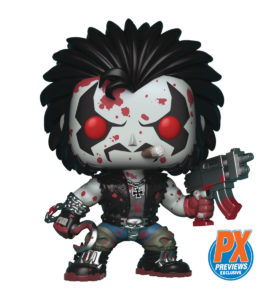 The long awaited Lobo Previews exclusive pop vinyl figures will be in this Wednesday. The classic DC character the "main man" Lobo, is now available as a POP! Vinyl figures! Featuring his signature chain and cigar, Lobo is sculpted holding his gun! Lobo stands about 3 3/4″ tall and comes in a collector-friendly window box. Available in a regular and bloody edition. Each one is 11.99, buy them both for 23.00!
GEMS OF THE MONTH IN THIS WEEK'S PREVIEWS MAGAZINE
There is a new Previews magazine coming in this week!
Gems of the Month: February's PREVIEWS Gems of the Month include:
· Dark Horse Comics' Black Hammer: The Age of Doom #1 and Xerxes: The Fall of the House of Darius and the Rise of Alexander #1(written & drawn by Frank Miller)
· DC Entertainment's Action Comics #1000 and Deathstroke #30(vs Batman)
· IDW Publishing's Sonic the Hedgehog #1-4
· Image Comics's Analog #1 and Isola #1
· Marvel Comics' Venomized #1
Additionally February is Black History Month, and PREVIEWS showcases comics and graphic novels that feature black characters or are created by African-American creators, or describe the black experience in America. There are biographical comics telling the stories of the likes of Nelson Mandela, Jackie Robinson, and Martin Luther King, Jr., and tributes to comic artists like Golden Age great Matt Baker. Look for the Black History Month icon throughout the catalog!
LOOK FOR FREE COMICS AT CQ!
CQ is in the second week of providing free comics when you purchase your weekly comics. If we forget to offer you a free book, please feel free to act. Limit one per person per week with purchase!
SITCOMICS NEXT WEEK!
Our Sitcomics will be arriving next week. These are 64 page comics for the standard $3.99 cover price. If you see these and want any of the titles on a regular basis, let us know and we will place orders for your subscription.
NEW ARRIVALS!
DARK NIGHTS METAL #5 (OF 6) $3.99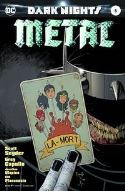 The Justice League faces the final extinguishing of our world, invaded on all sides by unimaginable nightmares, fueled on to the edge of oblivion only by the belief that there must be a light in the endless darkness—somewhere. But…what if there's not?
PHOENIX RESURRECTION RETURN JEAN GREY #5 (OF 5) LEG $4.99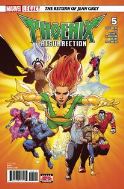 (W) Matthew Rosenberg (A) Khoi Pham (CA) Leinil Francis Yu
A light in the darkness is not always welcome.
Kitty Pryde, Old Man Logan and Cyclops are leading teams of X-Men all across the globe, chasing events connected to the Phoenix. But with teammates disappearing and familiar enemies returning, the X-Men are fighting a losing battle. Beast doesn't know how or what shape it will take, but he knows they are running out of time before the Phoenix makes its true presence known.
Meanwhile, a young woman named Jean is starting to go insane in her peaceful, suburban life. Nightmares and daydreams are spilling over into the world and revealing cracks in her reality. Jean's life and everything in it may just be a facade, but made by who? And why?
Jean needs to escape. The X-Men need to stop the cycle of death the Phoenix brings. Their worlds will violently collide as Jean searches for an opening and the X-Men fight for closure. But when they are brought together, will the X-Men be reunited with their long-lost teammate – or something darker?
FLASH ANNUAL #1 $4.99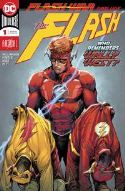 "FLASH WAR" prelude! The biggest Flash story of 2018 starts here, with a special story starring the classic Wally West, who's conflicted over whether to let Iris West know he is alive—and he'll need the help of the Flash to figure out what to do! But when Magenta, Wally's old love, needs his help, the Flash returns home to Keystone City where he is confronted with violent memories of an unknown world…A major turning point for the Flash family that sets the path for earth shattering stories in 2018!
STAR WARS LAST JEDI DJ #1 $4.99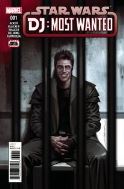 When STAR WARS: THE LAST JEDI takes theaters in FORCE (get it?) this December, Star Wars fans will get a peek into some new dark corners of the Galaxy Far Away…and out of one of those corners scuttles DJ, the mysterious character played by Benecio Del Toro! Who is this mystery man, and what put him in the path of our Resistance heroes? Join Ben Acker & Ben Blacker (Star Wars Join the Resistance, Star Wars: The Last Jedi – The Storms of Crait) and Kev Walker (Star Wars: Doctor Aphra, Darkhawk) as they reveal a day in DJ's life just before his appearance in the film!
JLA DOOM PATROL SPECIAL #1 $4.99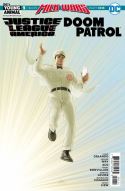 "MILK WARS" part one! Welcome to the un-event of the year! Kicking off a line-wide adventure, DC's Young Animal collides with the DC Universe to bring you a different kind of crossover.
The Doom Patrol has discovered that an interdimensional corporation called RetCo has been stealing stories, reconfiguring them and repackaging them for new markets. Our gang of misfit heroes have felt the touch of this nefarious company, and it has already started to change them. Even scarier, though, is how deeply RetCo has embedded itself into current continuity, using the radioactive milk of psychic cows to quell the more dangerous impulses of the Justice League and turn them into heroes safe for the masses. And to kick this off, RetCo has gone all the way to the top.
Meet Milkman Man, heretofore unknown final son of Krypton, who was sent to our planet to save him from the destruction of his homeworld, only to be adopted by an evil dairy farmer and raised to love all things dairy!
Co-plotted by Steve Orlando and Gerard Way, with art by ACO (MIDNIGHTER), this extra-sized special starts "Milk Wars" with a splash!
Plus, who is Eternity Girl, and how does she connect to this whole scheme? A special four-part back-up feature by Magdalene Visaggio (Kim and Kim) and Sonny Liew (The Art of Charlie Chan Hock Chye) begins here.
STAR WARS DOCTOR APHRA #16 $3.99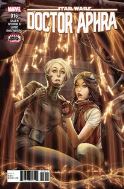 (W) Si Spurrier, Kieron Gillen (A) Emilio Laiso (CA) Ashley Witter
• Tensions are high in this galaxy far, far away for Doctor Aphra.
• She's got a new master holding her reins…and he's a Triple-threat.
• Also – Magna Tolvan. Friend or foe?!
THIS WEEK IN TOYS/STATUES
FRIDAY THE 13TH 7IN ULT PART 3 JASON AF $26.99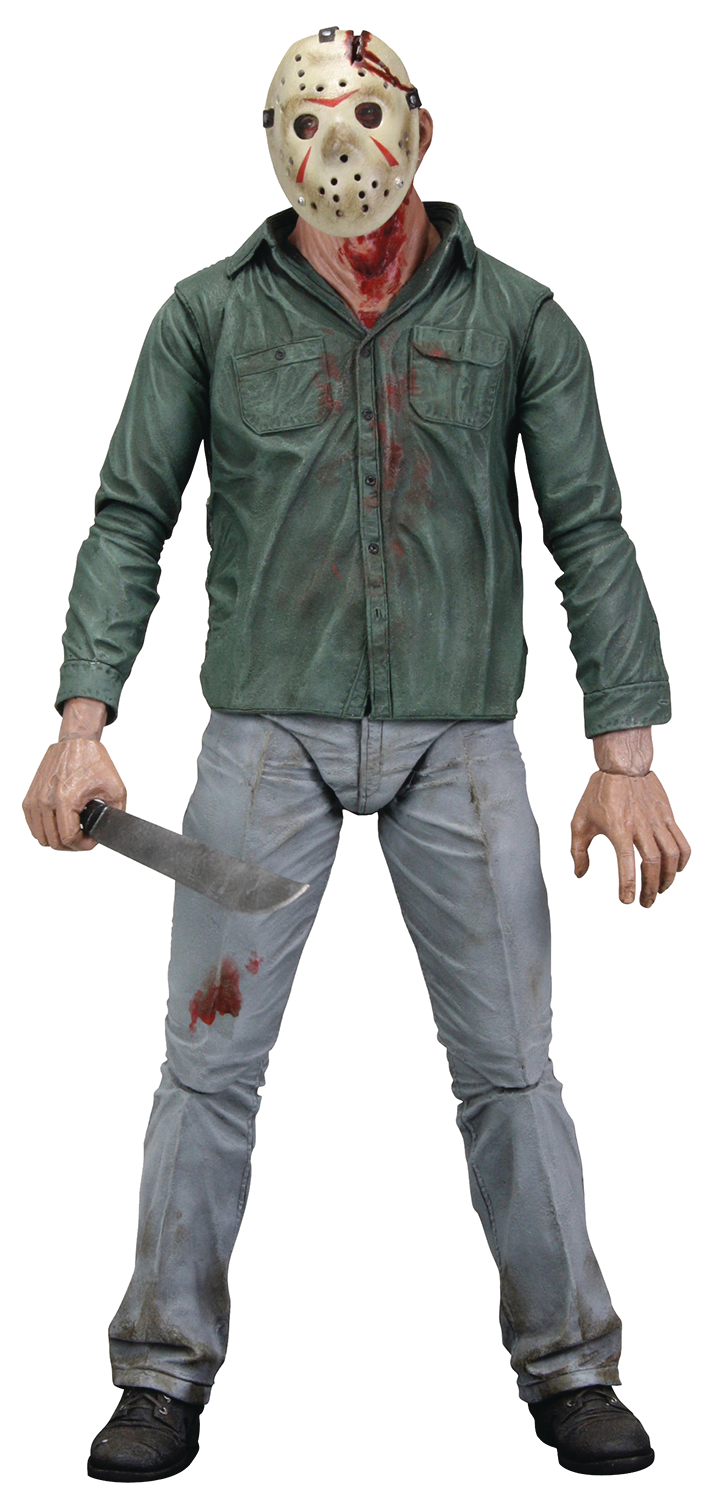 For horror fans, Friday the 13th Part III was a landmark event: not only was it the first appearance of Jason's now-iconic hockey mask, it was initially released in theaters as a 3D movie! NECA is proud to present the definitive collector's version of Jason as he appeared in the 1982 film. This deluxe 7″ scale action figure features over 25 points of articulation and is packed with accessories. It comes with two masks, two interchangeable head sculpts, pitchfork, wrench, knife, fire poker, harpoon gun, machete, and axe. The packaging is deluxe too, with a lenticular front window flap in honor of the film's 3D release!
GAME OF THRONES DAENERYS TARGARYEN 1/6 SCALE FIG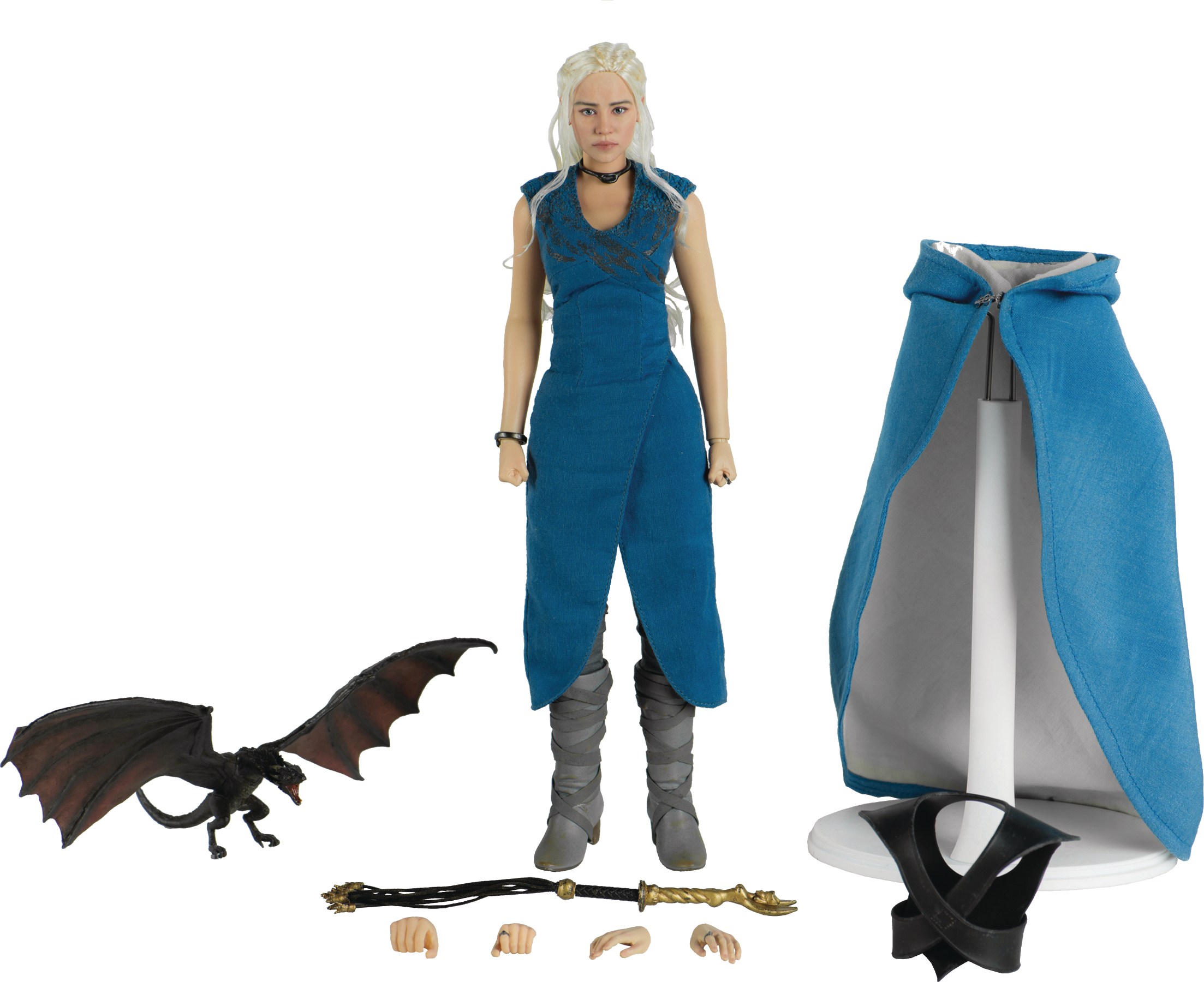 ThreeZero presents Game of Thrones' beautiful and powerful Daenerys Targaryen as an articulated 1/6 scale figure.
This incredible figure features soft PVC on her arms and torso and platinum blonde rooted fabric hair. She includes real fabric tailored clothing like her cloak, tunic, pants, and vest, her necklace, the whip given to her by Kraznys, and 6 interchangeable hands.
Of course, Daenerys also comes with a resin 3.5-inch Drogon, her faithful dragon.
Game of Thrones fans should not miss out on this highly detailed figure.
LIVING DEAD DOLLS IT 1990 PENNYWISE DOLL $49.99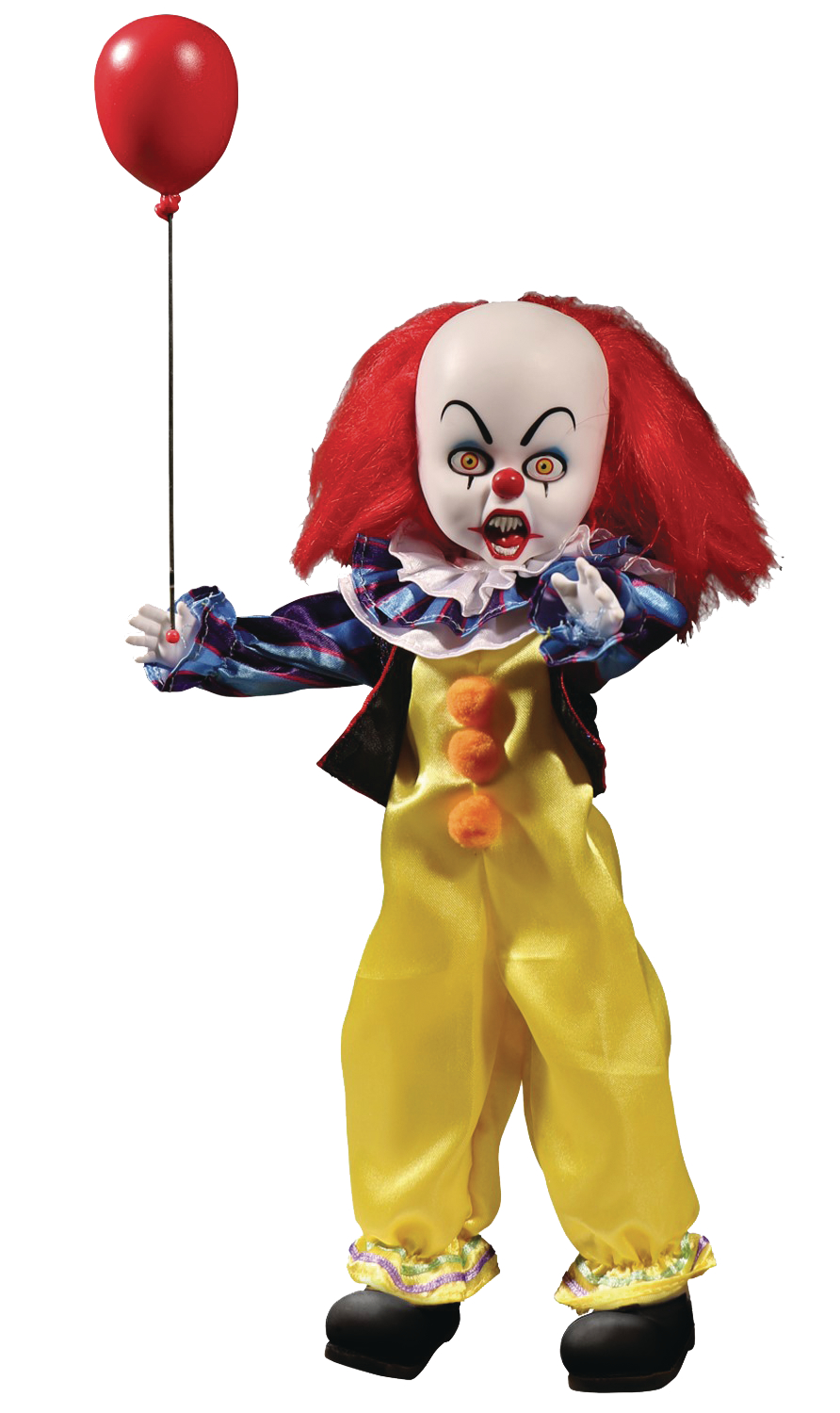 He's every nightmare you've ever had, your worst dream come true. He's everything you ever were afraid of. He's Pennywise the clown, and now he's a Living Dead Doll.
From the depths of the sewers beneath Derry comes the terrifying villain of It the movie, Pennywise. Resplendent in his brightly colored satiny clown suit, Pennywise is literally the stuff of nightmares. From his oversized clown shoes to his shock of bright red hair, great care has been taken to capture not just the look but the essence of the character. One look at his fang-like teeth is enough to know this clown is no laughing matter. Pennywise comes with his trademark crimson balloon…because down here, everything floats.
The Living Dead Dolls Presents IT 1990: Pennywise stands 10 inches tall, and has 5 points of articulation. He features real cloth clothing and comes with his red balloon. He is packaged in a custom die-cut window box perfect for display.
MARVEL SELECT THOR RAGNAROK GLADIATOR HULK AF $24.99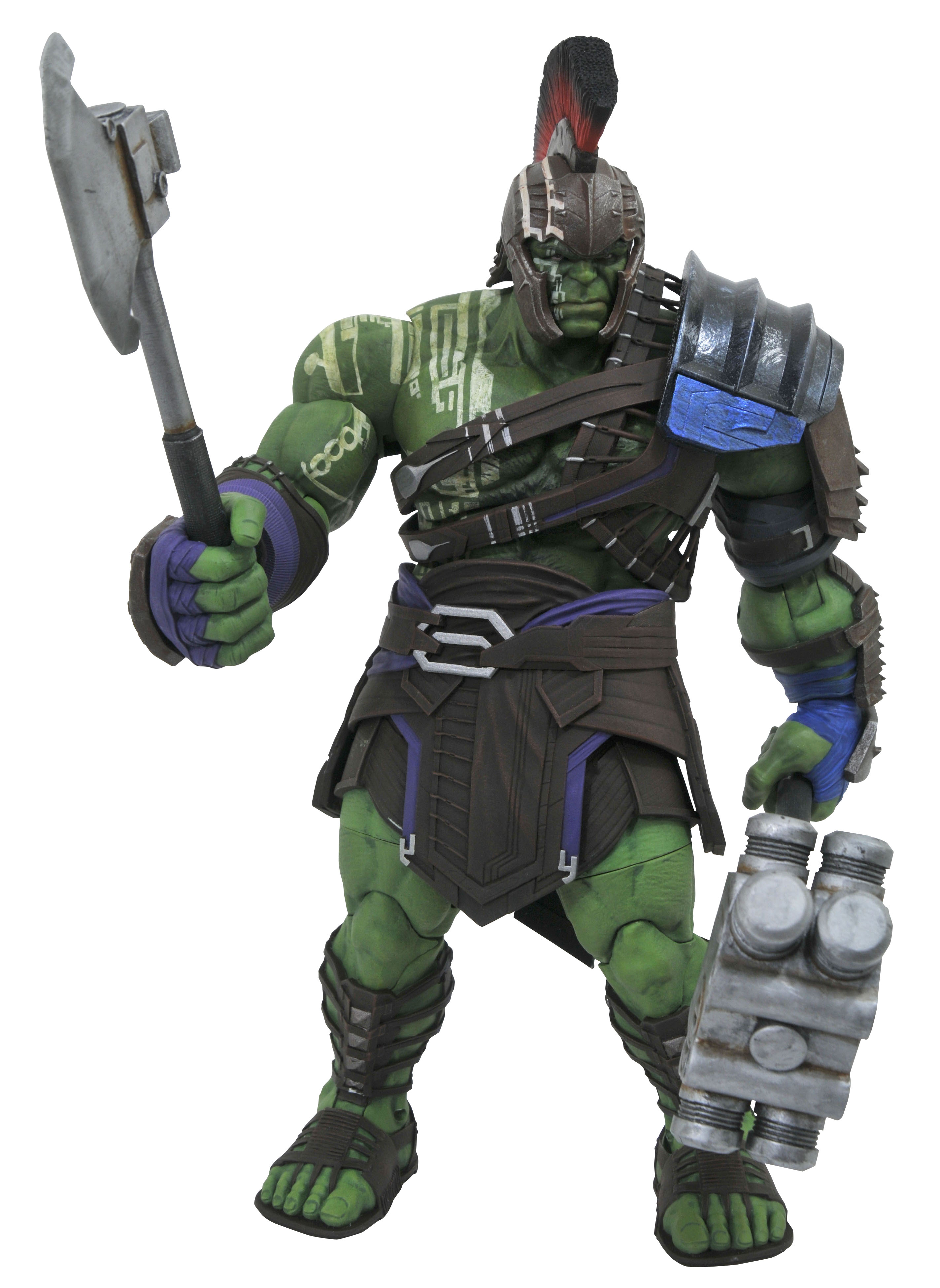 A Diamond Select Toys release! They're friends from work! Send your Marvel Select collection to the distant reaches of the galaxy with these two new 7-inch scale action figures based on the new Marvel Studios film, Thor: Ragnarok! Depicting Thor and the Hulk in their gladiator gear, each figure features 16 points of articulation and includes weapons seen in the film. Each figure comes packaged in the famous Select action figure packaging, with side panel artwork for shelf reference. Sculpted by Gentle Giant!
Trade-paperbacks of the Week!
MYSTERY MEN TP GOLDEN AGE $19.99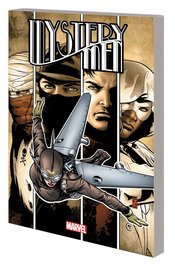 (W) David Liss (A) Jason Armstrong (A/CA) Patrick Zircher
Meet Marvel's never-before-seen heroes of the 1930s! With a new evil washing over an unsuspecting New York City, the Operative, the Aviatrix, the Surgeon, the Revenant and Achilles blast through dangers from blood-soaked mob warehouses to monster-infested mansions, and fight to blow the lid off a conspiracy that could bring the nation itself to its knees! Award-winning historical-thriller novelist David Liss (BLACK PANTHER: THE MAN WITHOUT FEAR) weaves an edge-of-your-seat and in-continuity adventure intertwined with America's most scandalous crimes! Plus: Liss takes on classic Golden Age hero the Phantom Reporter! By day, he's a cub reporter – by night, he's the relentless scourge of the underworld! But what is the Reporter's uncanny origin? Collecting MYSTERY MEN #1-5 and DARING MYSTERY COMICS 70TH ANNIVERSARY SPECIAL.
INHUMANS VS X-MEN TP $34.99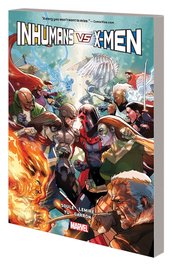 (W) Charles Soule, Jeff Lemire (A) Kenneth Rocafort, Javi Garron (A/CA) Leinil Francis Yu
The X-Men and Inhumans have been on a collision course ever since the link was proven between the Inhumans' precious Terrigen Mist and the sickness and death afflicting mutants worldwide. And when the Beast discovers that mutantkind has only two weeks left before Earth becomes completely uninhabitable for them, an Inhuman/mutant war is unavoidable! It all begins with one choice, and the world will never be the same! New Attilan comes under attack, and the Inhumans won't surrender without a fight – but when the X-Men target the Terrigen cloud, will that mean the end of the line for the entire Inhuman legacy? Karnak vs. Fantomex! Emma Frost vs. Medusa! The NuHumans vs. Magneto! IVX delivers sensational set pieces and gargantuan grudge matches that promise to shatter the Marvel Universe as you know it! Collecting IVX #0-6.
BLACK LIGHTNING TP VOL 02 $19.99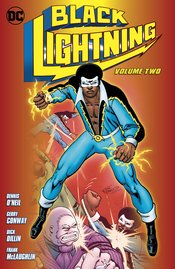 (W) Dennis O'Neil, Gerry Conway, Martin Pasko, J.M DeMatteis, Paul Kupperberg (A) Dick Dillin, George Tuska, Rich Buckler, Marshall Rogers, Pat Broderick, Frank Chiaramonte, Bob Smith, Romeo Tanghal, Mike Nasser, Vince Colletta, Frank McLaughlin, Joe Staton, Dick Giordano, Gerald Forton (CA) Jim Aparo
Presenting never-before-reprinted adventures of Jefferson Pierce, a.k.a. Black Lightning, from the pages of BRAVE AND THE BOLD #163, DC COMICS PRESENTS #16, DETECTIVE COMICS #490-491, 494-495, JUSTICE LEAGUE OF AMERICA #173-174, WORLD'S FINEST COMICS #265-259, 261. Cover by Jim Aparo.
KILL THE MINOTAUR TP $19.99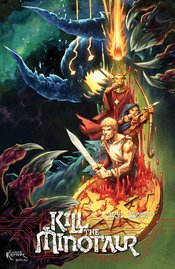 (W) Chris Pasetto, Christian Cantamessa (A/CA) Lukas Ketner
Athens lost the war to Crete. Now, they pay tribute to King Minos by sacrificing their best citizens to his unearthly labyrinth. Conspirators believe Theseus can be the hero they need, who can end the mad king's bloody reign…but no one on this world has ever encountered anything like the savage minotaur. CHRIS PASETTO, CHRISTIAN CANTAMESSA (Red Dead Redemption) and LUKAS KETNER (WITCH DOCTOR) reinvent the most fearsome beast in all of mythology with this horrific tale of heroism. Collects KILL THE MINOTAUR #1
MASTER LIST OF STUFF ARRIVING THIS WEEK!
9/11 GN (MR) $9.99
ALL NEW WOLVERINE #30 LEG 3.99
ALL TIME COMICS BLIND JUSTICE #2 MAIN & MIX CVRS 5.99
AMAZING SPIDER-MAN RENEW YOUR VOWS #15 LEG 3.99
AMORY WARS GOOD APOLLO #10 (OF 12) 3.99
ANIMOSITY #12 3.99
AQUAMAN IS FAIR YR PICTURE BOOK 4.95
ASPEN LEGACY 15TH ANNIVERSARY (ONE SHOT) 0.15
ASTRO CITY #50 3.99
AVENGERS #678 LEG 3.99
BATMAN IS TRUSTWORTHY YR PICTURE BOOK 4.95
BEAUTY #19 CVR B RIVAS 3.99
BEN REILLY SCARLET SPIDER #13 LEG 3.99
BEN REILLY SCARLET SPIDER TP VOL 02 DEATHS STING 15.99
BIG TROUBLE IN LITTLE CHINA OLD MAN JACK #5 3.99
BIG TROUBLE IN LITTLE CHINA OLD MAN JACK #5 SUB 3.99
BLACK LIGHTNING TP VOL 02 19.99
BONEHEAD #2 3.99
BRIGGS LAND TP VOL 02 LONE WOLVES 19.99
CAPTAIN MARVEL #128 LEG 3.99
CARTOONS MAGAZINE #13 5.99
CASPER THE FRIENDLY GHOST #1 ROPP CVR (O/A) 3.99
DARK ARK #5 3.99
DARK NIGHTS METAL #5 (OF 6) 3.99
DARK NIGHTS METAL #5 (OF 6) DANIEL VAR ED 3.99
DARK NIGHTS METAL #5 (OF 6) KUBERT VAR ED 3.99
DBZ TIEN SHINHAN S.H.FIGUARTS AF
DC SUPER HERO GIRLS DATE WITH DISASTER TP 9.99
DEATHSTROKE ANNUAL #1 4.99
DEFENDERS #9 LEG 3.99
DESPICABLE DEADPOOL #293 LEG 3.99
DETECTIVE COMICS ANNUAL #1 4.99
DOCTOR WHO 10TH YEAR THREE #13 CVR A ZANFARDINO 3.99
DOCTOR WHO 10TH YEAR THREE #13 CVR B PHOTO 3.99
DOCTOR WHO 11TH SAPLING TP VOL 01 GROWTH 16.99
DRAGONBALL SCULTURES LAUNCH SPEC VER FIG
DREW FRIEDMAN`S CHOSEN PEOPLE HC 19.99
ETERNITY #4 CVR A DJURDJEVIC 3.99
ETERNITY #4 CVR B MULLER 3.99
ETERNITY #4 CVR E PRE-ORDER BUNDLE ED 3.99
FALCON #4 LEG 3.99
FLASH ANNUAL #1 4.99
FLASH IS CARING YR PICTURE BOOK 4.95
FRIDAY THE 13TH 7IN ULT PART 3 JASON AF 26.99
GALAKTIKON #4 3.99
GAME OF THRONES DAENERYS TARGARYEN 1/6 SCALE FIG
GETTER ROBO MOE GETTER ROBO GETTER-1 FIG 59.99
GFT TAROT #4 CVR A RIVEIRO 3.99
GFT TAROT #4 CVR B 3.99
GFT TAROT #4 CVR C 3.99
GFT TAROT #4 CVR D MYCHAELS 3.99
GOD COMPLEX #4 (MR) 3.99
GODDAMNED OVERSIZED HC 19.99
GODSHAPER TP 19.99
GOT TITANS NIGHT KING & WHITE WALKER 3IN VIN FIG 2PK 18.99
GRAVETRANCERS #2 3.99
GREEN LANTERN IS RESPONSIBLE YR PICTURE BOOK 4.95
GREGORY AND THE GARGOYLES HC VOL 02 (OF 3) 14.95
GRIMM TALES OF TERROR 2017 B&W ONE SHOT A CVR QUALANO 5.99
GRIMM TALES OF TERROR 2017 B&W ONE SHOT B CVR ORTIZ 5.99
GRIMM TALES OF TERROR 2017 B&W ONE SHOT C CVR MALSUNI 5.99
HACK SLASH RESURRECTION #4 CVR A SEELEY 3.99
HACK SLASH RESURRECTION #4 CVR B DEYN 3.99
HARLEY QUINN #36 2.99
HARLEY QUINN #36 VAR ED 2.99
HUNGRY GHOSTS #1 (OF 4) 3.99
INCREDIBLE HULK #712 LEG 3.99
INHUMANS VS X-MEN TP 34.99
INVINCIBLE IRON MAN #596 LEG 3.99
JEAN GREY #11 LEG 4.99
JESSICA JONES #16 LEG 3.99
JLA DOOM PATROL SPECIAL #1 4.99
JOE GOLEM OCCULT DETECTIVE OUTER DARK #5 3.99
JOSIE & THE PUSSYCATS TP VOL 02 12.99
JUSTICE LEAGUE YR TP BIZARRO & DOPPELGANGERS OF DOOM 5.95
JUSTICE LEAGUE YR TP BLACK ADAM & ETERNITY WAR 5.95
JUSTICE LEAGUE YR TP GORILLA GRODD & PRIMATE PROTOCOL 5.95
JUSTICE LEAGUE YR TP JOKER & HARLEY QUINNS JAILHOUSE 5.95
KILL THE MINOTAUR TP 19.99
KITARO GN VOL 05 VAMPIRE SLAYER 12.95
LAZARETTO #5 (OF 5) 3.99
LEGION SON OF X TP VOL 01 PRODIGAL 15.99
LIVING DEAD DOLLS IT 1990 PENNYWISE DOLL 49.99
LOVE MACHINES HC 19.99
MAGES OF MYSTRALIA TP 10.99
MARVEL GALLERY NETFLIX JESSICA JONES PVC FIG 45
MARVEL SELECT THOR RAGNAROK GLADIATOR HULK AF 24.99
MATT WAGNER GRENDEL TALES OMNIBUS TP VOL 02 24.99
MAXWELLS DEMONS #2 (OF 5) 3.99
MIGHTY THOR #703 LEG WW 3.99
MINE CELEBRATION OF LIBERTY & FREEDOM FOR ALL GN 24.95
MOON GIRL AND DEVIL DINOSAUR #27 LEG 3.99
MOON KNIGHT #191 LEG 3.99
MOTHERLANDS #1 (OF 6) 3.99
MOTHERLANDS #1 (OF 6) VAR ED 3.99
MY LITTLE PONY FRIENDSHIP IS MAGIC #62 CVR A PRICE 3.99
MY LITTLE PONY FRIENDSHIP IS MAGIC #62 CVR B RICHARD 3.99
MYSTERY MEN TP GOLDEN AGE 19.99
MYSTERY MINIS WB SATURDAY MORNING CARTOONS 12PC BMB DISP
MYSTIK U #2 (OF 3) 5.99
NEW TEEN TITANS THE JUDAS CONTRACT DLX ED HC 29.99
OLD MAN LOGAN #34 LEG 3.99
ONE PIECE THOUSAND SUNNY GRAND SHIP MDL COLL MEMORIAL VER
OUTCAST BY KIRKMAN & AZACETA #33 3.99
OVERTAKEN #5 (OF 5) DIRECT MARKET 3.99
OZ GN VOL 01 GATHERING OF HEROES 16.99
PHOENIX RESURRECTION RETURN JEAN GREY #5 (OF 5) LEG 4.99
POP 8-BIT HORROR FREDDY KRUEGER VINYL FIGURE 11.99
POP 8-BIT HORROR JASON VOORHEES VINYL FIGURE 11.99
POP 8-BIT TMNT LEONARDO VINYL FIGURE 11.99
POP 8-BIT TMNT MICHELANGELO VINYL FIGURE 11.99
POP BOB ROSS WITH RACCOON VINYL FIGURE 11.99
POP BUFFY THE VAMPIRE SLAYER 25TH XANDER VINYL FIGURE 11.99
POP DRAGON BALL SUPER FUTURE TRUNKS VINYL FIGURE 11.99
POP DRAGON BALL SUPER GOKU BLACK VINYL FIGURE 11.99
POP DRAGON BALL SUPER ZAMASU VINYL FIGURE 11.99
POP HEROES LOBO PX VINYL FIGURE 11.99
POP HEROES LOBO PX VINYL FIGURE BLOODY 11.99
POP JAMES BOND SEAN CONNERY WHITE TUXEDO VINYL FIGURE 11.99
POP MAD MAX FURY ROAD CAPABLE VINYL FIGURE 11.99
POP MAD MAX FURY ROAD COMA DOOF VINYL FIGURE 11.99
POP MAD MAX FURY ROAD FURIOSA VINYL FIGURE 11.99
POP MAD MAX FURY ROAD MAX W/GUN VINYL FIGURE 11.99
POP MAD MAX FURY ROAD VALKYRIE VINYL FIGURE 11.99
POP NBA GORDON HAYWARD VINYL FIGURE 11.99
POP NBA JOEL EMBIID VINYL FIGURE 11.99
POP TEEN TITANS GO MAMMOTH VINYL FIGURE 11.99
POWERPUFF GIRLS BUREAU OF BAD #3 (OF 3) CVR A 3.99
POWERPUFF GIRLS BUREAU OF BAD #3 (OF 3) FUNKO 3.99
PREVIEWS #353 FEBRUARY 2018 3.99
PUNISHER PLATOON #5 (OF 6) 3.99
QUANTUM & WOODY (2017) #2 CVR A TEDESCO 3.99
QUANTUM & WOODY (2017) #2 CVR B ULTRA FOIL SHAW 3.99
QUANTUM & WOODY (2017) #2 CVR C BLANK CVR 3.99
QUANTUM & WOODY (2017) #2 PRE-ORDER BUNDLE ED 3.99
REACTOR #2 (OF 4) 3.99
REALM #5 CVR A HAUN & FILARDI 3.99
REALM #5 CVR B FRISON 3.99
REDLINE TP VOL 01 19.99
REGULAR SHOW TP VOL 10 14.99
RICHARD STARKS PARKER SLAYGROUND TP 14.99
RICK & MORTY #34 3.99
RICK & MORTY #34 VAR 3.99
RIVERDALE (ONGOING) #10 CVR A CW PHOTO 3.99
RIVERDALE (ONGOING) #10 CVR B CW PHOTO 3.99
ROBOCOP VS THE TERMINATOR ULTIMATE FUTURE ROBOCOP AF 26.99
ROYALS TP VOL 02 JUDGEMENT DAY 19.99
SAILOR MOON SAILOR JUPITER S.H.FIGUARTS AF SUPER SAILOR VER
SAMURAI JACK QUANTUM JACK #4 (OF 5) CVR A 3.99
SAMURAI JACK QUANTUM JACK #4 (OF 5) CVR B 3.99
SAUCER STATE TP 19.99
SILENCER #1 2.99
SPACE RIDERS GALAXY OF BRUTALITY #4 3.99
SPARRING GIL KANE SC DEBATING HISTORY AESTHETICS 22.99
SPAWN #282 CVR A ALEXANDER 2.99
SPAWN #282 CVR B B&W ALEXANDER 2.99
SPIDER-GWEN #28 LEG 3.99
SPIDER-MAN HOMECOMING S.H.FIGUARTS AF HOME MADE SUIT VER
SPIDER-MAN HOMECOMING SPIDER-MAN 1/4 SCALE AF 129.99
STAR TREK BOLDLY GO #16 CVR A HERNANDEZ 3.99
STAR TREK BOLDLY GO #16 CVR B FUNKO MARTIN 3.99
STAR WARS ADV FORCES OF DESTINY ROSE & PAIGE CVR A 3.99
STAR WARS ADV FORCES OF DESTINY ROSE & PAIGE CVR B 3.99
STAR WARS DOCTOR APHRA #16 3.99
STAR WARS DOCTOR APHRA #16 REIS GALACTIC ICON VAR 3.99
STAR WARS LAST JEDI DJ #1 4.99
STAR WARS LAST JEDI DJ #1 JOHNSON VAR 4.99
STAR WARS LAST JEDI DJ #1 MOVIE VAR 4.99
STAR WARS LAST JEDI DJ #1 REIS VAR 4.99
STEVE CANYON HC VOL 08 1961-1962 49.99
STREET FIGHTER VS DARKSTALKERS #8 (OF 8) CVR A HUANG 3.99
STREET FIGHTER VS DARKSTALKERS #8 (OF 8) CVR B LEWIS 3.99
STRETCH ARMSTRONG & FLEX FIGHTERS #1 (OF 3) CVR A 3.99
STRETCH ARMSTRONG & FLEX FIGHTERS #1 (OF 3) CVR B 3.99
SUPERMAN IS A GOOD CITIZEN YR PICTURE BOOK 4.95
SUPERMAN THE COMING OF THE SUPERMEN TP 16.99
SUPERMAN YOU CHOOSE YR STORIES APOKOLIPS INVASION 6.95
SUPERMAN YOU CHOOSE YR STORIES METALLO ATTACKS 6.95
SUPERMAN YOU CHOOSE YR STORIES METROPOLIS MAYHEM 6.95
SUPERMAN YOU CHOOSE YR STORIES SUPERMAN DAY DISASTER 6.95
AVENGERS #678 DAUTERMAN YOUNG GUNS VAR 3.99
SWEET DREAMS SUPERGIRL YR HC 15.95
TALES OF SUSPENSE #101 (OF 5) LEG 3.99
TAROT WITCH OF THE BLACK ROSE #108 2.95
THANOS #13 2ND PTG SHAW VAR LEG 3.99
THE BEAUTIFUL DEATH (STATIX) #5 (OF 5) 3.99
UBER INVASION #11 BLITZKREIG CVR 3.99
UBER INVASION #11 WRAP CVR 3.99
VENOM TP VOL 03 LETHAL PROTECTOR BLOOD IN THE WATER 15.99
VIOLENT LOVE TP VOL 02 HEARTS ON FIRE 16.99
VOID TRIP #3 (OF 5) 3.99
VOLTRON LEGENDARY DEFENDER TP VOL 02 PILGRIMAGE 14.99
WALKING DEAD 144 PIECE BUTTON ASST SER 2
WALT DISNEY COMICS & STORIES #741 CVR A KELLY 5.99
WALT DISNEY COMICS & STORIES #741 CVR B FUNKO FROST 5.99
WAYWARD TP VOL 05 TETHERED SOULS 17.99
WEIRD WORLD OF LAGOOLA GARDNER 10
WEREWOLF BY NIGHT COMPLETE COLLECTION TP VOL 02 39.99
WONDER WOMAN IS RESPECTFUL YR PICTURE BOOK 4.95
X-MEN GOLD ANNUAL #1 LEG 4.99
YAMATO 2202 ANDROMEDA MECHA COLLECTION MDL KIT
YU GI OH 3IN1 TP VOL 13 14.99
ZOMBIES ASSEMBLE MANGA TP VOL 02 14.99
We hope to see you soon at CQ!
Visit us at 2260 Morgan Avenue, Evansville
On the web at www.comicquest.com
On Facebook www.facebook.com/comicquestevansville
On Twitter @cqevansville
On Instagram: @comicquestevansville
Contact us at sales@comicquest.com or by phone at 812-474-1133