Comic Quest Weekly for 1/7/18
COMIC QUEST IS LAUNCHING WEEKLY FREE COMIC BOOK PROGRAM!
Beginning next Wednesday 1/10/18, Comic Quest will be launching a weekly free comic book program. To get one free comic book per week just ask what the current book we are giving away that week. We are offering one free comic book per week, per person with any purchase. The free books given away will be books we have chosen to donate to this program which we will pull from existing overstock. Sorry, we can only offer one book rather than a selection of books each week. We certainly understand that not everyone will want the particular book we happen to be giving away that week but we hope that this will encourage you to peruse different types of books that you may not be aware of.
Ten Exciting Comics To Look Out For In 2018
Infinity Countdown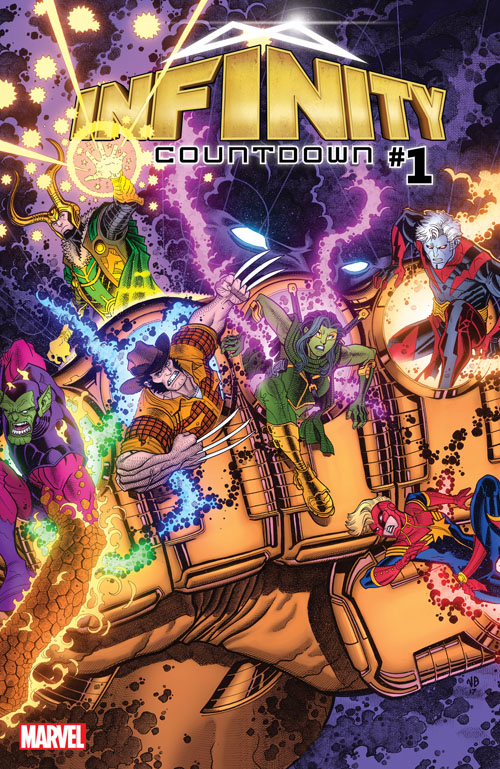 All-New Guardians of the Galaxy's creative team of Gerry Duggan and Aaron Kuder join the rest of Marvelites worldwide by eagerly counting down to "Infinity"…with Infinity Countdown #1 the beginning of a larger event starting in spring 2018.
Similar to the upcoming Marvel Studios release, Infinity Countdown is a saga involving the six Infinity Stones. That's right. If you thought the Infinity Stones were lost forever then you were mistaken. They've reappeared into the hands of some of the 616's mightiest heroes. But that also means that the Power Stone is up for grabs. Get ready for a 5-part epic that rebalances the distribution of power in the Marvel Universe when Infinity Countdown #1 throws down the gauntlet!
Wonder Woman Earth One Vol. 2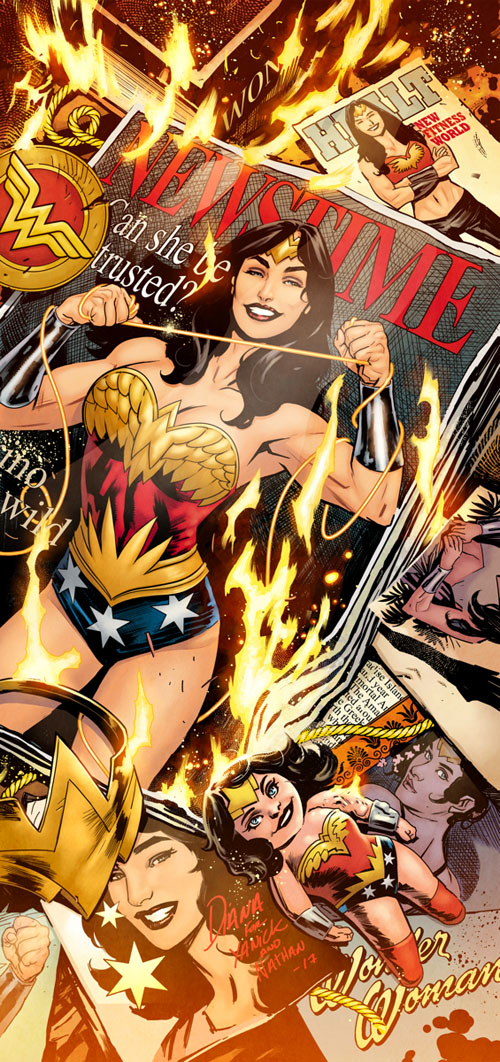 Arriving in August of 2018, Grant Morrison and Yanick Paquette return for the second installment of a proposed trilogy with Wonder Woman: Earth One Vol. 2.Having officially left Paradise Island to set foot in the "world of man", Diana Prince now has to contend with a distrusting American government and Morrison's reimagining of Nazi spy Paula von Gunter — a throwback to Wonder Woman comics of the 1940s.
Vampironica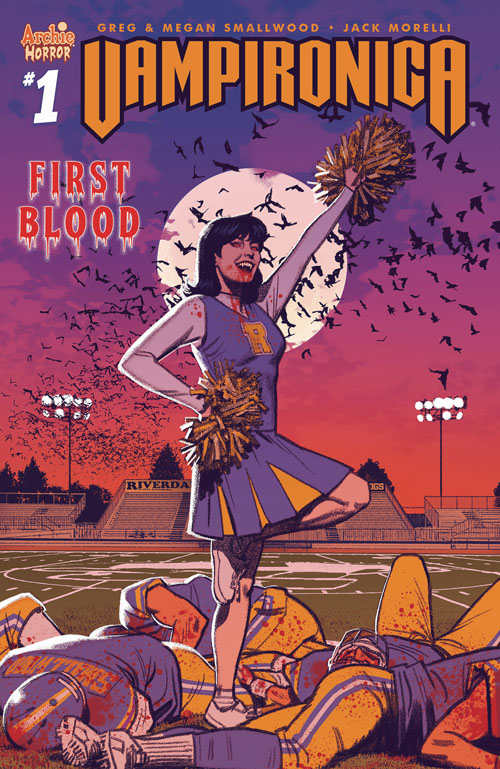 In the growing tradition of Afterlife with Archie, Jughead: The Hunger, and The Chilling Adventures of Sabrina, comes Vampironica #1 from Archie Comics. The royal of Riverdale brings a new meaning to "school sucks" when an encounter with an ancient vampire transforms her into a bloodsucker with eternal life instead of a teeth sucker with no credit limit. But one has to wonder: what exactly does this mean for her sometimes best friend oftentimes enemy Betty Cooper? Yikes!
Rick and Morty Presents: The Vindicators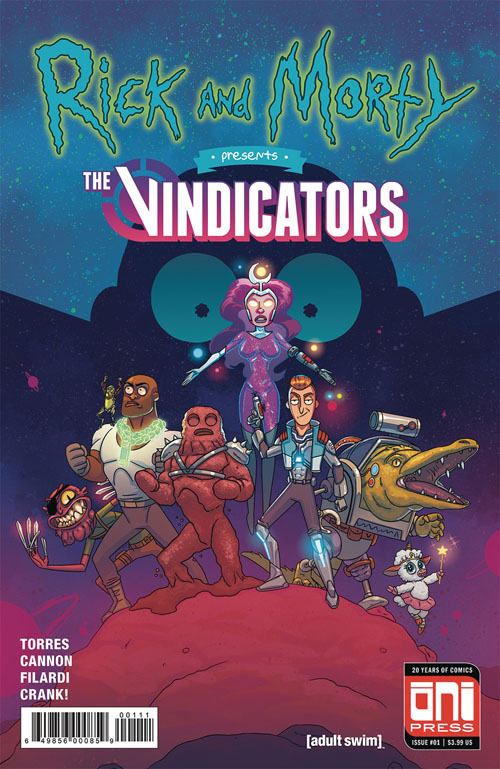 The Rick and Morty TV show loves to take playful shots at pop culture as often as it can (and it can quite often), but season 3's jab at the DC and Marvel movie-verses (respectfully) was so good that it needed a second life beyond Cartoon Network. And that's exactly what you get with Oni Press' upcoming spin-off title Rick and Morty Presents: The Vindicators #1 .
With contributions by J. Torres (Teen Titans Go), Mags Vissagio (Kim & Kim), and more, you can expect a very meta satire of the superhero genre on its home turf.
Jim Henson's Labyrinth: Coronation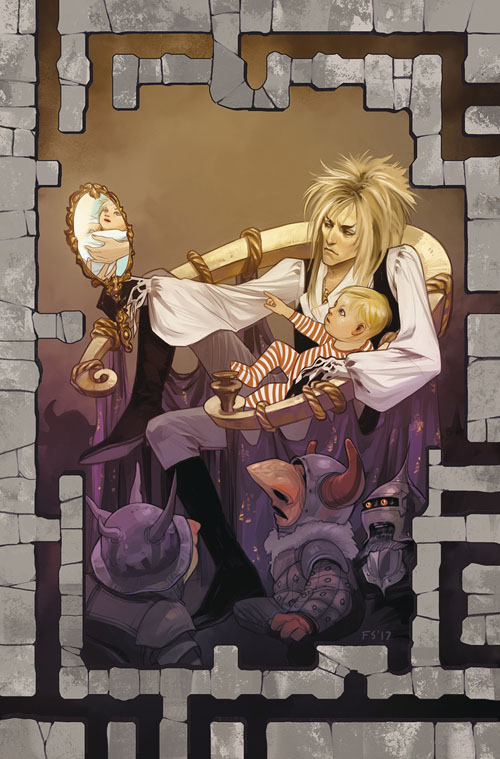 Even in the absence of both David Bowie and Jim Henson, the film Labyrinth continues to live on. Now, writer Simon Spurrier (X-Men Legacy) continues the tale started by the 1986 film with Jim Henson's Labyrinth: Coronation #1 . Promising to reveal the untold history of the Goblin King, Spurrier and artist Daniel Bayliss put readers smack dab inside Jareth's court.
Hey! Actually, if you want more on Jim Henson's Labyrinth: Coronation, check out our exclusive interview with Simon Spurrier .
Relay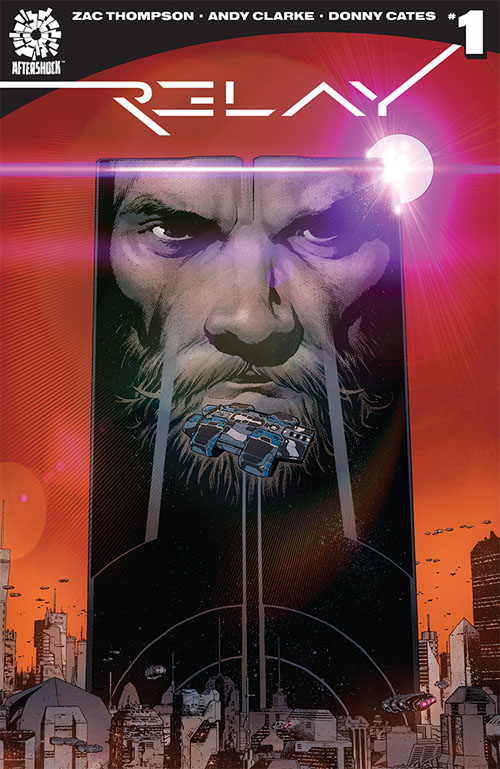 Making its official debut during Free Comic Book Day 2018 on May 5th, Relay #1 from AfterShock Comics is all about the dangers of conformity. The Galactic Relay, a monolithic structure, colonizes new planets with the questionable intent of unifying what's considered uncivilized cultures. But what is the Galactic Relay? Where did it come from? Why should anyone trust it?
Careful. The truth of its origin might feel more like reality than science fiction…
From fan-favorite scribe Donny Cates and The Dregs' Zac Thompson with art by Replica's Andy Clarke.
Umbrella Academy: Hotel Oblivion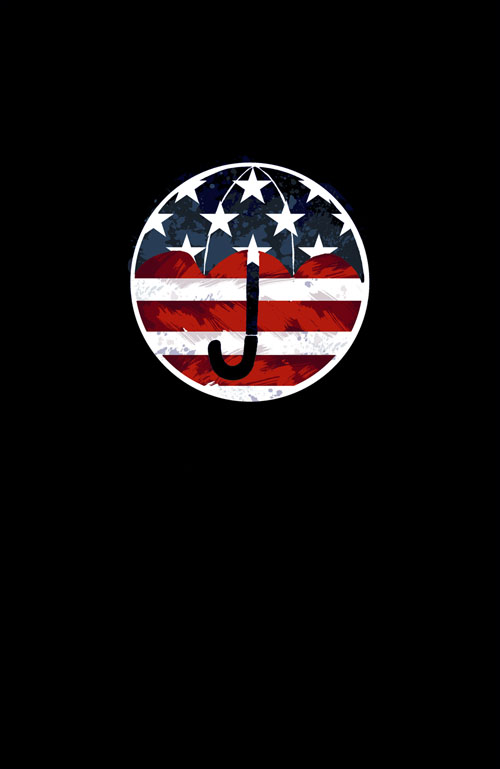 Not much is known about artist Gabriel Bá and Gerard Way's third Umbrella Academy installment, but we do know that we are closer than we've ever been to the project seeing the light of day. Especially since Dark Horse made an official announcement at 2017's San Diego Comic-Con that it would arrive in 2018. Added incentive: Hotel Oblivion is meant to coincide with the upcoming Umbrella Academy TV show on Netflix. Which only improves the chances of Sir Reginald Hargreeves' dysfunctional family of superheroes returning to comics next year.
The Magic Order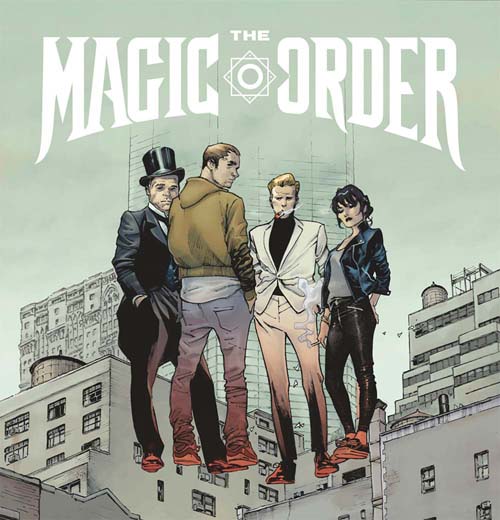 Speaking of Netflix, fan-favorite writer Mark Millar (Old Man Logan, Kingsman: The Secret Service) recently inked a deal with the popular streaming service. The first project to spin out of Netflix's acquisition of Millarworld is The Magic Order, a "mob drama" highlighting the comings and goings of five families of magicians. This clandestine collection of households have been protecting humanity from supernatural threats for centuries. The problem with being a secret group, though…no one can protect you!
Sonic The Hedgehog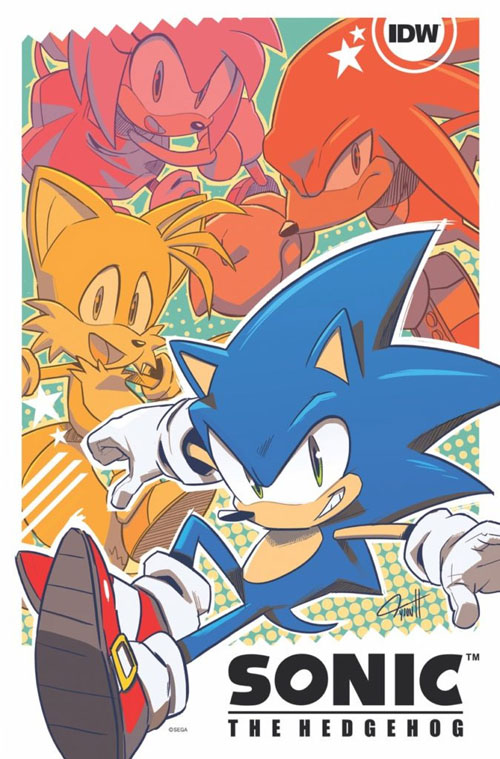 Several generations of gamers have grown up with Sega's blurry blue mascot, Sonic The Hedgehog. Now, IDW picks up the reigns to ensure the legacy continues into the future. Despite the move to IDW, fans will be pleased to hear that longtime Sonic writer Ian Flynn will be returning to the character that has become synonymous with his career. He'll also be bringing with him a team of artists ready to propel the blue blur into a new era of storytelling.
VS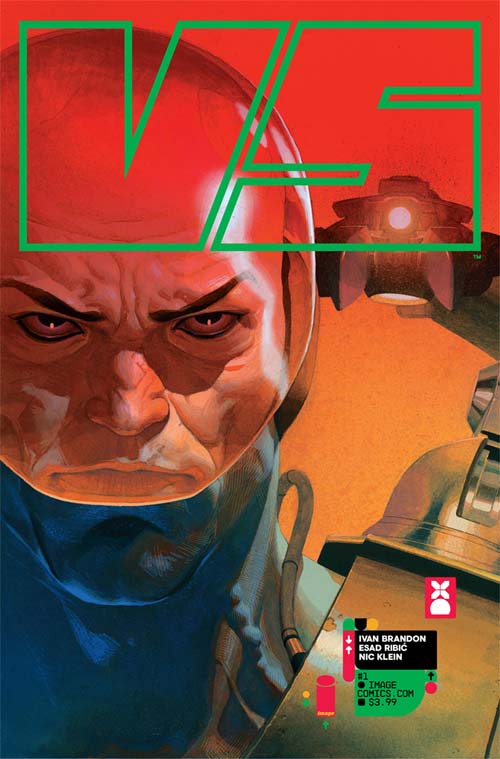 You're probably familiar with artist Esad Ribic's work on titles such as Secret Wars and Thor: God of Thunder. Now, he is teaming up with Black Cloud's Ivan Brandon for what is being dubbed "a darkly satirical" new sci-fi series called VS #1 !
Celebrity is fleeting. Especially in the future where superstar soldiers charge into battle for fame, profit, and sponsorship. Soldier Satta Flynn is the most viewed war hero in a world where war has become a spectator sport! But when a new generation of soldiers enters the battlefield, Satta learns the true price of fame. VS #1 hits comic shops on 2/7/2018!
SITCOMICS BINGE BOOK CATALOG NOW AT CQ!
Comic Quest has received the 2018 Binge Book Catalog to pass out to anyone who would like one. The glossy, 8 page catalogs is available at the counter today. You will have two weeks to review the catalogs and place your order. You bring the catalog back to us by January 21st. We then place the order with Sitcomics and You'll receive the Binge Books by January 30th and you can begin filling orders on Wednesday January 31st. All of the books in the catalog are 64 page comics for 3.99. Catalogs are free. Come pick one up and see this new way to get your comic fix!
NEW ARRIVALS!
HARLEY QUINN BE CAREFUL WHAT YOU WISH FOR #1 SPC $4.99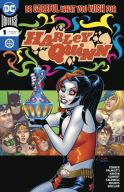 (W) Amanda Conner, Jimmy Palmiotti (A) Chad Hardin (A/CA) Amanda Conner
If you thought you'd seen all the mayhem Harley was capable of unleashing with the help of an all-powerful genie and infinite wishes…well, we wish you'd known better! This oversize special presents the Loot Crate-exclusive story as a stand-alone comic, available in comics shops for the first time ever, with an additional eighteen (18!) pages of brand-new story and art by Amanda Conner!
AVENGERS LH #675 LEG $4.99



(W) Mark Waid, Al Ewing, Jim Zub (A) Pepe Larraz (CA) Mark Brooks
NO SURRENDER Part 1
AVENGERS goes WEEKLY for the stunning sixteen-part saga that will write the end of an era!
The Earth has been STOLEN! The sky burns while mysterious cosmic objects crash down from above, wreaking havoc across the world! The Avengers are the last line of defense between Earth and the mysterious forces threatening to tear it apart. It's time to ASSEMBLE! The teams you know and love from AVENGERS, UNCANNY AVENGERS, U.S.AVENGERS and OCCUPY AVENGERS come together to face a threat beyond any they've faced before in a weekly epic adventure that will define the future of Earth's Mightiest Heroes!
BSG VS BSG #1 (OF 6) CVR A CASSADAY $3.99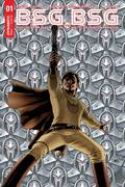 (W) Peter David (A) Johnny Desjardins (CA) John Cassaday
At last! The epic story you've been dying to see is here, a galaxy and timeline-spanning saga bringing the two very different (and yet so very much alike) crews of the Battlestar Galacticas series together. But don't expect this historic meeting of heroes to be friendly: they have no idea why they have been brought together, or what the result of this unprecedented meeting is. And it starts here as the legendary Commander Cain and the crew of the Pegasus are revealed to be alive, and have encountered an individual they never thought they would meet: the last Cylon. All this has happened before, but there will NEVER be anything like it again!
OLD MAN HAWKEYE #1 (OF 12) LIM VAR LEG $3.99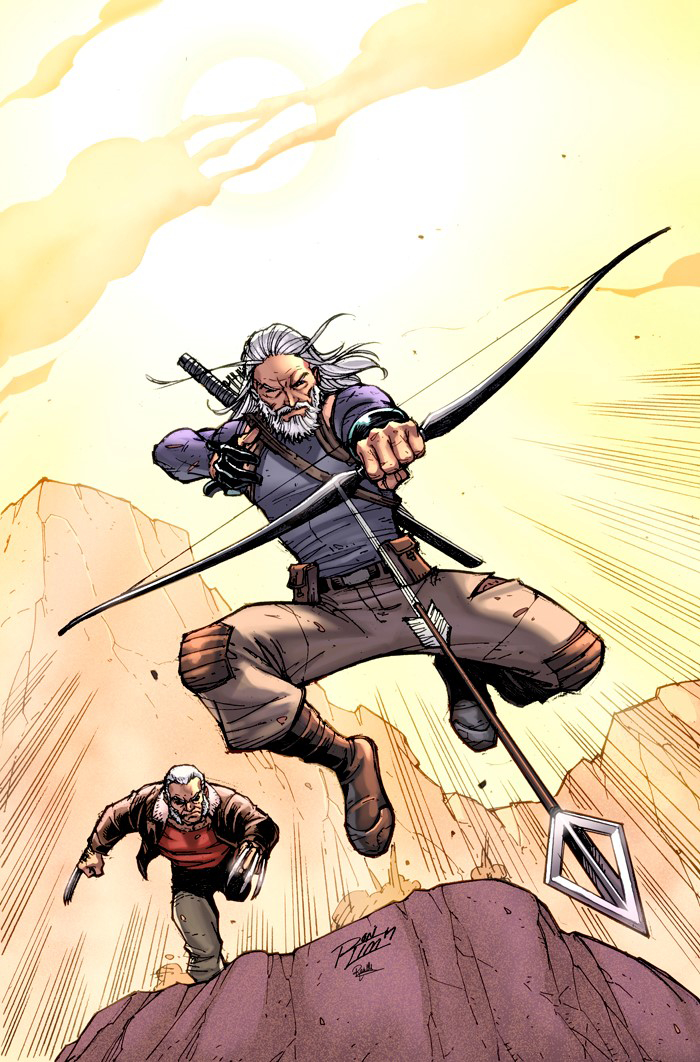 AN EYE FOR AN EYE Part 1
The super heroes have fallen. The country has been divided into territories controlled by super villains. Among the wastelands lives CLINT BARTON – one of the few Avengers to survive. But it's been 45 years, and he's no Avenger. Trying to eke out a living anyway he can, the former HAWKEYE is confronted with a startling discovery: the sharpshooter is going blind. With time running short, Clint realizes there's one last thing he wants to see: revenge for his fallen comrades-in-arms.
Rising-star writer ETHAN SACKS and superstar artist MARCO CHECCHETTO take you back to the Wastelands in a story set five years before the original classic OLD MAN LOGAN.
STAR WARS ADV FORCES OF DESTINY REY CVR A $3.99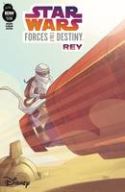 (W) Jody Houser (A/CA) Arianna Florean
The Star Wars Forces of Destiny initiative celebrates the inspiring stories of iconic heroes from a galaxy far, far away….
Star Wars Adventures has joined the festivities with an exciting weekly series of comic books that explores all corners of the Star Wars universe, showing how choices both big and small ultimately shape the destinies of beloved characters, such as Princess Leia, Rey, Padme, Ahsoka, and Hera along with your soon-to-be favorites from The Last Jedi, Rose and Paige!
Fans will be excited to discover these stories told by talent from across Star Wars novels, comics and animation, including Delilah S. Dawson, Elsa Charretier, Beth Revis, Jody Houser, and Devin Grayson!
• Each issue has a variant cover by Elsa Charretier! Collect all five!
• Featuring your favorite classic Star Wars characters and a couple of brand new favorites!
X-MEN GOLD ANNUAL #1 LEG $4.99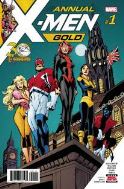 (W) Marc Guggenheim, Leah Williams (A) Alitha Martinez (CA) Alan Davis
TWENTIETH ANNIVERSARY EXCALIBUR REUNION!
• A brand-new Braddock bundle of joy!
• The return of a D'Bari hero!
• Kitty's Shadowcat costume!
• 'Nuff said!
Rated T+
THIS WEEK IN TOYS/STATUES
POP SPECIALTY SERIES THUNDERCATS TIGRA VINYL FIGURE $11.99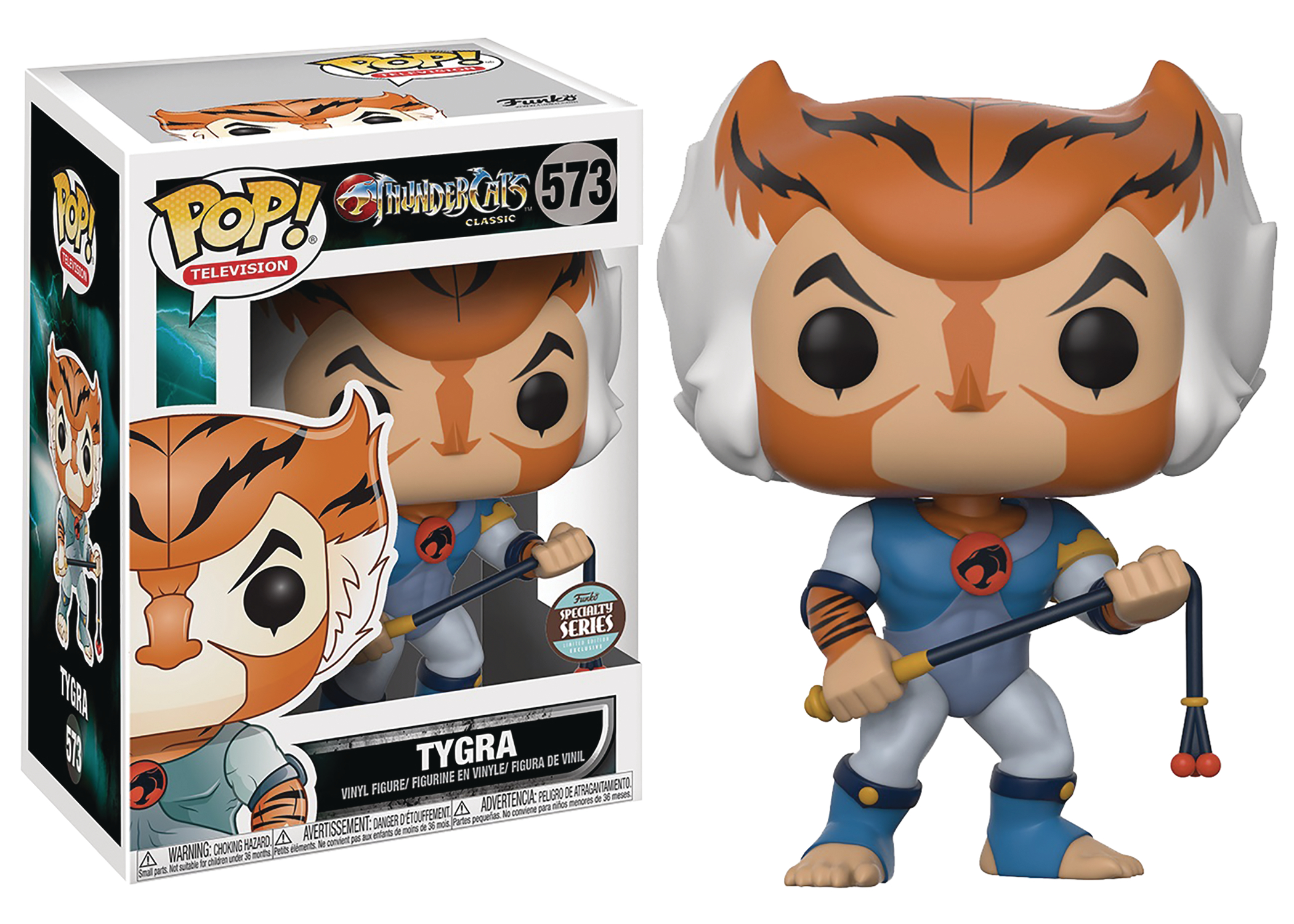 From the popular animated series Thundercats comes a Specialty Series POP! figure of Tygra! POP! figures bring your favorite characters to life with a unique stylized design. Each vinyl figure stands 3 3/4″ tall and comes in window box packaging, making them great for display!
NANO METALFIGS DC 10PK ASST


From Jada Toys, the company who created a new category of collectible figures with their Metals Die Cast line, comes an all-new line of collectible die-cast figures called Nano Metalfigs! Bring the magic home with your favorite heroes from DC Comics in Nano size! Featuring authentic character likeness, these die-cast figures are sure to be a standout in any collection! Collect them all to assemble your own hero team because the weight of the world is in your hands!
DOCTOR WHO DALEK PARLIAMENT SET $80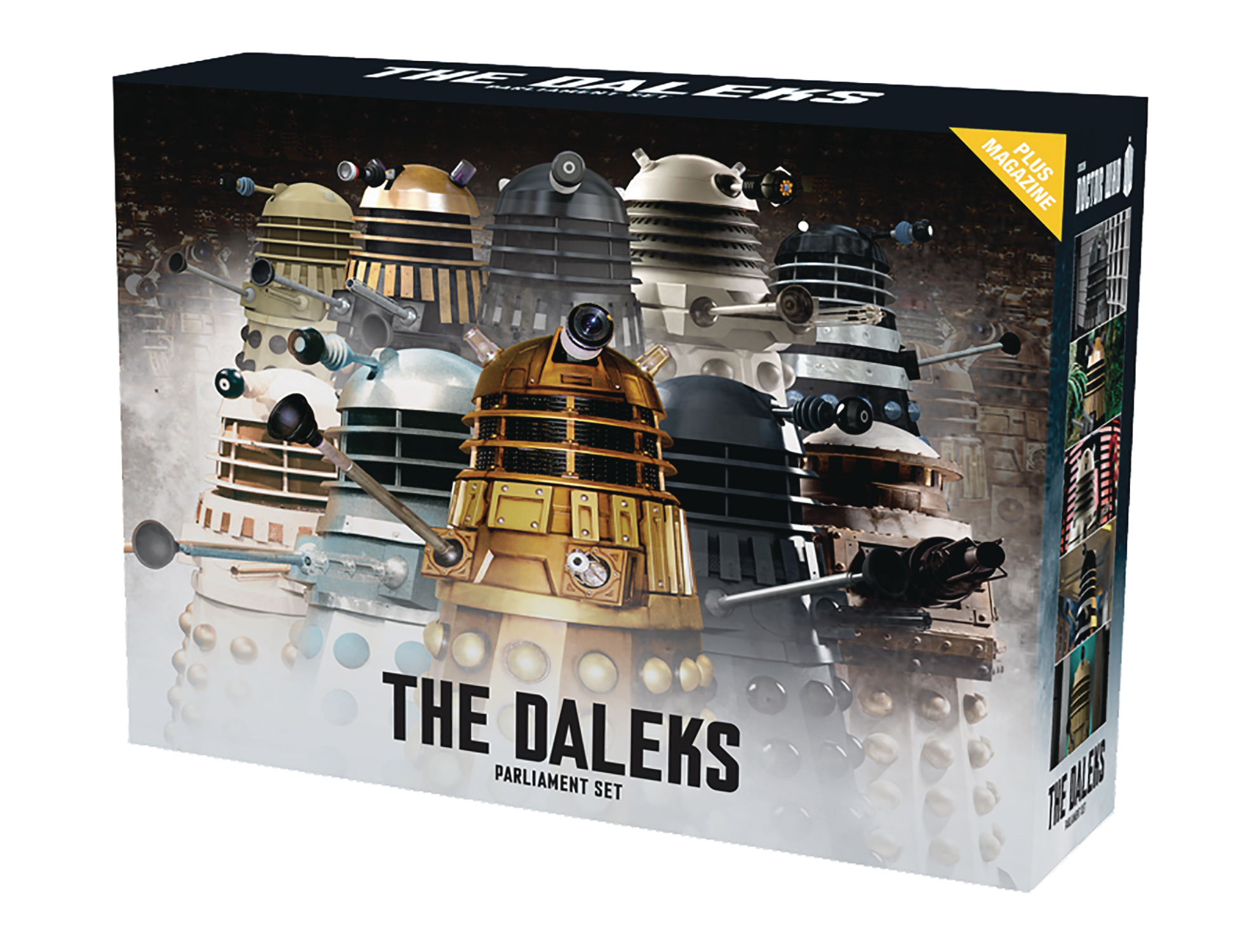 Collected together for the first time, the four modern era Doctors of the Doctor Who Figurine Collection! These incarnations have traveled from Victorian England to the end of the world but represent a new beginning for the good Doctor. Each figurine is made from poly-resin at 1:21 scale and stands approximately 3.5 inches tall.
Set includes:
* The Last Dalek ("Dalek")
* New Paradigm Supreme Dalek ("Victory of the Daleks")
* Skaro City Dalek ("The Mutants")
* Gold Dalek ("Day of the Daleks")
* Genesis Dalek ("Genesis of the Daleks")
* Supreme Dalek ("Planet of the Daleks")
* Special Weapons Dalek ("Remembrance of the Daleks")
* Supreme Dalek ("Remembrance of the Daleks")
* Necros Dalek ("Revelation of the Daleks")
* Black Dalek ("The Dalek Invasion of Earth")
DC BATMAN MINI POPCORN POPPER $34.99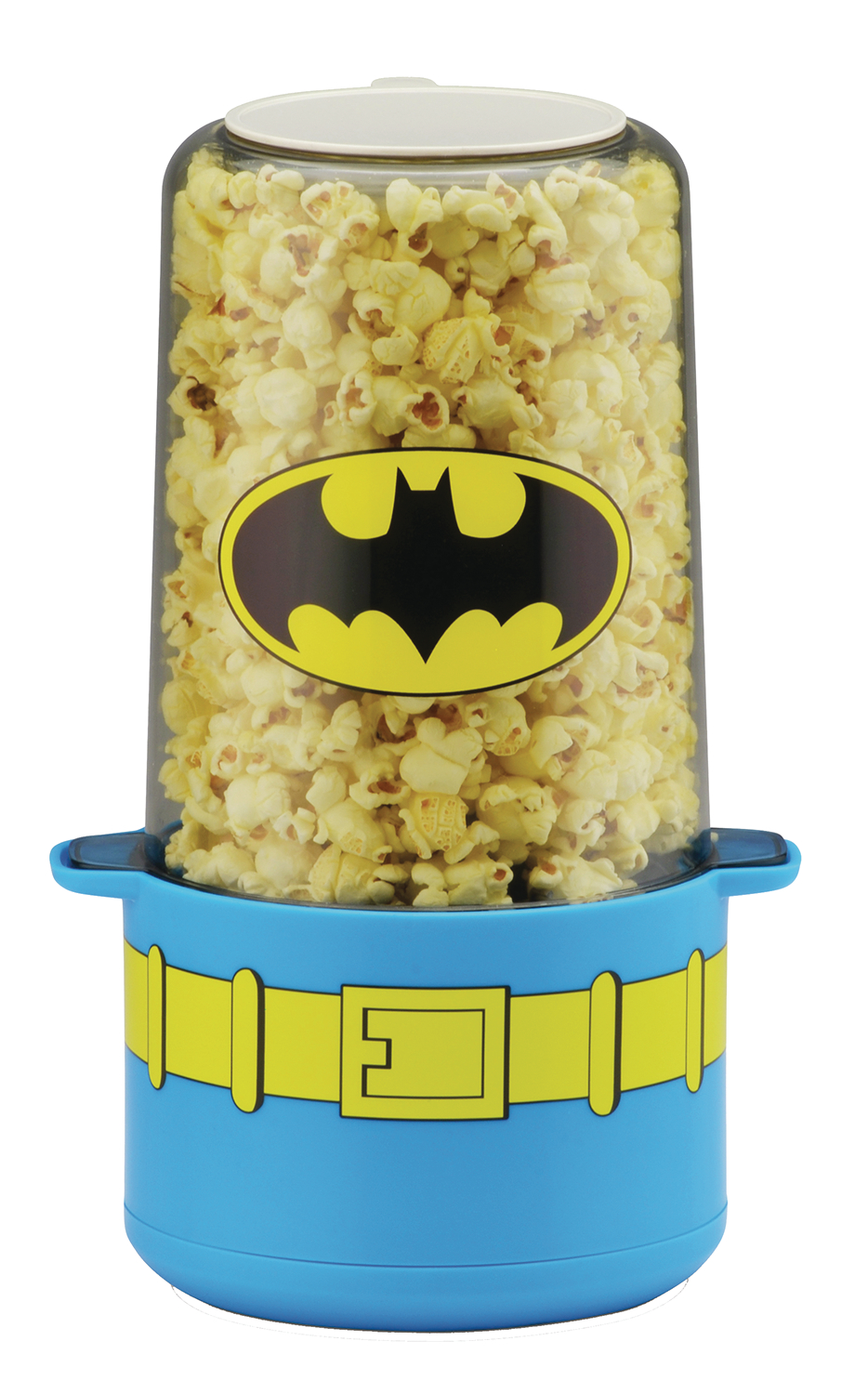 Make 6 cups of popped popcorn in these DC Comics-themed BPA free tritan plastic containers. Easy one-touch operation, includes measuring cup for kernels and spoon for oil, non skid feet, and convenent cord wrap. Choose from Batman, Superman, and Wonder Woman designs.
Trade-paperbacks of the Week!
BATMAN BEYOND TP VOL 02 RISE OF THE DEMON (REBIRTH) $16.99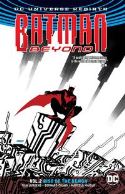 (W) Dan Jurgens, Steve Orlando, Vita Ayala (A) Bernard Chang, Siya Oum, Dexter Vines (CA) Dave Johnson
Batman is drawn into a battle against global conquest after a violent visit from his old foe, Curare, pulls him into the fray. A new world power that no one anticipated or recognizes is reengineering large swaths of the planet, and Batman's only chance of success hinges on an old friend joining him in the fight that looms ahead as Terry must face one of Bruce's old teammates. Collects issues #6-12.
DEADPOOL BY POSEHN & DUGGAN TP VOL 01 COMPLETE COLL $34.99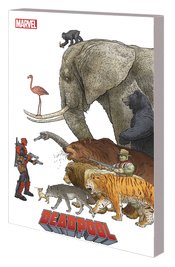 (W) Brian Posehn, Gerry Duggan (A) Tony Moore, Scott Koblish, Mike Hawthorne (CA) Geof Darrow
Comedy writing partners Brian Posehn and Gerry Duggan bring the funny, Deadpool-style, in one of the most celebrated eras of the Merc with a Mouth! Wade Wilson must take down an army of dead presidents – and things only get wilder from there! Deadpool is hired by a demon to reclaim damned souls; gets in touch with his feminine side; targets a man with aquatic powers; and teams up with the Superior Spider-Man! Plus: The debut of the flashback "inventory issue" tales Posehn and Duggan made famous, featuring Deadpool's adventures in yesteryear! Deadpool drowns his sorrows with Iron Man, gets funky with Power Man and Iron Fist, wreaks Kirby-fied havoc on a cosmic level and fights Hitler alongside Cable and Nick Fury! Deadpool has never been more hilarious! Collecting DEADPOOL (2012) #1-14, #20 and #26.
Parental Advisory
HARLEY QUINN TP VOL 04 SURPRISE SURPRISE (REBIRTH) $16.99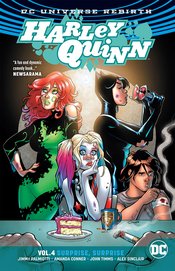 (W) Amanda Conner, Jimmy Palmiotti, Frank Tieri, Paul Dini, Daniel Kibblesmith, Chip Zdarsky (A) John Timms, Chad Hardin, Eleonora Carlini, Joseph Michael Linsner, David Lafuente, Joe Quinones (A/CA) Amanda Conner
Harley has faced every challenge even she could possibly imagine, but can she survive… a visit from her parents?! Harley's gang of misfits must be on their best behavior when the Quinzels come to Coney Island. Plus, Harley's entire cast of crazy characters comes together to celebrate the birthday of cyborg senior citizen Sy Borgman… but is there actually a bigger secret behind this gathering? Collects the lead stories from issues #22-27 plus the HARLEY QUINN 25TH ANNIVERSARY SPECIAL #1!
DOCTOR STRANGE TP VOL 05 SECRET EMPIRE $17.99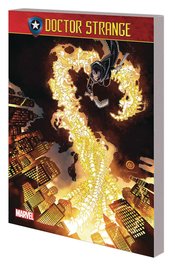 (W) Dennis Hopeless, John Barber (A) Niko Henrichon, Kevin Nowlan (CA) Chris Bachalo
The Sorcerer Supreme suffers SECRET EMPIRE! New York City is under attack by dark forces, and only Doctor Strange can save it – but it's a long shot. And to have any hope at all, Strange and Spider-Woman must strike an uneasy alliance with Wilson Fisk, A.K.A. the Kingpin of Crime. Together, they'll take the fight to Baron Mordo! But even if they win, are they ready for the Hydra-occupied America waiting outside of the Darkforce-domed Manhattan? Plus: A mysterious foe barely defeated in the past returns to haunt a much weaker Strange in the present! An evil like you've never seen – could this be the final house call for Doctor Strange and Zelma? Collecting DOCTOR STRANGE (2015) #21-26.
MASTER LIST OF STUFF ARRIVING THIS WEEK!
ACTION COMICS #995 2.99
ACTION COMICS #995 VAR ED 2.99
ADVENTURE TIME REGULAR SHOW #6 MAIN & MIX 3.99
ADVENTURE TIME REGULAR SHOW #6 SUB 3.99
ALTERS #9 3.99
ARCHIES #4 CVR A REG SMALLWOOD 3.99
AVENGERS LH #675 LEG 4.99
BARBARELLA #2 CVR A MARTIN 3.99
BARBARELLA #2 CVR B POPE 3.99
BARBARELLA #2 CVR C SEGOVIA 3.99
BARBARELLA #2 CVR E SUBSCRIPTION YARAR 3.99
BATGIRL AND THE BIRDS OF PREY #18 3.99
BATGIRL AND THE BIRDS OF PREY #18 VAR ED 3.99
BATMAN BEYOND TP VOL 02 RISE OF THE DEMON (REBIRTH) 16.99
BATMAN SHADOW OF THE BAT TP VOL 03 24.99
BEST OF STAR WARS INSIDER VOL 07 ICONS 24.99
BLACK LIGHTNING YEAR ONE TP NEW ED 14.99
BLACK PANTHER YOUNG PRINCE YA NOVEL 16.99
BLOODSHOT SALVATION #5 CVR A ROCAFORT 3.99
BLOODSHOT SALVATION #5 CVR B PALOSZ 3.99
BLOODSHOT SALVATION #5 CVR C ROBERTSON 3.99
BLOODSHOT SALVATION #5 PRE-ORDER BUNDLE ED 3.99
BSG VS BSG #1 (OF 6) CVR A CASSADAY 3.99
BSG VS BSG #1 (OF 6) CVR B DESJARDINS 3.99
BSG VS BSG #1 (OF 6) CVR C ADAMA ACTION FIGURE 3.99
BSG VS BSG #1 (OF 6) CVR D BALTAR ACTION FIGURE 3.99
BSG VS BSG #1 (OF 6) CVR E CYLON ACTION FIGURE 3.99
BSG VS BSG #1 (OF 6) CVR F CASTRO ADAMA SPLIT 3.99
BSG VS BSG #1 (OF 6) CVR G CASTRO CYLON PROFILE SPLIT 3.99
BSG VS BSG #1 (OF 6) CVR H CASTRO CYLON FRONT SPLIT 3.99
CABLE #153 LEG 3.99
CABLE NEMESIS CONTRACT TP 34.99
CAPTAIN KRONOS #4 CVR A MANDRAKE 3.99
CURSE WORDS TP VOL 02 EXPLOSIONTOWN 16.99
DAMNED #7 3.99
DAN DARE #4 CVR A FOUCHE 3.99
DAN DARE #4 CVR B WESTON 3.99
DAREDEVIL #597 LEG 3.99
DBZ SUPER SAIYAN GOD SS VEGETA FIGURE-RISE MDL KIT
DC BATMAN MINI POPCORN POPPER 34.99DC BATMAN TAS FIG COLL #5 JOKER 20
DC COMICS WONDER WOMAN SUIT UP LANYARD 8.99
DC DESIGNER SER SUPERMAN BY NEAL ADAMS STATUE 150
DC SUPERHERO BEST OF FIG SPECIAL #5 DARKSEID 24.95
DC SUPERMAN MINI POPCORN POPPER 34.99
DEADMAN #3 (OF 6) 3.99
DEADPOOL BY POSEHN & DUGGAN TP VOL 01 COMPLETE COLL 34.99
DEJAH THORIS #0 CVR A ANACLETO 0.25
DESCENDER TP VOL 05 RISE OF THE ROBOTS 16.99
DESPICABLE DEADPOOL #292 LEG 3.99
DETECTIVE COMICS #972 2.99
DETECTIVE COMICS #972 VAR ED 2.99
DIVIDED STATES OF HYSTERIA TP 16.99
DOCTOR STRANGE TP VOL 05 SECRET EMPIRE 17.99
DOCTOR WHO 10TH FACING FATE HC VOL 02 VORTEX BUTTERFLIES 22.99
DOCTOR WHO 11TH YEAR THREE #13 CVR A SHEDD 3.99
DOCTOR WHO 11TH YEAR THREE #13 CVR B PHOTO 3.99
DOCTOR WHO 12TH YEAR THREE #11 CVR A SHEDD 3.99
DOCTOR WHO 12TH YEAR THREE #11 CVR B PHOTO 3.99
DOCTOR WHO DALEK PARLIAMENT SET 80
DOCTOR WHO EVOLUTION OF THE CYBERMEN SET 35
ETERNAL EMPIRE #6 3.99
FIGHTING AMERICAN #4 CVR A DE LA FUENTE 3.99
FIGHTING AMERICAN #4 CVR B KIRBY 3.99
FIRE PUNCH GN VOL 01 12.99
FLASH #38 2.99
FLASH #38 VAR ED 2.99
GI JOE A REAL AMERICAN HERO #247 CVR A 3.99
GI JOE A REAL AMERICAN HERO #247 CVR B 3.99
GI JOE A REAL AMERICAN HERO TP VOL 19 17.99
GOTHAM CITY GARAGE #7 2.99
GRASS KINGS #11 MAIN & MIX 3.99
GUNDAM BUILD FIGHTERS CHERUDIM HG 1/144 MDL KIT
GWENPOOL #24 LEG 3.99
HACK SLASH VS VAMPIRELLA #4 (OF 5) CVR A STRAHM 3.99
HACK SLASH VS VAMPIRELLA #4 (OF 5) CVR B SUDZUKA 3.99
HAL JORDAN AND THE GREEN LANTERN CORPS #36 2.99
HAL JORDAN AND THE GREEN LANTERN CORPS #36 VAR ED 2.99
HARBINGER RENEGADE TP VOL 02 MASSACRE 14.99
HARLEY QUINN #34 2.99
HARLEY QUINN #34 VAR ED 2.99
HARLEY QUINN BE CAREFUL WHAT YOU WISH FOR #1 SPC 4.99
HARLEY QUINN BE CAREFUL WHAT YOU WISH FOR #1 SPC VAR 4.99
HARLEY QUINN TP VOL 04 SURPRISE SURPRISE (REBIRTH) 16.99
HAWKMAN FOUND #1 3.99
HEAD LOPPER #8 CVR A MACLEAN & BELLAIRE 5.99
HEAD LOPPER #8 CVR B KINNER & ZIRITT 5.99
HELLBOY AND THE BPRD 1954 TP 19.99
INCREDIBLE HULK EPIC COLLECTION TP FALL OF PANTHEON 39.99
INJUSTICE GODS AMONG US YEAR THREE COMP COLL TP 24.99
JEM & THE HOLOGRAMS INFINITE TP 19.99
JIM HENSON POWER OF DARK CRYSTAL #10 (OF 12) 3.99
JIM HENSON POWER OF DARK CRYSTAL #10 (OF 12) SUB 3.99
JUDAS #2 (OF 4) 3.99
JUSTICE LEAGUE OF AMERICA #22 2.99
JUSTICE LEAGUE OF AMERICA #22 VAR ED 2.99
KINGSMAN RED DIAMOND #5 (OF 6) CVR A YU 3.99
KINGSMAN RED DIAMOND #5 (OF 6) CVR B B&W YU 3.99
LOLA XOXO VOL 2 #6 CVR A OUM 3.99
LOLA XOXO VOL 2 #6 CVR B PANTALENA 3.99
LOST FLEET CORSAIR #5 CVR A RONALD 3.99
MARVEL GUARDIANS OF GALAXY SHORT COMIC BOX
MARVELS BLACK PANTHER PRELUDE TP 15.99
MIGHTY CRUSADERS #2 CVR A SHANNON 3.99
MIGHTY CRUSADERS #2 CVR B TORRES 3.99
MINKY WOODCOCK GIRL WHO HANDCUFFED HOUDINI #2 CVR A 3.99
MINKY WOODCOCK GIRL WHO HANDCUFFED HOUDINI #2 CVR B 3.99
MISTER MIRACLE #6 (OF 12) 3.99
MISTER MIRACLE #6 (OF 12) VAR ED 3.99
MOBILE SUIT GUNDAM MSV GM SNIPER MG 1/100 MDL KIT
MOBILE SUIT GUNDAM MSV MS-06R-2 ZAKU II RG 1/100 MDL KIT
MOBILE SUIT GUNDAM RX-78-1 PROTOTYPE ROBOT SPIRITS FIG
MS MARVEL #26 LEG 3.99
NANO METALFIGS DC 10PK ASST
NANO METALFIGS DC 5PK ASST
NANO METALFIGS DC SINGLE PACK WV2 ASST
NANO METALFIGS DISNEY 5PK ASST
NANO METALFIGS MARVEL 10PK ASST
NANO METALFIGS MARVEL 5PK ASST
NEW SUPER MAN #19 3.99
NEW SUPER MAN #19 VAR ED 3.99
NINJAK VS VU #1 (OF 4) CVR A SUAYAN 3.99
NINJAK VS VU #1 (OF 4) CVR B CAFU 3.99
NINJAK VS VU #1 (OF 4) CVR C PHOTO 3.99
NINJAK VS VU #1 (OF 4) CVR D BLANK CVR 3.99
OLD MAN HAWKEYE #1 (OF 12) LEG 3.99
OLD MAN HAWKEYE #1 (OF 12) LIM VAR LEG 3.99
OLD MAN HAWKEYE BY CHECCHETTO POSTER 8.99
OLD MAN LOGAN #33 LEG 3.99
OVER GARDEN WALL ONGOING TP VOL 03 14.99
PARADISO #2 CVR A PRAMANIK & KELLY 3.99
PENNY DREADFUL #8 CVR A CALDWELL 3.99
PENNY DREADFUL #8 CVR B PHOTO 3.99
PESTILENCE #6 3.99
PHOENIX RESURRECTION RETURN JEAN GREY #3 (OF 5) LEG 3.99
POKEMON ORIGAMI SC FOLD YOUR OWN 12.99
POP ANGRY BEAVERS NORBERT VINYL FIGURE 11.99
POP DISNEY ALADDIN ABU VINYL FIGURE 11.99
POP DISNEY ALADDIN ALADDIN VINYL FIGURE 11.99
POP DISNEY ALADDIN RAJAH VINYL FIGURE 11.99
POP HELLO NEIGHBOR NEIGHBOR VINYL FIGURE 11.99
POP NBA KEVIN DURANT VIN FIG 10.99
POP ROCKOS MODERN LIFE ROCKO & SPUNKY VINYL FIGURE 10.99
POP SPECIALTY SERIES THUNDERCATS TIGRA VINYL FIGURE 10.99
PORT OF EARTH #3 3.99
POSTAL TP VOL 06 16.99
PUNISHER #220 LEG 3.99
RAGMAN #4 (OF 6) 2.99
RED HOOD AND THE OUTLAWS #18 3.99
RED HOOD AND THE OUTLAWS #18 VAR ED 3.99
RISE OF THE BLACK PANTHER BY STELFREEZE POSTER 8.99
ROBOT SPIRITS KNIGHTS & MAGIC EARLECUMBER FIG
ROBOT SPIRITS KNIGHTS & MAGIC GUYALE FIG
ROCKOS MODERN LIFE #2 3.99
ROCKOS MODERN LIFE #2 FOC LOOK AND FIND BACHAN VAR 3.99
ROCKOS MODERN LIFE #2 SUBSCRIPTION MERCADO VAR 3.99
ROSE #7 CVR A GUARA 3.99
ROSE #7 CVR B LOOPYDAVE 3.99
ROYAL CITY #9 CVR A LEMIRE 3.99
ROYAL CITY #9 CVR B 90S ALBUM HOMAGE VAR 3.99
RUNAWAYS #5 3.99
SCOOBY APOCALYPSE #21 3.99
SCOOBY APOCALYPSE #21 VAR ED 3.99
SCOOBY DOO WHERE ARE YOU #89 2.99
SECRET WARRIORS #12 LEG 3.99
SHE-HULK #161 LEG 3.99
SHE-HULK TP VOL 02 LET THEM EAT CAKE 15.99
SHERLOCK GREAT GAME #6 (OF 6) CVR A MYERS 4.99
SHRUGGED VOL 2 #5 (OF 6) CVR A MARKS 3.99
SHRUGGED VOL 2 #5 (OF 6) CVR B GUNNELL 3.99
SLEEPLESS #2 CVR A DEL DUCA & SALLAH 3.99
SLOTS #4 3.99
SORCERERS APPRENTICE CLASSIC MICKEY MOUSE HC 10.99
SPIDER-MAN DEADPOOL #26 LEG 3.99
SPIRIT CIRCLE GN VOL 02 12.99
SPONGEBOB COMICS #76 3.99
STAR WARS ADV FORCES OF DESTINY REY CVR A 3.99
STAR WARS ADV FORCES OF DESTINY REY CVR B 3.99
STAR WARS DARTH VADER #10 3.99
STAR WARS DARTH VADER #10 REIS GALACTIC ICON VAR 3.99
STAR WARS FORCES OF DESTINY DARING ADV LEIA SC 5.99
STIMPY EEKEEZ FIGURINE 14.99
STRAY BULLETS SUNSHINE & ROSES #31 3.99
SUICIDE SQUAD #33 2.99
SUICIDE SQUAD #33 VAR ED 2.99
SUPERGIRL #17 3.99
SUPERGIRL #17 VAR ED 3.99
SUPERWOMAN #18 3.99
SUPERWOMAN #18 VAR ED 3.99
SWORD OF AGES #2 CVR A RODRIGUEZ 3.99
TEXAS CHAINSAW MASSACRE LEATHERFACE ENAMEL LAPEL PIN 9.99
THOR BY WALTER SIMONSON TP VOL 02 NEW PTG 24.99
TITANS #19 3.99
TITANS #19 VAR ED 3.99
TMNT ONGOING #78 CVR A COUCEIRO 3.99
TMNT ONGOING #78 CVR B EASTMAN 3.99
UNBEATABLE SQUIRREL GIRL #28 LEG 3.99
VENOM #160 LEG 3.99
VISION HC 39.99
WICKED & DIVINE TP VOL 06 IMPERIAL PHASE PART 2 16.99
WILDSTORM MICHAEL CRAY #4 3.99
WITCHBLADE #2 3.99
WONDER WOMAN #38 2.99
WONDER WOMAN #38 VAR ED 2.99
WWE ROYAL RUMBLE 2018 SPECIAL #1 7.99
X-MEN BLUE #19 LEG 3.99
X-MEN GOLD ANNUAL #1 LEG 4.99
X-MEN RED BY CHAREST POSTER 8.99
YOUNGBLOOD #8 CVR A TOWE 3.99
YOUNGBLOOD #8 CVR B LIEFELD 3.99
We hope to see you soon at CQ!
Visit us at 2260 Morgan Avenue, Evansville
On the web at www.comicquest.com
On Facebook www.facebook.com/comicquestevansville
On Twitter @cqevansville
On Instagram: @comicquestevansville
Contact us at sales@comicquest.com or by phone at 812-474-1133