Comic Quest Weekly for 12/22/2018
Merry Christmas!
Merry Christmas everyone. All of us at CQ wish you and your families a very happy Holiday. We will be open special hours on Christmas Eve from 8am to 5pm and will be closed, of course, on Christmas Day. Normal hours will apply the rest of the week through Sunday and we open from noon to 5pm on New Year's Eve!
We will have new comics on Wednesday 12/26, albeit, a smaller shipment than usual. We have four new trade-paperbacks and eleven different comics arriving on that day including some much awaiting books: FF#5(the wedding of Ben and Alicia), Superior Spiderman#1, X-force#1, Uncanny X-men#7, Mars Attacks#3 and Marvel Action Avengers#1!
SPECIAL OFFER ON CQ GIFT CERTIFICATES!
Just two more days to take advantage of the 10.00 CQ gift certificate! Tell your family and friends "I want a CQ gift certificate! What makes it a good deal is we will add 2o% more to Christmas Gift certificates when they say "Add the extra 20% please . The offer is only valid if a friend or relative wants to buy a Gift Certificate for you….make sure they ask for the extra 20%. So $25 becomes a $30 gift certificate and $50 becomes a $60 gift certificate and so on. Help make your Holidays a little sweeter with a CQ gift certificate!
SPECIAL CHRISTMAS BONUS FOR PULL AND HOLD CUSTOMERS IN GOOD STANDING! LAST CALL!
If you have your pull and hold up to date(meaning you pick up your file on a regular basis)you will find a 10.00 CQ gift certificate in your pull and hold file which is good toward back issue comics. If your file is "backed up" just come in between now and Christmas(2 more days), pick up your entire pull and hold file and you will also get a CQ gift certificate! Note: no taking comics out of your file to get the gift certificate.
NEW ARRIVALS!
FANTASTIC FOUR #5 7.99
(W) Dan Slott (A) Aaron Kuder, Adam Hughes, Michael Allred (CA) Esad Ribic
SPECIAL 650th ISSUE SPECTACULAR!
The wedding that's been years in the making…Ben and Alicia say "I do!"
No bait. No switch. Not a dream. Not a hoax. And we swear, not a single Skrull around. This is really happening! From the book that brought you the first, best and longest running super hero marriage in comics, we give you…the wedding of Ben Grimm and Alicia Masters! Featuring an untold tale of the courtship of Ben and Alicia. A bachelor party that only Johnny Storm could throw. And a very special ceremony brought to you in the Mighty Marvel Manner.
MARS ATTACKS #3 CVR A FRANCAVILLA 3.99
(W) Kyle Starks (A) Chris Schweizer (CA) Francesco Francavilla
The Carbutt boys continue their trek to safety, this time with the help of the U.S. military, who plan on swatting the Martians like flies…until they see how big the Martian flies are, and, oh boy, there is gonna be a whole mess of trouble!
SUPERIOR SPIDER-MAN #1 SG 3.99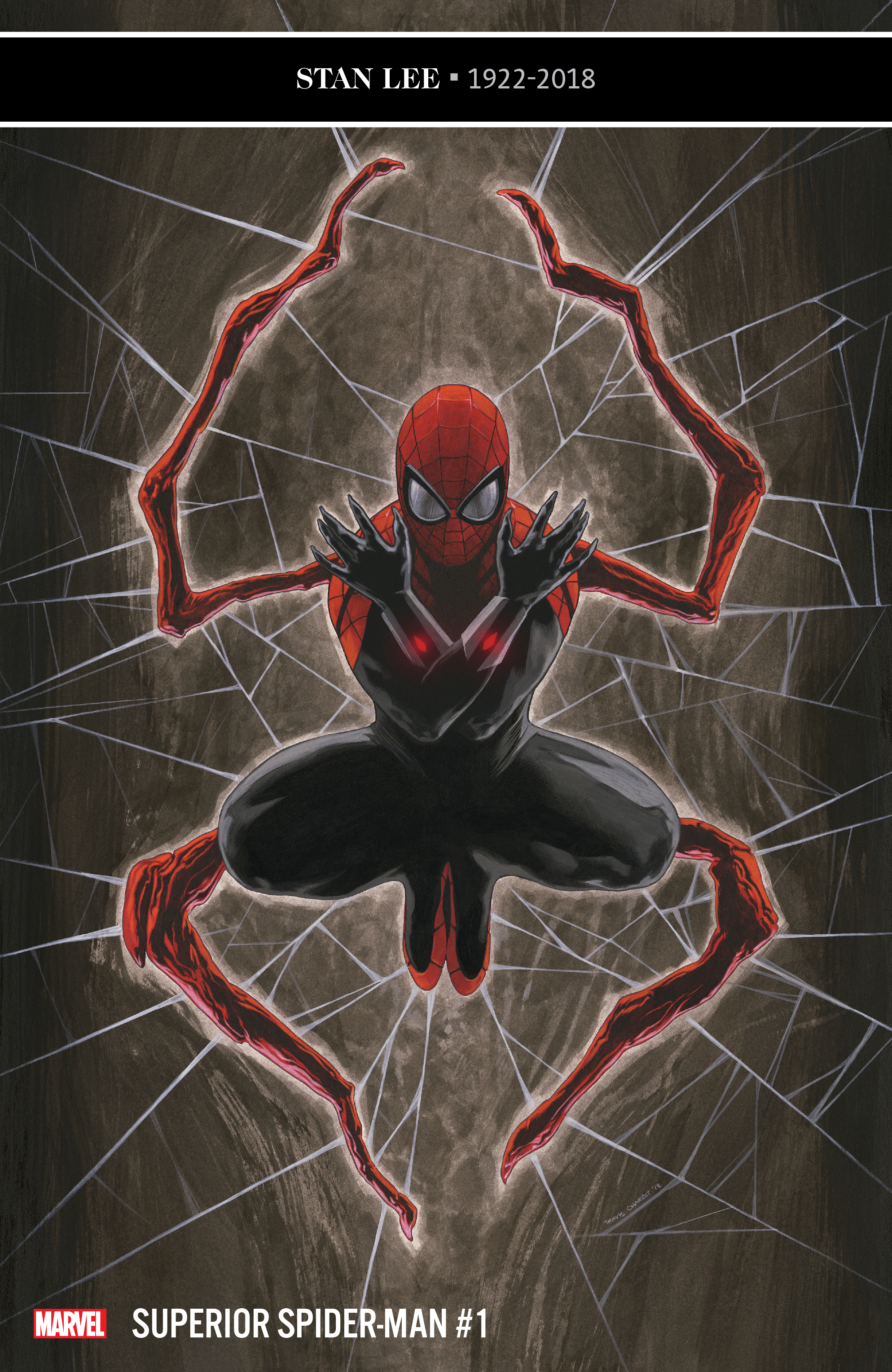 (W) Christos Gage (A) Mike Hawthorne, Wade Von Grawbadger (CA) Travis Charest
A SPIDER-GEDDON TIE-IN!
Otto Octavius leaves the moniker of Doctor Octopus behind and once again becomes THE SUPERIOR SPIDER-MAN! If you think you've already read the most intense and surprisingly heartbreaking Superior Spider-Man story, prepare to be wrong. Otto is going to prove to the world that he's the most effective and (to him at least) the best super hero in the world. But when a villain that overpowers him by so much shows up in San Francisco, there's no way Ock can win, right? Can you see Otto smirking from where you're reading this?
DIE DIE DIE #6 (MR) 3.99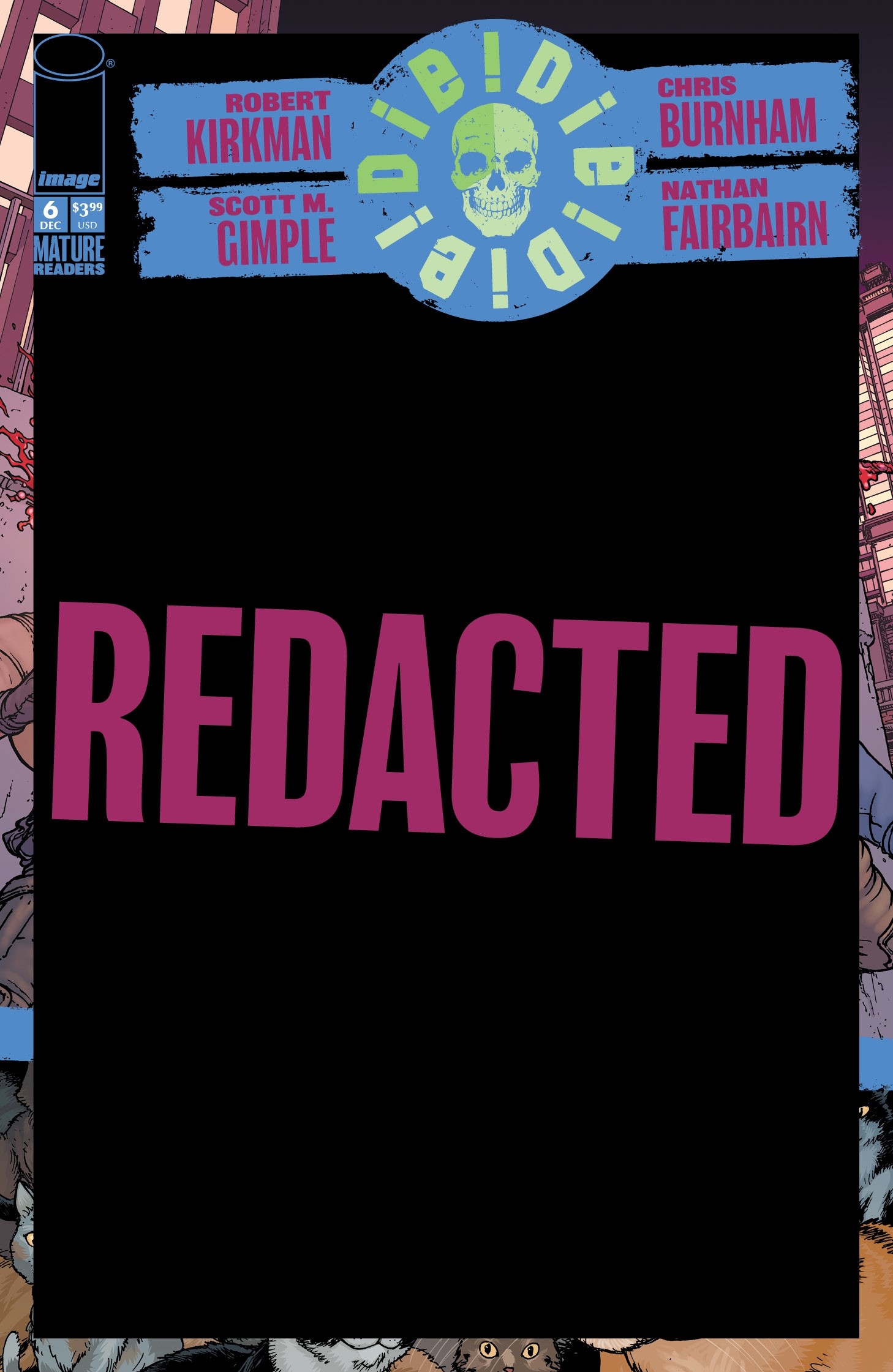 (W) Robert Kirkman, Scott Gimple (A/CA) Chris Burnham
Wow! I can't believe that happens in this issue! Or that! Or that, that and that!!!
X-FORCE #1 4.99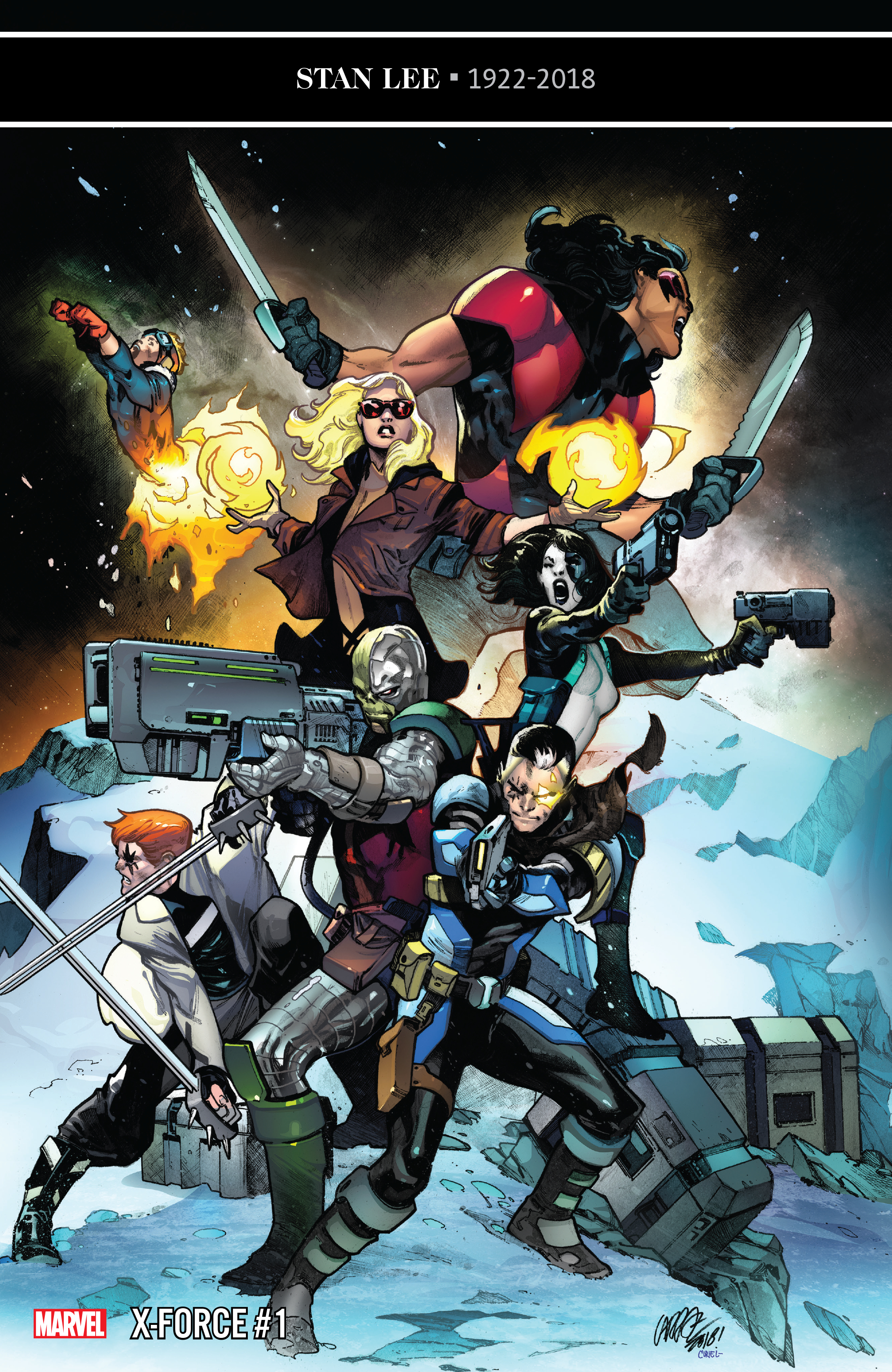 (W) Ed Brisson (A) Dylan Burnett, Juanan Ramirez (CA) Pepe Larraz
FROM THE ASHES OF EXTERMINATION!
Cable is dead…and now, the original X-Force team of Domino, Cannonball, Shatterstar, Boom Boom and Warpath. must hunt down the murderer of their former leader! The mutant militia are hot for blood…but when their target is the time-traveling younger version of their fallen mentor, is there a line they absolutely cannot cross? And what does Deathlok have to do with all of it? From Ed Brisson (EXTERMINATION, OLD MAN LOGAN) and Dylan Burnett (COSMIC GHOST RIDER), comes an all-new, high-octane mutant adventure! A reckoning will come!
MARVEL ACTION AVENGERS #1 SOMMARIVA 3.99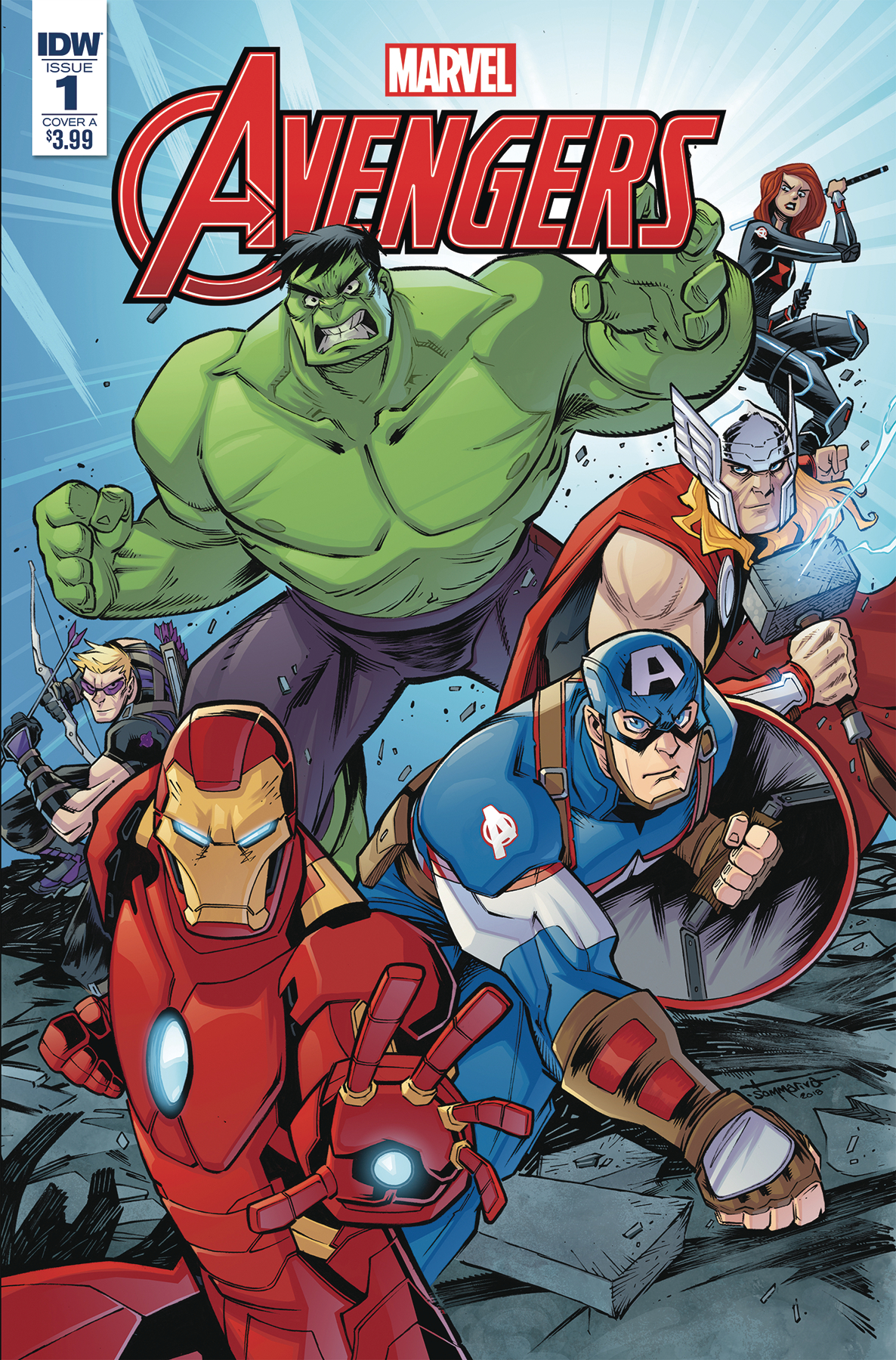 (W) Matthew K. Manning (A/CA) Jon Sommariva
A new era of all out Avengers action begins! A new team is formed to battle a mega-sized threat that is weider and wilder than any of the superheroes have met before! This new ongoing series will be the perfect opportunity for middle grade readers, and fans of all ages, to experience the thrilling adventures of Avengers comics for the first time!
Avengers stories that are epic, weird and above all: fun!
From the creative team that brought you the hit comic Batman/TMNT Adventures!
Your favorite heroes along with surprise team members!
Trade-paperbacks of the Week!
BATMAN BEYOND TP VOL 04 TARGET BATMAN 14.99 (W) Dan Jurgens (A) Will Conrad, Marco Castiello, Mark Morales (CA) Viktor Kalachev
After the events of "The Long Payback," we find Batman with his mysterious new partner…but can this new ALLY be trusted? You never know when it comes to the corrupt city of Gotham. Follow Terry as he dives deeper into the secrets of the city and the true identity of his new partner. Collects BATMAN BEYOND #20-24.
SUPERIOR SPIDER-MAN COMPANION TP 39.99 (W) Christopher Yost, Mark Waid, More (A) Paco Medina, Marco Checchetto, More (CA) Paolo Rivera
Otto Octavius has taken Peter Parker's body, his costume – his life! – to become a Superior Spider-Man. But there's one thing that comes with the suit that Otto didn't count on: the team-ups! The Marvel Universe is about to meet a far-from-Friendly Neighborhood Spidey, beginning with…Mary Jane Watson?! But will Wolverine smell a rat? Will Daredevil sense trouble? And is Otto's secret safe from the Secret Avengers? The Superior Spider-Man hunts the Chameleon on the S.H.I.E.L.D. Helicarrier, bears a deadly grudge against the Scarlet Spider and plays his part when Thanos' forces attack – but what are his plans for the Sinister Six? Plus: encounters with the Hulk, the Future Foundation, Namor, the Punisher, Cloak and Dagger, and the Inhumans! Collecting AVENGING SPIDER-MAN #15.1 and #16-22, DAREDEVIL (2011) #22, SUPERIOR SPIDER-MAN TEAM-UP #1-12, SCARLET SPIDER (2012) #20 and INHUMANITY: SUPERIOR SPIDER-MAN.
BONE PARISH TP VOL 01 DISCOVER NOW EDITION 14.99
(W) Cullen Bunn (A) Jonas Scharf (CA) Lee Garbett
Cullen Bunn ( Empty Man, The Unsound ) returns to BOOM! Studios with a chilling necromantic horror
story.
A new drug is sweeping through the streets of New Orleans.one made from the ashes of the dead. Wars
are being fought over who will control the supply, while the demand only rises.
While the crime families wage war, users begin to experience terrifying visions of the dead coming back to
life.through them.
Collects issues #1-4 in a limited edition packaging
Exclusively available in comic book stores!
NIGHTWING TP VOL 07 THE BLEEDING EDGE 19.99 (W) Ben Percy (A) Amancay Nahuelpan, Klaus Janson, Chris Mooneyham, Otto Schmidt, Scott Hanna, Lalit Kumar Sharma (CA) John RomitaJr, Danny Miki
Benjamin Percy's run on NIGHTWING begins here! Change is on the horizon for Dick Grayson. A new technologist sets his sights on Blüdhaven, creating a holographic, interconnected city where everyone is an individual and part of a larger network. It's the Internet made physical. Gentrification on gigabyte-laced steroids. But when this new utopia encroaches on his turf, Nightwing starts to uncover a sinister plot based not on revenge…but on a reckoning. Collects NIGHTWING #44-49 and ANNUAL #1.
MASTER LIST OF STUFF ARRIVING THIS WEEK!
BATMAN BEYOND TP VOL 04 TARGET BATMAN 14.99
BONE PARISH #5 3.99
BONE PARISH TP VOL 01 DISCOVER NOW EDITION (C: 0-1-2) 14.99
DIE DIE DIE #6 (MR) 3.99
FANTASTIC FOUR #5 7.99
FANTASTIC FOUR #5 BROOKS VAR 7.99
FANTASTIC FOUR #5 PAREL CONAN VAR 7.99
GO-BOTS #2 CVR A SCIOLI 3.99
GO-BOTS #2 CVR B SHAW 3.99
HELLBOY AND BPRD 1956 #2 (OF 5) 3.99
MAN-EATERS #4 3.99
MARS ATTACKS #3 CVR A FRANCAVILLA 3.99
MARS ATTACKS #3 CVR B COLEMAN 3.99
MARS ATTACKS #3 CVR C MARRON 3.99
MARS ATTACKS #3 CVR D HACK 3.99
MARS ATTACKS #3 CVR E SCHWEIZER SUB VAR 3.99
MARVEL ACTION AVENGERS #1 SOMMARIVA 3.99
NIGHTWING TP VOL 07 THE BLEEDING EDGE 19.99
SUPERIOR SPIDER-MAN #1 SG 3.99
SUPERIOR SPIDER-MAN COMPANION TP 39.99
UNCANNY X-MEN #7 3.99
X-FORCE #1 4.99
We hope to see you soon at CQ!
Visit us at 2260 Morgan Avenue, Evansville
On the web at www.comicquest.com
On Facebook www.facebook.com/comicquestevansville
On Twitter @cqevansville
On Instagram: @comicquestevansvilletwitter.com/cqevansville
Contact us at sales@comicquest.com or by phone at 812-474-1133.