Comic Quest Weekly for 2/11/18
Kids Comics: Brave, Star Wars, & Sonic The Hedgehog

Check out some of the new Kids Comics in the February Previews Magazine. These are ready to be added to your P&H anytime.
Sonic The Hedgehog #1
You've seen him and probably played him in several video game adventures. He's a timeless character that's synonymous with Sega. He's Sonic The Hedgehog, and now he's appearing in comic book adventures again starting with Sonic The Hedgehog #1 from IDW Publishing. Odds are, Sonic is still breathing heavy, because he just finished defeating the evil Dr. Eggman's latest plot. But there's going to be little time to rest because now he has to race around the world to shut down the robotic Badnik forces that are attacking villages! It's a lot of work for our fast and furious friend. What do you think could make his job easier? Music? Nope. His best friend Tails! Add this to your P&H today!
Star Wars Adventures Annual 2018
So just how up-to-date are you on what's going on in the galaxy far, far away? Ok. You've seen the original Star Wars movies. Maybe you even saw the prequels. We can assume that you're currently watching Star Wars adventures on your tablet. But do you stop there? Well, we've got some news for you: Star Wars news doesn't start and stop with the latest YouTube upload. Now you can see just how strong the Force has to be with our heroes as new events play out in the Star Wars Adventures Annual 2018 from writer John Jackson Miller and artist Jon Sommariva. All is not well, unfortunately, for Princess Leia. She's been hurt! So now it's up to Luke Skywalker to fill in for her, and go on a sensitive diplomatic mission with the easily-irritated Sarkans!
Disney/Pixar: Brave
If you had your choice of movies to see, and a Pixar movie was one of the choices, it isn't hard to figure out which movie you would want to see. Whether it was Toy Story, The Incredibles, or Cars, Pixar always delivers! The same could be said for Brave! But here's some good news for you: Brave isn't just something you can watch on DVD or Blu-Ray anymore. Now it's been adapted to a beautiful full color 48-page comic book drawn by Disney/Pixar's master artists! Once again you're introduced to Merida, a skilled archer that walks her own path in life, and as a result she defies an age-old custom sacred to the lords of the land…unleashing chaos and fury in the kingdom! See how history repeats itself in the Disney/Pixar Brave One-Shot that you can find from Joe Books in the Comics & Graphic Novels section of the February PREVIEWS!
BACK ISSUE COMIC COLLECTION ON SALE NOW!
We recently bought a six box collection of comics that we are putting out at cover price that has comics from the 90's to the present. We have it alphabetized from A-Z and we think you will find many issues that you may have been looking for to fill in those hard to find books. Be sure to check it out next time you are in!
LOOK FOR FREE COMICS AT CQ!
CQ is in the second week of providing free comics when you purchase your weekly comics. If
we forget to offer you a free book, please feel free to act. Limit one per person per week with purchase!
NEW ARRIVALS!
AVENGERS #680 LEG WW $3.99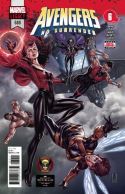 (W) Mark Waid, Al Ewing, Jim Zub (A) Aaron Kim Jacinto (CA) Mark Brooks
NO SURRENDER Part 6
Wonder Man and Beast team up in a desperate attempt to save Jarvis, while the Avengers reel from the crushing loss of one of their own.
DARK KNIGHTS RISING THE WILD HUNT #1 $4.99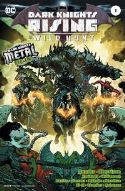 (W) Scott Snyder, James TynionIV, Joshua Williamson, Grant Morrison, Grant Morrison (A) Howard Porter, Jorge Jimenez (A/CA) Doug Mahnke
Continued from the pages of the bestselling DARK NIGHTS: METAL! The Dark Knights ride through the farthest reaches of the Multiverse to track down the unlikeliest of teams: The Flash, Cyborg, Raven and Detective Chimp. The mission: keep these heroes from completing their desperate quest to save all of existence! Plus, Challengers' Mountain crackles with dark energy that will release an army of the world's worst nightmares into the streets of Gotham City!
This one-shot also answers the question: Where are the Metal Men? And who is the latest addition to the team?
FOIL-STAMPED COVER
INVINCIBLE #144 OTTLEY & FAIRBAIRN $5.99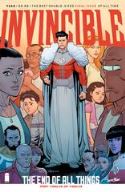 (W) Robert Kirkman (A) Cory Walker (A/CA) Ryan Ottley
SERIES FINALE
"THE END OF ALL THINGS," Conclusion
Final issue. Everything since issue one has been building to this. Nothing can prepare you.
NEW SUPER MAN & THE JUSTICE LEAGUE OF CHINA #20 3.99
(W) Gene Luen Yang (A) Brent Peeples, Richard Friend (CA) Philip Tan
"SEAS OF CHANGE" part one! It's the dawn of a new era for the Justice League of China! The New Super-Man of China and his teammates have struck out on their own, and even the Ministry's newly formed Lantern Corps is no match for this renegade force to be reckoned with! But as China's superhero community reorganizes itself, trouble is brewing in North Korea…and from the depths emerges a new metahuman that will change everything.
SIDEWAYS #1 $2.99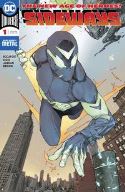 (W) Dan DiDio, Justin Jordan (A/CA) Kenneth Rocafort
During the events of DARK NIGHTS: METAL, high school junior Derek James accidentally fell through a rift into the dark matter dimension! Now, as Sideways, he can create rifts in midair to leap through dimensions at will! But with that much power comes great liability-and cracks are starting to form in the fabric of the space-time continuum…
STAR WARS THRAWN #1 (OF 6) $4.99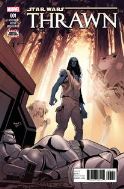 One of the most cunning and ruthless minds in all of the Star Wars, Grand Admiral Thrawn is back with his own six-issue miniseries! Written by Jody Houser (ROGUE ONE ADAPTATION) and drawn by Luke Ross (STAR WARS: DARTH MAUL, STAR WARS: THE FORCE AWAKENS ADAPTATION), follow the comic adaptation of Timothy Zahn's New York Times best-selling novel about Thrawn's rise in the Imperial ranks, on his way to becoming one of the most feared military tacticians in the galaxy far, far away.!
THIS WEEK IN TOYS/STATUES
POP HELLBOY W/EXCALIBUR PX VINYL FIGURE $11.99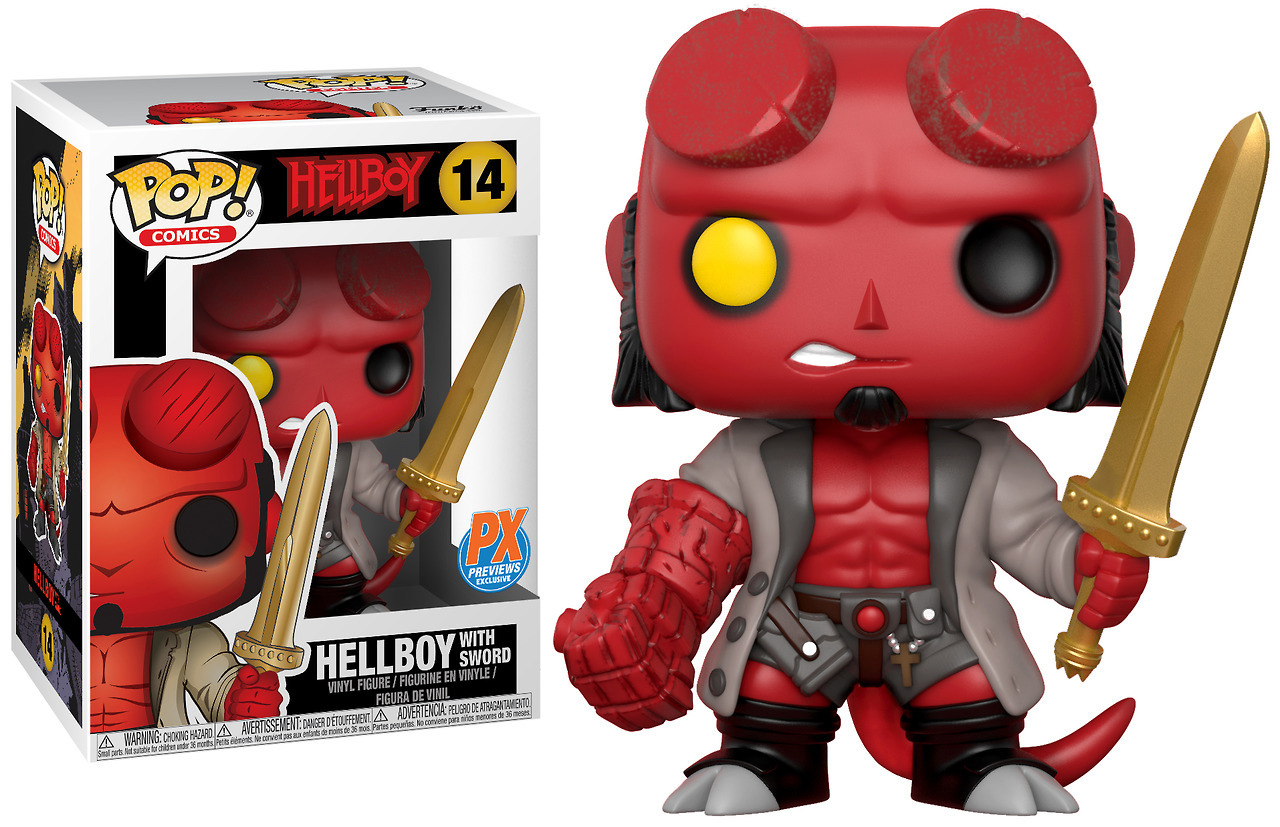 From Funko. A PREVIEWS Exclusive! Raised from the depths of Hell by occult-loving Nazis, Hellboy was saved and brought up by his adopted father Professor Broom and became the heroic red-hued hero we know and love. In The Storm, Hellboy confronts his destiny as the bearer of the sword Excalibur and now you can collect him in adorable Pop! form! This special Hellboy Pop! is only available through Diamond so don't miss out, order today!
GAME OF THRONES WINTER IS HERE MINI FIG 18PC BMB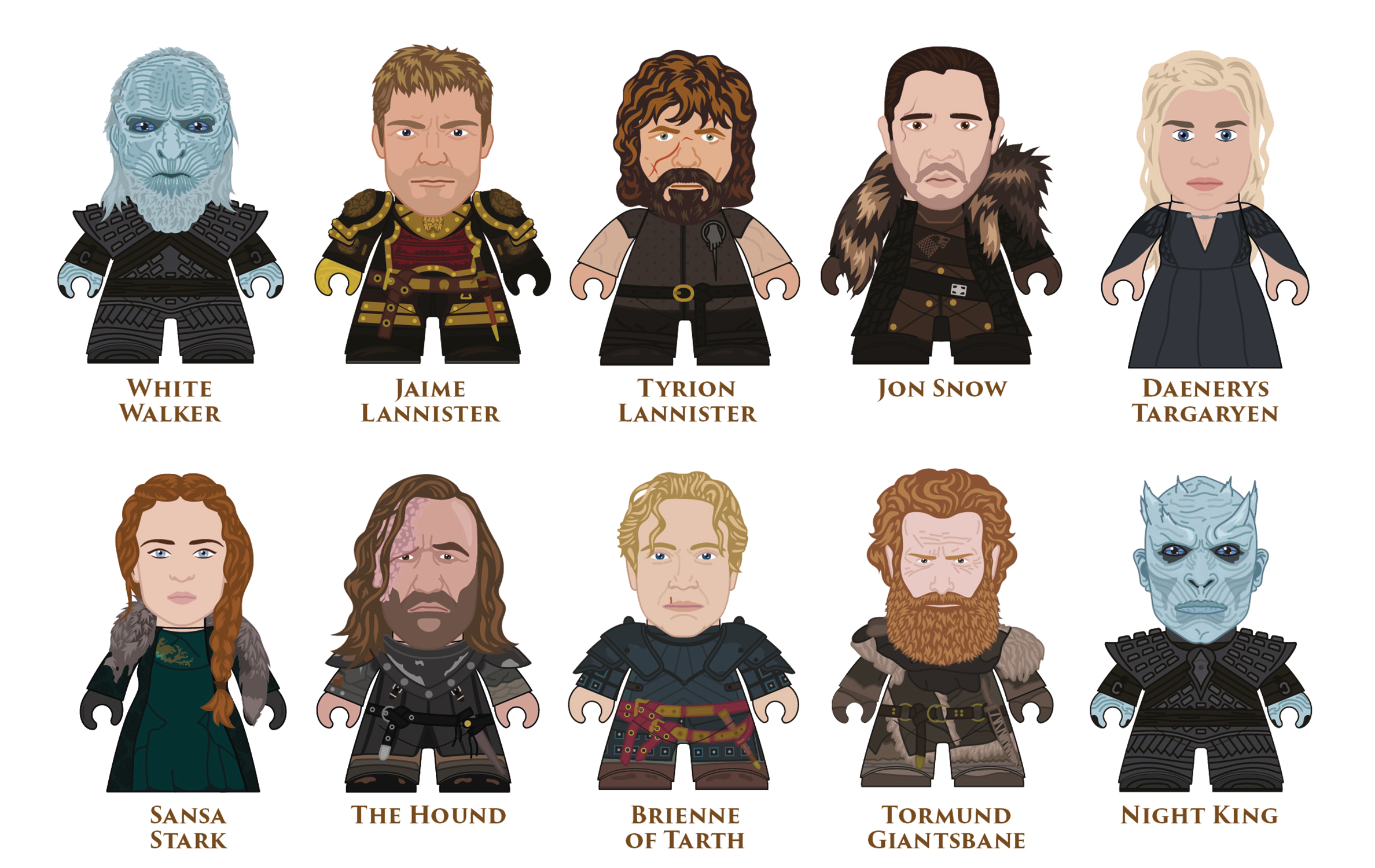 FrFrom Titan. Titan recreates the characters from the series in this wave of Game of Thrones Titans Mini-Figures. Characters such as Jaime Lannister, Jon Snow, Sansa Stark, Tormud, The Night King and more have been molded as 2 1/2″ tall vinyl characters. Collect your favorites, or collect them all! Blind mystery box packaging.
FINDERS KEYPERS DEADPOOL KEYCHAIN $29.99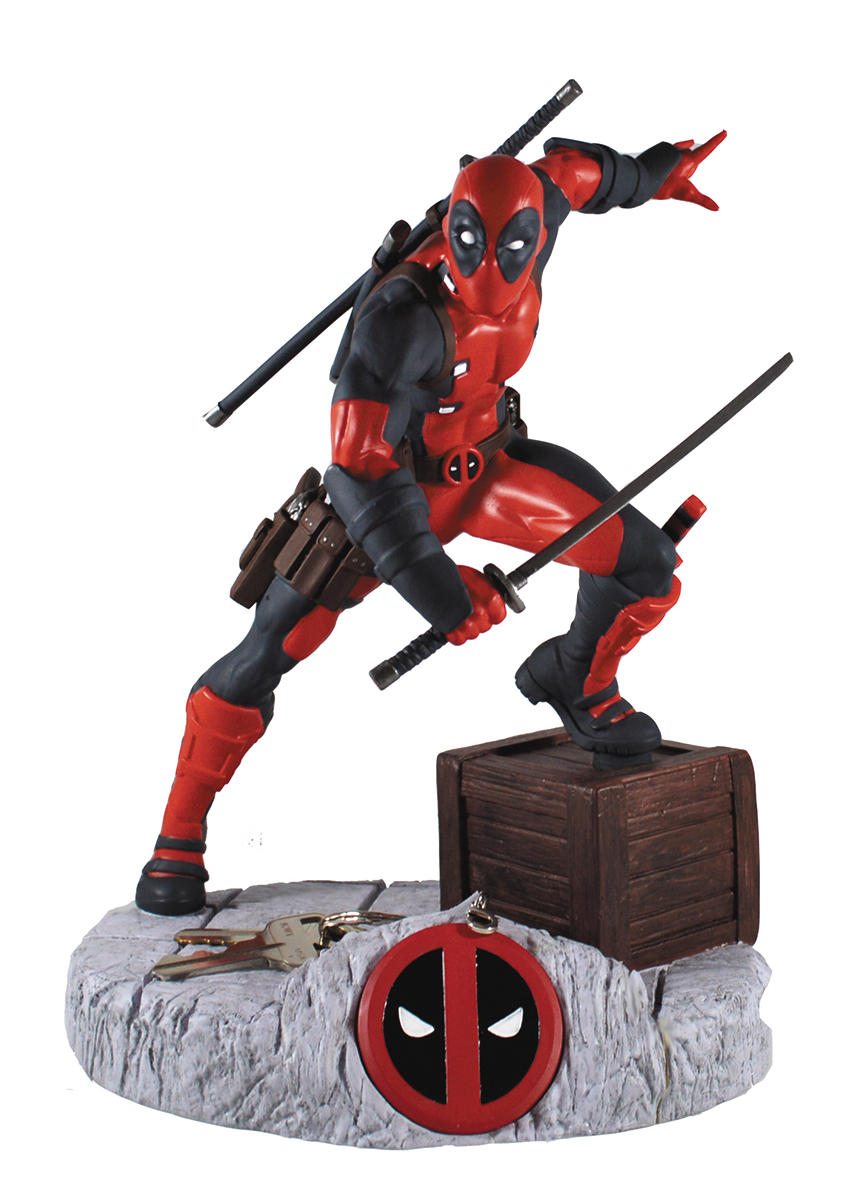 This Finders Keyper will give you a really cool place to store your keys. These 10″ statues are plastic and feature a removable key chain that nests in the base. Ridiculously highly detailed, with exceptional attention to likeness and paint, you can't hardly get anything this awesome for this price. And it watches over your keys! Great for display at your home or office.
DC COMICS SUPERMAN VINIMATE $9.99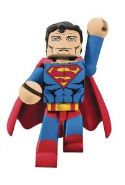 A Diamond Select Toys release! The heroes and villains of the DC Universe are back in the second series of comic-based DC Vinimates! Three new 4′ vinyl figures – Superman, The Joker, and Wonder Woman – are sculpted in the block-figure style, each striking an iconic pose straight from the comics. Each Vinimate comes packaged in a full-color box.
Trade-paperbacks of the Week!
BATMAN THE DARK PRINCE CHARMING HC BOOK 01 $12.99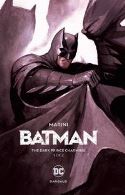 Acclaimed European comics master Enrico Marini (Eagles of Rome, Le Scorpion) makes his American comics debut with an original, two-part graphic novel starring the Dark Knight! What secret connection do both Batman and The Joker share with a strange and mysterious young girl? After shes kidnapped by The Joker, Batman must plunge deep into the underworld of Gotham City and race against time to find out where shes being held. The stakes are high, and for Batman, its personal! Watch for BATMAN: THE DARK PRINCE CHARMING BOOK TWO coming in spring 2018!
QUANTUM TEENS ARE GO TP VOL 01 $12.99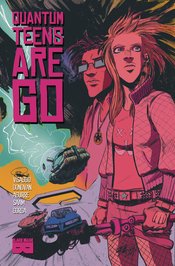 (W) Magdalene Visaggio (A/CA) Eryk Donovan
Mad science is the punkest s*** there is. Teenage sweethearts Nat & Sumesh spend their nights breaking into abandoned superlabs to steal the parts they need to build a time machine – and they've just found the most important piece. But mysterious entities keep trying to stop them from turning it on. Now all they've gotta do is hang on long enough to figure out why. Magdalene Visaggio (Eisner-nominated Kim & Kim) and Eryk Donovan (Memetic) bring you a high-octane adventure full of robots, muscle cars, and queer-a** skater punks.
LOVECRAFT MYTH OF CTHULHU HC $19.99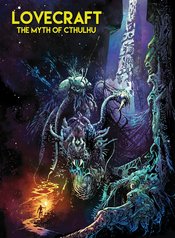 (W) Esteban Maroto (A/CA) Esteban Maroto
Illustrated in haunting black and white over 30 years ago, these comics are re-presented in a new edition, adapting three of H.P. Lovecraft's most famous stories involving the Cthulhu Mythos.
"The Nameless City" is considered the first story of Lovecraft's Cthulhu Mythos, detailing the discovery of an ancient city in the deserts of the Arabian Peninsula built by an unnamed race of reptilian beings. In "The Festival," a man arrives at the sea town of Kingsport, Massachusetts during Christmas but finds a place eerily empty and centuries out of date. "The Call of Cthulhu" is perhaps Lovecraft's most famous story, describing a man who, after finding the notes of his granduncle, is lead on a journey around the world in search of a mysterious and disturbing phenomenon.
TITANS TP VOL 03 A JUDAS AMONG US REBIRTH $16.99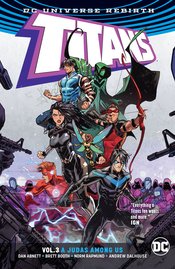 As Omen begins her investigation into the identity of the team's traitor, the Titans launch a full assault on H.I.V.E., whom they believe hold the key to restoring Bumblebee's broken mind. Meanwhile, tensions rise when Roy discovers Wally and Donna's blossoming romance—which threatens to tear the Titans apart! Collects issues #12-18.
MASTER LIST OF STUFF ARRIVING THIS WEEK!
ACTION COMICS #997 2.99
ACTION COMICS #997 VAR ED 2.99
ADVENTURE TIME SUGARY SHORTS TP VOL 04 19.99
AMAZING SPIDER-MAN ANNUAL #42 LEG 4.99
AMAZING SPIDER-MAN RENEW YOUR VOWS #16 LEG 3.99
ANGELIC #6 3.99
ANIMOSITY EVOLUTION #4 3.99
ARCHIE #28 CVR A MOK 3.99
ATHENA VOLTAIRE 2018 ONGOING #1 CVR A BRYANT 3.99
AVENGERS #675 2ND PTG LARRAZ VAR LEG 4.99
AVENGERS #680 LEG WW 3.99
BABYTEETH #8 3.99
BARBARELLA #3 CVR A CIFUENTES 3.99
BARBARELLA #3 CVR B FORNES 3.99
BARBARELLA #3 CVR C WIJINGAARD 3.99
BARBARELLA #3 CVR E YARAR EXC SUB 3.99
BATGIRL AND THE BIRDS OF PREY #19 3.99
BATGIRL AND THE BIRDS OF PREY #19 VAR ED 3.99
BATMAN LEGACY TP VOL 02 24.99
BATMAN THE DARK PRINCE CHARMING HC BOOK 01 12.99
BATMAN THE GOLDEN AGE TP VOL 04 29.99
BEN REILLY SCARLET SPIDER #14 LEG 3.99
BINGO LOVE OGN 9.99
BLACK BETTY #1 CVR A DA SACCO 4.99
BLACK MONDAY MURDERS #8 3.99
BLACK SABLE #4 (OF 6) CVR A 3.99
BLACK SABLE #4 (OF 6) CVR B 3.99
BLACK SABLE #4 (OF 6) CVR C 3.99
BLOODSHOT SALVATION #6 CVR A 3.99
BLOODSHOT SALVATION #6 CVR B 3.99
BLOODSHOT SALVATION #6 CVR C 3.99
BLOODSHOT SALVATION #6 PRE-ORDER BUNDLE ED 3.99
CABLE #154 LEG 3.99
CAPTAIN AMERICA #698 LEG 3.99
CARDFIGHT VANGUARD GN VOL 11 10.95
CHARISMAGIC PRIMER 0.25
CHARISMAGIC TP VOL 02 GOLDEN REALM 14.99
COLD WAR #1 CVR A SHERMAN 3.99
COLD WAR #1 CVR B JUAN DOE 3.99
COMIC BOOK CREATOR #16 8.95
CURSE WORDS #11 CVR A BROWNE 3.99
CURSE WORDS #11 CVR B LOTAY 3.99
DARK FANG #4 3.99
DARK KNIGHTS RISING THE WILD HUNT #1 4.99
DC COMICS SUPERMAN VINIMATE 9.99
DC COMICS THE JOKER VINIMATE 9.99
DC COMICS WONDER WOMAN VINIMATE 9.99
DC DESIGNER SER AQUAMAN & MERA GLEASON STATUE 250
DC MEETS LOONEY TUNES TP 19.99
DEADMAN #4 (OF 6) 3.99
DEATH OF LOVE #1 (OF 5) 3.99
DEATH OF STALIN (STATIX) SC 19.99
DESPICABLE DEADPOOL #294 HULK VAR 3.99
DESPICABLE DEADPOOL #294 LEG 3.99
DETECTIVE COMICS #974 2.99
DETECTIVE COMICS #974 VAR ED 2.99
DOCTOR STRANGE #385 LEG 3.99
DOCTOR WHO 12TH YEAR THREE #12 CVR A LACLAUSTRA 3.99
DOCTOR WHO 12TH YEAR THREE #12 CVR B PHOTO 3.99
DOCTOR WHO COMP HIST HC VOL 62 9TH DOCTOR STORIES 18.99
DOCTOR WHO LOST DIMENSION HC VOL 01 24.99
DOCTOR WHO LOST DIMENSION HC VOL 02 24.99
DOCTOR WHO MAGAZINE #521 11.99
EC ARCHIVES VAULT OF HORROR HC VOL 01 49.99
FALCON #5 LEG 3.99
FINDERS KEYPERS DEADPOOL KEYCHAIN 29.99
FLASH #40 2.99
FLASH #40 VAR ED 2.99
GAME OF THRONES WINTER IS HERE MINI FIG 18PC BMB
GI JOE A REAL AMERICAN HERO #248 CVR A DIAZ 3.99
GI JOE A REAL AMERICAN HERO #248 CVR B ROYLE 3.99
GI JOE FALL OF GI JOE TP 24.99
GIANT SPIDER & ME POST APOCALYPTIC TALE GN VOL 01 12.99
GIANTS #3 (OF 5) 3.99
GOOD MORNING SUPERMAN BOARD BOOK 7.99
GOOSEBUMPS MONSTERS AT MIDNIGHT #3 (OF 3) CVR A 3.99
GOOSEBUMPS MONSTERS AT MIDNIGHT #3 (OF 3) CVR B 3.99
GOTHAM CITY GARAGE #9 2.99
GRASS KINGS #12 MAIN & MIX 3.99
HACK SLASH VS VAMPIRELLA #5 (OF 5) CVR A ZULLO 3.99
HACK SLASH VS VAMPIRELLA #5 (OF 5) CVR B SUDZUKA 3.99
HAL JORDAN AND THE GREEN LANTERN CORPS #38 2.99
HAL JORDAN AND THE GREEN LANTERN CORPS #38 VAR ED 2.99
HARLEY QUINN RED WHITE & BLACK BY LAU STATUE 80
ICE CREAM MAN #1 2ND PTG 3.99
INVADER ZIM #28 3.99
INVADER ZIM #28 INCV VAR SYGH 3.99
INVINCIBLE #144 CVR A OTTLEY & FAIRBAIRN 5.99
INVINCIBLE #144 CVR B WALKER & FAIRBAIRN 5.99
JENNY FINN #4 (OF 4) 3.99
JIM HENSON POWER OF DARK CRYSTAL #11 (OF 12) 3.99
JIM HENSON POWER OF DARK CRYSTAL #11 (OF 12) SUB 3.99
JIMMYS BASTARDS TP VOL 01 (MR) 14.99
JOHN CARPENTER TALES OF SCI FI VORTEX #4 (OF 8) 3.99
JUDAS #3 (OF 4) 3.99
JUDGE DREDD MEGAZINE #392 13
JUSTICE LEAGUE OF AMERICA #24 2.99
JUSTICE LEAGUE OF AMERICA #24 VAR ED 2.99
KAMEN RIDER MECHA COLL BATTLE HOPPER & SHADOW MOON KIT
KICK-ASS #1 CVR A ROMITA JR 3.99
KICK-ASS #1 CVR B B&W ROMITA JR 3.99
KICK-ASS #1 CVR D QUITELY 3.99
KICK-ASS #1 CVR E COIPEL 3.99
KICK-ASS DAVE LIZEWSKI YEARS TP VOL 01 16.99
KICK-ASS DAVE LIZEWSKI YEARS TP VOL 02 16.99
KICK-ASS DAVE LIZEWSKI YEARS TP VOL 03 16.99
KICK-ASS DAVE LIZEWSKI YEARS TP VOL 04 16.99
KILL OR BE KILLED #16 3.99
LAZARUS X PLUS 66 #6 (OF 6) 3.99
LEGEND OF ZELDA MASTER SWORD UMBRELLA 27.99
LEGENDS OF TOMORROW THE ATOM TP 14.99
LOVE & ROCKETS MAGAZINE #2 4.99
LOVECRAFT MYTH OF CTHULHU HC 19.99
LUMBERJANES TP VOL 08 14.99
MAGE HERO DENIED #6 (OF 15) 3.99
MAMAMA MAGICAL DIRECTOR MAKO CHAN GN VOL 01 14.99
MARVEL COMICS DIGEST #5 AVENGERS W BLACK PANTHER 6.99
MARVEL GRAPHIC COMIC BOXES BLACK PANTHER
MARVEL TWO-IN-ONE #3 LEG WW 3.99
MARVEL UNIVERSE COOKING DEADPOOL ARTFX+ STATUE 64.99
MIGHTY CRUSADERS #3 CVR A SHANNON 3.99
MIGHTY CRUSADERS #3 CVR B JIMENEZ 3.99
MIGHTY MOUSE TP VOL 01 SAVING THE DAY 19.99
MINKY WOODCOCK GIRL WHO HANDCUFFED HOUDINI #3 CVR A 3.99
MINKY WOODCOCK GIRL WHO HANDCUFFED HOUDINI #3 CVR B 3.99
MISTER MIRACLE DIRECTORS CUT #1 (MR) 5.99
MOVIE REALIZATION SW ONMITSU SHADOWTROOPER AF
MS MARVEL #27 LEG 3.99
NEW SUPER MAN & THE JUSTICE LEAGUE OF CHINA #20 3.99
NEW SUPER MAN & THE JUSTICE LEAGUE OF CHINA #20 VAR ED 3.99
NIGHTWING TP VOL 07 SHRIKE 24.99
NINJA-K #4 CVR A CAFU 3.99
NINJA-K #4 CVR B POLLINA 3.99
NINJA-K #4 PRE-ORDER BUNDLE ED 3.99
NO GAME NO LIFE PLEASE GN VOL 03 13
OLD MAN HAWKEYE #2 (OF 12) LEG 3.99
OLD MAN LOGAN #35 LEG 3.99
PARADISO #3 CVR A PRAMANIK & KELLY 3.99
PESTILENCE TP VOL 01 17.99
PLANET OF THE APES URSUS #2 MAIN & MIX 3.99
PLANET OF THE APES URSUS #2 SUB 3.99
POKEMON SEEK & FIND HC KANTO 9.99
POP BTVS 25TH DARK WILLOW VINYL FIGURE 11.99
POP EMPERORS NEW GROOVE KRONK VINYL FIGURE 11.99
POP EMPERORS NEW GROOVE KUZCO VINYL FIGURE 11.99
POP EMPERORS NEW GROOVE PACHA VINYL FIGURE 11.99
POP HARRY POTTER GINNY ON BROOM VINYL FIGURE 11.99
POP HARRY POTTER RON ON BROOM VINYL FIGURE 11.99
POP HELLBOY W/EXCALIBUR PX VINYL FIGURE 11.99
POP KINGDOM HEARTS RIKU VINYL FIGURE 11.99
POP ONE PIECE FRANKY VIN FIG 11.99
POP ONE PIECE ZORO VIN FIG 11.99
POP RICK AND MORTY PICKLE RICK VIN FIG 11.99
POP ROCKS KURT COBAIN VINYL FIGURE 11.99
POP TEEN TITANS GO ROBIN AS NIGHTWING VINYL FIGURE 11.99
PORT OF EARTH #4 3.99
PUNISHER #221 LEG 3.99
QUANTUM TEENS ARE GO TP VOL 01 12.99
RAGMAN #5 2.99
RE ZERO STARTING LIFE REM 1/12 PVC FIG SWIMSUIT VER 39.99
RED HOOD AND THE OUTLAWS #19 3.99
RED HOOD AND THE OUTLAWS #19 VAR ED 3.99
ROBOTECH #7 CVR A SIMMONDS 3.99
ROBOTECH #7 CVR B ACTION FIG VAR 3.99
ROBOTECH #7 CVR C TURINI 3.99
ROBYN HOOD I LOVE NY TP VOL 01 29.99
ROBYN HOOD THE CURSE #2 (OF 6) CVR A 3.99
ROBYN HOOD THE CURSE #2 (OF 6) CVR B 3.99
ROCKOS MODERN LIFE #3 3.99
ROCKOS MODERN LIFE #3 SUB 3.99
RUMBLE #3 CVR A RUBIN 3.99
SAINT SEIYA SAINTIA SHO GN VOL 01 12.99
SCOOBY APOCALYPSE #22 3.99
SCOOBY APOCALYPSE #22 VAR ED 3.99
SCOOBY DOO WHERE ARE YOU #90 2.99
SECRET LOVES OF GEEKS TP 14.99
SHADE THE CHANGING GIRL WONDER WOMAN SP #1 4.99
SHEENA #6 CVR A SANAPO 3.99
SHEENA #6 CVR D COSPLAY 3.99
SIDEWAYS #1 2.99
SKYBOURNE #5 3.99
SLEEPLESS #3 CVR A 3.99
SLOTS #5 3.99
SPONGEBOB COMICS #77 3.99
STAR WARS ADVENTURES TP VOL 02 9.99
STAR WARS DARTH VADER #11 3.99
STAR WARS DARTH VADER #11 REIS LEIA VAR 3.99
STAR WARS POE DAMERON #24 3.99
STAR WARS THRAWN #1 (OF 6) 4.99
STAR WARS THRAWN #1 (OF 6) ANIMATION VAR 4.99
STARGATE ATLANTIS UNIV ANTHOLOGY 2018 FLASHBACK PREMIUM 9.99
STARGATE ATLANTIS UNIV ANTHOLOGY 2018 MAIN CVR 3.99
STARGATE ATLANTIS UNIVERSE ANTHOLOGY 2018 PHOTO CVR 3.99
STRAY BULLETS SUNSHINE & ROSES #32 3.99
SUICIDE SQUAD #35 2.99
SUICIDE SQUAD #35 VAR ED 2.99
SUPERGIRL #18 3.99
SUPERGIRL #18 VAR ED 3.99
SWORDQUEST TP 19.99
TABOO TATTOO GN VOL 09 13
TESTAMENT OF SISTER NEW DEVIL STORM GN VOL 02 12.99
TITANS #20 3.99
TITANS #20 VAR ED 3.99
TITANS TP VOL 03 A JUDAS AMONG US REBIRTH 16.99
TMNT UNIVERSE TP VOL 03 KARAIS PATH 19.99
TORCHWOOD THE CULLING #4 (OF 4) CVR A 3.99
TORCHWOOD THE CULLING #4 (OF 4) CVR B 3.99
TRANSFORMERS LOST LIGHT TP VOL 02 19.99
TROLLHUNTERS SECRET HISTORY OF TROLLKIND TP 10.99
TWISTED ROMANCE #2 (OF 4) 3.99
ULTRAMAN ORB SPACIUM SEPERION S.H.FIGUARTS AF
UNBEATABLE SQUIRREL GIRL #29 LEG 3.99
UNBEATABLE SQUIRREL GIRL YA NOVEL SC VOL 01 8.99
VAL X LOVE GN VOL 01 13
WARHAMMER 40000 DAWN OF WAR III TP 16.99
WARHAMMER 40000 FALLEN #4 (OF 4) CVR A 3.99
WEAPON X #14 LEG 3.99
WILDSTORM MICHAEL CRAY #5 3.99
WONDER WOMAN #40 2.99
WONDER WOMAN #40 VAR ED 2.99
X-MEN BLUE #21 LEG 3.99
XENA #1 (OF 5) CVR A FINCH 3.99
XENA #1 (OF 5) CVR B CIFUENTES 3.99
YOUNGBLOOD #9 CVR A TOWE 3.99
YOUNGBLOOD #9 CVR B LIEFELD 3.99
We hope to see you soon at CQ!
Visit us at 2260 Morgan Avenue, Evansville
On the web at www.comicquest.com
On Facebook www.facebook.com/comicquestevansville
On Twitter @cqevansville
On Instagram: @comicquestevansville
Contact us at sales@comicquest.com or by phone at 812-474-1133