Comic Quest Weekly for 2/17/2019
COMIC QUEST'S PULL & HOLD SERVICES…NOTES FROM THE INSIDE!(Part 2)
COMIC QUEST'S PULL & HOLD SERVICES…NOTES FROM THE INSIDE!(Part 2)
This week we thought we would detail the work we do each Tuesday when the comic book order and other related
merchandise(toys, supplies, posters,apparel, statues etc), come into the store. First, before the shipment is in the
store, we have to rotate last weeks comics, toys and trade-paperback to different sections of the store to make room for
the new product. Then, we do pick tickets on all the sub and special orders that are arriving in the shipment. Then, we
go to the UPS center and pick up our packages. When we return to the store we lay out all of the comics and trade-
paperbacks. We do counts on all the product and look for any damages. We then bad and board every single comic book
that we unpack. Next we take the pick-ticket reports and pull the comics for subscribers. We hand pick the subscriptions
for "Joe Jones" and manually place his week's subs into his P&H file. Once we have finished with the subs we look for
any special order amongst the other mechandise. Trade-paperbacks and other merchandise have to have their barcodes
checked to ensure they "ring up" in our point-of-sale. All toys have to have their prices put on them. At the end of
the day, we take the comics and the other merch back to our new arrival area.
In Part 3 next week we will detail how things can go wrong with our special order and P&H services and outline
some of the challenges of a comic book retail operation.
DC Releases Full Story Details For Detective Comics #1000
The full lineup of stories, writers and artists to be featured in DETECTIVE COMICS #1000 is:
"Medieval," by Peter J. Tomasi and Doug Mahnke
Appearing in DC's comic book continuity for the very first time, a new and mysterious version of the Arkham Knight will be debuting in a story that looks at Batman's encounters with his villains throughout his career through the Arkham Knight's eyes—but the Knight's scheme remains to be seen.
"Batman's Longest Case," by Scott Snyder and Greg Capullo
One of the most popular talent teams in the history of the Dark Knight delivers a tale in which Batman follows clues around the world, leading him back to his home in Gotham City and to a secret organization that has been keeping tabs on him for years.
"Manufacture for Use," by Kevin Smith and Jim Lee
The fan-favorite director of Clerks and one of Batman's most visionary artists present a story that cuts between Batman fighting his greatest villains and his attempts to track down the gun that killed his parents.
"The Legend of Knute Brody" by Paul Dini, Dustin Nguyen, Derek Fridolfs and John Kalisz
The villains of Gotham speak, documentary-style, about that one henchman they each hired who was the absolute WORST at his job, constantly screwing up their plans.
"The Batman's Design" by Warren Ellis and Becky Cloonan
Warren Ellis pens "The Batman's Design" with Becky Cloonan, the first woman to draw Batman in the main comic series, in a story of Batman pursuing a pack of technologically enhanced mercenaries into a warehouse, where they think they've trapped him.
"Return to Crime Alley" by Denny O'Neil and Steve Epting
A direct sequel to O'Neil's classic "There Is No Hope in Crime Alley," from DETECTIVE COMICS #457, in which Leslie Thompkins takes Batman to task for his addiction to violence, which, in her mind, perpetuates the horror that birthed him.
"Heretic" by Christopher Priest and Neal Adams
Two of the biggest powerhouse writers and artists in the comic book industry work together on a story featuring Batman helping a young man escape from Ra's al Ghul's League of Assassins— who then turned up in Gotham, dead. Batman travels to Tibet with a message for the League.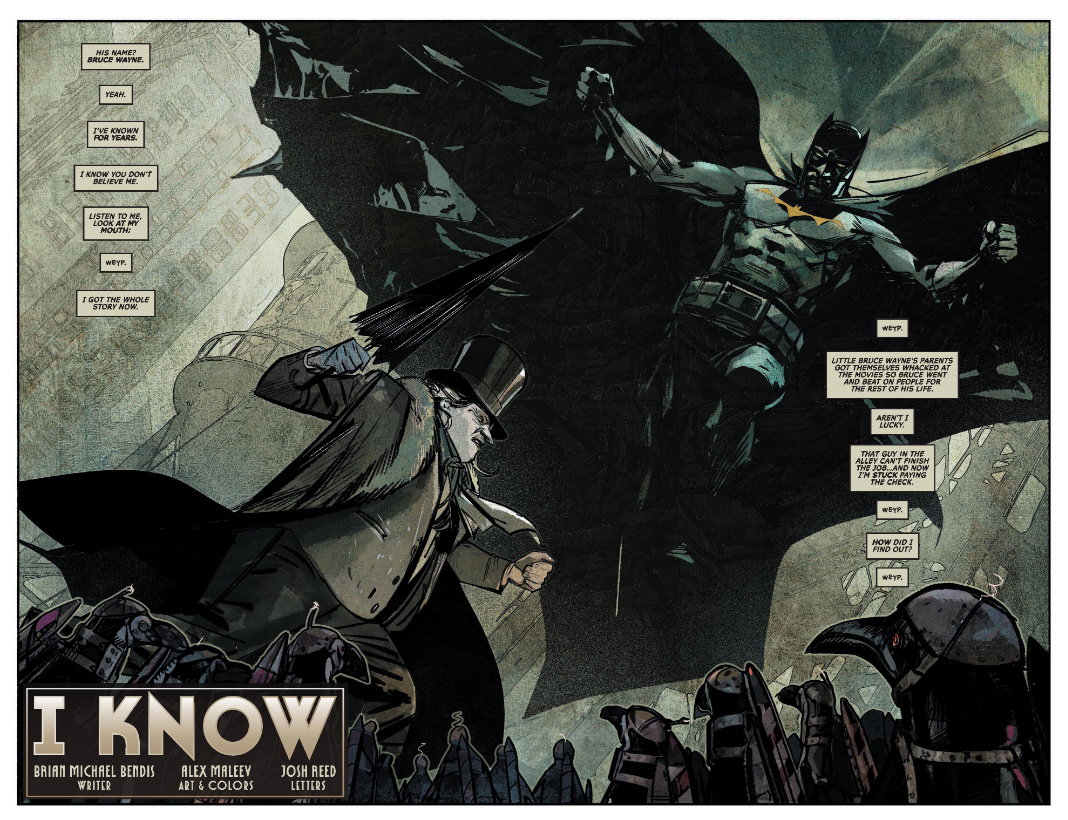 "I Know" by Brian Michael Bendis and Alex Maleev
The creative team behind SCARLET takes a unique future look at Batman and the Penguin. The Penguin comes to an elderly, wheelchair-bound Batman to tell him of the time that he learned Batman was Bruce Wayne—and to explain why he never did anything with that information. This story is available to read in its entirety here.
"The Last Crime in Gotham" by Geoff Johns and Kelley Jones
Superstar writer Geoff Johns and famed artist Kelley Jones tell a future story where the future family of Batman and Catwoman face off in a battle with the family of The Joker and Harley Quinn.
"The Precedent" by James Tynion IV and Alvaro Martinez
The team of James Tynion IV and Alvaro Martinez return to DETECTIVE COMICS after their highly successful Rebirth run, in a story of the night Bruce Wayne made the decision to bring Dick Grayson into his dark world, ending with the classic candlelight oath.
"Batman's Greatest Case" by Tom King, Tony Daniel and Joëlle Jones
Groundbreaking BATMAN writer Tom King is joined by Tony Daniel and Joëlle Jones, who share artistic duties on the story. Presented using parallel story threads, Bruce Wayne visits his parents' grave while Batman assembles his entire coalition of allies around him.
In addition to the above stories, DETECTIVE COMICS #1000 will feature additional art from Mikel Janín and Amanda Conner, as well as a two-page spread from Jason Fabok depicting the current state of the Batman universe and its heroes and villains.
To further celebrate the Caped Crusader's 80-year legacy, DETECTIVE COMICS #1000 will offer an extensive retailer variant cover program. Hard-core collectors will want to get their hands on this series of variant covers showcasing the Dark Knight through various decades from iconic Batman artists such as Steve Rude , Michael Cho , Jim Steranko , Bernie Wrightson , Frank Miller , Tim Sale, Jock and Greg Capullo—plus an homage to Jerry Robinson's cover of November 1942's DETECTIVE COMICS #69 by Bruce Timm.
HULKVERINES #1 (OF 3) 4.99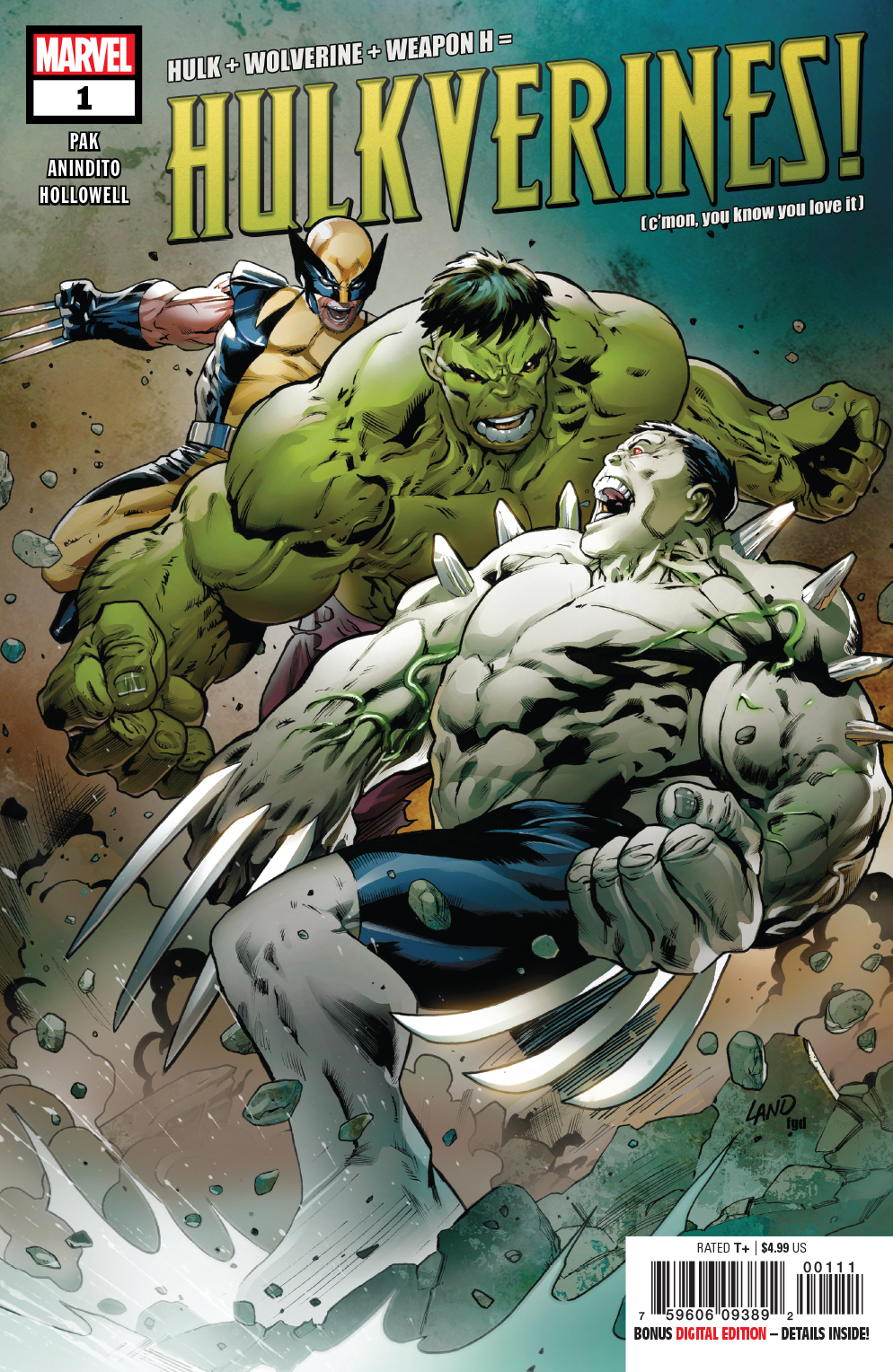 (W) Greg Pak (A) Ario Anindito (CA) Greg Land, D'Armata, Frank
THE CLASH YOU'VE BEEN WAITING FOR!
At last! It's Weapon H versus his predecessors-Wolverine and the Hulk! Once, the Weapon X program sought to recreate the world's two greatest hunters. They ended up with Weapon H, a man of Adamantium claws and gamma-juiced blood. Now, Wolverine and the Hulk are back in action – and coming after the dangerous creation made in their name!
SHARKEY BOUNTY HUNTER #1 (OF 6) CVR A 3.99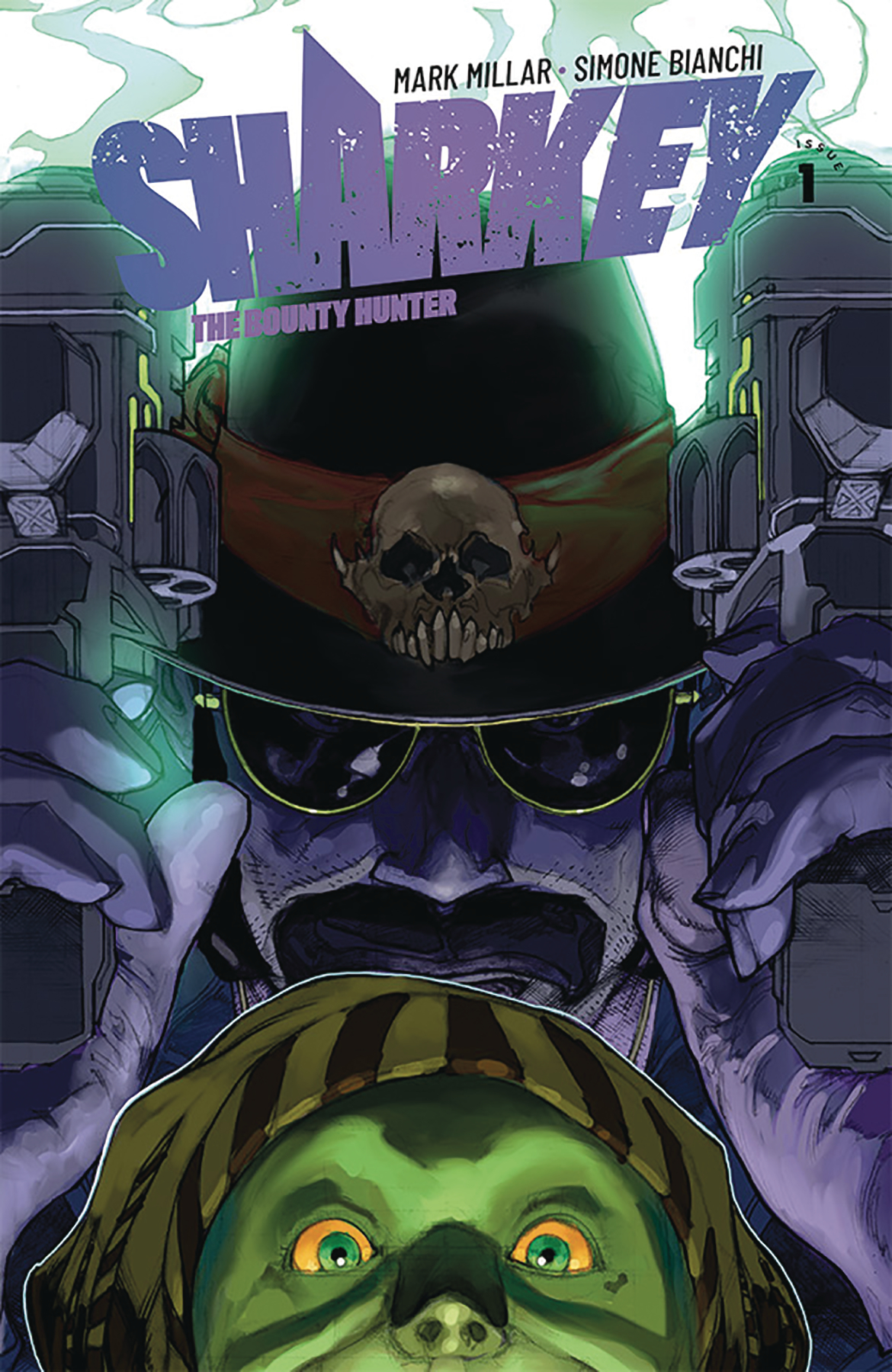 (W) Mark Millar (A/CA) Simone Bianchi
MINISERIES PREMIERE
Set in a brilliant new sci-fi universe, Sharkey is a blue-collar bounty hunter who tracks criminals across the galaxy in his converted, rocket-powered ice-cream truck. Aided and abetted by his ten-year-old partner, he's out for the biggest bounty of his career.
WOLVERINE INFINITY WATCH #1 (OF 5) 3.99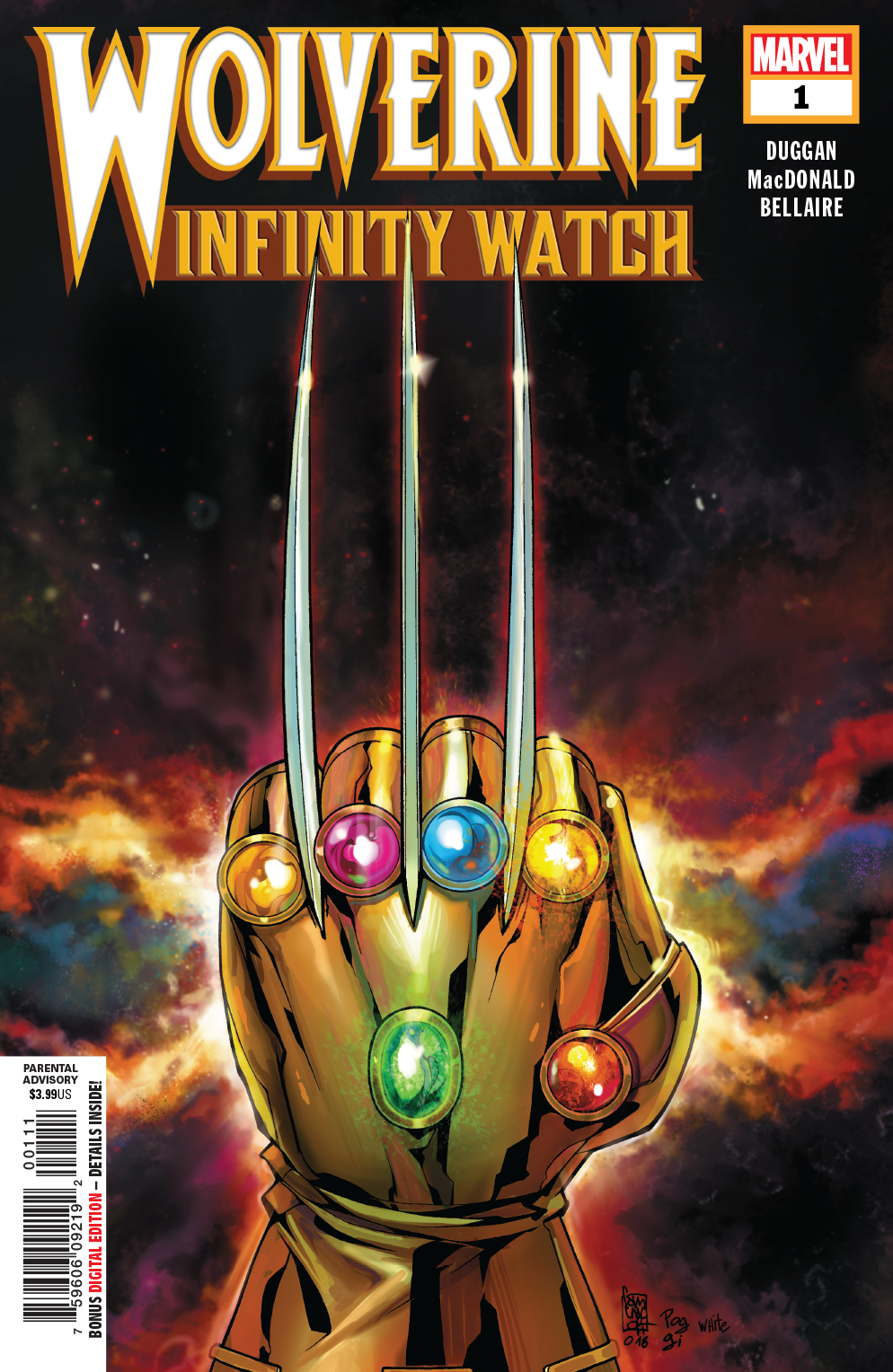 (W) Gerry Duggan (A) Andy MacDonald (CA) Giuseppe Camuncoli
Wolverine has finally returned, disentwined from the evil clutches of Soteira…but hang on, didn't he have an Infinity Stone? How did THAT happen?! And wasn't he popping up all over the place for a little while? The answers you seek are finally revealed as Logan goes cosmic alongside everyone's favorite god of lies and stories, Loki Laufeyson!
BATMAN #65 THE PRICE 3.99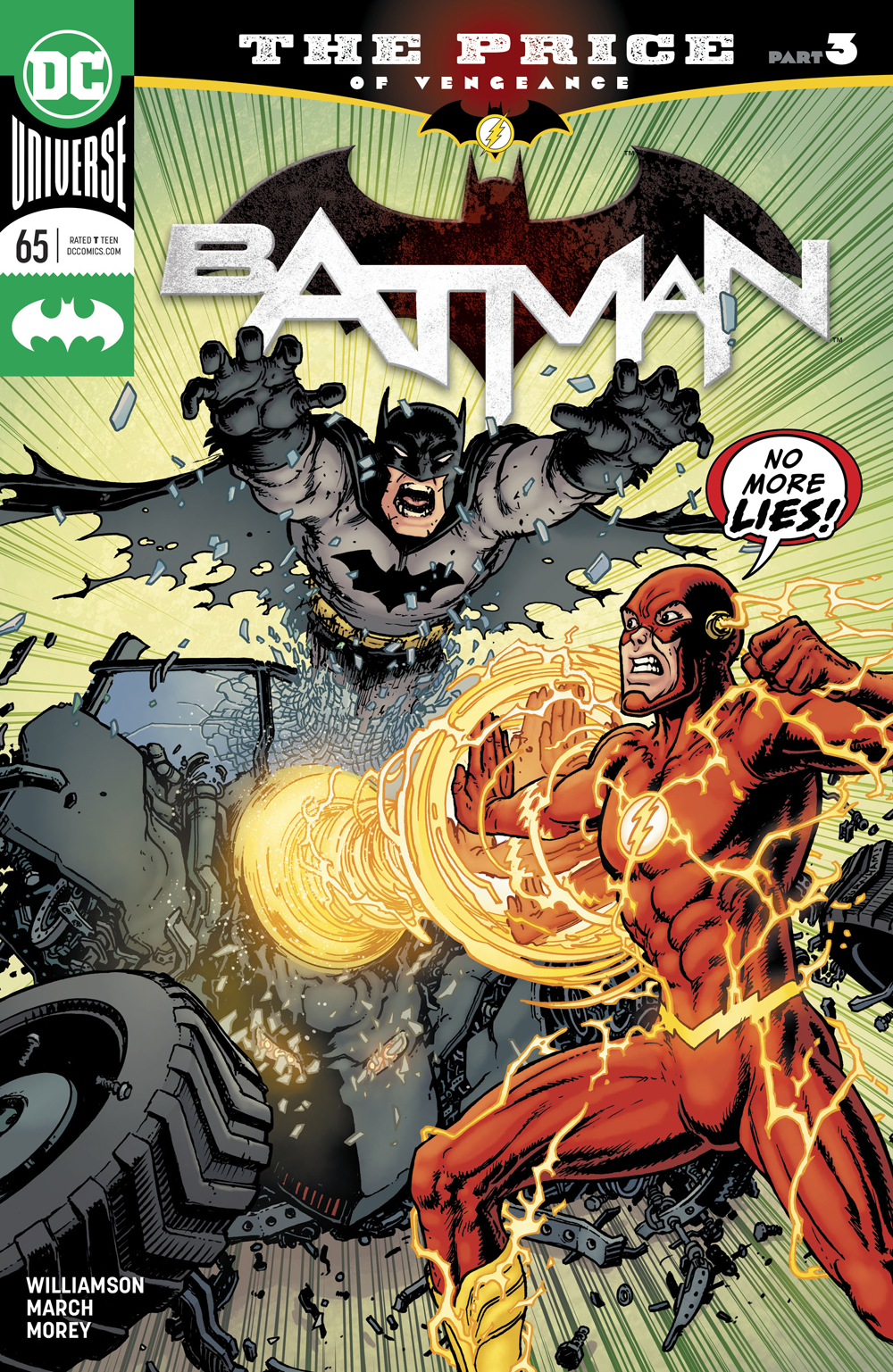 (W) Joshua Williamson (A) Guillem March (CA) Chris Burnham
"THE PRICE" part three! The two greatest detectives in the DC Universe take on the one cold case that will tear them apart!
As chief architect of the Sanctuary program that cost so much for so many, especially Wally West, Batman will be held accountable…by the Flash!
A cold case from the Justice League's past has mysteriously re-opened, and Batman and the Flash-the only two heroes who stand a chance of cracking the case-are at each other's throats! Our heroes must combat a demon from the past while burying their own inner demons in the process…and neither the World's Greatest Detective nor the Fastest Man Alive will ever be the same again! But who is really pulling the strings here? And how does Gotham Girl fit into all this? Friendships will be tested and blood will be spilled in this titanic crossover event…
HIGH LEVEL #1 3.99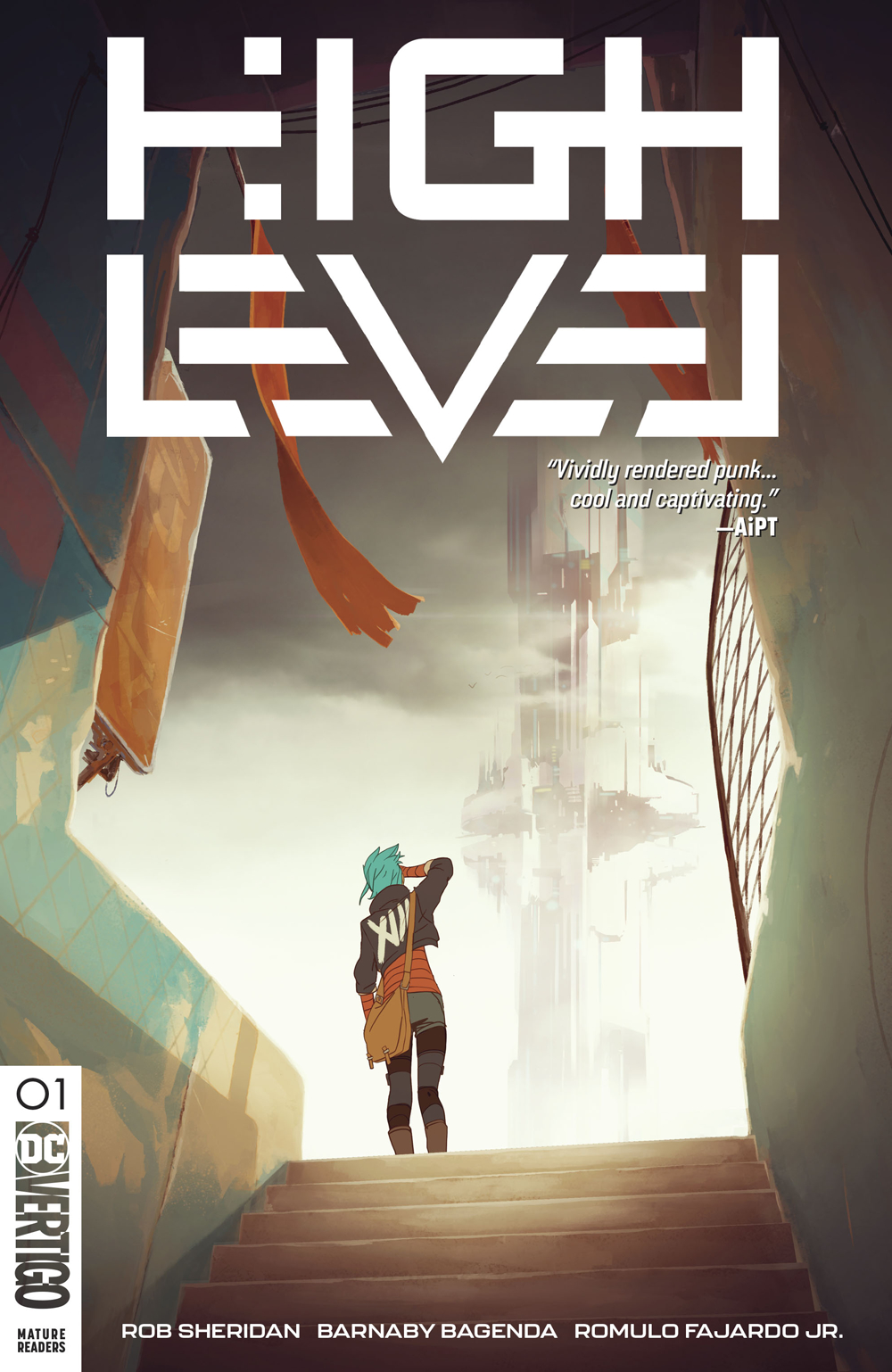 (W) Rob Sheridan (A) Barnaby Bagenda, Romulo Fajardo (CA) Guillaume Ospital
Hundreds of years after the world ended and human society was rebuilt from scratch, a self-interested smuggler is forced to traverse a new continent of danger and mystery to deliver a child messiah to High Level, a mythical city at the top of the world from which no one has ever returned. Don't miss the start of a new series from writer Rob Sheridan, co-creator of Nine Inch Nails' groundbreaking Year Zero alternate-reality game!
VENOM #11 3.99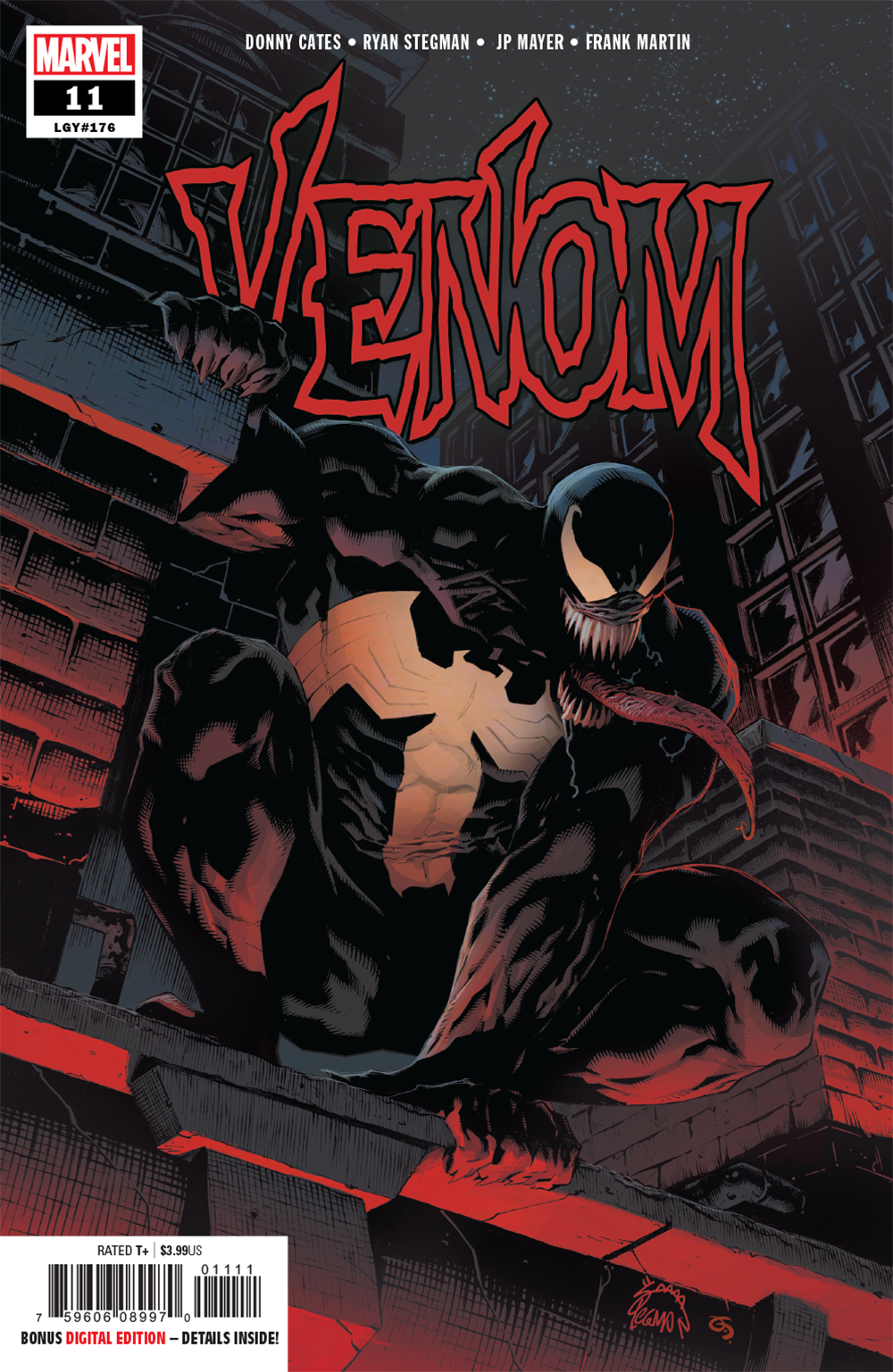 (W) Donny Cates (A) Joshua Cassara (A/CA) Ryan Stegman
• The sinister symbiote skulks the streets of San Francisco!
• With the symbiote silenced and Eddie finding parts of his memory missing, will he be able to find the answers he's looking for in the Golden City?
• Or will the return to his old stomping grounds reveal secrets better left buried?
THIS WEEK IN TOYS/STATUES
DESTINY

 GHOST CAYDE-6 VINYL FIG W/DLC 14.95

Fans of the Destiny games know how intrinsic the Ghosts are to the Guardians and their duty. Created by The Traveler to revive the ancient Guardians, the Ghosts are invaluable companions, providing insight and utilities to the player wherever their quest may take them. This officially licensed figure of Cayde-6 comes with Little Lights Emblem DLC, and a base with clear post to simulate levitation while on display.
POP DC HEROES BATMAN WHO LAUGHS PX VINYL FIGURE 12.99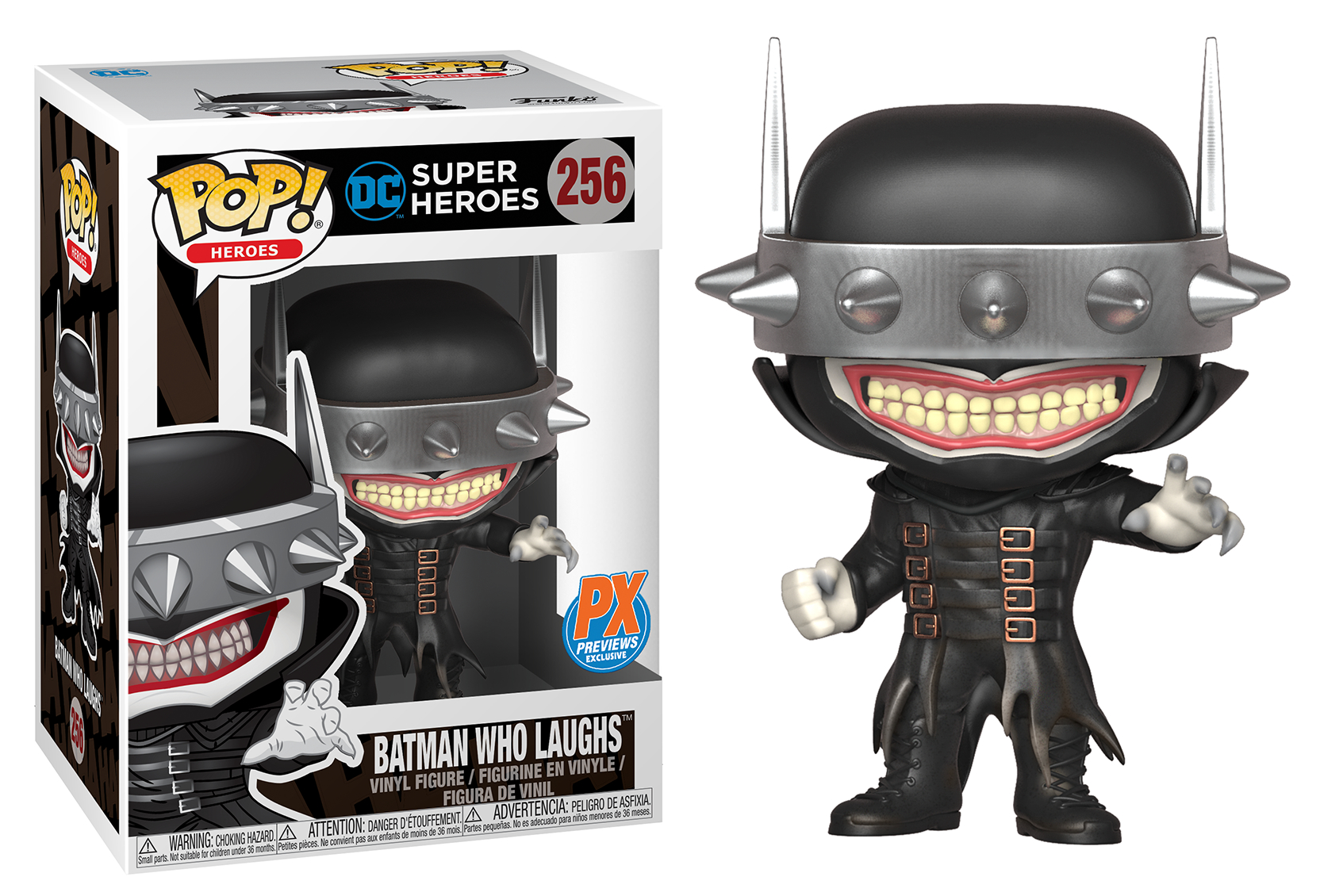 A PREVIEWS Exclusive! Ripped from the pages of Dark Nights: Metal comes the Batman Who Laughs, a striking version of the Caped Crusader from the Dark Multiverse who makes nightmares shudder as a POP! Vinyl Figure! This POP! figure stands about 3 3/4″ tall and features the fan-favorite urban, stylized design. Window box packaging.
PREDATOR ULTIMATE ELDER GOLDEN ANGEL 7IN AF 29.99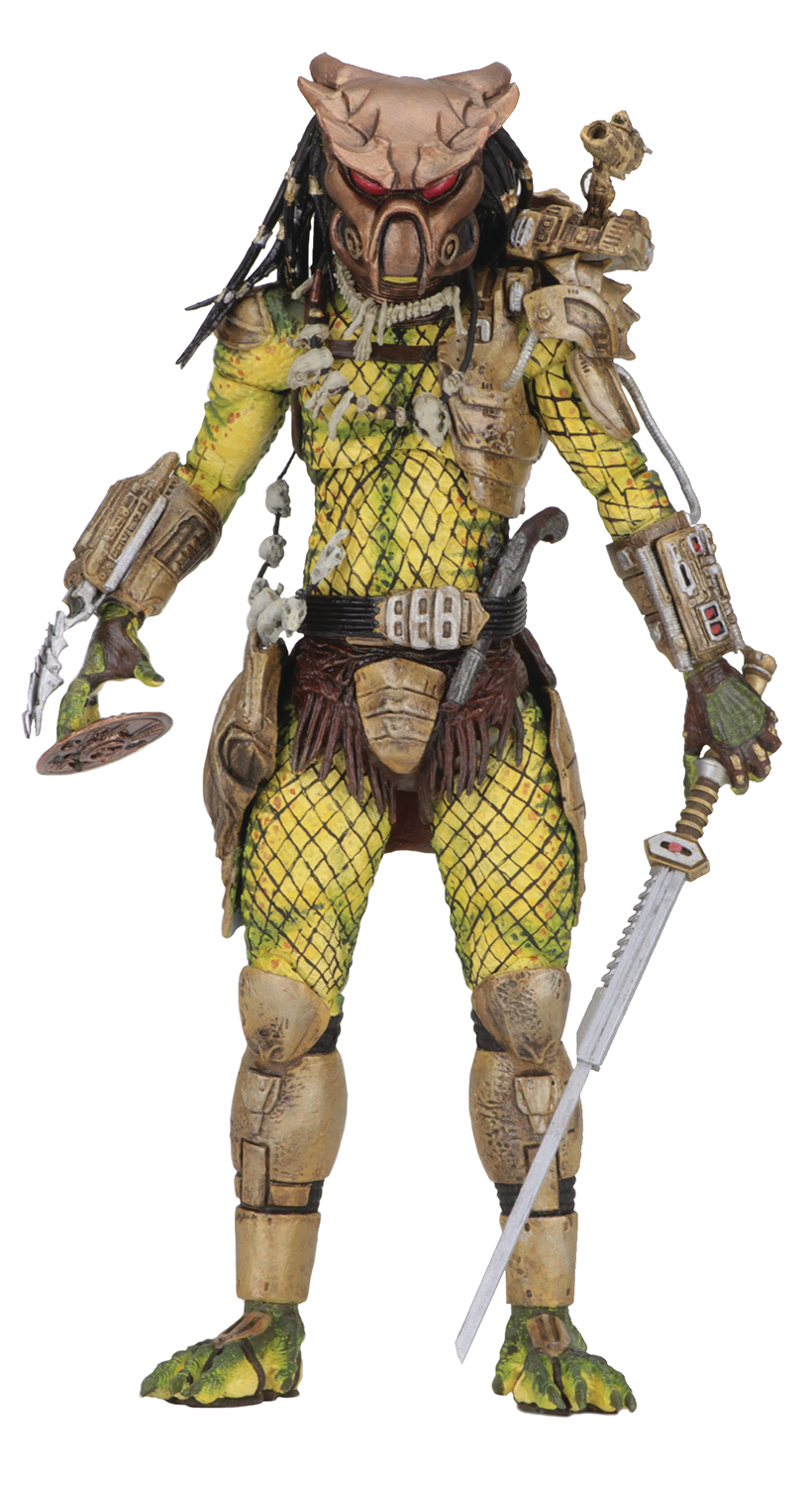 From NECA. NECA presents our first action figure ever from Dark Horse Comics' Predator: 1718! One of the most memorable moments in the 1990 film Predator 2is when Elder Predator gives his flintlock pistol to Detective Harrigan as a sign of respect. "Predator: 1718″ reveals the story of how Elder (whose coloration was more yellow in his younger days) originally acquired the pistol. The figure comes with 3 different heads, alternate hands, trophy necklace, smart disc, shoulder cannon, sword that fits in a back sheath, and flintlock pistol that tucks through his belt. Golden Angel Elder stands approximately 8.25" tall and features over 30 points of articulation. Collector-friendly deluxe window box packaging with opening flap.
SW PRINCESS LEIA ORGANA HERO OF YAVIN MINI-BUST 100
In the triumphant scene at the end of Star Wars: A New Hope, we see Princess Leia decorating Luke 
Skywalker and Han Solo with the Medal of Yavin, for their gallant effort that resulted in the 
destruction of the Imperial Death Star! Our previous releases include both Han Solo and Luke 
Skywalker. Now we complete the trilogy with the royal presenter herself, Princess Leia Organa of 
Alderan. This amazing mini bust illustrates the pride that Leia shows at the end of the film as she 
knows the Death Star has been destroyed and no other planets will face the same fate as her home world.
She stands proudly on the stage with her fellow heroes of the Rebellion. This mini bust was digitally 
sculpted by our master artisans, using actual archival footage and designs. Each bust is rendered using
the highest quality polystone, and is hand painted to exacting detail. All of the pieces in this series
are individually numbered and paired with a matching certificate of authenticity.

Trade-paperbacks of the Week!
CAPTAIN AMERICA TP VOL 01 WINTER IN AMERICA 17.99 (W) Ta-Nehisi Coates (A) Leinil Francis Yu (CA) Alex Ross
It's winter in America! For more than 70 years, Captain America has stood in stalwart defense of our country and its people. But in the aftermath of Hydra's takeover of the nation, Cap is a figure of controversy, carrying a tarnished shield – and a new enemy is rising! Distrusted by a nation that seems to have lost faith in him, and facing threats including the Taskmaster and an army of Nuke super-soldiers, Steve Rogers is a man out of time – and out of options! Where can Captain America turn for help stopping the influence-broker cabal known as the Power Elite? And which surprising villain is pulling the group's strings? Join acclaimed BLACK PANTHER scribe Ta-Nehisi Coates for the next chapter of Captain America's life! Collecting CAPTAIN AMERICA (2018) #1-6 and material from FREE COMIC BOOK DAY 2018 (AVENGERS/CAPTAIN AMERICA).
GHOST RIDER TP BOOK 01 WAR FOR HEAVEN 34.99 (W) Jason Aaron, Stuart Moore, Si Spurrier (A) Roland Boschi, Tan Eng Huat, More (CA) Marko Djurdjevic
We're hell-bent and heaven-bound as Jason Aaron blazes a new trail for the Ghost Rider! Over the years, Johnny Blaze has lost everything to his curse: his family, his life – even his soul. But now he finally knows who's responsible for turning him into a flaming-skulled horror show – and he's out for vengeance! But when fellow Ghost Rider Danny Ketch returns, whose side is he on? What familiar faces has Ketch brought to the party? And who's about to get shot in the head with a hellfire shotgun? Plus: Meet the mysterious Mister Eleven – he might be an angel, a demon or something else entirely! And what secrets lie within the town of Mercy, Idaho? Grab your helmet; it's gonna be one hell of a ride! Collecting GHOST RIDER (2006) #20-32, GHOST RIDER ANNUAL (2007) #1-2 and GHOST RIDER SAGA.
STARCRAFT TP VOL 01 17.99
(W) Jody Houser (A/CA) Gabriel Guzman
This new series further explores the expansive universe of Blizzard's hit game, with writer Jody Houser (Mother Panic, Faith) and artist Gabriel Guzmán (Mass Effect, Star Wars) at the helm. In StarCraft: Scavengers, a group of terran space scavengers hope to pull off the job of their lifetimes, pillaging a derelict protoss ship. (W) Nick Keller (A/CA) Conor Nolan
As summer comes to an end, three friends start senior year with a bang by exploring the mysterious past of their school. But before the night is over, their adventure turns into trouble when the kids set loose an evil that seeks to prey on their worst nightmares.
Brand-new horror from Nick Keller (Death Head), Conor Nolan (Jim Henson's The Storyteller: Giants), and Kelly Fitzpatrick (Shade the Changing Girl). Collects issues #1-#4 of the series.
MASTER LIST OF STUFF ARRIVING THIS WEEK!
ADVENTURE TIME MARCELINE PIRATE QUEEN ORIGINAL GN 14.99
ADVENTURE TIME MARCY & SIMON #2 (OF 6) MAIN 3.99
ADVENTURE TIME SEASON 11 #5 MAIN (C: 1-0-0) 3.99
AGE OF X-MAN AMAZING NIGHTCRAWLER #1 (OF 5) 3.99
AGE OF X-MAN AMAZING NIGHTCRAWLER #1 (OF 5)VAR 3.99
AMAZING SPIDER-MAN BY NICK SPENCER TP VOL 02 15.99
AMERICAN CARNAGE #4 3.99
ANTHEM #1 3.99
APPALACHIAN APOCALYPSE #2 3.99
AQUAMAN#45 3.99
AQUAMAN#45 VAR 399
AVENGERS #15 3.99
AVENGERS #15 PAREL 3.99
AVENGERS NO ROAD HOME #2 (OF 10) 3.99
BARBARELLA DEJAH THORIS #2 3.99
BATGIRL YEAR ONE DELUXE ED HC 34.99
BATMAN #65 THE PRICE 3.99
BATMAN #65 VAR THE PRICE 3.99
BEAUTY TP VOL 05 16.99
BEDTIME GAMES TP 17.99
BITTER ROOT #4 3.99
BLACK BADGE #7 MAIN & MIX 3.99
BLACK LIGHTNING BRICK CITY BLUES TP 19.99
BLACK ORDER #4 (OF 5) 3.99
BLACK ORDER #4 (OF 5) VAR 3.99
BLACK PANTHER EPIC COLL TP REVENGE BLACK PANTHER 39.99
BLACK WIDOW #2 3.99
BLOODBORNE #9 SONG OF CROWS 3.99
BREAKNECK #3 (OF 4) 3.99
BULLY WARS TP VOL 01 12.99
BURNOUTS TP 16.99
CABLE & X-FORCE TP ONSLAUGHT 39.99
CAPTAIN AMERICA TP VOL 01 WINTER IN AMERICA 17.99
CAPTAIN HARLOCK CLASSIC COLLECTION GN VOL 03 27.99
CASPERS GHOSTLAND #2 MAIN CVR 3.99
CATWOMAN #8 3.99
CATWOMAN #8 VAR 3.99
CONSPIRACY #3 (OF 5) CVR A 4.99
CONSPIRACY #3 (OF 5) CVR B 4.99
CRACKDOWN #1 3.99
DAMAGE #14 3.99
DAYS OF HATE TP VOL 02 17.99
DC UNIVERSE BY LEN WEIN HC 34.99
DEADPOOL MPGN TP SECRET AGENT DEADPOOL 14.99
DESTINY GHOST CAYDE-6 VINYL FIG W/DLC 14.95
DISNEY PIXARS INCREDIBLES 2 TP VOL 01 10.99
DOCTOR STRANGE #11 3.99
DUCKTALES #18 3.99
EAST OF WEST #41 3.99
ELSEWORLDS JUSTICE LEAGUE TP VOL 03 34.99
ERRAND BOYS #5 (OF 5) 3.99
EVOLUTION #14 3.99
EXORSISTERS #5 3.99
FRIENDLY NEIGHBORHOOD SPIDER-MAN #3 3.99
GHOST RIDER TP BOOK 01 WAR FOR HEAVEN 34.99
GIRLS UND PANZER DAS FINALE EXQ ANCHOVY FIG 24.99
GRUMBLE #4 3.99
GUARDIANS OF THE GALAXY #2 3.99
GUNDAM BUILD DIVERS 25 GBN-BASE GUNDAM HGBD MDL KIT
GUNDAM NT SINANJU STEIN 1/100 MDL KIT NARRATIVE VER
HIGH CRIMES TP 19.99
HIGH LEVEL #1 3.99
HIGH LEVEL #1 VAR 3.99
HOT LUNCH SPECIAL #5 3.99
HULKVERINES #1 (OF 3) 4.99
INCURSION #1 CVR A 3.99
INCURSION #1 CVR B 3.99
INCURSION #1 CVR C 3.99
INCURSION #1 CVR D 3.99
INCURSION #1 CVR F #1-4 PREORDER BUNDLE ED 3.99
INVADER ZIM DOOMSDAY DICE GAME 19.99
JAMES BOND 007 #4 3.99
JIM HENSON BENEATH DARK CRYSTAL #7 (OF 12) 3.99
JIM HENSON BENEATH DARK CRYSTAL #7 (OF 12) PREORDER 3.99
JIM HENSON LABYRINTH DISCOVERY ADVENTURE HC 14.99
JOJOS BIZARRE ADV GOLDEN WIND NARANCIA GHIRGA FIG 24.99
JUGHEAD THE HUNGER #12 3.99
JUSTICE LEAGUE #18 3.99
JUSTICE LEAGUE #18 VAR 3.99
KILLING JOKE NOVEL SC 12.95
KIM POSSIBLE ADVENTURES MOZZARELLO 9.99
LONE RANGER VOL 3 #5 3.99
LOVE ROMANCES #1 DAUTERMAN 3.99
LUCIFER #5 3.99
MAD MAGAZINE #6 5.99
MADE IN ABYSS GN VOL 05 13.99
MARS ATTACKS #5 CVR A 3.99
MARS ATTACKS #5 CVR B 3.99
MARS ATTACKS #5 CVR C 3.99
MARS ATTACKS #5 CVR D 3.99
MARS ATTACKS #5 CVR E 3.99
MARVEL ANIMATED VENOM STYLE STATUE
MARVEL POWERS OF A GIRL HC 16.99
MARVEL SUPERHERO ADV MIGHTY MARVELS YR SC 4.99
MARVELS AVENGERS ENDGAME PRELUDE #3 (OF 3) 3.99
MIDDLEWEST #4 3.99
MILES MORALES SPIDER-MAN #3 3.99
MILES MORALES SPIDER-MAN #3 VAR 3.99
MISS KOBAYASHIS DRAGON MAID ELMA DIARY GN VOL 01 12.99
MONSTRESS #20 3.99
NAOMI #2 3.99
NIGHTWING #57 3.99
NIGHTWING #57 VAR 3.99
OLD MAN HAWKEYE TP VOL 02 WHOLE WORLD BLIND 17.99
OLD MAN QUILL #2 (OF 12) 3.99
ONE PIECE GLITTER & BRAVE SANJI FIG 24.99
OUTPOST ZERO #7 3.99
POP ANIMATION FULLMETAL ALCHEMIST S1 EDWARD ELRIC VIN FIG 11.99
POP ANIMATION FULLMETAL ALCHEMIST S1 ROY MUSTANG VIN FIG 11.99
POP ANIMATION FULLMETAL ALCHEMIST S1 WINRY ROCKBELL VIN FIG 11.99
POP DC HEROES BATMAN WHO LAUGHS PX VINYL FIGURE 12.99
POP GAMES FORTNITE S1 CUDDLE TEAM LEADER VINYL FIG 11.99
POP MARVEL VENOMIZED IRON MAN VINYL FIG 11.99
POP MOVIES DIE HARD JOHN MCCLANE VINYL FIGURE 11.99
POP MOVIES FANTASTIC BEASTS 2 ZOUWU VINYL FIG 11.99
POP MOVIES FORTNITE S1A DARK VOYAGER VINYL FIGURE 11.99
POP MOVIES RUDY VINYL FIG 11.99
POP MOVIES WAYNES WORLD GARTH VINYL FIG 11.99
POP MOVIES WAYNES WORLD WAYNE VINYL FIG 11.99
POP PEZ BATMAN 1966 TV ROBIN 5.99
POP PEZ NBX SALLY 5.99
POP PEZ SONIC 5.99
POP ROCKS NOTORIOUS BIG W/CROWN VINYL FIGURE 11.99
POP ROCKS QUEEN BRIAN MAY VINYL FIGURE 11.99
POP ROCKS QUEEN FREDDIE MERCURY JUMPSUIT VINYL FIGURE 11.99
POP ROCKS QUEEN JOHN DEACON VINYL FIGURE 11.99
POP ROCKS QUEEN ROGER TAYLOR VINYL FIGURE 11.99
POP SPECIALTY SERIES DRAGON BALL Z MASTER ROSHI VIN FIG 11.99
POPSHIELD PET PROTECTORS 20PK 20.99
PREDATOR ULTIMATE ELDER GOLDEN ANGEL 7IN AF 29.99
PUNISHER TP VOL 01 WORLD WAR FRANK 15.99
RAINBOW BRITE #4 CVR A 3.99
RAINBOW BRITE #4 CVR B 3.99
RELAY #4 3.99
RETURN OF WOLVERINE #5 (OF 5) 4.99
RETURN OF WOLVERINE #5 (OF 5) GRANOV 4.99
RETURN OF WOLVERINE #5 (OF 5) KUBERT 4.99
RWBY OFFICIAL MANGA ANTHOLOGY GN VOL 04 12.99
SAVAGE DRAGON #242 3.99
SCOOBY DOO WHERE ARE YOU #97 2.99
SEVEN TO ETERNITY #13 3.99
SHARKEY BOUNTY HUNTER #1 (OF 6) CVR A 3.99
SHARKEY BOUNTY HUNTER #1 (OF 6) CVR B 3.99
SHARKEY BOUNTY HUNTER #1 (OF 6) CVR C 3.99
SHURI #5 3.99
SHUT IN SHOUTAROU KOMINAMI TAKES ON THE WORLD GN VOL 01 30
SONIC HEDGEHOG CRASH COURSE BOARDGAME 29.99
SONIC THE HEDGEHOG TP VOL 02 FATE DR EGGMAN 15.99
STAR WARS ADVENTURES #18 CVR A CHARM 3.99
STAR WARS MILLENNIUM FALCON 1/350 MDL KIT 5.5
STAR WARS SOLO ADAPTATION #5 (OF 7) 3.99
STAR WARS THE LAST JEDI R2-D2 W/PORGS LIFE-SIZE STAND UP 39.95
STARCRAFT TP VOL 01 17.99
STRONGHOLD #1 3.99
SUICIDE SQUAD BLACK FILES #4 (OF 6) 4.99
SW PRINCESS LEIA ORGANA HERO OF YAVIN MINI-BUST 100
SWORD ART ONLINE ALT GUN GALE LIGHT NOVEL SC VOL 03 14
SWORD ART ONLINE CODE REGISTER EXQ ALICE FIG 24.99
SWORD ART ONLINE HOLLOW REALIZATION GN VOL 02 13
TEEN TITANS #27 3.99
TEEN TITANS #27 VAR ED 3.99
TERMINATOR SECTOR WAR #3 (OF 4) 3.99
TMNT URBAN LEGENDS #10 3.99
TOKYO GHOUL RE GN VOL 09 12.99
TRANSFORMERS GEN WFC LEADER AF ASST 201901
TRANSMETROPOLITAN TP BOOK 01 19.99
TRUE BELIEVERS CAPTAIN MARVEL KREE SKRULL WAR #1 1
TUROK #2 CVR A 3.99
TUROK #2 CVR B 3.99
UNBEATABLE SQUIRREL GIRL 2 FUZZY 2 FURIOUS SC 7.99
UNCANNY X-MEN #12 3.99
UNCANNY X-MEN BY GILLEN COMPLETE COLL TP VOL 01 39.99
UNCLE SCROOGE #42 MAZZARELLO 3.99
UNSTOPPABLE WASP #5 3.99
URUSEI YATSURA GN VOL 01 19.99
VAL X LOVE GN VOL 05 13
VENOM #11 3.99
VENOM #11 VAR 3.99
VENOM #11 SKRULLS 3.99
WEST COAST AVENGERS TP VOL 01 BEST COAST 17.99
WILD STORM #20 3.99
WITCHER #3 OF FLESH & FLAME 3.99
WOLVERINE INFINITY WATCH #1 (OF 5) 3.99
WOLVERINE INFINITY WATCH #1 (OF 5) VAR 3.99
WOOF WOOF STORY LIGHT NOVEL SC VOL 01 14
WORLD OF READING THIS IS CAPT MARVEL YR SC 4.99
X-O MANOWAR (2017) #24 CVR A 3.99
X-O MANOWAR (2017) #24 CVR B 3.99
X-O MANOWAR (2017) #24 CVR C 3.99
ZODIAC #1 CVR A 4.99
ZODIAC #1 CVR B 4.99
ZODIAC #1 CVR C 4.99
ZZ GUNDAM 220 R-JARJA HGUC MDL KIT
We hope to see you soon at CQ!
Visit us at 2260 Morgan Avenue, Evansville
On the web at www.comicquest.com
On Facebook www.facebook.com/comicquestevansville
On Twitter @cqevansville
On Instagram: @comicquestevansvilletwitter.com/cqevansville
Contact us at sales@comicquest.com or by phone at 812-474-1133.