Comic Quest Weekly
PREVIEWS Makes Changes With Increased Value in April, May Issues
In the April edition of PREVIEWS, you will see a new combined section for print merchandise, as prose books and magazines will be merged with comics and graphic novels to create a larger print section, titled "Comics, Graphic Novels & Print."
Following the new "Comics, Graphic Novels & Print" section will be the return of a "Manga" section, added as a result of the resurgence and growth of the genre. The new section rolls out at the same time PREVIEWS features "Manga Month" as its April catalog theme. Accordingly, the April issue will feature an essential list of manga titles for readers to pick up, interviews with manga creators, as well as a backlist stock-up sale for retailers.
Additionally, starting in April, the toys and merchandise sections will be flipped with the PREVIEWS back cover. All information regarding toys and merchandise, including new products from premier toy vendors like Diamond Select Toys, DC Collectibles, and Eaglemoss, will be easily accessible by flipping the book over and starting from the back cover.
"The April issue is jam packed with new and exciting changes!" said PREVIEWS Editor, Marty Grosser. "We're making the comic shop's catalog a better read for fans, as well providing a better value. Readers are truly going to flip for PREVIEWS!"
In the May edition, more changes come to PREVIEWS as upcoming titles for DC Comics will no longer be included in the PREVIEWS catalog. Instead, DC Comics will be publishing a separate DC Previews catalog which will be included free of charge, with the purchase of PREVIEWS.
"For PREVIEWS readers, that means you'll receive a copy of PREVIEWS, DC Previews, Marvel Previews, and the Image Plus magazine—all for the price of $3.99!" commented Grosser.
If you haven't checked out the monthly Previews magazine do yourself a favor and look through it at CQ today. A new issue hits the shelves this Wednesday!
New Series Revealed At Image Expo 2018
The Image Expo keynote address, given by Publisher Eric Stephenson, reflected upon soaring sales increases over the course of 2017 for Image Comics and revealed the following new creator-owned project announcements for 2018.
BLACKBIRD by Sam Humphries & Jen Bartel
Sam Humphries (NIghtwing, Green Lantern) and Jen Bartel team up to co-create BLACKBIRD a modern fantasy story best described as Harry Potter meets Riverdale. It follows a young woman named Nina who discovers a neon-lit world of magic masters in Los Angeles. Now they've kidnapped her sister, and Nina is the only one who can save her.
"BLACKBIRD is a labor of love, a coming of age story and beautiful people doing insane things with magic," said Humphries.
The series launches from Image Comics in October 2018.
CROWDED by Christopher Sebela, Ted Brandt, Ro Stein & Triona Farrell
Sebela took to the stage and announced two new books today, one of which was CROWDED, which he's co-created with Ted Brandt and Ro Stein—a cynical send-up of the app economy and online grudges.
"Josh and I have been working on this book for a few years now in secret," said Sebela. "Just waiting for the chance to unleash it on readers and we're kinda freaking out that this thing we've put so much time and sweat into is really real and really good."
In CROWDED, a platform called Reapr allows anyone to crowdfund assassination attempts. The parody ignites when protagonist Charlie Ellison is forced to fend off a wave of hitmen with the help of a low-rate bodyguard.
The series launches in Summer 2018.
DEAD GUY FAN CLUB by Annie Wu
Annie Wu introduced fans to the forthcoming DEAD GUY FAN CLUB. In this new series, the founders of a rock star's fan club reunite in adulthood to investigate the suspicious death of their hero and the involvement of an unhinged member of their old flock.
"I'm thrilled to be writing and illustrating a new series," said Wu. "I can't wait to share this weird little black comedy with everyone."
The series launches from Image Comics in Fall 2018.
DEAD RABBIT by Gerry Duggan & John McCrea
DEAD RABBIT is a new ongoing series from writer Gerry Duggan (Deadpool) and artist John McCrea (Hitman) team up with colorist Mike Spicer in a rackous series about MARTIN DOBBS, a hot-tempered, foul-mouthed former mercenary and gun-for-hire who's forced out of retirement with predictably funny and violent results. With shades of UNFORGIVEN, THE EQUALIZER and ROBIN HOOD.
"Gerry Duggan! John McCrea! The peaches and cream of comics—though I'm not sure who's the peach…," said McCrea. "Anyway, this comic has Gerry's and my heart and soul poured into it, pick it up, you will love yourself forever for doing so…"
The series launches from Image Comics in Summer 2018.
DEATH OR GLORY by Rick Remender & Bengal
Fan favorite Rick Remender (SEVEN TO ETERNITY, DEADLY CLASS) teams up with brilliant French superstar Bengal to bring fans a high speed convoy crime thriller rocketing across the American West that examines our dwindling freedoms and the price paid by those who fight for an untethered life on the open road.
Meet Glory, raised free in a convoy, off the grid, amid the last men and women truckers fighting automation to continue living the American mythology of the open road.
Now, in order to pay for her beloved, dying Father's surgery, Glory has three days to pull off a four dangerous cross country heists with mob killers, crooked cops and a psycho ex-husband all out to bring her in or die trying.
"Rick and I have been preparing something for years now, it was a privilege to get to work with him, and an even greater one to take the time to develop something together," Bengal. "I'm very proud to finally present what we've been cooking! I hope readers will enjoy this story as much as we loved doing those pages."
The series launches from Image Comics in May 2018.
ECHOLANDS by J.H. Williams & Haden Blackman
J.H. Williams (Sandman: Overture, Batwoman) and Haden Blackman (Elektra, Batwoman) team up with colorist Dave Stewart and letterer Todd Klein for an all-new mythic fiction genre mash-up series in ECHOLANDS, a tale where the last war on Earth starts with Hope's sticky fingers…
"ECHOLANDS has been in development for years, bubbling in the background as we worked on other projects," said Blackman. "But it's a world and a cast of characters that has always drawn us back, and we're so grateful to be able to finally get the book out into the world."
On a world that has forgotten its own history, the key to excavating the past is in the hands of a young thief who must escape a vengeful wizard and his unstoppable golem.
The series will be coming soon from Image Comics.
FARMHAND by Rob Guillory
Rob Guillory (CHEW) returns to both write and draw an all-new series in, FARMHAND.
FARMHAND follows Ezekiel Jenkins, a family man and new agrarian who returns to his family fields—but these nightmarish crops give a new meaning to ear of corn and fingerling potatoes.
"This is a story that's been very near and dear to me for quite some time, and I'm absolutely thrilled to finally announce it," said Guillory. "I can't wait to introduce readers to the wonderful and horrific world of FARMHAND."
FARMHAND launches from Image Comics in July 2018.
JOOK JOINT by Tee Franklin & Maria Nguyen
Fresh off the buzz for BINGO LOVE's release on Valentine's Day, Franklin took to the stage to announce a new project with Image Comics—JOOK JOINT—with Maria Nguyen.
JOOK JOINT is a 5-issue time-period horror miniseries about a brothel/jazz club exposing the social evils of racism, rape, domestic violence, and inequality.
Because of its subject matter, JOOK JOINT is set to launch in October 2018, in time for Domestic Violence Awareness Month. Franklin and Nguyen will work with Image Comics on coordinating special charity variants to benefit Joyful Heart, a non-profit founded by Mariska Hargitay which places focus on healing, education and advocacy.
"As a domestic violence survivor, this is a story I've been working on for years. It's been extremely cathartic and therapeutic. It was important for me to have an artist who understood what JOOK JOINT meant to me, before inviting them to embark on this journey with me," said Franklin. "I appreciate that Image Comics has allowed me to tackle this subject matter, in addition to working with us on charity variants for Mariska Hargitay's Healing Heart foundation. I now have an opportunity to use my talents to help survivors like myself. People have helped me when I was going through a rough time in my life and now I want to give back."
THE LAST SIEGE by Landry Q. Walker & Justin Greenwood
Bestselling creators Landry Q. Walker (DANGER CLUB, Supergirl Cosmic Adventures in the 8th Grade) and Justin Greenwood (THE FUSE, Stumptown) team up for an all-new, ongoing medieval war story, inspired by the storytelling structure of classic Spaghetti Westerns.
"For years I have wanted to tell a medieval war story, one that pulls away from the fantasy elements the genre is so often saddled with," said Walker. "Swords, castles, and rage, all in a world where life is cheap. No other frills or distractions. Seeing this book come to print is a moment I have looked forward to for a long, long time."
Greenwood added: "Fast, gritty and full of action—I'd been looking for a book to really cut loose on and this project came along at the perfect time. I haven't drawn this much dirt or blood in a long time and loving every minute of it."
The series launches from Image Comics in Summer 2018.
LEVIATHAN by John Layman, Nick Pitarra, & Mike Garland
Eisner-award winning, New York Times bestselling writer John Layman (CHEW) is back, teaming up with New York Times bestselling artist Nick Pitarra (THE MANHATTAN PROJECTS) and colorist extraordinaire Mike Garland in the all new, ongoing series—that's Godzilla by way of black magic—in LEVIATHAN.
In LEVIATHAN, a group millennials try to do a black magic ritual for laughs and end up summoning a demonic giant monster determined to kill them all.
LEVIATHAN is coming this summer to Image Comics.
TODD MCFARLANE ANNOUNCES FIVE NEW PROJECTS
Todd McFarlane, President of Image Comics and creator of SPAWN, took to the stage today to announce five new comic projects. The timing of these come on the heels of his upcoming directorial debut for the new SPAWN feature film. The movie will be in production by late spring so these comics will hit shelf just as the SPAWN movie is getting wide publicity across multiple platforms.
1) MEDIEVAL SPAWN and WITCHBLADE crossover miniseries
This May release is a re-teaming of two of Image's most popular original characters.
The new mini-series is written by Brian Holguin with art by Brian Haberlin with 32 full pages of story and art will also feature a special augmented reality cover for only $2.99.
Fan favorites Spawn and Witchblade together for the first time in two decades!
2) SPAWN KILLS EVERYONE 2 (mini-series)
Due to the wonderful success of the one-shot, Todd McFarlane is creating along with Will Robson a four part mini-series that has our childish Spawn giving birth to hundreds of smaller Spawn babies who take his "kill list" and try to help out their new father.
3) MISERY (new ongoing monthly series)
In the wake of the #MeToo scandals arises a teenage hero who is tired of being pushed around and abused by the actions of others. This new character, MISERY, will help out those innocent people who have been victimized by the evil that is spread across the entire planet.
Stories will go global as Misery tries to discover exactly how to control her powers and how to make others feel her…misery.
4) SPAWN (on-going monthly title)
Comic Industry's longest running independent title continues its march towards its 300th issue as well as tying into the upcoming movie that McFarlane is writing and directing with Jason Blum and his Blumhouse Productions.
The comic Spawn is setting the stage to flush out some of his biggest enemies that he has locked on earth. He will come face to face with the Clown, Overt-Kill and an all-new Violator.
5) SAM and TWITCH True Detectives (8 part mini-series)
Detective "Twitch" Williams will be the main focus in the new full length film about to go into production and he will be introduce to a whole new audience with his appearance in the SPAWN film.
All eight issues have already been completed and will be released close to the film's announcement and trailers. Much like THE WALKING DEAD, new viewers will be drawn to the stories and characters they will be seeing on the big screen and also a potential new TV series.
NETFLIX'S MILLARWORLD TITLES LAUNCH WITH THE MAGIC ORDER
Comics titan Mark Millar (KINGSMAN: THE SECRET SERVICE, KICK-ASS, HIT-GIRL, JUPITER'S LEGACY) announced that Netflix's forthcoming Millarworld titles will be published by Image Comics, beginning with his first new project, THE MAGIC ORDER. THE MAGIC ORDER will feature art by Olivier Coipel (Amazing Spider-Man, Thor) and is planned as a six-issue miniseries.
We live in a world where we've never seen a monster, and The Magic Order is the reason we sleep safely in our beds. Magic meets the Mob in THE MAGIC ORDER as five families of magicians—sworn to protect our world for generations—must battle an enemy who's picking them off one by one. By day, they live among us as our neighbors, friends and co-workers, but by night they are the sorcerers, magicians and wizards that protect us from the forces of darkness…unless the darkness gets them first.
The series will launch from Image Comics in Summer 2018.
OBLIVION SONG by Robert Kirkman and Lorenzo De Felici
Image Comics partner Robert Kirkman (THE WALKING DEAD, OUTCAST BY KIRKMAN & AZACETA) took to the stage to show off the OBLIVION SONG #1 trailer for a sneak peek at what's in store for fans on Wednesday, March 7th when the new series hits stores.
PROXIMA CENTAURI by Farel Dalrymple
Farel Dalrymple returns with an all-new, six-issue miniseries full of psychedelic-science-fantasy-action drama in PROXIMA CENTAURI.
PROXIMA CENTAURI follows the teenage adventurer Sherwood Presley Breadcoat, "The Scientist" Duke Herzog, Dr. EXT the Time Traveller, M. Parasol, Shakey the Space Wizard, and Dhog Dahog. Sherwood is looking for escape from the spectral dimensional space zone and a way back to earth and his brother.
The miniseries will launch in June 2018.
THE RED HOOK, Vol 1: NEW BROOKLYN by Dean Haspiel
Emmy and Ringo Award winner Dean Haspiel brings THE RED HOOK to print for the first time.
The Red Hook is a super-thief who is bequeathed the Omni-Fist of altruism and is transformed into a superhero against his will or he will die a year after a sentient Brooklyn's heart is broken and physically secedes from America to form New Brooklyn.
The graphic novel will hit stores in June 2018.
SHANGHAI RED by Christopher Sebela & Joshua Hixon
Christopher Sebela and Joshua Hixson team up for a turn of the century revenge thriller SHANGHAI READ, a story that stretches from the deck of a boat outside Shanghai to the bleak streets (and the secret tunnels beneath them) of Portland, Oregon. A violent journey of vengeance, identity and family.
"Josh and I have been working on this book for a few years now in secret, just waiting for the chance to unleash it on readers and we're kinda freaking out that this thing we've put so much time and sweat into is really real and really good," said Sebela.
The series launches from Image Comics in June 2018.
UNNATURAL by Mirka Andolfo Mirka Andolfo brings hit Italian comic title, Contro Natura, to Image Comics in an English translated fantasy erotica title, UNNATURAL.
Leslie is a simple pig girl, she loves sushi and she is trapped in a job that she hates. She lives with Trish, her best friend. In her world, which is full of anthropomorphic creatures, the government interferes in the personal lives of its citizens, up to the point of allowing only relationships between individuals of the same race. The transgressors are punished. They are accused of being… unnatural! Leslie dreams of something different for herself. But these dreams are becoming dangerous, especially because they feature a mysterious wolf. And, when she wakes up, she thinks that she is being watched…
The series will launch in July 2018.
THE WEATHERMAN by Jody LeHeup & Nathan Fox
Writer Jody LeHeup (SHIRTLESS BEAR-FIGHTER), Eisner Award-nominated artist Nathan Fox (DMZ, HAUNT, Dark Reign: Zodiac), and Eisner Award-winning colorist Dave Stewart (Hellboy, RUMBLE) merge to form an unstoppable sci-fi tour de force with THE WEATHERMAN!
Local weatherman and fun-loving amnesiac Nathan Bright was just a normal guy living the good life on terraformed Mars. But the past Nathan didn't know he had comes back to murder him when he's accused of carrying out the worst terrorist attack in human history—an event that wiped out nearly the entire population of Earth.
Confused, terrified, and ill-prepared for life as the galaxy's most wanted man, Nathan's fate lies in the hands of Amanda Cross, the disavowed government agent assigned to his case. Together the unlikely duo will have to rely on each other as they battle their way through the solar system in search of the truth buried in Nathan's lost memory…and the key to stopping the real enemy from carrying out a second extinction-level attack.
"Series artist Nathan Fox's work on THE WEATHERMAN will hit you like a bolt of lightning," said LeHeup. "Vicious and vital, it's high energy for even higher stakes. There simply aren't comics more beautiful than this."
Fox added: "Before I even finished Jody's first script I knew I had to tell this story. THE WEATHERMAN is one of the most inspired, relevant, and human stories I've ever had the privilege of contributing to and I absolutely cannot wait for people to read it."
A full-throttle, widescreen, science fiction epic about the damage we do in the name of justice and what it truly means to be redeemed…
The series will launch in June 2018.
WHAT'S THE FURTHEST PLACE FROM HERE? by Matthew Rosenberg & Tyler Bos
The critically-acclaimed, breakout creative team behind 4 KIDS WALK INTO A BANK, Tyler Boss & Matthew Rosenberg come to Image Comics for an new series, WHAT'S THE FURTHEST PLACE FROM HERE?
"I'm really excited to be making my Image Comics debut with a book that is very personal to me," said Rosenberg. "And I'm thrilled to do it with Tyler, who I can barely tolerate as a person, but is a brilliant artist and collaborator. Together we're working to make a book that we hope will impact people the same way so many of our favorite comics have impacted us over the years."
WHAT'S THE FURTHEST PLACE FROM HERE? tells the story of a gang of young punks getting lost in the wasteland of America. After their youngest member disappears their quest to find her may put them in a fight to survive against the most deadly terrain, the most dangerous gangs, and maybe even each other. Or maybe not. Either way they're going to find out how the world ended.
Boss added: "The story and world Matthew and myself have built is dense and (hopefully) exciting. I've never felt more creatively charged and I've been putting that energy into every page. I hope that old man Rosenberg can keep up."
It launches in November 2018.
LOOK FOR FREE COMICS AT CQ!
CQ is in the second week of providing free comics when you purchase your weekly comics. If
we forget to offer you a free book, please feel free to act. Limit one per person per week with purchase!
NEW ARRIVALS!
AVENGERS #682 LEG $3.99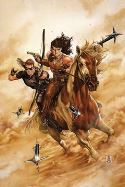 (W) Mark Waid, Al Ewing, Jim Zub (A) Sean Izaakse (CA) Mark Brooks
NO SURRENDER Part 8
One Avenger will gamble everything to save thousands – and the odds aren't in his favor! The Challenger reveals his ace in the hole, and Jarvis awakens from a mysterious coma long enough to cry four chilling words: "It's all a lie!"
FLASH #41 $2.99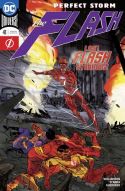 (W) Joshua Williamson (A) Neil Googe (CA) Carmine Di Giandomenico
"PERFECT STORM" part three! The Flash has lost what he prizes most of all and must call in an old ally to protect Central City while he sets out to get it back…Wally West! But with a new Flash protecting his city, will Barry be willing to cross lines he never crossed before?
KISS AOD #1 (OF 5) $3.99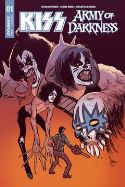 (W) Chad Bowers, Chris Sims (A) Ruairi Coleman (CA) Ken Haeser, Buz Hasson
KISS is on top of the world and rocking faces until the night disciples of The Destroyer show up and the band disappears. With the tour cancelled, a young Ash misses one of the most important events of his life that will change his destiny. Now the Chosen Onehas to get back on the right path and join the KISS ARMY OF DARKNESS!
SAGA #49 $2.99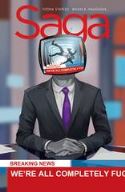 (W) Brian K. Vaughan (A/CA) Fiona Staples
NEW STORY ARC!
The multiple Eisner Award-winning series returns with a spacefaring adventure about fake news and genuine terror. Get ready for the most shocking, most impactful chapters of SAGA yet.
TERRIFICS #1 $2.99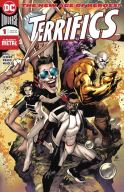 (W) Jeff Lemire (A) Joe Prado (A/CA) Ivan Reis
Bound together by fate, united by the spirit of exploration and hope for tomorrow, the Terrifics are bound from the Dark Multiverse of Metal! When Mr. Terrific, Metamorpho, Plastic Man and Phantom Girl find themselves literally bound together by a tragic accident, our team of unlikely allies must rely on one another to make their way back home. But a startling revelation on their return trip brings them face to face with a new mystery: Where in the universe is Tom Strong?
THANOS #16 LEG $3.99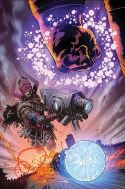 THANOS WINS Part 4
• The secret origins of King Thanos' right-hand man, the cosmic spirit of vengeance, Ghost Rider!
• Just who IS this madman and how did he become allies with the most evil man in the Universe?
Parental Advisory
THIS WEEK IN TOYS/STATUES
JUSTICE LEAGUE MOVIE AQUAMAN ARTFX+ STATUE $79.99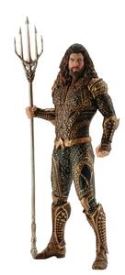 From Koto. Kotobukiya's next ARTFX+ statue lineup is from none other than the Justice League movie! Aquaman stands at 1/10-scale with magnets in the feet for display stability on the included base. Although in the 1/10-scale, Aquaman is sculpted in precise detail only possible with Kotobukiya's craftsmanship. Aquaman is precisely replicated from the face of the actor to the texture and color of his costume and utilities. Display alone or alongside other ARTFX+ Justice League members!
ONE-12 COLLECTIVE DC SUICIDE SQUAD HARLEY QUINN AF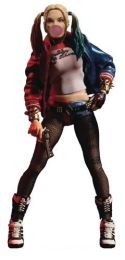 From Mezco Toys. Jumping off the big screen, from the summer box office smash Suicide Squad, comes Harley Quinn, the deranged and extremely dangerous poster girl formally known as Dr. Harleen Quinzel; now villainess girlfriend to the psychotic Joker. Debuting their premiere female body, The One:12 Collectivecaptures every aspect of Margot Robbie's celebrated portrayal of the dangerously unpredictable Harley Quinn. Crafted with detailing and outfitting never seen before at this scale, Harley comes with tailored cloth clothing and acessories like alternate hands for her bat and gun and 3 different heads! Each figure is packaged in a deluxe, collector friendly box for easy in-and-out of package display.
SW BLACK SERIES 6IN AF ASST 201801



Re-create the biggest battles and missions of the Star Wars saga with these 6″ figures from The Black Series! With exquisite features and articulated movement, the figures in this series embody the quality and realism that Star Wars devotees love. Each figure is crafted to display true-to-story detail and comes with an accurately decorated accessory. Act out favorite battles or create brand new ones! Build up an epic collection with all the figures and vehicles from The Black Series. Collect First Order Stormtropper, Phasma, Lando, Royal Guard, Poe Dameron, Jedi training Rey, Canto Bright and Captain Rex!
SUPERCUTE PLUSH HARRY POTTER SERIES 2 9PC PLUSH DISP



This series of SuperCute Plush features Harry Potter's snowy owl Hedwig, Hermione in her Yule Ball dress, and Ron in his Quidditch uniform. Rounding out the series comes Harry in his Quidditch uniform, and the Hogwarts Gamekeeper, Hagrid!
Trade-paperbacks of the Week!
DESPICABLE DEADPOOL TP VOL 01 DEADPOOL KILLS CABLE $17.99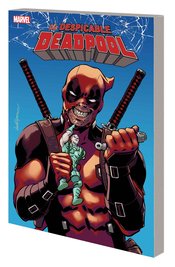 (W) Gerry Duggan (A) Scott Koblish (CA) David Lopez
Forget world's greatest – Deadpool is despicable! And to prove it, he's gonna ice Cable. You heard that right. No more being a hero – Wade Wilson is a wanted man, and he's going back to doing what he does best: killing people. What better way to show you're serious about going bad than offing your old pal? Deadpool's new best friend, Stryfe, is going to be so happy! Though just because Deadpool is a man on a mission, doesn't mean he can't find a little time along the way to fight some dinosaurs – because who wouldn't want to punch a dinosaur? But then it's straight back to the plan, we swear. Join Wade Wilson on his journey back to the dark side! Collecting DESPICABLE DEADPOOL #287-291.
Parental Advisory
JACK KIRBY 100TH CELEBRATION COLLECTION TP $19.99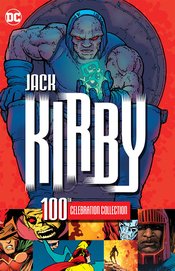 (W) Howard Chaykin, Dan Jurgens, Steve Orlando, Shane Davis, Walter Simonson, Keith Giffen, Sam Humphries, Mark Evanier, Paul Levitz, Reginald Hudlin, Dan DiDio (A) Howard Chaykin, Jon Bogdanove, Rick Leonardi, Shane Davis, Walter Simonson, Mark Buckingham, Steve Rude, Scott Kolins, Denys Cowan, Bill Sienkiewicz, Ryan Benjamin, Michelle Delecki, Richard Friend, Keith Giffen, Dan Green, Phil Hester, Ande Parks (CA) Chris Burnham
Celebrate the 100th anniversary of legendary comics creator Jack "King" Kirby with these tribute tales by a star-studded cast of writers and artists that collects THE NEW GODS SPECIAL #1, THE NEWSBOY LEGION AND THE BOY COMMANDOS SPECIAL #1, THE SANDMAN SPECIAL #1, the MANHUNTER SPECIAL #1 and the DARKSEID SPECIAL #1!
SUPERMAN THE MANY WORLDS OF KRYPTON TP $19.99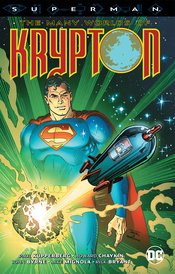 (W) Dennis O'Neil, Cary Bates, Elliot S. Maggin, John Byrne, Paul Kupperberg, Marv Wolfman, E. Nelson Bridwell (A) Dave Cockrum, Marshall Rogers, Mike Mignola, Howard Chaykin, Rick Bryant, Murphy Anderson, Frank Chiaramonte, Gray Morrow, Michael William Kaluta, Dick Dillin, Joe Giella, Frank Springer, Carlos Garzon (CA) Ross Andru (A/CA) Dick Giordano
Witness the past of Superman's homeworld in SUPERMAN: THE MANY WORLDS OF KRYPTON in this new title collecting WORLD OF KRYPTON #1-3, THE WORLD OF KRYPTON #1-4 and stories from SUPERMAN #233, 236, 238, 240, 248, 257, 266 and SUPERMAN FAMILY #182.
TEEN TITANS TP VOL 02 THE RISE OF AQUALAD REBIRTH $14.99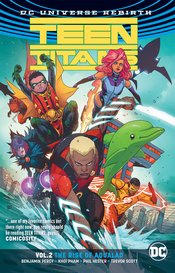 (W) Ben Percy (A) Wade Von Grawbadger, Phil Hester, Trevor Scott, Pop Mhan, Craig Yeung (A/CA) Khoi Pham
As the Teen Titans adjust to life in Titans Tower, Damian investigates a series of strange disappearances in San Francisco. Meanwhile, Aqualad Jackson Hyde heads west to fulfill his destiny…and finds himself in the crosshairs of the Teen Titans! Plus, out of the depths of the San Francisco Bay rises King Shark, backed by an army of mutant shark-people! Collects TEEN TITANS #6-7, 9-11!
MASTER LIST OF STUFF ARRIVING THIS WEEK!
ABBOTT #2 3.99
ACTION COMICS #998 2.99
ACTION COMICS #998 VAR ED 2.99
AGAIN GN VOL 01 (C: 0-1-0) 12.99
ALISIK FALL #1 (OF 2) CVR B BOOK VAR 5.99
ALL NEW WOLVERINE #31 HULK VAR LEG 3.99
ALL NEW WOLVERINE #31 LEG 3.99
ALTER EGO #151 (C: 0-1-1) 9.95
AMAZING CEREBUS #1 (OF 1) 4
AMERICA #12 LEG 3.99
ART OF SECRET WORLD OF ARRIETTY HC (C: 1-0-1) 34.99
ASTRA LOST IN SPACE GN VOL 02 (C: 1-0-1) 9.99
AVENGERS #677 2ND PTG LARRAZ VAR LEG 3.99
AVENGERS #678 2ND PTG LARRAZ VAR LEG 3.99
AVENGERS #682 LEG 3.99
AVENGERS ACADEMY TP VOL 01 COMPLETE COLLECTION 34.99
BACK ISSUE #103 (C: 0-1-1) 8.95
BACKWAYS #3 3.99
BATGIRL #20 3.99
BATGIRL #20 VAR ED 3.99
BATMAN BEYOND #17 3.99
BATMAN BEYOND #17 VAR ED 3.99
BATMAN SUPER POWERS TP 16.99
BATTLE ANGEL ALITA MARS CHRONICLE GN VOL 01 10.99
BEAUTIFUL CANVAS TP VOL 01 (MR) 14.99
BEEF #1 (OF 5) (MR) 3.99
BETTIE PAGE #8 CVR A LINSNER 3.99
BETTIE PAGE #8 CVR B CHANTLER 3.99
BETTIE PAGE #8 CVR C PHOTO 3.99
BETTY AND VERONICA VIXENS #4 CVR A EVA CABRERA 3.99
BIG TROUBLE IN LITTLE CHINA OLD MAN JACK #6 3.99
BIG TROUBLE IN LITTLE CHINA OLD MAN JACK #6 SUB 3.99
BLACK PANTHER #170 LEG WW 3.99
BLEACH GN VOL 72 (C: 1-0-1) 9.99
BLUE BEETLE #18 3.99
BLUE BEETLE #18 VAR ED 3.99
BODIE TROLL ORIGINAL GN (C: 0-1-2) 14.99
BORUTO GN VOL 03 NARUTO NEXT GENERATIONS (C: 1-0-1) 9.99
BTVS SEASON 11 GILES #1 3.99
BUNNY VS MONKEY GN VOL 03 (C: 0-1-0) 7.99
CAPTAIN AMERICA TP ADVENTURES OF CAPTAIN AMERICA 34.99
CAPTAIN MARVEL #129 LEG 3.99
CARDCAPTOR SAKURA CLEAR CARD GN VOL 02 (C: 1-1-0) 10.99
CARDFIGHT VANGUARD GN VOL 11 (C: 1-1-0) 10.95
CHAMPIONS #17 LEG 3.99
CLEM HETHERINGTON GN VOL 01 IRONWOOD RACE (C: 0-1-0) 14.99
CLOCKWORK PLANET LIGHT NOVEL VOL 01 (C: 0-1-0) 13.99
CROSSWIND TP VOL 01 (MR) 9.99
DAYS OF HATE #2 (OF 12) 3.99
DEMON HELL IS EARTH #4 (OF 6) 2.99
DESPICABLE DEADPOOL #295 LEG 3.99
DESPICABLE DEADPOOL TP VOL 01 DEADPOOL KILLS CABLE 17.99
DETECTIVE COMICS #975 3.99
DETECTIVE COMICS #975 VAR ED 3.99
DISNEY FAIRIES MANGA GN VOL 04 RANI MERMAID LAGOON 10.99
DISNEY MANGA PRINCESS & FROG GN (C: 0-1-2) 10.99
DMZ TP BOOK 04 (MR) 24.99
DOCTOR STAR & KINGDOM LOST TOMORROWS #1 3.99
DOCTOR STAR & KINGDOM LOST TOMORROWS #1 VAR CVR 3.99
DOCTOR STRANGE #386 LEG 3.99
DONALD DUCK NEST OF THE DEMONBIRDS TP 12.99
DOOM PATROL JLA SPECIAL #1 4.99
DUCKTALES #6 CVR A GHIGLIONE (C: 1-0-0) 3.99
DUCKTALES #6 CVR B GHIGLIONE (C: 1-0-0) 3.99
ELEANOR & THE EGRET TP VOL 01 14.99
ELFQUEST FINAL QUEST #24 3.99
FACEACHE FIRST HUNDRED SCRUNGES HC (C: 0-0-1) 22.99
FASTNER & LARSON BEAUTIES & BEASTS (O/A) 19.95
FLASH #41 2.99
FLASH #41 VAR ED 2.99
GASOLINA #6 (MR) 3.99
GFT DANCE OF THE DEAD #4 (OF 6) CVR A CHEN 3.99
GFT DANCE OF THE DEAD #4 (OF 6) CVR C KROME 3.99
GFT DANCE OF THE DEAD #4 (OF 6) CVR D MEGURO 3.99
GFT GRIMM TALES OF TERROR VOL 3 #13 (OF 13) A CVR ERIC J (MR 3.99
GFT GRIMM TALES OF TERROR VOL 3 #13 (OF 13) B CVR BIFULCO (M 3.99
GFT GRIMM TALES OF TERROR VOL 3 #13 (OF 13) C CVR REYES (MR) 3.99
GI JOE A REAL AMERICAN HERO #249 CVR A DIAZ 3.99
GI JOE A REAL AMERICAN HERO #249 CVR B ROYLE 3.99
GI JOE VS SIX MILLION DOLLAR MAN #1 CVR A CASSADAY 3.99
GI JOE VS SIX MILLION DOLLAR MAN #1 CVR B GALLANT 3.99
GLITTERBOMB TP VOL 02 FAME GAME (MR) 16.99
GO GO POWER RANGERS #7 MAIN & MIX 3.99
GO GO POWER RANGERS #7 UNLOCKABLE MOK VAR 3.99
GOTHAM CITY GARAGE #10 2.99
GRIMM FAIRY TALES #12 CVR A RIVEIRO 3.99
GRIMM FAIRY TALES #12 CVR B CASAS 3.99
GRIMM FAIRY TALES #12 CVR C RUIZ 3.99
GRIMM FAIRY TALES #12 CVR D TOLIBAO 3.99
GUNDAM 0080 GM COMMAND COLONY TYPE MG 1/100 MDL KIT
GWENPOOL #25 BARTEL VAR LEG 3.99
GWENPOOL #25 LEG 3.99
HACK SLASH RESURRECTION #5 CVR A SEELEY (MR) 3.99
HACK SLASH RESURRECTION #5 CVR B WHITE (MR) 3.99
HAL JORDAN AND THE GREEN LANTERN CORPS #39 2.99
HAL JORDAN AND THE GREEN LANTERN CORPS #39 VAR ED 2.99
HELLBLAZER #19 3.99
HELLBLAZER #19 VAR ED 3.99
HUNGRY GHOSTS #2 (OF 4) (MR) 3.99
IMAGINARY FIENDS #4 (OF 6) (MR) 3.99
INVINCIBLE IRON MAN #597 LEG 3.99
INVINCIBLE IRON MAN #597 STEVENS HULK VAR LEG 3.99
IRON MAIDEN LEGACY OF THE BEAST #3 (OF 5) CVR A 3.99
IRON MAIDEN LEGACY OF THE BEAST #3 (OF 5) CVR B 3.99
JACK KIRBY 100TH CELEBRATION COLLECTION TP 19.99
JESSICA JONES #17 LEG 3.99
JIM HENSON LABYRINTH #1 (OF 12) MAIN 3.99
JIM HENSON LABYRINTH #1 (OF 12) SUB ISAACS 3.99
JOHN CARPENTER TALES OF SCI FI VORTEX #5 (OF 8) (MR) 3.99
JUSTICE LEAGUE MOVIE AQUAMAN ARTFX+ STATUE 79.99
JUSTICE LEAGUE OF AMERICA #25 3.99
JUSTICE LEAGUE OF AMERICA #25 VAR ED 3.99
JUSTICE LEAGUE TP VOL 05 LEGACY REBIRTH 16.99
KISS AOD #1 (OF 5) CVR A STRAHM 3.99
KISS AOD #1 (OF 5) CVR B MONTES 3.99
KISS AOD #1 (OF 5) CVR C HAESER 3.99
KISS VAMPIRELLA TP 19.99
KNIGHTS OF THE DINNER TABLE #252 5.99
KONG OF SKULL ISLAND TP VOL 03 16.99
LEGEND OF ZELDA TWILIGHT PRINCESS GN VOL 03 9.99
LEGION #2 (OF 5) LEG 3.99
LEGION SON OF X TP VOL 02 INVASIVE EXOTICS 15.99
LOCKJAW #1 (OF 4) LEG 3.99
LOCKJAW #1 (OF 4) LIM VAR LEG 3.99
LUMBERJANES #47 3.99
LUMBERJANES #47 SUB 3.99
MARRY ME #10 3.99
MARVEL COMICS DIGEST #5 AVENGERS W BLACK PANTHER 6.99
MARVEL PREMIER COLL AMAZING SPIDER-MAN STATUE 150
MARVELS AVENGERS INFINITY WAR PRELUDE #2 (OF 2) 3.99
MERA QUEEN OF ATLANTIS #1 (OF 6) 3.99
MERA QUEEN OF ATLANTIS #1 (OF 6) VAR ED 3.99
MOON GIRL AND DEVIL DINOSAUR #28 LEG 3.99
MOON KNIGHT #192 LEG 3.99
MOTHERLANDS #2 (OF 6) 3.99
MOTOR CRUSH #10 CVR A TARR 3.99
MOTOR CRUSH #10 CVR B STEWART 3.99
MY LITTLE PONY LEGENDS OF MAGIC #11 CVR A FLEECS 3.99
MY LITTLE PONY LEGENDS OF MAGIC #11 CVR B HICKEY 3.99
NEIL GAIMAN AMERICAN GODS HC VOL 01 SHADOWS 29.99
ONE PUNCH MAN GN VOL 13 (C: 1-0-1) 9.99
ONE-12 COLLECTIVE DC SUICIDE SQUAD HARLEY QUINN AF
OPTIMUS PRIME #16 CVR A ZAMA 3.99
OPTIMUS PRIME #16 CVR B COLLER 3.99
OPTIMUS PRIME ANNUAL 2018 CVR A TRAMONTANO 7.99
OPTIMUS PRIME ANNUAL 2018 CVR B GRIFFITH 7.99
PETER PARKER SPECTACULAR SPIDER-MAN #300 LEG 5.99
PETER PARKER SPECTACULAR SPIDER-MAN #300 YOUNG VAR LEG 5.99
PIZZERIA KAMIKAZE ORIGINAL GN HC 24.99
POKEMON OMEGA RUBY ALPHA SAPPHIRE GN VOL 06 4.99
POKEMON SEEK & FIND HC HOENN (C: 1-0-1) 9.99
POKEMON SEEK & FIND HC JOHTO (C: 1-0-1) 9.99
POP BUDDY NI NO KUNI SER 1 EVAN W/HIGGLEDY VINYL FIGURE (C: 10.99
POP BUDDY NI NO KUNI SER 1 ROLAND W/HIGGLEDY VINYL FIGURE (C 10.99
POP BUDDY NI NO KUNI SER 1 TANI W/HIGGLEDY VINYL FIGURE (C: 10.99
POP GOD OF WAR ATREUS VINYL FIGURE (C: 1-1-2) 10.99
POP GOD OF WAR DRAUGR VINYL FIGURE (C: 1-1-2) 10.99
POP GOD OF WAR FIRE TROLL VINYL FIGURE (C: 1-1-2) 10.99
POP MONSTER HUNTER HUNTER VINYL FIGURE (C: 1-1-1) 10.99
POP MONSTER HUNTER RATHALOS VINYL FIGURE (C: 1-1-1) 10.99
POP MONSTER HUNTER ZINOGRE VINYL FIGURE (C: 1-1-1) 10.99
POP RICK AND MORTY PICKLE RICK W/LASER VIN FIG (C: 1-1-2) 10.99
POP STRANGER THINGS DUSTIN GHOSTBUSTERS VINYL FIGURE (C: 1-1 10.99
POP STRANGER THINGS LUCAS GHOSTBUSTERS VINYL FIGURE (C: 1-1- 10.99
POP STRANGER THINGS MAX W/SKATEBOARD VINYL FIGURE (C: 1-1-1) 10.99
POP STRANGER THINGS WILL GHOSTBUSTERS VINYL FIGURE (C: 1-1-1 10.99
PREVIEWS #354 MARCH 2018 3.99
RAT QUEENS #8 CVR A GIENI (MR) 3.99
RAVEN DAUGHTER OF DARKNESS #2 (OF 12) 3.99
REDNECK #10 (MR) 3.99
RICK & MORTY #35 (C: 1-0-0) 3.99
RICK & MORTY #35 INCV VAR VIGANTS 3.99
ROM & THE MICRONAUTS #3 (OF 5) CVR A OSSIO 3.99
ROUGH RIDERS RIDE OR DIE #1 (MR) (C: 1-0-0) 3.99
ROYAL CITY #10 CVR A LEMIRE (MR) 3.99
RUFF & REDDY SHOW #5 (OF 6) 3.99
SAGA #49 2.99
SCOOBY DOO TEAM UP #35 2.99
SHRUGGED VOL 3 #1 (OF 6) CVR A RISSO 3.99
SILENCER #2 (RES) 2.99
SPARKS GN (C: 0-1-0) 12.99
SPAWN #283 CVR A ALEXANDER 2.99
SPAWN #283 CVR B MCFARLANE & KUDRANSKI 2.99
SPIDER-GWEN #29 LEG 3.99
SPIDER-MAN DEADPOOL #28 LEG 3.99
STAR WARS DARTH VADER #12 3.99
STAR WARS JEDI OF THE REPUBLIC MACE WINDU TP 15.99
STARGATE ATLANTIS UNIVERSE ANTHOLOGY 2018 MAIN CVR 3.99
STEVEN UNIVERSE ONGOING #13 (C: 1-0-0) 3.99
STINKY CECIL IN MUDSLIDE MAYHEM GN (C: 0-1-0) 9.99
SUICIDE SQUAD #36 2.99
SUICIDE SQUAD #36 VAR ED 2.99
SUPERCUTE PLUSH HARRY POTTER SERIES 2 9PC PLUSH DISP
SUPERGIRL TV SUPERGIRL ARTFX+ STATUE 69.99
SUPERGIRL TV SUPERGIRL PX STATUE 65
SUPERMAN TAS DARKSEID RESIN BUST 59.99
SUPERMAN THE MANY WORLDS OF KRYPTON TP 19.99
SW BLACK SERIES 6IN AF ASST 201801
TALES OF WEDDING RINGS GN VOL 01 15
TEEN TITANS #17 3.99
TEEN TITANS #17 VAR ED 3.99
TEEN TITANS TP VOL 02 THE RISE OF AQUALAD REBIRTH 14.99
TERRIFICS #1 (RES) 2.99
THANOS #15 2ND PTG SHAW VAR LEG 3.99
THANOS #16 LEG 3.99
TMNT GHOSTBUSTERS TP VOL 02 17.99
TMNT ONGOING #79 CVR A COUCEIRO 3.99
TMNT ONGOING #79 CVR B EASTMAN 3.99
TOKYO GHOUL RE GN VOL 03 (C: 1-0-1) 12.99
TRANSFORMERS LOST LIGHT #15 CVR A LAWRENCE 3.99
TRANSFORMERS LOST LIGHT #15 CVR B ROCHE 3.99
TRANSFORMERS VS VISIONARIES #3 (OF 5) CVR A OSSIO 3.99
TRANSFORMERS VS VISIONARIES #3 (OF 5) CVR B VEREGGE 3.99
TWISTED ROMANCE #4 (OF 4) (MR) 3.99
UNBEATABLE SQUIRREL GIRL TP VOL 07 BEEN WAITING FOR SQUIRREL 17.99
UNCANNY AVENGERS UNITY TP VOL 05 STARS AND GARTERS 15.99
UNSTOPPABLE WASP TP VOL 02 AGENTS OF GIRL 15.99
VICTOR LAVALLE DESTROYER TP 19.99
VOID TRIP #4 (OF 5) (MR) 3.99
WEAPON X TP VOL 02 HUNT FOR WEAPON H 15.99
WILDS #1 CVR A PEARSON (MR) 3.99
WONDER WOMAN #41 2.99
WONDER WOMAN #41 VAR ED 2.99
X-MEN BLUE #22 LEG 3.99
X-O MANOWAR (2017) #12 CVR A LAROSA 3.99
X-O MANOWAR (2017) #12 CVR B CAMUNCOLI 3.99
X-O MANOWAR (2017) #12 PRE-ORDER BUNDLE ED 3.99
YOUNG MASTERS REVENGE GN VOL 01 9.99
We hope to see you soon at CQ!
Visit us at 2260 Morgan Avenue, Evansville
On the web at www.comicquest.com
On Facebook www.facebook.com/comicquestevansville
On Twitter @cqevansville
On Instagram: @comicquestevansville
Contact us at sales@comicquest.com or by phone at 812-474-1133