Comic Quest Weekly for 3/12/18
JOKER TAKES OVER AND DIRECTS MARCH MADNESS SALE AT CQ!
March Madness is here and who typifies madness as much as the clown prince of crime, The Joker. Look for daily madness sales from 3/13 through 3/31. Here are just a few of the daily sales coming up next week:
March 13 Tuesday DC Comics Buy Two Get One Free(new comics/reg back issues)
March 14 Wednesday 25% off Statues and Busts
March 15 Thursday All Pops Buy Two Get One Free
March 16 Friday Trade-paperbacks Buy One Get one Half off
March 17 Saturday ALL Toys Buy One get the second on half off
March 18 Sunday RPG's/Board Games Buy one Get one Half off
Look for a flyer for these days and the rest of the month soon.
LOOK FOR FREE COMICS AT CQ!
CQ is in the second week of providing free comics when you purchase your weekly comics. If
we forget to offer you a free book, please feel free to act. Limit one per person per week with purchase!
NEW ARRIVALS!
VAMPIRONICA #1 $3.99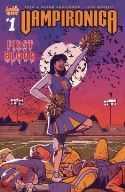 (W) Greg Smallwood, Megan Smallwood (A/CA) Greg Smallwood
NEW ONGOING SERIES! When Veronica is bitten by a centuries-old vampire, her thirst for blood threatens to turn Riverdale into a haven for the undead. Will she put an end to the vampire threat or give in to her blood lust?
AVENGERS #684 LEG BANNER HULK RETURNS $4.99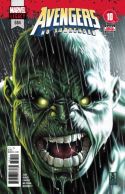 (W) Mark Waid, Al Ewing, Jim Zub (A) Joe Bennett, Paco Medina (CA) Mark Brooks
NO SURRENDER Part 10
THE AVENGERS WEEKLY EPIC CONTINUES IN THIS OVERSIZED ISSUE!
Back from the dead! He cannot be reasoned with. He will not be stopped. Bruce Banner isn't home right now. There is only THE IMMORTAL HULK.
INFIDEL #1 (OF 5) CVR A $3.99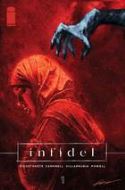 (W) Pornsak Pichetshote (A/CA) Aaron Campbell
A haunted house story for the 21st century, INFIDEL follows an American Muslim woman and her multiracial neighbors who move into a building haunted by entities that feed off xenophobia.
Bestselling editor PORNSAK PICHETSHOTE (Swamp Thing) makes his comics-writing debut alongside artist extraordinaire AARON CAMPBELL (The Shadow), award-winning colorist and editor JOSÉ VILLARRUBIA (Promethea) and letterer / designer JEFF POWELL (SCALES & SCOUNDRELS).
MISTER MIRACLE #7 (OF 12) $3.99


(W) Tom King (A) Mitch Gerads (CA) Nick Derington
Mister Miracle and Big Barda are in a panic. The war with Apokolips isn't going well. And it's Barda's turn to have her past come crashing back into her present as the Female Furies appear on the scene with blood on their minds. Continuing the acclaimed miniseries that Entertainment Weekly called "by far the best comic on the stands right now."
NEW MUTANTS DEAD SOULS #1 (OF 6) LEG $3.99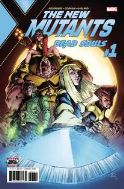 (W) Matthew Rosenberg (A) Adam Gorham (CA) Ryan Stegman
THEY AREN'T JUST THE X-MEN IN TRAINING ANYMORE!
The New Mutants are launching themselves headfirst into some of the creepiest corners of the Marvel Universe, going on the missions no one else will. But does the team know what they are really hunting for? And what are they willing to do to get it? The enigmatic MAGIK will lead her team of WOLFSBANE, RICTOR, BOOM-BOOM and STRONG GUY and bring them face-to-face with paranormal threats that they may not be prepared for, and that might just tear them apart! Rising-star writer Matthew Rosenberg (PHOENIX RESURRECTION) teams up with future superstars Adam Gorham and Michael Garland (ROCKET) to bring you the next chapter in the lives of Marvel's underdog team. Welcome to the new class of New Mutants – hope you make it out alive.
DRY COUNTY #1 $3.99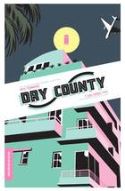 (W) Rich Tommaso (A/CA) Rich Tommaso
RICH TOMMASO is taking a short hiatus on SPY SEAL and releasing a new crime series in the meantime, one set in the late 1980s of Miami that follows a young Generation Xer who plays amateur detective in order to find a missing lady he's recently fallen hard for.
THIS WEEK IN TOYS/STATUES
DC SUPER POWERS COLL HARLEY QUINN 19IN MAQUETTE $329.99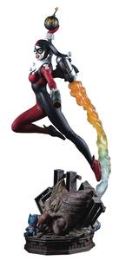 First up in the new "Super Powers Collection" of DC Maquettes is none other than Harley Quinn! Harley stands at an amazing 19 inches tall on her elaborate abandoned Fun House Base and features a clear flame and vapor trail cast from transparent resin for exciting realism. Add this beautiful maquette to your Harley collection today!
MARVEL SELECT VENOM AF $24.99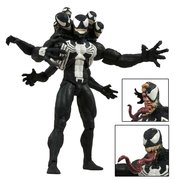 From Funko. Galactic Federation agent Cornvelious Daniel discovers SzeChuan Dipping Sauce on his mission to obtain the formula for inter-dimensional travel. But that's not all! Cornvelious Daniel is now receiving the Pop! vinyl treatment. "Wow, this sauce is f*ing amazing…" Collect Cornvelious Daniel this winter!
SW BLACK 40TH ANN 6IN AF ASST 201702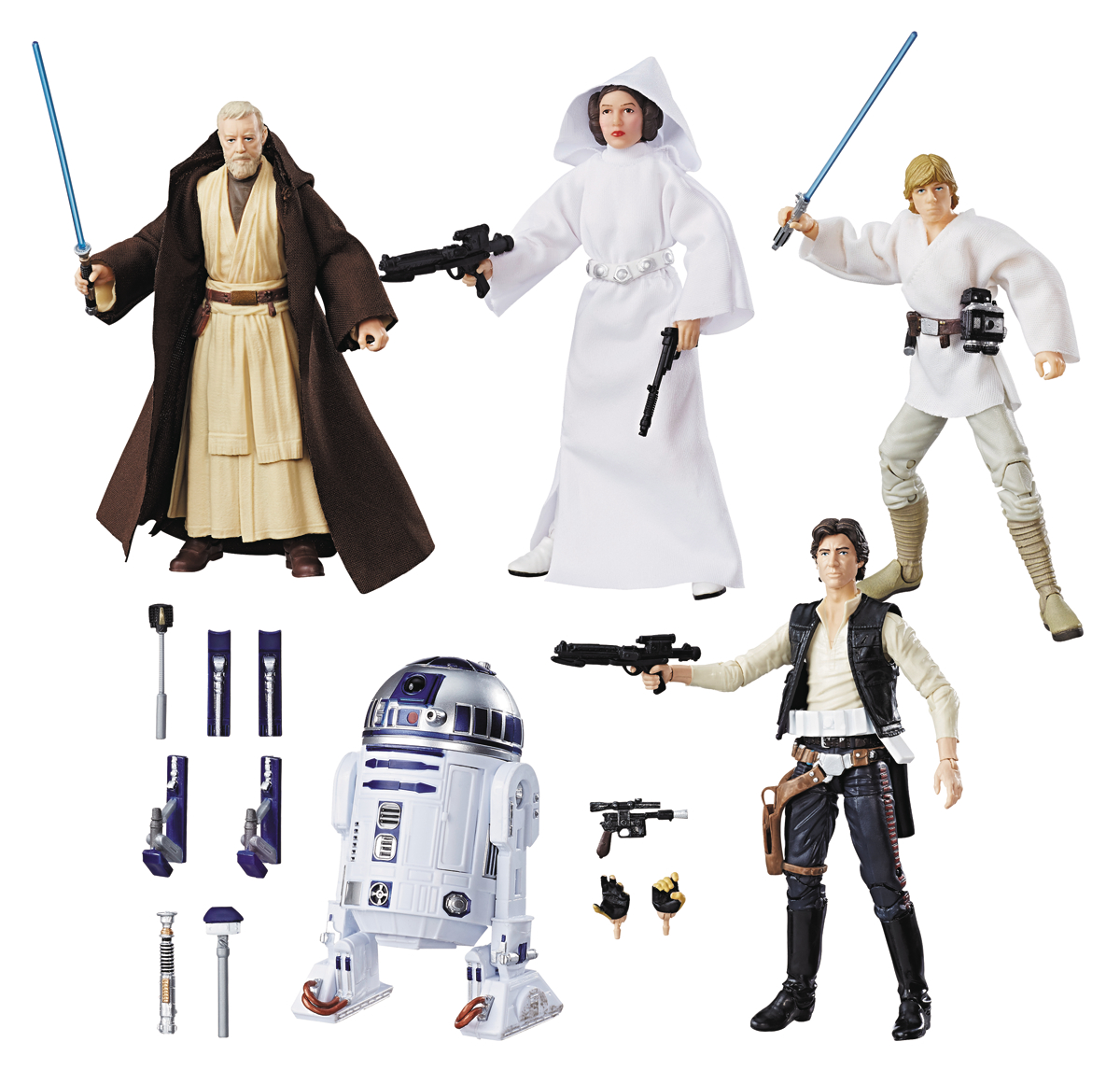 From Union Creative. Revoltech brings back their fantastic Evangelion Evolution releases with the gorgeous new EVA-02! Sculpted after its appearance in the theatrical films, this EVA-02 stands a majestic 5 1/2″ tall, and has been designed to duplicate the fantastic acrobatic moves seen on screen, with its extensive jointing and improved flexibility. Like all Revoltechs, it comes with tons of great accessories: special shoulder and forearm parts for its aerial mode, two progressive knives, a crossbow railgun, umbilical cable, 12 hands, an "Angel core" to kick around, and four tentacles from the 7th Angel!
TEXAS CHAINSAW MASSACRE NUBBINS SAWYER 8IN RETRO AF $58.99



From Tamashii Nations. "I am Akuma, supreme master of the fist!" The demon and fellow disciple of Ryu from the Street Fighter series joins the S.H.Figuarts lineup! Similar to the Tekken figures coming out next month, it is based on the new fighting body developed for action-packed characters, it allows you to pose Akuma in his trademark moves without sacrificing the appearance of the figure. Includes two facial expressions, 2 pairs of optional hands, Hadoken effect, one set of effect supports, and backdrop (2 sheets).
Trade-paperbacks of the Week!
DISNEY PRINCESS COMICS COLL DREAM BIG PRINCESS ED TP $19.99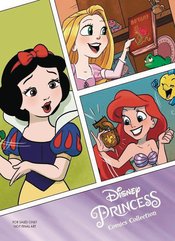 (W) Ty Templeton, Jeff Parker, Amanda Deibert, Matthew Dow Smith (A) Luciano Vecchio, Craig Rousseau, Sandy Jarrell, David Hahn, Dario Brizuela (A/CA) Rick Burchett
Ty Templeton and Rick Burchett reunite for a story that serves as a sequel to the Batman and Harley Quinn animated film! Harley Quinn is a legend in her own mind, so when she realizes The Joker thinks of her as more of a sidekick, she takes her revenge! But before Batman can swoop in and cart her off to Arkham Asylum, her pal Poison Ivy rescues her! But if the only way to get rid of her sidekick status is to strike out on her own, will Harley be willing to try it? And does that mean…joining Batman? Collects BATMAN AND HARLEY QUINN digital chapters #1-12.
DC COMICS THE ART OF DARWYN COOKE TP $29.99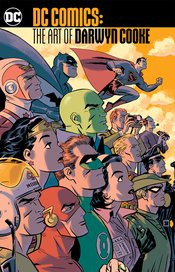 (W) Robert Kirkman (A) Stefano Gaudiano, Cliff Rathburn (CA) Dave Stewart (A/CA) Charlie Adlard
Recent events have thrown Alexandria into turmoil, and now Rick, Dwight, Eugene, and Negan all have something to prove.
Collects THE WALKING DEAD #169-174
PORT OF EARTH TP VOL 01 $9.99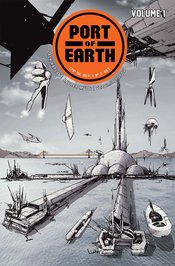 Just when you thought it was safe to walk the streets again, From The Tomb (the UK's preeminent magazine on the history of horror comics) digs up more tomes of terror from the century past. It Crept From The Tomb(the second "Best of" collection) uncovers atomic comics lost to the Cold War, rarely seen (and censored) British horror comics, the early art of Richard Corben, Good Girls of a bygone age, Tom Sutton, Don Heck, Lou Morales, Al Eadeh, Bruce Jones' Alien Worlds, HP Lovecraft in Heavy Metal, and a myriad of terrors from beyond the stars and the shadows of our own world! It features comics they tried to ban, from Atlas, Charlton, Comic Media, DC, EC, Harvey, House of Hammer, Kitchen Sink, Last Gasp, Pacific, Skywald, Warren, and more from the darkest of the horror genre's finest creators!
GREEN LANTERN EARTH ONE HC VOL 01 $24.99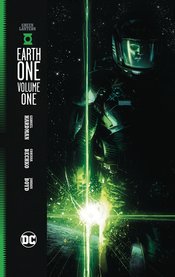 (W) Edmond Hamilton, Jerry Coleman, Bill Finger (A) Dick Sprang, Curt Swan, Stan Kaye, Ray Burnley, Charles Paris, Sheldon Moldoff (CA) Evan "Doc" Shaner
The adventures of the World's Finest Heroes continue in this new collection of tales from the 1950s as Superman and Batman encounter alien gamblers, battle a space explorer turned villain, foils Lex Luthor's attempt to conquer the bottle city of Kandor and visit an exhibit of futuristic crime-fighting inventions in Gotham City. Plus: Bat-Mite and Mr. Mxyzptlk trade foes and engage in a battle of magic! Collecting stories from WORLD'S FINEST COMICS #95-116.
MASTER LIST OF STUFF ARRIVING THIS WEEK!
ACTION COMICS #999 2.99
ACTION COMICS #999 VAR ED 2.99
ADVENTURE TIME COMICS TP VOL 04 14.99
ALL NEW GUARDIANS OF GALAXY TP VOL 03 INFINITY QUEST 15.99
ALL NEW WOLVERINE #32 LEG 3.99
ALL STAR BATMAN HC VOL 03 FIRST ALLY REBIRTH 24.99
ALL STAR BATMAN TP VOL 02 ENDS OF THE EARTH REBIRTH 14.99
AMAZING SPIDER-MAN #795 2ND PTG VAR LEG 3.99
ASTONISHING X-MEN #9 LEG 3.99
AVENGERS #675 3RD PTG LARRAZ VAR LEG 4.99
AVENGERS #680 2ND PTG JACINTO VAR LEG WW 3.99
AVENGERS #684 LEG BANNER HULK RETURNS 4.99
AVENGERS #684 YOUNG VAR LEG 4.99
BACK TO THE FUTURE TIME TRAIN #3 CVR A LEVENS 3.99
BARBARELLA #4 CVR A ROUX 3.99
BARBARELLA #4 CVR B ASEO 3.99
BARBARELLA #4 CVR C HANS 3.99
BARBARELLA #4 CVR E YARAR EXC SUB 3.99
BATGIRL AND THE BIRDS OF PREY #20 3.99
BATGIRL AND THE BIRDS OF PREY #20 VAR ED 3.99
BATGIRL STEPHANIE BROWN TP VOL 02 24.99
BEAUTY #20 CVR A HAUN & FILARDI (MR) 3.99
BEAUTY #20 CVR B FAWKES (MR) 3.99
BEN REILLY SCARLET SPIDER #15 LEG 3.99
BETROTHED #1 CVR A STEVE UY 3.99
BLACK EYED KIDS TP VOL 03 (MR) 14.99
BLADE OF IMMORTAL OMNIBUS TP VOL 05 21.99
BLOODSHOT SALVATION TP VOL 01 THE BOOK OF REVENGE 9.99
BONEHEAD #3 3.99
CHARISMAGIC VOL 03 #2 (OF 6) CVR A TOLIBAO 3.99
COME INTO ME #1 CVR A KOWALSKI 3.99
CURSE WORDS #12 CVR A BROWNE 3.99
DC COMICS THE ART OF DARWYN COOKE TP 29.99
DC COMICS VAR CVRS COMP VISUAL HIST CHO PX ED 45
DC COVER GIRLS HARLEY QUINN BY JOELLE JONES STATUE 125
DC SUPER POWERS COLL HARLEY QUINN 19IN MAQUETTE 329.99
DEADLY CLASS #32 CVR A CRAIG 3.99
DEADPOOL BY POSEHN & DUGGAN TP VOL 02 COMPLETE COLL 34.99
DESPICABLE DEADPOOL #296 LEG 3.99
DETECTIVE COMICS #976 2.99
DETECTIVE COMICS #976 VAR ED 2.99
DISNEY PRINCESS AND THE FROG ONE SHOT 4.99
DISNEY PRINCESS COMICS COLL DREAM BIG PRINCESS ED TP 19.99
DOCTOR STRANGE #384 2ND PTG VAR LEG 3.99
DOCTOR STRANGE #387 LEG 3.99
DOCTOR WHO 12TH YEAR THREE #13 CVR A SHEDD 3.99
DOCTOR WHO 12TH YEAR THREE #13 CVR B PHOTO 3.99
DOCTOR WHO 12TH YEAR THREE #13 CVR C MYERS 3.99
DRY COUNTY #1 3.99
DUCKTALES #7 CVR A GHIGLIONE 3.99
DUCKTALES #7 CVR B GHIGLIONE 3.99
ETERNITY GIRL #1 (OF 6) 3.99
ETERNITY GIRL #1 (OF 6) VAR ED 3.99
FALCON #6 LEG 3.99
FIGHTING AMERICAN TP VOL 01 16.99
FLASH #42 2.99
FLASH #42 VAR ED 2.99
GFT TAROT #5 CVR A VITORINO 3.99
GFT TAROT #5 CVR B ROSETE 3.99
GFT TAROT #5 CVR C SANTACRUZ 3.99
GFT TAROT #5 CVR D MELONI 3.99
GHOSTBUSTERS CROSSING OVER #1 CVR A QUINONES 3.99
GOTHAM CITY GARAGE #11 2.99
GRASS KINGS #13 MAIN & MIX 3.99
GREEN LANTERN EARTH ONE HC VOL 01 24.99
GRIMM FAIRY TALES #13 CVR A CHEN 3.99
GRIMM FAIRY TALES #13 CVR B WHITE 3.99
GRIMM FAIRY TALES #13 CVR C SANTACRUZ 3.99
GRIMM FAIRY TALES #13 CVR D SPAY 3.99
HAL JORDAN AND THE GREEN LANTERN CORPS #40 2.99
HAL JORDAN AND THE GREEN LANTERN CORPS #40 VAR ED 2.99
INFIDEL #1 (OF 5) CVR A 3.99
INVADER ZIM #29 CVR A 3.99
INVADER ZIM #29 CVR B MEGAN ANN BOYD CVR 3.99
IRON MAIDEN LEGACY OF THE BEAST #3 (OF 5) CVR B 3.99
JIM HENSON FRAGGLE ROCK OMNIBUS TP 19.99
JIM HENSON POWER OF DARK CRYSTAL #12 (OF 12) 3.99
JIM HENSON POWER OF DARK CRYSTAL #12 (OF 12) SUB 3.99
JUDAS #4 (OF 4) 3.99
JUPITER JET #4 3.99
JUSTICE LEAGUE OF AMERICA #26 2.99
JUSTICE LEAGUE OF AMERICA #26 VAR ED 2.99
KONG ON PLANET OF APES #5 3.99
LEGENDERRY RED SONJA #2 (OF 5) CVR A BENITEZ 3.99
MAGE HERO DENIED #7 (OF 15) 3.99
MARVEL ANIMATED STYLE SQUIRREL GIRL STATUE
MARVEL GRAPHIC COMIC BOXES
MARVEL SELECT VENOM AF 24.99
MARVEL TWO-IN-ONE #2 2ND PTG CHEUNG VAR LEG 3.99
MARVEL TWO-IN-ONE #4 LEG 3.99
MICKEY MOUSE HC VOL 03 TIMELESS TALES 39.99
MISTER MIRACLE #7 (OF 12) (MR) 3.99
MISTER MIRACLE #7 (OF 12) VAR ED 3.99
NEIL GAIMAN AMERICAN GODS MY AINSEL #1 3.99
NEIL GAIMAN AMERICAN GODS MY AINSEL #1 VAR CVR 3.99
NEW MUTANTS DEAD SOULS #1 (OF 6) LEG 3.99
NEW SHOES HC 17.99
NEW SUPER MAN & THE JUSTICE LEAGUE OF CHINA #21 3.99
NEW SUPER MAN & THE JUSTICE LEAGUE OF CHINA #21 VAR ED 3.99
NINJAK VS VU #3 (OF 4) CVR A SMALLWOOD 3.99
NINJAK VS VU #3 (OF 4) CVR B CAFU 3.99
NINJAK VS VU #3 (OF 4) CVR C PHOTO 3.99
NO 1 WITH A BULLET #5 3.99
OLD MAN LOGAN #36 JOHNSON NEW MUTANTS VAR LEG 3.99
OLD MAN LOGAN #36 LEG 3.99
OPTIMUS PRIME ANNUAL 2018 CVR A TRAMONTANO 7.99
PARADISO #4 CVR A PRAMANIK & KELLY (MR) 4.99
PETER PARKER SPECTACULAR SPIDER-MAN #301 LEG 3.99
POP CUPHEAD MUGMAN VINYL FIGURE 11.99
POP LORD OF THE RINGS PIPPIN TOOK VINYL FIGURE 11.99
POP RICK & MORTY SENTINENT ARM MORTY VINYL FIGURE 11.99
POP RICK & MORTY WARRIOR SUMMER VINYL FIGURE 11.99
POP ROYAL FAMILY KATE DUCHESS OF CAMBRIDGE VINYL FIG 11.99
POP ROYAL FAMILY PRINCE HARRY VINYL FIGURE 11.99
POP ROYAL FAMILY PRINCE WILLIAM VINYL FIGURE 11.99
POP SAGA LYING CAT VINYL FIGURE 11.99
POP SAGA WILL VINYL FIGURE 11.99
POP TEEN TITANS GO NIGHT BEGINS TO SHINE BEAST BOY VIN FIG 11.99
POP TEEN TITANS GO NIGHT BEGINS TO SHINE CYBORG VIN FIG 11.99
POP TEEN TITANS GO NIGHT BEGINS TO SHINE STARFIRE VIN FIG 11.99
POP TOMMY BOY RICHARD VIN FIG 11.99
POP WALKING DEAD EUGENE VINYL FIGURE 11.99
POP WALKING DEAD SASHA VINYL FIGURE 11.99
PORT OF EARTH TP VOL 01 9.99
POSTAL LAURA (ONE-SHOT) 3.99
PREDATOR WITH SPEAR HEAD KNOCKER 26.99
PUERTO RICO STRONG SC 12.99
PUMPKINHEAD #2 (OF 5) CVR A STRAHM 3.99
PUMPKINHEAD #2 (OF 5) CVR B SHEPHERD 3.99
PUNISHER #222 LEG 3.99
RAGMAN #6 (OF 6) 2.99
RED HOOD AND THE OUTLAWS #20 3.99
RED HOOD AND THE OUTLAWS #20 VAR ED 3.99
RICK AND MORTY OFFICIAL COLORING BOOK 14.95
RIVERDALE (ONGOING) #11 CVR A CW PHOTO 3.99
RIVERDALE (ONGOING) #11 CVR B CW PHOTO 3.99
ROBOT SPIRITS PACIFIC RIM UPRISING BRACER PHOENIX FIG
ROBOT SPIRITS PACIFIC RIM UPRISING GIPSY AVENGER FIG
ROBOT SPIRITS PACIFIC RIM UPRISING TITAN REDEEMER FIG
ROCK & ROLL BIOGRAPHIES SYSTEM OF A DOWN 3.5
ROCKOS MODERN LIFE #4 3.99
ROCKOS MODERN LIFE #4 BACHAN VAR 3.99
ROCKOS MODERN LIFE #4 SUB VAR 3.99
ROM VS TRANSFORMERS SHINNING ARMOR TP 17.99
ROSE #9 CVR A GUARA 3.99
SCALPED TP BOOK 02 24.99
SCOOBY APOCALYPSE #23 3.99
SCOOBY APOCALYPSE #23 VAR ED 3.99
SCOOBY DOO WHERE ARE YOU #91 2.99
SEA OF THIEVES #1 CVR A MARCELLIUS 3.99
SEA OF THIEVES #1 CVR B GAME ART 3.99
SECRET WEAPONS OWENS STORY #0 CVR A 3.99
SECRET WEAPONS OWENS STORY #0 CVR B 3.99
SIDEWAYS #2 2.99
SLEEPLESS #4 CVR A DEL DUCA & SALLAH 3.99
SLOTS #6 3.99
SORRY FOR MY FAMILIAR GN VOL 01 12.99
SPIDER-MAN DEADPOOL #29 LEG 3.99
SPONGEBOB COMICS #78 3.99
STAR TREK DISCOVERY #3 CVR A SHASTEEN 3.99
STAR TREK DISCOVERY #3 CVR B PHOTO 3.99
STAR WARS DARTH VADER #13 3.99
STAR WARS DARTH VADER #13 REIS GALACTIC ICON VAR 3.99
STAR WARS THRAWN #2 (OF 6) 3.99
STARGATE ATLANTIS SINGULARITY #1 CVR A LAROCQUE 3.99
STARGATE ATLANTIS SINGULARITY #1 CVR B PHOTO 3.99
STARGATE ATLANTIS SINGULARITY #1 CVR B PHOTO 3.99
STARGATE ATLANTIS SINGULARITY #1 CVR C LTD ED 9.99
SUICIDE SQUAD #37 2.99
SUICIDE SQUAD #37 VAR ED 2.99
SUPERGIRL #19 3.99
SUPERGIRL #19 VAR ED 3.99
SW BLACK 40TH ANN 6IN AF ASST 201702
TEXAS CHAINSAW MASSACRE NUBBINS SAWYER 8IN RETRO AF 58.99
THANOS #14 3RD PTG SHAW VAR LEG 3.99
TITANS #21 3.99
TITANS #21 VAR ED 3.99
TMNT ONGOING (IDW) COLL HC VOL 06 49.99
TRANSFORMERS LOST LIGHT #16 CVR A LAWRENCE 3.99
TRANSFORMERS LOST LIGHT #16 CVR B MILNE 3.99
TRANSFORMERS REDEMPTION OF DINOBOTS TP 19.99
TRINITY #19 3.99
TRINITY #19 VAR ED 3.99
TRUE BELIEVERS VENOM CARNAGE #1 1
TRUE BELIEVERS VENOM LETHAL PROTECTOR #1 1
TRUE BELIEVERS VENOM SHIVER #1 1
UNBEATABLE SQUIRREL GIRL #30 LEG 3.99
UNBEATABLE SQUIRREL GIRL 2 FUZZY 2 FURIOUS HC 13.99
VAMPIRONICA #1 CVR A REG 3.99
VAMPIRONICA #1 CVR B FRANCAVILLA 3.99
VAMPIRONICA #1 CVR C MOK 3.99
VS #2 CVR A RIBIC (MR) 3.99
VS #2 CVR B RIBIC & MULLER 3.99
WEAPON X #15 LEG 3.99
WILDSTORM MICHAEL CRAY #6 3.99
WONDER WOMAN #42 2.99
WONDER WOMAN #42 VAR ED 2.99
X-MEN BLUE #23 CRAIN NEW MUTANTS VAR LEG 3.99
X-MEN BLUE #23 LEG 3.99
XENA #2 (OF 5) CVR A FINCH 3.99
XENA #2 (OF 5) CVR B CIFUENTES 3.99
We hope to see you soon at CQ!
Visit us at 2260 Morgan Avenue, Evansville
On the web at www.comicquest.com
On Facebook www.facebook.com/comicquestevansville
On Twitter @cqevansville
On Instagram: @comicquestevansville
Contact us at sales@comicquest.com or by phone at 812-474-1133