Comic Quest Weekly for 3/18/18
COMIC QUEST HEROES ARCADE SET TO OPEN THIS WEDNESDAY 3/21/18!
Look for big changes this week as the 20-22 game vintage arcade, we are calling CQ Heroes Arcade, should be operational by this Wednesday. With all the trouble with retailers going out of business left and right we feel this is a good move to diversify our offerings to customers and we believe we can bring this in without sacrificing service to our comic book, toy and gaming customers.
Look for the following vintage arcade games: Frogger, Xmen, Gauntlet Legends, Neo Geo, Ms Pac, Spider man, Galaga, Hook, Asteroids, Mortal Kombat 2, Spider-Man, Heavy BarreL, Mario Bros, Pole Position, Centi, NB, and several more! We will do our best to make this transition as easy as possible. Right now costs to play will be either $10 all day or $5 for an hour! There are plans in place to do community outreach to make the Heroes Arcade available for free to Big Brothers/Big Sisters participants and CASA (Court Appointed Special Advocates) for abused and neglected children.
MARCH MADNESS SALE IN FULL SWING AT CQ!
March Madness is here and who typifies madness as much as the Joker, the clown prince of crime.. Look for daily madness sales that run from today through 3/31.
19 Monday 15 % off Vintage and showcase books
20 Tuesday Marvel Comics Buy Two Get one Free New or reg bk issues
21 Wednesday Get A Free Long or Short Box with the purchase of 200 bags and board
22 Thursday Buy one Card Sleeve or CCG Box and get the second one at half off
23 Friday CCG's Buy Two Get one half off
24 Saturday 40% off general back issues and dollar books (not vintage books)
25 Sunday Buy Two Toys or statues get third toy/statue Free
26 Monday 25% off all apparel shirts, hats, billfolds
27 Tuesday Buy one full CCG box and get the second box for 30% off
28 Wednesday Buy any one vintage showcase book and get the second one at 25 percent off.
29 Thursday Buy one dice set get the second set at half price
30 Friday RPG's/Board Games Buy one Get one Half off
31 Saturday 40% off all General back issues (no vintage books)
* All buy one, get one sales – second item must be of equal or lesser value
* Sales do not apply to New Release items
DC Collides Again With Hanna Barbera!
Following the success of DC's modernized takes on classic Saturday morning cartoons and a previous selection of acclaimed one-shot crossovers featuring Hanna-Barbera cartoon characters, DC plans to shake up the worlds of superhero fans and lovers of old-school cartoons yet again. Today, the publisher announced plans to release four all-new one-shot comics that bring some of DC's most exciting heroes together with well-known characters from the world of Hanna-Barbera cartoons from the 1970's.
Look for the following one-shots:
AQUAMAN/JABBERJAW SPECIAL #1


In a story written by Aquaman writer Dan Abnett with art and by Paul Pelletier and Andrew Hennessey, the town of Amnesty Island is besieged by a series of shark attacks, and the authorities call Aquaman for help! What's unusual about this case is that the shark isn't trying to kill people—he just wants to talk to them. All Jabberjaw wants is to get back to Aqualand, the future undersea utopia where he came from. But that peaceful city where man and sentient sea life have been living in harmony has been turned into a dystopian nightmare created by a new Ocean Master! Now the King of Atlantis and his friendly shark ally must team up to set things right.
This one-shot also includes a bonus short story by Jeff Parker and Scott Kolins that tells the tale of the first-ever meeting between Captain Caveman, The Spectre and the wizard Shazam.
BLACK LIGHTNING/HONG KONG PHOOEY SPECIAL #1


Back from Vietnam, kung-fu master Hong Kong Phooey has set up his own detective agency in the inner city. Meanwhile, Jefferson Pierce (a.k.a. Black Lightning) has uncovered a plot by three assassins to collect the components of a sacred text revealing the darkest secrets of martial arts magic, and they'll kill anyone who owns them—including the dog who holds the last chapter of the book, Hong Kong Phooey. MICHAEL CRAY Bryan Hill, Denys Cowan and Bill Sienkiewicz team up to deliver a story with all the power of a roundhouse kick to the chops!
Plus, Jeff Parker and Scott Kolins team up once again in a bonus story featuring a pre-DEMON Jason Blood and Hanna-Barbera's own "Spirit of '76," The Funky Phantom.
THE FLASH/SPEED BUGGY SPECIAL #1


RED HOOD AND THE OUTLAWS scribe Scott Lobdell, along with Brett Booth and Norm Rapmund, is gearing up to deliver a rubber-burning story that pushes all the way into the redline! When Wally West tries to take down the villain Kilg%re, he's surprised to find he has an unknown ally who can move just as fast as he can. Dr. Pernell, a brilliant S.T.A.R. Labs scientist, has found a way to power his dune buggy using the Speed Force. When the Flash agrees to help test the limits of the vehicle in a race, something unexpected sends them spiraling out of the Speed Force and into the unknown. They land in a post-apocalyptic future, but Dr. Pernell is missing, leaving a now-sentient Speed Buggy to help the Fastest Man Alive repair the time stream and stop the triple threat of Savitar, Speed Demon Buggy and… Reverse Speed Buggy?
SUPER SONS/DYNOMUTT SPECIAL #1


It's no fun for Jon Kent to be visiting Big City with his parents for the funeral of an old friend, so his best pal Damian Wayne decides to follow along and give him the inside scoop on the city. But when they go to meet Robin's local friend, Dynomutt, they find him injured and in need of help. And Dynomutt's human superhero companion, Blue Falcon, has seemingly turned evil. What's the reason for this betrayal between once-loyal companions, and what role might the evil Red Vulture play in this scenario? Fan-favorite SUPER SONS writer Peter J. Tomasi teams up with Fernando Pasarin and Oclair Albert to tell this story featuring the first encounter of the Dog Wonder with the sons of the Man of Steel and the Dark Knight.
Each one-shot will be 48 pages long and cost $4.99.
LOOK FOR FREE COMICS AT CQ!
CQ is in the second week of providing free comics when you purchase your weekly comics. If
we forget to offer you a free book, please feel free to act. Limit one per person per week with purchase!
NEW ARRIVALS!
BATMAN TEENAGE MUTANT NINJA TURTLES II #5 $3.99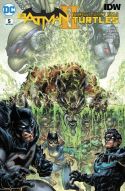 A Venom-charged Donnie wages a brutal, one-Turtle war on the Foot Clan. Batman has to stop him and remind him of who he really is; someone who uses smarts—not brawn—to take down the bad guys. Damian and Raphael pay a visit to the Lazarus Pit to try and help a wounded Splinter. Then Batman tries to turn a former foe into an ally as part of a desperate attempt to finally end the reign of Bane.
INCREDIBLE HULK #714 LEG WW $3.99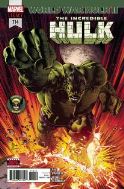 (W) Greg Pak (A) Carlo Barberi (CA) Mike Deodato
WORLD WAR HULK II BEGINS!
Following his apocalyptic adventure on Planet Hulk, Amadeus Cho returns to Earth – but the raging monster inside of him has been unchained, leading to dire consequences for anybody who crosses the Formerly Awesome Hulk's path!
BATMAN #43 $2.99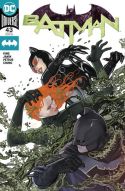 (W) Tom King (A/CA) Mikel Janin
"Everyone Loves Ivy" part three! The quest to end Ivy's domination heads toward a close, but can Batman offer Ivy redemption on the other side of this crime? It's an epic showdown between the Caped Crusader and one of his most popular foes, brought to you by the creative team behind "The War of Jokes and Riddles."
STAR WARS #45 $3.99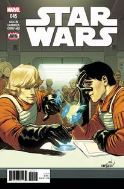 (W) Kieron Gillen (A) Salvador Larroca (CA) David Marquez
THE REBELLION NEEDS YOU!
The Empire takes from all of us – our freedom, our dignity, our hopes and for some, even our lives. The Rebel Alliance fights to take back our galaxy from the forces of oppression…but we need your help! Be a part of the solution – JOIN THE REBELLION TODAY!
THANOS #17 LEG $3.99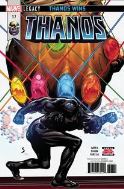 (W) Donny Cates (A/CA) Geoff Shaw
THANOS WINS Part 5
• THE SURFER STRIKES! Thanos and his future self take on the most powerful opposition to his reign left in the universe – Norrin Radd.
• Can even two Thanoses crack his Cosmic Shell?
WEAPON H #1 LEG $4.99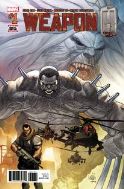 (W) Rich Tommaso (A/CA) Rich Tommaso
(W) Greg Pak (A) Cory Smith (CA) Leinil Francis Yu
AWOL Part 1
The Weapon X Program has done it again! At the cost of their own destruction, they've completed their biggest and possibly most dangerous experiment yet… With the strength of the Hulk and the rage and claws of Wolverine comes WEAPON H!
It's been some time since Weapon H escaped and destroyed his creators. Now, our hero is on the run, as he tries to escape his mysterious past and seclude himself from the rest of society. But when a new kind of Wendigo threatens the lives of others, will Weapon H be able to shirk his responsibility? Does any of his humanity remain? Only the creative team of Greg Pak (INCREDIBLE HULK) and Cory Smith (X-MEN BLUE) can give you the answers!
THIS WEEK IN TOYS/STATUES
BATMAN ANIMATED JOKER EXPRESSIONS PACK $50



Capture The Joker in all his villainous complexity! Choose from eight different head expressions that range from deliriously happy to seriously deranged as well as five pairs of hands, trademark weaponry, a duck floaty toy and a trench coat that makes a completely different Joker. A deluxe base is included. Also includes a Joker action figure measuring approximately 6.20″ tall!
GHOSTBUSTERS 2 SELECT AF SERIES 7 ASST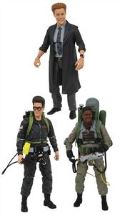 A Diamond Select Toys release! The Ghostbusters have seen stuff that will turn you white, and now it's time to turn your friends green… with envy! The 7th series of Ghostbusters Select action figures continues DST's line of new sculpts based on Ghostbusters 2, with highly accurate renditions of Slime-Blower Winston Zeddemore, Grey Outfit Egon Spengler and the specialty-exclusive, never-before-made Janosz Poha, museum curator and servant of Vigo! Each 7-inch scale figure features approximately 16 points of articulation, plus character=appropriate accessories. Plus, only at comic shops and specialty stores, each figure comes with a piece of the Ghostbusters firehouse diorama! Collecct all 15 figures in Series 6-10 to build the front doors and sign of the 'Busters' HQ! Packaged in display-ready Select packaging, with side-panel artwork for shelf reference. Sculpted by Gentle Giant!
LYNDA CARTER AS WONDER WOMAN 7IN VINYL FIG $29.99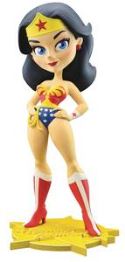 Lynda Carter's portrayal of the Amazonian princess turned super-hero, Wonder Woman, from the 1970s TV show is one of the most recognizable and inspiring versions of the character, embodying the power that women have to change the world. Fighting for America in the 1940s and in more contemporary times, Carter's Wonder Woman is beautiful, empathetic, and, above all, strong. This figure pays tribute to Carter's iconic rendition of the character, capturing both her look and spirit.
As the theme song to the series proclaims, "You're a wonder, Wonder Woman!"
Designed by Pedro Astudillo. Sculpted by Anders Ehrenborg.
SW E8 PORG ELECTRONIC PLUSH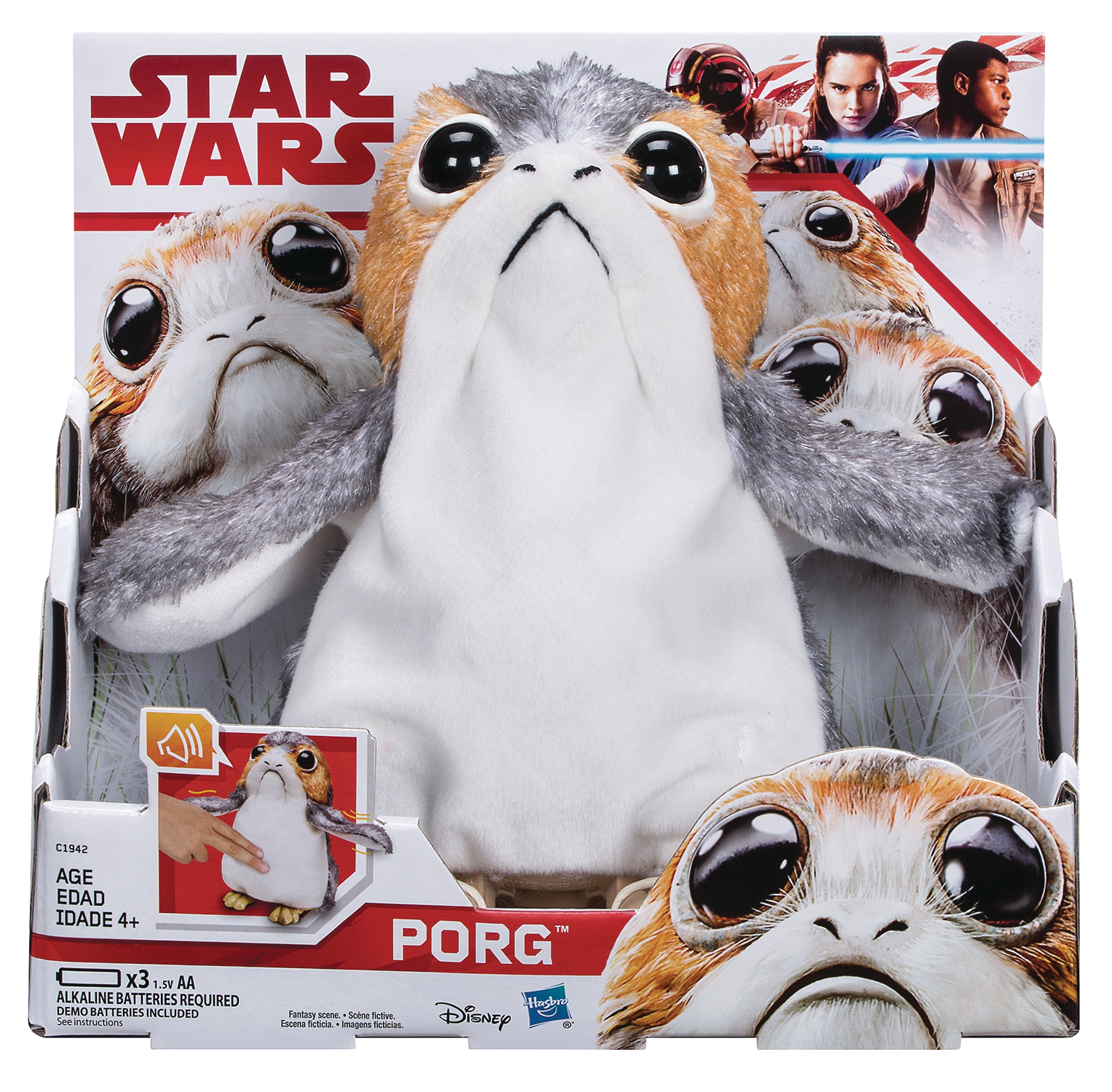 Imagine the porgs scuttling around their island home and spying on Jedi Master Luke Skywalker with this waving, wadding, flapping, chattering porg plush! This soft plush creature waves and flap its arms, moves forward and turns, and includes porg sound effects – tweeting, chirping, and more!
Trade-paperbacks of the Week!
FLASH TP VOL 05 NEGATIVE REBIRTH $14.99


(W) Joshua Williamson (A) Carmine Di Giandomenico, Pop Mhan, Gus Vazquez, Christian Duce (A/CA) Neil Googe
It's a bleak new day as the citizens of Central City meet Negative-Flash! Barry Allen's personal life is in shambles, his new Negative-Flash powers aren't working properly, and someone has been tampering with evidence at the Central City Police Department. The Flash is not having a good day, and it's going to get worse when he comes face to face with Bloodwork, a terrifying new villain with secret ties to Barry Allen. Collects THE FLASH #28-32.
SCIENCE COMICS ROBOTS & DRONES GN $12.99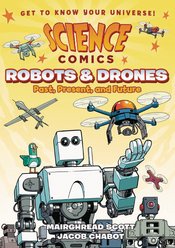 (W) Jacob Chabot (A/CA) Jacob Chabot
Get into gear with Robots & Drones, the latest volume in our action-packed nonfiction graphic novel series for middle-grade readers! Every volume of Science Comicsis a complete introduction to a particular topic-dinosaurs, coral reefs, the solar system, volcanoes, bats, flying machines, and more. In this volume, a mechanical dove named Pouli introduces a wide array of robots of various capacities. He covers one of the oldest robots, the coin-powered water fountain; everyday essentials like the coffee maker and the car; and even modern-day weapons of war. Pouli is out to remind us that there are robots everywhere around us. Available in Hardcover and Softcover editions.
WAY OF TANK GIRL HC $14.99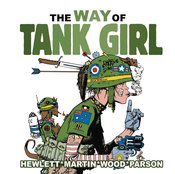 (W) Alan Martin (A) Jamie Hewlett, Ashley Wood, Brett Parson
A collection of comic panels, poems, covers and extracts from Tank Girl's 30 year career.
Includes a whole bunch of rare, unseen and brand new images. This is Tank Girl's philosophy on life, distilled from her filthiest, dirtiest, stupidest best! Featuring Cover by Jamie Hewlett!
WONDER WOMAN FORGOTTEN LEGENDS TP $16.99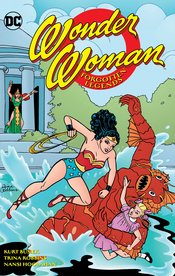 (W) George Perez, Kurt Busiek, Lee Marrs (A) Irv Novick, Rick Magyar, Ramona Fradon (A/CA) Trina Robbins
Tales of Wonder Woman in the style of the Golden Age of Comics by Trina Robbins and Kurt Busiek are collected at last! In these stories from the 1980s, Paradise Island is threatened by a mysterious Amazon known as Atomia! This title collects THE LEGEND OF WONDER WOMAN #1-4, WONDER WOMAN #318 and a story from WONDER WOMAN ANNUAL #2.
MASTER LIST OF STUFF ARRIVING THIS WEEK!
30 DAYS OF NIGHT #4 (OF 6) CVR A TEMPLESMITH 3.99
ADVENTURE TIME COMICS #21 3.99
ADVENTURE TIME COMICS #21 SUB 3.99
ALIENS DEAD ORBIT TP 17.99
AMAZING SPIDER-MAN #796 2ND PTG VAR LEG 3.99
AMAZING SPIDER-MAN RENEW YOUR VOWS #17 LEG 3.99
AQUAMAN #34 3.99
AQUAMAN #34 VAR ED 3.99
AQUAMAN THE LEGEND OF AQUAMAN TP 19.99
ARCHIE #29 CVR A MOK 3.99
ARCHIE #29 CVR C WOODS CAR 3.99
AVENGERS #681 2ND PTG BROOKS VAR LEG 3.99
AVENGERS #685 LEG 3.99
BACK TO THE FUTURE #25 CVR B MONTELL 4.99
BABYTEETH #9 3.99
BATMAN #43 2.99
BATMAN #43 VAR ED 2.99
BATMAN ANIMATED JOKER EXPRESSIONS PACK 50
BATMAN NEW GOTHAM TP VOL 02 24.99
BATMAN SINS OF THE FATHER #2 (OF 6) 2.99
BATMAN TALES OF THE MAN BAT TP 19.99
BATMAN TEENAGE MUTANT NINJA TURTLES II #5 3.99
BATMAN TEENAGE MUTANT NINJA TURTLES II #5 VAR ED 3.99
BATWOMAN #13 3.99
BATWOMAN #13 VAR ED 3.99
BETTIE PAGE #6 CVR C PHOTO 3.99
BIG TROUBLE IN LITTLE CHINA OLD MAN JACK #7 3.99
BIG TROUBLE IN LITTLE CHINA OLD MAN JACK #7 SUB 3.99
BLACK SCIENCE TP VOL 07 EXTINCTION IS THE RULE 16.99
BOMBSHELLS UNITED #14 2.99
BRAVE & THE BOLD BATMAN & WONDER WOMAN #2 (OF 6) 3.99
CABLE #155 LEG 3.99
CAPTAIN AMERICA #698 2ND PTG SAMNEE VAR LEG 3.99
CAVE CARSON HAS AN INTERSTELLAR EYE #1 3.99
CAVE CARSON HAS AN INTERSTELLAR EYE #1 VAR ED 3.99
CELL BLOCK EARTH & OTHER STORIES TP 17.99
COMIC BOOK HISTORY OF COMICS COMICS FOR ALL #4 3.99
CONSULTANT #4 (OF 4) 3.99
CREATURE FROM THE BLACK LAGOON 1/8 MODEL KIT 34.99
CYBER FORCE REBIRTH TP VOL 03 16.99
DAMAGE #3 2.99
DARK FANG #5 3.99
DC COMICS JOKER BATS SHORT COMIC STORAGE BOX
DEADMAN #5 (OF 6) 3.99
DEATH OF LOVE #2 (OF 5) 3.99
DEATHBED #2 (OF 6) 3.99
DEPT H #24 3.99
DESCENDER #28 CVR A NGUYEN 3.99
DISSONANCE #2 3.99
DOCTOR STRANGE DAMNATION #3 (OF 4) LEG 3.99
DOCTOR STRANGE DAMNATION #3 (OF 4) LIM VAR 3.99
DOCTOR WHO 12TH TIME TRIALS TP VOL 01 16.99
DOCTOR WHO GHOST STORIES TP 16.99
DRAGONBALL SUPER SUPER SAIYAN GOD SON GOKU S.H.FIGUARTS
DUNGEONS & DRAGONS SHADOW OF VAMPIRE #1 GREATEST HITS 1
EVOLUTION #5 3.99
FLASH TP VOL 05 NEGATIVE REBIRTH 14.99
FURTHER ADV OF NICK WILSON #3 (OF 5) CVR A 3.99
FURTHER ADV OF NICK WILSON #3 (OF 5) CVR B 3.99
FUTURE QUEST PRESENTS #8 3.99
FUTURE QUEST PRESENTS #8 VAR ED 3.99
GENERATION X TP VOL 02 SURVIVAL OF THE FITTEST 19.99
GHOSTBUSTERS 2 SELECT AF SERIES 7 ASST
GHOSTBUSTERS ANNUAL 2018 CVR B LATTIE 7.99
GO GO POWER RANGERS #7 MAIN & MIX 3.99
GO GO POWER RANGERS #8 MAIN & MIX SG 3.99
GO GO POWER RANGERS #8 UNLOCKABLE VAR 3.99
GREEN LANTERNS #43 2.99
GREEN LANTERNS #43 VAR ED 2.99
GWAR ORGASMAGEDDON TP 17.99
HARLEY QUINN #40 2.99
HARLEY QUINN #40 VAR ED 2.99
HARROW COUNTY #29 3.99
HARROW COUNTY TP VOL 07 DARK TIMES A COMING 17.99
HATSUNE MIKU RIN-CHAN NOW TP VOL 04 10.99
HEAVENLY NOSTRILS CHRONICLE GN VOL 07 9.99
ICE CREAM MAN #3 CVR A 3.99
ICE CREAM MAN #3 CVR B 3.99
INCREDIBLE HULK #714 LEG WW 3.99
INFINITY 8 #1 3.99
INJUSTICE 2 #22 2.99
IRON FIST #78 LEG 3.99
IRON FIST TP VOL 02 SABRETOOTH ROUND TWO 17.99
IRON MAN HONG KONG HEROES #1 (OF 1) LEG 3.99
IRON MAN HONG KONG HEROES #1 (OF 1) VAR LEG 3.99
JAMES BOND THE BODY #3 (OF 6) 3.99
JIM HENSON STORYTELLER FAIRIES #4 (OF 4) 3.99
JIM HENSON STORYTELLER FAIRIES #4 (OF 4) SUB 3.99
JIRNI PRIMER ONE SHOT 0.25
JIRNI TP VOL 02 NEW HORIZONS 12.99
JIRNI VOLUME 3 #1 3.99
JUGHEAD THE HUNGER #2 3.99
JUSTICE LEAGUE #41 2.99
JUSTICE LEAGUE #41 VAR ED 2.99
JUSTICE LEAGUE TASK FORCE TP VOL 01 29.99
JUSTICE LEAGUE VAR PLAY ARTS KAI FLASH AF 149.99
KICK-ASS #2 CVR A 3.99
KICK-ASS #2 CVR B 3.99
KICK-ASS #2 CVR C 3.99
KILL OR BE KILLED #17 CVR A 3.99
KILL OR BE KILLED #17 CVR B 3.99
LOST FLEET TP VOL 01 CORSAIR 16.99
LUCY DREAMING #1 3.99
LYNDA CARTER AS WONDER WOMAN 7IN VINYL FIG 29.99
MARVEL GALLERY THOR RAGNAROK HULK PVC FIG 50
MARVEL COMICS DEFENDERS SHORT COMIC BOX
MARVELS AVENGERS INFINITY WAR PRELUDE TP 15.99
MATA HARI #2 3.99
METALS BATMAN 66 TV CLASSIC BATMOBILE 1/24 VEHICLE
MIGHTY CRUSADERS #4 CVR A SHANNON 3.99
MIGHTY THOR #705 ARTGERM VAR LEG 3.99
MIGHTY THOR #705 LEG 3.99
MILLENNIUM GIRL WHO KICKED THE HORNETS NEST TP 19.99
MIRACULOUS ADVENTURES TP VOL 01 14.99
MS MARVEL #25 LEG 3.99
MONSTERS UNLEASHED #12 LEG 3.99
MONSTRESS #15 CVR A TAKEDA 3.99
MONSTRESS #15 CVR B VIRGIN WRAP 3.99
MOONSHINE #8 CVR A RISSO 3.99
MOONSTRUCK TP VOL 01 9.99
MS MARVEL #28 LEG 3.99
MUSKETEERS #2 (OF 5) CVR A 3.99
MUSKETEERS #2 (OF 5) CVR B 3.99
MY LITTLE PONY FRIENDSHIP IS MAGIC #64 CVR A 3.99
MY LITTLE PONY FRIENDSHIP IS MAGIC #64 CVR B 3.99
NIGHTWING #41 2.99
NIGHTWING #41 VAR ED 2.99
NINJA-K #5 CVR A HAIRSINE 3.99
NINJA-K #5 CVR B TROYA 3.99
NINJA-K #5 PRE-ORDER BUNDLE
OUTCAST BY KIRKMAN & AZACETA #34 3.99
PACIFIC RIM AFTERMATH #3 (OF 6) 3.99
PATHFINDER SPIRAL OF BONES #1 (OF 5) CVR A 4.99
PATHFINDER SPIRAL OF BONES #1 (OF 5) CVR B 4.99
PATHFINDER SPIRAL OF BONES #1 (OF 5) CVR C 4.99
PATHFINDER SPIRAL OF BONES #1 (OF 5) CVR D 4.99
PATHFINDER TP VOL 02 OF TOOTH AND CLAW 19.99
PLANETARY TP BOOK 02 24.99
POKEMON EEVEE PLUSH CLIPS
PORT OF EARTH #3 3.99
POP BOB ROSS IN OVERALLS VINYL FIGURE 11.99
POP CUPHEAD CUPHEAD VINYL FIGURE 11.99
POP CUPHEAD LEGENDARY CHALICE VINYL FIGURE 11.99
POP DC BOMBSHELLS SUPERGIRL VINYL FIGURE 11.99
POP LORD OF THE RINGS GOLLUM VINYL FIGURE 11.99
POP SAGA ALANA W/GUN VINYL FIGURE 11.99
POP TEEN TITANS GO BEAR VIN FIG 11.99
POP TEEN TITANS GO ROBIN VIN FIG 11.99
POP TOMMY BOY TOMMY VIN FIG 11.99
PUNKS NOT DEAD #2 CVR A SIMMONDS 3.99
QUANTUM & WOODY (2017) #4 CVR A TEDESCO 3.99
QUANTUM & WOODY (2017) #4 CVR B ULTRA FOIL 3.99
REGRESSION #8 (MR) 3.99
RICK & MORTY POCKET LIKE YOU STOLE IT TP 19.99
ROBOTECH #8 CVR A ROY 3.99
ROBOTECH #8 CVR B ACTION FIG VAR 3.99
ROBOTECH #8 CVR C 3.99
ROBYN HOOD THE CURSE #3 (OF 6) CVR A 3.99
ROBYN HOOD THE CURSE #3 (OF 6) CVR B 3.99
ROBYN HOOD THE CURSE #3 (OF 6) CVR C 3.99
RUMBLE #4 CVR A RUBIN 3.99
RUNAWAYS #7 3.99
SAGA HAZEL & IZABEL AF 2-PACK
SAMURAI JACK QUANTUM JACK #5 (OF 5) CVR A 3.99
SAMURAI JACK QUANTUM JACK #5 (OF 5) CVR B 3.99
SCIENCE COMICS ROBOTS & DRONES GN 12.99
SLAP CAT GAME 19.99
SPIDER KING #2 3.99
SPIDER-GWEN #30 LEG 3.99
SPIDER-MEN II TP 17.99
SQUARRIORS VOL 02 SUMMER #3 (OF 4) 3.99
STAR TREK NEW ADVENTURES TP VOL 05 29.99
STAR TREK NEXT GENERATION CATS HC 14.95
STAR WARS #45 3.99
STAR WARS #45 CHRISTOPHER ACTION FIG 3.99
STAR WARS LEGENDS EPIC COLL CLONE WARS TP VOL 02 39.99
STAR WARS POE DAMERON #25 3.99
STEVEN UNIVERSE ONGOING #14 3.99
STEVEN UNIVERSE ONGOING #14 SUB 3.99
STRAY BULLETS SUNSHINE & ROSES #33 3.99
SUPER SONS #14 3.99
SUPER SONS #14 VAR ED 3.99
SUPERMAN #43 2.99
SUPERMAN #43 VAR ED 2.99
SUPERMAN ACTION COMICS DLX ED MR OZ HC REBIRTH 29.99
SW E8 PORG ELECTRONIC PLUSH
SWAMP THING WINTER SPECIAL #1 2ND PTG 7.99
TALES OF SUSPENSE #103 (OF 5) LEG 3.99
THANOS #17 LEG 3.99
THANOS #17 WARD VAR LEG 3.99
TMNT UNIVERSE #20 CVR A WILLIAMS II 4.99
TMNT UNIVERSE #20 CVR B WACHTER 4.99
TRANSFORMERS IDW COLL PHASE 2 HC VOL 07 49.99
TRANSFORMERS LOST LIGHT #15 CVR A LAWRENCE 3.99
TRUE BELIEVERS VENOM DARK ORIGIN #1 1
TRUE BELIEVERS VENOM FLASHPOINT #1 1
USAGI YOJIMBO #1 (OF 7) THE HIDDEN 3.99
VAMPIRELLA #11 (OF 11) CVR A TAN 3.99
VAMPIRELLA #11 (OF 11) CVR B SEGOVIA 3.99
VAMPIRELLA #11 (OF 11) CVR C COSPLAY 3.99
VINEGAR TEETH #3 (OF 4) 3.99
VON SPATZ GN 16.95
VYNL HARRY POTTER HAGRID & HARRY VINYL FIG 2PK 14.99
WALKING DEAD BETA AF (B&W BLOODY)
WALKING DEAD BETA AF (COLOR)
WALKING DEAD EZEKIEL & SHIVA ALL OUT WAR AF 2-PACK (BLOODY) 40
WAY OF TANK GIRL HC 14.99
WE SPOKE OUT COMIC BOOKS & THE HOLOCAUST HC 49.99
WEAPON H #1 KEOWN HULK HOMAGE VAR LEG 4.99
WEAPON H #1 KUBERT WOLVERINE HOMAGE VAR LEG 4.99
WEAPON H #1 LEG 4.99
WITCHER 3 WILD HUNT FIG GERALT URSINE GRANDMASTER 39.99
WITCHBLADE #4 CVR A INGRANATA 3.99
WITCHBLADE #4 CVR B VIRGIN WRAPAROUND 3.99
WONDER WOMAN FORGOTTEN LEGENDS TP 16.99
WWE #15 3.99
WWE #15 RICHES ACTION FIGURE VAR 3.99
WWE #15 RAW CONNECTING VAR 3.99
X-MEN BLUE TP VOL 00 REUNION 34.99
X-MEN BLUE TP VOL 03 CROSS TIME CAPERS 15.99
X-MEN GOLD #24 LEG 3.99
YOUNGBLOOD #10 CVR A 3.99
YOUNGBLOOD #10 CVR B 3.99
We hope to see you soon at CQ!
Visit us at 2260 Morgan Avenue, Evansville
On the web at www.comicquest.com
On Facebook www.facebook.com/comicquestevansville
On Twitter @cqevansville
On Instagram: @comicquestevansville
Contact us at sales@comicquest.com or by phone at 812-474-1133