Comic Quest Weekly for 4/1/18
(No Pranks – we promise!)
History Repeats Itself With Frank Miller's Xerxes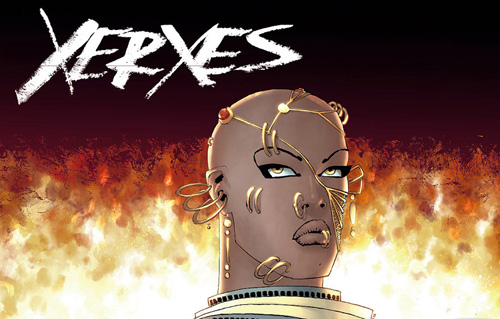 For years, comic fans have patiently waited for Frank Miller's follow-up to his Dark Horse Comics series 300. Now the wait is finally over as Miller returns to the world of 300 with a new 5-issue limited series that kicks off with Xerxes: The Fall Of The House of Darius And The Rise of Alexander #1 .
Fans of the original series will not be disappointed, as the new book carries the same power and passion that made 300 a historical achievement in comics literature. Social media has been on fire and a new excitement for all things 300 was again the center of many conversations at the comic shop. After all, the original series spawned two feature films. One could only guess how Miller would again move the needle, and exceed expectations.
"The story has it all," Miller explained ."The fate of civilization is at risk. Everything we have now was in jeopardy. The Greek forces were vastly outnumbered and the vision and genius of Alexander prevailed."
One may think that as King Leonidas originally squared off with Xerxes in 300 that the same kind of stand-off would pit Xerxes against Alexander in the new story. But that is not the case, Miller assured us. "The story of Xerxes and Alexander do not overlap," he says. "Alexander faces Xerxes' heir. The collision between Xerxes and Alexander is one of civilization not one of direct contact. They never met. But it is a collision of visions."
Vision, as we all know, is what made 300 such a standout at the comic shop. It's not often that historical fiction is something you get to grab off the shelf when you make the weekly trip to pick up your monthly favorite titles. But Miller again delivers the dusty goods, and this time, he explains, the circle is complete.
"Xerxes is a companion to 300 as the story of Xerxes surrounds 300," he concluded. "I don't expect the reader to be rooting for Xerxes or Darius or Darius the 3rd. The emergent hero of the series is Alexander." Look for Xerxes#1 on sale this week at CQ!
Deadpool is Diamond Select's First 1/2 Scale Bust

Deadpool has a big mouth, and now that mouth just got a lot bigger.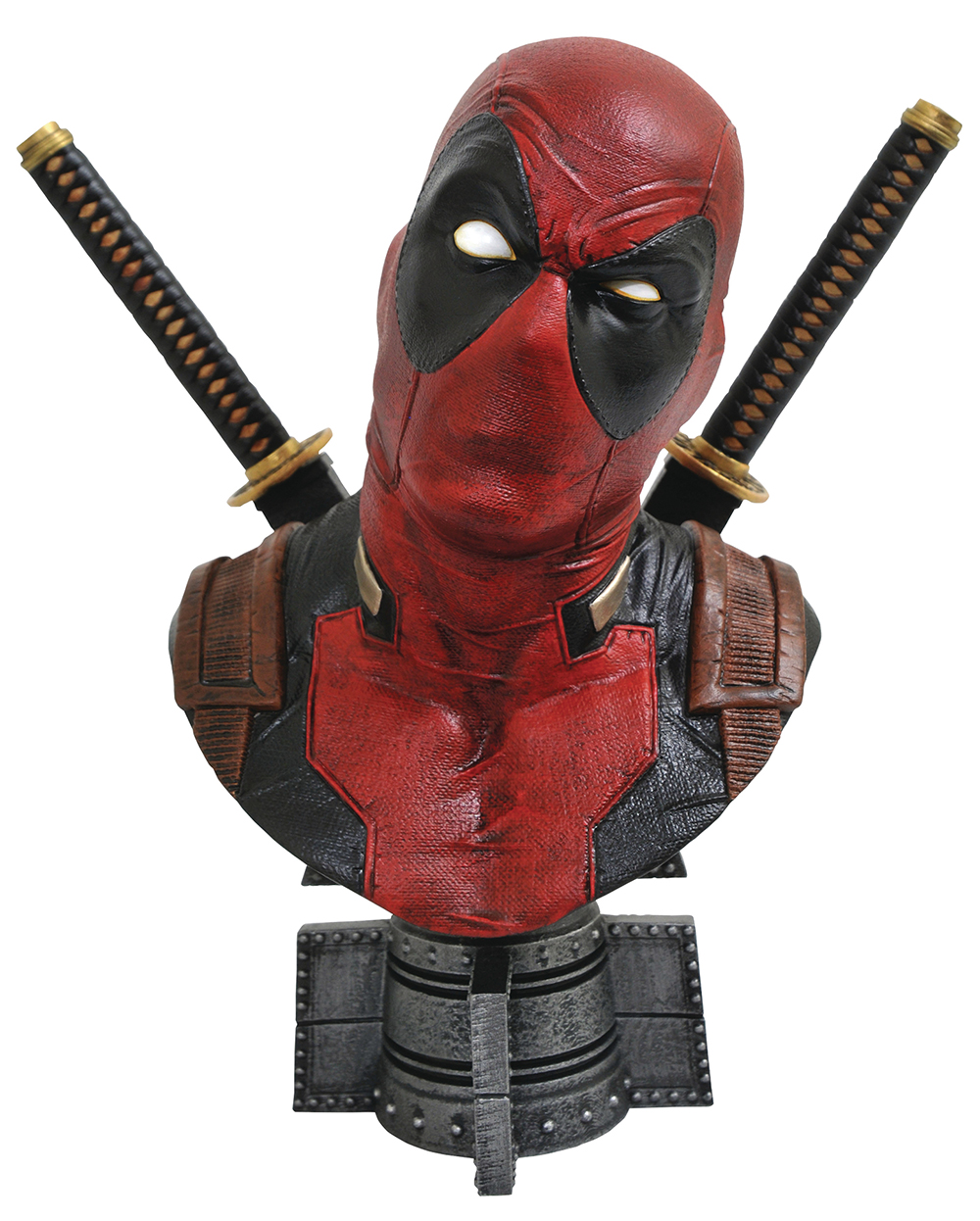 For the first time in their history, Diamond Select Toys is producing a 1/2 scale bust and the Merc with a Mouth is the very first to be honored!
Measuring approximately 10 inches tall with exacting sculpted details and the highest level of paint applications, only 1,000 pieces will be produced.
Now available for pre-order at Comic Quest!
COMIC QUEST 2018 FCBD 30 DAYS AWAY!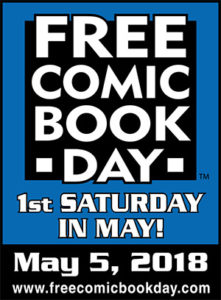 Free Comic Book Day is one of our favorite days of the year! We get to give away FREE comics, we get to see so many people come and go at the store, we get to see great costumes, lots of smiling faces…what's not to love about Free Comic Book Day? Every year seems to get bigger and better and we hope this year continues that trend!
We are hard at work planning this year's FCBD events. Expect the same great selection of FCBD books, some special sales, fantastic local artists, multiple local vendors offering collectibles, costumed Superhero and anime characters, cosplay contests, door prizes and a few extra surprises.
We will have a few FCBD specialty items for sales including a Previews exclusive FCBD 2018 POP SAGA BLOODY LYING CAT PX VIN FIG, FCBD 2018 MARVEL HEROCLIX EX FIG GLADIATOR HULK and a FCB HARLEY QUINN BOMBSHELLS FI!!!
More details as our planning continues.
COME AND ENJOY THE ARCADE!
The Comic Quest Heroes Arcade is THE place to be! For just a few bucks you can play all the games you want for a hour, or all day! We've got Ms. Pac-Man, Pole Position, Galaga, Donkey Kong and many more! For $5 an hour or $10 a day, you can get your vintage arcade on here at Comic Quest. Watch our facebook page to see how to win some free time!
LOOK FOR FREE COMICS AT CQ!
CQ is in the second week of providing free comics when you purchase your weekly comics. If we forget to offer you a free book, please feel free to act. Limit one per person per week with purchase!
NEW ARRIVALS!
XERXES FALL OF HOUSE OF DARIUS #1 $4.99



(W) Frank Miller (CA) Frank Miller
Frank Miller returns to the world of 300 with this sprawling historical epic! Persian King Xerxes sets out to conquer the world to avenge his father Darius's defeat and create an empire unlike anything the world has ever seen . . . Until the hardy Greeks produce a god king of their own, Alexander the Great.
o Frank Miller writes and draws this long-awaited companion to his masterpiece, 300!
o Colored by Alex Sinclair, the colorist for Miller's Dark Knight Master Race, third installment of his Dark Knight Returns master trilogy.
o Deluxe collector format!
o Thirty pages of story!
AMAZING SPIDER-MAN #798 LEG $3.99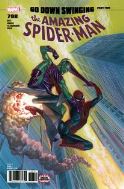 (W) Dan Slott (A) Stuart Immonen (CA) Alex Ross
GO DOWN SWINGING Part 2
• Dan Slott's final SPIDER-MAN story continues!
• The GREEN GOBLIN HAS RETURNED – and he's exacting his ultimate revenge not only on SPIDER-MAN, but on everyone the wall-crawler loves!
• Norman Osborn's offering NO QUARTER, an ultimatum that threatens to finish PETER PARKER once and for all!
BATMAN #44 $2.99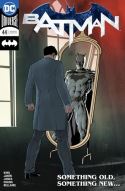 (W) Tom King (A) Jo?lle Jones (A/CA) Mikel Janin
"SOMETHING BLUE"! Follow Batman and Catwoman on two separate but parallel paths as their wedding planning kicks into high gear. Selina picks out her dress, and Bruce starts to make arrangements for their new life together-but this being Gotham City, and they being Batman and Catwoman, you can bet that nothing will go as expected!
ISOLA #1 CVR A KERSCHL $3.99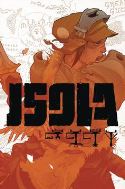 (W) Brenden Fletcher, Karl Kerschl (A) Msassyk (A/CA) Karl Kerschl
Childhood friends BRENDEN FLETCHER (MOTOR CRUSH) and Eisner Award-winning storyteller KARL KERSCHL (Gotham Academy) reunite on the comics page with a breathtaking fantasy adventure two decades in the making! The captain of the Royal Guard has fled the capital city with the Queen of Maar, suffering under the effects of an evil spell. Captain Rook's only hope of returning Queen Olwyn to her throne and saving the kingdom from impending war lies on an island half a world away-a place known in myth as Isola, land of the dead. Featuring lush color work by MSASSYK (Gotham Academy) and letters by ADITYA BIDIKAR (MOTOR CRUSH). Recommended for fans of Studio Ghibli and the work of Hayao Miyazaki.
DEATHSTROKE #30 $3.99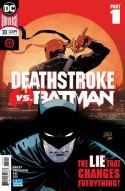 (W) Christopher Priest (A) Carlo Pagulayan (CA) Lee Weeks
"Deathstroke vs. Batman" part one! Beginning this month, a six-issue series-within-a-series featuring the ultimate showdown between DC's fiercest rivals! When Batman discovers a mysterious package containing DNA test results proving that he is not Damian Wayne's biological father, the Dark Knight sets his sights on his son's true father-Deathstroke! But Damian Wayne can't really be Slade Wilson's son-can he? And who sent the package-and why? The ultimate custody battle ensues as the World's Greatest Detective and the World's Deadliest Assassin clash in this instant classic!
AVENGERS SHARDS OF INFINITY #1 LEG $3.99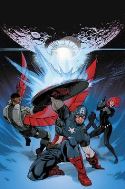 (W) Ralph Macchio (A/CA) Andrea Di Vito
EARTH'S – AND THE MOON'S – MIGHTIEST HEROES?
A new threat has emerged: An evil organization calling itself LUNAR has been secretly building a powerful weapon on the surface of the Earth's moon. BLACK WIDOW infiltrates the group to uncover an even more startling revelation: Their weapon is powered by shards of the COSMIC CUBE!
Legendary creators Ralph Macchio and Andrea Di Vito bring CAPTAIN AMERICA, BLACK PANTHER, THE FALCON and BLACK WIDOW together for a cosmic thrill ride you won't want to miss – and new villains you won't want to mess with!
THIS WEEK IN TOYS/STATUES
PACIFIC RIM 2 SELECT AF SERIES 1 ASST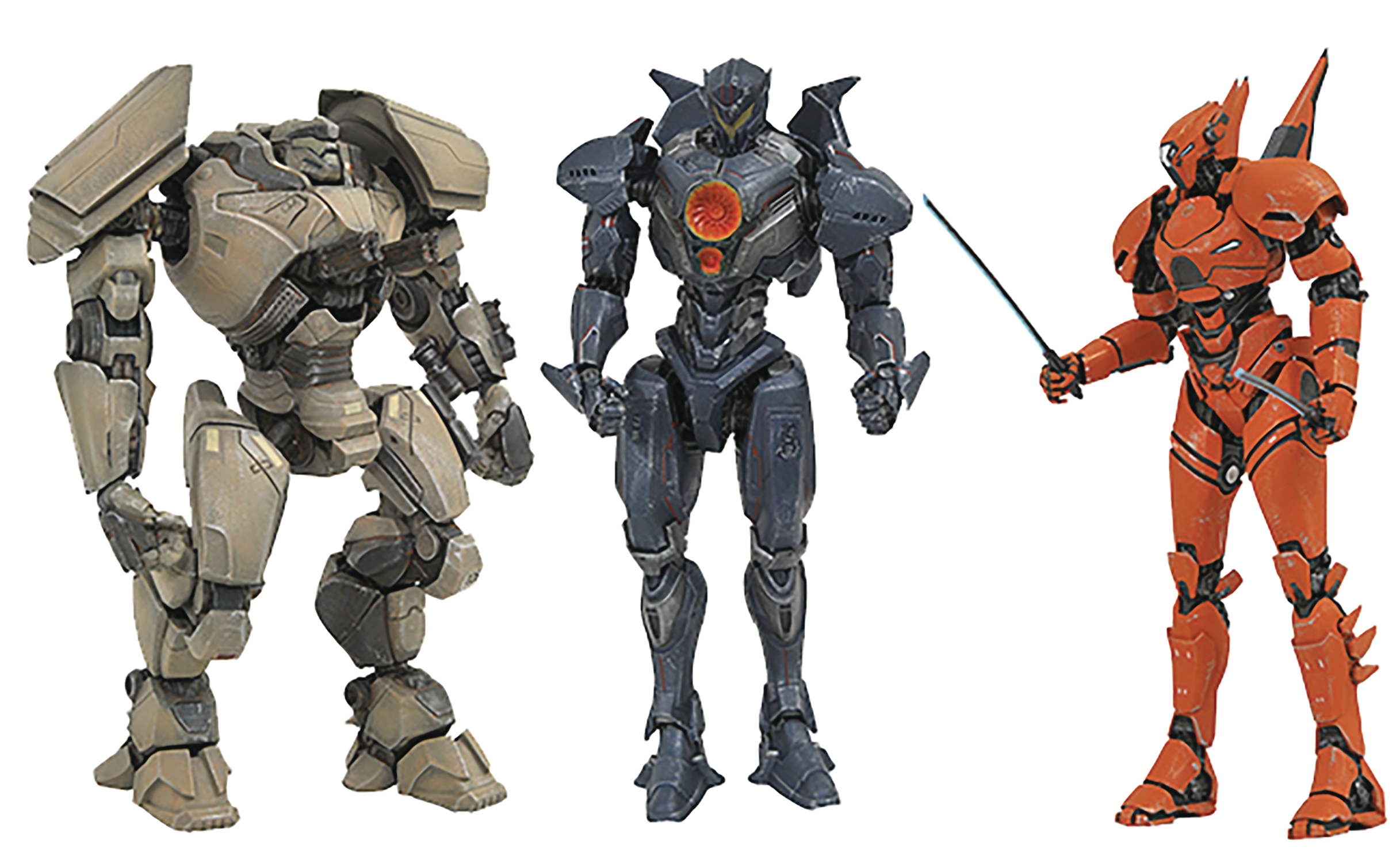 A Diamond Select Toys release! It's time to return to Pacific Rim! With a sequel to the fan-favorite mechs-vs.-monsters movie headed to theaters in early 2018, DST is preparing for the apocalypse with a line of action figures depicting the film's all-new Jaeger robots! Gipsy Avenger, Saber Athena and Bracer Phoenixmake up Series 1, each with a full range of articulation and each packaged in the famous Select packaging, with side-panel artwork for shelf reference. These specialty-exclusive versions include weapons and accessories not available at any other retailer! Don't let the kaiju onslaught take you by surprise! Sculpted by BigShot ToyWorks!
POP LORD OF THE RINGS TREEBEARD 6IN VIN FIG $14.99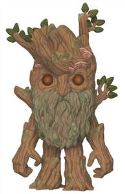 "Tree? I am no tree! I am an Ent!" Everyone's favourite shepherd of the forest has been immortalised into this awesome 6-Inch Pop! Vinyl Figure!
GUNDAM UC UNICORN GUNDAM RG 1/144 MDL KIT BANDE VER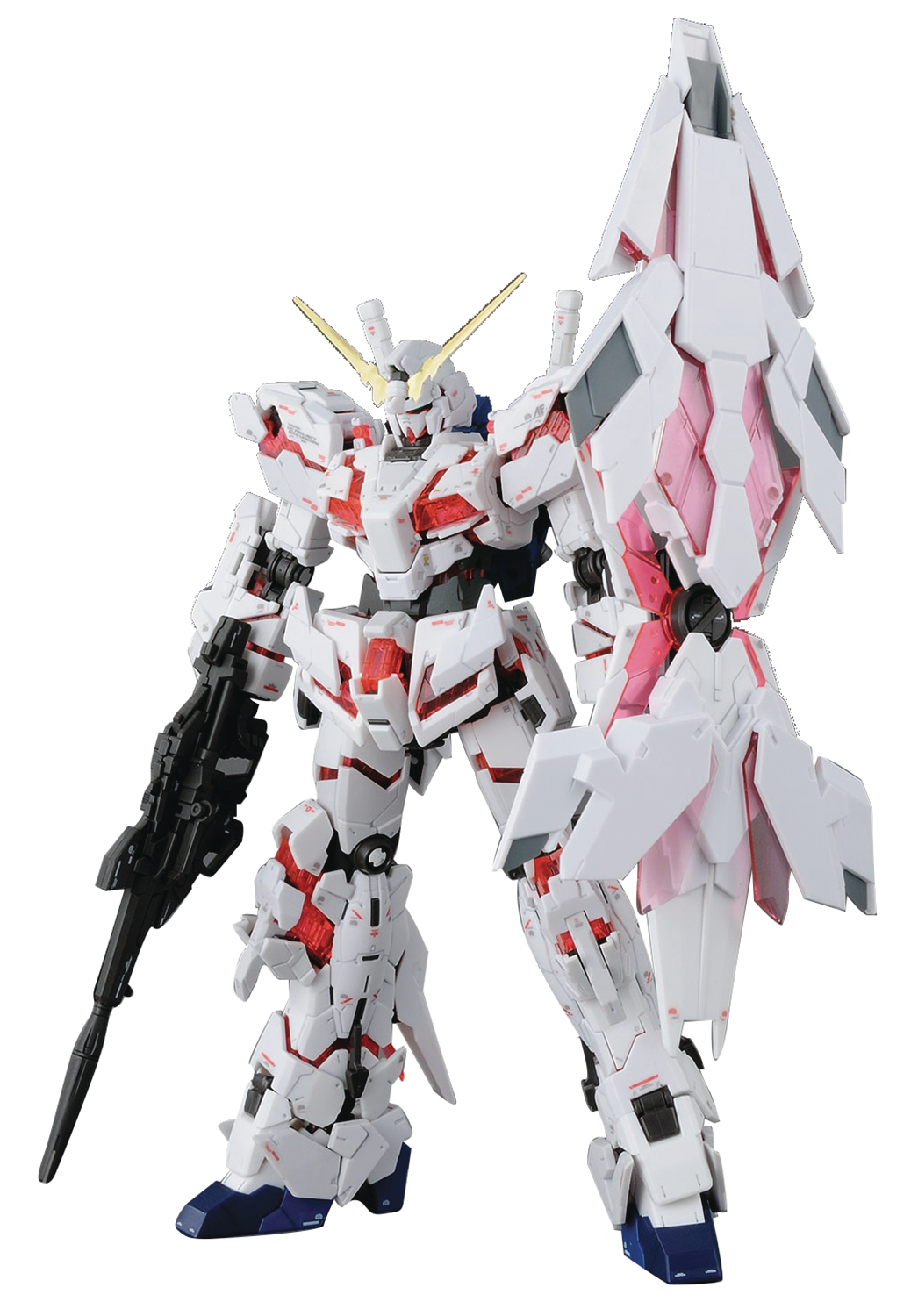 From Bandai Hobby. A special variant of the Real Grade Unicorn from the manga adaptation Bande Dessinee that includes the Armed Armor DE shield that can transform between different configurations. A set of decal stickers for the Armed Armor DE shield is included. Runner x 14, Instruction Manual x 2, decals.
KING OF BRAVES GAOGAIGAR SUPER MINI PLA MDL KIT



From Bandai Shokugan. The King of Braves GaoGaiGar Super Mini-Pla Series 2 is an add-on to the original King of Braves GaoGaiGar Super Mini-Pla! This box set includes Goldy Marg, Stealth Gao 2, and the Gatling Driver. Combine with the series 1 GaoGaiGar Super Mini-Pla figure to form Star Gaogaigar!
Trade-paperbacks of the Week!
TMNT COLOR CLASSICS TP VOL 01 $29.99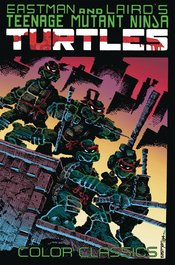 (W) Kevin Eastman, Peter Laird (A/CA) Kevin Eastman, Peter Laird
Go back to the very beginning, with the Turtles' first encounter with the Foot Clan and their mysterious leader, the Shredder. With over 300 pages of mutated martial-arts action, this volume is perfect for fans to relive the glorious days of the Turtles' origins, as well as an excellent place for new readers to see where the TMNT phenomenon began. Collects the first seven issues of the series, plus the Raphael and Michelangelo Micro-Series one-shots, all in brilliant color.
BATMAN DETECTIVE TP V5 LONELY PLACE OF LIVING REBIRTH $16.99 (W) James TynionIV, Christopher Sebela (A) Alvaro Martinez, Carmen Nunez Carnero, Raul Fernandez (A/CA) Eddy Barrows, Eber Ferreira
Where in the world is Tim Drake? Red Robin faces a crossroads…escape the most devious prison ever devised, or find himself abandoned beyond time and space for all eternity! Not much of a choice, right? But when he finds out who is locked in there with him, Tim's world will change in ways he never imagined! Collects DETECTIVE COMICS #963-968.
POWER RANGERS ARTIST TRIBUTE HC $24.99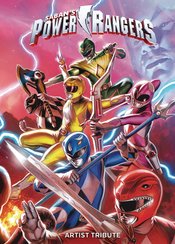 (A) Various (CA) Felipe Massafera
Celebrate 25 years of Saban's Power Rangers with this oversized hardcover that collects artwork from some of comics' best talents, including Kris Anka (Runaways), Adam Gorham (Black Panther), and more! Includes over 60 pieces of original art, featuring Ranger teams across all 25 years, from Mighty Morphin Power Rangers to Power Rangers Ninja Steel.
FLASH THE SILVER AGE TP VOL 03 $29.99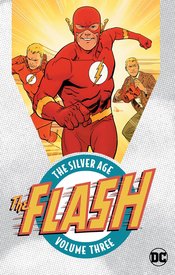 (W) John Broome, Gardner Fox (A) Carmine Infantino, Joe Giella, Frank Giacoia (CA) Evan "Doc" Shaner
In these adventures from the early 1960s, Abra Kadrabra transforms the Flash into a puppet! Plus, the Scarlet Speedster meets the Elongated Man to take on Captain Cold, gets help from Kid Flash against an alien invasion and travels to Earth-2 to help the Justice Society battle Vandal Savage! And don't miss appearances by Rogues including Pied Piper, Reverse-Flash, Heat Wave, the Trickster, Weather Wizard and Mr. Element in these stories from THE FLASH #133-147.
MASTER LIST OF STUFF ARRIVING THIS WEEK!
ALL NEW WOLVERINE #33 LEG 3.99
ALL NEW WOLVERINE #33 WEAVER VENOM 30TH VAR LEG 3.99
AMAZING SPIDER-MAN #797 2ND PTG ROSS VAR LEG 3.99
AMAZING SPIDER-MAN #798 DODSON VENOM 30TH VAR LEG 3.99
AMAZING SPIDER-MAN #798 GARRON YOUNG GUNS VAR LEG 3.99
AMAZING SPIDER-MAN #798 LEG 3.99
AMAZING SPIDER-MAN #798 RAMOS CONNECTING VAR LEG 3.99
ANALOG #1 CVR A O SULLIVAN 3.99
ANALOG #1 CVR B SHALVEY & BELLAIRE 3.99
ANGEL SEASON 11 TP VOL 03 DARK REFLECTIONS 17.99
ASTONISHING X-MEN #10 LEG 3.99
ASTRO CITY #51 3.99
ATTACK ON TITAN BEFORE THE FALL GN VOL 13 10.99
AVENGERS #687 CAMPBELL VENOM 30TH VAR LEG 3.99
AVENGERS #687 LEG 3.99
AVENGERS #687 SPROUSE END OF AN ERA VAR LEG 3.99
AVENGERS MIGHTY ORIGINS TP 17.99
AVENGERS SHARDS OF INFINITY #1 ANDRASOFSZKY VAR LEG 3.99
AVENGERS SHARDS OF INFINITY #1 LEG 3.99
AVENGERS SHARDS OF INFINITY #1 LIM VAR LEG 3.99
AVENGERS VS THANOS DIGEST TP 9.99
BACKWAYS #4 3.99
BATMAN #44 2.99
BATMAN #44 VAR ED 2.99
BATMAN DETECTIVE TP V5 LONELY PLACE OF LIVING REBIRTH 16.99
BATMAN THE DARK KNIGHT DETECTIVE TP VOL 01 29.99
BATMAN WHITE KNIGHT #7 (OF 8) 3.99
BATMAN WHITE KNIGHT #7 (OF 8) VAR ED 3.99
BATTLE ANGEL ALITA DELUXE ED VOL 03 29.99
BETROTHED #2 3.99
BETTY AND VERONICA VIXENS #5 3.99
BIRTHRIGHT TP VOL 06 14.99
BLACK BOLT #12 LEG 3.99
BLACK CLOUD #8 (MR) 3.99
BLACK LIGHTNING COLD DEAD HANDS #6 (OF 6) 3.99
BLACK PANTHER MOVIE PLAYING CARDS 5.99
BLACK PANTHER SHURI DEADLIEST OF SPECIES TP 14.99
BOMBSHELLS UNITED #15 2.99
BUNGO STRAY DOGS GN VOL 06 13
CATSTRONAUTS YR GN VOL 02 RACE TO MARS 7.99
CENTIPEDE TP VOL 01 GAME OVER 19.99
CONSULTANT TP VOL 01 14.99
CUPHEAD CUPHEAD VINYL FIGURE 10.99
CURSE OF BRIMSTONE #1 2.99
CYBORG #21 3.99
CYBORG #21 VAR ED 3.99
DANGER DOLL SQUAD GALACTIC GLADIATORS #1 CVR A YOUNG 4.99
DC BATMAN UNIVERSE BUST COLL #2 JOKER 24.95
DC BATMAN UNIVERSE BUST COLL #3 HARLEY QUINN 24.95
DC BATMAN UNIVERSE BUST COLL #5 CATWOMAN 24.95
DC COMICS CATWOMAN ARTFX STATUE 69.99
DC SUPERGIRL RETURNS BISHOUJO STATUE 84.99
DEATHSTROKE #30 3.99
DEATHSTROKE #30 VAR ED 3.99
DEJAH THORIS #3 CVR A MCKONE 3.99
DEJAH THORIS #3 CVR B ROUX 3.99
DEMI-GOD #1 CVR A SMITH 3.99
DEMI-GOD #1 CVR B SEARS 3.99
DISNEY FAIRIES MANGA GN VOL 05 GREAT FAIRY RESCUE 10.99
DISNEY PRINCESS #17 3.99
DOCTOR STAR & KINGDOM LOST TOMORROWS #2 3.99
DOCTOR WHO COMP HIST HC VOL 65 4TH DOCTOR STORIES 18.99
DOCTOR WHO COMP HIST HC VOL 66 11TH DOCTOR STORIES 18.99
DOCTOR WHO ESSENTIAL GUIDE #13 SCIENCE & TECH 19.99
DOCTOR WHO MAGAZINE #523 11.99
DOPPELGANGER #3 (OF 4) 1.5
ELSEWHERE #6 3.99
ETERNITY TP 9.99
EXIT STAGE LEFT THE SNAGGLEPUSS CHRONICLES #4 (OF 6) 3.99
FIGHTING AMERICAN TIES THAT BIND #2 CVR A TONG 3.99
FIGHTING AMERICAN TIES THAT BIND #2 CVR B KIRBY 3.99
FLASH #36 2.99
FLASH BY MARK WAID TP BOOK 04 34.99
FLASH THE SILVER AGE TP VOL 03 29.99
FLASH YA NOVEL JOHNNY QUICK 13.99
GEARS OF WAR RISE OF RAAM #3 CVR A BROWN 3.99
GHOSTBUSTERS ANSWER THE CALL #1 CVR A HOWELL 3.99
GI JOE A REAL AMERICAN HERO ANNV ED #1 3.99
GO WEST #2 (OF 3) 1.5
GOD COMPLEX #5 3.99
GREEN ARROW #39 3.99
GREEN ARROW #39 VAR ED 3.99
GREEN HORNET #2 CVR A MCKONE 3.99
GREEN HORNET #2 CVR B CHEN 3.99
GREEN LANTERNS #44 2.99
GREEN LANTERNS #44 VAR ED 2.99
GRIMM FAIRY TALES #14 CVR A GOH 3.99
GRIMM FAIRY TALES #14 CVR B WHITE 3.99
GRIMM FAIRY TALES #14 CVR C SANTACRUZ 3.99
GRIMM FAIRY TALES #14 CVR D ABRERA 3.99
GUNDAM UC UNICORN GUNDAM RG 1/144 MDL KIT BANDE VER
HARLEY QUINN #41 2.99
HARLEY QUINN #41 VAR ED 2.99
HAUNTED HORROR HC VOL 06 NIGHTMARE OF DOOM 24.99
HEAD LOPPER TP VOL 02 CRIMSON TOWER 16.99
HELM #1 3.99
HERO CATS TP VOL 07 SEASON FINALE 11.99
HORIZON TP VOL 03 16.99
I HATE FAIRYLAND #18 CVR A YOUNG 3.99
INJUSTICE 2 #23 2.99
IRON FIST #79 LEG 3.99
IRON MAIDEN LEGACY OF THE BEAST #4 CVR A 3.99
IRON MAIDEN LEGACY OF THE BEAST #4 CVR B 3.99
IRON MAIDEN LEGACY OF THE BEAST #4 CVR C 3.99
ISOLA #1 CVR A KERSCHL 3.99
ISOLA #1 CVR B 3.99
JETSONS #6 (OF 6) 3.99
JOHN ROMITA AND ALL THAT JAZZ SC 24.95
JUDGE DREDD MEGAZINE #393 13
JUGHEADS TIME POLICE TP 10.99
JUSTICE LEAGUE #42 2.99
JUSTICE LEAGUE #42 VAR ED 2.99
KENKA BANCHO OTOME LOVES BATTLE ROYALE GN VOL 01 9.99
KING OF BRAVES GAOGAIGAR SUPER MINI PLA MDL KIT
KINGSMAN RED DIAMOND TP 16.99
KOSHCHEI THE DEATHLESS #4 (OF 6) 3.99
LONG LOST #5 3.99
MARVEL ANIMATED STYLE DAREDEVIL STATUE
MARVEL AVENGERS ULTIMATE GUIDE UPDATED EXPANDED HC 24.99
MARVEL GALLERY THOR RAGNAROK VALKYRIE PVC FIG 45
MARVEL LEGACY COMPANION TP 15.99
MARVEL SELECT THOR RAGNAROK GLADIATOR THOR AF 24.99
MARVEL TWO-IN-ONE #5 JOHNSON VENOM 30TH VAR LEG 3.99
MARVEL TWO-IN-ONE #5 LEG 3.99
MARVELS ANT-MAN AND WASP PRELUDE #2 (OF 2) 3.99
MERMAID BOYS GN VOL 01 13
MONSTER GIRL DOCTOR LIGHT NOVEL SC VOL 02 14.99
MONSTER TAMER GIRLS GN VOL 01 13
MOTEKI GN VOL 01 LOVE STRIKES 18.95
MOTOR CRUSH #11 CVR A TARR 3.99
MY HERO ACADEMIA GN VOL 12 9.99
NARUTO 3IN1 TP VOL 22 14.99
NEW MUTANTS DEAD SOULS #2 (OF 6) LEG 3.99
NIGHTWING #42 2.99
NIGHTWING #42 VAR ED 2.99
PACIFIC RIM 2 SELECT AF SERIES 1 ASST
PAPER GIRLS TP VOL 04 14.99
PLATINUM END GN VOL 05 9.99
POP LORD OF THE RINGS TREEBEARD 6IN VIN FIG 14.99
POP RICK & MORTY PRISON ESCAPE RICK VINYL FIGURE 10.99
POP RIDES GAME OF THRONES NIGHT KING ON DRAGON VIN FIG 29.99
POP STRANGER THINGS BIG DEMOGORGON 6IN VINYL FIG 14.99
POP TEEN TITANS GO NIGHT BEGINS TO SHINE BEAR VIN FIG 10.99
POP WWE ROCK OLD SCHOOL VINYL FIGURE 10.99
PORTAL BOUND #1 (OF 5) CVR A ARIZMENDI 3.99
PORTAL BOUND #1 (OF 5) CVR B ARCHER 3.99
POWER RANGERS ARTIST TRIBUTE HC 24.99
PRISON SHIP HC 19.99
PUNISHER #223 LEG 3.99
RED SONJA #14 CVR A 3.99
RED SONJA #14 CVR B 3.99
RED SONJA #14 CVR D COSPLAY 3.99
REDLANDS TP VOL 01 9.99
REEFER MADNESS TP 19.99
RINGSIDE #15 3.99
RISE OF BLACK PANTHER #4 (OF 6) 3.99
ROGUE & GAMBIT #4 (OF 5) LEG 3.99
ROM TALES OF SOLSTAR ORDER #1 SPEC ED 4.99
RUGRATS R IS FOR REPTAR 2018 SPECIAL #1 7.99
RUNAWAYS #8 3.99
SCALES & SCOUNDRELS #8 3.99
SCIENCE COMICS SHARKS GN 12.99
SEX CRIMINALS #23 3.99
SHADE THE CHANGING WOMAN #2 3.99
SHERLOCK HOLMES DR JEKYLL AND MR HOLMES TP 8.99
SNOTGIRL #10 2.99
SONIC THE HEDGEHOG #1 CVR A 3.99
SONIC THE HEDGEHOG #1 CVR B 3.99
SPAWN #284 CVR A MATTINA 2.99
SPAWN #284 CVR B MATTINA B&W 2.99
SPAWN #284 CVR C MATTINA VIRGIN 2.99
SPIDER KING #2 CVR A DARMINI 3.99
SPIDER-MAN #239 LEG 3.99
STABBITY BUNNY #1 3.99
STAR TREK DISCOVERY ANNUAL 2018 CVR A 7.99
STAR TREK DISCOVERY ANNUAL 2018 CVR B 7.99
STAR WARS #46 3.99
STAR WARS #46 ACTION FIG 3.99
STAR WARS #46 GALACTIC ICON VAR 3.99
STAR WARS ENCYCLOPEDIA STARFIGHTERS/ VEHICLES HC 16.99
STAR WARS TP VOL 07 ASHES OF JEDHA 17.99
STARGATE UNIVERSE BACK TO DESTINY #4 MAIN 3.99
STARGATE UNIVERSE BACK TO DESTINY #4 PHOTO 3.99
SUPERGIRL TP VOL 03 GIRL OF NO TOMORROW REBIRTH 14.99
SUPERMAN #44 2.99
SUPERMAN #44 VAR ED 2.99
SWASHBUCKLERS SAGA CONTINUES #1 CVR A 3.99
SWASHBUCKLERS SAGA CONTINUES #1 CVR B 3.99
THANOS INFINITY SIBLINGS OGN HC 24.99
THE REPRIEVE TP 29.99
TINSELTOWN #1 (OF 5) 1.5
TMNT COLOR CLASSICS TP VOL 01 29.99
TOMS MIDNIGHT GARDEN GN 10.99
TREMENDOUS TRUMP MAN CHILD COVFEFE ONE SHOT 4.99
TREMENDOUS TRUMP WORLD WAR T (ONE SHOT) 4.99
TRUE BELIEVERS AVENGERS VS THANOS #1 1
TRUE BELIEVERS THANOS THE FIRST #1 1
VAMPBLADE SEASON 3 #1 CVR A COSTA 4.99
VAN HELSING VS WEREWOLF TP 19.99
VENOM #164 CHRISTOPHER VENOM 30TH VAR LEG 3.99
VENOM #164 LEG 3.99
VENOMIZED #1 (OF 5) 4.99
VENOMIZED #1 (OF 5) BAGLEY CONNECTING VAR 4.99
VENOMIZED #1 (OF 5) BLANK VAR 4.99
VENOMIZED #1 (OF 5) CRAIN PROMO VAR 4.99
VENOMIZED #1 (OF 5) YOUNG VAR 4.99
WALKING DEAD #178 CVR A ADLARD & STEWART 3.99
WALKING DEAD #178 CVR B SIENKIEWICZ 3.99
WARDS VALLEY TP 19.99
WELCOME TO PARADISE #1 3.99
WICKED & DIVINE #35 CVR A MCKELVIE & WILSON 3.99
WORLDS END HAREM GN VOL 01 12.99
WWE WRESTLEMANIA 2018 SPECIAL #1 7.99
X-MEN GOLD #25 LEG 4.99
X-MEN GOLD #25 NAUCK VENOM 30TH VAR LEG 4.99
X-MEN GRAND DESIGN TP 29.99
XERXES FALL OF HOUSE OF DARIUS #1 4.99
ZERO JUMPER #1 (OF 4) 1.5
We hope to see you soon at CQ!
Visit us at 2260 Morgan Avenue, Evansville
On the web at www.comicquest.com
On Facebook www.facebook.com/comicquestevansville
On Twitter @cqevansville
On Instagram: @comicquestevansville
Contact us at sales@comicquest.com or by phone at 812-474-1133