Comic Quest Weekly for 4/15/18
COMIC QUEST 2018 FCBD LESS THAN 3 WEEKS AWAY!
We are hard at work planning this year's FCBD events. Expect the same great selection of FCBD books, some special sales, fantastic local artists, multiple local vendors offering collectibles, costumed Superheroes and anime characters, cosplay contests, door prices and a few extra surprises. We will have a few FCBD specialty items for sales including a Previews exclusive FCBD 2018 POP SAGA BLOODY LYING CAT PX VIN FIG, FCBD 2018 MARVEL HEROCLIX EX FIG GLADIATOR HULK and a FCB HARLEY QUINN BOMBSHELLS FIG.
Some of the returning guests artists you can expect to see at this year's event include: Clint Basinger (Cosmic Moustache Comics), Johnny Skulls, Kristina Arwood and (Art by Pizzaface). You'll also see Project Nexus: Code Black back again this year! Local cosplayer Bree Williams will be returning again this year as well, many of you will remember her from previous years as Harley Quinn!
We will post more information about this year's exciting event as we have it!
INTERNATIONAL TABLETOP DAY APRIL 28!
International Tabletop Day is coming up the week before Free Comic Book Day! It's a really fun full day of gaming here at Comic Quest. We will have board game demos, some prizes and some International Tabletop Day exclusive items only available at participating gaming stores!
International Tabletop Day is a day meant to celebrate board gaming…it's about enjoying board games. We encourage you, your friends and your family to come on in on Saturday, April 28 and play a game or two!
SHARE OUR FACEBOOK POST AND YOU COULD WIN FREE ARCADE TIME
Starting last week, and continuing for the next few weeks, we will be doing a Facebook post each week to promote our new COMIC QUEST HEROES ARCADE asking you to LIKE AND SHARE the post to win FREE arcade time! We will draw a winner at the end of each week to receive a FULL DAY ARCADE PASS! All you have to do is LIKE AND SHARE the post (but you must make sure your shared post is public, or we can't see it!)
The winner for this past week was: Jenny Bender Ferrell!! Congrats Jenny! And good luck to everyone for this next week!!!
8 Sci-Fi Stories To Rocket You Into The Future
The Weatherman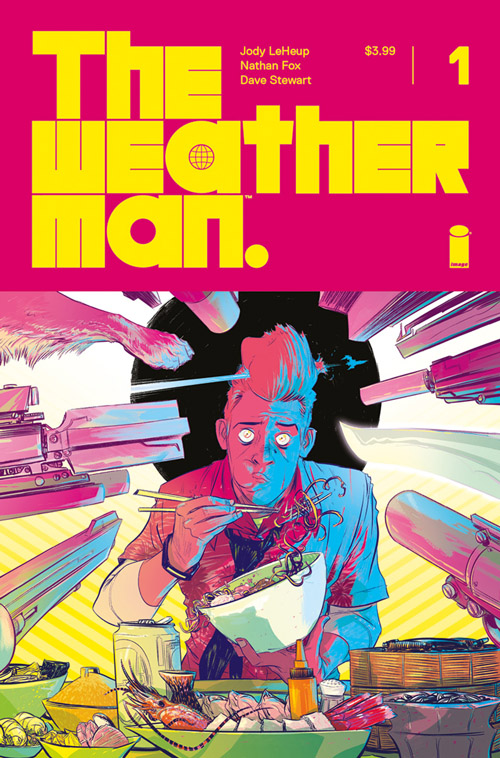 The Weatherman comes to us courtesy of writer Jody LeHeup (Shirtless Bear-Fighter, one of our must-reads from 2017) and artist Nathan Fox (DMZ, Invincible Iron Man). "The Weather Man" of this story happens to be Nathan Bright, a meteorologist on Mars who may have caused the eradication of Earth's entire population.
Yeeeeah…if we'd done something so dastardly, we might want to hide on Mars too.
Gantz


Not for the faint of heart, Gantz has been called everything from "addictive" to "sadistic". Intrigued yet? Good, because Gantz is being recollected in an Omnibus format courtesy of Dark Horse Comics.
Get on the ground floor of writer-artist Hiroya Oku's totally screwed up sci-fi/horror story about a pair of teenagers — Kei and Masaru – tragically killed in a freak subway accident. But, if they're dead, why is it that the two find themselves waking up in an apartment with a giant black orb named "Gantz?" Gantz doesn't speak, but it does provide the two with bizarre alien-blasting weapons and a cryptic message: "Your lives have ended and you now belong to Gantz."
Planet of the Apes: Visionaries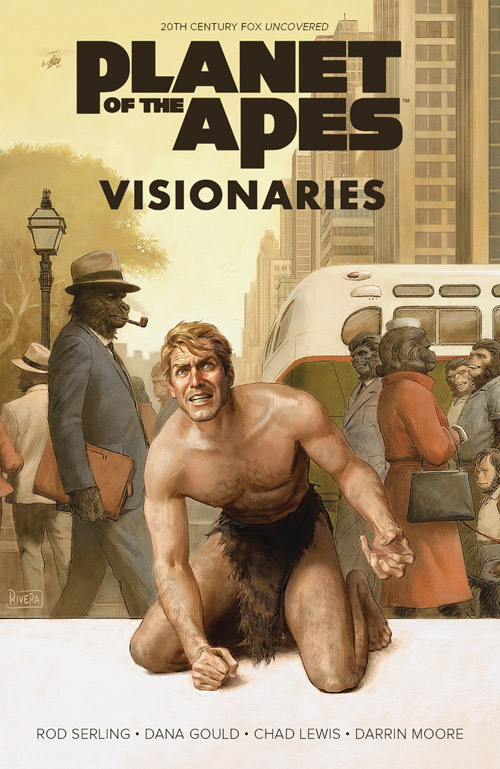 Science fiction luminary Rod Serling is known for his ground-breaking Twilight Zone TV show, but did you also know he was originally on tap to make 1968's Planet of the Apes film? Well, thanks to Boom! Studios, Serling's original screenplay for Apes has been visualized and put to print thanks to this Visionaries hardcover.
This is a fascinating look at what could have been for one of pop culture's most beloved sci-fi tales – an artifact no fan of Planet of the Apes should be without.
Infinity 8: Loved and Mummies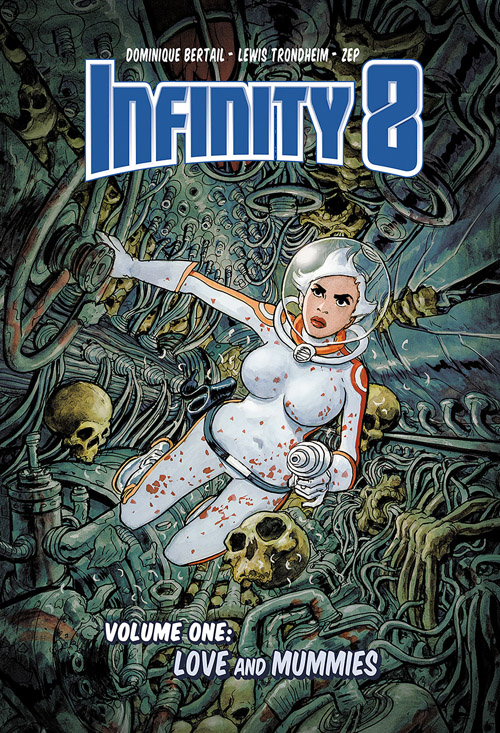 Unravel a tongue in cheek, mind and time-bending sci-fi conspiracy and witness a daring rescue to protect the far-out alien passengers aboard Infinity 8!
For fans of titles like Heavy Metal, Infinity 8 brings us eight different stories across three self-contained chapters. It's the story of a downed space cruiser trapped between galaxies. As the ship's team ventures out to salvage the cruiser, they will be consumed by the parallel timelines surrounding it…and so will you!
Boxmasters: A Twisted Tale Through Time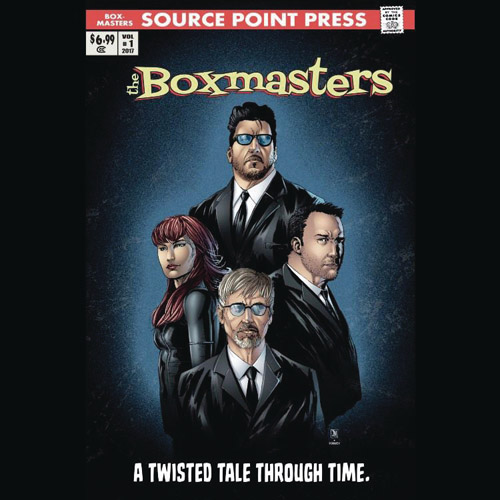 Rock 'N' Roll will save your soul…unless it never existed! That's the plot behind Boxmasters , a new graphic novel inspired by actor-musician Billy Bob Thorton's real life rockabilly band…The Boxmasters.
In A Twisted Tale Through Time, the band are on the run, attempting to thwart an evil time-traveler from destroying the history of rock.
Goodbye, Chuck Berry. Goodbye, Mick Jagger. Goodbye, Aerosmith. Hello, cruel world…
Rex Royd: The Complete Collection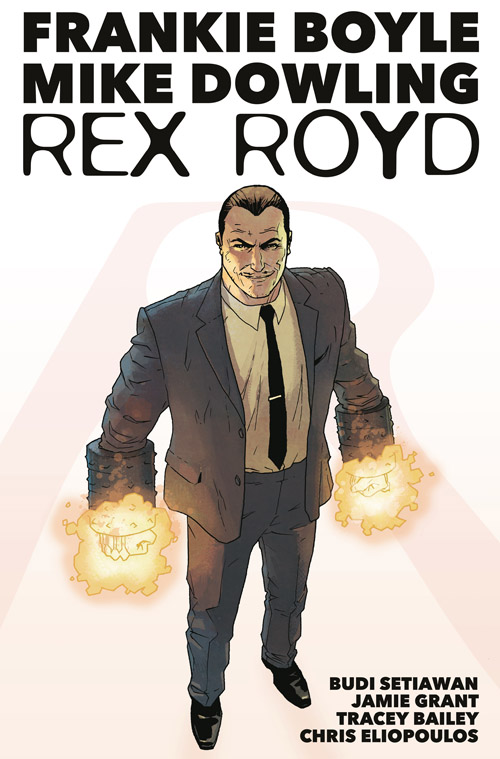 Six years after its unceremonious cancellation, comedian Frank Boyle's Rex Royd gets a proper conclusion with this "Complete Collection" from Titan Comics.
Who is Rex Royd? Well, he's a super-scientist, adventurer, and businessman. Rex harkens back to the classic sci-fi heroes of the pulp genre, but his exploits are utterly absurd. Expect ultra-violent throwdowns with lizardmen, methumans, totally bent realities, and…well, God.
How does Rex fair against such insane opposition? Smugly.
The Complete Future Shocks (Vol. 1)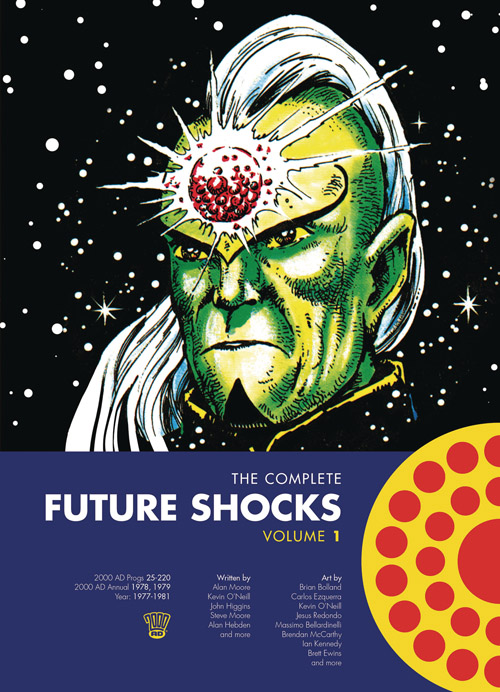 Similar to Amazing Stories*, 2000 AD's Future Shocks has been the publication that helped launch many careers. With this new collection of the anthology series, the previous works of creators such as Alan Moore (V for Vendetta), Brian Bolland (Batman: Killing Joke), Al Ewing (The Ultimates), the late Steve Dillon (Preacher), and so many others has been plucked from the archives and reprinted for a new generation to enjoy.
Get a piece of comic book history and witness the seminal works of — undeniably – the UK's top talents.
Carson of Venus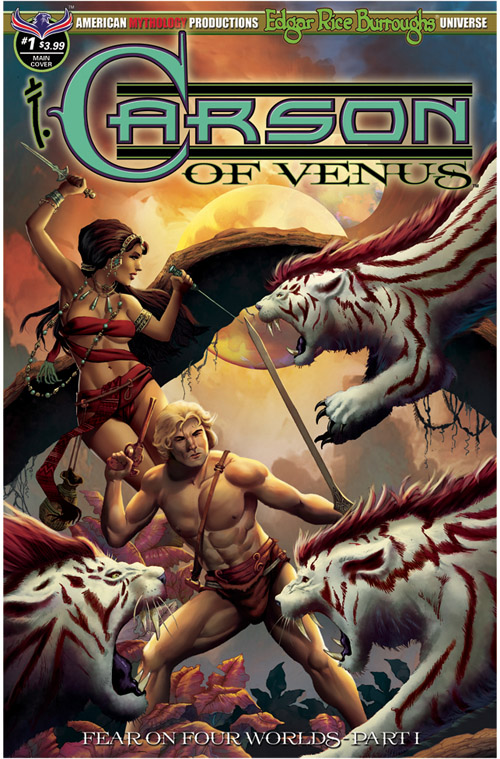 As any fan of sci-fi will tell you, Edgar Rice Burroughs' creations are integral to the foundation of science fiction. Particularly, his "Barsoom" series of novels starring John Carter and Deja Thoris, the Princess of Mars. Burroughs also gave us Tarzan and The Land That Time Forgot (among others). Now, ERB's list of creations meet in Carson of Venus , a heroic assemblage of some of the writer's greatest creations.
And that's just a smattering of what is available for sci-fi fans at CQ right now.
NEW ARRIVALS!
ACTION COMICS #1000 1930S VAR ED $7.99
ACTION COMICS #1000 1940S VAR ED $7.99
ACTION COMICS #1000 1950S VAR ED $7.99
ACTION COMICS #1000 1960S VAR ED $7.99
ACTION COMICS #1000 1970S VAR ED $7.99
ACTION COMICS #1000 1980S VAR ED $7.99
ACTION COMICS #1000 1990S VAR ED $7.99
ACTION COMICS #1000 2000S VAR ED $7.99
ACTION COMICS #1000 BLANK VAR ED $7.99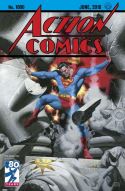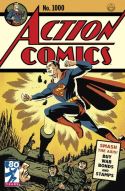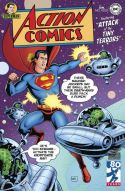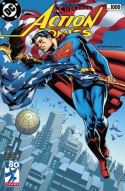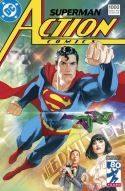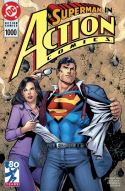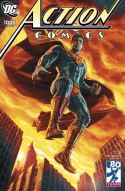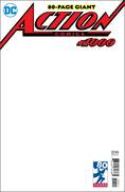 Celebrate 1000 issues of Action Comics with an all-star lineup of top talent as they pay tribute to the comic that started it all! From today's explosive action to a previously unpublished tale illustrated by the legendary Curt Swan to the Man of Tomorrow's future—this very special, oversized issue presents the best of the best in Superman stories!
FEATURING ALL-NEW ART AND STORIES BY:
BRIAN MICHAEL BENDIS-JOHN CASSADAY-OLIVIER COIPEL-PAUL DINI-
JOSE LUIS GARCIA-LOPEZ-PATRICK GLEASON-BUTCH GUICE-GEOFF JOHNS-
DAN JURGENS-TOM KING-JIM LEE-CLAY MANN-BRAD MELTZER-JERRY ORDWAY-TIM SALE-LOUISE SIMONSON-SCOTT SNYDER-CURT SWAN-PETER J. TOMASI-MARV WOLFMAN…AND MORE!
DECADES-SPANNING OPEN-TO-ORDER VARIANT COVERS BY:
STEVE RUDE (1930s)
MICHAEL CHO (1940s)
DAVE GIBBONS (1950s)
MICHAEL ALLRED (1960s)
JIM STERANKO (1970s)
JOSHUA MIDDLETON (1980s)
DAN JURGENS (1990s)
LEE BERMEJO (2000s)
…PLUS A BLANK VARIANT COVER!
AMAZING SPIDER-MAN #799 LEG $3.99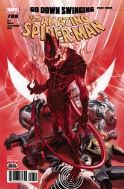 (W) Dan Slott (A) Stuart Immonen (CA) Alex Ross
GO DOWN SWINGING Part 3
• SPIDER-MAN will need to the help of friend and foe alike if he hopes to stop THE GREEN GOBLIN this time!
• The mystery of the RED GOBLIN is finally revealed, and it's not going to be pretty for Peter Parker!
SKYWARD #1 $3.99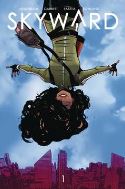 (W) Joe Henderson (A/CA) Lee Garbett
"MY LOW-G LIFE," Part One: One day, gravity on earth suddenly became a fraction of what it is now. Twenty years later, humanity has adapted to its new low-gravity reality. And to Willa Fowler, a woman born just after G-day, it's…well, it's pretty awesome, actually. You can fly through the air! I mean, sure, you can also die if you jump too high. So you just don't jump too high. And maybe don't stumble into a dangerous plan to bring gravity back that could get you killed….
From writer JOE HENDERSON (showrunner of Fox's Lucifer) and artist LEE GARBETT (Lucifer, Loki: Agent of Asgard), SKYWARD is an adventure-filled exploration of our world turned upside down and a young woman's journey to find her place in it.
STAR TREK DISCOVERY SUCCESSION #1 $3.99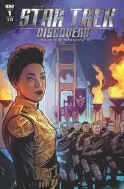 (W) Mike Johnson, Kirsten Beyer (A/CA) Angel Hernandez
In this, the second Discovery miniseries from IDW Publishing, your favorite characters from the hit CBS All Access series dive into an adventure tied directly into the second half of the first season!
VENOMIZED #3 (OF 5) $3.99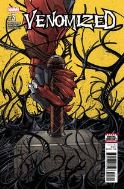 (W) Cullen Bunn (A) Iban Coello (CA) Mark Bagley
VENOMIZED Part 3
• With one of their strongest allies consumed by the Poisons, the heroes of Earth must rally and stand against one of their own!
• Meanwhile, the Poisons have been working in secret to shore up their defenses, but have they thought of everything? T
BATMAN #45 $2.99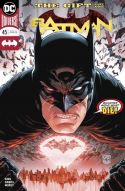 (W) Tom King (A) Sandu Florea (A/CA) Tony S. Daniel
"THE TRAVELERS" part one! Booster Gold has come to Gotham City, and he's enlisting Batman and Catwoman to go on a time-traveling mission to rescue…Booster Gold! It seems a younger Booster Gold has gone back in time to kidnap an even younger version of himself, and to rescue his own past, Booster must pursue both of his previous incarnations through Batman's history to find out what is going on. The start of a new story that will sow the seeds for a whole new epic to come-and also the return of Master Class artist Tony S. Daniel (DAMAGE) to BATMAN!
THIS WEEK IN TOYS/STATUES
POP HORROR 8-BIT ALIEN BLOOD SPLATTERED PX VINYL FIGURE $11.99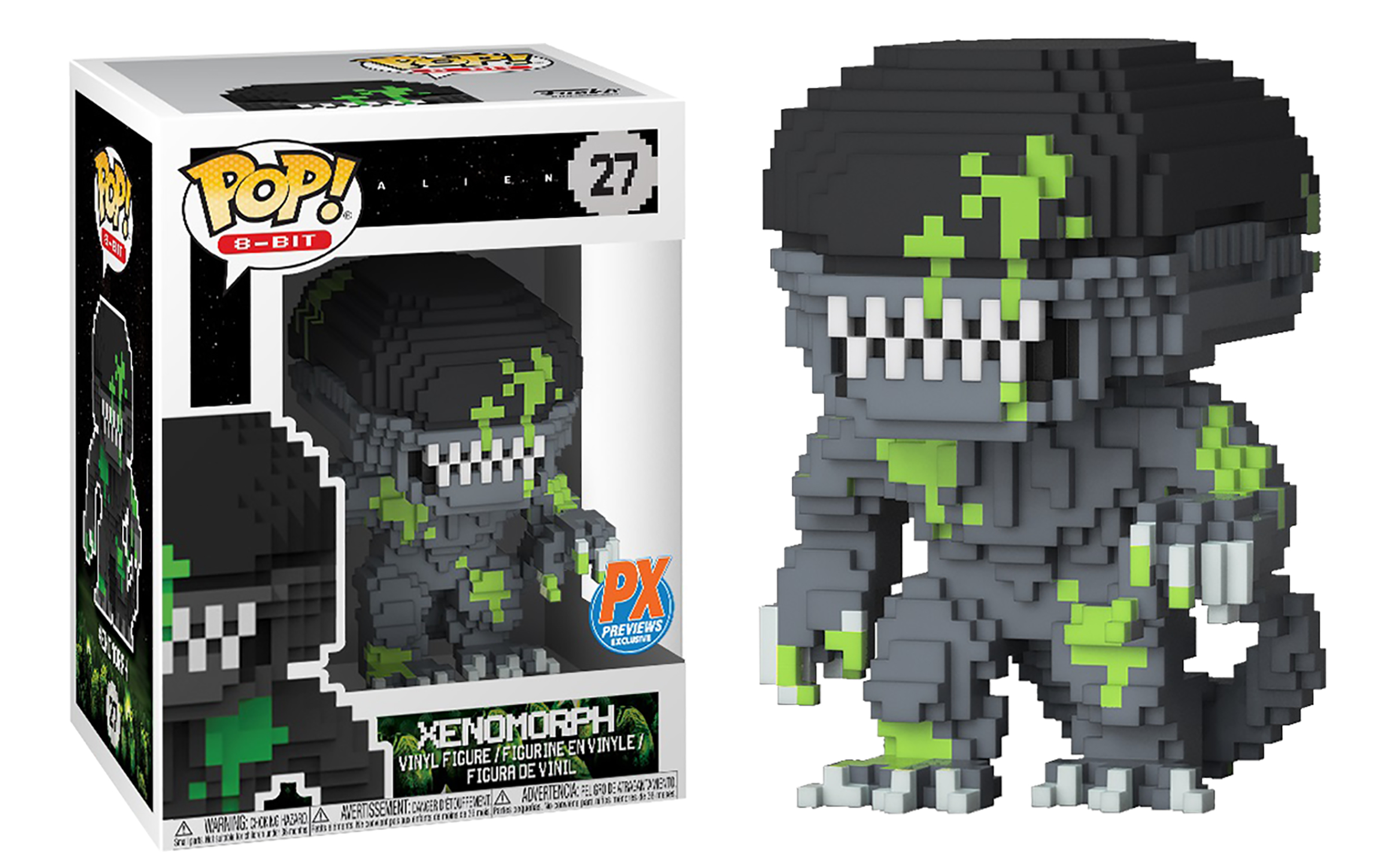 A PREVIEWS Exclusive. Funko collectors will be feeling a great sense of nostalgia with Funko's new line of 8-Bit POP! Vinyl Figures. This Splatter Xenomorph from the Alien series is looking terrifying covered in blood spatters! Standing 3 3/4″ tall and sporting a pixelated design, this special variant is only available through PREVIEWS and your local comic shop. Window box packaging.
SUPER CUTE CTHULHU DARK GREEN 12IN PLUSH $19.99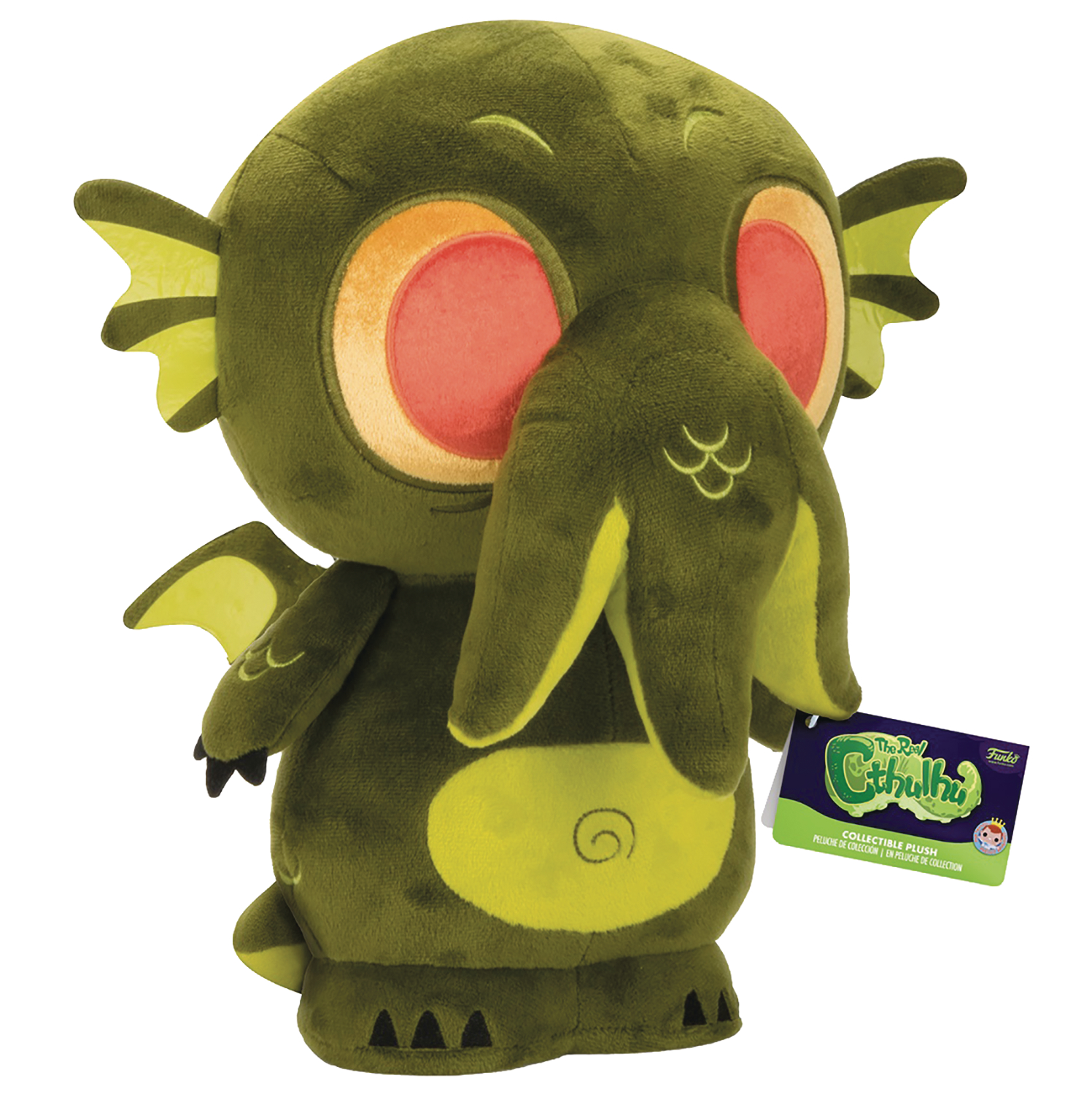 Now own an unkowable horror in cuddly plush form with this super cute Cthulhu! At 12″ tall he's probably too small to cause an apocalypse, and almost certainly too cute and cuddly to shatter your sanity, but he's just right for hugging!
TRANSFORMERS GEN POWER O/T PRIMES VOYAGER AF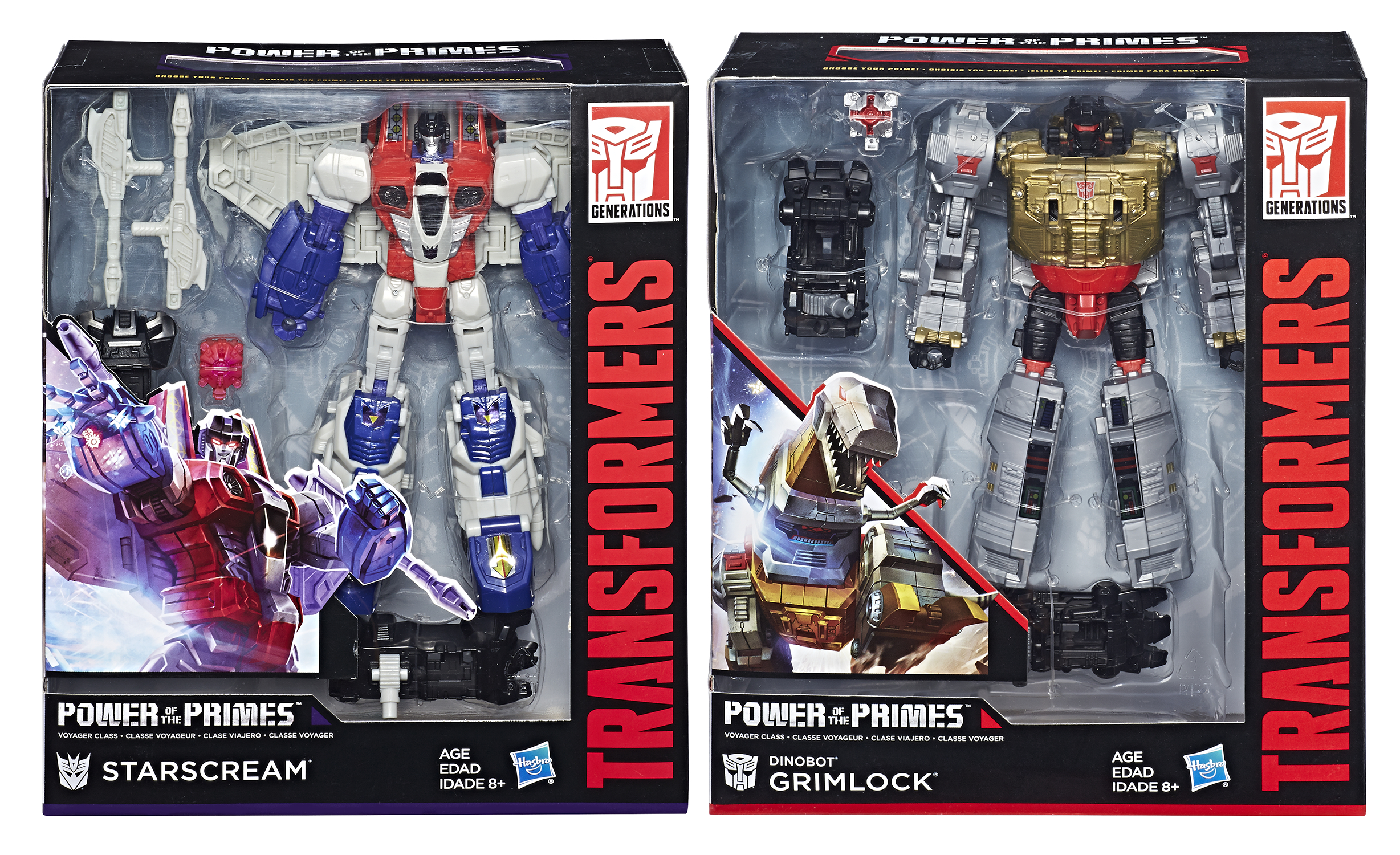 The Autobots and Decepticons use Prime Masters to wield the godlike powers of the most legendary bots in the universe: the Primes. Prime Masters carry the spark of a Prime, allowing them to share a Prime's godlike ability with other bots. Anything is possible and everything is at stake when the Power of the Primes is unleashed! These 7″ figures come with 2 Prime Armor accessories. Insert a Prime Master figure (Not included. each sold separately) into one of the accessories, attach it to the figure, and imagine your robot wields the power of a Prime. Collect Starscreamand Grimlock!
STAR TREK LIGHT & SOUND TRICORDER KIT $12.95 (W) Chip Carter
Star Trek fans and collectors will love this one-of-a-kind, mini-size collectible tricorder with light and sound. The tricorder is a multifunction handheld device used for sensor scanning and data analysis. The kit includes a Star Trek: The Next Generation-era light-up tricorder with sound and a 48-page book on the history of tricorders and full-color photos.
TRADE-PAPERBACKS OF THE WEEK!
GREEN LANTERN THE SILVER AGE TP VOL 03 $29.99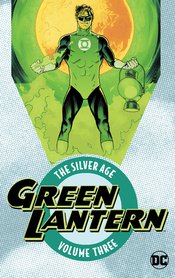 (W) Gardner Fox, John Broome (A) Gil Kane, Joe Giella, Sid Greene, Frank Giacoia (CA) Evan "Doc" Shaner
In these tales from the early 1960s, Hal Jordan faces new dangers as the Green Lantern of Earth, including Star Sapphire, the Tattooed Man, Hector Hammond, Black Hand, Sonar, the Shark and others, then visits a planet called Green Lantern! Collects GREEN LANTERN #23-35.
SENSE OF WONDER MY LIFE IN COMIC FANDOM SC $19.95


(W) Bill Schelly
A fascinating story of growing up as a gay fan of comic books in the 1960s, building a fifty-year career as an award-winning writer, and interacting with acclaimed comic book legends. Award-winning writer Bill Schelly relates how comics and fandom saved his life in this engrossing story that begins in the burgeoning comic fandom movement of the 1960s and follows the twists and turns of a career that spanned fifty years. Schelly recounts his struggle to come out at a time when homosexuality was considered a mental illness, how the egalitarian nature of fandom offered a safe haven for those who were different, and how his need for creative expression eventually overcame all obstacles. He describes living through the AIDS epidemic, finding the love of his life, and his unorthodox route to becoming a father. He also details his personal encounters with major talents of 1960s comics, such as Steve Ditko (co-creator of Spider-Man), Jim Shooter (writer for DC and later editor-in-chief of Marvel Comics), and Julius Schwartz (legendary architect of the Silver Age of comics).
BATMAN ARKHAM HUGO STRANGE TP $19.99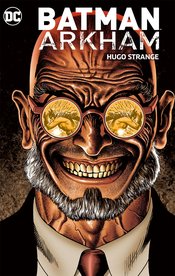 (W) Bill Finger, Steve Englehart, Gerry Conway, Devin Grayson, Doug Moench, Steve Orlando, James TynionIV (A) Bob Kane, Marshall Rogers, Don Newton, Jerry Robinson, Terry Austin, Dick Giordano, Dennis Cowan, Alfredo Alcala, Roger Robinson, John Floyd, Andy MacDonald (CA) Brian Bolland
One of the Dark Knight's oldest enemies, Hugo Strange was the first foe to determine Batman's true identity as Bruce Wayne! BATMAN ARKHAM: HUGO STRANGE collects some of the villain's greatest stories by some of comics' greatest creators from DETECTIVE COMICS #36, #471-472 and #942, BATMAN #356, BATMAN ANNUAL #10 and BATMAN: GOTHAM KNIGHTS #8-11.
FIGHT CLUB 2 TP $19.99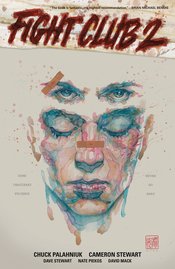 (W) Chuck Palahniuk (A) Cameron Stewart (CA) David Mack
Ten years after starting Project Mayhem, he lives a mundane life. A kid, a wife. Pills to keep his destiny at bay. But it won't last long; the wife has seen to that. He's back where he started, but this go-round he's got more at stake than his own life. The time has arrived . . . Collects Fight Club 2 #1-#10 and the Free Comic Book Day story.
MASTER LIST OF STUFF ARRIVING THIS WEEK!
3 FLOYDS ALPHA KING TP 16.99
ACTION COMICS #1000 7.99
ACTION COMICS #1000 1930S VAR ED 7.99
ACTION COMICS #1000 1940S VAR ED 7.99
ACTION COMICS #1000 1950S VAR ED 7.99
ACTION COMICS #1000 1960S VAR ED 7.99
ACTION COMICS #1000 1970S VAR ED 7.99
ACTION COMICS #1000 1980S VAR ED 7.99
ACTION COMICS #1000 1990S VAR ED 7.99
ACTION COMICS #1000 2000S VAR ED 7.99
ACTION COMICS #1000 BLANK VAR ED 7.99
ACTION COMICS 80 YEARS OF SUPERMAN POSTER 9.99
ALL NEW WOLVERINE #33 LEG 3.99
AMAZING SPIDER-MAN #799 LEG 3.99
AMAZING SPIDER-MAN #799 RAMOS CONNECT LEG 3.99
AMAZING SPIDER-MAN RENEW YOUR VOWS #18 LEG 3.99
AMERICAN WAY THOSE ABOVE AND BELOW TP 16.99
AQUAMAN #35 3.99
AQUAMAN #35 VAR ED 3.99
ASSASSINISTAS #4 CVR A HERNANDEZ 3.99
ASSASSINISTAS #4 CVR B GANUCHEAU 3.99
AVENGERS #1 BY MCGUINNESS POSTER 8.99
AVENGERS #683 MEDINA 2ND PTG VAR LEG 3.99
AVENGERS #689 LEG 4.99
AVENGERS #689 SPROUSE END OF AN ERA VAR LEG 4.99
BACK TO THE FUTURE TIME TRAIN #3 CVR B MURPHY 3.99
BATMAN #45 2.99
BATMAN #45 VAR ED 2.99
BATMAN ARKHAM HUGO STRANGE TP 19.99
BATMAN CREATURE OF THE NIGHT #3 (OF 4) 5.99
BATMAN SINS OF THE FATHER #3 (OF 6) 2.99
BATMAN TEENAGE MUTANT NINJA TURTLES II #6 (OF 6) 3.99
BATMAN TEENAGE MUTANT NINJA TURTLES II #6 (OF 6) VAR ED 3.99
BATWOMAN #14 3.99
BATWOMAN #14 VAR ED 3.99
BE PREPARED GN 12.99
BELLE BEAST HUNTER #3 (OF 6) CVR A 3.99
BELLE BEAST HUNTER #3 (OF 6) CVR B 3.99
BELLE BEAST HUNTER #3 (OF 6) CVR C 3.99
BELLE BEAST HUNTER #3 (OF 6) CVR D 3.99
BLACK HAMMER AGE OF DOOM #1 MAIN CVR 3.99
BLACK HAMMER AGE OF DOOM #1 VAR YOUNG CVR 3.99
BLACK MONDAY MURDERS TP VOL 02 16.99
BLACK PANTHER #1 BY ACUNA POSTER 8.99
BLACK PANTHER #172 FERRY VENOM VAR LEG 3.99
BLACK PANTHER #172 LEG 3.99
BLACK PANTHER ENAMEL LAPEL PIN SET 11.99
BLACKBIRD DAYS HC 22.99
BOMBSHELLS UNITED #16 2.99
BRAVE & THE BOLD BATMAN & WONDER WOMAN #3 3.99
BUNCH OF JEWS AND OTHER STUFF 15
CABLE #156 LEG 3.99
CASPER AND WENDY #1 MAIN CVR 3.99
CASPER AND WENDY #1 SCHERER ANTICS CVR 3.99
CAVE CARSON HAS AN INTERSTELLAR EYE #2 3.99
CURSE WORDS #13 CVR A BROWNE 3.99
CURSE WORDS #13 CVR B CANNON 3.99
CUTIE HONEY A GO GO GN VOL 01 15.99
CYANIDE & HAPPINESS TP 9.99
DAMAGE #4 2.99
DAMNED #9 3.99
DAREDEVIL #601 LEG 3.99
DAREDEVIL #601 PEREZ VENOM LEG 3.99
DARK ARK TP VOL 01 14.99
DARK TALES CALL OF CTHULHU GN 15.99
DARK TALES HOUND BASKERVILLES GN 15.99
DARK TALES SNOW QUEEN GN 15.99
DEAD DEAD DEMONS DEDEDEDE DESTRUCTION GN V1 14.99
DEADMAN #6 (OF 6) 3.99
DEADPOOL #300 BY KOBLISH POSTER 8.99
DEATH OF LOVE #3 (OF 5) 3.99
DEATHBED #3 (OF 6) 3.99
DEATHSTROKE TP VOL 04 DEFIANCE REBIRTH 14.99
DESCENDER #29 CVR A NGUYEN 3.99
DIE LAUGHING HC FRANQUIN 19.99
DOMINO BY LAND POSTER 8.99
DRAGON HALF OMNIBUS GN VOL 01 19.99
ELSEWHERE #6 3.99
ETERNALS BY NEIL GAIMAN TP NEW PTG 24.99
EVOLUTION #6 3.99
FAIRY TAIL S GN VOL 02 (OF 2) 10.99
FENCE TP VOL 01 DISCOVER NOW ED PX 9.99
FIGHT CLUB 2 TP 19.99
FURTHER ADV OF NICK WILSON #4 (OF 5) 3.99
FUTURE QUEST PRESENTS #9 3.99
FUTURE QUEST PRESENTS #9 VAR ED 3.99
GBF MRS LOHENG-RINKO HGBF 1/144 MDL KIT
GOOSEBUMPS MONSTERS AT MIDNIGHT HC 12.99
GRAVETRANCERS #3 3.99
GREEN LANTERN THE SILVER AGE TP VOL 03 29.99
GREEN LANTERNS #45 2.99
GREEN LANTERNS #45 VAR ED 2.99
HARLEY QUINN #42 2.99
HARLEY QUINN #42 VAR ED 2.99
HER INFERNAL DESCENT #1 CVR A CHARLES 3.99
HER INFERNAL DESCENT #1 CVR B HACK 3.99
HUNT FOR WOLVERINE BY MCNIVEN POSTER 8.99
INCREDIBLE HULK #715 LEG 3.99
INFIDEL #2 (OF 5) CVR A CAMPBELL & VILLARRUBIA 3.99
INFIDEL #2 (OF 5) CVR B MACK 3.99
INFINITY COUNTDOWN #2 (OF 5) LEG 4.99
INFINITY COUNTDOWN #2 (OF 5) LIM VAR LEG 4.99
INFINITY COUNTDOWN #2 (OF 5) SUPER SKRULL VAR 4.99
INJUSTICE 2 #24 2.99
IRON FIST #80 LEG 3.99
IVE BEEN KILLING SLIMES 300 YEARS NOVEL SC VOL 01 14
JAMES BOND THE BODY #4 (OF 6) CVR A CASALANGUIDA 3.99
JIM HENSON POWER OF DARK CRYSTAL HC VOL 02 24.99
JIRNI VOLUME 3 #2 CVR A SANTAMARIA 3.99
JOHN WICK #2 CVR A VALLETTA 3.99
JOHN WICK #2 CVR B JOCK 3.99
JOHN WICK #2 CVR C PHOTO 3.99
JUGHEAD THE HUNGER #5 CVR A GORHAM 3.99
JUSTICE LEAGUE #43 2.99
JUSTICE LEAGUE #43 VAR ED 2.99
KICK-ASS #3 CVR A ROMITA JR 3.99
KICK-ASS #3 CVR B B&W ROMITA JR 3.99
KICK-ASS #3 CVR C JOHNSON 3.99
KONG ON PLANET OF APES #6 3.99
LAZARUS #27 (MR) 3.99
LOLA XOXO TP VOL 02 14.99
LUCY DREAMING #2 3.99
LUKE CAGE TP VOL 02 CAGED 15.99
MARVEL AVENGERS 1000 DOT TO DOT BOOK 14.99
MARVEL COMICS DIGEST #6 6.99
MATA HARI #3 3.99
MIGHTY MORPHIN POWER RANGERS #26 MAIN 3.99
MIGHTY MORPHIN POWER RANGERS #26 SUB 3.99
MISTER MIRACLE #8 (OF 12) 3.99
MISTER MIRACLE #8 (OF 12) VAR ED 3.99
MOONSHINE #9 CVR A RISSO 3.99
MS MARVEL #29 LEG 3.99
MSH ADVENTURES SPIDER-MAN VIBRANIUM #1 3.99
MSH ADVENTURES SPIDER-MAN VIBRANIUM #1 VAR 3.99
MUSKETEERS #3 (OF 5) CVR A CHEN 3.99
MUSKETEERS #3 (OF 5) CVR B SPAY 3.99
MUSKETEERS #3 (OF 5) CVR C BURNS 3.99
NAPPING PRINCESS GN VOL 01 STORY UNKNOWN ME 13
NIGHTMARE BEFORE CHRISTMAS DOMEZ 24PC BMB DS
NIGHTWING #43 2.99
NIGHTWING #43 VAR ED 2.99
NINJA-K TP VOL 01 NINJA FILES 9.99
NINJAK VS VU #4 (OF 4) CVR A LEVEL 3.99
NINJAK VS VU #4 (OF 4) CVR B CAFU 3.99
NINJAK VS VU #4 (OF 4) CVR C PHOTO 3.99
ONE-12 COLLECTIVE MARVEL SPIDER-MAN AF
OPTIMUS PRIME #17 CVR A ZAMA 3.99
OPTIMUS PRIME #17 CVR B COLLER 3.99
PEEK A BOO #2 (OF 5) CVR A ERIC J 3.99
PEEK A BOO #2 (OF 5) CVR B ATKINS 3.99
PEEK A BOO #2 (OF 5) CVR C MELONI 3.99
PENNY DREADFUL #9 CVR A FOWLER 3.99
PHOENIX RESURRECTION RETURN JEAN GREY TP 17.99
PHOENIX RESURRECTION RETURN JEAN GREY TP DM VAR 17.99
POP BRIGHT DARYL WARD VINYL FIGURE 11.99
POP BRIGHT NICK JAKOBY W/GUN VINYL FIGURE 11.99
POP BRIGHT TIKKA W/WAND VINYL FIGURE 11.99
POP HARRY POTTER GINNY ON BROOM VINYL FIGURE 11.99
POP HARRY POTTER RON ON BROOM VINYL FIGURE 11.99
POP HORROR 8-BIT ALIEN BLOOD SPLATTERED PX VINYL FIGURE 11.99
POP JURASSIC PARK DENNIS NEDRY VINYL FIGURE 11.99
POP JURASSIC PARK DR IAN MALCOLM VINYL FIGURE 11.99
POP JURASSIC PARK TYRANNOSAURUS VINYL FIGURE 11.99
POP MARVEL CONTEST OF CHAMPIONS KING GROOT FIG 11.99
POP MINECRAFT CREEPER VINYL FIGURE 11.99
POP MINECRAFT OCELOT VINYL FIGURE 11.99
POP MINECRAFT SKELETON VINYL FIGURE 11.99
POP MINECRAFT STEVE VINYL FIGURE 11.99
POP RICK & MORTY HEMORRHAGE VINYL FIGURE 11.99
POP RIDES RICK & MORTY MAD MAX RICK VINYL FIG 29.99
POP SNL DAVID S PUMPKINS VINYL FIGURE 11.99
POP STRANGER THINGS DART DEMOGORGON VINYL FIGURE 11.99
PUNISHER PLATOON TP 17.99
PUNKS NOT DEAD #3 CVR A SIMMONDS 3.99
QUANTUM & WOODY (2017) #5 CVR A WALSH 3.99
QUANTUM & WOODY (2017) #5 CVR B ULTRA FOIL SHAW 3.99
REBORN VENDING MACHINE I NOW WANDER NOVEL SC VOL 01 14
RED HOOD & THE OUTLAWS TP VOL 03 REBIRTH 19.99
ROUGH RIDERS RIDE OR DIE #3 3.99
ROYAL CITY TP VOL 02 SONIC YOUTH 16.99
RUMBLE #5 CVR A RUBIN 3.99
RUMBLE #5 CVR B WALTA 3.99
RUNAWAYS BY RAINBOW ROWELL TP VOL 01 17.99
RUNAWAYS TP VOL 10 ROCK ZOMBIES NEW PTG 14.99
SAVAGE DRAGON MERGING OF MULTIPLE EARTHS TP 19.99
SENSE OF WONDER MY LIFE IN COMIC FANDOM SC 19.95
SHADE THE CHANGING WOMAN #2 (OF 6) 3.99
SHERLOCK THE GREAT GAME TP 12.99
SIMPSONS COMICS #243 3.99
SKYWARD #1 3.99
SONIC THE HEDGEHOG #3 CVR A HESSE 3.99
SONIC THE HEDGEHOG #3 CVR B HERNANDEZ 3.99
SPIDER KING #3 CVR A DARMINI 3.99
SPIDER-GWEN TP VOL 05 GWENOM 17.99
STAR TREK BOLDLY GO #18 CVR A HOOD 3.99
STAR TREK BOLDLY GO #18 CVR B MARRON 3.99
STAR TREK DISCOVERY SUCCESSION #1 CVR A 3.99
STAR TREK DISCOVERY SUCCESSION #1 CVR B PHOTO 3.99
STAR TREK LIGHT & SOUND TRICORDER KIT 12.95
STAR WARS ADVENTURES #9 CVR A THOMAS 3.99
STAR WARS ADVENTURES #9 CVR B BROKENSHIRE 3.99
STAR WARS INSIDER #180 NEWSSTAND ED 7.99
STAR WARS POE DAMERON #26 3.99
STEVEN UNIVERSE ONGOING #15 3.99
STEVEN UNIVERSE ONGOING #15 SUB 3.99
SUPER CUTE CTHULHU DARK GREEN 12IN PLUSH 19.99
SUPER SONS #15 3.99
SUPER SONS #15 VAR ED 3.99
SUPERMAN #45 2.99
SUPERMAN #45 VAR ED 2.99
SURVIVAL FETISH #1 3.99
TABOO TATTOO GN VOL 10 13
TALES OF SUSPENSE #104 (OF 5)LEG 3.99
TEEN TITANS GO #27 2.99
THAT TIME I GOT REINCARNATED AS A SLIME GN V5 12.99
THOR BY WALTER SIMONSON TP VOL 03 NEW PTG 29.99
TMNT UNIVERSE #21 CVR A WILLIAMS II 4.99
TOKYO GHOUL RE GN VOL 04 12.99
TRANSFORMERS GEN POWER O/T PRIMES VOYAGER AF
TRUE BELIEVERS INFINITY INCOMING #1 1
TRUE BELIEVERS REBIRTH OF THANOS #1 1
TRUE BELIEVERS VENOM VS SPIDER-MAN #1 2ND PTG VAR 1
UNCLE SCROOGE #34 CVR A MAZARELLO 3.99
UNDERWINTER TP VOL 02 FIELD OF FEATHERS 16.99
USAGI YOJIMBO #2 (OF 7) THE HIDDEN 3.99
VAL X LOVE GN VOL 02 13
VAN HELSING VS ROBYN HOOD #4 (OF 4) CVR A 3.99
VAN HELSING VS ROBYN HOOD #4 (OF 4) CVR B 3.99
VENOM #1 BY STEGMAN POSTER 8.99
VENOMIZED #3 (OF 5) 3.99
VENOMIZED #3 (OF 5) BAGLEY VAR 3.99
VINEGAR TEETH #4 (OF 4) 3.99
WALT DISNEY SHOWCASE #2 MICKEY MOUSE CVR A 3.99
WALT DISNEY SHOWCASE #2 MICKEY MOUSE CVR B 3.99
WARFRAME #4 3.99
WEAPON H #2 LEG 3.99
WEAPON H #2 MAYHEW VENOM 30TH VAR LEG 3.99
WEAPON X #16 LEG 3.99
WONDERFUL WORLD OF TANK GIRL #4 CVR A PARSONS 3.99
WRAPPED UP TP VOL 01 12.99
WWE #16 3.99
WWE #16 RICHES ACTION FIGURE VAR 3.99
WWE #16 SCHOONOVER RAW CONNECTING VAR 3.99
X-MEN GOLD #26 LEG 3.99
XENA #3 (OF 5) CVR A FINCH 3.99
XENA #3 (OF 5) CVR B CIFUENTES 3.99
ZOMBIE TRAMP ONGOING #46 CVR A CELOR 4.99
We hope to see you soon at CQ!
Visit us at 2260 Morgan Avenue, Evansville
On the web at www.comicquest.com
On Facebook www.facebook.com/comicquestevansville
On Twitter @cqevansville
On Instagram: @comicquestevansville
Contact us at sales@comicquest.com or by phone at 812-474-1133