Comic Quest Weekly for 4/22/18
At Last….The Fantastic Four Return To Marvel!
As the Fantastic Four prepare to make their return to the Marvel Universe, Marvel is proud to present a Fantastic Four teaser trailer celebrating new adventures of Reed, Sue, Ben, and Johnny!
Celebrate the Fantastic Four with a view into their past and a look towards the future, from their debut in Stan Lee and Jack Kirby's classic 1961 issue to their much-anticipated return in August's upcoming new series from Dan Slott (Amazing Spider-Man, Silver Surfer), Sara Pichelli (Spider-Man: Miles Morales), and Esad Ribic (Infamous Iron Man, Marvel Legacy, Secret Wars)!
And be sure to keep watching until the end for the FIRST exciting reveal of Esad Ribic's dynamic and explosive cover for issue #1! Check out the video by clicking here.
COMIC QUEST 2018 FCBD LESS THAN 2 WEEKS AWAY!
We are hard at work planning this year's FCBD events. Expect the same great selection of FCBD books, some special sales, fantastic local artists, multiple local vendors offering collectibles, costumed Superhero and anime characters, cosplay contests, door prices and a few extra surprises. We will have a few FCBD specialty items for sales including a Previews exclusive FCBD 2018 POP SAGA BLOODY LYING CAT PX VIN FIG, FCBD 2018 MARVEL HEROCLIX EX FIG GLADIATOR HULK and a FCB HARLEY QUINN BOMBSHELLS FIG. This week we can announce a special giveaway to the first 200 people in line!!! CQ will be giving away trade-paperbacks to the first 200 people in line Saturday morning which is just one way we aim to give back to our loyal customers.
We will also be welcoming back some AMAZINGLY TALENTED local artists, local creators and cosplay groups and individuals. Be sure to visit their tables and show them how much the Evansville community loves and supports local talent!
ARTIST SPECIAL GUESTS:
Pin Aw SaucerQueen
Joseph Morris
Tyler Bass
Tim Smith The Art of Tim Smith
Clint Basinger
Sean Dulaney
Bryan Bretz
Anthony Demarco Hicks (Aka Tony T)
Steve Young
Courtney Hostetler
Akpan Akpan
Pizzaface (aka Art & Designs by Kristina Arwood)
Project Nexus: Code Black
Johnny Skulls
Erika VonBam
Corey Knaebel Artists-Illustrator
LOCAL CREATORS/VENDORS:
Ali Cat Corner
Little Twisted Triad Crafts
Lennie Romero
Imaginekrafts
Graves Tabletop Gaming – Custom Wooden Game Accessories.
LOCAL ORGANIZATIONS AND GROUPS:
Bloodfin Garrison – 501st Legion
Ai No Hoshi Maid Café –
Demolition City Roller Derby
COSPLAY SPECIAL GUESTS
Bree Williams -Harley Quinn
Becca Cleek -Deadpool
Nicholas Caliendo -Punisher
KIDS KORNER
Hosted by Ai No Hoshi Maid Café
SHARE OUR FACEBOOK POST & YOU COULD WIN FREE ARCADE TIME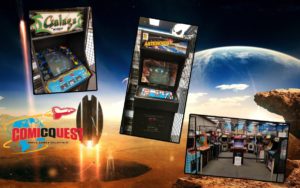 Look for this picture on our Facebook page and be sure to Like & Share the post! You could win FREE Arcade time! That's all you have to do! Like and Share the post!! It's that easy! Our Arcade is OUT OF THIS WORLD and we're so glad to be working with High Score Saloon to bring it to you all! So be sure to look for THIS picture and Like & Share it on Facebook to try to win some FREE arcade time!
INTERNATIONAL TABLETOP DAY THIS SATURDAY
This Saturday is International Tabletop Day! It's a day when retail gaming stores across the country get the special opportunity to join in on the chance to celebrate gaming and the gaming community! Here at Comic Quest we will have board game demos, door prizes, some tournaments and some ITTD exclusives. It's going to be a really fun day and a chance for you, your friends and your family to learn some new games, play some games with lots of different people and have a good time! Check out all the details on Facebook here.
NEW ARRIVALS!
HUNT FOR WOLVERINE #1 $5.99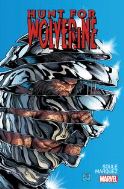 (W) Charles Soule (A) David Marquez, Paulo Siqueira (CA) Steve McNiven
The RETURN OF WOLVERINE begins here, providing the first piece of a mystery that will leave no corner of the Marvel Universe untouched. Just as the X-Men have finally come to terms with Logan's death, they learn a terrible secret. Old wounds will be re-opened, truths questioned, and an epic quest begun. The earliest clues to the mystery of Wolverine's return are laid down here… who will solve it first?
ALIENS DUST TO DUST #1 (OF 4) $3.99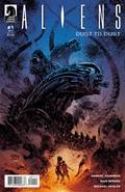 The Trono colony on LV-871 is under attack. Emergency evacuations are ordered. Evac shuttles are taking off. All twelve-year-old Maxon and his mom have to do is make it to the spaceport. Except between them and it are . . . Aliens! A terrifying coming-of-age story by master storyteller Gabriel Hardman.
o Gabriel Hardman storyboarded the films Batman: The Dark Knight Rises, Logan, Dawn of Planet of the Apes, and many others!
o A reexamination of why we fear the Aliens!
o On sale in time for Alien Day (4/26)!
BATMAN AND THE SIGNAL #3 (OF 3) $3.99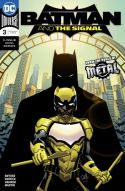 (W) Scott Snyder, Tony Patrick (A/CA) Cully Hamner
As the sun sets, chaos erupts and the Bat-Family jumps into action to help the Signal (a.k.a. Duke Thomas) against the mysterious Gnomon and his minions. While his allies keep the battle going on the streets, Duke must go above and beyond to track down the malicious man who has single-handedly caused the dangerous boom in meta-activity in the Narrows. Little does he know, Gnomon holds the key to his past and the future of heroes in Gotham City!
DOCTOR STRANGE DAMNATION #4 (OF 4) LEG $4.99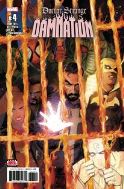 (W) Donny Cates, Nick Spencer (A/CA) Rod Reis
• It's DAMNATION NATION! Mephisto's on a hot streak that won't stop! Every team that's faced him has fallen, while more of the country falls under his influence.
• There's just one card left to play: Wong versus Mephisto…ALONE!
• Who escapes alive, who escapes undead and who doesn't escape at all? DAMNATION is going out in a blaze of glory, and you GOTTA see who gets burned!
DETECTIVE COMICS #979 $2.99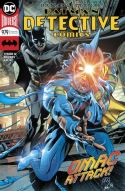 (W) James TynionIV (A) Philippe Briones (CA) Alvaro Martinez, Raul Fernandez
"Batmen Eternal" part four! Ulysses Armstrong knows everything there is to know about Tim Drake's future-including every inevitable step he'll take on the road to becoming a dark version of himself! Unfortunately, Ulysses is perfectly happy to take everything from him…and use it to give birth to an unstoppable menace!
THANOS ANNUAL #1 $4.99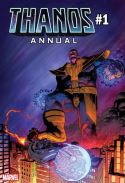 (W) Donny Cates, Kieron Gillen, Al Ewing, Ryan North, Christopher Hastings, Katie Cook (A) Katie Cook, Frazer Irving, Andre Araujo, Will Robson, Flaviano Armentaro (A/CA) Geoff Shaw
STARRING COSMIC GHOST RIDER!
Thanos is likely the most evil being in the universe…and if anyone would know, it's the all-new Cosmic Ghost Rider. Let the spirit of vengeance be your guide on a tour through the worst of the worst, as he reveals the most heinous deeds ever perpetrated by the Mad Titan…or by anyone else!
THIS WEEK IN TOYS/STATUES
POP AVENGERS INFINITY WAR IRON MAN VINYL FIG $11.99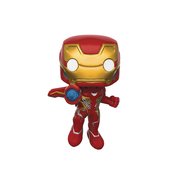 From Funko. On a mission to collect all six Infinity Stones, Captain America, the Hulk and the other Avengers must defeat the evil Thanos! Avengers: Infinity War comes to theaters in late April, and in the meantime you can collect characters from the film in Funko POP! form! Each figure stands 3 3/4″ tall and features the fan-favorite stylized design. Window box packaging.
JLA ANIMATED SERIES WONDER WOMAN RESIN BUST $59.99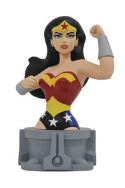 A Diamond Select Toys release! Complete the League! Between the Batman, Superman and Justice League lines, Diamond Select Toys has released all of the members of the original animated Justice League except one, and now it's time for the crown jewel in the tiara! Wonder Woman completes the league with this approximately 6-inch resin bust, posed atop a section of the Justice League's Watchtower satellite. Limited to only 3,000 pieces, this bust comes packaged with a certificate of authenticity in a full-color box. Sculpted by Varner Studios!
MYSTERY MINIS MARVEL AVENGERS INFINITY WAR BMB DISP



From Funko. On a mission to collect all six Infinity Stones, Captain America, the Hulk and the other Avengers must defeat the evil Thanos! Avengers: Infinity War comes to theaters at the end of April, and in the meantime you can collect characters from the film in Funko Mini form, with each figure standing 2 1/2″ tall! Blind mystery box packaging.
DIORAMANSION 150 SECRET BASE FIGURE DIORAMA $29.99



From PLM. Displaying figures with a special display often makes a collection look more appealing, but at the same time preparing a special display case is a huge amount of effort. We heard the cries for an easier display option and created this Dioramansion series of display backgrounds! They are simple to use and can be used as a photography kit or simply as a complete display background! There are various different ways to connect the plates together allowing you to easily create your own customized display space for your figures! These new additions to the Dioramansion series are 6″ x 6″ in size which works great with Nendoroid figures!
TRADE PAPERBACKS OF THE WEEK
X-MEN DOMINO TP $29.99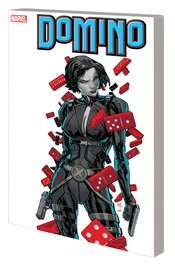 (W) Ben Raab, Joe Pruett, Brian Stelfreeze, Craig Kyle, Christopher Yost, Todd DeZago, Adam Warren, Anthony Piper (A) David Perrin, Brian Stelfreeze, Gabriele Dell'Otto, Daerick Gross, Adam Warren, Anthony Piper (CA) Ken Lashley
Lady luck's got nothing on Domino! They say fortune favors the brave, and there's no merc braver than Neena Thurman. You were wowed by her probability-altering prowess in X-FORCE, and odds are good you'll love her solo adventures, too! A rescue mission for the man she once loved pits Domino against Lady Deathstrike and Donald Pierce! Domino explores her uncanny origins as part of Project Armageddon – and finds a strangely familiar face! And things get hot and heavy for Domino and Wolverine as they're caught between the Hand and the Assassins Guild! Plus: Domino battles Arcade, tries her luck alongside the Scarlet Witch and takes on the Terrigen Mists! Collecting DOMINO (1997) #1-3; DOMINO (2003) #1-4; X-FORCE: SEX & VIOLENCE #1-3; and material from X-FORCE & CABLE ANNUAL '95, A+X #10 and UNCANNY X-MEN ANNUAL (2016) #1.
BATMAN TP VOL 05 RULES OF ENGAGEMENT REBIRTH $16.99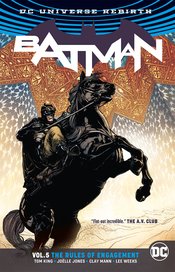 (W) Tom King (A) Clay Mann, Lee Weeks, Michael Lark (A/CA) Jo?lle Jones
Following Catwoman's answer to his marriage proposal, Batman leaves Gotham City on a quest of renewal and redemption in the desert. As he travels and fights, he encounters members of his family-each disturbed by Batman's journey, each ready to stand in his way and push back against his stubborn determination to evolve into something better than a superhero. Has the Caped Crusader passed the point of no return? He's going to need a little help from his friends, but this help comes with a downside: Batman's true intentions will be exposed. Collects BATMAN #33-37 and BATMAN ANNUAL #2.
DEAD OF WINTER GN GOOD GOOD DOG $14.99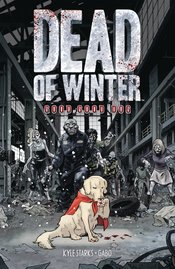 (W) Kyle Starks (A) Gabo (CA) Brian Hurtt
From the tabletop smash hit comes this new comic series starring your favorite characters from Plaid Hat Games' DEAD OF WINTER, written by Kyle Starks (the Eisner Award-nominated Sexcastle), and illustrated by Gabo (The Life After). In the pantheon of superheroes, none are more loveable and loyal than everyone's favorite good ol' dog, Sparky. Surviving in the wintery apocalypse of the undead, this former TV show stunt dog turned zombie killing machine just wants to make friends and be a good boy. As his fellow survivors scavenge for supplies in the frigid wasteland, will Sparky be able to protect his companions from threats both undead and otherwise? Collects issues #1-4 from the "Good Good Dog" storyline from DEAD OF WINTER!
LOU CAMERON UNSLEEPING DEAD HC $24.99 (W) Lou Cameron (A/CA) Lou Cameron
Lou Cameron was a groundbreaking art master of the 1950s Pre-Code comics era. With his innovative experimental layouts and frequent use of surrealism, his horror comics have been described as "Jim Steranko meets Graham Ingels." Zombies, vampires, werewolves, witches, ghosts, and devils from terror-filled stories like "Faceless Horror," "Lure of the Zombie Diamonds," "Graveyard of Ghost Ships," "Kill My Minions of Death," and "The Unsleeping Dead" will make you scream with delight!
MASTER LIST OF STUFF ARRIVING THIS WEEK!
30 DAYS OF NIGHT #5 (OF 6) CVR A TEMPLESMITH 3.99
30 DAYS OF NIGHT #5 (OF 6) CVR B KOWALSKI & FOLNY 3.99
ADVENTURE FINDERS #4 3.99
ADVENTURE TIME #75 MAIN WRAPAROUND CVR 4.99
ADVENTURE TIME #75 SUB VAR 4.99
ALIENS DUST TO DUST #1 (OF 4) MAIN CVR 3.99
ALIENS DUST TO DUST #1 (OF 4) VAR 3.99
ALL NEW WOLVERINE #34 LEG 3.99
AMAZING SPIDER-MAN #794 4TH PTG 3.99
AMAZING SPIDER-MAN #798 2ND PTG 3.99
ANNIHILATION TP VOL 02 COMPLETE COLL 34.99
AVENGERS #690 INHYUK LEE VAR LEG 3.99
AVENGERS #690 LEG 3.99
AVENGERS #690 SPROUSE END OF AN ERA VAR 3.99
BABYTEETH #10 3.99
BATGIRL #22 3.99
BATGIRL #22 VAR ED 3.99
BATMAN AND THE SIGNAL #3 (OF 3) 3.99
BATMAN ANIMATED SERIES BATFAMILY PINT GLASS 10.99
BATMAN ANIMATED SERIES BATMAN & JOKER PINT GLASS 10.99
BATMAN BEYOND #19 3.99
BATMAN BEYOND #19 VAR ED 3.99
BATMAN BEYOND BATMAN VERSION 2 BUST 59.99
BATMAN TP VOL 05 RULES OF ENGAGEMENT REBIRTH 16.99
BATTLE ANGEL ALITA MARS CHRONICLE GN VOL 02 10.99
BEEF #3 (OF 5) 3.99
BEST OF ARCHIE AMERICANA TP VOL 02 SILVER AGE 9.99
BIG TROUBLE IN LITTLE CHINA OLD MAN JACK #8 3.99
BIG TROUBLE IN LITTLE CHINA OLD MAN JACK #8 SUB 3.99
BLACK AF WIDOWS & ORPHANS #1 3.99
BLACK CROWN QUARTERLY #3 SPRING 2018 7.99
BLOODBORNE #3 (OF 4) CVR A KOWALSKI 3.99
BONE CODA BEHIND THE SCENES BUNDLE 14.95
BSG VS BSG #4 (OF 6) CVR A 3.99
BSG VS BSG #4 (OF 6) CVR B 3.99
BSG VS BSG #4 (OF 6) CVR C ACTION FIG 3.99
BSG VS BSG #4 (OF 6) CVR D 3.99
BTVS SEASON 11 GILES #3 MAIN CVR 3.99
BTVS SEASON 11 GILES #3 VAR JOVELLANOS CVR 3.99
BUG THE ADVENTURE OF FORAGER TP 16.99
CABLE TP VOL 01 LAST HOPE 39.99
CALL OF THE SUICIDE FOREST #3 (OF 5) 3.99
CAPTAIN AMERICA EPIC COLL TP BLOODSTONE HUNT 39.99
CATALYST PRIME INCIDENTALS #8 3.99
CATSTRONAUTS YR GN VOL 01 MISSION MOON 7.99
CROSSROAD BLUES OGN 14.99
CROW MEMENTO MORI #2 3.99
CYBER FORCE #2 3.99
DAYS OF HATE #4 (OF 12) 3.99
DC COMICS VARIANT COVERS COMP VISUAL HISTORY 45
DEAD OF WINTER GN GOOD GOOD DOG 14.99
DEEP ROOTS #1 CVR A 3.99
DEMON HELL IS EARTH #6 (OF 6) 2.99
DESPICABLE DEADPOOL #299 LEG 3.99
DETECTIVE COMICS #979 2.99
DETECTIVE COMICS #979 VAR ED 2.99
DF HARLEY QUINN #1 MIDTOWN COMICS B&W DODSON EXC 39.99
DIORAMANSION 150 SECRET BASE FIGURE DIORAMA 29.99
DOCTOR STRANGE #389 LEG 3.99
DOCTOR STRANGE DAMNATION #4 (OF 4) LEG 4.99
DOCTOR STRANGE DAMNATION #4 (OF 4) VAR 4.99
DOOM PATROL #11 3.99
DORBZ AVENGERS INFINITY WAR CORVUS GLAIVE VINYL FIG 7.99
DORBZ AVENGERS INFINITY WAR CULL OBSIDIAN VINYL FIG 7.99
DORBZ AVENGERS INFINITY WAR EBONY MAW VINYL FIG 7.99
DORBZ AVENGERS INFINITY WAR IRON MAN VINYL FIG 7.99
DORBZ AVENGERS INFINITY WAR PROXIMA MIDNIGHT VINYL FIG 7.99
DORBZ AVENGERS INFINITY WAR THANOS VINYL FIG 7.99
DORBZ AVENGERS INFINITY WAR THOR VINYL FIG 7.99
DUNGEONS & DRAGONS EVIL AT BALDURS GATE #1 CVR A 3.99
DUNGEONS & DRAGONS EVIL AT BALDURS GATE #1 CVR B 3.99
EXILES #2 3.99
FACTORY #2 4.99
FEAR DIARIES 1.99
FLASH #45 2.99
FLASH #45 VAR ED 2.99
FLASH REBIRTH DLX COLL HC BOOK 02 34.99
FOREVER FREE #1 5.99
FOUR SISTERS HC VOL 01 ENID 19.99
GARFIELD ORIGINAL GN VOL 03 THING IN FRIDGE 9.99
GARFIELD ORIGINAL GN VOL 04 SEARCH FOR POOKY 9.99
GASOLINA #7 3.99
GHOSTBUSTERS CROSSING OVER #2 3.99
GI JOE VS SIX MILLION DOLLAR MAN #3 3.99
GIRL IN THE HIMALAYAS ORIGINAL GN 16.99
GODHEAD GN 24.99
GRASS KINGS #14 MAIN & MIX 3.99
GRIMM FAIRY TALES LEGACY TP VOL 01 29.99
GUNDAM BUILD FIGHTER PETITGGUY ALLELUJAH HGPG 1/144 MDL KIT
GUNDAM UC UNICORN GUNDAM 02 BANSHEE MG 1/100 MDL KIT KA VER
HACK SLASH RESURRECTION TP VOL 01 16.99
HAL JORDAN AND THE GREEN LANTERN CORPS #43 2.99
HAL JORDAN AND THE GREEN LANTERN CORPS #43 VAR ED 2.99
HARROW COUNTY #30 3.99
HELLBLAZER #21 3.99
HELLBLAZER #21 VAR ED 3.99
HIT-GIRL #3 CVR A REEDER 3.99
HIT-GIRL #3 CVR B B&W REEDER 3.99
HIT-GIRL #3 CVR C HAMNER 3.99
HUNT FOR WOLVERINE #1 5.99
HUNT FOR WOLVERINE #1 BLANK VAR 5.99
HUNT FOR WOLVERINE #1 CHECCHETTO YOUNG GUNS VAR 5.99
HUNT FOR WOLVERINE #1 KUBERT TEASER VAR 5.99
ICE CREAM MAN #4 CVR A 3.99
ICE CREAM MAN #4 CVR B 3.99
ICEMAN TP VOL 02 ABSOLUTE ZERO 17.99
IMAGE FIRSTS FADE OUT #1 1
IMAGINARY FIENDS #6 (OF 6) 3.99
INJUSTICE 2 HC VOL 02 24.99
INJUSTICE 2 TP VOL 01 16.99
INVINCIBLE IRON MAN #599 AKCHO VENOM 30TH VAR LEG 3.99
INVINCIBLE IRON MAN #599 LEG 3.99
J SCOTT CAMPBELL DANGER GIRL 20TH ANNIV 9.99
JEEPERS CREEPERS #1 CVR A JONES 3.99
JEEPERS CREEPERS #1 CVR C PHOTO 3.99
JESSICA JONES TP VOL 03 RETURN OF THE PURPLE MAN 17.99
JIM HENSON LABYRINTH CORONATION #3 3.99
JIM HENSON LABYRINTH CORONATION #3 3.99
JLA ANIMATED SERIES WONDER WOMAN RESIN BUST 59.99
JSA THE GOLDEN AGE TP NEW ED 19.99
JUPITER JET #5 CVR A MATSUYA 3.99
JUSTICE LEAGUE OF AMERICA #29 2.99
JUSTICE LEAGUE OF AMERICA #29 VAR ED 2.99
KILL OR BE KILLED #18 (MR) 3.99
KISS AOD #3 (OF 5) CVR A STRAHM 3.99
KISS AOD #3 (OF 5) CVR B MONTES 3.99
KISS AOD #3 (OF 5) CVR C HAESER 3.99
LADY DEATH UNHOLY RUIN #1 4.99
LADY DEATH UNHOLY RUIN #1 MOMENTO MORI VAR 4.99
LAZARUS SOURCEBOOK COLLECTION TP VOL 01 16.99
LEGION #4 (OF 5) LEG 3.99
LEGION SON OF X TP VOL 03 REVENANTS 15.99
LITTLE BOOK OF WONDER WOMAN FLEXICOVER 10
LOCKJAW #3 (OF 4) LEG 3.99
LOU CAMERON UNSLEEPING DEAD HC 24.99
LUCAS STAND INNER DEMONS #3 (OF 4) 3.99
LUMBERJANES #49 3.99
MADE IN ABYSS GN VOL 02 13.99
MAINSTREAM #1 3.99
MEGA MAN MASTERMIX #2 7.99
MERA QUEEN OF ATLANTIS #3 (OF 6) 3.99
MIGHTY MORPHIN POWER RANGERS #25 (2ND PTG) 4.99
MIGHTY MORPHIN POWER RANGERS 2018 ANNUAL #1 SG 7.99
MIGHTY MORPHIN POWER RANGERS TP VOL 05 16.99
MIGHTY THOR #706 BAGLEY VENOM 30TH VAR LEG 3.99
MIGHTY THOR #706 LEG 3.99
MIGHTY THOR #706 SIMONSON VAR LEG 3.99
MOON GIRL AND DEVIL DINOSAUR #30 LEG 3.99
MOON KNIGHT #194 LEG 3.99
MOTHER PANIC GOTHAM A D #2 3.99
MY LITTLE PONY FRIENDSHIP IS MAGIC #65 CVR A 3.99
MY LITTLE PONY FRIENDSHIP IS MAGIC #65 CVR B 3.99
MYSTERY MINIS MARVEL AVENGERS INFINITY WAR BMB DISP
NIGHTWING TP VOL 05 RAPTORS REVENGE REBIRTH 14.99
OLD MAN HAWKEYE #4 (OF 12) LEG 3.99
OPTIMUS PRIME #18 CVR A ZAMA 3.99
OPTIMUS PRIME #18 CVR B RAMONDELLI 3.99
PACIFIC RIM AFTERMATH #4 (OF 6) 3.99
PATHFINDER SPIRAL OF BONES #2 (OF 5) CVR A 4.99
PATHFINDER SPIRAL OF BONES #2 (OF 5) CVR B 4.99
PATHFINDER SPIRAL OF BONES #2 (OF 5) CVR C 4.99
PATHFINDER SPIRAL OF BONES #2 (OF 5) CVR D 4.99
PATHFINDER SPIRAL OF BONES #2 (OF 5) CVR E 4.99
PERVERT OGN 17.99
PETER PARKER SPECTACULAR SPIDER-MAN #303 LEG 3.99
POP AVENGERS INFINITY WAR BLACK WIDOW VINYL FIG 11.99
POP AVENGERS INFINITY WAR CAPTAIN AMERICA VINYL FIG 11.99
POP AVENGERS INFINITY WAR CORVUS GLAIVE VINYL FIG 11.99
POP AVENGERS INFINITY WAR EBONY MAW VINYL FIG 11.99
POP AVENGERS INFINITY WAR IRON MAN VINYL FIG 11.99
POP AVENGERS INFINITY WAR IRON SPIDER VINYL FIG 11.99
POP AVENGERS INFINITY WAR PROXIMA MIDNIGHT VINYL FIG 11.99
POP AVENGERS INFINITY WAR THOR VINYL FIG 11.99
POP GOD OF WAR KRATOS VINYL FIGURE 11.99
POP OVERWATCH ZARYA VINYL FIGURE 11.99
POP TEEN TITANS GO NIGHT BEGINS TO SHINE ROBIN VIN FIG 11.99
PREVIEWS #356 MAY 2018 3.99
PRISONER #1 CVR A 3.99
PRISONER #1 CVR B 3.99
PRISONER #1 CVR C 3.99
RAVEN DAUGHTER OF DARKNESS #4 (OF 12) 3.99
REACTOR #3 (OF 4) 3.99
REDNECK #12 CVR A 3.99
REGRESSION #9 3.99
REVOLTECH EVANGELION EVOLUTION EV-009 EVA AF COMIC VER 65.99
REVOLTECH EVANGELION EVOLUTION EV-010 PROTO TYPE-00 AF 65.99
RICK & MORTY #37 CVR A 3.99
RICK & MORTY #37 CVR B VASQUEZ VAR 3.99
ROBYN HOOD THE CURSE #4 (OF 6) CVR A 3.99
ROBYN HOOD THE CURSE #4 (OF 6) CVR B 3.99
ROBYN HOOD THE CURSE #4 (OF 6) CVR C 3.99
RUGRATS #7 3.99
RUGRATS #7 SUB VAR 3.99
SACRED CREATURES #6 CVR A RAIMONDI 4.99
SAGA #51 2.99
SAVAGE DRAGON #233 3.99
SCOOBY DOO TEAM UP #37 2.99
SHADOW BATMAN HC 24.99
SHADOWMAN (2018) #2 CVR A ZONJIC 3.99
SHADOWMAN (2018) #2 CVR B GUEDES 3.99
SHADOWMAN (2018) #2 CVR C BLANK COVER 3.99
SHEENA #8 CVR A 3.99
SHEENA #8 CVR D 3.99
SILENCER #4 2.99
SLEEPER TP BOOK 01 29.99
SONIC THE HEDGEHOG #4 CVR A HESSE 3.99
SONIC THE HEDGEHOG #4 CVR B STANLEY 3.99
SONITUS #2 (OF 3) 1.5
SPACE BATTLESHIP YAMATO 2202 UNCF BATTLESHIP MECHA COLL
SPIDER-GWEN #31 LEG 3.99
SPIRITS OF VENGEANCE WAR AT GATES OF HELL TP 15.99
SPONGEBOB COMICS #79 3.99
STABBITY BUNNY #4 3.99
STAR WARS ADVENTURES ANNUAL 2018 7.99
STAR WARS DARTH VADER #15 3.99
STAR WARS DARTH VADER DK LORD SITH TP V2 LEGACYS END 17.99
STAR WARS DOCTOR APHRA #19 3.99
STRANGERS IN PARADISE XXV #3 3.99
STUMPTOWN TP VOL 02 CASE OF BABY VELVET CASE 19.99
SUICIDE SQUAD #40 2.99
SUICIDE SQUAD #40 VAR ED 2.99
SUPERIOR SPIDER-MAN TP VOL 01 COMPLETE COLL 39.99
TEEN TITANS #19 3.99
TEEN TITANS #19 VAR ED 3.99
TERRIFICS #3 2.99
THANOS #13 4TH PTG SHAW VAR LEG 3.99
THANOS #14 4TH PTG SHAW VAR LEG 3.99
THANOS #17 SHAW 2ND PTG VAR LEG 3.99
THANOS #18 2ND PTG SHAW VAR LEG 3.99
THANOS ANNUAL #1 4.99
THANOS ANNUAL #1 DEODATO VAR 4.99
THE XII #2 (OF 5) 1.5
TITANS ANNUAL #2 4.99
TRANSFORMERS LOST LIGHT #17 CVR A LAWRENCE 3.99
TRANSFORMERS LOST LIGHT #17 CVR B LAWRENCE 3.99
TRINITY #22 3.99
TRINITY #22 VAR ED 3.99
TRUE BELIEVERS CAROL DANVERS #1 1
TRUE BELIEVERS INFINITY WAR #1 1
UNCLE SCROOGE #35 CVR A FRECCERO 3.99
UNCLE SCROOGE #35 CVR B RODRIQUEZ 3.99
UNDERDOG #3 CVR A 3.99
UNDERDOG #3 CVR B 3.99
UNDERDOG #3 CVR C 3.99
VENOM #165 DEODATO VAR LEG 3.99
VENOM #165 LEG 3.99
VENOMIZED #4 (OF 5) 3.99
VENOMIZED #4 (OF 5) BAGLEY 3.99
WICKED RIGHTEOUS #5 (OF 6) 1.5
WITCHBLADE #5 3.99
WONDER WOMAN #45 2.99
WONDER WOMAN #45 VAR ED 2.99
X-MEN BLUE #26 LEG 3.99
X-MEN DOMINO TP 29.99
X-O MANOWAR (2017) #14 CVR A ANDREWS 3.99
X-O MANOWAR (2017) #14 CVR B ALLEN 3.99
We hope to see you soon at CQ!
Visit us at 2260 Morgan Avenue, Evansville
On the web at www.comicquest.com
On Facebook www.facebook.com/comicquestevansville
On Twitter @cqevansville
On Instagram: @comicquestevansville
Contact us at sales@comicquest.com or by phone at 812-474-1133