Comic Quest Weekly for 4/8/18
EXCITEMENT FROM THE CHICAGO DIAMOND RETAILER GATHERING
Jim Jones here. It is Saturday night and I am just back from the annual Diamond trade show held this year in Chicago. Here are some of the announcements and reflections from the show.
Previews changes: Hopefully everyone has noticed the changes in the new April Previews catalog. These changes include the addition of Boom! Studios and Dynamite Entertainment to the Premier vendors section, the folding of books and magazines into the Comics section and a new Manga section. You will also notice the book flips in order to divide the periodicals from the Merchandise section. Check it out next time you are in the store.
There is a new DC Previews magazine arriving in May's catalog which will be free with every copy of Previews.
DC COMICS:
It is always great seeing Jim Lee at this event and this year they announced:
• Action Comics #1000 has posted orders of 500,000 copies, while Action Comics: 80 Years of Superman HC has already returned to press.
• DC cited its "huge investment" in new imprints — DC Ink, DC Zoom and DC Black Label — which are designed to reach Young Adult and Middle Grade readers, and to provide a home for creator-owned non-continuity projects.
• Vertigo's The Sandman Universe #1 one-shot will spin off four new series: The Dreaming, House of Whispers, Lucifer, Books of Magic.
• Other significant projects to come include a new Justice League Dark series written by James Tynion, and Justice League Odyssey, written by Josh Willamson. Both will be solicited in the May PREVIEWS.
Dynamite Entertainment
Dynamite unveiled several upcoming new series to drive customers into comic shops:
Dynamite Signs Rob Williams for New Project Superpowers Series – in Time for 10th Anniversary.
Mistress of the Dark – The Iconic Elvira Returns to Comics This July.
Pop Phenomenon Lights Announces Dynamite's Skin&Earth Collected in a HC Special Edition.
MARVEL COMICS:
This event was the first presentation by Marvel's new Editor in Chief C.B. Cebulski who spoke to his personal interest in the Marvel Universe by detailing his history of reading and collecting comics. Among other things:
•It was announced that Marvel's Fantastic Four was returning to comics witha new #1 in August.
• Captain America #1 will arrive in stores on July 4, 2018 .
• Nearly 300,000 initial orders have been placed for the 80-page The Amazing Spider-Man #800 — "the biggest Peter Parker/Norman Osborn story of all time" — which ships in May.
• The Amazing Spider-Man #1 — by Nick Spencer & Ryan Ottley — will arrive in stores in July 2018.
• Avengers #1 — by Jason Aaron & Ed McGuinness — drops in May with legacy numbering on new trade dress.
• Wakanda Forever #1 — written by Nnedi Okorafor — ships in June along with three one-shots starring Spider-Man, X-Men and The Avengers.
• Two new Infinity titles will ship in July: Infinity Countdown by Gerry Duggan & Aaron Kuder, with tie-ins featuring Captain Marvel, Daredevil, Darkhawk, Black Widow, Champions; and Infinity Wars: Prime #1, by Duggan & Mike Deodato Jr.
• Coming in May: the much-anticipated Hunt for Wolverine #1 by Charles Soule & David Marquez.
• Another major Marvel event being celebrated this year: the 20th Anniversary of Marvel Knights.
• Other noteworthy Marvel projects on the horizon include:
You Are Deadpool #1 by Al Ewing & Salva Espin (May 2018)
Thor #1 by Jason Aaron & Mike Del Mundo (June 2018)
Cosmic Ghost Rider #1 by Donny Cates & Dylan Burnett (July 2018)
The Life of Captain Marvel #1 by Margaret Stohl & Carlos Pacheco (July 2018)
And finally I have to report that, for the first time ever, I asked a cosplayer for a pic with them. As you see below it was a once in a lifetime chance to have a photo with Cousin IT!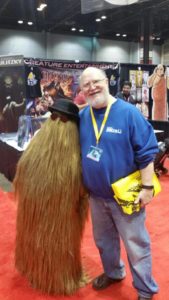 COMIC QUEST 2018 FCBD 23 DAYS AWAY!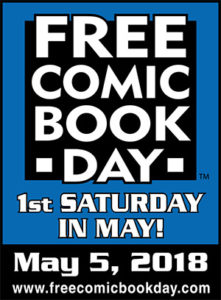 As Free Comic Book Day gets closer and closer, we are getting more and more excited and we are hard at work planning this year's events. Expect the same great selection of FCBD books, some special sales, fantastic local artists, multiple local vendors offering collectibles, costumed Superhero and anime characters, cosplay contests, door prices and a few extra surprises because we like to make sure we are THE local place to be for Free Comic Book Day.
It is such an amazing day for us here at Comic Quest and we hope it is a great day for you too! We always love seeing so many new faces, and old ones too! It's one of our favorite days of the year, hands down! We hope it is for you all too!
We will also have a few FCBD specialty items for sales including a Previews exclusive FCBD 2018 POP SAGA BLOODY LYING CAT PX VIN FIG, FCBD 2018 MARVEL HEROCLIX EX FIG GLADIATOR HULK and a FCB HARLEY QUINN BOMBSHELLS FIG. More details as our planning continues.
WIN FREE ARCADE TIME!
By now you know about our new partnership with High Score Saloon too bring you the all new Comic Quest Heroes Arcade, right here in Comic Quest! We've got some of the best classic arcade machines around! All high quality, well-maintained machines! From Galaga to Ms. Pac-Man to Jurassic Park to Donkey Kong…we've got it! Play for $5 for an hour or $10 all day long!
And right now…you could win some free arcade time just by liking and sharing a post on our Facebook page! Each week we will make a post about the Arcade on our Facebook page! Help us promote the new arcade by liking and sharing the post…then make sure to comment on the post when you've liked and shared and you could win an all day arcade pass! It's that easy! We will draw a winner each Saturday for the next few weeks! (Make sure your shared post is public so if you win, we can verify you shared the post!)
Good luck!
NEW ARRIVALS!
CAPTAIN AMERICA #700 LEG $5.99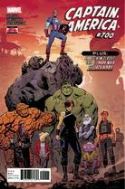 (W) Mark Waid (A/CA) Chris Samnee
OUT OF TIME CONCLUSION!
Cap is finally "OUT OF TIME"!
• Frozen in time, awakened in a decimated future and once again a man out of his era, there is only one way for Steve Rogers to restore order and rebuild civilization-and that's to rule it as King Captain America! No dream, no hoax, no lie, this IS Cap and this IS happening, believe it or not!
• PLUS: Mark Waid delivers an untold tale from Captain America's past, featuring the classic artwork of Jack Kirby!
DEAD HAND #1 $3.99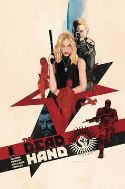 (W) Kyle Higgins (A/CA) Stephen Mooney
"COLD WAR RELICS," Part One: Carter Carlson was a highly decorated operative during the Cold War. But in the fall of 1991, as the Soviet Union collapsed, Carter discovered a secret that not only changed his life… but also altered the course of history. Now, as the mysterious "Dead Hand" threatens to end the world once again, the only thing standing in its way is the relationship between an old spy and a little boy.
IMMORTAL MEN #1 $2.99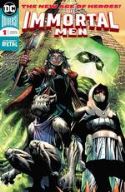 (W) James TynionIV (A/CA) Jim Lee, Scott Williams
"THE END OF FOREVER" part one! There is a secret history to the DC Universe of heroes who have protected humanity from the shadows since the dawn of time…and who can live forever. Enter the Immortal Men! The team, headed by the Immortal Man, has waged a secret war against the House of Conquest for countless years-but Conquest has dealt a devastating blow. When their base of operations, known as the Campus, is savagely attacked, the Immortal Men must seek out their last hope-an emerging metahuman known as Caden Park! Caden's emerging powers may be able to ensure the Immortal Men's survival-but will Conquest get to him first?
OBLIVION SONG BY KIRKMAN & DE FELICI #2 3.99
(W) Robert Kirkman (A/CA) Lorenzo De Felici
Nathan's obsession with Oblivion has put a strain on every aspect of his life. His love for Heather is really put to the test now that he's closer than he's ever been to finding what he's truly looking for.
TRUE BELIEVERS INFINITY GAUNTLET #1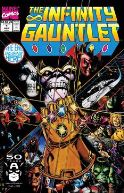 Reprinting Infinity Gauntlet (1991) #1
Rated T
DOMINO #1 $3.99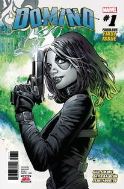 (W) Gail Simone (A) David Baldeon (CA) Greg Land, D'Armata, Frank
BAD LUCK AND TROUBLE Part 1
Impossible curves. Impossible shots. Impossible targets. Marvel's #1 soldier of fortune is back in an explosive new ongoing series! The product of a failed super-soldier program, Neena Thurman always made her own luck as the sharpshooting mercenary known as Domino… but what happens when her own powers betray her? The hunter becomes the hunted as every mercenary in the game smells blood in the water! Plus: A pair of beloved Marvel characters return!
THIS WEEK IN TOYS/STATUES
POP AVENGERS INFINITY WAR THANOS VINYL FIG $11.99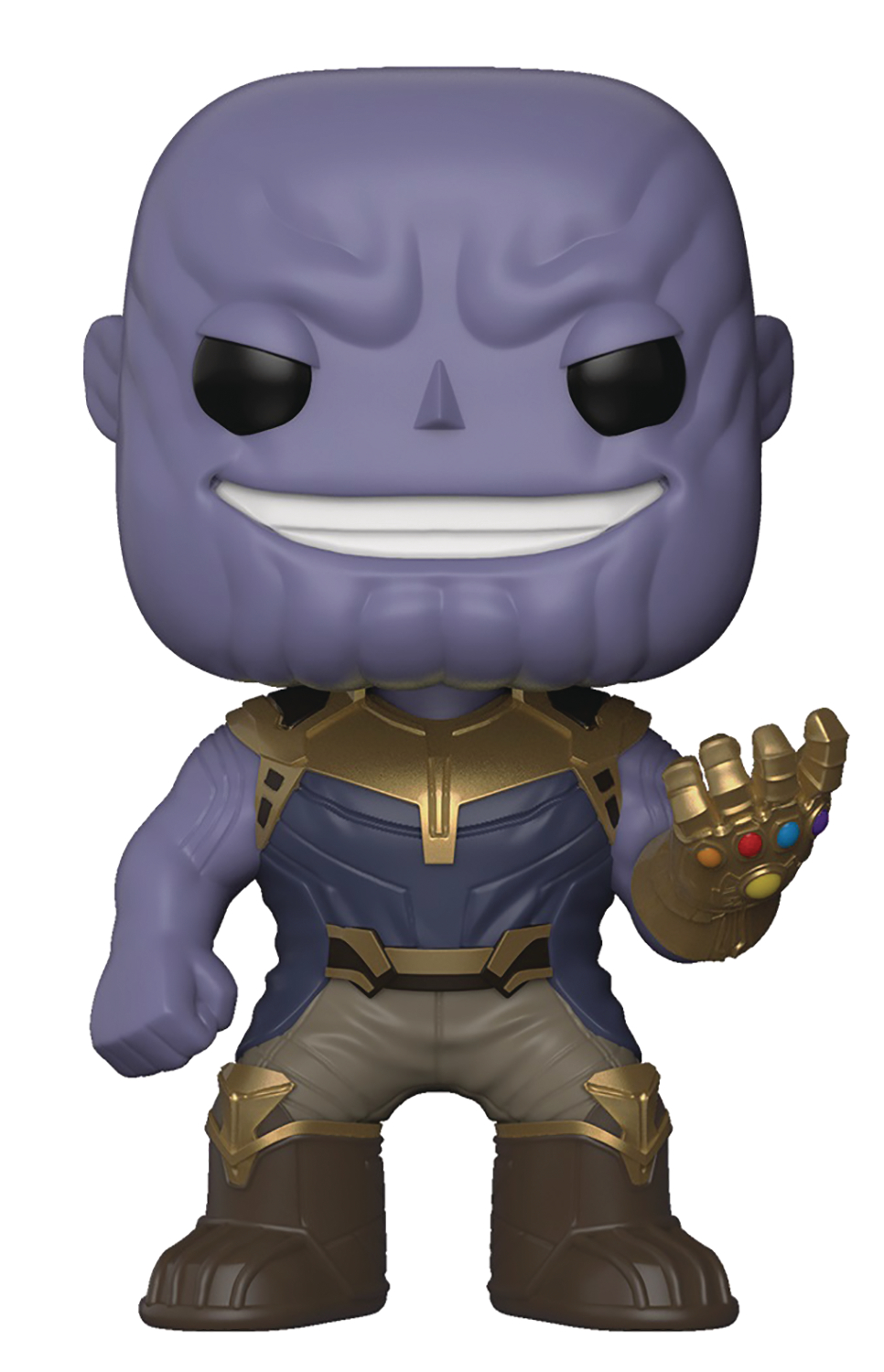 From Funko. On a mission to collect all six Infinity Stones, Captain America, the Hulk and the other Avengers must defeat the evil Thanos! Avengers: Infinity War comes to theaters in May, and in the meantime you can collect characters from the film in Funko form!
STAR TREK LIGHT & SOUND BORG CUBE KIT $12.95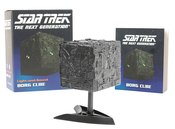 (W) Chip Carter
Star Trek fans and collectors will be assimilated by this one-of-a-kind, mini-size collectible Borg cube with light and sound. The Borg cube is a cube-shaped spacecraft that is one of the largest, most powerful and fastest vessels in the Star Trek Galaxy. The kit includes a light-up Borg cube with sound, display base, and 48-page book on the history of Borg cubes and full-color photos.
FFG DC COMICS COLL WONDER WOMAN 1/6 PVC FIG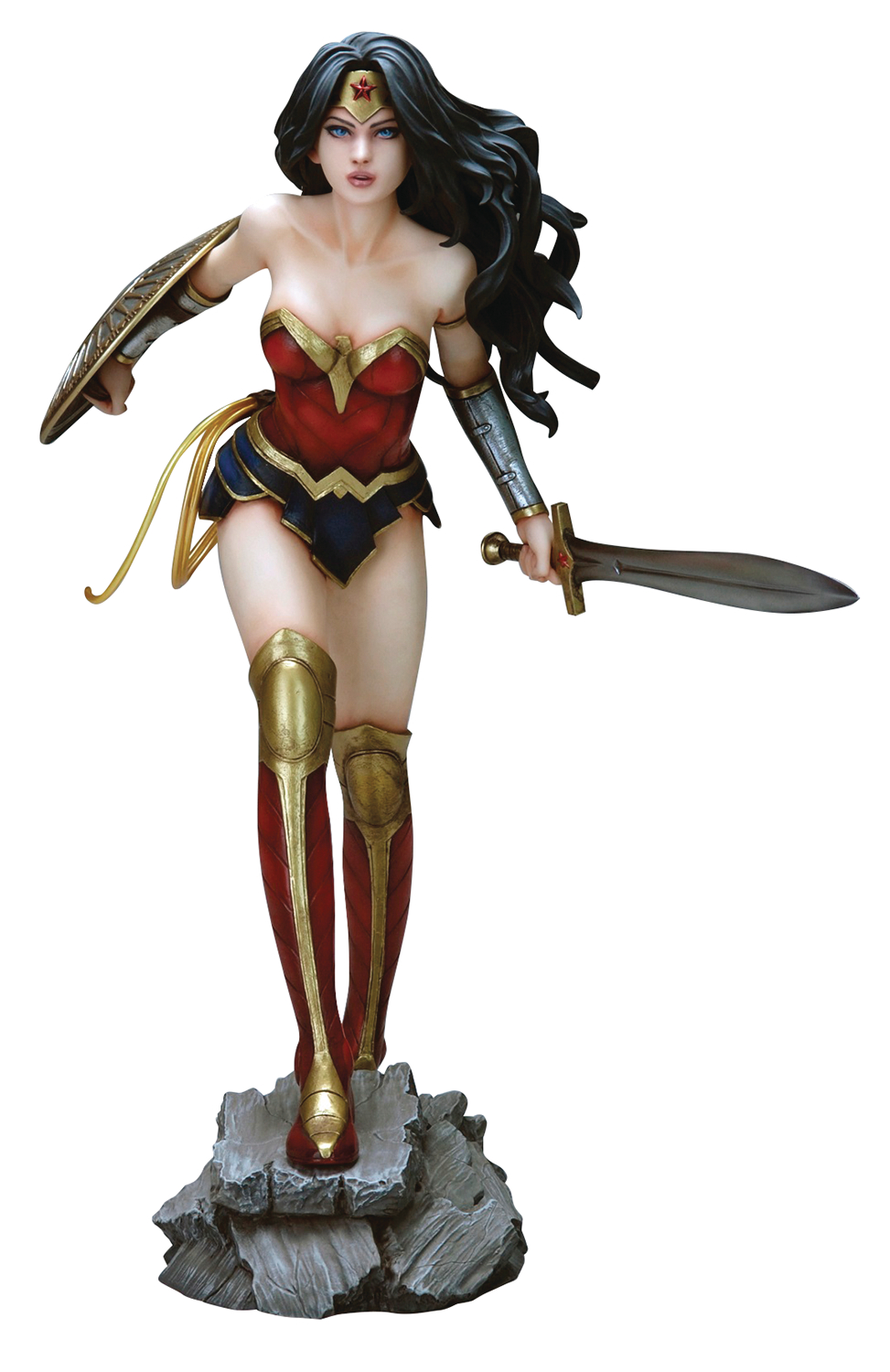 From Bandai Hobby. A special variant of the Real Grade Unicorn from the manga adaptation Bande Dessinee that includes the Armed Armor DE shield that can transform between different configurations. A set of decal stickers for the Armed Armor DE shield is included. Runner x 14, Instruction Manual x 2, decals.
POP AVENGERS INFINITY WAR GROOT W/BLASTER VINYL FIG $11.99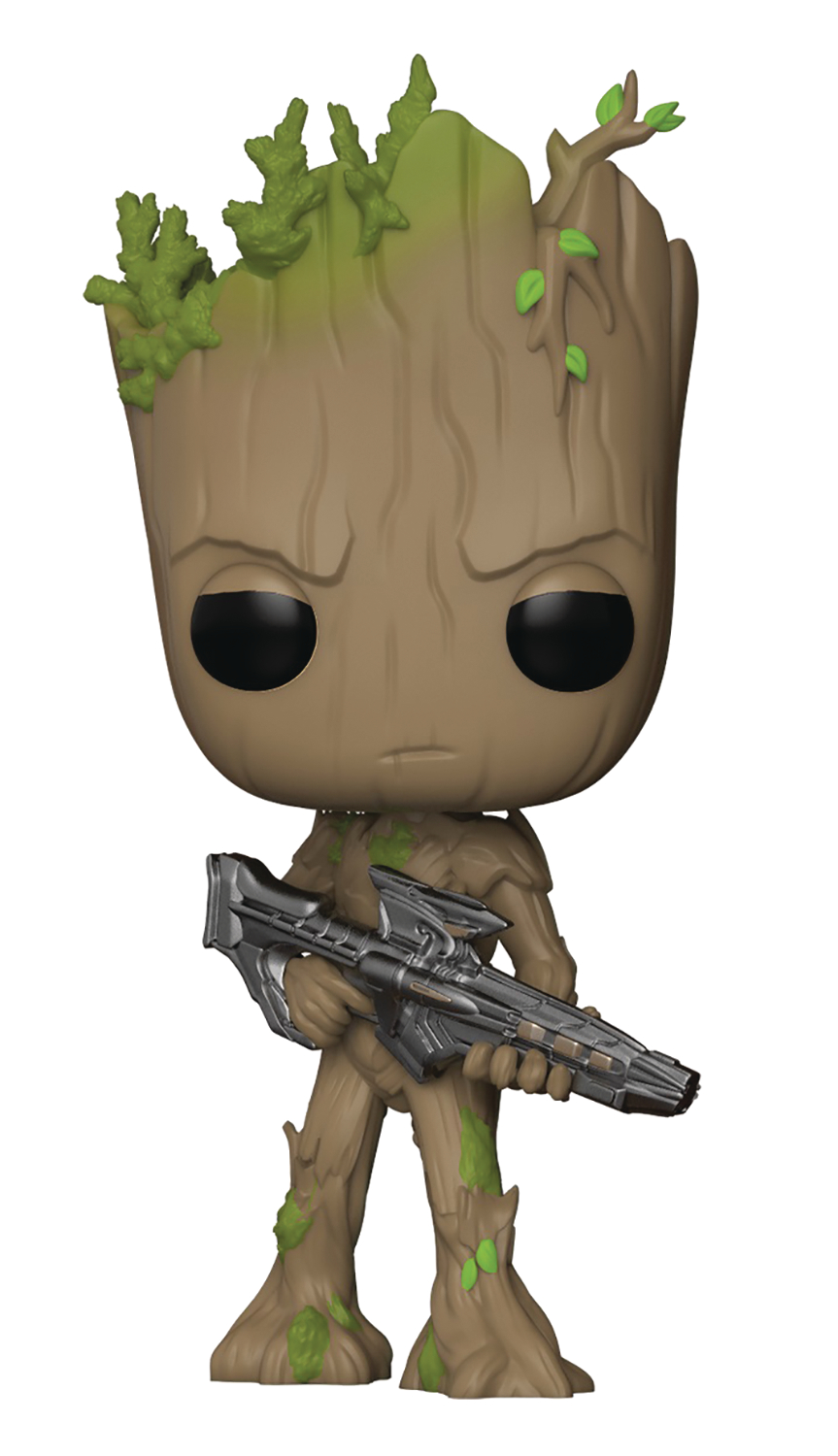 Groot blasting his way to you this week!
Trade-paperbacks of the Week!
ACTION COMICS 80 YEARS OF SUPERMAN HC $29.99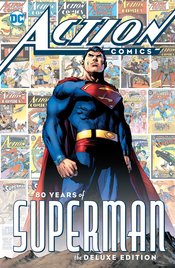 (W) Kevin Eastman, Peter Laird (A/CA) Kevin Eastman, Peter Laird
Go back to the very beginning, with the Turtles' first encounter with the Foot Clan and their mysterious leader, the Shredder. With over 300 pages of mutated martial-arts action, this volume is perfect for fans to relive the glorious days of the Turtles' origins, as well as an excellent place for new readers to see where the TMNT phenomenon began. Collects the first seven issues of the series, plus the Raphael and Michelangelo Micro-Series one-shots, all in brilliant color.
DEADPOOL VS OLD MAN LOGAN TP $15.99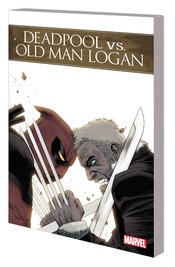 (W) James TynionIV, Christopher Sebela (A) Alvaro Martinez, Carmen Nunez Carnero, Raul Fernandez (A/CA) Eddy Barrows, Eber Ferreira
Where in the world is Tim Drake? Red Robin faces a crossroads…escape the most devious prison ever devised, or find himself abandoned beyond time and space for all eternity! Not much of a choice, right? But when he finds out who is locked in there with him, Tim's world will change in ways he never imagined! Collects DETECTIVE COMICS #963-968.
COYOTES TP VOL 01 $9.99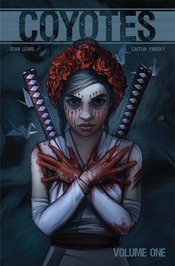 (A) Various (CA) Felipe Massafera
Celebrate 25 years of Saban's Power Rangers with this oversized hardcover that collects artwork from some of comics' best talents, including Kris Anka (Runaways), Adam Gorham (Black Panther), and more! Includes over 60 pieces of original art, featuring Ranger teams across all 25 years, from Mighty Morphin Power Rangers to Power Rangers Ninja Steel.
SUPERMAN TP VOL 05 HOPES AND FEARS REBIRTH $16.99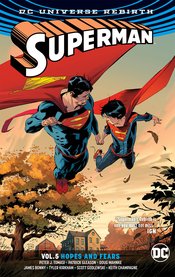 (W) John Broome, Gardner Fox (A) Carmine Infantino, Joe Giella, Frank Giacoia (CA) Evan "Doc" Shaner
In these adventures from the early 1960s, Abra Kadrabra transforms the Flash into a puppet! Plus, the Scarlet Speedster meets the Elongated Man to take on Captain Cold, gets help from Kid Flash against an alien invasion and travels to Earth-2 to help the Justice Society battle Vandal Savage! And don't miss appearances by Rogues including Pied Piper, Reverse-Flash, Heat Wave, the Trickster, Weather Wizard and Mr. Element in these stories from THE FLASH #133-147.
MASTER LIST OF STUFF ARRIVING THIS WEEK!
ACTION COMICS 80 YEARS OF SUPERMAN HC 29.99
ADVENTURE TIME COMICS #22 3.99
ADVENTURE TIME COMICS #22 SUB 3.99
ADVENTURE TIME TP VOL 14 14.99
ALIENS PREDATOR PROMETHEUS FIRE AND STONE TP 24.99
ALTER EGO #152 9.95
AMERICA TP VOL 02 FAST AND FUERTONA 17.99
AMORY WARS GOOD APOLLO TP VOL 02 14.99
ANCIENT DREAMS #7 3.99
ANGELS OF DEATH GN VOL 02 13
ARCHIES #6 CVR A REG SMALLWOOD 3.99
ARCHIES #6 CVR B PARENT 3.99
ATTACK ON TITAN GN VOL 24 10.99
AVENGERS #688 LEG 3.99
AVENGERS #688 SPROUSE END OF AN ERA VAR LEG 3.99
AVENGERS EPIC COLL TP AVENGERS DEFENDERS WAR 39.99
BACK TO THE FUTURE TIME TRAIN #4 CVR A LEVENS 3.99
BACK TO THE FUTURE TIME TRAIN #4 CVR B MURPHY 3.99
BARBARELLA #5 CVR A WOODS 3.99
BATGIRL AND THE BIRDS OF PREY #21 3.99
BATGIRL AND THE BIRDS OF PREY #21 VAR ED 3.99
BEAUTY #21 CVR A HAUN & FILARDI 3.99
BEAUTY #21 CVR B MCCAIG 3.99
BEN REILLY SCARLET SPIDER #17 LEG 3.99
BLOODSHOT SALVATION #8 CVR A ROCAFORT 3.99
BLOODSHOT SALVATION #8 CVR B GUEDES 3.99
BLOODSHOT SALVATION #8 CVR C ZAFFINO 3.99
BPRD DEVIL YOU KNOW TP VOL 01 19.99
BROTHERS DRACUL #1 CVR A COLAK 3.99
BUBBLEGUN TP VOL 02 SEVERED LIES 12.99
CABLE TP VOL 02 NEWER MUTANTS 15.99
CAPTAIN AMERICA #700 VENOM 30TH 5.99
CAPTAIN AMERICA #700 LEG 5.99
CAPTAIN SWING TP SP ED 5.99
CARDCAPTOR SAKURA CLEAR CARD GN V3 10.99
CHAMPIONS #19 LEG 3.99
CLOVER HONEY SPEC ED TP 12.99
COYOTES TP VOL 01 9.99
CRUDE #1 3.99
DAYS OF HATE #3 (OF 12) 3.99
DC BATMAN UNIVERSE BUST COLL #1 BATMAN 24.95
DC UNIVERSE BY BRIAN K VAUGHAN TP 19.99
DC UNIVERSE ROBIN & BAT-HOUND ARTFX+ STATUE 64.99
DEAD HAND #1 3.99
DEADLY CLASS #33 CVR A CRAIG 3.99
DEADPOOL VS OLD MAN LOGAN TP 15.99
DESPICABLE DEADPOOL #298 LEG 3.99
DETECTIVE COMICS #978 2.99
DETECTIVE COMICS #978 VAR ED 2.99
DF MISTER MIRACLE #1 KING SGN 39.99
DOCTOR STRANGE #388 LEG 3.99
DOCTOR STRANGE #388 STEVENS VENOM 30TH 3.99
DODGE CITY #2 3.99
DOMINO #1 3.99
DOMINO #1 BALDEON VAR 3.99
DOMINO #1 LIEFELD VAR 3.99
DRAGON BALL Z PERFECT CELL GAME 39.99
DRY COUNTY #2 3.99
DUCKTALES #8 CVR A GHIGLIONE 3.99
DUCKTALES #8 CVR B GHIGLIONE 3.99
DUCKTALES DOODLES SC 12.99
DUCKTALES MYSTERIES & MALLARDS TP 9.99
EC ARCHIVES EXTRA HC 49.99
ETERNAL EMPIRE #8 3.99
ETERNITY GIRL #2 (OF 6) 3.99
EXILES #1 3.99
FALCON #7 LEG 3.99
FAMILY TRADE TP VOL 01 16.99
FFG DC COMICS COLL WONDER WOMAN 1/6 PVC FIG
FLASH #44 2.99
FLASH #44 VAR ED 2.99
FRIDAY THE 13TH CAMP CRYSTAL LAKE ACCESSORY PK 26.99
GAME OF THRONES FIGURE DAENERYS MOTHER DRAGONS 29.99
GFT TALES OF TERROR VOL 4 #1 CVR A 3.99
GFT TALES OF TERROR VOL 4 #1 CVR B 3.99
GFT TALES OF TERROR VOL 4 #1 CVR C 3.99
GHOSTBUSTERS DR. VENKMAN ESP TEST CARD GAME 10
GIDEON FALLS #2 CVR A SORRENTINO 3.99
GIDEON FALLS #2 CVR B CHIANG 3.99
GOBLIN SLAYER GN VOL 02 13
GOLDFISCH MANGA GN VOL 02 10.99
GOOSEBUMPS DOWNLOAD & DIE #2 CVR A WONG 3.99
HAL JORDAN AND THE GREEN LANTERN CORPS #42 2.99
HAL JORDAN AND THE GREEN LANTERN CORPS #42 VAR ED 2.99
HARLEY QUINN RED WHITE & BLACK STATUE BY BABS TARR 80
HARRY POTTER TALKING DOBBY W BOOK KIT 12.95
HATSUNE MIKU FUTURE DELIVERY TP 02 10.99
HAUNTED HORROR #33 4.99
HAWKMAN BY GEOFF JOHNS TP BOOK 02 29.99
HG WELLS TIME MACHINE GN 17.99
IMAGINARY FIENDS #5 (OF 6) 3.99
IMMORTAL MEN #1 2.99
JEAN GREY TP VOL 02 FINAL FIGHT 15.99
JIMMYS BASTARDS #7 3.99
JUSTICE LEAGUE FLASH 5950 FITTED CAP 7 3/8 55
JUSTICE LEAGUE OF AMERICA #28 2.99
JUSTICE LEAGUE OF AMERICA #28 VAR ED 2.99
KNIGHTS OF THE DINNER TABLE #253 5.99
LAZARUS X PLUS 66 TP (MR) 16.99
LEGENDERRY RED SONJA #3 (OF 5) CVR A BENITEZ 3.99
MAD MAGAZINE #1 5.99
MINKY WOODCOCK GIRL WHO HANDCUFFED HOUDINI #4 CVR A 3.99
MINKY WOODCOCK GIRL WHO HANDCUFFED HOUDINI #4 CVR B 3.99
NEIL GAIMAN AMERICAN GODS MY AINSEL #2 MAIN CVR 3.99
NEIL GAIMAN AMERICAN GODS MY AINSEL #2 VAR 3.99
NEW SUPER MAN & THE JUSTICE LEAGUE OF CHINA #22 3.99
NEW SUPER MAN & THE JUSTICE LEAGUE OF CHINA #22 VAR ED 3.99
NINJA-K #6 (NEW ARC) CVR A ZONJIC 3.99
NINJA-K #6 (NEW ARC) CVR B QUAH 3.99
NO 1 WITH A BULLET #6 (OF 6) 3.99
OBLIVION SONG BY KIRKMAN & DE FELICI #2 3.99
OLD MAN LOGAN #38 LEG 3.99
OLD MAN LOGAN #38 SMALLWOOD VENOM 30TH VAR LEG 3.99
ONCE UPON A TIME MACHINE TP VOL 02 17.99
PENNY DREADFUL TP VOL 02 BEAUTEOUS EVIL 16.99
PETER PARKER SPECTACULAR SPIDER-MAN TP VOL 02 17.99
PLANET OF THE APES URSUS #4 MAIN & MIX 3.99
PLANET OF THE APES URSUS #4 SUBSCRIPTION CAREY VAR 3.99
POKEMON SEEK & FIND HC LEGENDARY POKEMON 9.99
POP DELUXE STAR WARS AT-ST W/CHEWBACCA VINYL FIG 29.99
POP AVENGERS INFINITY WAR GROOT W/BLASTER VINYL FIG 10.99
POP AVENGERS INFINITY WAR THANOS VINYL FIG 10.99
POP DELUXE STAR WARS AT-ST W/CHEWBACCA VINYL FIG 29.99
POP MARVEL CONTEST OF CHAMPIONS VENOMPOOL VINYL FIG 11.99
POP JURASSIC PARK DR ALAN GRANT VINYL FIG 11.99
POP SAGA PRINCE ROBOT IV VINYL FIG 11.99
POP JURASSIC PARK JOHN HAMMOND VINYL FIG 11.99
POP JURASSIC PARK TYRANNOSAURUS VINYL FIG 11.99
POP JURASSIC PARK VELOCIRAPTOR VINYL FIG 11.99
PRISM STALKER #2 3.99
RED DOG COMPLETE GRAPHIC NOVEL TP 19.99
RED HOOD AND THE OUTLAWS #21 3.99
RED HOOD AND THE OUTLAWS #21 VAR ED 3.99
RESIDENT ALIEN #1 (OF 4) ALIEN IN NEW YORK 3.99
RICK & MORTY PRESENTS THE VINDICATORS #1 (2ND PTG) 4.99
ROBOCOP CITIZENS ARREST #1 3.99
ROBOTECH ARCHIVE OMNIBUS VOL 01 (OF 3) 24.99
ROCK CANDY MOUNTAIN TP VOL 02 14.99
ROSE #10 CVR A GUARA 3.99
ROSE #10 CVR B LOOPYDAVE 3.99
SCOOBY APOCALYPSE #24 3.99
SCOOBY APOCALYPSE #24 VAR ED 3.99
SCOOBY DOO WHERE ARE YOU #92 2.99
SEA OF THIEVES #2 CVR A 3.99
SEASON OF THE SNAKE #1 CVR A ROY 6.99
SIDEWAYS #3 2.99
SLEEPLESS #5 CVR A DEL DUCA & SALLAH 3.99
SLEEPLESS #5 CVR B REEDER 3.99
SONIC THE HEDGEHOG #2 CVR A HESSE 3.99
SONIC THE HEDGEHOG #2 CVR B THOMAS 3.99
SPIDER-MAN DEADPOOL #31 LEG 3.99
SPIDER-MAN DEADPOOL TP VOL 05 ARMS RACE 17.99
SPONGEBOB COMICS #79 3.99
STAR TREK LIGHT & SOUND BORG CUBE KIT 12.95
STAR WARS DOCTOR APHRA #18 3.99
STAR WARS DARTH VADER #14 3.99
STAR WARS DARTH VADER #14 REIS GALACTIC ICON VAR 3.99
STAR WARS THRAWN #3 (OF 6) 3.99
SUICIDE SQUAD #39 2.99
SUICIDE SQUAD #39 VAR ED 2.99
SUICIDE SQUAD TP VOL 05 REBIRTH 14.99
SUPERGIRL #20 3.99
SUPERGIRL #20 VAR ED 3.99
SUPERMAN TP VOL 05 HOPES AND FEARS REBIRTH 16.99
SUPERMANSION #1 (OF 2) CVR A ELPHICK 5.99
SWORD OF AGES #3 CVR A RODRIGUEZ 3.99
THANOS #18 LEG 3.99
THANOS #18 PERKINS VENOM 30TH VAR LEG 3.99
THEORY OF MAGIC #5 (RES) 3.99
TITANS #22 3.99
TITANS #22 VAR ED 3.99
TMNT ONGOING #81 CVR A WACHTER 3.99
TMNT ONGOING #81 CVR B EASTMAN 3.99
TMNT USAGI YOJIMBO EXPANDED ED 17.99
TOMB RAIDER SURVIVORS CRUSADE #4 (OF 4) 3.99
TRANSFORMERS TILL ALL ARE ONE TP VOL 03 17.99
TRINITY #21 3.99
TRINITY #21 VAR ED 3.99
TRUE BELIEVERS INFINITY GAUNTLET #1 1
TRUE BELIEVERS THANOS RISING #1 1
UNBEATABLE SQUIRREL GIRL #31 LEG 3.99
UNBELIEVABLE GWENPOOL TP VOL 05 LOST IN THE PLOT 15.99
UNDERWHERE TP 14.99
VENOMIZED #2 (OF 5) 3.99
VENOMIZED #2 (OF 5) BAGLEY CONNECTING VAR 3.99
VS #3 CVR A RIBIC 3.99
VS #3 CVR B RIBIC & MULLER 3.99
WARCRAFT SUNWELL TRILOGY TP VOL 01 DRAGON HUNT 12.95
WE BARE BEARS STANDING GRIZZ 11IN PLUSH 18
WE BARE BEARS STANDING ICE BEAR 11IN PLUSH 18
WE BARE BEARS STANDING PANDA 11IN PLUSH 18
WONDER WOMAN #44 2.99
WONDER WOMAN #44 VAR ED 2.99
WONDER WOMAN BY GEORGE PEREZ TP VOL 03 29.99
X-FILES CONSPIRACY THEORY GAME 39.99
X-MEN BLUE #25 VENOM 30TH 4.99
X-MEN BLUE #25 LEG 4.99
X-MEN RED #3 LEG 3.99
YOUR NAME GN VOL 03 13
We hope to see you soon at CQ!
Visit us at 2260 Morgan Avenue, Evansville
On the web at www.comicquest.com
On Facebook www.facebook.com/comicquestevansville
On Twitter @cqevansville
On Instagram: @comicquestevansville
Contact us at sales@comicquest.com or by phone at 812-474-1133