Comic Quest Weekly for 5/27/18
OPEN REGULAR HOURS ON MEMORIAL DAY!
Whether you need to stock up on collecting supplies, need to run in for that new read, or just wanting to purchase something for your Pokemon or MTG collection, Comic Quest will be open Monday, May 28 from noon to 6pm
Image/Skybound Entertainment Announces The Walking Dead Day
Image/Skybound Entertainment is pleased to announce that October 13th will mark The Walking Dead Day—an exciting all-day, globally celebrated event commemorating the world's favorite, long-running, survival comic created by Robert Kirkman (Oblivion Song, Outcast By Kirkman & Azaceta).
Image/Skybound Entertainment is thrilled to reveal the first of many collectable The Walking Dead Dayitems for fans to keep an eye out for—The Walking Dead #1 15th Anniversary Variant—which boasts cover artwork by current series artist, Charlie Adlard, for the first time.
The Walking Dead #1 15th Anniversary Variant features a brand new cover by Adlard and colorist Dave Stewart showcasing walkers invading comic book shops across the globe to celebrate The Walking Dead Day.
A selection of Walking Dead Day participating local comic shops will become a part of the iconic story with their own special edition of this cover which will feature the store's logo incorporated into the cover artwork. Fans should contact their local comic shop to inquire as to retailer participation in store exclusive version and to learn more about limited Walking Dead Day promotional swag available.
The Walking Dead #1 15th Anniversary Variant will be available on Saturday, October 13.
NEW ARRIVALS!
AMAZING SPIDER-MAN #800 LEG $9.99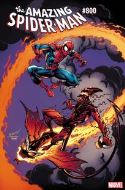 (W) Dan Slott (A) Stuart Immonen, Humberto Ramos, Giuseppe Camuncoli, Jim Cheung (CA) Alex Ross
• Dan Slott and Stuart Immomen are joined by many of the artists who made the last 10 years of Spider-Man so Amazing!
• The biggest Peter Parker/Norman Osborn story of all time unfolds over one 80-page story, a scope unmatched in comics!
• Who lives?! Who dies?! And what scars will Spider-Man bear from here on out?!
MAN OF STEEL #1 (OF 6) $3.99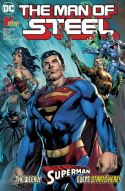 (W) Brian Michael Bendis (A) Joe Prado (CA) Miguelanxo Prado (A/CA) Ivan Reis
A new era begins for Superman as a threat from his earliest origins reemerges to destroy the Last Son of Krypton. As Superman struggles to come to grips with what has happened to his wife and son, he must also face a new threat that's determined to burn down Metropolis!
LAST SIEGE #1 $3.99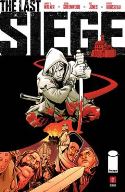 (W) Landry Q. Walker (A/CA) Justin Greenwood
A tale of blood, desperation, and loss. New York Times bestselling author LANDRY Q. WALKER joins artist JUSTIN GREENWOOD for an all-new ONGOING SERIES-THE LAST SIEGE! Spaghetti Western storytelling meets Game of Thrones atmosphere in this gritty medieval war story, as a mysterious stranger arrives at a castle overrun with brutal soldiers bent on usurping the throne of the rightful heir-an 11-year-old girl. An action-packed, genre-twisting epic, THE LAST SIEGE begins!
DOOMSDAY CLOCK #5 (OF 12) $4.99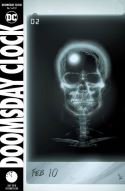 (W) Geoff Johns (A/CA) Gary Frank
The Comedian lives! The Mime and Marionette loose in Gotham City! Rorschach is locked in the bowels of Arkham Asylum! Secrets will be revealed as the Doomsday Clock ticks on…
STAR WARS LANDO DOUBLE OR NOTHING #1 $3.99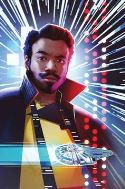 (W) Rodney Barnes (A) Paolo Villanelli (CA) W. Scott Forbes
Straight from the frames of the highly-anticipated film SOLO: A STAR WARS STORY swaggers a younger and somehow even cockier Lando Calrissian! Before his days in the Rebellion, before he ran Cloud City, even before he lost the Millenium Falcon, comes this tale of Lando's adventures and misadventures in search of love and money leading right up to his appearance in SOLO!
BATMAN PRELUDE TO THE WEDDING ROBIN VS RAS AL GHUL #1 3.99
(W) Tim Seeley (A) Brad Walker, Andrew Hennessy (CA) Rafael Albuquerque
Ra's al Ghul returns to have a heart-to-heart with his grandson, Damian. Once upon a time, Ra's thought Bruce Wayne would be the heir apparent to his criminal empire, but now that Batman has turned his back on Talia for good, Ra's wants to know if Damian Wayne will honor his mother by stepping into the family business at last.
THIS WEEK IN TOYS/STATUES
DC GALLERY BATMAN BEYOND BATMAN PVC FIGURE DIORAMA $45



A Diamond Select Toys release! How big is your gallery? For the next entry in the hit DC Gallery PVC Diorama series, DST is leaping into the distant future of Gotham City, to capture the high-tech hero – Batman Beyond! Terry McGinnis hovers above a cloud of smoke with his wings extended and his boot-jets firing in this approximately 10″ PVC sculpture. Packaged in a full-color window box, the figure and base feature detailed sculpt and paint work. Dynamically sculpted by Varner Studios!
GUNDAM UC UNICORN 02 BANSHEE NORN RG 1/144 MDL KIT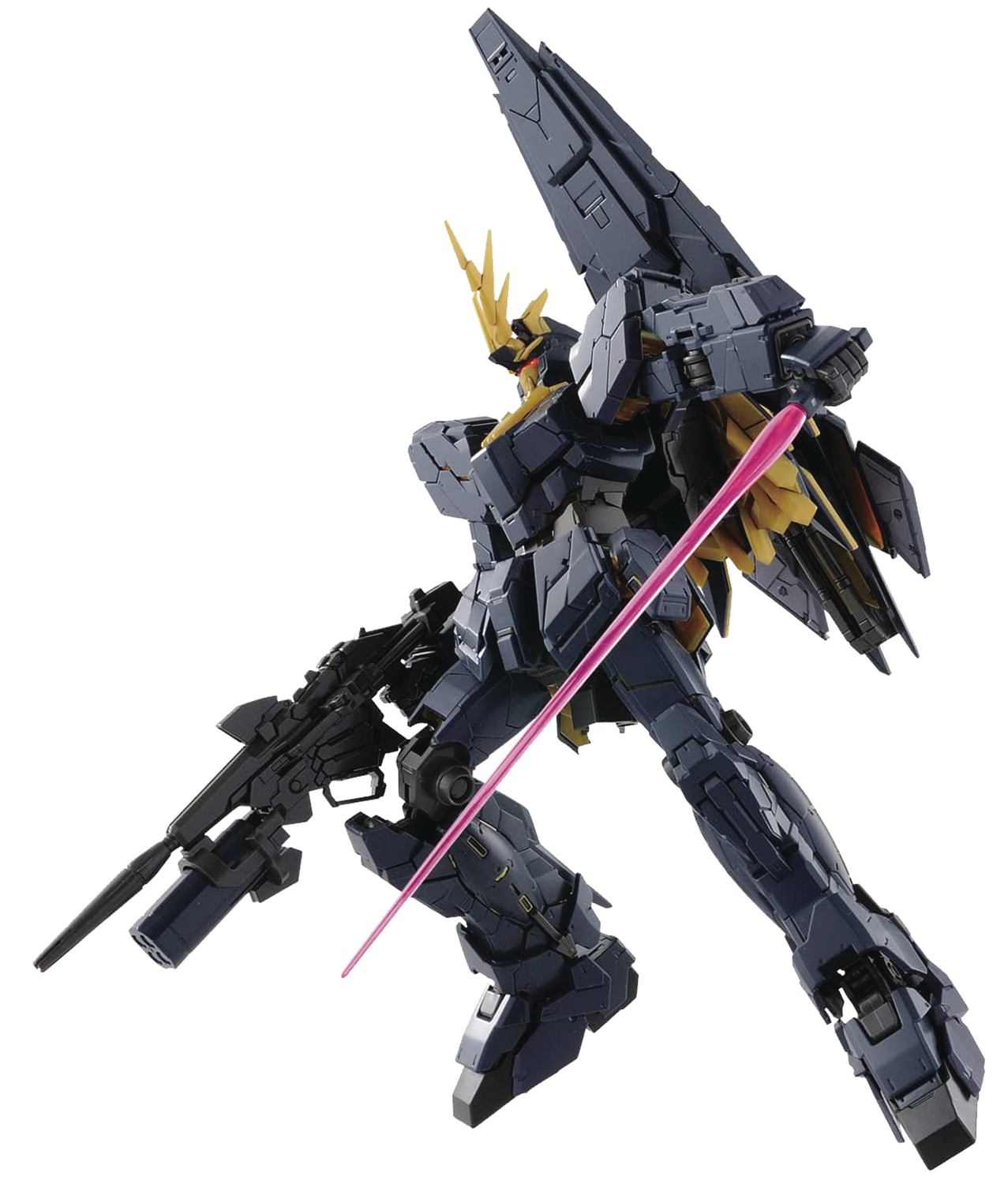 From Bandai Hobby. Following the groundbreaking release of the RG 1/144 Unicorn Gundam last year, its black unit 02, the "Banshee Norn", is coming to the RG series! The advanced frame work unique to the RG series allows this kit to transform smoothly between its two modes and lock into place. This intricate "Lock Mechanism" secures parts of the kit during transformation and adds a high level of stability. A "Link Mechanism" has also been integrated into the MS joins to allow for less assembly steps while allowing smooth articulation. The Banshee's iconic dark navy colors are expertly reproduced using colored plastic parts with different hues of navy for added depth.
MARVEL GALLERY X-23 PVC STATUE $45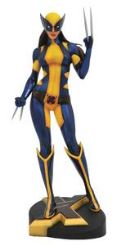 A Diamond Select Toys release! She's the best there is at what she does, and she gets it from her dad's side! The all-new Wolverine (formerly X-23, now just Laura Kinney) is the newest entry in the Marvel Gallery line of PVC Dioramas. Measuring approximately 9 inches tall, this detailed sculpture is made of high-quality PVC, and features collectible-quality paint applications. Packaged in a full-color window box. Sculpted by Sam Greenwell!
DC GALLERY JLA TAS FLASH PVC FIGURE $45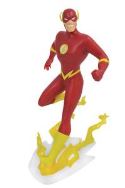 A Diamond Select Toys release! Still working on your Gallery? Speed up your Justice League PVC collection with this DC Gallery diorama of The Flash! Joining Superman, Batman and Wonder Woman, Wally West tears into town in this dynamic sculpture, depicting the hero screeching to a halt just in time to strike a pose on your display shelf. Sculpted in approximately 9″ scale, this PVC diorama features detailed sculpting and paint applications, and comes packaged in a full-color window box. Sculpted by Varner Studios!
TRADE PAPER-BACKS OF THE WEEK
JUPITER JET TP VOL 01 $14.99


(W) Jason Inman, Ashley Robinson (A) Ben Matsuya (CA) Jonboy Meyers
Following the death of her father 16-year-old Jacqueline "Jacky" Johnson inherits a jetpack with a mysterious power source and together with her brother, Chuck, and their cat she must protect her home from a threat that may – or may not – be from this Earth!
VOID TRIP TP $16.99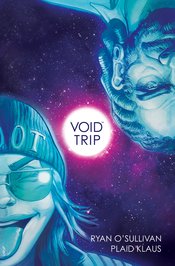 From writer RYAN O'SULLIVAN (Turncoat, The Evil Within, Warhammer 40,000) and illustrator PLAID KLAUS (Turncoat) comes the story of Ana and Gabe, the last two humans left alive in the galaxy. They're low on fuel, they're low on food, and they're low on psychedelic space froot, but they're still determined to make it to the promised land: hippy-paradise super-planet Euphoria. This is the story of their journey, the friends and enemies they made along the way, and how the universe responded to those who dared to live freely within it. Collects VOID TRIP #1-5.
LITTLE BOOK OF KNOWLEDGE HC SHARKS $14.99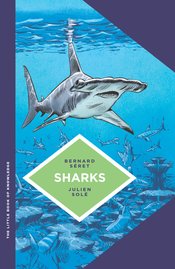 (W) Bernard Seret (A/CA) Julien Sole
Since the turn of the century, scientists have been going shark crazy! Now, dive into a world beneath the waves and learn all about one of nature's most mysterious creatures. They've fascinated mankind forever, but we still have a lot to learn, and 16% of shark species have been discovered in the last 15 years! Written by experts in the field and drawn by fans that know the material, each Little Book is perfect for the established enthusiast and burgeoning amateur alike.
ART OF JIM STARLIN LIFE IN WORDS & PICTURES HC $49.99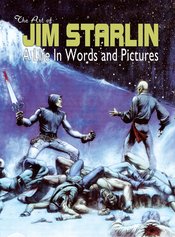 (W) Jim Starlin (A/CA) Jim Starlin
There are few creative names in comics whose influence is felt more in pop culture than Jim Starlin-with his creations Thanos, Gamora and Drax the Destroyer occupying such prominent roles in Marvel's cinematic universe. The "father of the cosmic soap opera," Jim Starlin's name is synonymous with the larger-than-life epic, which is why AfterShock is proud to bring back into print this epic 328-page retrospective on the career of one of the most popular and prolific comic book artists of the last 40 years! Covering everything from his humble beginnings to his rise as one of the industry's top creative talents, this oversized volume includes glimpses into Starlin's files and sketchbooks, as well as images of his personal favorites with insights into his life and creative process. The first edition of this volume sold out instantly. Don't be caught short this time! Just in time for the release of Marvel's Avengers: Infinity War movie!
MASTER LIST OF STUFF ARRIVING THIS WEEK!
2021 LOST CHILDREN #1 (OF 2) CVR A 5.99
2021 LOST CHILDREN #1 (OF 2) CVR B 5.99
ADVENTURE TIME 100 PROJECT TP 14.99
ALTER EGO #150 9.95
AMAZING SPIDER-MAN #799 2ND PTG IMMONEN VAR LEG 3.99
AMAZING SPIDER-MAN #800 BAGLEY VAR LEG 9.99
AMAZING SPIDER-MAN #800 BLANK VAR 9.99
AMAZING SPIDER-MAN #800 BRADSHAW VAR LEG 9.99
AMAZING SPIDER-MAN #800 CASSADAY VAR LEG 9.99
AMAZING SPIDER-MAN #800 CHO VAR LEG 9.99
AMAZING SPIDER-MAN #800 DODSON VAR LEG 9.99
AMAZING SPIDER-MAN #800 FRENZ VAR 9.99
AMAZING SPIDER-MAN #800 JR SR VAR LEG 9.99
AMAZING SPIDER-MAN #800 LAND VAR LEG 9.99
AMAZING SPIDER-MAN #800 LEG 9.99
AMAZING SPIDER-MAN #800 MOEBIUS VAR LEG 9.99
AMAZING SPIDER-MAN #800 RAMOS CONNECTING VAR 9.99
AMAZING SPIDER-MAN #800 RIVERA VAR LEG 9.99
AMAZING SPIDER-MAN RENEW YOUR VOWS #19 LEG 3.99
AMAZING SPIDER-MAN RENEW YOUR VOWS TP VOL 03 17.99
ANGELS OF DEATH GN VOL 03 13
AQUAMAN JABBERJAW SPECIAL #1 4.99
AQUAMAN JABBERJAW SPECIAL #1 VAR ED 4.99
ARCHIES TP VOL 01 17.99
ART OF JIM STARLIN LIFE IN WORDS & PICTURES HC 49.99
AVENGERS INFINITY WAR GROOT BODY KNOCKER 12.99
BANE CONQUEST #11 (OF 12) 3.99
BARRIER #5 (OF 5) (MR) 4.99
BATMAN PRELUDE TO THE WEDDING ROBIN VS RAS AL GHUL #1 3.99
BATWOMAN TP VOL 02 WONDERLAND REBIRTH 14.99
BLACK LIGHTNING HONG KONG PHOOEY SPECIAL #1 4.99
BLACK LIGHTNING HONG KONG PHOOEY SPECIAL #1 VAR ED 4.99
BLACK PANTHER TP BOOK 05 AVENGERS OF NEW WORLD PART 2 19.99
BLACKWOOD #1 (OF 4) MAIN CVR 3.99
BLACKWOOD #1 (OF 4) VAR CLOONAN CVR 3.99
BLOODBORNE #4 (OF 4) 3.99
CARD CAPTOR SAKURA SYAORAN LI FIGMA AF 90.99
CARTOONS MAGAZINE #15 5.99
COLOR YOUR OWN ANT-MAN AND WASP TP 9.99
CROW MEMENTO MORI #3 CVR A DELL EDERA 3.99
CYBER FORCE #3 (MR) 3.99
DAREDEVIL #603 LEG 3.99
DARK SOULS AGE OF FIRE #1 (OF 4) 3.99
DC GALLERY BATMAN BEYOND BATMAN PVC FIGURE DIORAMA 45
DC GALLERY BATMAN TAS ROBIN PVC FIGURE 45
DC GALLERY JLA TAS FLASH PVC FIGURE 45
DC PREVIEWS #2
DEADPOOL MIRROR PLAYING CARDS 5.99
DESCENDER #30 CVR A NGUYEN 3.99
DIDNT I SAY MAKE ABILITIES AVERAGE NOVEL SC VOL 01 13.99
DOCTOR WHO COMP HIST HC V70 12TH DOCTOR STORIES 250-252 18.99
DOCTOR WHO MAGAZINE #525 11.99
DOOMSDAY CLOCK #5 (OF 12) 4.99
DOOMSDAY CLOCK #5 (OF 12) VAR ED 4.99
FCBD DC BATGIRL & NIGHTWING COMIC VINIMATE 2PK 19.99
FEMME FATALES SINFUL SUZIE PVC FIGURE DIORAMA 45
FLASH SPEED BUGGY SPECIAL #1 4.99
FLASH SPEED BUGGY SPECIAL #1 VAR ED 4.99
GI JOE A REAL AMERICAN HERO #252 CVR A MESSINA 3.99
GI JOE A REAL AMERICAN HERO #252 CVR B ROYLE 3.99
GI JOE A REAL AMERICAN HERO TP VOL 20 17.99
GODZILLA 12-IN LONG 1995 BURNING VER AF 24.99
GRASS KINGS #15 MAIN & MIX 4.99
GREEN ARROW ANNUAL #2 4.99
GREEN LANTERNS ANNUAL #1 4.99
GUNDAM 08TH MS TEAM RX-79G GROUND GUNDAM HGUC MDL KIT
GUNDAM BUILD DIVERS GUNDAM 00 DIVER HGBD MDL KIT
GUNDAM BUILD DIVERS PETITTGGUY DIVER BLUE & PLACARD MDL
GUNDAM UC UNICORN 02 BANSHEE NORN RG 1/144 MDL KIT
HACK SLASH RESURRECTION #7 CVR A SEELEY 3.99
HACK SLASH RESURRECTION #7 CVR B ISAACS 3.99
HARBINGER WARS 2 #1 (OF 4) CVR A JONES 3.99
HARBINGER WARS 2 #1 (OF 4) CVR B SUAYAN 3.99
HARBINGER WARS 2 #1 (OF 4) CVR C BLANK CVR 3.99
HARLEY QUINN #26 2.99
HARROW COUNTY #31 3.99
HARRY POTTER BRACELET SET 17.99
HILLBILLY #10 3.99
INFINITY COUNTDOWN CAPTAIN MARVEL #1 3.99
INFINITY COUNTDOWN CAPTAIN MARVEL #1 LIM VAR 3.99
INFINITY COUNTDOWN DAREDEVIL #1 4.99
INFINITY COUNTDOWN DAREDEVIL #1 LIM VAR 4.99
INJUSTICE GROUND ZERO TP VOL 02 16.99
JEEPERS CREEPERS #2 CVR A JONES 3.99
JEEPERS CREEPERS #2 CVR B BAAL 3.99
JIM HENSON LABYRINTH CORONATION #4 (OF 12) 3.99
JIM HENSON LABYRINTH CORONATION #4 (OF 12) 3.99
JLA MOVIE GALLERY SUPERMAN PVC FIGURE 45
JLA MOVIE GALLERY WONDER WOMAN PVC STATUE 45
JOHN CARPENTER TALES OF SCI FI VORTEX #8 (OF 8) 3.99
JUDGE DREDD UNDER SIEGE #1 CVR A DUNBAR 3.99
JUGHEAD THE HUNGER #6 CVR A GORHAM 3.99
JUGHEAD THE HUNGER #6 CVR B CHARM 3.99
JUPITER JET TP VOL 01 14.99
JUSTICE LEAGUE NO JUSTICE #4 (OF 4) 3.99
KILL OR BE KILLED #19 (MR) 3.99
KISS AOD #4 (OF 5) CVR A STRAHM 3.99
KISS AOD #4 (OF 5) CVR B MONTES 3.99
KISS AOD #4 (OF 5) CVR C HAESER 3.99
KONG OF SKULL ISLAND 2018 SPECIAL #1 7.99
LAST SIEGE #1 CVR A GREENWOOD 3.99
LAST SIEGE #1 CVR B DRAGOTTA 3.99
LAZARUS #28 (MR) 3.99
LEGACY HOUSE OF NIGHT GN 14.99
LITTLE BOOK OF KNOWLEDGE HC SHARKS 14.99
LOCKJAW #4 (OF 4) LEG 3.99
LOCKJAW #4 (OF 4) LIM VAR LEG 3.99
LUCAS STAND INNER DEMONS #4 (OF 4) 3.99
MAN OF STEEL #1 (OF 6) 3.99
MARVEL GALLERY SILK PVC FIG 45
MARVEL GALLERY X-23 PVC STATUE 45
MARVEL NETFLIX DAREDEVIL Q-FIG FIGURE 14.95
MARVEL PREVIEWS VOL 04 #11 JUNE 2018 EXTRAS 1.25
MARVEL TWO-IN-ONE #6 LEG 3.99
MARVEL TWO-IN-ONE #6 PAREL DEADPOOL VAR LEG 3.99
MECH CADET YU TP VOL 01 14.99
MERMAN IN MY TUB GN VOL 07 12.99
MIGHTY THOR GATES OF VALHALLA #1 (OF 1) 4.99
MIRACULOUS TALES OF LADYBUG CAT NOIR TP BUG OUT 9.99
MOTOR CRUSH TP VOL 02 16.99
MS MARVEL #30 LEG 3.99
MSH ADVENTURES THE SPIDER-DOCTOR 3.99
MY LITTLE PONY PONYVILLE MYSTERIES #1 CVR A GARBOWSKA 3.99
MY LITTLE PONY PONYVILLE MYSTERIES #1 CVR B MURPHY 3.99
MYOPIA RISE OF THE DOMES 4.99
NEW CHALLENGERS #1 (OF 6) 2.99
NIGHTMARE BEFORE CHRISTMAS ZEROS JOURNEY #1 CVR A 3.99
ONE-12 COLLECTIVE DC PX ASCENDING KNIGHT BATMAN BLUE AF
OPTIMUS PRIME #19 CVR A ZAMA 3.99
OPTIMUS PRIME #19 CVR B COLLER 3.99
PATHFINDER SPIRAL OF BONES #3 (OF 5) CVR A SANTUCCI 4.99
PATHFINDER SPIRAL OF BONES #3 (OF 5) CVR B GALINDO 4.99
PATHFINDER SPIRAL OF BONES #3 (OF 5) CVR C MANDRAKE 4.99
PESTILENCE STORY OF SATAN #1 CVR A BRADSTREET 3.99
POP MARVEL DEADPOOL CABLE VINYL FIG 11.99
POP MARVEL X-MEN NEGASONIC TEENAGE WARHEAD VINYL FIG 11.99
POP MARVEL X-MEN ULTIMATE COLOSSUS VINYL FIG 11.99
POP MASTERS OF THE UNIVERSE EVIL-LYN VINYL FIGURE 11.99
POP OVERWATCH ROADHOG 6IN VINYL FIG 14.99
POP PEE-WEE PLAYHOUSE CHAIRRY W/ PTERRI VIN FIG 11.99
POP PEE-WEE PLAYHOUSE MISS YVONNE VIN FIG 11.99
POP SUPER TROOPER FARVA VINYL FIG 11.99
POP SUPER TROOPER MAC VINYL FIG 11.99
PREVIEWS #357 JUNE 2018 3.99
PUNISHER #225 LEG 3.99
PUNISHER WAR MACHINE TP VOL 01 17.99
QUANTUM & WOODY (2017) #6 CVR A OLIVETTI 3.99
QUANTUM & WOODY (2017) #6 CVR B ULTRA FOIL SHAW 3.99
RAVEN DAUGHTER OF DARKNESS #5 (OF 12) 3.99
REALM #6 CVR A HAUN & FILARDI (MR) 3.99
REALM #6 CVR B DOYLE 3.99
REVOLTECH EVANGELION EVOLUTION EV-011 EVA KAI 02 BETA AF 65.99
RICK & MORTY #38 CVR A 3.99
RICK & MORTY #38 CVR B SCOTT VAR 3.99
ROBYN HOOD THE CURSE #5 (OF 6) CVR A CHEN 3.99
ROBYN HOOD THE CURSE #5 (OF 6) CVR B SPAY 3.99
ROBYN HOOD THE CURSE #5 (OF 6) CVR C MCCOY 3.99
ROYAL CITY #11 3.99
SAGA #52 2.99
SAVAGE DRAGON #234 (MR) 3.99
SCIENCE COMICS ROCKETS GN 12.99
SCOOBY DOO TEAM UP TP VOL 05 12.99
SECRET AVENGERS BY ED BRUBAKER COMPLETE COLL TP 34.99
SHEENA #9 CVR A SANAPO 3.99
SHEENA #9 CVR B GALINDO 3.99
SHEENA #9 CVR D COSPLAY 3.99
SILVER SURFER EPIC COLLECTION TP THANOS QUEST 39.99
SONIC THE HEDGEHOG #5 CVR A PEPPERS 3.99
SONIC THE HEDGEHOG #5 CVR B GATES 3.99
SPIDER-GWEN #32 BENGAL DEADPOOL VAR LEG 3.99
SPIDER-GWEN #32 LEG 3.99
STABBITY BUNNY #5 3.99
STAR TREK DISCOVERY #4 CVR A SHASTEEN 3.99
STAR TREK DISCOVERY #4 CVR B PHOTO 3.99
STAR TREK TNG THROUGH THE MIRROR #5 CVR A WOODWARD 3.99
STAR TREK TNG THROUGH THE MIRROR #5 CVR B CARITA 3.99
STAR WARS INSIDER #181 NEWSSTAND ED 7.99
STAR WARS LANDO DOUBLE OR NOTHING #1 3.99
STAR WARS LANDO DOUBLE OR NOTHING #1 CHRISTOPHER ACTI 3.99
STRAY BULLETS SUNSHINE & ROSES #35 3.99
SUPER SONS DYNOMUTT SPECIAL #1 4.99
SUPER SONS DYNOMUTT SPECIAL #1 VAR ED 4.99
SUPERGIRL BEING SUPER TP 16.99
SUPERMAN BY MARK MILLAR TP 29.99
SURVIVAL FETISH #2 3.99
SWING TP VOL 01 9.99
SWORD OF AGES #4 CVR A RODRIGUEZ 3.99
TAROT WITCH OF THE BLACK ROSE #110 2.95
TRANSFORMERS REQUIEM OF THE WRECKERS 7.99
TRUE BELIEVERS WOLVERINE DYING GAME #1 1
TRUE BELIEVERS WOLVERINE EVOLUTION #1 1
UNCLE SCROOGE #34 CVR B BARKS (C: 1-0-0) 3.99
UNDATEABLE CEREBUS #1 (OF 1) 4
VALIANT HIGH #1 (OF 4) 3.99
VAMPIRONICA #1 2ND PTG 3.99
VAMPIRONICA #2 CVR A REG 3.99
VAMPIRONICA #2 CVR B FRANCAVILLA 3.99
VAMPIRONICA #2 CVR C HACK 3.99
VOID TRIP TP 16.99
VS #4 CVR A RIBIC 3.99
WARFRAME #5 3.99
WE ARE DANGER #1 (MR) 3.99
WEIRD LOVE #24 4.99
WHERE WE LIVE LAS VEGAS SHOOTING BENEFIT ANTHOLOGY TP 19.99
WOLVERINE AMAZING IMMORTAL MAN/ OTHER BLOODY TALES TP 39.99
X-MEN BLUE #28 LEG 3.99
X-MEN GOLD TP VOL 05 CRUEL AND UNUSUAL 15.99
X-MEN RED ANNUAL #1 4.99
X-MEN RED ANNUAL #1 ADAMS VAR 4.99
YOU ARE DEADPOOL #5 (OF 5) 3.99
YOU ARE DEADPOOL #5 (OF 5) ESPIN RPG VAR 3.99
YU GI OH HIEROGLYPHICS LANYARD 8.99
REORDERS_________________________________________
10 CENT WAR COMIC BOOKS PROPAGANDA & WORLD WAR II SC (C: 1-1 30
AVENGERS #2 3.99
BACK TO THE FUTURE TIME TRAIN #5 CVR A LEVENS 3.99
BATMAN FLASH THE BUTTON DELUXE ED HC INTL ED (REBIRTH) 19.99
BLOOD QUEEN OMNIBUS TP 29.99
DARK NIGHTS METAL #6 (OF 6) 4.99
FLASH REBIRTH TP 14.99
FLASH TP VOL 01 LIGHTNING STRIKES TWICE (REBIRTH) 17.99
FLASH TP VOL 02 SPEED OF DARKNESS (REBIRTH) 14.99
FLASH TP VOL 03 ROGUES RELOADED (REBIRTH) 16.99
FLASH TP VOL 04 RUNNING SCARED (REBIRTH) 14.99
GREEN ARROW TP VOL 04 THE RISE OF STAR CITY (REBIRTH) (RES) 19.99
IRON MAIDEN ACES HIGH EDDIE REACTION FIGURE
LIVING FINGER TP (MR) 14.99
MARVEL DEADPOOL BOTTLE OPENER 18
MARVEL UNIVERSE COOKING DEADPOOL ARTFX+ STATUE 64.99
MIGHTY MORPHIN POWER RANGERS #26 SG (2ND PTG) 3.99
MIGHTY MORPHIN POWER RANGERS PINK TP VOL 01 19.99
MIGHTY MORPHIN POWER RANGERS TP VOL 01 19.99
MIGHTY MORPHIN POWER RANGERS TP VOL 03 16.99
NEW MUTANTS DEAD SOULS #2 (OF 6) LEG 3.99
POP HERCULES BABY PEGASUS VINYL FIG 11.99
POP HERCULES MEG VINYL FIG (C: 1-1-2) 11.99
POP MARVEL BLADE PX VINYL FIGURE 11.99
POP MARVEL CONTEST OF CHAMPIONS VENOMPOOL VINYL FIGURE 11.99
POP MARVEL DEADPOOL PARODY DEADPOOL VINYL FIG 11.99
POP MARVEL IRON FIST PX VIN FIG 11.99
POP MARVEL X-MEN QUICKSILVER VINYL FIG 11.99
POP MR ROGERS NEIGHBORHOOD MR ROGERS VINYL FIG 11.99
POP POWER RANGERS PINK RANGER ACTION VINYL FIG 11.99
POP RIDES DISNEY HERCULES HERCULES & PEGASUS VIN FIG 29.99
SAVAGE RED SONJA QUEEN O/T FROZEN WASTES TP REG CVR 14.99
SAVAGE TALES OF RED SONJA TP 19.99
SHERLOCK FRANKENSTEIN LEGION OF EVIL FROM BLACK HAMMER TP 17.99
STAR WARS DARTH VADER #11 3.99
SUPERMAN ACTION COMICS TP VOL 02 WELCOME TO THE PLANET 14.99
THANOS INFINITY REVELATION OGN HC 24.99
THANOS RISING TP 17.99
VAMPIRE KNIGHT GN VOL 01 9.99
WORLD OF READING THESE ARE THE AVENGERS SC 4.99
We hope to see you soon at CQ!
Visit us at 2260 Morgan Avenue, Evansville
On the web at www.comicquest.com
On Facebook www.facebook.com/comicquestevansville
On Twitter @cqevansville
On Instagram: @comicquestevansville
Contact us at sales@comicquest.com or by phone at 812-474-1133