Comic Quest Weekly for 6/10/2018
Gems of the Month from the current Issue of Previews!
You want a quick glimpse of the BIG books from the premier publishers this month? Here's the checklist! Get ready for new titles from Dark Horse Comics, DC Comics, IDW Publishing, Image Comics, and Marvel Comics. These are the books you might not want to miss.
Leviathan #1 Image Comics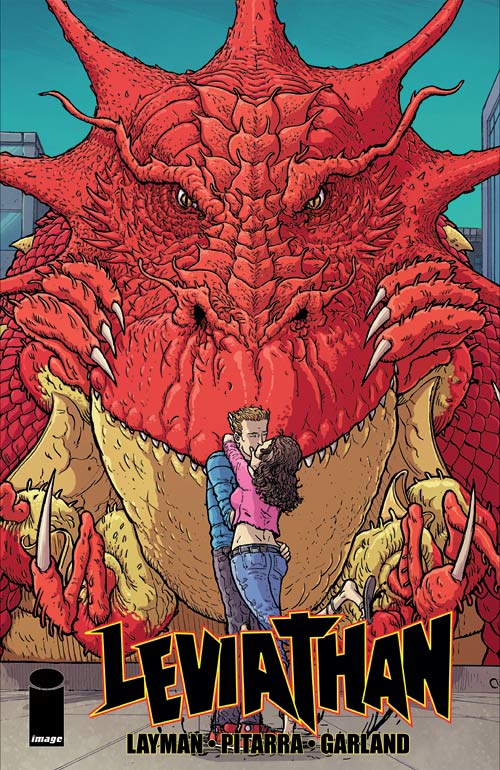 Ryan's party literally goes to Hell when, while out on a beer run, his buddies play around with forbidden arcana and summon a gigantic demonic beast! From John Layman, creator of Chew!
Perdy Volume 1 HC Image Comics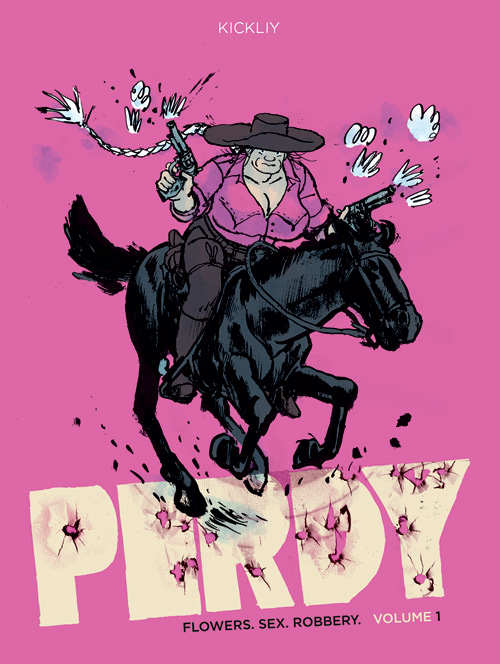 A new western series from Angoulême Award nominee and international star, KICKLIY, Perdy tells the story of a guy who gets out of prison for bank robbery, and gets right back into the game!
The Seeds #1 Dark Horse Comics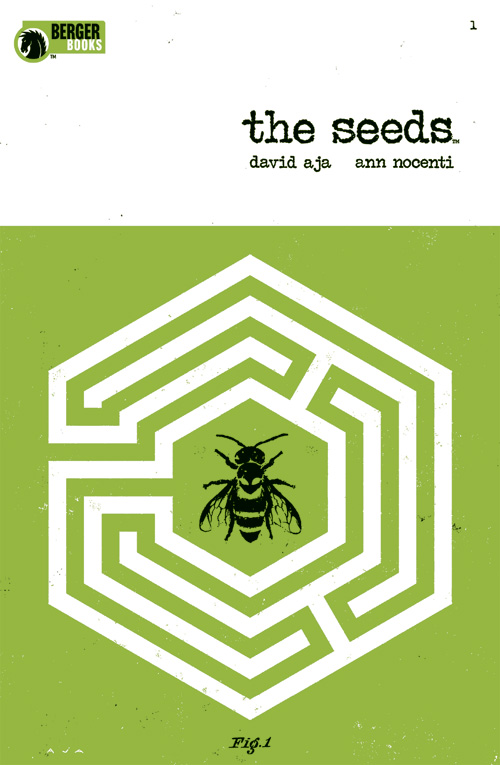 Ann Nocenti and David Aja present The Seeds, in which an unlikely cast of humans and visiting aliens play their roles against the backdrop of a planet on the brink of collapse!
Super Mario Bros. Encyclopedia HC Dark Horse Comics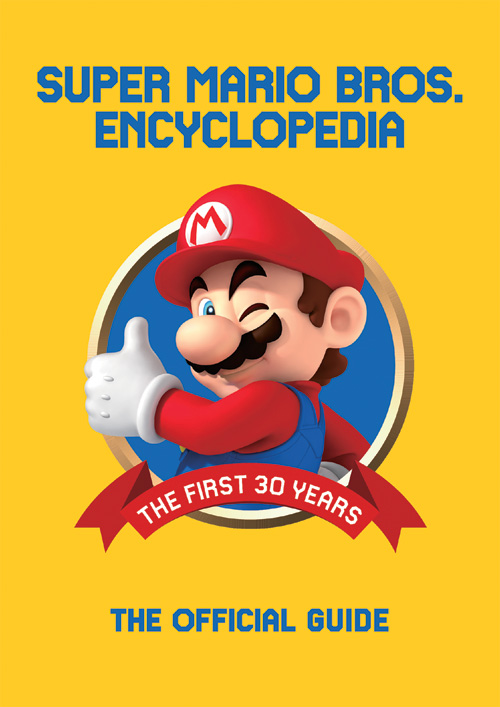 The Super Mario Bros. Encyclopedia is jam-packed with content from all seventeen Super Mario games, spanning over 30 years of the franchise's history!
Adventures of the Super Sons #1 DC Entertainment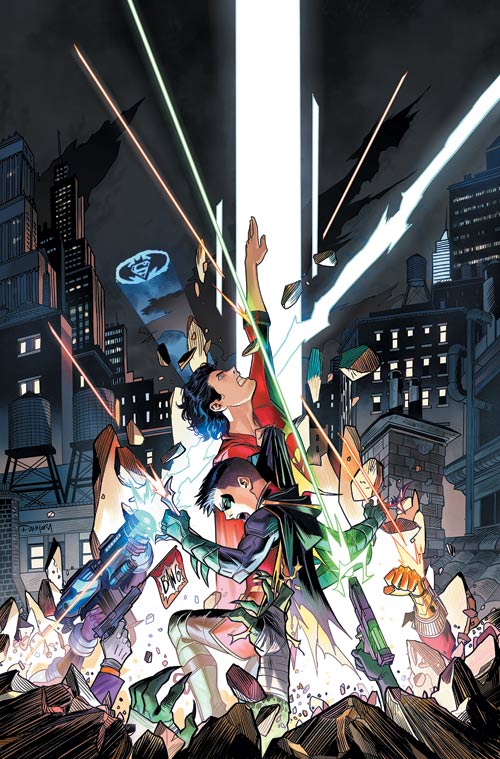 Discover the untold story of the Damian Wayne / Jon Kent bromance in this flashback miniseries that delves deep into the friendship between the sons of the DCU's greatest heroes!
The Sandman Universe Special #1 DC Entertainment/Vertigo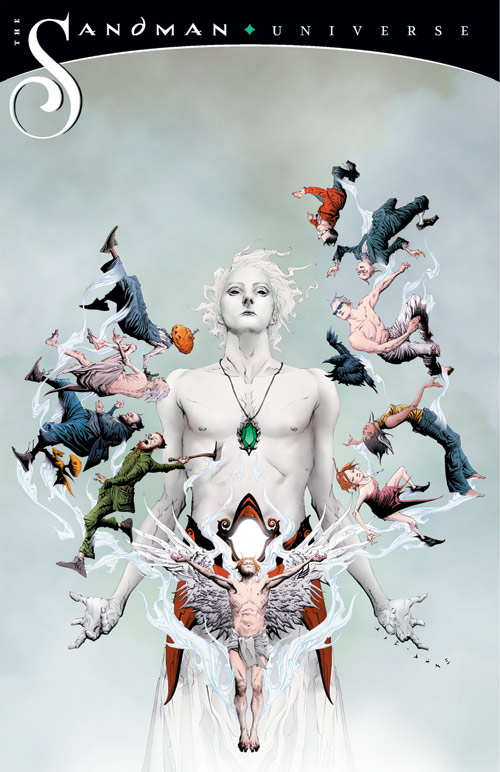 Sandman creator Neil Gaiman is joined by a roster of star creators for this special issue filled with dreams, nightmares and wonderful characters living together in a shared universe!
Rick and Morty vs. Dungeons & Dragons #1 IDW Entertainment/Oni Press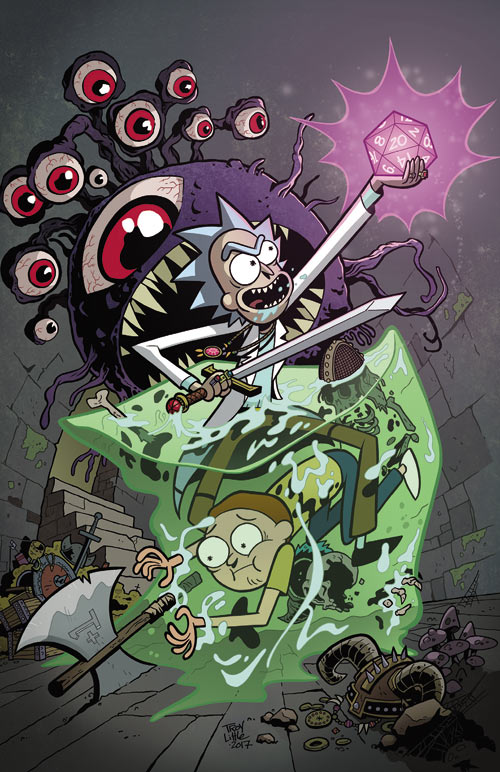 When Morty needs to learn how to play D&D, old school gamer Rick Sanchez is more than happy to teach him. But they're unprepared for the saving throws they're about to fail… or the quest yet to come!
Bloom County: Best Read on the Throne TP IDW Entertainment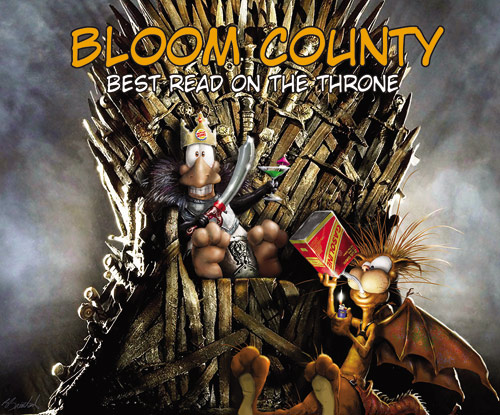 Collecting year three of the new Bloom County run! The stakes are higher, the punchlines are sharper, and the laughter is more desperate in this new volume of the hit comic strip!
Infinity Wars #1 Marvel Comics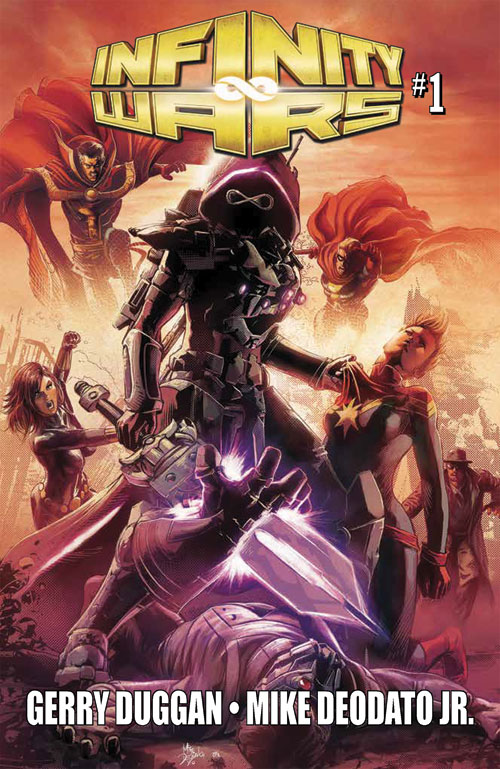 When the Infinity Stones come to Earth, the war to control them follows! But none who wield the stones know the truth about the power they contain…or what it would take to bring them to their END!
Project Superpowers #1 Dynamite Entertainment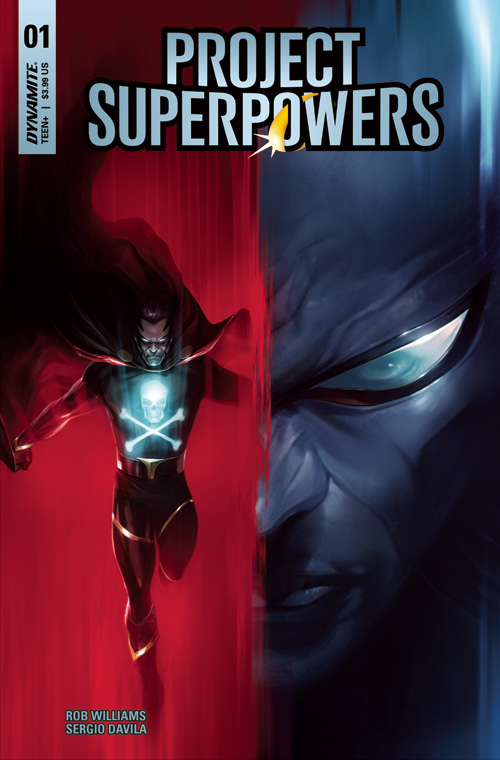 Writer Rob Williams and artist Sergio Davila bring the Project Superpowers heroes to the present, and they'll have to fight to prove their relevance in the modern world!
Look for all of these new books in the in the June PREVIEWS catalog on sale at CQ right now!
NEW ARRIVALS!
MAGIC ORDER #1 (OF 6) $3.99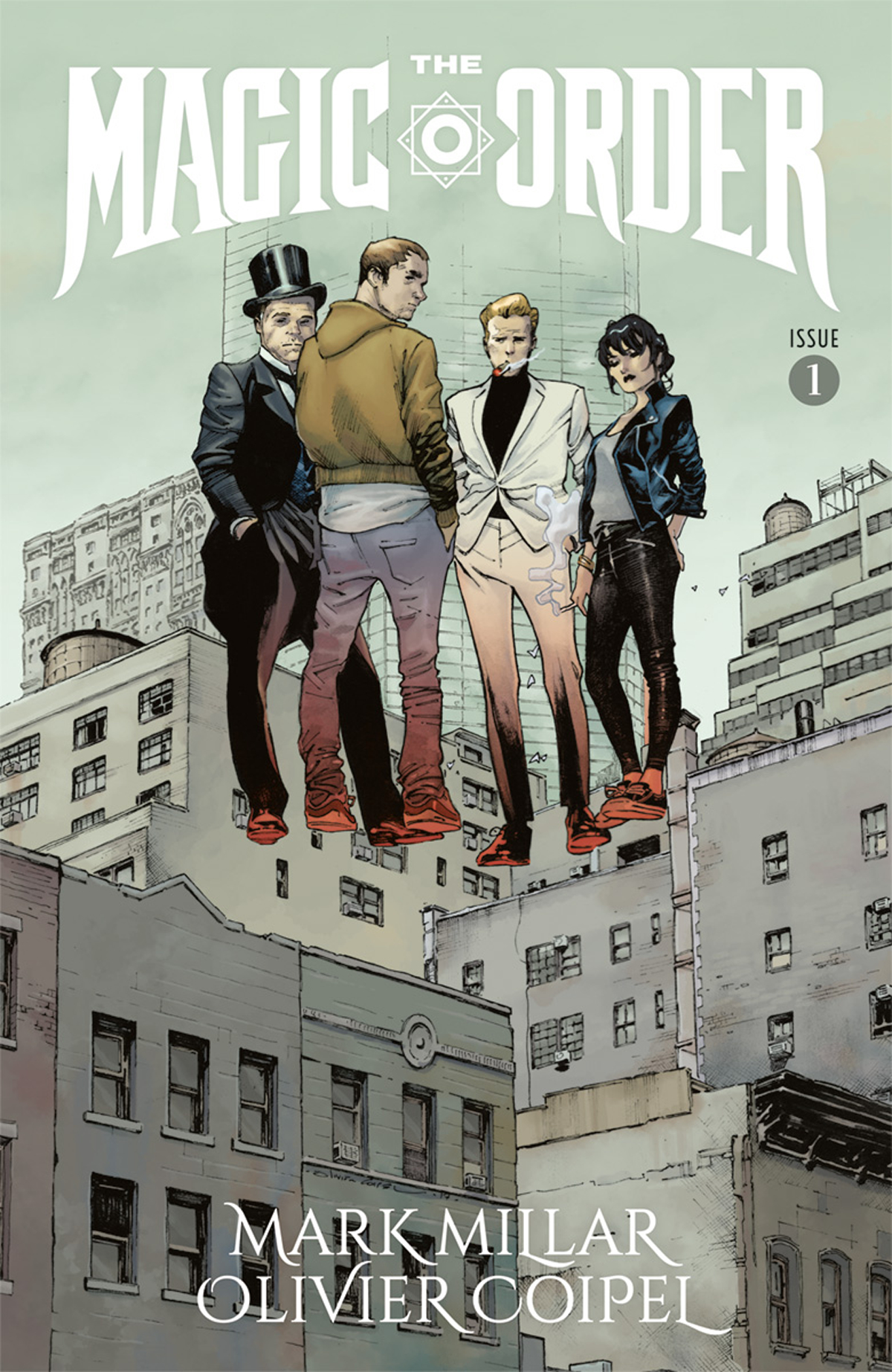 (W) Mark Millar (A/CA) Olivier Coipel
We live in a world where we've never seen a monster, and The Magic Order is the reason we sleep safely in our beds. Magic meets the mob in THE MAGIC ORDER, as five families of magicians-sworn to protect our world for generations-must battle an enemy who's picking them off one by one. By day, they live among us as our neighbors, friends, and co-workers, but by night, they are the sorcerers, magicians, and wizards that protect us from the forces of darkness…unless the darkness gets them first. MARK MILLAR's first NETFLIX comic book, drawn by the incredible OLIVIER COIPEL (Amazing Spider-Man, Thor).
PLASTIC MAN #1 (OF 6) $3.99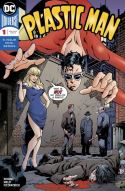 (W) Gail Simone (A) Adriana Melo (CA) Amanda Conner
Meet Eel O'Brian: a petty thug, thief and con artist who runs a strip club. Hey, he's also dead, at least according to the gang that tossed him out like last week's garbage. Literally. Don't worry, though-he bounced back from all that, and now he's trying to make a new life for himself, but the effort is stretching him pretty thin. How can he get revenge on his old boss, keep a street kid out of trouble, make a dancer fall in love with him and stop a mysterious society from taking over the world? Eel has no idea!
STELLAR #1 $3.99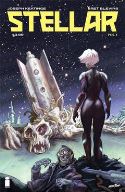 (W) Joseph Keatinge (A/CA) Bret Blevins
Stellar was taken as a child and transformed into the ultimate weapon, one that would end an intergalactic war. She succeeded…at everything except finding peace. Reduced to a bounty hunter, she scours the worlds she's broken, searching for redemption. But there are other weapons loose in the galaxy, who just can't leave the war behind them. JOSEPH KEATINGE (GLORY, SHUTTER) and legendary artist BRET BLEVINS (New Mutants, Sleepwalker) will transport you to another dimension, filled with crashed spaceships, fast-talking aliens, and ageless wonders.
THOR #1 $5.99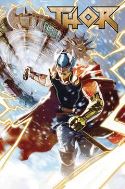 (W) Jason Aaron (A) Christian Ward (A/CA) Michael Del Mundo
JASON AARON & MIKE DEL MUNDO TAKE THE PRINCE OF ASGARD IN A WHOLE NEW DIRECTION!
Thor Odinson has regained his mantle – and with it, a wild new world of trouble on his mighty hands! The artifacts of Asgard have been scattered across the earth, and to reclaim them, Thor will have to face some ugly truths. Like the production cost of hundreds of new hammers! And the Thunder God is going to need every last one of them if he's going to stop the unstoppable Juggernaut. Jason Aaron takes the Prince of Asgard in a whole new direction with YOUNG GUN artist Mike Del Mundo joining him at the helm! And don't miss the latest chapter of the King Thor saga with acclaimed BLACK BOLT artist Christian Ward, as the Thor of the far future encounters an old friend who's undergone some startling changes.
HAWKMAN #1 $3.99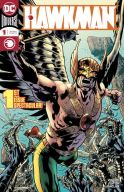 (W) Robert Venditti (A/CA) Bryan Hitch
Spinning out of the events of DARK NIGHTS: METAL, Carter Hall returns to the DC Universe! An explorer of the ancient and unknown, Hawkman finds himself embroiled in a long-standing mission to discover the true purpose of his many reincarnations. Carter races around the globe trying to piece together an ancient prophecy, but will he be able to face down his past lives lurking around every corner?
VENOM #2 $3.99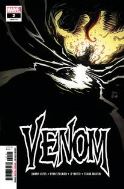 (W) Donny Cates (A/CA) Ryan Stegman
REX PART 2 FROM DONNY CATES AND RYAN STEGMAN!
• Long ago, a mythical monster once terrorized both humanity and the Klyntar alike. Now, it's awake. And it's angry.
• To make matters worse, this ancient horror has a unique influence over the Venom symbiote – an influence that threatens to sever Eddie Brock's connection with his Other!
• If he survived the first issue, that is…
THIS WEEK IN TOYS/STATUES
BATMAN BLACK AND WHITE AF 1ST APPEARANCE BOB KANE $30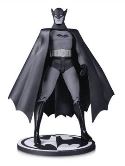 From the vision of legendary artist Bob Kane comes this black and white action figure based on Kane's art from the debut of Batman in DETECTIVE COMICS #27.
Measures Approximately 6.62″ Tall
STAR WARS DARTH VADER 1/12 MDL KIT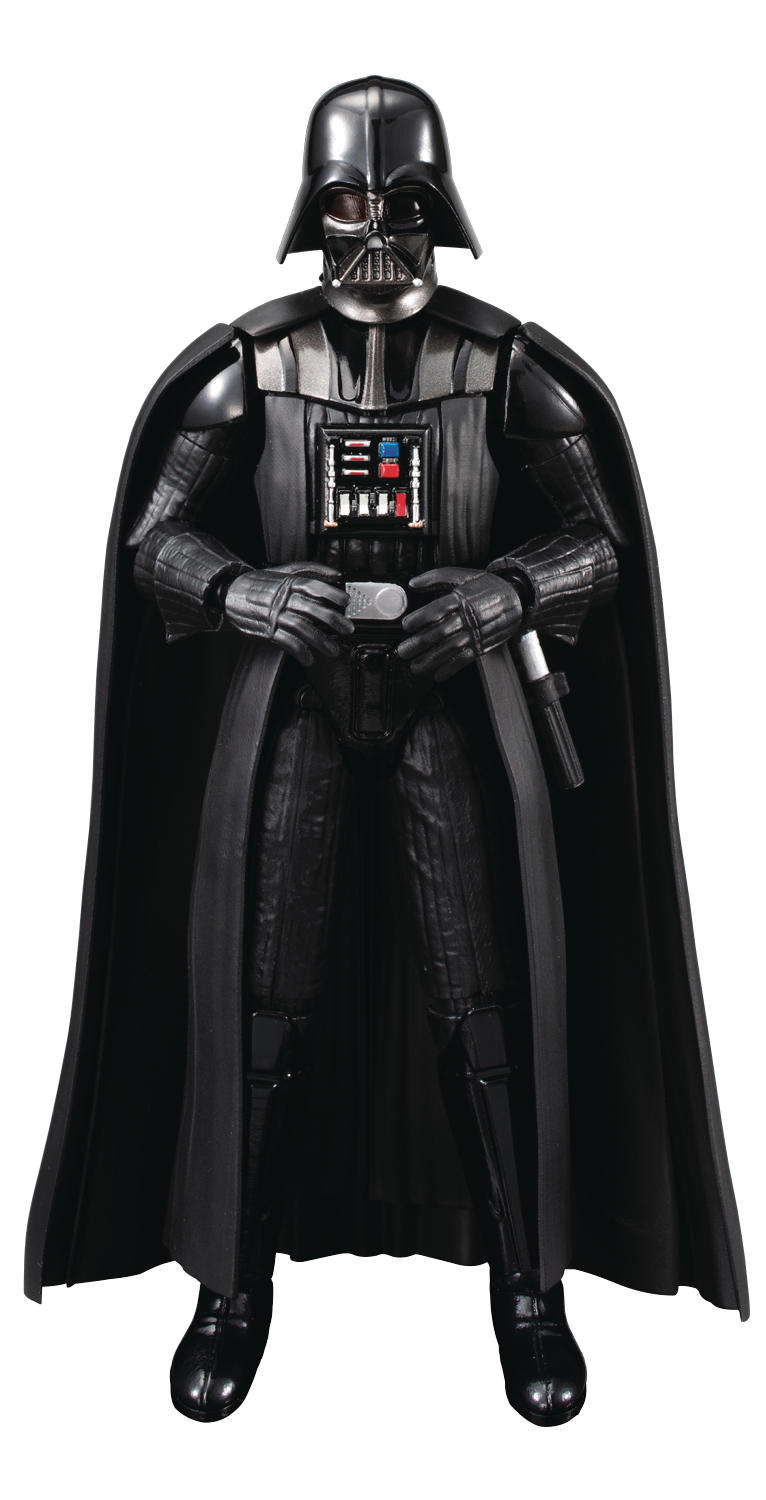 From Bandai Hobby. Utilizing pre-colored plastic and snap together assembly like GunPla, the Star Wars Character Line provides ease of assembly and feature rich detail!
TRANSFORMERS GEN STUDIO SER LEADER AF ASST 201801



Reach past the big screen and build the ultimate Transformers collection with Studio Series figures inspired by iconic movie scenes and designed with specs and details to reflect the Transformers movie universe. This Studio Series Leader Class lineup features premium figures, each with movie-inspired scale, detail, and backdrop. Figures stand at a scale relative to their character's height in the movie and feature deco. Each package comes with a movie scene backdrop that can be removed to display the figure on shelf. Fans can use the backdrop and pose their figures in the scene with their own style. Choose from Grimlockand Blackout. Window box packaging.
DBZ SHODO 6 DRAGON BALL Z FIG 6PC ASST



From Bandai Shokugan. This is the sixth volume of SHODO series. Each figure is approx. 95mm (3.75″) tall and includes interchangeable hand parts. High quality molding and an impressive number of articulation points allow for dynamic action posing to replicate scenes from the anime. It features 3 popular characters: Character A (To be revealed later), Ultimate Son Gohan, and Vegito.
Trade-paperbacks of the Week!
PRE CODE CLASSICS WEIRD HORRORS HC VOL 01 $44.99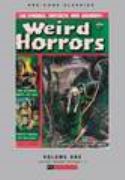 (A) Gus Ricca, George Tuska, Charlie Sultan, Bob Forgione, Raphael Astarita, Paul Gattuso, Don Perlin, Albert Tyler, Enrico Bagnoli
St John's criminally overlooked Weird Horrors title from the early 1950's. with a cover style that's a riff on Marvel's later and much-loved Amazing Adult Fantasy, is this month's bona fide excitement! And believe me, you'll have to go a long way to match this first volume, with work from Gus Ricca, George Tuska, Charles Sultan, Bob Forgione, Enrico Bagnoli, Rafael Astarita, Paul Gattuso, Don Perlin and Albert Tyler many of whom are not household names though their styles deserve for them to be right up their with the very best. Collects Weird Horrors #1-5 (June 1952 to December 1952).
COMICS EXPERIENCE GUIDE TO WRITING COMICS SC $22.99



(W) Andy Schmidt
This is the book on writing you've been waiting for, a nuts-and-bolts guide to writing fiction for comics. While it is true that there is no set way to write a comic book script, no set format, no industry standard, it is equally true that someone learning to write comics needs structure. That's where Comics Experience Guide to Writing Comics can help. Comics veteran Andy Schmidt offers sage advice and practical instruction for everything from writing realistic dialogue to communicating your ideas to other comics professionals.
FLASH TP VOL 06 COLD DAY IN HELL REBIRTH $16.99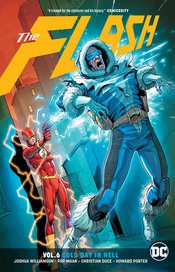 (W) Joshua Williamson, Michael Moreci (A) Howard Porter, Pop Mhan, Scott McDaniel, Scott Kolins, Christian Duce, Mick Gray (CA) Barry Kitson
When one of the Flash's Rogues is murdered inside Iron Heights prison, Barry Allen throws himself deep into the case, still reeling from the turmoil of his personal life! But when the clues begin to reveal an even greater conspiracy at work, the Flash soon discovers Iron Heights' deadliest secret… Collects THE FLASH #34-38 and a story from THE FLASH ANNUAL #1.
HELLBOY COMPLETE SHORT STORIES TP VOL 01 $24.99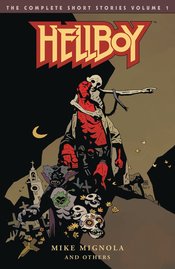 (W) Mike Mignola (A) Richard Corben, Jason Shawn Alexander, Duncan Fregredo, Joshua Dysart (CA) Mike Mignola
In 1994 Mike Mignola released the first Hellboy series, Seed of Destruction, as Hellboy faced his supposed destiny as Beast of the Apocalypse. Before that, he'd spent fifty years fighting monsters as a somewhat carefree member of the Bureau for Paranormal Research and Defense. The Complete Short Stories volumes 1 & 2 present those early adventures.
"The Crooked Man" and "Double Feature of Evil," both of which earned Mignola and his legendary collaborator Richard Corben Eisner Awards, are collected with the complete "Hellboy in Mexico" saga, featuring collaborations with Corben, Mick McMahon, Gabriel Ba, and Fabio Moon, as well as one of Mignola's early masterpiece, "The Corpse." This 368-page volume covers Hellboy's adventures from 1947 to 1961.
MASTER LIST OF STUFF ARRIVING THIS WEEK!
30 DAYS OF NIGHT #6 (OF 6) 3.99
ADVENTURE TIME COMICS #24 3.99
ADVENTURE TIME COMICS #24 SUB 3.99
ADVENTURE TIME ORIGINAL GN VOL 12 14.99
AMAZING SPIDER-MAN #797 3RD PTG 3.99
ANALOG #3 CVR A 3.99
ANALOG #3 CVR B 3.99
ASH VS THE ARMY OF DARKNESS TP 19.99
ASTONISHING ANT-MAN COMPLETE COLL TP 34.99
ATOMIC ROBO & THE SPECTRE OF TOMORROW TP 17.99
AWAKEN SKIES #0 CVR A 1.5
AWAKEN SKIES #0 CVR B 1.5
BABYTEETH #11 3.99
BABYTEETH TP VOL 02 14.99
BACK TO THE FUTURE TIME TRAIN #6 CVR A 3.99
BACK TO THE FUTURE TIME TRAIN #6 CVR B 3.99
BATMAN BLACK AND WHITE AF 1ST APPEARANCE BOB KANE 30
BATMAN BLACK AND WHITE AF BATMAN BY GREG CAPULLO 30
BATMAN BLACK AND WHITE AF HUSH BY JIM LEE 30
BATMAN PRELUDE TO THE WEDDING BATGIRL VS RIDDLER #1 3.99
BEAUTY TP VOL 04 16.99
BERSERKER GN VOL 01 14.99
BLACK HAMMER AGE OF DOOM #2 MAIN CVR 3.99
BLOODSHOT SALVATION #10 (NEW ARC) CVR A 3.99
BLOODSHOT SALVATION #10 (NEW ARC) CVR B 3.99
BLOODSTRIKE #0 3.99
BPRD DEVIL YOU KNOW #7 3.99
BY NIGHT #1 (OF 12) 3.99
BY NIGHT #1 (OF 12) SUB 3.99
CITY GN VOL 02 12.95
CLOCKWORK PLANET LIGHT NOVEL VOL 02 13.99
CLOUD HOTEL TP 19.99
CODA #2 (OF 12) MAIN & MIX 3.99
COMICS EXPERIENCE GUIDE TO WRITING COMICS SC 22.99
COMPLETE FUTURE SHOCKS TP VOL 01 25
COPPERHEAD #19 3.99
COSMO THE MERRY MARTIAN COMPLETE TP 10.99
DAKOTA NORTH TP DESIGN FOR DYING 29.99
DAMNED #10 3.99
DBZ SHODO 6 DRAGON BALL Z FIG 6PC ASST
DC BATMAN UNIVERSE BUST COLL #3 HARLEY QUINN 24.95
DC COMICS REBIRTH BATMAN ARTFX+ STATUE 64.99
DC YOUNG ANIMAL MILK WARS TP 19.99
DEAD HAND #3 3.99
DEADPOOL ASSASSIN #1 (OF 6) 4.99
DEADPOOL ASSASSIN #1 (OF 6) VAR 4.99
DEEP ROOTS #1 GOODEN VAR (2ND PTG) 3.99
DEFENDERS TP VOL 02 KINGPINS OF NEW YORK 15.99
DEJAH THORIS #5 CVR A 3.99
DEJAH THORIS #5 CVR B 3.99
DEJAH THORIS #5 CVR C 3.99
DETECTIVE COMICS #982 2.99
DETECTIVE COMICS #982 VAR ED 2.99
DEVILMAN GRIMOIRE GN VOL 03 12.99
DISNEY PIXAR INCREDIBLES 2 HEROES AT HOME HC 7.99
DOCTOR WHO REGENERATION SET 35
DOMINO #3 3.99
DORBZ HELLBOY HELLBOY VINYL FIGURE 7.99
DRY COUNTY #4 3.99
DUCKTALES #9 CVR A 3.99
DUCKTALES #9 CVR B 3.99
EC ARCHIVES WEIRD FANTASY HC VOL 03 49.99
ELSEWORLDS BATMAN TP VOL 03 34.99
ETERNITY GIRL #4 (OF 6) 3.99
EXILES #4 3.99
FILBERT FACTOR #1 REJECTED BY FREE COMIC BOOK DAY 9.99
FIX #12 3.99
FLASH #48 2.99
FLASH #48 VAR ED 2.99
FLASH TP VOL 06 COLD DAY IN HELL REBIRTH 16.99
FULL METAL PANIC ARBALEST MDL KIT
FULL METAL PANIC M-9 GERNSBACK 1/60 MDL KIT
GANTZ G TP VOL 01 13.99
GETTER ROBO DEVOLUTION GN VOL 01 12.99
GRIMM FAIRY TALES #16 CVR A 3.99
GRIMM FAIRY TALES #16 CVR B 3.99
GRIMM FAIRY TALES #16 CVR C 3.99
GRIMM FAIRY TALES #16 CVR D 3.99
GUNDAM BUILD DIVERS OGRE GN-X HGBD MDL KIT
HAL JORDAN AND THE GREEN LANTERN CORPS #46 2.99
HAL JORDAN AND THE GREEN LANTERN CORPS #46 VAR ED 2.99
HARLEY QUINN WAITING FOR MY J MAN STATUE
HAWKMAN #1 3.99
HAWKMAN #1 VAR ED 3.99
HELLBOY COMPLETE SHORT STORIES TP VOL 01 24.99
HUNT FOR WOLVERINE ADAMANTIUM AGENDA #2 (OF 4) 3.99
HUNT FOR WOLVERINE ADAMANTIUM AGENDA #2 (OF 4) VAR 3.99
I HATE FAIRYLAND #19 CVR A YOUNG 3.99
IMMORTAL MEN #3 2.99
INFINITY COUNTDOWN DARKHAWK #2 (OF 4) 3.99
INFINITY COUNTDOWN DARKHAWK #2 (OF 4) VAR 3.99
INFINITY GAUNTLET TP 24.99
INVADER ZIM #31 CVR A 3.99
INVADER ZIM #31 CVR B COUSIN VAR 3.99
INVINCIBLE IRON MAN IRONHEART TP VOL 02 CHOICES 19.99
IT WILL ALL HURT TP 18.99
JIM HENSON LABYRINTH CORONATION #1 (OF 12) 2ND PTG 3.99
JUDGE DREDD MEGAZINE #396 13
KICK-ASS #5 CVR A 3.99
KICK-ASS #5 CVR B 3.99
KICK-ASS #5 CVR C 3.99
KONUNGAR WAR OF CROWNS #1 CVR A RONALD 5.99
LADY MECHANIKA TP VOL 04 CLOCKWORK ASSASSIN 9.99
MAGIC ORDER #1 (OF 6) CVR A COIPEL 3.99
MAGIC ORDER #1 (OF 6) CVR B B&W COIPEL 3.99
MAGIC ORDER #1 (OF 6) CVR C HUGHES 3.99
MAGIC ORDER #1 (OF 6) CVR D BLANK VAR 3.99
MAGIKA SWORDSMAN & SUMMONER GN VOL 09 12.99
MAN OF STEEL #3 (OF 6) 3.99
MANY DEATHS OF SCOTT KOBLISH HC 14.95
MARVEL DEFENDERS SER DAREDEVIL ARTFX+ STATUE 69.99
MARVEL DEFENDERS SER DAREDEVIL ARTFX+ STATUE BLACK 69.99
MARVEL RISING ALPHA #1 4.99
MARVEL TWO-IN-ONE ANNUAL #1 4.99
MARVEL TWO-IN-ONE ANNUAL #1 VAR 4.99
MIGHTY MORPHIN POWER RANGERS 2018 ANN #1 SG (2ND PTG) 7.99
MIGHTY THOR PREM HC VOL 05 DEATH OF MIGHTY THOR 34.99
MIRACULOUS TALES OF LADYBUG CAT NOIR TP BUG OUT 9.99
MISTER MIRACLE #9 (OF 12) 3.99
MISTER MIRACLE #9 (OF 12) VAR ED 3.99
MONSTRESS #17 3.99
MOTOR CRUSH TP VOL 02 16.99
MY LITTLE PONY CUTIE RE-MARK TP 7.99
NANCY DREW #1 CVR A 3.99
NANCY DREW #1 CVR B 3.99
NEIL GAIMAN AMERICAN GODS MY AINSEL #4 MAIN CVR 3.99
NEIL GAIMAN AMERICAN GODS MY AINSEL #4 VAR 3.99
NEW MUTANTS DEAD SOULS #4 (OF 6) 3.99
NEW SUPER MAN & THE JUSTICE LEAGUE OF CHINA #24 3.99
NEW SUPER MAN & THE JUSTICE LEAGUE OF CHINA #24 VAR 3.99
NEW SUPER MAN TP VOL 03 EQUILIBRIUM REBIRTH 16.99
OBLIVION SONG BY KIRKMAN & DE FELICI #4 3.99
OLD MAN LOGAN #41 3.99
ONE-12 COLLECTIVE MARVEL SPIDER-MAN BLK VER PX AF
PATHFINDER RUNESCARS HC VOL 06 29.99
PETER PARKER SPECTACULAR SPIDER-MAN #305 3.99
PLASTIC MAN #1 (OF 6) 3.99
PLASTIC MAN #1 (OF 6) VAR ED 3.99
POP MARVEL BLADE PX VINYL FIGURE 11.99
POP MARVEL IRON FIST PX VIN FIG 11.99
POP MARVEL DEADPOOL CABLE VINYL FIG 11.99
POP DISNEY INCREDIBLES 2 ELASTIGIRL VINYL FIGURE 11.99
POP DISNEY INCREDIBLES 2 JACK-JACK VINYL FIGURE 11.99
POP DISNEY INCREDIBLES 2 SCREENSLAVER VINYL FIGURE 11.99
POP DISNEY INCREDIBLES 2 UNDERMINER VINYL FIGURE 11.99
POP DOUG S1 DOUG FUNNIE VINYL FIG 11.99
POP DOUG S1 PATTI MAYONAISE VINYL FIG 11.99
POP DOUG S1 PORKCHOP VINYL FIG 11.99
POP MLB S3 AARON JUDGE VINYL FIG 11.99
POP MLB S3 ANTHONY RIZZO VINYL FIG 11.99
POP MLB S3 BRYCE HARPER VINYL FIG 11.99
POP MLB S3 BUSTER POSEY VINYL FIG 11.99
POP MLB S3 CHRIS SALE VINYL FIG 11.99
POP MLB S3 CLAYTON KERSHAW VINYL FIG 11.99
POP MLB S3 FRANCISCO LINDOR VINYL FIG 11.99
POP MLB S3 JOSE ALTUVE VINYL FIG 11.99
POP MLB S3 KRIS BRYANT VINYL FIG 11.99
POP MLB S3 MAX SCHERZER VINYL FIG 11.99
POP MLB S3 MOOKIE BETTS VINYL FIG 11.99
POP MLB S3 NELSON CRUZ VINYL FIG 11.99
POP MLB S3 NOAH SYNDERGAARD VINYL FIG 11.99
POP MLB S3 ROBINSON CANO VINYL FIG 11.99
POP MLB S3 WIL MYERS VINYL FIG 11.99
POP MLB S3 YADIER MOLINA VINYL FIG 11.99
POP MOANA MOANA CEREMONY VINYL FIG 11.99
POP MOANA TE KA VINYL FIG 11.99
POP ROCKS MOTLEY CRUE NIKKI SIXX VINYL FIGURE 11.99
POP STRANGER THINGS ELEVEN ELEVATED VINYL FIGURE 11.99
PORT OF EARTH #6 3.99
PRE CODE CLASSICS WEIRD HORRORS HC VOL 01 44.99
PROXIMA CENTAURI #1 (OF 6) 3.99
PUNISHER #226 3.99
QUICKSILVER NO SURRENDER #2 (OF 5) 3.99
RED HOOD AND THE OUTLAWS #23 3.99
RED HOOD AND THE OUTLAWS #23 VAR ED 3.99
RESIDENT ALIEN #3 (OF 4) ALIEN IN NEW YORK 3.99
ROBOCOP CITIZENS ARREST #3 3.99
ROSE #12 CVR A GUARA 3.99
RUFF AND REDDY SHOW TP 16.99
RUMBLE TP VOL 04 SOUL WITHOUT PITY 16.99
SCOOBY APOCALYPSE #26 3.99
SCOOBY APOCALYPSE #26 VAR ED 3.99
SEA OF THIEVES #4 (OF 4) CVR A ZANFARDINO 3.99
SHIELD BY HICKMAN AND WEAVER #6 (OF 6) 3.99
SIDEWAYS #5 2.99
SIMPSONS COMICS COLOSSAL COMPENDIUM TP VOL 06 18.99
SLEEPY PRINCESS IN DEMON CASTLE GN VOL 01 9.99
SLOTS TP VOL 01 16.99
SPIDER-MAN DEADPOOL #34 3.99
SPLATOON MANGA GN VOL 03 9.99
SPONGEBOB COMICS #81 3.99
STAR TREK TNG THROUGH THE MIRROR #4 CVR B 3.99
STAR TREK TNG THROUGH THE MIRROR #5 CVR A 3.99
STAR WARS DARTH VADER #17 3.99
STAR WARS DARTH VADER #17 REIS GALACTIC ICON VAR 3.99
STAR WARS DARTH VADER 1/12 MDL KIT
STAR WARS KYLO REN 1/12 MDL KIT
STAR WARS THRAWN #5 (OF 6) 3.99
STELLAR #1 3.99
SUICIDE SQUAD #43 3.99
SUICIDE SQUAD #43 VAR ED 3.99
SW E6 LUKE SKYWALKER ARTFX+ STATUE 79.99
SW EMPEROR PALPATINE & ROYAL GUARD 3PK ARTFX+ STATUE 139.99
SWEET TOOTH TP BOOK 02 24.99
SWORD PRINCESS AMALTEA MANGA GN VOL 01 10.99
TANGLED #2 (OF 3) CVR A 3.99
TANGLED #2 (OF 3) CVR B 3.99
TEEN TITANS GO THIER GREATEST HIJINKS TP 9.99
THOR #1 5.99
THOR #1 ANDREWS CONNECTING PARTY VAR 5.99
THOR EPIC COLLECTION TP WORLDENGINE 39.99
TITANS SPECIAL #1 4.99
TOMB RAIDER INFERNO #1 (OF 4) 3.99
TRANSFORMERS GEN STUDIO SER LEADER AF ASST 201801
TRANSFORMERS LOST LIGHT #18 CVR A LAWRENCE 3.99
TRANSFORMERS LOST LIGHT #18 CVR B MILNE 3.99
TRUE BELIEVERS ANT-MAN & WASP TIL DEATH DO US PART #1 1
TRUE BELIEVERS ANT-MAN & WASP TRAIL OF SPIDER-MAN #1 1
UNBEATABLE SQUIRREL GIRL #33 3.99
UNDERDOG CLASSICS TP VOL 01 19.99
VENOM #2 3.99
VENOM #2 DEL MUNDO YOUNG GUNS VAR 3.99
WALK THROUGH HELL #2 3.99
WEATHERMAN #1 CVR A FOX 3.99
WEATHERMAN #1 CVR B MARTIN 3.99
WEAVER FESTIVAL PHENOMENON HC 20
WEEKND PRESENTS STARBOY #1 3.99
WILDSTORM MICHAEL CRAY #8 3.99
WITCHBLADE #6 3.99
WONDER WOMAN #48 2.99
WONDER WOMAN #48 VAR ED 2.99
WONDER WOMAN CONAN HC 24.99
WORLD OF TANKS CITADEL #2 (OF 5) 3.99
WORLD OF TANKS CITADEL #2 (OF 5) 3.99
X-MEN BLUE #29 3.99
XENA #5 (OF 5) CVR A DAVILA 3.99
XENA #5 (OF 5) CVR B CIFUENTES 3.99
We hope to see you soon at CQ!
Visit us at 2260 Morgan Avenue, Evansville
On the web at www.comicquest.com
On Facebook www.facebook.com/comicquestevansville
On Twitter @cqevansville
On Instagram: @comicquestevansville
Contact us at sales@comicquest.com or by phone at 812-474-1133