Comic Quest Weekly for 6/17/2018
Comic Quest Halloween ComicFest 2018 Is Oct 27!
This year, Halloween ComicFest (HCF) features a whole new selection of 34 comic book titles for the industry's most anticipated fall event taking place Saturday, October 27, 2018 at Comic Quest during regular store hours.
Of the 34 titles available, 22 are Full Size and 12 are Mini Comics. All will be available for free at participating comic shops on Saturday, October 27th. The Mini Comics will also be available for purchase in packs of 25 for $4.99 at the beginning of October, which are perfect to give to trick-or-treaters on Halloween.
"This year's Halloween ComicFest is poised to be the best yet!" The comics available this year reflect a broad range of tastes. The All-Ages Mini Comics feature popular characters like Rocky & Bullwinkle, Archie, and the Teenage Mutant Ninja Turtles, while the Full-Size Comics feature well-known properties like Hellblazer, Spider-Man, and Goosebumps! Halloween ComicFest is the perfect time to introduce friends and families to the wonders of comic shops, and experience them as premiere destinations for Halloween fun!
A complete listing of all the HCF titles, including the HCF Commemorative T-Shirt by Eisner Award-winning creator Eric Powell, can be found in the July issue of Diamond Comic Distributors' PREVIEWS catalog, on sale at all local comic shops on June 27th, 2018.T-shirts can be purchased for a nominal price which varies depending upon the shirt size.
Expect a good selection of free comics, a Halloween costume contest and much more at your friendly neighborhood Comic Quest.
PRINCELESS: RAVEN: PIRATE PRINCESS
ACTION LAB
DANGER DOLL PRESENTS:
AMALGAMA LIVES!
ACTION LAB – DANGER ZONE
A WALK THROUGH HELL #1
SPECIAL EDITION
AFTERSHOCK COMICS
GENESIS: THE EDGAR RICE BURROUGHS
UNIVERSE
AMERICAN MYTHOLOGY
HOWARD LOVECRAFT AND THE KINGDOM
OF MADNESS
ARCANA STUDIOS
JUGHEAD: THE HUNGER #1 SPECIAL EDITON
ARCHIE COMICS
ASPEN COMICS PRESENTS: ASPEN MASCOTS
ASPEN COMICS
LADY MECHANIKA: LA DAMA DE LA MUERTE
BENITEZ PRODUCTIONS
HELLBOY AND THE B.P.R.D.: 1953 –
THE PHANTOM HAND & THE KELPIE
DARK HORSE COMICS
JOHN CONSTANTINE:
THE HELLBLAZER #1
DC ENTERTAINMENT
GOOSEBUMPS: MONSTERS AT MIDNIGHT
IDW PUBLISHING
W.I.T.C.H. #1
JY
BATTLE ANGEL ALITA:
HOMECOMING
KODANSHA COMICS
MS. MARVEL #1
MARVEL COMICS
SUPERIOR SPIDER-MAN #1
MARVEL COMICS
THOR #1
MARVEL COMICS
HILO: THE BOY WHO CRASHED TO EARTH
RANDOM HOUSE BOOKS FOR YOUNG READERS
MONSTROUS: THREE MONSTERS AND
A BABY ONE-SHOT
SOURCE POINT PRESS
APOSIMZ SAMPLER
VERTICAL COMICS
FRANKENSTEIN: JUNJI ITO STORY
COLLECTION SAMPLER
VIZ MEDIA
SHIBUYA GOLDFISH VOL. 1
YEN PRESS
WINDMAKER: BIRTH OF A KING
YOUNEEK STUDIOS
Halloween ComicFest 2018 Mini Comics
VAMPLETS: THE UNDEAD PET SOCIETY:
HELP THE PONY!
ACTION LAB
SPOOKHOUSE SAMPLER
ALBATROSS FUNNYBOOKS
ROCKY & BULLWINKLE ADVENTURES
AMERICAN MYTHOLOGY
ARCHIE'S MADHOUSE MAYHEM
ARCHIE COMICS
OVER THE GARDEN WALL
AND INTO THE UNKNOWN
BOOM! STUDIOS
NANCY DREW #1
DYNAMITE ENTERTAINMENT
JOHNNY BOO AND THE
SPOOKY TREE
IDW PUBLISHING
TMNT: RISE OF THE TEENAGE
MUTANT NINJA TURTLES
IDW PUBLISHING
GHOST FRIENDS FOREVER
PAPERCUTZ
HOLLOW FIELDS SAMPLER
SEVEN SEAS ENTERTAINMENT
SPLATOON
VIZ MEDIA
Z-Z-Z-ZOMBIE BOY VOL. 1
YEN PRESS
COMIC QUEST WILL BE OPEN ON THE 4TH OF JULY!!!
On Wednesday, July 4th we have a huge shipment of great comics, toys and trade-paperback collections and we don't want you to have to miss your weekly fix on Wednesdays. We will be open special holiday hours from 10am to 4pm! Expect Captain America#1, Batman#50, and Catwoman#1 amongst other big books debuting on that day.
NEW ARRIVALS!
AMAZING SPIDER-MAN #801 3.99
(W) Dan Slott (A) Marcos Martin (CA) Alex Ross
After ten years, Dan Slott's final issue of THE AMAZING SPIDER-MAN is here, and he isn't pulling any punches. Joined by one of the best illustrators in the biz, Marcos Martin, AMAZING SPIDER-MAN #801 is one of the most emotional, heartfelt tales not only in Dan's run, but in all of Mighty Marveldom itself, and is one Marvel fans around the world won't want to miss.
BATMAN #49 $2.99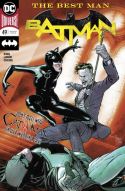 (W) Tom King (A/CA) Mikel Janin
"THE BEST MAN" part two! Now it's up to Catwoman to rescue her one true love. It's the Cat vs. the Clown in one exciting showdown that sets the stage for our giant anniversary issue-and the biggest union in comics!
JUSTICE LEAGUE #2 $3.99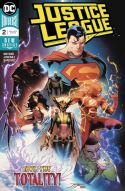 (W) Scott Snyder (A/CA) Jorge Jimenez
"THE TOTALITY" part two! The League faced an impossible decision…and now they must face the consequences! While Martian Manhunter and Batman attempt to recruit an old ally back into the fold, The Flash and Hawkgirl are blindsided by new challenges that could rewrite their mythologies!
AVENGERS #3 $3.99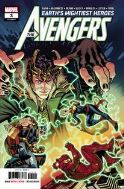 (W) Jason Aaron (A/CA) Ed McGuinness
THE FINAL HOST PART 3 FROM JASON AARON AND ED MCGUINNESS!
Fate has once again brought together Earth's Mightiest Heroes to face their greatest challenge yet. But with Captain America now taken prisoner by Loki, what hope do these new Avengers have to defeat the Final Host of Dark Celestials? And what startling secrets are still left to be uncovered that will rewrite everything we know about the origin of the Marvel Universe?
BATMAN PRELUDE TO THE WEDDING RED HOOD VS ANARKY #1 $3.99


(W) Tim Seeley (A) Javi Fernandez (CA) Rafael Albuquerque
Red Hood has always been the one standing slightly apart from the rest of the Bat crew. Some see him as the Robin gone bad – which is exactly the kind of thing someone like Anarky can exploit. Now Red Hood is running security at Catwoman's bachelorette party – and if Anarky can crash it, that could be the final straw for Jason Todd!
TONY STARK IRON MAN #1 $4.99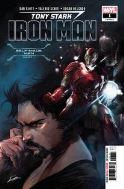 (W) Dan Slott (A) Valerio Schiti (CA) Alexander Lozano
TAKE FLIGHT WITH DAN SLOTT & VALERIO SCHITI!
From the cusp of tomorrow's dreams to the forefront of imagination, one man always soars on the cutting edge of adventure!
You know his name. Tony Stark is Iron Man.
And Iron Man…is an idea. Always changing. Always evolving. An idea without limit!
Take wing with DAN SLOTT (AMAZING SPIDER-MAN) and Valerio Schiti (GUARDIANS OF THE GALAXY) as they propel the ultimate Self-Made Hero to new heights of inventiveness!
Tony Stark is Iron Man. The future is now. Strap in!
THIS WEEK IN TOYS/STATUES
MYSTERY MINIS MARVEL AVENGERS INFINITY WAR 12PC BMB DISP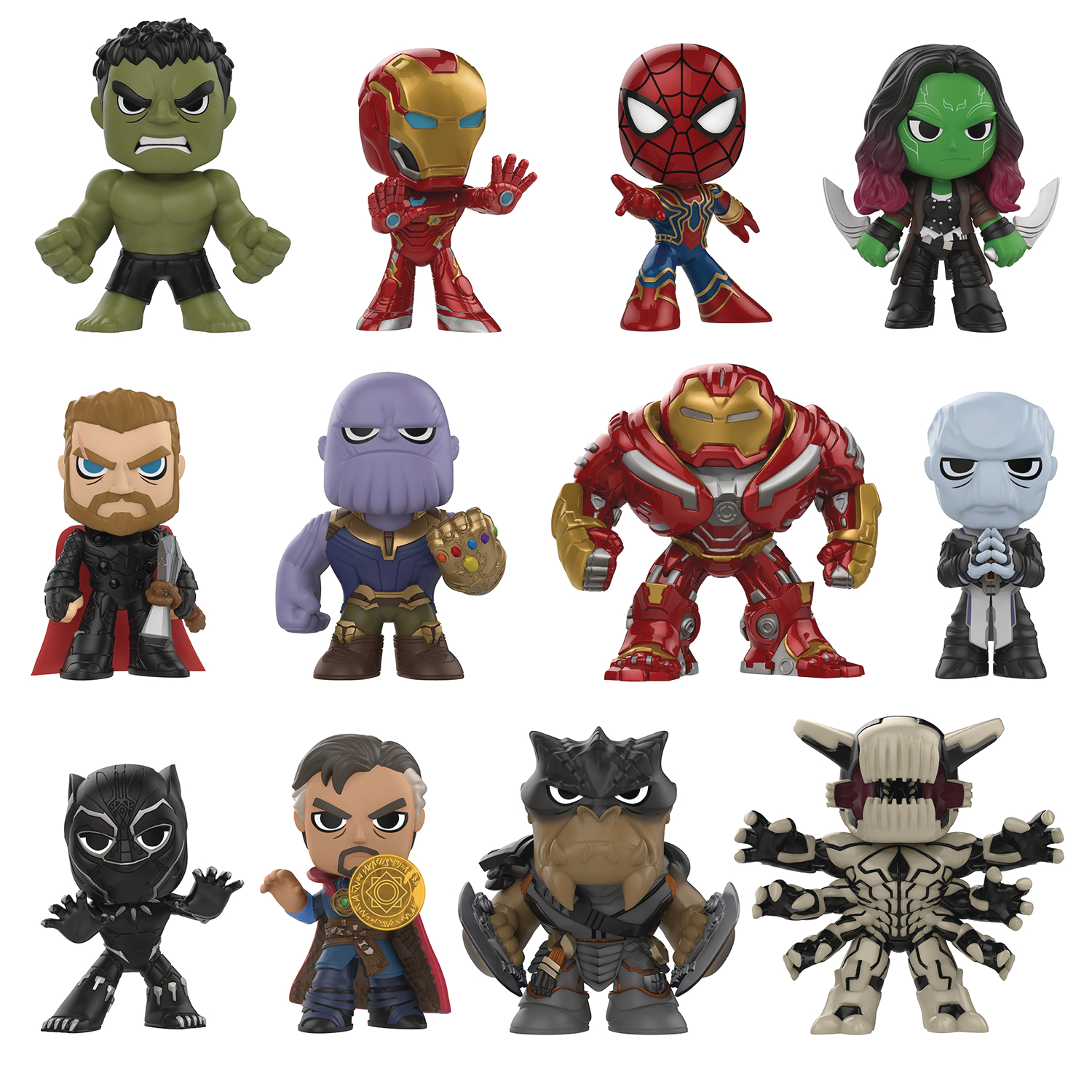 From Funko. On a mission to collect all six Infinity Stones, Captain America, the Hulk and the other Avengers must defeat the evil Thanos! Avengers: Infinity War comes to theaters at the end of April, and in the meantime you can collect characters from the film in Funko Mini form, with each figure standing 2 1/2″ tall! Blind mystery box packaging.
NBX SELECT AF SERIES 5 ASST



A Diamond Select Toys release! The nightmare continues! With Tim Burton's The Nightmare Before Christmas still capturing hearts around the world 25 years after its release, Diamond Select Toys is proud to unveil Series 5 of its acclaimed NBX action figure line! Three new two-packs – Easter Bunny with Igor, Wolfman with Melting Man and Vampire Jack with Batboy – each come with a work table for building their horrible toys! Each pair comes packaged in the famous Select action figure packaging, ready for display with side-panel artwork for shelf reference. Sculpted by Dave Cortes!
SW BLACK SERIES 6IN AF ASST 201802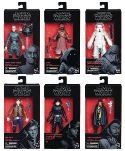 Re-create the biggest battles and missions of the Star Wars saga with these 6″ figures from The Black Series! With exquisite features and articulated movement, the figures in this series embody the quality and realism that Star Wars devotees love. Each figure is crafted to display true-to-story detail and comes with an accurately decorated accessory. Act out favorite battles or create brand new ones! Build up an epic collection with all the figures and vehicles from The Black Series. Series 201802 includes Han Solo (Solo), Tarkin, Range Trooper, Lando (Solo), Death Star Trooper, and the Jawa. Series 201803 includes Darth Vader, Rey, DJ (Canto Bright), Han Solo (Solo), Qi'ra Corellia (Solo), Lando (Solo), and 4-LOM. Window box packaging.
Trade-paperbacks of the Week!
BATMAN DETECTIVE COMICS TP VOL 06 $19.99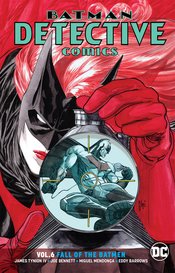 (W) James TynionIV (A) Joe Bennett, Miguel Mendonca, Eddy Barrows, Jesus Merino, Philippe Briones, Sal Regla, Ricardo Jaime, Marcio Loezer, Diana Egea, Eber Ferreira (CA) Guillem March
Everyone in Batman's orbit is broken somehow – some more than others. For Clayface, keeping the pieces of his psyche together has been a years-long struggle…and it's a war he may be about to lose! And as the team tries to pull itself back together, their enemies have learned something from Batman's newfound spirit of cooperation… and have formed a cabal of their own! Collects DETECTIVE COMICS #969-974 and ANNUAL #1.
ICE CREAM MAN TP VOL 01 RAINBOW SPRINKLES $16.99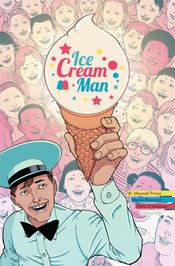 (W) W. Maxwell Prince (A/CA) Martin Morazzo
Chocolate, vanilla, existential horror, addiction, musical fantasy…there's a flavor for everyone's misery. ICE CREAM MAN is a genre-defying comic book series, featuring disparate "one-shot" tales of sorrow, wonder, and redemption. Each installment features its own cast of strange characters, dealing with their own special sundae of suffering. And on the periphery of all of them, like the twinkly music of his colorful truck, is the Ice Cream Man-a weaver of stories, a purveyor of sweet treats. Friend. Foe. God. Demon. The man who, with a snap of his fingers-lickety split!-can change the course of your life forever. Written by W. MAXWELL PRINCE (ONE WEEK IN THE LIBRARY), with art by MARTÍN MORAZZO (SNOWFALL, GREAT PACIFIC). Collects ICE CREAM MAN #1-4.
DARK NIGHTS METAL DARK NIGHTS RISING HC $29.99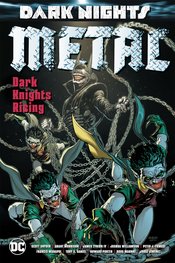 (W) Joshua Williamson, Peter J. Tomasi, Tieri, Frank, James TynionIV, Dan Abnett, Sam Humphries, Scott Snyder, Grant Morrison (A) Carmine DiGiandomenico, Tony S. Daniel, Ricardo Federici, Francis Manapul, Philip Tan, Tyler Kirkham, Ethan Van Sciver, Riley Rossmo, Danny Miki, Howard Porter, Jorge Jimenez, Doug Mahnke, Jaime Mendoza (CA) Jason Fabok
The Red Death. The Devastator. The Merciless. The Murder Machine. The Drowned. The Dawnbreaker. And the Batman Who Laughs. These evil Batmen-twisted mirror images of the Dark Knight-have been unleashed upon Earth-0 and the Justice League with only one thing on their minds: total devastation. How can the World's Greatest Heroes stop a horde of deadly beings who appear to be powerful nightmare versions of familiar figures? Collects BATMAN: THE RED DEATH #1, BATMAN: THE DEVASTATOR #1, BATMAN: THE MERCILESS #1, BATMAN: THE MURDER MACHINE #1, BATMAN: THE DROWNED #1, BATMAN: THE DAWNBREAKER #1, THE BATMAN WHO LAUGHS #1 and DARK KNIGHTS RISING: THE WILD HUNT #1.
BATMAN THE DARK PRINCE CHARMING HC BOOK 02 $12.99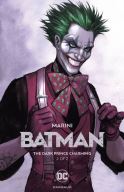 (W) Enrico Marini (A/CA) Enrico Marini
Concluding the story begun in the critically acclaimed and sold-out first volume by European superstar artist Enrico Marini (Scorpion, Eagles of Rome). Batman hunts down The Joker in a desperate attempt to rescue the young girl who may or may not be the daughter of Bruce Wayne. But The Joker's prisoner may be more formidable in her own right than he anticipated. And what role might Catwoman have to play in the final showdown between two sworn enemies?
MASTER LIST OF STUFF ARRIVING THIS WEEK!
A STRANGE & BEAUTIFUL SOUND HC 19.99
AMAZING SPIDER-MAN #801 3.99
AMAZING SPIDER-MAN #801 DAUTERMAN YOUNG GUNS VAR 3.99
AMAZING SPIDER-MAN #801 RAMOS CONNECTING VAR 3.99
AMAZING SPIDER-MAN RENEW YOUR VOWS #20 3.99
AMAZING SPIDER-MAN WORLDWIDE TP VOL 08 15.99
ANT-MAN AND THE WASP #2 (OF 5) 3.99
AQUAMAN #37 3.99
AQUAMAN #37 VAR ED 3.99
AQUAMAN TEMPEST TP 16.99
ARCHIES SUPERTEENS VS CRUSADERS #1 CVR A 3.99
ARCHIES SUPERTEENS VS CRUSADERS #1 CVR B 3.99
AVENGERS #2 2ND PTG MCGUINNESS VAR 3.99
AVENGERS #3 3.99
AVENGERS #3 ART ADAMS VAR 3.99
BARBARELLA #7 CVR B 3.99
BARBARELLA #7 CVR C 3.99
BARBARELLA #7 CVR E 3.99
BATMAN #49 2.99
BATMAN #49 VAR ED 2.99
BATMAN DETECTIVE COMICS TP VOL 06 19.99
BATMAN PRELUDE TO THE WEDDING RED HOOD VS ANARKY #1 3.99
BATMAN SINS OF THE FATHER #5 (OF 6) 2.99
BATMAN THE DARK PRINCE CHARMING HC BOOK 02 12.99
BATWOMAN #16 3.99
BATWOMAN #16 VAR ED 3.99
BEEF #5 (OF 5) 3.99
BEN REILLY SCARLET SPIDER #20 3.99
BLACK HAMMER AGE OF DOOM #3 MAIN CVR 3.99
BLACK SABLE #6 (OF 6) CVR A 3.99
BLACK SABLE #6 (OF 6) CVR B 3.99
BLACK SABLE #6 (OF 6) CVR C 3.99
BLACK SABLE #6 (OF 6) CVR D 3.99
BRAVE & THE BOLD BATMAN & WONDER WOMAN #5 (OF 6) 3.99
BSG VS BSG #6 (OF 6) CVR A 3.99
BSG VS BSG #6 (OF 6) CVR B 3.99
BSG VS BSG #6 (OF 6) CVR C 3.99
BSG VS BSG #6 (OF 6) CVR D 3.99
BTVS SEASON 12 THE RECKONING #1 (OF 4) CVR A 3.99
BTVS SEASON 12 THE RECKONING #1 (OF 4) CVR B 3.99
BTVS SEASON 12 THE RECKONING #1 (OF 4) CVR C 3.99
BUNGO STRAY DOGS GN VOL 07 13
CABLE #158 3.99
CAPTAIN AMERICA #704 3.99
CAPTAIN AMERICA #704 TEDESCO 3.99
CAVE CARSON HAS AN INTERSTELLAR EYE #4 3.99
CHAMPIONS #21 3.99
CHAMPIONS CLASSIC COMPLETE COLLECTION TP 39.99
COURTNEY CRUMRIN TP VOL 03 TWILIGHT KINGDOM 12.99
CRUDE #3 3.99
CURSE WORDS #15 3.99
DAMAGE #6 2.99
DAREDEVIL #604 3.99
DARK NIGHTS METAL DARK NIGHTS RISING HC 29.99
DARK SOULS AGE OF FIRE #2 3.99
DAYS OF HATE #6 (OF 12) (MR) 3.99
DAYS OF HATE #6 (OF 12) (MR) 3.99
DCTV GOTHAM OSWALD COBBLEPOT ARTFX+ STATUE 69.99
DEADLY CLASS #35 CVR A CRAIG 3.99
DEATHBED #5 (OF 6) 3.99
DELTA 13 #2 CVR A JONES 3.99
DOCTOR STRANGE #2 3.99
DOCTOR STRANGE BY DONNY CATES TP VOL 01 15.99
DOMINO #2 2ND PTG LAND VAR 3.99
DORBZ HELLBOY ABE SAPIEN VINYL FIGURE 7.99
EC JACK DAVIS HARVEY KURTZMAN DEATH STAND HC 29.99
ELDER SISTER-LIKE ONE GN VOL 02 13
ETHER COPPER GOLEMS #2 (OF 5) 3.99
EVOLUTION #7 3.99
FAITH AND THE FUTURE FORCE #4 CVR B BARTEL 3.99
FAITHS WINTER WONDERLAND SPECIAL #1 CVR A SAUVAGE 3.99
FATHOM PRIMER 2018 0.25
FATHOM TP VOL 06 TYPHOS AWAKEN 19.99
FATHOM VOL 7 #1 CVR A 3.99
FATHOM VOL 7 #1 CVR B 3.99
FATHOM VOL 7 #1 CVR C 3.99
FLAVOR #2 3.99
FULL METAL PANIC ARBALEST 1/60 MDL KIT IV VER
FUNKO SUPERCUTE MISTER ROGERS PLUSH 10.99
FUTURE QUEST PRESENTS #11 3.99
FUTURE QUEST PRESENTS #11 VAR ED 3.99
GHOSTBUSTERS ANSWER THE CALL TP 17.99
GIDEON FALLS #4 CVR A 3.99
GIDEON FALLS #4 CVR B 3.99
GOD COMPLEX #6 3.99
GREEN HORNET #4 CVR A 3.99
GREEN HORNET #4 CVR B 3.99
GREEN LANTERNS #49 2.99
GREEN LANTERNS #49 VAR 2.99
GUNDAM BUILD DIVERS SERAVEE GUNDAM SCHEHERAZDE MDL KIT
GUNDAM F91 VER 2.0 GUNDAM F91 MG 1/100 MDL KIT
GUNDAM WING LEO HGAC MDL KIT
HARD PLACE TP (MR) 16.99
HARLEY QUINN #44 2.99
HARLEY QUINN #44 VAR 2.99
HELLBOY OMNIBUS TP VOL 02 STRANGE PLACES 24.99
HIT-GIRL #5 CVR A 3.99
HIT-GIRL #5 CVR B 3.99
HIT-GIRL #5 CVR C 3.99
HIT-GIRL #5 CVR D 3.99
HIT-GIRL TP VOL 01 14.99
HOW NOT TO SUMMON DEMON LORD GN VOL 01 12.99
HUNT FOR WOLVERINE CLAWS OF KILLER #2 (OF 4) 3.99
HUNT FOR WOLVERINE CLAWS OF KILLER #2 (OF 4) SANDOVAL VAR 3.99
ICE CREAM MAN TP VOL 01 RAINBOW SPRINKLES 16.99
INFIDEL #4 (OF 5) CVR A CAMPBELL 3.99
INFINITY COUNTDOWN BLACK WIDOW #1 4.99
INFINITY COUNTDOWN BLACK WIDOW #1 DEL MUNDO YOUNG GUNS VAR 4.99
INFINITY COUNTDOWN BLACK WIDOW #1 SEINKIEWICZ VAR 4.99
INFINITY COUNTDOWN CHAMPIONS #1 (OF 2) 3.99
INFINITY COUNTDOWN CHAMPIONS DEODATO VAR #1 (OF 2) 3.99
INJUSTICE 2 #28 2.99
INVINCIBLE HC VOL 12 ULTIMATE COLL 39.99
IRON MAIDEN LEGACY OF THE BEAST #5 (OF 5) CVR A 3.99
IRON MAIDEN LEGACY OF THE BEAST #5 (OF 5) CVR B 3.99
IRON MAIDEN LEGACY OF THE BEAST #5 (OF 5) CVR C 3.99
JAMES BOND THE BODY #6 (OF 6) 3.99
JIM HENSON FRAGGLE ROCK #2 MAIN 3.99
JIM HENSON FRAGGLE ROCK #2 SUB 3.99
JUSTICE LEAGUE #2 3.99
JUSTICE LEAGUE #2 VAR 3.99
JUSTICE LEAGUE TP VOL 06 PEOPLE VS THE JUSTICE LEAGUE 14.99
LEGEND OF ZELDA ENCYCLOPEDIA HC 39.99
LIAR SC 9.99
LITTLE WITCH ACADEMIA GN VOL 01 10
LOST CITY EXPLORERS #1 3.99
MAD MAGAZINE #2 5.99
MAN OF STEEL #4 (OF 6) 3.99
MARVEL COMICS 12 PIECE MAGNET BOOKMARK ASST
MARVEL COMICS DIGEST #7 ANT-MAN 6.99
MARVEL GALLERY BLACK PANTHER MOVIE KILLMONGER PVC FIGURE 45
MARVEL GALLERY BLACK WIDOW COMIC PVC FIGURE 45
MIGHTY MORPHIN POWER RANGERS #28 MAIN SG 3.99
MIGHTY MORPHIN POWER RANGERS #28 SUB 3.99
MONSTER TAMER GIRLS GN VOL 02 13
MOONSHINE #11 CVR A RISSO 3.99
MULTIPLE WARHEADS TP VOL 02 GHOST TOWN 17.99
MY LITTLE PONY PONYVILLE MYSTERIES #2 CVR A 3.99
MY LITTLE PONY PONYVILLE MYSTERIES #2 CVR B 3.99
MYSTERY MINI GODZILLA VINYL FIGURE 3PK 16.99
MYSTERY MINIS MARVEL AVENGERS INFINITY WAR 12PC BMB DISP
MYSTIK U TP 16.99
NBX SELECT AF SERIES 5 ASST
NEW CHALLENGERS #2 (OF 6) 2.99
NINJA-K #8 CVR A ZONJIC 3.99
NINJA-K #8 CVR B QUAH 3.99
ONE PIECE BUGGY 4IN ACTION FIGURE 13.99
ONE PIECE LUFFY 12IN ACTION FIGURE 16.99
ONE WEEK FRIENDS GN VOL 03 15
OVER GARDEN WALL ONGOING TP VOL 04 14.99
PETER PARKER SPECTACULAR SPIDER-MAN ANN #1 4.99
PETER PARKER SPECTACULAR SPIDER-MAN ANN #1 VAR 4.99
PLANET OF THE APES URSUS #6 MAIN & MIX 3.99
POP AVENGERS INFINITY WAR EBONY MAW VINYL FIG 11.99
POP AVENGERS INFINITY WAR PROXIMA MIDNIGHT VINYL FIG 11.99
POP GOT S8 DAENERYS WHITE COAT VINYL FIG 11.99
POP HANNA BARBERA S5 JETSONS ASTRO VIN FIG 11.99
POP HANNA BARBERA S5 JETSONS GEORGE VIN FIG 11.99
POP HANNA BARBERA S5 JETSONS ROSIE VIN FIG 11.99
POP JURASSIC PARK DILOPHOSAURUS VINYL FIGURE 11.99
POP MARVEL DEADPOOL CABLE VINYL FIG 11.99
POP MARVEL DEADPOOL PARODY DEADPOOL BOB ROSS VINYL FIG 11.99
POP MLB S3 MIKE TROUT VINYL FIG 11.99
POP MOANA GRAMMA TALA VINYL FIG 11.99
POP MOANA TE FITI VINYL FIG 11.99
POP RICK & MORTY PICKLE RICK NO LIMBS PX VINYL FIGURE 11.99
POP OVERWATCH JUNKRAT VINYL FIGURE 11.99
POP OVERWATCH SOMBRA VINYL FIGURE 11.99
POP PEE-WEE PLAYHOUSE PEE-WEE HERMAN VIN FIG 11.99
POP RIVERDALE JUGHEAD VINYL FIGURE 11.99
POP ROCKS MOTLEY CRUE MICK MARS VINYL FIGURE 11.99
POP ROCKS WEIRD AL YANKOVIC VINYL FIGURE 11.99
POP STRANGER THINGS BOB IN SCRUBS VINYL FIGURE 11.99
POP STRANGER THINGS ELEVEN ELEVATED VINYL FIGURE 11.99
POP STRANGER THINGS HOPPER W/VINES VINYL FIGURE 11.99
PUNKS NOT DEAD #5 3.99
REGULAR SHOW 25 YEARS LATER #1 3.99
REGULAR SHOW 25 YEARS LATER #1 SUB 3.99
RICK & MORTY PRESENTS KROMBOPULOUS MICHAEL #1 CVR A 4.99
RICK & MORTY PRESENTS KROMBOPULOUS MICHAEL #1 CVR B 4.99
RUNAWAYS #10 3.99
SCOOBY DOO WHERE ARE YOU #93 2.99
SHADOWMAN (2018) #4 CVR A 3.99
SHADOWMAN (2018) #4 CVR B 3.99
SHANGHAI RED #1 CVR A 3.99
SHANGHAI RED #1 CVR B 3.99
SHIBUYA GOLDFISH GN VOL 01 15
SIMPSONS COMICS #244 3.99
SKYWARD #3 3.99
SON OF HITLER HC 24.99
SPACE RIDERS TP VOL 02 GALAXY OF BRUTALITY 16.99
SPIDER-GWEN #33 3.99
SPONGEBOB COMICS ANNUAL GIANT SWIMTACULAR #6 4.99
STAR WARS ADVENTURES TP VOL 03 ENDANGERED 9.99
STAR WARS POE DAMERON #28 3.99
STAR WARS STORMTROOPER 1/12 MDL KIT
STARGATE UNIVERSE #5 FLASHBACK PHOTO LTD ED CVR 9.99
STARGATE UNIVERSE #5 MAIN 3.99
STARGATE UNIVERSE #5 PHOTO 3.99
STEPHEN MCCRANIES SPACE BOY TP VOL 01 10.99
STEVEN UNIVERSE ONGOING #17 3.99
STEVEN UNIVERSE ONGOING #17 SUB 3.99
STRANGE CREATURE AT KUROYURI APARTMENTS GN VOL 01 13
STRANGE GN 21.95
SUPERGIRL CW GALLERY PVC FIGURE 45
SUPERMAN ZERO HOUR TP 29.99
SW BLACK SERIES 6IN AF ASST 201802
SW BLACK SERIES 6IN AF ASST 201803
SWORD ART ONLINE ALT GUN GALE LIGHT NOVEL SC VOL 01 14
TAARNA #2 CVR B ACHILLEOS 3.99
TANK GIRL ALL STARS #1 (OF 4) CVR A 3.99
TANK GIRL ALL STARS #1 (OF 4) CVR B 3.99
TEEN TITANS GO #28 2.99
THAT TIME I GOT REINCARNATED AS A SLIME GN VOL 06 12.99
TMNT UNIVERSE #23 CVR A 4.99
TMNT UNIVERSE #23 CVR B 4.99
TMNT URBAN LEGENDS #2 CVR A 3.99
TMNT URBAN LEGENDS #2 CVR B 3.99
TOKYO GHOUL RE GN VOL 05 12.99
TONY STARK IRON MAN #1 4.99
TRINITY TP VOL 02 DEAD SPACE REBIRTH 14.99
TRUE BELIEVERS ANT-MAN INCREDIBLE SHRINKING DOOM #1 1
TRUE BELIEVERS SCOTT LANG ASTONISHING ANT-MAN #1 1
TRUE TENCHI MUYO NOVEL SC VOL 01 14.99
TRUMPS TITANS VS DARK DONALDS MENTAL #1 4.99
UNBEATABLE SQUIRREL GIRL TP VOL 08 15.99
USAGI YOJIMBO #4 (OF 7) THE HIDDEN 3.99
VENOM #1 2ND PTG STEGMAN VAR 4.99
WALT DISNEY DRAWN FROM IMAGINATION 7.99
WARHAMMER 40000 DEATHWATCH #2 (OF 4) 3.99
WAYWARD #26 CVR A CUMMINGS & BONVILLAIN 3.99
WEAPON H #4 3.99
WEAPON X TP VOL 03 MODERN WARFARE 15.99
WILD STORM #14 3.99
WITCHFINDER GATES OF HEAVEN #2 (OF 5) 3.99
WOLVERINE SAVAGE ORIGINS TP 17.99
WORLDS END HAREM GN VOL 02 12.99
WWE #18 3.99
WWE #18 ACTION FIGURE 3.99
WWE #18 RAW CONNECTING VAR 3.99
X-MEN GOLD #26 2ND PTG 3.99
X-MEN GOLD #27 2ND PTG 3.99
X-MEN GOLD #30 4.99
X-MEN GOLD #30 JSC CLASSIFIED VAR 4.99
X-MEN WEDDING SPECIAL #1 2ND PTG JS CAMPBELL VAR 4.99
AMORY WARS HC KEEPING SECRETS OF SILENT EARTH 3 39.99
CARNAGE TP VOL 01 ONE THAT GOT AWAY 15.99
CARNAGE TP VOL 02 WORLD TOUR 15.99
DANGANRONPA THE ANIMATION TP VOL 01 12.99
DREAM OF THE BUTTERFLY GN VOL 01 RABBITS OF THE MOON 12.99
GIRL GENIUS SECOND JOURNEY GN VOL 03 INCORRUPTIBLE LIBRARY 25
GIRL GENIUS SECOND JOURNEY TP VOL 01 BEAST OF THE RAILS 25
GIRL GENIUS SECOND JOURNEY TP VOL 02 CITY OF LIGHTNING 25
HE MAN THUNDERCATS TP 16.99
JIM HENSON LABYRINTH CORONATION #1 (OF 12) 2ND PTG 3.99
JIM HENSON LABYRINTH CORONATION #2 (OF 12) (2ND PTG) 3.99
MISTER MIRACLE BY JACK KIRBY TP 29.99
PANTHA TP VOL 01 GODDESS & DANGEROUS GAME 19.99
POP OVERWATCH SOMBRA VINYL FIGURE 11.99
PURGATORI TP VOL 01 HELL AND BACK 17.99
RAT QUEENS DLX HC VOL 01 39.99
RETURN OF ULTRAMAN ULTRAMAN JACK S.H.FIGUARTS AF
SCALES & SCOUNDRELS TP VOL 01 INTO THE DRAGONS MAW 9.99
SPAWN THE SATAN WARS TP 14.99
SPIDER-MAN MAXIMUM CARNAGE TP 29.99
SWASHBUCKLERS SAGA CONTINUES #2 3.99
TANGLED THE SERIES ADVENTURE IS CALLING TP 9.99
TMNT URBAN LEGENDS #1 CVR A FOSCO 3.99
VENOM & X-MEN POISON-X TP 17.99
VENOM BY REMENDER COMPLETE COLLECTION TP VOL 01 34.99
VENOM BY REMENDER COMPLETE COLLECTION TP VOL 02 34.99
VENOM BY RICK REMENDER TP VOL 01 16.99
VENOM SEPARATION ANXIETY TP NEW PTG 34.99
VENOM SPACE KNIGHT TP VOL 01 AGENT OF COSMOS 17.99
VENOM SPACE KNIGHT TP VOL 02 ENEMIES AND ALLIES 19.99
VENOM TP LETHAL PROTECTOR 16.99
VENOM TP VOL 01 HOMECOMING 17.99
VENOM TP VOL 02 LAND BEFORE CRIME 16.99
VENOM VS CARNAGE TP 9.99
WILSON TP 15.95
We hope to see you soon at CQ!
Visit us at 2260 Morgan Avenue, Evansville
On the web at www.comicquest.com
On Facebook www.facebook.com/comicquestevansville
On Twitter @cqevansville
On Instagram: @comicquestevansville
Contact us at sales@comicquest.com or by phone at 812-474-1133