Comic Quest Weekly for 7/1/2018
COMIC QUEST WILL BE OPEN ON JULY 4TH (with a BOGO SALE!)
On Wednesday July 4th we have a huge shipment of great comics, toys and trade-paperback collections and we don't want you to have to miss your weekly fix on Wednesdays. We will be open special holiday hours from 10am to 4pm! Expect Captain America#1, Batman#50, and Catwoman#1 among other big books debuting on that day. We have also decided to run a BOGO sale…buy one at regular price and get a second one at 25 percent off Wednesday through Saturday. This runs over all of our lines including comics, back issue comics, vintage comics, toys, games, RPG's, CCG's, supplies and TPG's. Exceptions include the newest comics/TPG's, toys, CCG's and games that have just arrived or come in this week. Pull and hold items, special orders and layaways are also not eligible. Come in and talk to us if you have any questions.
COMIC QUEST CREATOR'S ALLIANCE MEETS NEXT SATURDAY 7/6/18!
If you like to draw comics, comic characters or are interested in working in comics come on down to Comic Quest next Saturday and meet like minded comic book artists and writers. Next week we will be focusing on inking techniques. There is no charge for this event We meet from 3pm to 4:30pm.
Newsletter will be late next week
Please note that the newsletter will be late next week. Our newsletter won't be going out until Monday evening, July 9. So, when don't worry next Sunday when you don't get your weekly newsletter! It will still be coming, it'll just be a little behind schedule! Thank you, in advance, for understanding!
NEW ARRIVALS!
BATMAN #50 $4.99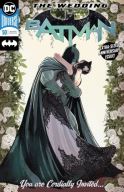 (W) Tom King (A) David Finch, Jo?lle Jones, Mitch Gerads, Rafael Albuquerque, Neal Adams, Andy Kubert, Becky Cloonan, Ty Templeton, Jos? Luis Garc?a-L?pez, Frank Miller, Lee Bermejo (A/CA) Mikel Janin
It's the wedding you never thought you'd see! The Batrimony is real as Bruce Wayne and Selina Kyle are set to tie the knot in a can't-miss, extra-length milestone issue that will reshape Gotham City. All their friends (and a few enemies?) will be party to a comic book coupling for the ages. Superstar scribe Tom King officiates the sure-to-be-offbeat nuptials, joined by an all-star lineup of guest classic Bat-artists doffing their hats to the lucky couple in a series of pre-wedding flashback scenes sure to set the romantic mood.
CATWOMAN #1 $3.99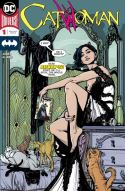 (W) Jo?lle Jones (A/CA) Jo?lle Jones
The wedding night's barely over, but Catwoman's back on the streets, this time to expose a copycat who's pulling heists around Gotham City. As Selina cracks the whip on her former criminal cohorts, she's attracting unwanted attention from one of Gotham's most dangerous groups. The mob? Nope. Try the GCPD. And as if the Bat-Bride didn't have enough problems, don't miss the debut of an all-new villain determined to make trouble for all nine of Selina's lives. Don't miss the start of an all-new monthly series written and illustrated by Eisner Award-nominee Joëlle Jones!
CAPTAIN AMERICA #1 $4.99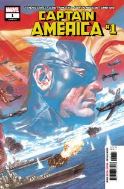 (W) Ta-Nehisi Coates (A) Leinil Francis Yu (CA) Alex Ross
IT IS WINTER IN AMERICA.
For over 70 years, he has stood in stalwart defense of our country and its people. But in the aftermath of Hydra's takeover of the nation, Captain America is a figure of controversy, carrying a tarnished shield…and a new enemy is rising!
Who are the Power Elite? And how do they intend to co-opt and corrupt the symbol that is Captain America?
WALKING DEAD #181 $3.99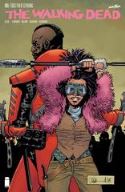 (W) Robert Kirkman (A) Stefano Gaudiano, Cliff Rathburn (CA) Dave Stewart (A/CA) Charlie Adlard
Rick leads the Commonwealth's Governor, Pamela Milton, on a tour of the various communities Alexandria is aligned with. Naturally, terrible things begin to happen very quickly.
COSMIC GHOST RIDER #1 (OF 5) $3.99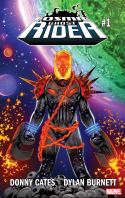 (W) Donny Cates (A) Dylan Burnett (CA) Geoff Shaw
EXPLODING FROM THE PAGES OF THANOS!
Frank Castle was the Punisher. A deal with the devil made him Ghost Rider. A deal with Galactus made him cosmic. A deal with Thanos made him…DEAD?!? Not to worry, he's coming back, and he's got a plan to make the universe a better place that's going to lead him into an even CRAZIER adventure than he's ever been in! Join hot new comic (and cosmic?) writer Donny Cates (THANOS, DOCTOR STRANGE) as he pushes his wildest creation past the breaking point!
DEATH OF INHUMANS #1 (OF 5) $4.99


(W) Donny Cates (A) Ariel Olivetti (CA) Kaare Andrews
THE TITLE SAYS IT ALL – HERE LIE THE INHUMANS.
The Kree have gone murdering, leaving behind a message: Join or die. Thousands of Inhumans have already made their choice – the evidence floats bleeding in space. Black Bolt and his family are next. Rising star Donny Cates and PUNISHER: WAR JOURNAL artist Ariel Olivetti bring their brutal talents to the Inhumans!
THIS WEEK IN TOYS/STATUES
POP RIDES DEADPOOL & SCOOTER VINYL FIG $14.99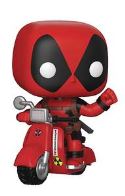 From Funko. Marvels famous mercenary Deadpool arrives in new Funko forms! Collect Deadpool on scooter as the latest POP! Rides. Each POP! figure stands about 3 3/4″ tall and comes in a collector-friendly window box.
BATMAN B&W STATUE BY BECKY CLOONAN $80


Designed by BECKY CLOONAN
Sculpted by IRENE MATAR
World-renowned and Eisner-nominated comic book artist, writer and creator Becky Cloonan brings her one-of-a-kind artistry to the BATMAN BLACK & WHITE statue line.
Limited Edition of 5,000
Measures Approximately 9.38″ Tall
STAR WARS BOBA FETT 1/12 MDL KIT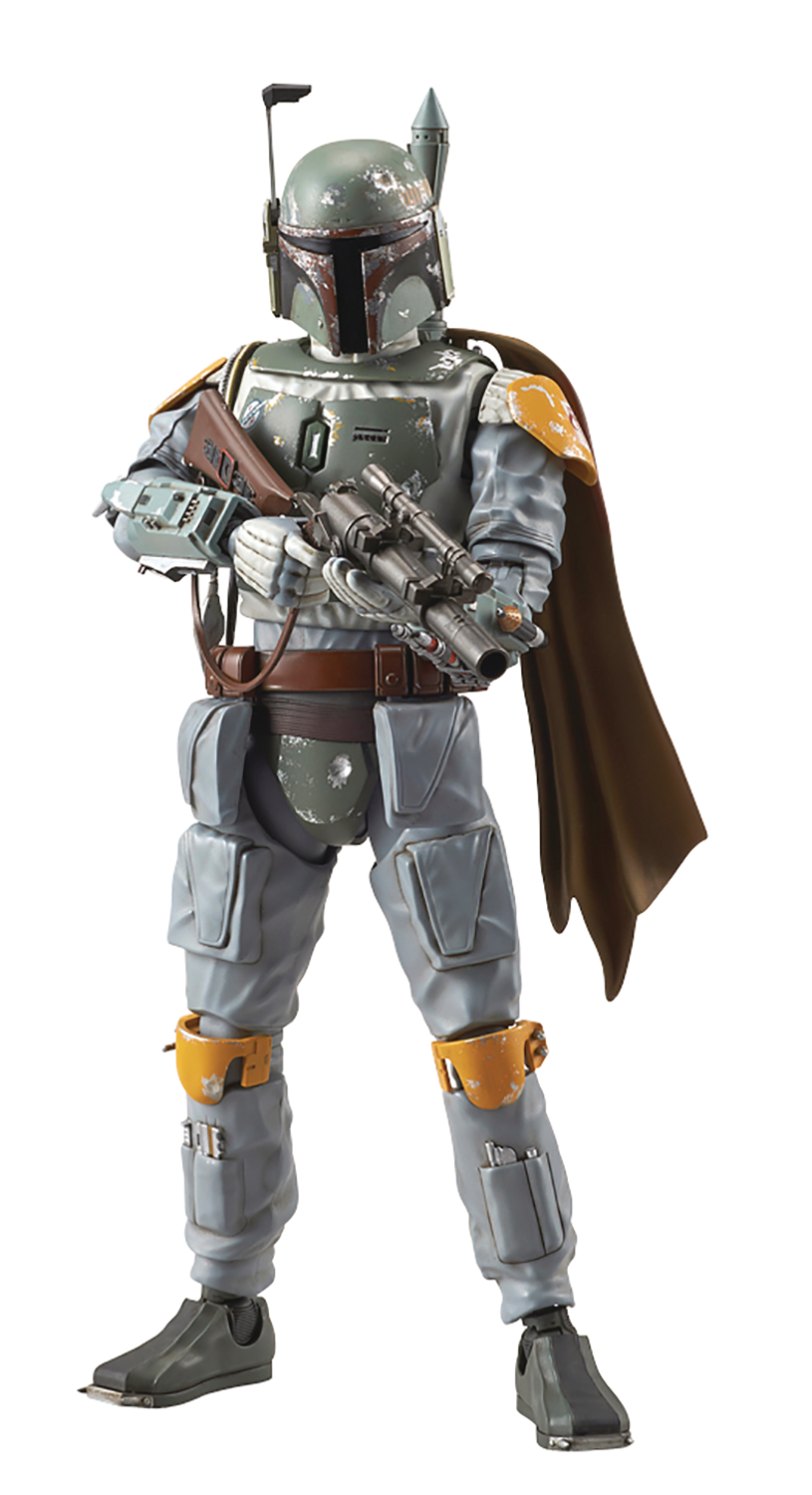 From Bandai Hobby. Utilizing pre-colored plastic and snap together assembly like GunPla, the Star Wars Character Line provides ease of assembly and feature rich detail!
JUSTICE LEAGUE THE FLASH MAF EX AF $99.99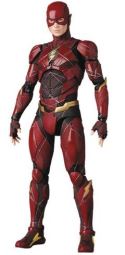 From Medicom. Flash from Justice League zooms into Medicom's MAFEX figure lineup! He's about 6″ tall and highly posable; he comes with two interchangeable heads (masked and unmasked), interchangeable hands, and a figure stand for display. Don't miss out–add the Fastest Man Alive to your lineup today!
Trade-paperbacks of the Week!
JUSTICE LEAGUE OF AMERICA TP VOL 04 $14.99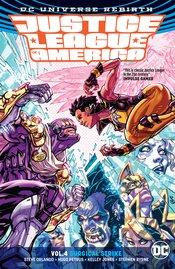 (W) Steve Orlando (A) Hugo Petrus, Stephen Byrne, Kelley Jones (CA) Carlos D'Anda
In these stories from JUSTICE LEAGUE OF AMERICA #18-21 and ANNUAL #1, Batman leaves the team – and the JLA is at each other's throats! As Vixen tries to affirm her role as team leader and fill the vacuum, the villain Prometheus arrives in Happy Harbor to prove to the world that the Justice League must be destroyed and lay waste to the heroes once and for all. And he's brought a friend…
100 DEMON DIALOGUES $14.99



(W) Lucy Bellwood (A) Lucy Bellwood
Navigating the rocky shores of self doubt with charm and honesty, 100 Demon Dialogues is a collection of comics for anyone who wants to talk back to the little voice in their head that says "You're no good." Cartoonist Lucy Bellwood is beset by a tiny, petulant demon who embodies workaholism, imposter syndrome, and fear of missing out. Fed up with its constant nagging, she sets out to defang and humanize her inner critic in a series of conversational comics. From overcoming self-doubt to prioritizing self-care, Bellwood and her demon embody a hilarious and relatable partnership that will resonate with people from all walks of life. 100 Demon Dialogues reminds us that we are not alone in our fear, and that our best self always comes hand-in-hand with a little demon of our own.
BETTY & VERONICA VIXENS TP VOL 01 $14.99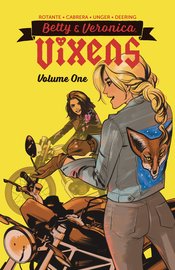 (W) Jamie L Rotante (A) Carlos Cabrera, Elaina Unger (CA) Fiona Staples
Betty and Veronica assemble the Vixens: a squad brought together to take out the dangerous Southside Serpents gang. These aren't "Archie's Girls"-they're starting a revolution in Riverdale!
DOC SAVAGE WILD ADV SC MR CALAMITY $29.95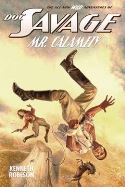 (W) Will Murray, Kenneth Robeson (CA) Joe Devito
Prospecting in the Wyoming badlands, Patricia Savage spies a man swimming in circles… high in a cloudless sky! After he falls to his death, the dead swimmer is discovered soaked to the skin. Who is he? How did he manage to swim through thin air? These are the questions Pat sets out to answer when her cousin, the famous scientist-adventurer Doc Savage, diagnoses her account as a hallucination caused by altitude sickness. But when the bronze-skinned girl vanishes, the Man of Bronze is forced to take action. From the Bighorn Mountains to Devil's Tower, Doc Savage and his mighty crew race against time to avert an impending tragedy created by a nebulous devil in human form who calls himself Mr. Calamity.
MASTER LIST OF STUFF ARRIVING THIS WEEK!
100 DEMON DIALOGUES 14.99
ANIMOSITY TP VOL 03 THE SWARM 14.99
ANT-MAN AND THE WASP #3 (OF 5) 3.99
AQUAMAN TP VOL 05 REBIRTH 14.99
ASSASSINISTAS #6 CVR A HERNANDEZ 3.99
ASSASSINISTAS #6 CVR B SAUVAGE 3.99
ASTONISHING X-MEN #13 3.99
ATTACK ON TITAN GN VOL 25 10.99
AVENGERS #4 3.99
AVENGERS #4 NIEMCZYK CAROL DANVERS 50TH VAR 3.99
BATMAN #50 4.99
BATMAN #50 ARTHUR ADAMS VAR ED 4.99
BATMAN #50 BLANK VAR ED 4.99
BATMAN #50 LEE VAR ED 4.99
BATMAN B&W STATUE BY BECKY CLOONAN 80
BATMAN THRILLKILLER TP NEW ED 16.99
BATMAN TMNT DELUXE ED HC 39.99
BEN REILLY SCARLET SPIDER #21 3.99
BETTY & VERONICA VIXENS TP VOL 01 14.99
BLACK PANTHER #2 3.99
BLEACH GN VOL 73 9.99
CAPTAIN AMERICA #1 4.99
CAPTAIN AMERICA #1 BLANK VAR 4.99
CAPTAIN AMERICA #1 JUSKO VAR 4.99
CATWOMAN #1 3.99
CATWOMAN #1 BLANK VAR ED 3.99
CATWOMAN #1 VAR ED 3.99
CONAN OMNIBUS TP VOL 05 PIRACY & PASSION 24.99
COSMIC GHOST RIDER #1 (OF 5) 3.99
COSMIC GHOST RIDER #1 (OF 5) DEODATO VAR 3.99
COSMIC GHOST RIDER #1 BY SHAW POSTER 8.99
CURSE OF BRIMSTONE #4 2.99
DARK ARK #8 3.99
DBZ MAJIN VEGETA S.H.FIGUARTS AF
DBZ MAJIN VEGETA S.H.FIGUARTS AF
DC SUPER FRIENDS HC CATCH THAT CROOK 9.99
DC SUPER HERO GIRLS ROBOT RUMBLE YR PICTUR 5.99
DC SUPER HERO GIRLS YR HC BUMBLE BEE 13.99
DEADPOOL #2 3.99
DEATH OF INHUMANS #1 (OF 5) 4.99
DEATH OF INHUMANS #1 (OF 5) ANDREWS DESIGN VAR 4.99
DEATH OF INHUMANS #1 (OF 5) DAUTERMAN YOUNG GUNS 4.99
DEATH OF INHUMANS #1 (OF 5) GARRON YOUNG GUNS 4.99
DEATH OR GLORY #3 CVR A 3.99
DEATH OR GLORY #3 CVR B 3.99
DEATHSTROKE #33 3.99
DEATHSTROKE #33 VAR ED 3.99
DEMON SLAYER KIMETSU NO YAIBA GN VOL 01 9.99
DOC SAVAGE WILD ADV SC MR CALAMITY 29.95
DOCTOR STRANGE #3 3.99
DOCTOR STRANGE #3 CAROL DANVERS 50TH VAR 3.99
DOCTOR STRANGE DAMNATION TP 34.99
DOCTOR WHO 12TH TIME TRIALS HC VOL 03 22.99
DOCTOR WHO 7TH #2 (OF 4) CVR A 3.99
DOCTOR WHO 7TH #2 (OF 4) CVR B 3.99
DONALD & MICKEY QUARTERLY CVR A 5.99
DONALD & MICKEY QUARTERLY CVR B 5.99
DORBZ HELLBOY ABE SAPIEN VINYL FIG 7.99
DRAGON BALL SUPER GN VOL 03 9.99
DREAM OF THE BUTTERFLY GN VOL 02 REVOLUTION 12.99
DREAMWORKS MADAGASCAR ESCAPE PLANS GN 9.99
DUNGEONS & DRAGONS EVIL AT BALDURS GATE #2 3.99
ELVIRA MISTRESS OF DARK #1 CVR A LINSNER 3.99
ELVIRA MISTRESS OF DARK #1 CVR F SUB PHOTO 3.99
EXTERMINATION #1 POSTER 8.99
FF 2018 BY ALEX ROSS POSTER 8.99
FF 2018 BY RIBIC POSTER 8.99
FF BY JOHN BYRNE CLASSIC POSTER 8.99
FF BY PEREZ CLASSIC COVER POSTER 8.99
FF BY ROMITA CLASSIC POSTER 8.99
GEKIDO #1 MASKED 48 PG ED 4.99
GENERATIONS TP 34.99
GO GO POWER RANGERS #11 MAIN & MIX SG 3.99
GO GO POWER RANGERS #11 SUB 3.99
GRAVEDIGGERS UNION #8 CVR A CRAIG 3.99
GREEN ARROW #42 3.99
GREEN ARROW #42 VAR ED 3.99
GREEN LANTERNS #50 3.99
GREEN LANTERNS #50 VAR ED 3.99
GUNDAM BUILD DIVERS DIVER ACE UNIT HGBC MDL KIT
GUNDAM BUILD DIVERS TILTROTOR PACK HGBC MDL KIT
GUNDAM WING LEO HGAC MDL KIT
HALO COLLATERAL DAMAGE #2 (OF 3) 3.99
HARLEY QUINN #45 2.99
HARLEY QUINN #45 VAR ED 2.99
HARLEY QUINN REBIRTH DLX COLL HC BOOK 02 34.99
HELLBLAZER TP VOL 19 RED RIGHT HAND 24.99
HIGHEST HOUSE #5 CVR A SHIMIZU 4.99
HILLBILLY #11 3.99
HUNT FOR WOLVERINE WEAPON LOST #3 3.99
HUNT FOR WOLVERINE WEAPON LOST #3 VAR 3.99
I HATE FAIRYLAND #20 CVR A 3.99
I HATE FAIRYLAND #20 CVR C 3.99
I HATE FAIRYLAND #20 CVR D 3.99
I HATE FAIRYLAND #20 CVR E 3.99
I HATE FAIRYLAND #20 CVR F 3.99
IMMORTAL HULK #2 3.99
INFINITY COUNTDOWN CHAMPIONS #2 (OF 2) 3.99
INJUSTICE 2 #29 2.99
JAMES BOND TP VOL 02 EIDOLON 19.99
JASMINE CROWN OF KINGS #3 (OF 5) CVR A 3.99
JASMINE CROWN OF KINGS #3 (OF 5) CVR B 3.99
JASMINE CROWN OF KINGS #3 (OF 5) CVR C 3.99
JEEPERS CREEPERS #3 CVR A 3.99
JEEPERS CREEPERS #3 CVR B 3.99
JEEPERS CREEPERS #3 CVR C 3.99
JIM HENSON BENEATH DARK CRYSTAL #1 (OF 12) 3.99
JIM HENSON BENEATH DARK CRYSTAL #1 (OF 12) SUB 3.99
JIM HENSON DARK CRYSTAL ADULT COLORING BK SC 16.99
JIMMYS BASTARDS #9 3.99
JOE HILL THE CAPE FALLEN #1 3.99
JUDGE DREDD UNDER SIEGE #2 (OF 4) 3.99
JUSTICE LEAGUE #3 3.99
JUSTICE LEAGUE #3 VAR ED 3.99
JUSTICE LEAGUE OF AMERICA TP VOL 04 14.99
JUSTICE LEAGUE THE FLASH MAF EX AF 99.99
KAMEN RIDER MASKED RIDER NEO 2 S.H.FIGUARTS AF
KENKA BANCHO OTOME LOVES BATTLE ROYALE GN V2 9.99
KILLING JOKE JOKER Q-FIG MAX TOONS FIG 14.95
LADY MECHANIKA DAME SANS MERCI #1 (OF 3) 3.99
LAST SIEGE #2 (OF 8) CVR B HARDMAN 3.99
LEGEND OF ZELDA LINKS BOOK OF ADV 9.99
LIFE OF CAPTAIN MARVEL BY ARTGERM POSTER 8.99
LOWLIFES #1 CVR A BUCCELLATO 3.99
MAINSTREAM #3 (OF 5) CVR A 3.99
MAN OF STEEL #6 (OF 6) 3.99
MARVEL GALLERY BL PANTHER MOVIE KILLMONGER PVC FIG 45
MARVEL RISING SQUIRREL GIRL MS MARVEL #1 5.99
MARVEL RISING SQUIRREL GIRL MS MARVEL #1 ARTIST 5.99
MARVEL RISING SQUIRREL GIRL MS MARVEL #1 CONN 5.99
MEDIEVAL SPAWN WITCHBLADE #3 (OF 4) 2.99
MY HERO ACADEMIA VIGILANTES GN VOL 01 9.99
MY LITTLE PONY FRIENDSHIP IS MAGIC #67 CVR A 3.99
MY LITTLE PONY FRIENDSHIP IS MAGIC #67 CVR B 3.99
NARUTO 3IN1 TP VOL 23 14.99
NEW LIEUTENANTS OF METAL #1 (OF 4) 3.99
NIGHTWING #46 3.99
NIGHTWING #46 VAR ED 3.99
OBLIVION SONG BY KIRKMAN & DE FELICI #3 3.99
OCTOBER FACTION SUPERNATURAL DREAMS #5 3.99
ONE PIECE LUFFY 12IN ACTION FIGURE 16.99
ONE PUNCH MAN GN VOL 14 9.99
PAPER GIRLS #22 3.99
PARADISO #5 CVR 3.99
PEEK A BOO #4 (OF 5) CVR C REI 3.99
PENNY DREADFUL TP VOL 01 THE AWAKING 16.99
PERDY TP VOL 01 GALLEY
POP ATOMIC BLONDE LORRAINE WHITE COAT VINYL FIG 11.99
POP HERCULES HERCULES VINYL FIG 11.99
POKEMON BIG BOOK SMALL TO TALL GOLDEN BK 10.99
POKEMON STORYBOOK TREASURY HC 9.99
POP GOT S8 DAENERYS WHITE COAT VINYL FIG 11.99
POP PRINCESS BRIDE WESTLEY VINYL FIG 11.99
POP RIDES DEADPOOL & SCOOTER VINYL FIG 14.99
POP TOMB RAIDER LARA CROFT VINYL FIG 11.99
PORTAL BOUND #4 (OF 5) 3.99
PRINCESS MONONOKE KODAMA 6.5 IN PLUSH 18
PRISM STALKER #5 3.99
PROJECT SUPERPOWERS #0 0.10
PUMPKINHEAD #5 (OF 5) CVR A 3.99
PUMPKINHEAD #5 (OF 5) CVR B 3.99
QUANTUM & WOODY (2017) TP VOL 01 9.99
QUANTUM AGE FROM WORLD OF BL HAMMER #1 CVR A 3.99
QUANTUM AGE FROM WORLD OF BL HAMMER #1 CVR B 3.99
RED SONJA TARZAN #3 3.99
RETURN OF ULTRAMAN JACK S.H.FIGUARTS AF
ROBYN HOOD THE CURSE #6 (OF 6) CVR A 3.99
ROBYN HOOD THE CURSE #6 (OF 6) CVR B 3.99
ROCKOS MODERN LIFE #6 3.99
ROCKOS MODERN LIFE #6 SUB 3.99
ROGUE & GAMBIT TP RING OF FIRE 15.99
RUROUNI KENSHIN 3IN1 TP VOL 07 14.99
SAILOR MOON SUPERS SUPER SAILOR VENUS
SHADE THE CHANGING WOMAN #5 (OF 6) 3.99
SKIN AND EARTH TP 24.99
SPAWN #287 CVR A 2.99
SPAWN #287 CVR B 2.99
SPIDER-MAN DEADPOOL #35 3.99
SPIDER-MAN MILES MORALES TP VOL 04 17.99
STAR TREK NEW VISIONS ENEMY OF MY ENEMY 7.99
STAR TREK DISCOVERY SUCCESSION #3 CVR A 3.99
STAR TREK DISCOVERY SUCCESSION #3 CVR B 3.99
STAR TREK NEW VISIONS AN UNEXPECTED YESTERDAY 7.99
STAR WARS #50 5.99
STAR WARS #50 MARQUEZ VAR 5.99
STAR WARS BB-8 & R2-D2 1/12 MDL KIT
STAR WARS BOBA FETT 1/12 MDL KIT
STAR WARS HC VOL 03 34.99
STAR WARS LAST JEDI ADAPTATION #4 (OF 6) 3.99
STAR WARS X-WING & Y-WING STARFIGHTER 1/144 MDL KIT
SUPERGIRL BY PETER DAVID TP BOOK 04 29.99
SWORD DAUGHTER #2 CVR A 4.99
SWORD DAUGHTER #2 CVR B 4.99
TANGLED #3 (OF 3) CVR A 3.99
TANGLED #3 (OF 3) CVR B 3.99
TAROT WITCH OF THE BLACK ROSE #104 STUDIO DELUXE ED 19.99
THOR #2 3.99
THIEF OF THIEVES #38 3.99
THOR RAGNAROK THUNDERBOLT EFFECT S.H.FIGUARTS AF SET
TMNT ONGOING (IDW) COLL HC VOL 07 49.99
TOON TUMBLERS WOLVERINE CLASSIC CLEAR PINT GLASS 10.99
TOON TUMBLERS X-MEN CLASSIC CLEAR PINT GLASS 10.99
TRANSFORMERS BUMBLEBEE MOVIE PREQUEL #1 CVR A 3.99
TRANSFORMERS BUMBLEBEE MOVIE PREQUEL #1 CVR B 3.99
TRANSFORMERS LOST LIGHT #19 CVR A 3.99
TRANSFORMERS LOST LIGHT #19 CVR B 3.99
TRANSFORMERS WRECKERS SAGA TP 29.99
TRESPASSER OGN 9.95
TRUE BELIEVERS FF COMING OF GALACTUS #1 1
TRUE BELIEVERS FF WEDDING REED AND SUE #1 1
UBER INVASION #14 3.99
UBER INVASION #14 WRAP CVR 3.99
UNEXPECTED #2 2.99
UNNATURAL #1 (OF 12) CVR A 3.99
UNNATURAL #1 (OF 12) CVR B 3.99
VALIANT HIGH #3 (OF 4) 3.99
VAMPBLADE SEASON 3 #3 4.99
WALKING DEAD #181 CVR A 3.99
WALKING DEAD #181 CVR B 3.99
WALT DISNEY COMICS & STORIES #742 CVR A 5.99
WALT DISNEY COMICS & STORIES #742 CVR B 5.99
WEAPON X #20 3.99
X-23 #1 BY CHOI POSTER 8.99
ZOMBIE TRAMP ONGOING #49 CVR A CELOR 4.99
X-MEN GOLD #31 3.99
XERXES FALL OF HOUSE OF DARIUS #4 (OF 5) (MR) 4.99
YO-KAI WATCH GN VOL 09 9.99
YOUNGBLOOD TP VOL 02 REBRANDED 14.99
We hope to see you soon at CQ!
Visit us at 2260 Morgan Avenue, Evansville
On the web at www.comicquest.com
On Facebook www.facebook.com/comicquestevansville
On Twitter @cqevansville
On Instagram: @comicquestevansville
Contact us at sales@comicquest.com or by phone at 812-474-1133