Comic Quest Weekly for 7/15/2018
Books of the Month from July 2018 PREVIEWS!
You want a quick glimpse of the BIG books from the premier publishers this month? Here's the checklist! Get ready for new titles from Dark Horse Comics, DC Comics, IDW Publishing, Image Comics, and Marvel Comics. These are the books you DON'T want to miss!
You want a quick glimpse of the BIG books from the premier publishers this month? Here's the checklist! Get ready for new titles from Dark Horse Comics, DC Comics, IDW Publishing, Image Comics, and Marvel Comics. These are the books you DON'T want to miss!
Bully Wars #1 Image Comics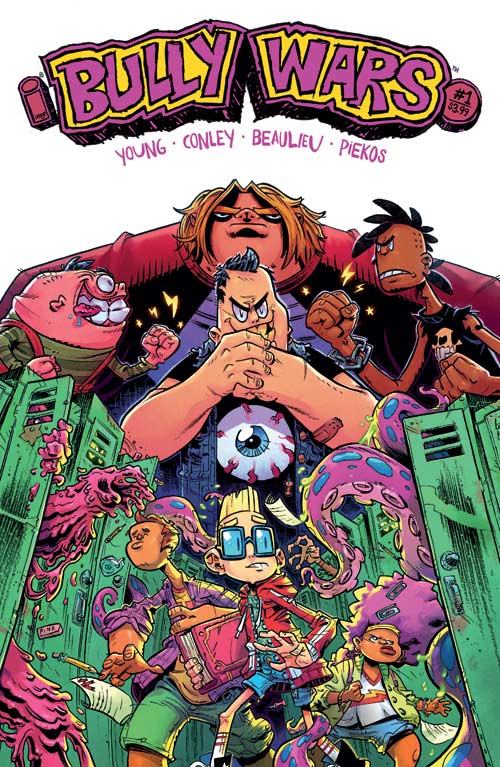 Skottie Young and artist Aaron Conley team up for Bully Wars, in which a grade school bully must enlist the aid of a trio of nerds to survive high school!
Man-Eaters #1 Image Comics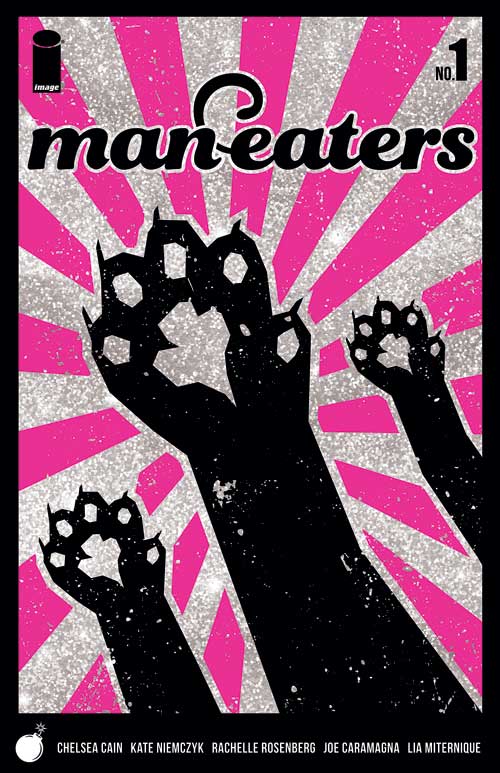 Eisner-nominated New York Times best-selling author Chelsea Cain presents this SF/horror story that's part Cat People and part The Handmaid's Tale!
Stranger Things #1 Dark Horse Comics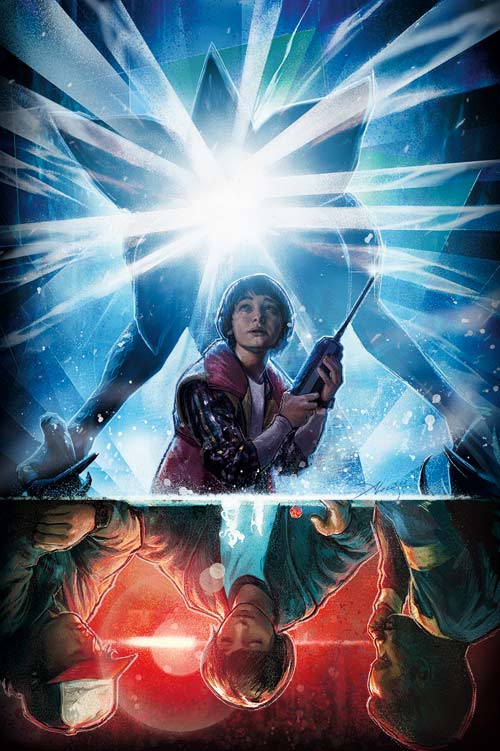 The hit Netflix series comes to comics as Will Byers, trapped in the "Upside Down", must use his wits and resolve to avoid the pursuit of the Demogorgon and survive!
Mystery Science Theater 3000 #1 Dark Horse Comics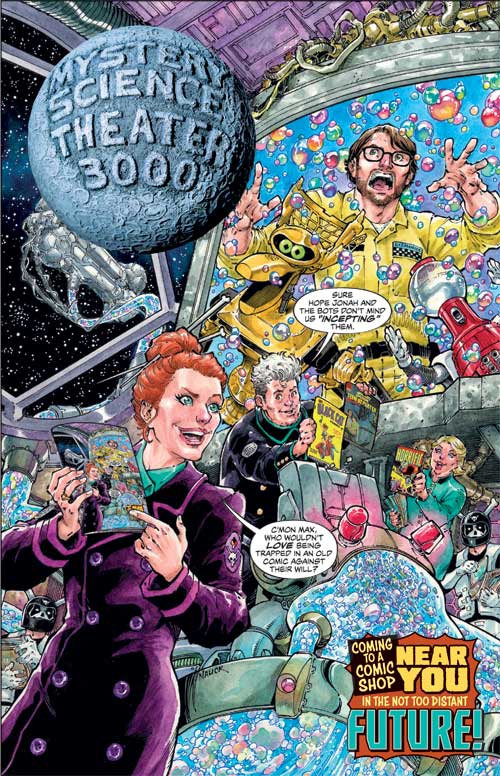 The riffing hilarity of Mystery Science Theater 3000 comes to comics as Jonah Heston, Crow T. Robot, and Tom Servo find themselves thrust into the 2-D world of public domain comics!
Heroes In Crisis #1 DC Comics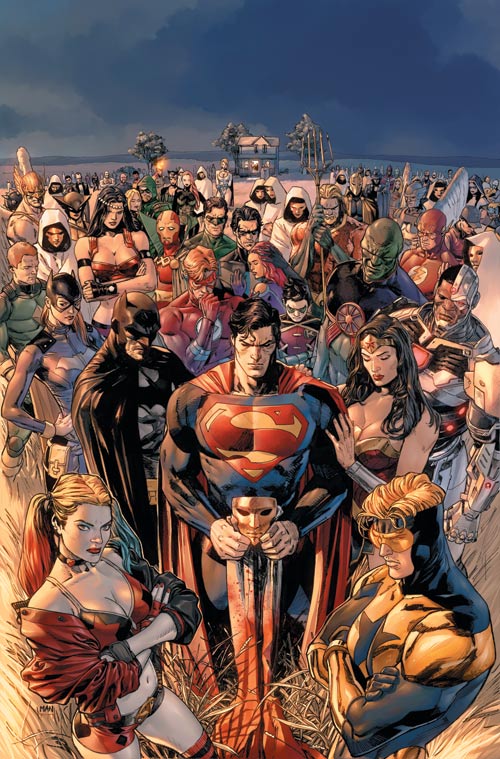 Tom King and Clay Mann take us to Sanctuary, an ultra-secret hospital for super-heroes who've been traumatized by crime-fighting and cosmic combat. But what happens when super-patients start dying?
Batman: Damned #1 DC Comics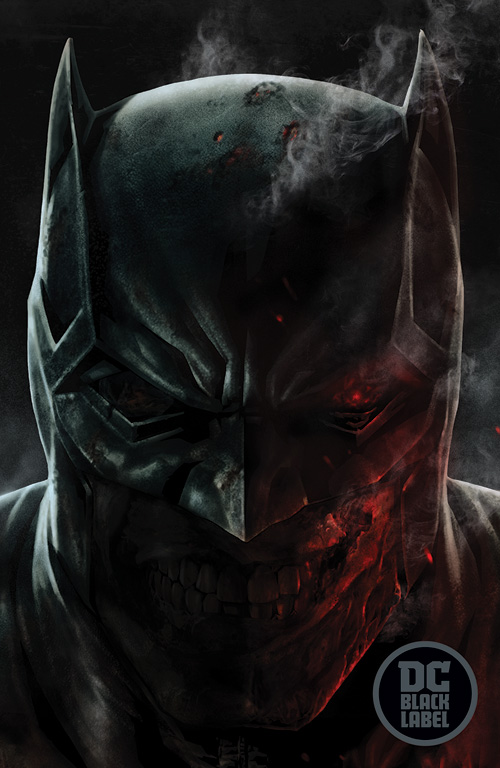 The highly-anticipated DC Comics new imprint — DC Black Label — starts here with Batman: Damned, from the award-winning creative team of Brian Azzarello and Lee Bermejo!
Star Trek Vs. Transformers #1 IDW Publishing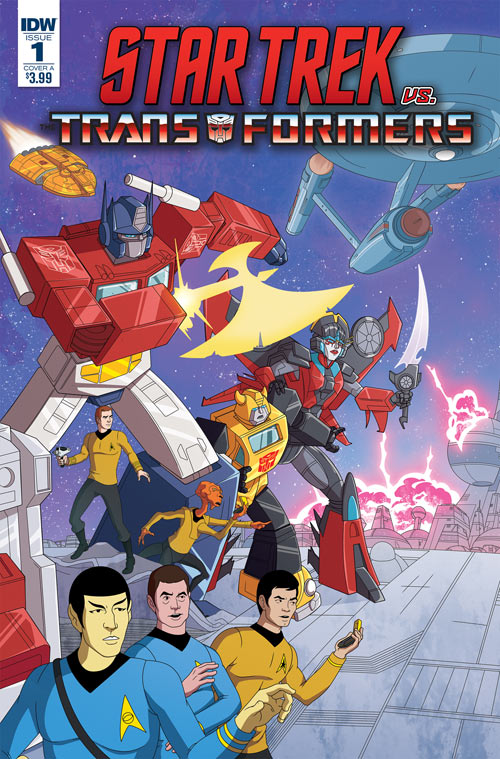 The Transformers '80s cartoon series meets Star Trek: The Animated Series in a no-holds-barred Saturday Morning mash-up for the ages!
Batman/The Maxx #1 IDW Publishing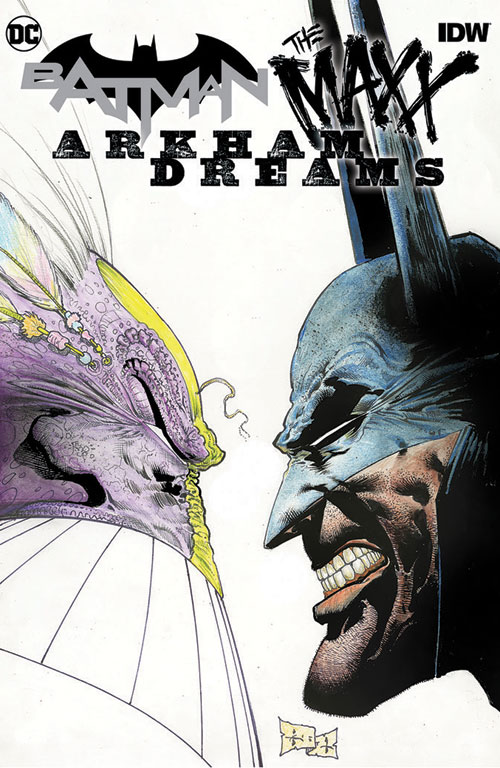 Batman must face the strangest and most bizarre adventure of his career as he meets comics' strangest and most bizarre hero… THE MAXX, from writer John Layman and creator/artist Sam Kieth!
Iceman #1 Marvel Comics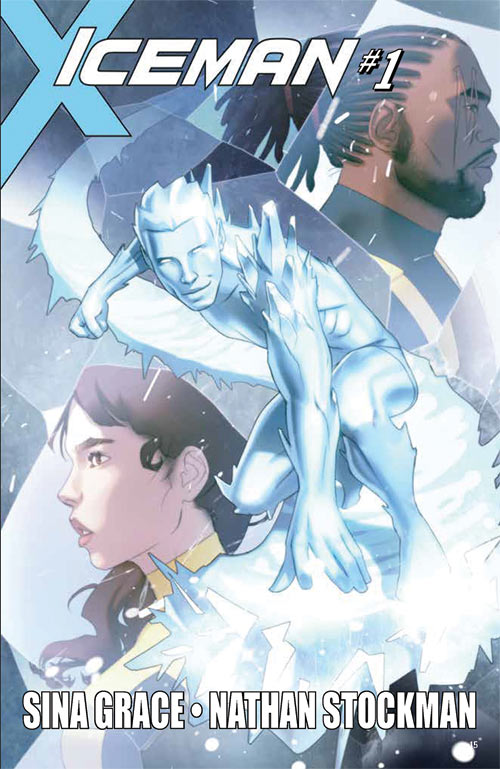 Sina Grace and Nathan Stockman bring Iceman back to the spotlight, just in time to prevent another potential Mutant Massacre! But who is behind this horrific hunt?
Low Road West #1 BOOM! Studios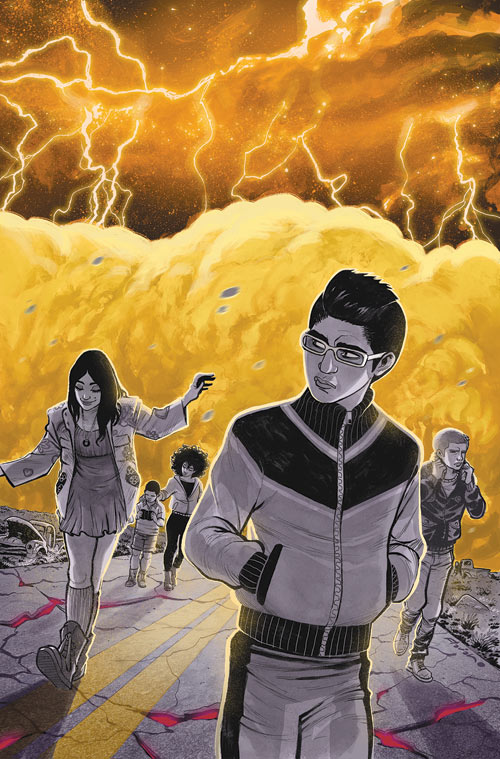 Eisner Award-nominated writer Phillip Kennedy Johnson (Kong: Gods of Skull Island) and artist Flaviano Armentaro (America) present this new post-apocalyptic limited series!
NEW ARRIVALS!
ARCHIE MEETS BATMAN 66 #1 $3.99


(W) Jeff Parker, Michael Moreci (A) Dan Parent, J. Bone (CA) Michael Allred, Laura Allred
Two iconic comic book characters meet up for the FIRST TIME in this historic crossover mini-series! A battle in Gotham City extends its reach into Riverdale-with Mr. Lodge becoming enemy #1 of the dynamic duo! Now it's up to Veronica to recruit some help and place a call… to the Batcave!
INJUSTICE VS THE MASTERS OF THE UNIVERSE #1 (OF 6) $3.99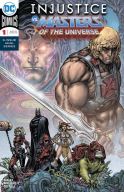 (W) Tim Seeley (A/CA) Freddie Williams II
Believing He-man and the Masters of the Universe defeated, a robotic impostor has seized control of Eternia-but not for long! After freeing his kingdom from this strongman's rule, Prince Adam learns not everyone is pleased to see the pretender deposed-but Adam knows the value of freedom. So when heroes from another dimension ask his aid in deposing a super-hero turned dictator, he agrees. Teaming up with Batman against the Superman of the Injustice Universe, He-man and his new allies face dangerous and familiar enemies in a battle where no world is safe!
LIFE OF CAPTAIN MARVEL #1 $4.99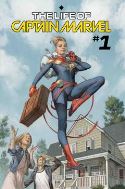 (W) Margaret Stohl (A) Carlos Pacheco (CA) Joe Quesada
THE DEFINITIVE ORIGIN OF CAPTAIN MARVEL!
Carol Danvers was just a girl from the Boston suburbs who loved science and the Red Sox until a chance encounter with a Kree hero gave her incredible super-powers. Now, she's a leader in the Avengers and the commander of Alpha Flight. But what if there were more to the story? When crippling anxiety attacks put her on the sidelines in the middle of a fight, Carol finds herself reliving memories of a life she thought was far behind her. You can't outrun where you're from – and sometimes, you HAVE to go home again. But there are skeletons in Captain Marvel's closet – and what she discovers will change her entire world. Written by best-selling author Margaret Stohl and drawn by fan-favorite comics veteran Carlos Pacheco, this is the true origin of Captain Marvel.
BATMAN #51 $3.99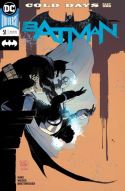 (W) Tom King (A/CA) Lee Weeks
The honeymoon's over for Bruce Wayne as Gotham City's most prominent citizen gets selected for jury duty in a chilling court case involving Mr. Freeze! Freeze claims the charges should be dismissed because Batman used excessive force; cue the outrage and media circus. While doing his civic duty, Wayne's forced to take a hard look at the Dark Knight's methods. And hey…what is Dick Grayson doing running around the city dressed as Batman?
THOR #3 $3.99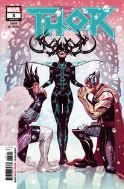 (W) Jason Aaron (A/CA) Michael Del Mundo
UNHOLY MATRIMONY!
War rages across the land of the dead, and not even the reunion of Thor with his brother Balder can stop it! Perhaps peace might come from the wedding of the century… in Hel! With Hela, the goddess of death, as the bride, which Odinson brother is going to be the lucky groom? And what special surprise guest is looking to put a deadly stop to the nuptials?
JUSTICE LEAGUE #4 $3.99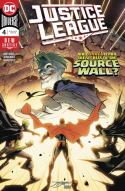 (W) Scott Snyder (A/CA) Jorge Jimenez
What is hidden in the darkest depths of the ocean and farthest reaches of space doesn't even compare to the insidious secrets buried in the pasts of Flash, Green Lantern, and Martian Manhunter! While the rest of the League battles to save their friends before all of reality unravels, the citizens of Earth make a startling decision…to join the Legion of Doom!
THIS WEEK IN TOYS/STATUES
DC JUSTICE LEAGUE TAS FIG COLL SER 1 #1 SUPERMAN $20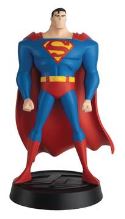 Inspired by the fan-favorite Justice League Animated TV Series, this figurine collection features all of the team's iconic heroes sculpted in the unique style of the show and finished with bright, bold colors. This mini-series is a must-have for any fan of the series and true collectors of DC figurines. Each figurine comes complete in retro-style packaging with a 12-page magazine profiling a member of the League.
MYSTERY MINIS STAR WARS EMPIRE STRIKES BACK 12PC BMB DISP



Relive The Empire Strikes Back! Expand your Star Wars collection with the stars of 1980's best movie set in a galaxy far, far away. Each stylized vinyl figure measures 2 1/2″ tall and comes packaged in blind boxes. Collect them all!
POP MARVEL DEADPOOL PARODY DEADPOOL CLOWN VINYL FIG $11.99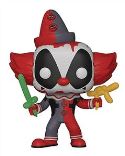 From Funko. Marvels famous mercenary Deadpool arrives in new Funko forms, look for Deadpool in a variety of different parodies! Each Pop! figure stands about 3 3/4″ tall and comes in a collector-friendly window box packaging.
DCTV GOTHAM JIM GORDON ARTFX+ STATUE $69.99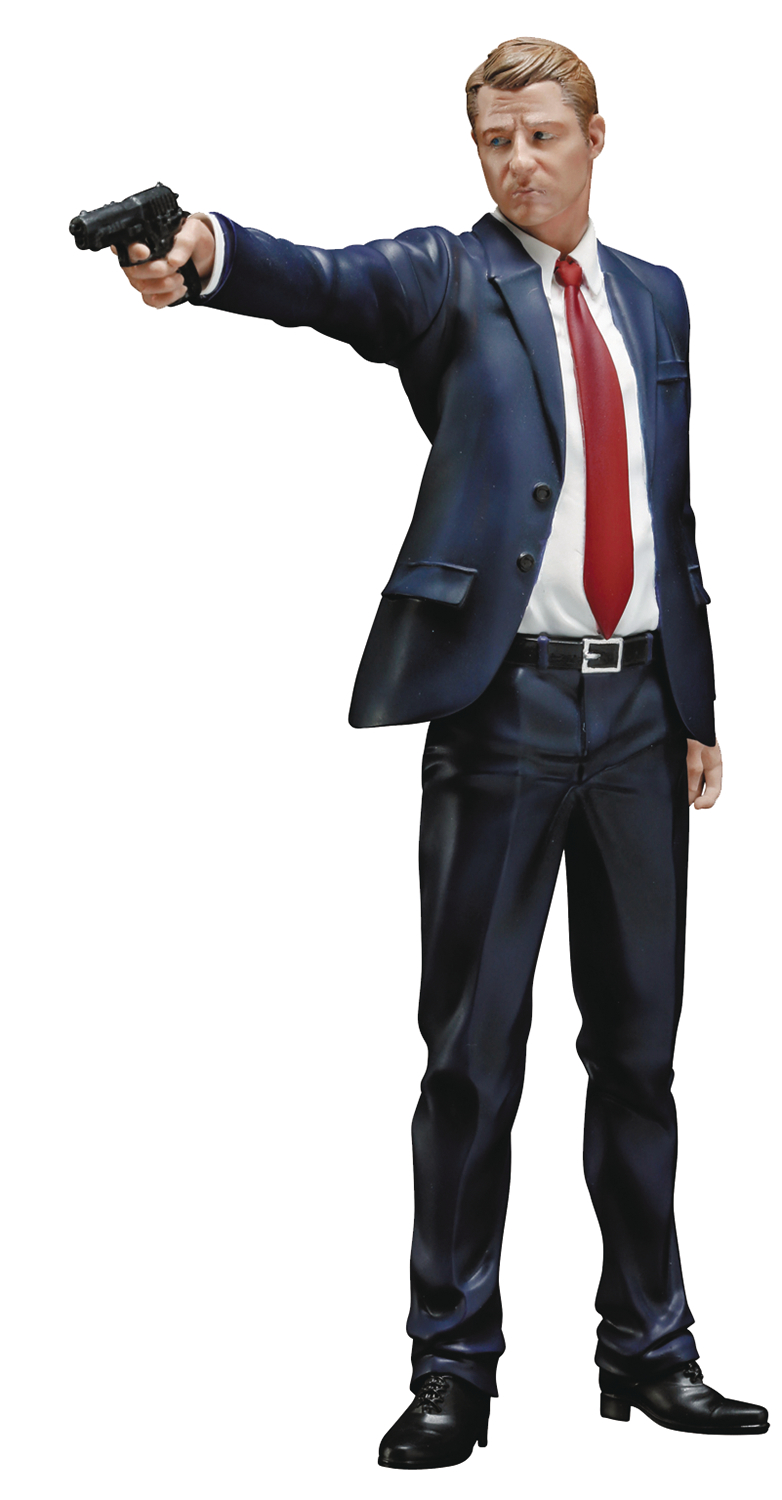 From Kotobukiya. Kotobukiya's popular lineup of comic book and movie characters based on characters origination in DC Comics continues to expand to the TV series with James Gordon from Gotham! Display the detective with either a gun or a badge held out in his right hand.
TRADE PAPERBACKS OF THE WEEK
MARVEL TWO-IN-ONE TP VOL 01 FATE OF THE FOUR $17.99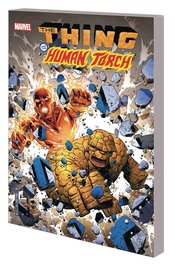 (W) Chip Zdarsky (A) Valerio Schiti (A/CA) Jim Cheung
A classic title from Marvel's storied history is back at last – and it's fantastic! With Reed and Sue Richards gone and presumed dead, Johnny Storm and Ben Grimm reunite in a bid to find their new place in the Marvel Universe. But something is wrong with the Human Torch, and only the Thing can help him! And what monumental secret has Victor Von Doom been hiding – and how will it completely change the lives of Ben and Johnny?! Prepare for things to go Multiversal as the Thing and the Torch explore the Fate of the Four! It's the reunion you've been waiting for – well, half of it, at least – in the world's new greatest comic magazine! Collecting MARVEL 2-IN-ONE (2017) #1-6.
OVERSTREET COMIC BK PG HC VOL 48 FLASH GREEN LANTERN $35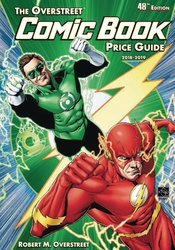 (W) Robert M. Overstreet (CA) Sciver, Ethan Van
Leading off the 48th edition of The Overstreet Comic Book Price Guide, former DC Comics President and Publisher Paul Levitz highlights the legacy of Action Comics #1 on its 80th anniversary. The spotlight also is turned on 50th anniversary of Marvel's fateful 1968 expansion and the 50th anniversary of Planet of the Apes and the comics that followed the original feature film. Add in all the updated prices, current market reports, new additions to the Overstreet Hall of Fame and a selection of key character anniversaries and you have a solid reminder of why the Guide has been the Bible of comic book collectors and dealers since 1970! Premiere DC artist Ethan Van Sciver provides the Flash/Green Lantern cover.
SHAOLIN COWBOY STAR TREK HC $24.99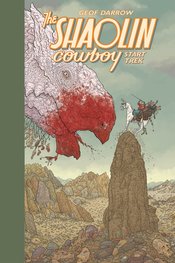 (W) Geof Darrow (A/CA) Geof Darrow
The Shaolin Cowboy walks the action-packed path of three enemies: Those from the past, who still pursue him, those from the future who are waiting for him, and those from the present who find killing him isn't going to be as easy as it looks. The original Eisner-winning series published by Burlyman Entertainment in all its bloody glory. It's fat, it's fast, it's furious!!! Collects Shaolin Cowboy: The Burlyman series #1-#7.
FLASH THE SILVER AGE OMNIBUS HC VOL 03 $99.99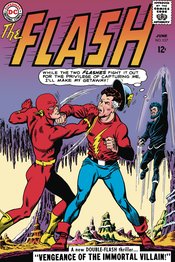 (W) John Broome, Gardner Fox (A) Carmine Infantino, Ross Andru, Gil Kane (CA) Evan Shaner
The Flash and Kid Flash team up in these stories from THE FLASH #164-199, featuring their battles against Reverse-Flash, Gorilla Grodd, Captain Cold and Heat Wave, Abra Kadabra, Dr. Light and more! Includes guest-appearances by Green Lantern, the Golden Age Flash and Superman!
MASTER LIST OF STUFF ARRIVING THIS WEEK!
ABERRANT #2 3.99
ADVENTURE TIME COMICS #25 4.99
ADVENTURE TIME COMICS #25 SUB 4.99
ANALOG #4 3.99
APHRODITE V #1 3.99
APOLLO HC 24.99
ARCHIE MEETS BATMAN 66 #1 3.99
ASPEN SPLASH 2018 3.99
AVENGERS #5 3.99
BARRY STEAKFRIES #1 3.99
BATGIRL & THE BIRDS OF PREY TP VOL 03 19.99
BATMAN #51 3.99
BATMAN #51 VAR ED 3.99
BATMAN AND ROBIN ADV TP VOL 03 24.99
BATMAN SINS OF THE FATHER #6 (OF 6) 2.99
BATWOMAN #17 3.99
BATWOMAN #17 VAR ED 3.99
BEEF TP 16.99
BLADE OF IMMORTAL OMNIBUS TP VOL 06 21.99
BRAVE & THE BOLD BATMAN & WONDER WOMAN #6 (OF 6) 3.99
BROOKLYN BLOOD TP 17.99
BTVS SEASON 10 LIBRARY HC VOL 01 29.99
BTVS SEASON 12 THE RECKONING #2 (OF 4) 3.99
BY NIGHT #2 (OF 12) 3.99
CABLE #159 3.99
CALL OF THE SUICIDE FOREST #5 3.99
CATALYST PRIME SUMMIT #7 3.99
CATALYST PRIME SUPERB #11 3.99
CAVE CARSON HAS AN INTERSTELLAR EYE #5 3.99
CLANKILLERS #1 CVR A FUSO 3.99
COMPLETE PEANUTS TP VOL 09 1967-1968 22.99
CRUDE #43.99
CURSE WORDS TP VOL 03 16.99
DAMAGE #7 2.99
DAYS OF HATE TP VOL 01 17.99
DBZ GRANDISTA RESOLUTION OF SOLDIERS SON GOKU V2 FIG
DC BATMAN TAS FIG COLL SER 2 #3 RIDDLER 20
DC JUSTICE LEAGUE TAS FIG COLL SER 1 #1 SUPERMAN 20
DC WONDER WOMAN MYTHOLOGIES FIG COLL #1 CLASSIC WW 20
DCTV GOTHAM JIM GORDON ARTFX+ STATUE 69.99
DEADLIFE #1 5.99
DEATHBED #6 3.99
DEPT H HC VOL 04 LIFEBOAT 19.99
DISNEY ROSA DUCK LIBRARY HC VOL 09 29.99
DORK HC 19.99
DRAGONBALL SUPER BWFC V3 FRIEZA FIG
DRAGONBALL SUPER DRAGON STARS NANO SAGA SET
DRY COUNTY #5 (OF 5) 3.99
DURARARA RE DOLLARS ARC GN VOL 02 13
EAST OF WEST #38 3.99
ERB THE LAND THAT TIME FORGOT TP VOL 01 19.99
ETHER COPPER GOLEMS #3 (OF 5) 3.99
EUTHANAUTS #1 3.99
EVOLUTION #8 3.99
FALCON TP VOL 01 TAKE FLIGHT 19.99
FATE ZERO TP VOL 06 11.99
FIRE PUNCH GN VOL 03 12.99
FLASH BY GEOFF JOHNS TP BOOK 05 24.99
FLASH THE SILVER AGE OMNIBUS HC VOL 03 99.99
FLAVOR #3 3.99
FRUITS BASKET ANOTHER GN VOL 01 15
FUTURAMA ANNUAL #1 4.99
FUTURE QUEST PRESENTS #12 3.99
FUTURE QUEST PRESENTS #12 VAR ED 3.99
GARLANDIA HC 39.99
GI JOE VS SIX MILLION DOLLAR MAN TP 15.99
GIDEON FALLS #5 CVR A 3.99
GIDEON FALLS #5 CVR B 3.99
GOD COMPLEX TP VOL 01 DOGMA 16.99
GOLOSSEUM GN VOL 02 12.99
GREEN LANTERNS #51 3.99
GREEN LANTERNS #51 VAR ED 3.99
GRIMM FAIRY TALES #18 3.99
HAKUMEI & MIKOCHI GN VOL 01 15
HARLEY QUINN #46 2.99
HARLEY QUINN #46 VAR 2.99
HELLBOY OMNIBUS TP VOL 03 THE WILD HUNT 24.99
HUNT FOR WOLVERINE CLAWS OF KILLER #3 3.99
HUNT FOR WOLVERINE CLAWS OF KILLER #3 VAR 3.99
IBITSU GN VOL 01 20
ICE CREAM MAN #5 3.99
IMMORTAL HULK #3 3.99
IINFIDEL #5 (OF 5) 3.99
INFINITY 8 #4 3.99
INFINITY COUNTDOWN #5 (OF 5) 4.99
INFINITY COUNTDOWN #5 (OF 5) LIM 4.99
INFINITY COUNTDOWN #5 (OF 5) ULTRON VAR 4.99
INJUSTICE 2 #30 2.99
INJUSTICE VS THE MASTERS OF THE UNIVERSE #1 3.99
INJUSTICE VS THE MASTERS OF THE UNIVERSE #1 VAR 3.99
INVADER ZIM #32 CVR A 3.99
INVADER ZIM #32 CVR B GREEN VAR 3.99
INVINCIBLE IRON MAN TP SEARCH FOR TONY STARK 24.99
INVISIBLES TP BOOK 03 24.99
JIM HENSON FRAGGLE ROCK #3 3.99
JIM HENSON FRAGGLE ROCK #3 SUB CVR 3.99
JOURNEY STAR WARS LAST JEDI CAPT PHASMA HC 24.99
JUGHEAD HUNGER TP VOL 01 17.99
JUGHEAD THE HUNGER #7 3.99
JUSTICE LEAGUE #4 3.99
JUSTICE LEAGUE #4 VAR 3.99
KICK-ASS #6 ROMITA JR 3.99
KONOHANA KITAN MANGA GN VOL 01 12.99
LEGION TP TRAUMA 15.99
LIFE OF CAPTAIN MARVEL #1 4.99
LIFE OF CAPTAIN MARVEL #1 ARTGERM 4.99
LOEG III CENTURY TP 19.99
LOVE SONG HC 24.99
LOWLIFES #2 CVR A BUCCELLATO 3.99
LUMBERJANES TP VOL 09 14.99
MAGIC ORDER #2 (OF 6) CVR A COIPEL 3.99
MAGIC ORDER #2 (OF 6) CVR B COIPEL 3.99
MAGIC ORDER #2 (OF 6) CVR C GRAMPA 3.99
MARVEL SPIDER-MAN MARK IV MINI BUST
MARVEL THANOS BI-FOLD WALLET 16.99
MARVEL TWO-IN-ONE TP VOL 01 FATE OF THE FOUR 17.99
MIGHTY MORPHIN POWER RANGERS #29 MAIN SG 3.99
MIGHTY MORPHIN POWER RANGERS #29 SUB 3.99
MS MARVEL TP VOL 09 TEENAGE WASTELAND 17.99
MSH ADVENTURES MS MARVEL TELEPORTING DOG #1 3.99
MY LITTLE PONY PONYVILLE MYSTERIES #3 3.99
MYSTERY MINIS STAR WARS EMPIRE STRIKES BACK 12PC BMB DISP
NEW CHALLENGERS #3 (OF 6) 2.99
NINJA-K #9 CVR A CARNERO 3.99
NINJA-K #9 CVR B QUAH 3.99
OLD MAN HAWKEYE #7 (OF 12) 3.99
OPTIMUS PRIME #21 CVR A 3.99
OPTIMUS PRIME #21 CVR B 3.99
OVERSTREET COMIC BK PG HC VOL 48 FLASH GREEN LANTERN 35
OVERSTREET COMIC BK PG SC VOL 48 FLASH GREEN LANTERN 29.95
OVERSTREET COMIC BK PG SC VOL 48 PLANET OF APES 29.95
PETER PARKER SPECTACULAR SPIDER-MAN #307 3.99
POCKET POP DEADPOOL PLAYTIME SWORDS FIG KEYCHAIN 5.99
POP COMING TO AMERICA SEMMI VINYL FIG 11.99
POP HARRY POTTER GILDEROY LOCKHART VINYL FIG 11.99
POP HARRY POTTER GINNY WEASLEY VINYL FIG 11.99
POP HARRY POTTER HARRY POTTER VINYL FIG 11.99
POP HARRY POTTER HERMIONE GRANGER VINYL FIG 11.99
POP HARRY POTTER NEARLY HEADLESS NICK VINYL FIG 11.99
POP HARRY POTTER RON WEASLEY VINYL FIG 11.99
POP HARRY POTTER TOM RIDDLE VINYL FIG 11.99
POP MARVEL COMIC MOMENT DEADPOOL VS CABLE VIN FIG 29.99
POP MARVEL DEADPOOL PARODY DEADPOOL CLOWN VINYL FIG 11.99
POP NEW GIRL JESS VINYL FIG 11.99
POP NEW GIRL SCHMIDT VINYL FIG 11.99
POP NEW GIRL WINSTON VINYL FIG 11.99
PORTAL CHELL ACTION FIGURE 26.99
PRECARIOUS WOMAN MISS BLACK GENERAL GN VOL 01 12.99
PROXIMA CENTAURI #2 (OF 6) 3.99
QUANTUM & WOODY (2017) #8 (NEW ARC) CVR A 3.99
QUANTUM & WOODY (2017) #8 (NEW ARC) CVR B 3.99
RAT QUEENS SPECIAL NEON STATIC (ONE-SHOT) 3.99
REVENGE OF WONDERLAND #1 (OF 6) 3.99
RICK AND MORTY FLEEB JUICE ENERGY DRINK
RISE OF TMNT #0 CVR A THOMAS 3.99
ROBOTECH #11 3.99
ROCKOS MODERN LIFE TP VOL 01 14.99
ROME WEST TP 15.99
ROYAL CITY #12 3.99
RUNAWAYS #11 3.99
SACRIFICIAL PRINCESS & KING BEASTS GN VOL 02 13
SCHOOL OF HORNS GN VOL 01 13
SHADOWMAN (2018) #5 CVR A 3.99
SHADOWMAN (2018) #5 CVR B 3.99
SHADOWMAN (2018) TP VOL 01 9.99
SHAOLIN COWBOY START TREK HC 24.99
SHERLOCK HOLMES VANISHING MAN #3 3.99
SHIPWRECK TP VOL 01 17.99
SKYWARD #4 3.99
SOULFIRE PRIMER 2018 0.25
SOULFIRE VOL 7 #1 3.99
SPIDER KING TP 19.99
SPIDER-GWEN #34 3.99
SPIDER-MAN DEADPOOL #36 3.99
SPIDER-MAN DEADPOOL TP VOL 06 WLMD 15.99
STAR TREK TNG TERRA INCOGNITA #1 CVR A 3.99
STAR TREK TNG TERRA INCOGNITA #1 CVR B 3.99
STAR WARS #51 3.99
STAR WARS #51 CHRISTOPHER ACTION FIGURE VAR 3.99
STAR WARS DARTH VADER ANNUAL #2 4.99
STAR WARS DARTH VADER ANNUAL #2 VAR 4.99
SW LEGENDS EPIC COLL ORIG MARVEL YEARS TP VOL 03 39.99
SW POE DAMERON #29 3.99
STELLAR #2 3.99
STEVEN UNIVERSE ONGOING #18 3.99
SUICIDE SQUAD TP VOL 06 16.99
SWASHBUCKLERS SAGA CONTINUES #4 3.99
SWORD ART ONLINE ALTERNATIVE GUN GALE GN VOL 02 13
TAROT CAFE MANGA COLLECTION GN VOL 01 17.99
TEASING MASTER TAKAGI SAN GN VOL 01 13
THOR #3 3.99
THRILLING ADVENTURE HOUR #1 (OF 4) 3.99
THRILLING ADVENTURE HOUR #1 (OF 4) SUB 3.99
TITANS LAZARUS CONTRACT TP 16.99
TMNT UNIVERSE #24 4.99
TONY STARK IRON MAN #2 3.99
TRUE BELIEVERS FANTASTIC FOUR BY JOHN BYRNE #1 1
TRUE BELIEVERS FANTASTIC FOUR BY WALTER SIMONSON #1 1
TRUE BELIEVERS FANTASTIC FOUR COMING OF HERBIE #1 1
VENOM #2 STEGMAN 2ND PTG VAR 3.99
VOYNICH HOTEL GN VOL 01 12.99
VS #5 (OF 5) 3.99
VYNL HARRY POTTER RON & HERMOINE VIN FIG 2PK 14.99
WALT DISNEY COMICS & STORIES VAULT HC VOL 01 34.99
WEAPON H #5 3.99
WEATHERMAN #2 3.99
WILD STORM #15 3.99
WILDSTORM MICHAEL CRAY TP VOL 01 16.99
WITCHFINDER GATES OF HEAVEN #3 (OF 5) 3.99
WWE #19 3.99
X-FILES CASE FILES HOOT GOES THERE #1 (OF 2) 3.99
X-MEN GOLD #32 3.99
X-MEN RED #6 3.99
ZOMBIE TRAMP ONGOING #50 4.99
We hope to see you soon at CQ!
Visit us at 2260 Morgan Avenue, Evansville
On the web at www.comicquest.com
On Facebook www.facebook.com/comicquestevansville
On Twitter @cqevansville
On Instagram: @comicquestevansville
Contact us at sales@comicquest.com or by phone at 812-474-1133