Comic Quest Weekly for 9/30/2018
Comic Quest Celebrates 28 years!
Twenty eight years ago Comic Quest opened a small ten foot wide, shotgun store next to the Subway shop on Lincoln and Weinback avenues close to the University of Evansville. Within a year we grew to the point of having to move into a much larger location to handle the increase in patronage and the increase in our product lines. At that location we began carrying role-playing games, experienced the death of Superman, opened the limited edition alpha MTG cards, and eventually was squeezed out of that location due to scarcity of parking.
Throughout all of our growth spurts our customers have steadfastly supported us through the good times and bad times. We sincerely thank all of our customers, those from times past and our current customers, who have made being in business for 28 years possible.
To partially commemorate our anniversary we want to offer a anniversary sale that will begin on Monday October the 15th and continue through Tuesday October 3oth! During this time we will be offering 10 percent off on all items except for new comics. For further discounts we will offer larger percentages off items based on discount tiers: Spend 250.00 and get a 20% discount, spend 500 and get a 25% discount, spend 1000 and get a 30 percent discount. We will also have some door prizes that will be drawn throughout these two weeks of celebration. Note: Our Halloween ComicFest will also occur during this period( Saturday October 27th) and everyone can go home with some free comics ! Let's make it an October to remember!
Comics To Read Before They Are On TV
Don't sit down to watch the new comic book shows on television before first doing your homework! Read about the collected comics books that can prep you with all the background you need before streaming the latest blockbusters!
Deadly Class, Vol. 1: Reagan Youth

Tinseltown finally got their hooks into Rick Remender's assassin school thriller, Deadly Class, and it's now being adapted into a Russo Brothers TV series for SYFY debuting in 2019. Taking place in the middle of late 80s counter culture, Deadly Class is a coming of age story in which a disillusioned teenager is recruited into a high school for assassins. Before you sit down to binge watch the series, check out Volume 1: Reagan Youth to get in on the ground floor of who's who, and take advantage of a special introductory price!
The Boys, Vol. 1: The Name of the Game
A long time ago, Garth Ennis and co-creator Darick Robertson gave us a book from DC's Wildstorm called The Boys, which was anti-superhero in nature. Much like the hero dystopia one can see in Watchmen, such are sordid stories you can find in Ennis and Robertson's The Boys, in which heroes are typically corrupted by their celebrity status, and it's often difficult to calibrate the value of a "hero." The Amazon Prime TV series is spearheaded by Seth Rogen and Evan Goldberg, the duo behind AMC's "Preacher," and Ennis and Robertson are shown to have some writing credit for the series. But you should first check out the first volume of the trade paperback from Dynamite Entertainment (which picked the series up from Wildstorm), and learn more about a certain CIA squad that's tasked with keeping superheroes in line…by any means necessary.
Locke & Key, Vol. 1: Welcomc To Lovecraft

A lot has been written about the conga line that has formed to bring Joe Hill and Gabriel Rodríguez's Locke & Key to television. At first, it was reported that Hulu had picked up the series. Then those rumors were dashed into "fake news" when the real winner emerged in the form of Netflix. Now, according to Variety, the horror/fantasy series from IDW Publishing will soon bring viewers the story that revolves around three siblings who, after the gruesome murder of their father, move to a house that has magical keys which give them abilities. Hold off on watching the 10-episode first season and instead brush up on continuity by checking out the first volume of the series, Welcome To Lovecraft, which has gone on to be nominated for an Eisner!
The Umbrella Academy, Vol. 1: Apocalypse Suite

Also an upcoming TV series for Netflix, The Umbrella Academy is the brainchild of rocker Gerard Way, illustrated by artist Gabriel Bá. The show is reported to adopt the first story arc of the series, and viewers will be introduced to Sir Reginald Hargreeves (aka The Monocle), an extraterrestrial who is disguised as a wealthy entrepreneur. Hargreeves exists in a world where John F. Kennedy was never assassinated, and in this alternate reality Hargreeves trains seven super-powered children so that they can save the world. While Gerard Way will serve as co-executive producer for the show, you first want to read what he wrote in the first volume of the series, which has since been collected in trade paperback from Dark Horse Comics. Do your homework first and catch up on the first six-issue series! Then you can stream until your heart's content.
Chilling Adventures of Sabrina, Vol. 1 (MR)
Billed as a drama/horror/fantasy show, Chilling Adventures of Sabrina is based on the Archie comic book character that's been around longer than some of the parents you'll find at the comic shop. Set to debut October 26 with a ten-episode first season on Netflix, Chilling Adventures of Sabrina will seem familar to those already watching The CW's Riverdale. Both are dark, moody, scary, and make for very compelling TV! Sabrina the character, however, has been long torn between her witch family and human friends. Need to get up to speed? Writer Roberto Aguirre Sacasa details the many head games for the cute blonde witch in what you can now enjoy as the first volume of a trade paperback from Archie Comics. Get the first five issues of the series here, then take that knowledge and use it for tricks and trivia!
NEW ARRIVALS!
BATMAN #56 FOIL 3.99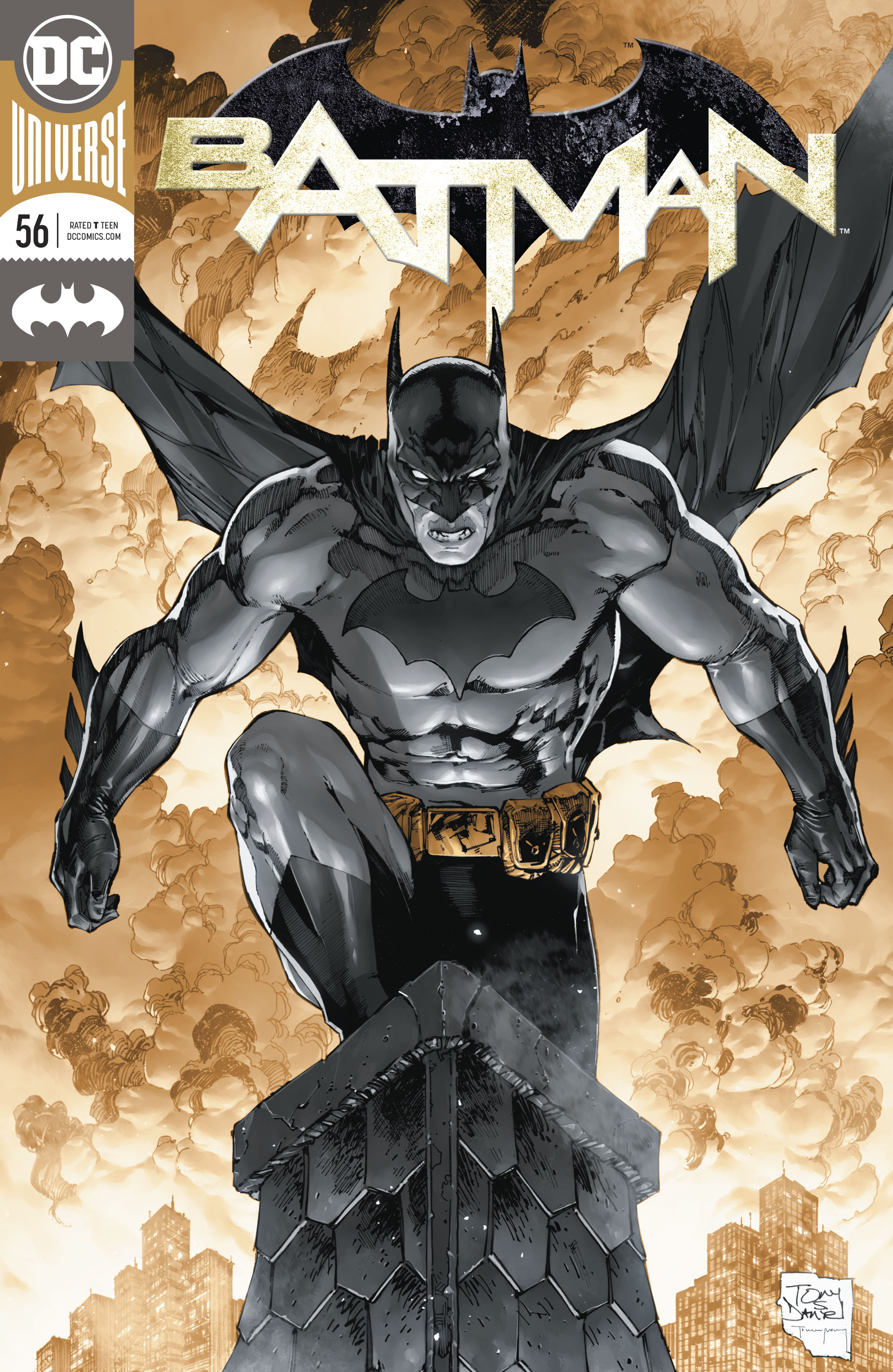 (W) Tom King (A/CA) Tony S. Daniel
The Dark Knight's looking to drop both the hammer and sickle on the KGBeast, whose rampage across Gotham City takes a toll on Nightwing when he's injured in the fray. Blaming himself for his ward's fate, Batman gets grimmer than usual-and vows to take the Russian assassin down like the Berlin Wall. Is even Gotham City ready for that much violence? The streets will run red like borscht if the Dark Knight gets his way against this Soviet scourge.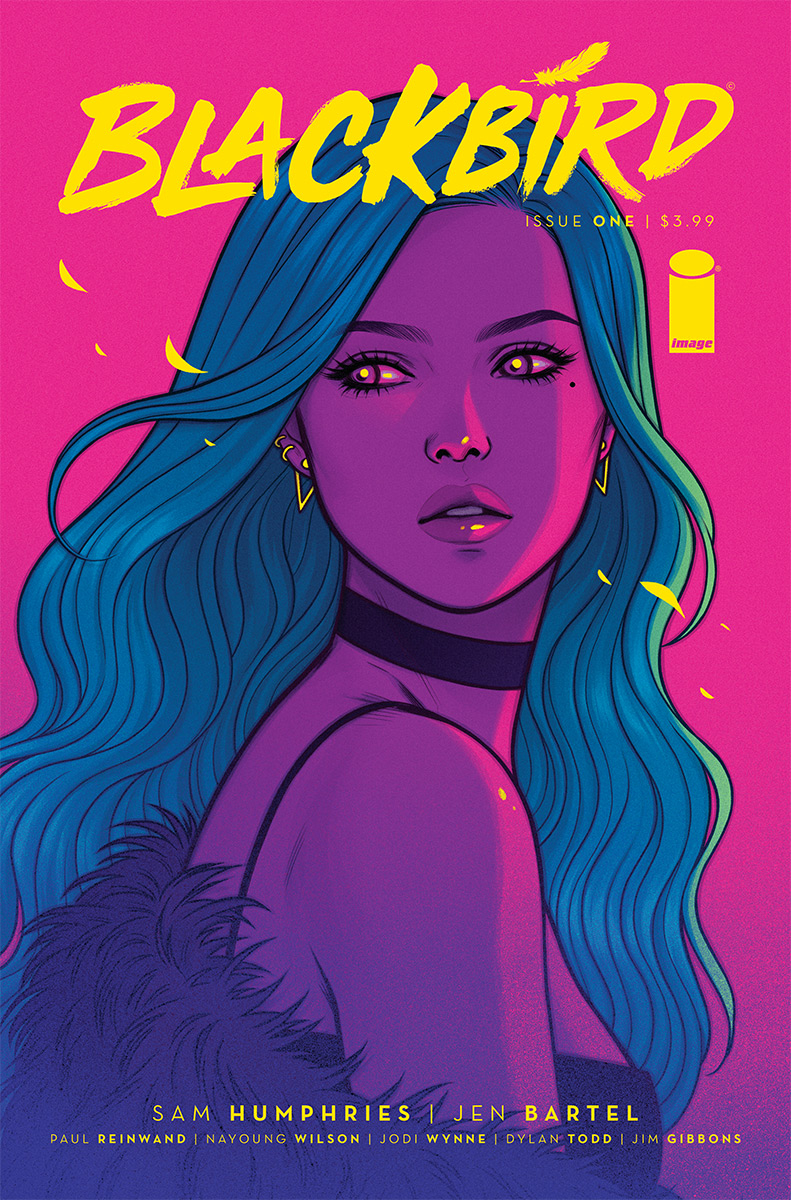 (W) Sam Humphries (A/CA) Jen Bartel
An all-new ongoing series from fan-favorite writer SAM HUMPHRIES (Harley Quinn, Nightwing) and red-hot artist JEN BARTEL!
In this neo-noir fantasy, Nina Rodriguez is positive that a secret magic world ruled by ruthless cabals is hiding just beneath the veneer of Los Angeles. The problem: everyone thinks she's crazy. The bigger problem: she's not crazy – she's right. Can she unravel the mystery before the Great Beast catches up with her?
SHATTERSTAR #1 (OF 5) 3.99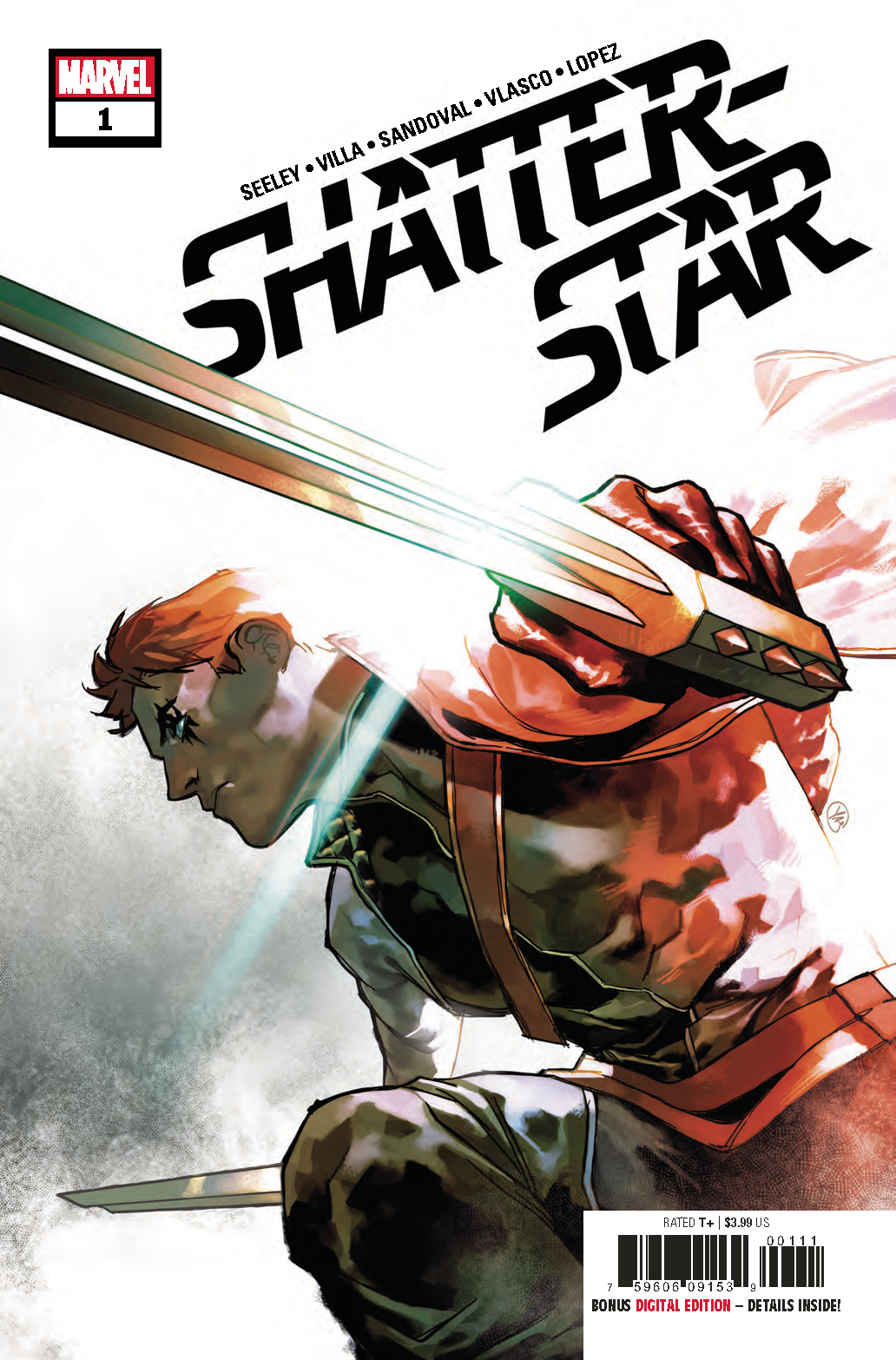 (W) Tim Seeley (A) Carlos Villa, Gerardo Sandoval (CA) Yasmine Putri
A gladiator, a warrior, a hero…the man called Shatterstar has been many things, but one thing he's always been is deadly. He's not a man you want to cross or you'll learn that fact all too well. Walk back into the darkness with Shatterstar.
UMBRELLA ACADEMY HOTEL OBLIVION #1 3.99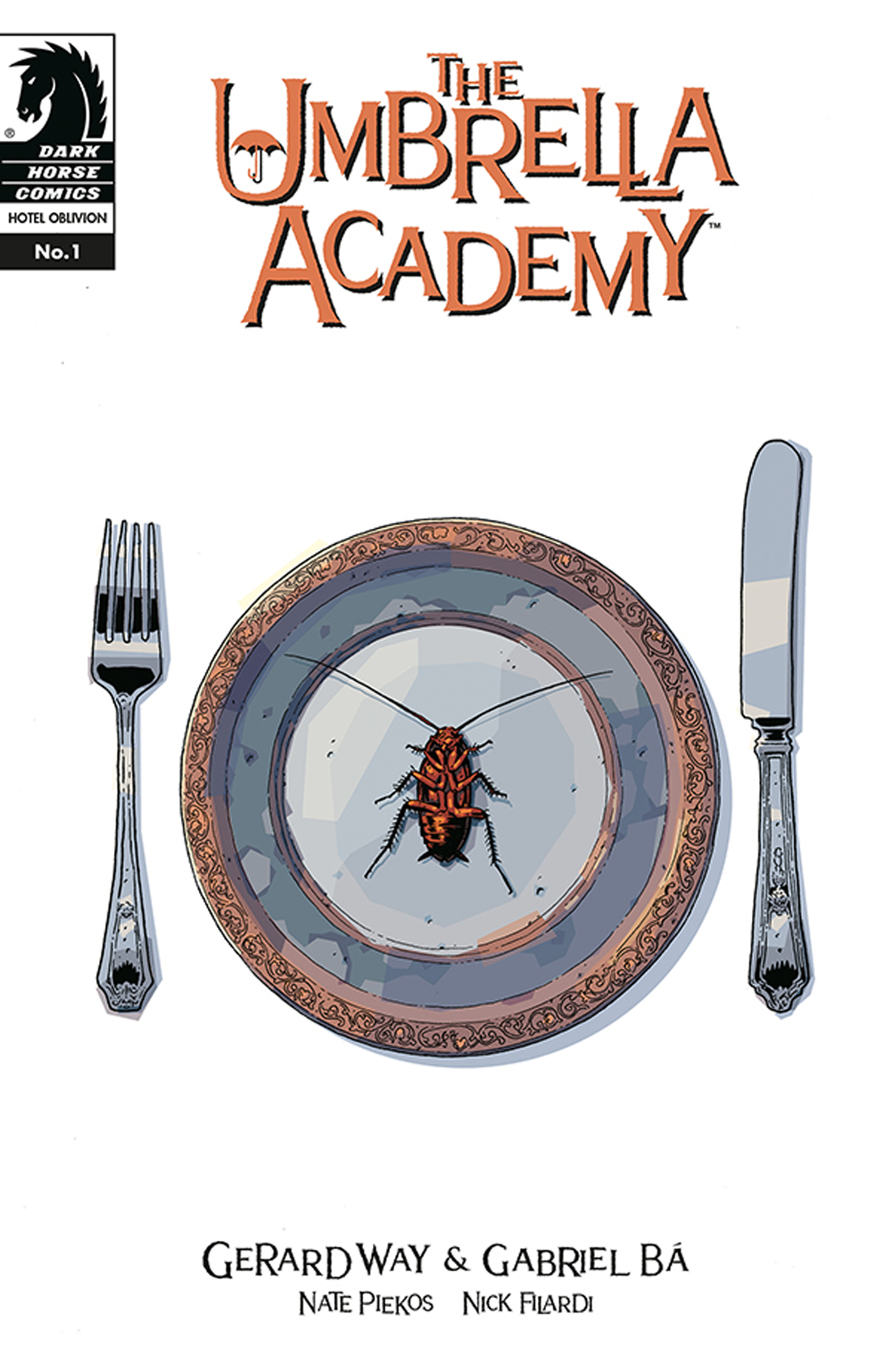 (W) Gerard Way (A) Nick Filardi (A/CA) Gabriel Ba
Faced with an increasing number of lunatics with superpowers eager to face off with his own wunderkind brood, Sir Reginald Hargreeves developed the ultimate solution …
Now, just a few years after Hargreeves's death, his Umbrella Academy is scattered. Number Five is a hired gun, Kraken is stalking big game, Rumor is dealing with the wreckage of her marriage, a rotund Spaceboy runs around the streets of Tokyo, Vanya continues her physical therapy after being shot in the head-and no one wants to even mention Seance until issue #2.
With a Netflix series soon to debut, the award-winning and best-selling superhero series returns, stranger than ever-
And their past is coming back to hunt them.
BATMAN BLANK COMIC #1 2.99
SUPERMAN BLANK COMIC #1 2.99
WONDER WOMAN BLANK COMIC #1 2.99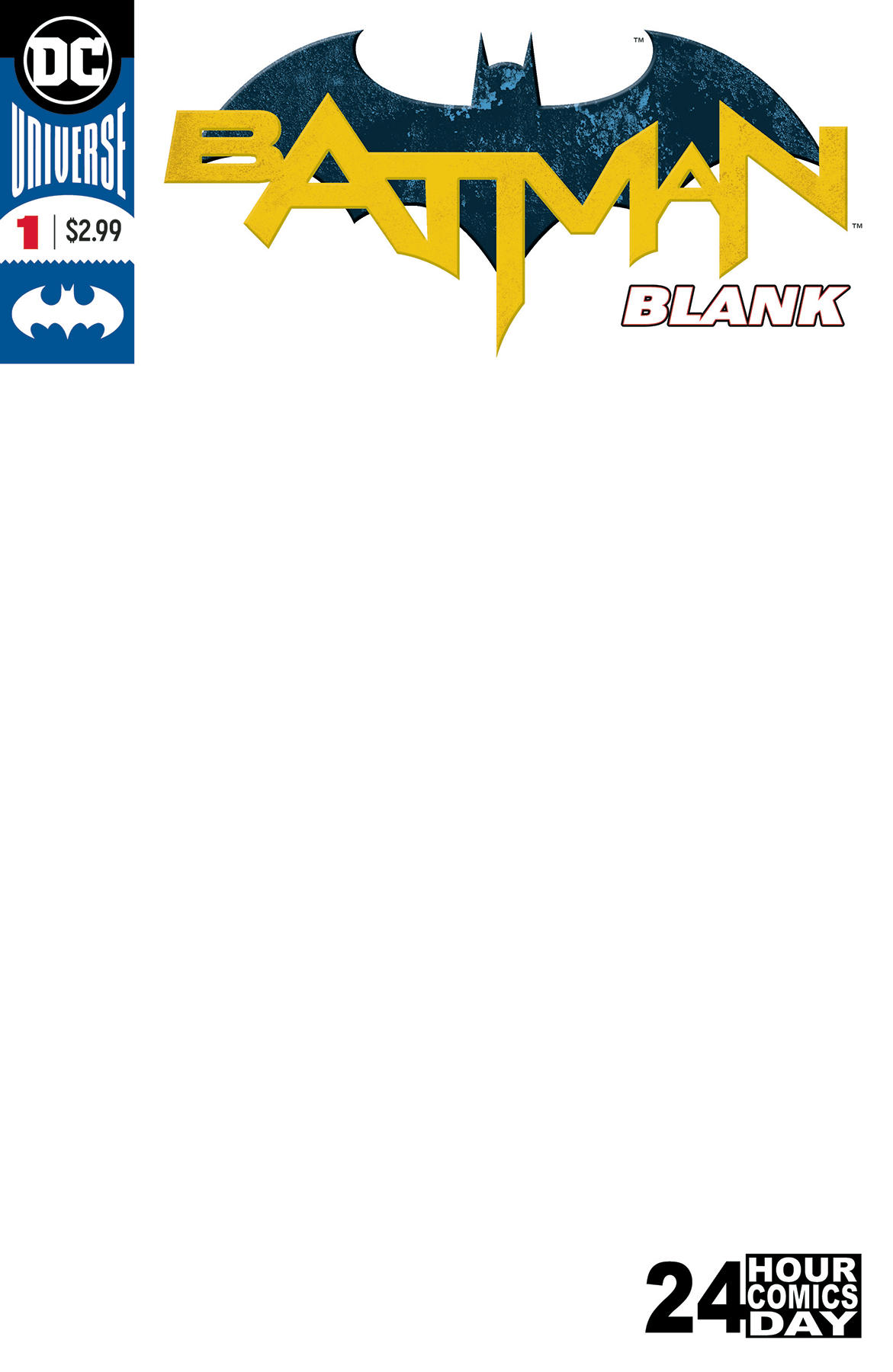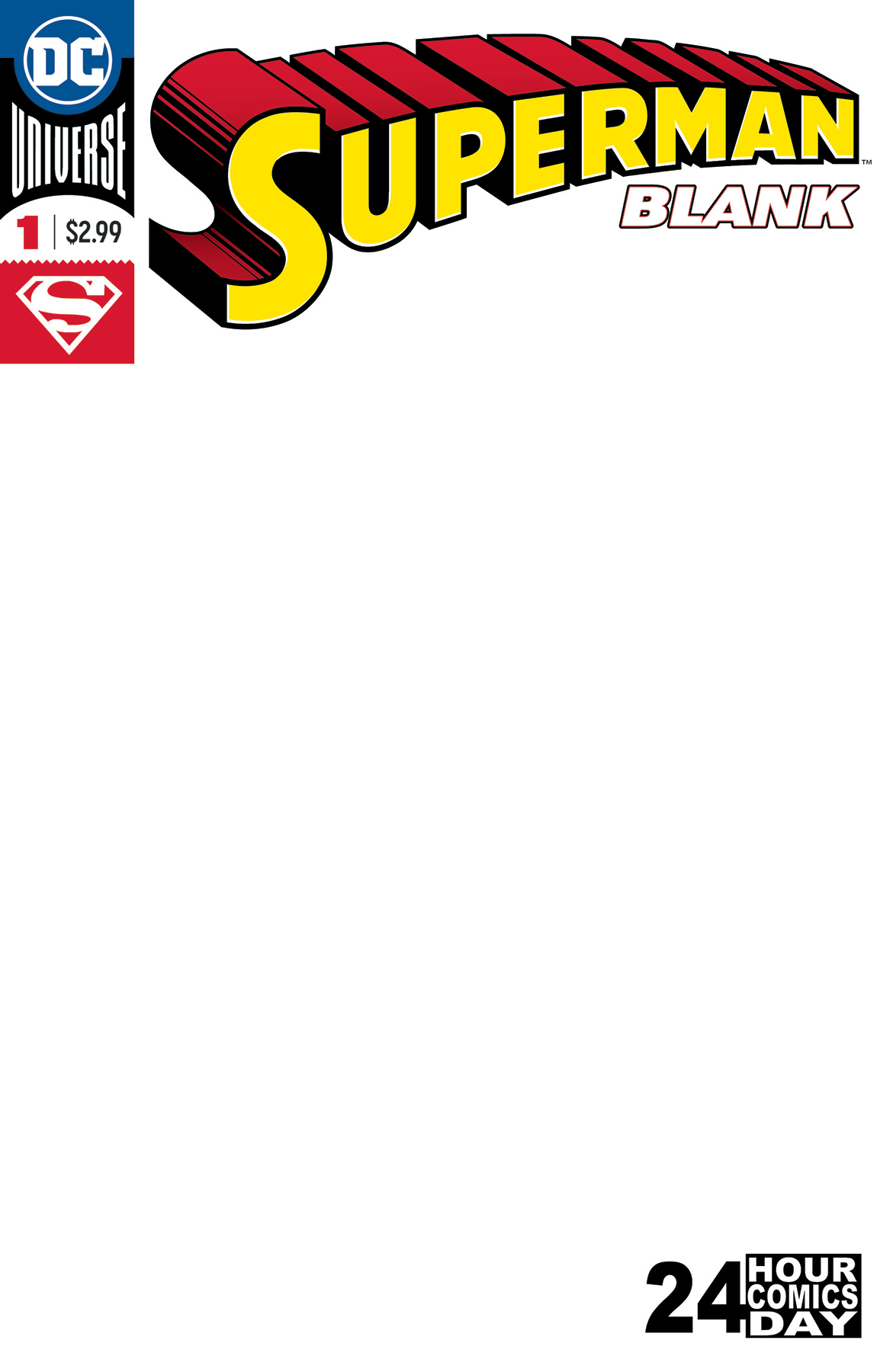 Celebrate "24-Hour Comics Day" with the BATMAN, SUPERMAN & WONDER WOMAN BLANK COMICS! You can write and draw your very own adventure of the Dark Knight, the Man of Steel or the Amazon Princess in these 16-page comics, which features uncoated 80-pound paper (the same stock used on DC's blank variant covers) that's ideal for drawing on!
Time to summon your inner artist!
WHAT IF? SPIDER-MAN #1 3.99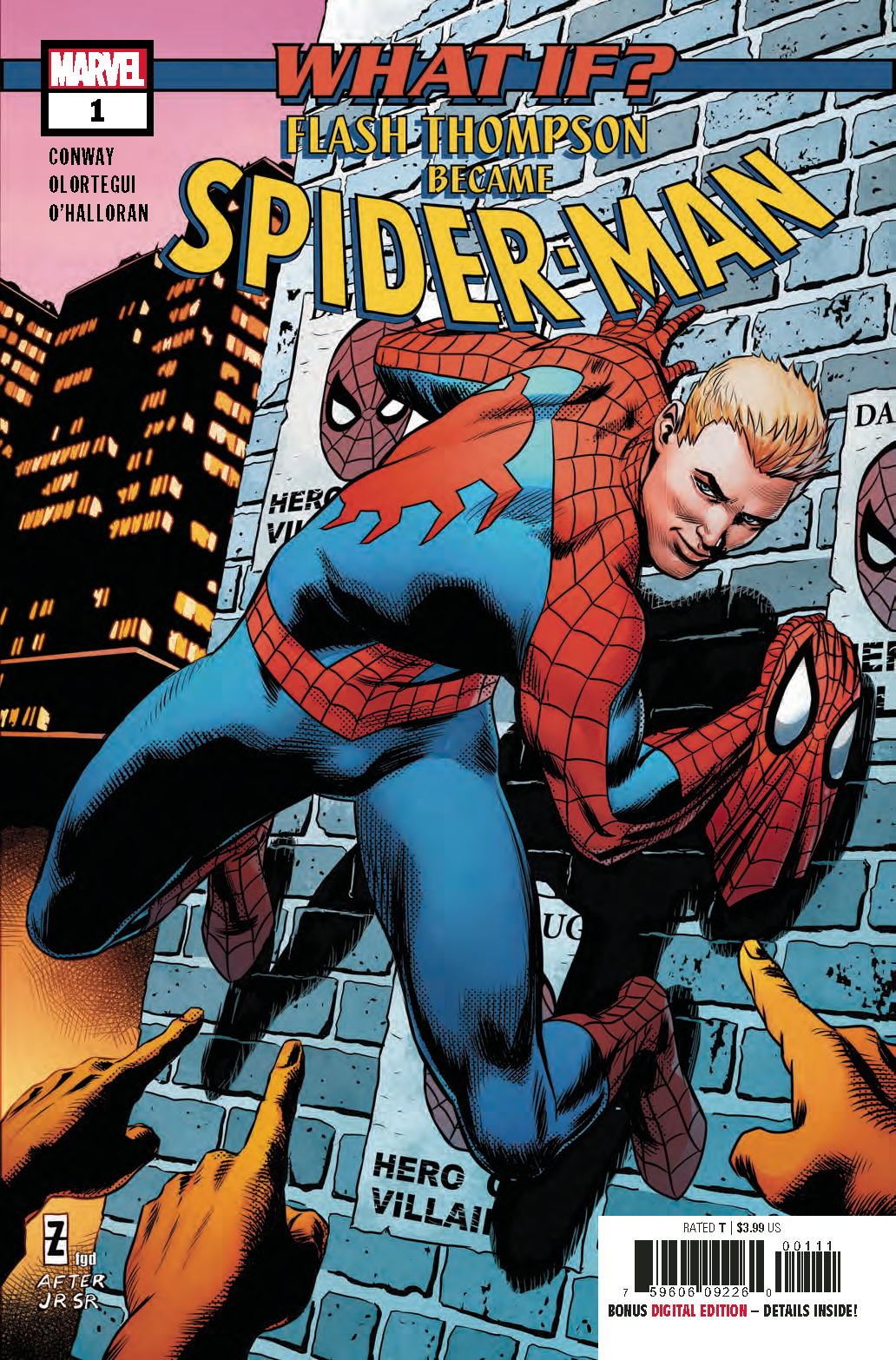 (W) Gerry Conway (A) Diego Olortegui (CA) Patrick Zircher
• What if Peter Parker wasn't the one bitten by the radioactive spider?
• What if the person who got bit was someone who didn't live by the mantra of "with great power comes great responsibility"?
• What if that person was an egotistical bully who was only interested in taking care of himself?
• What if…FLASH THOMPSON became Spider-Man?
THIS WEEK IN TOYS/STATUES
POP MARVEL GOTG COMIC ROCKET RACCOON CLASSIC PX VINYL FIGURE 11.99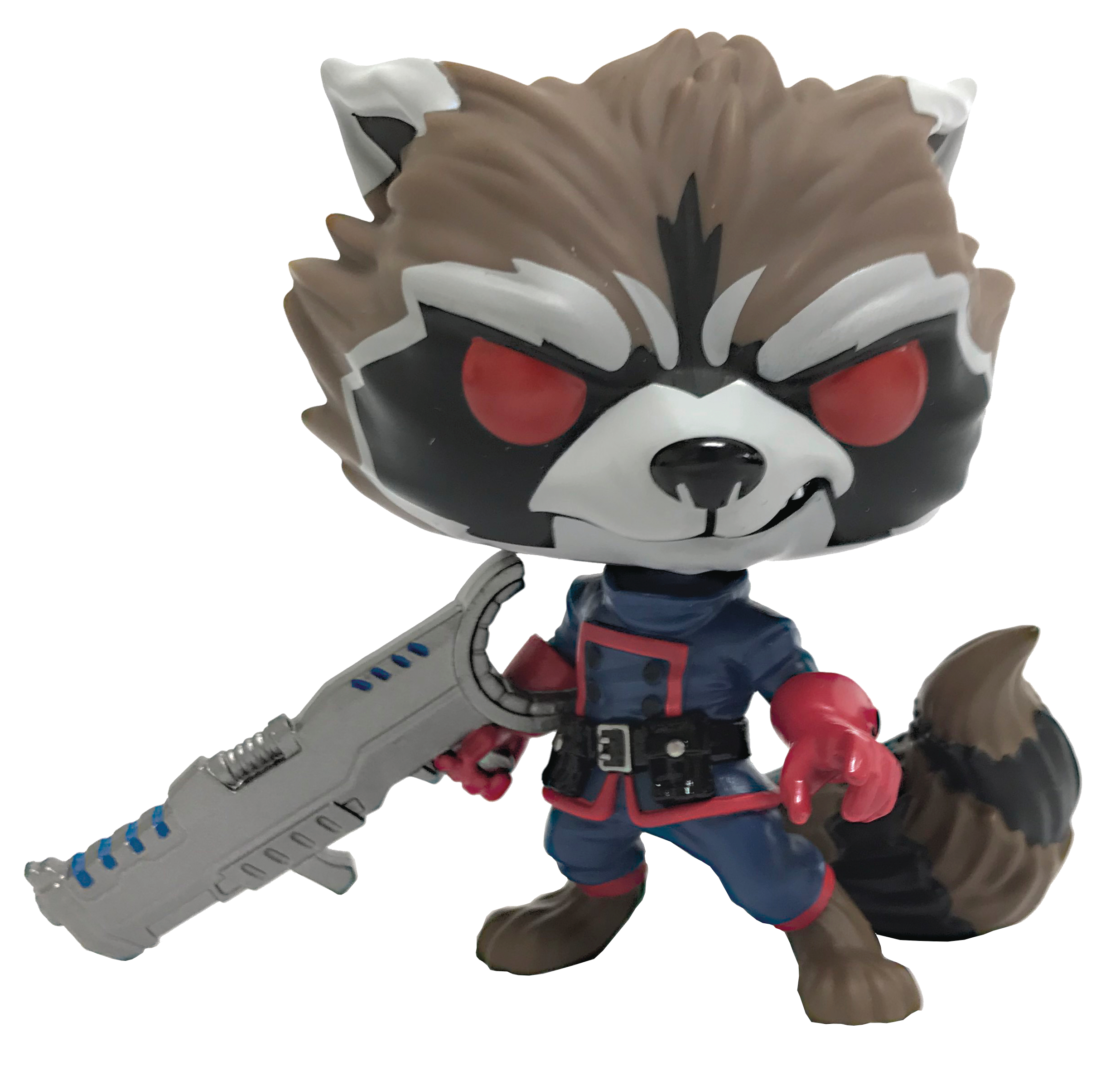 A PREVIEWS Exclusive! Captain of the starship Rack 'n' Ruin, Rocket is the Guardian of the planet Halfworld in the Keystone Quadrant, and the member of the team chosen to accompany Star-Lord on his mission to stop the Phalanx infiltration of the Kree homeworld! Based on his appearance in the Guardians of the Galaxy series by Dan Abnett and Andy Lanning, this exclusive POP! figure features Rocket Raccoon with his signature blaster. Standing 3 3/4″ tall, the classic Guardian sports Funko's fan-favorite stylized design. Don't miss out on this PREVIEWS Exclusive Guardians of the Galaxy: Classic Rocket Raccoon POP! Figure!
DC DESIGNER SER TRINITY BY JASON FABOK STATUE 395
FUNKO 5 STAR DC CLASSIC JOKER VINYL FIGURE 11.99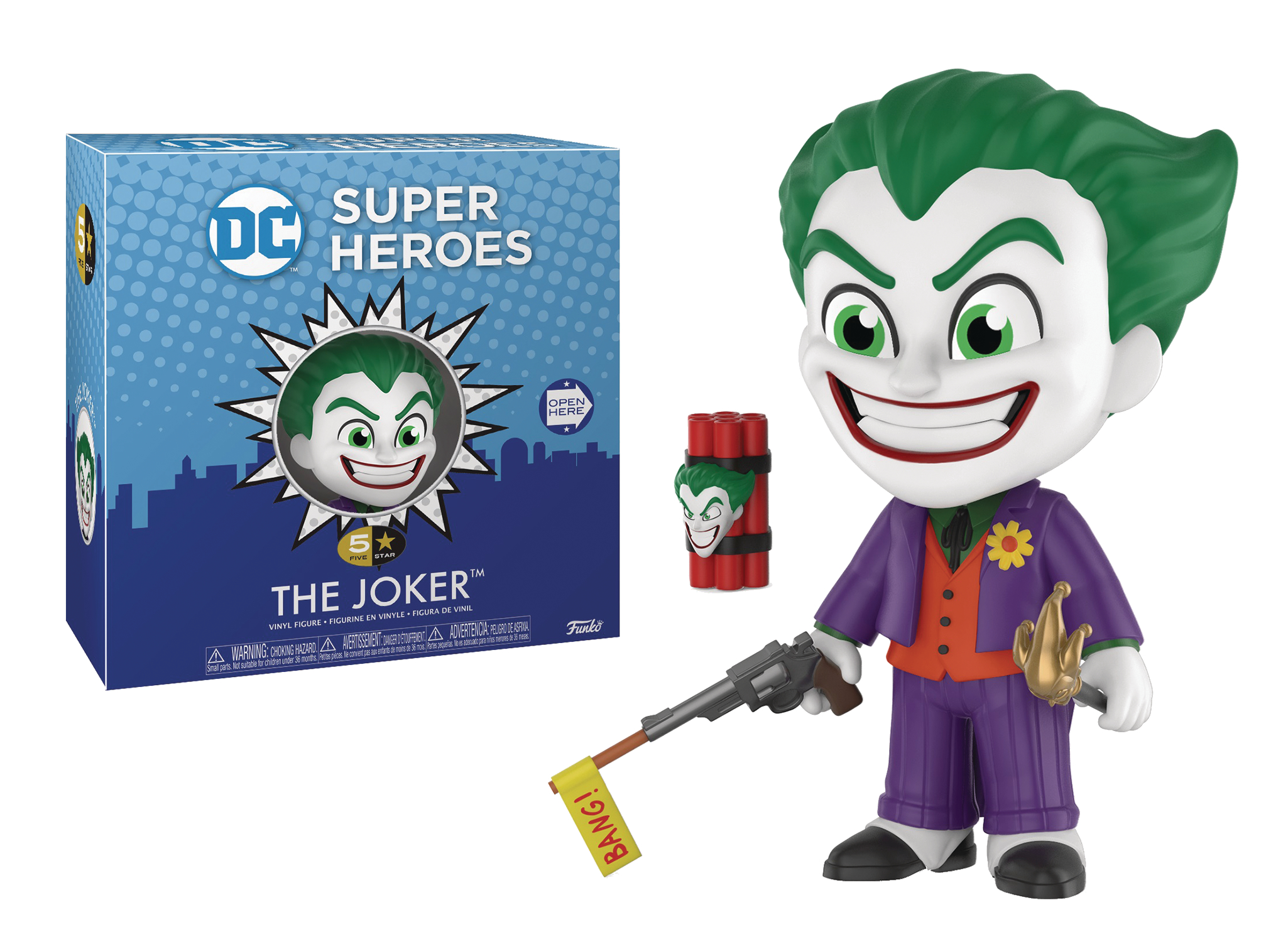 From Funko. Bring Gotham home with 5 Star Vinyl Figures of your favorite DC characters. This 5 Star Vinyl Figure features 3 points of articulation and character specific accessories so you can create your own story telling moments. The DC Classic Joker 5 Star Vinyl Figure measures approximately 3-inches tall, comes packaged in a window display box (opening like a book), and includes accessories like TNT, trick pistol, and scepter.
HARLEY QUINN RED WHITE & BLACK STATUE BY PHILIP TAN 80



Based on the HARLEY QUINN #1 variant cover by artist Philip Tan, this statue makes
its way into the best-selling line, standing on a Harley Quinn logo base and 
featuring the Red, White & Black paint deco. HARLEY QUINN: RED, WHITE & BLACK 
statues are based on art from the comics industry's top creators and re-create 
their vision of the red-hot villain in vivid 3-D detail.

Trade-paperbacks of the Week!
TEEN TITANS TP VOL 03 THE RETURN OF KID FLASH REBIRTH 16.99 (W) Ben Percy, Marv Wolfman, Shea Fontana (A) Khoi Pham, Trevor Scott, Scot Eaton, Tom Derenick, Wayne Faucher, Otto Schmidt, Vicente Cifuentes, Norm Rapmund (CA) Dan Mora
After Robin kicked Kid Flash off the team, the Teen Titans have an open slot in their ranks. Raven, Aqualad, Starfire and Beast Boy wants to give Wally a second chance, but Damian has someone else in mind to fill the vacancy: Green Arrow's half-sister, Emiko! Will the Red Arrow prove her worth or prove to be Damian's undoing? Plus, Beast Boy's suspicious new employer leads the team into danger! Collects TEEN TITANS #13-14, #16-19 and a story from DC HOLIDAY SPECIAL 2017.
BATMAN WHITE KNIGHT TP 19.99 (W) Sean Murphy (A/CA) Sean Murphy
After years of epic battles, the Dark Knight finally finds a way to cure the twisted mind of his archenemy. The Joker…is now sane. The Clown Prince of Crime has now changed his ways, fighting for good in Gotham City, and it may just cause Batman to go over the edge of his own sanity.
Writer/artist Sean Murphy takes the helm of this Batman/Joker story like no one else could, delivering an alternative examination of the relationship between the greatest rivals in the DC Universe, exploring the darkest corners of justice and madness. This title is the first collected edition from the new DC Black Label imprint, and includes the entire eight-issue miniseries!
WONDER WOMAN EARTH ONE HC VOL 02 24.99 (W) Grant Morrison (A/CA) Yanick Paquette
For years, Diana of Paradise Island yearned to leave the only home she knew behind for adventures that laid beyond its shores. Now, after a fateful meeting with Air Force pilot Steve Trevor, the Amazon Warrior finds herself in Man's World. And she is ready for anything that it may throw at her.
But is the world ready for Wonder Woman? An American government, fraught with dissension and conflicts foreign to Diana, has deemed her a danger to society. How will Wonder Woman carry out her mission of peace and love in a world that can't get out of its own way? That is, unless there are more insidious forces at play…
Don't miss the second volume in the WONDER WOMAN: EARTH ONE original graphic novel series!
SWAMP THING THE BRONZE AGE OMNIBUS TP VOL 01 24.99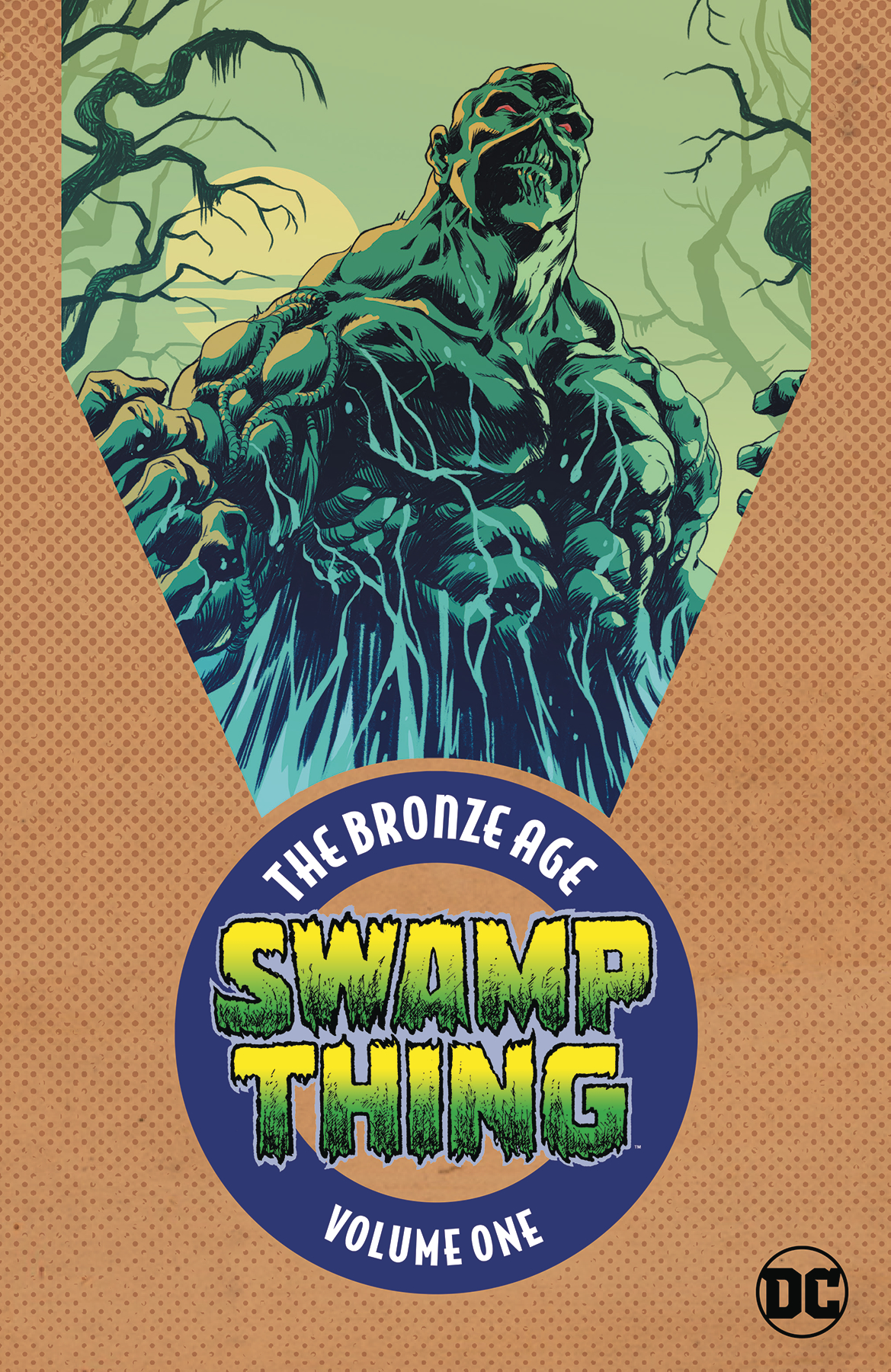 (W) Len Wein (A) Bernie Wrightson, Nestor Redondo, Michael William Kaluta, Luis Dominguez (CA) Karl Kerschl
Swamp Thing's early adventures are collected in paperback with SWAMP THING: THE BRONZE AGE VOL. 1. Deep in the bayou of Louisiana, far from civilization's grasp, a shadowed creature seen only in fleeting glimpses roils the black waters…a twisted, vegetative mockery of a man…a Swamp Thing! These are the tales that introduced Alec and Linda Holland, Anton Arcane, Abigail Cable, the Patchwork Man, the Un-Men, plus an appearance by Batman! Collects THE HOUSE OF SECRETS #92 and SWAMP THING #1-13.
MASTER LIST OF STUFF ARRIVING THIS WEEK!
ADVENTURES OF THE SUPER SONS #3 (OF 12) 3.99
ANALOG CYBER DYSTOPIAN NOIR TP VOL 01 9.99
ANCIENT DREAMS #7 3.99
ANNIE SULLIVAN & TRIALS OF HELEN KELLER GN 12.99
ASGARDIANS OF THE GALAXY #2 3.99
AVENGERS BY JASON AARON TP VOL 01 FINAL HOST MCGUINNESS 17.99
AVENGERS DOCTOR STRANGE TP RISE OF DARKHOLD 39.99
BARACK PANTHER #1 4.99
BATMAN #56 FOIL 3.99
BATMAN #56 VAR ED 3.99
BATMAN BLANK COMIC #1 2.99
BATMAN KNIGHTQUEST THE CRUSADE TP VOL 02 19.99
BATMAN THE MAXX #1 (OF 5) ARKHAM DREAMS CVR A 4.99
BATMAN THE MAXX #1 (OF 5) ARKHAM DREAMS CVR B 4.99
BATMAN WHITE KNIGHT TP 19.99
BATTLESTAR GALACTICA CLASSIC #0 0.35
BEST OF ARCHIE COMICS DLX ED HC VOL 03 19.99
BLACK CROWN QUARTERLY #4 SUMMER 2018 3.99
BLACKBIRD #1 CVR A 3.99
BLACKBIRD #1 CVR B 3.99
BLEACH 3IN1 TP VOL 24 14.99
BLEACH GN VOL 74 9.99
BORDER TOWN #2 3.99
CARTOONS MAGAZINE #17 5.99
CHAMPIONS #25 4.99
COSMIC GHOST RIDER #4 (OF 5) 3.99
COSMIC GHOST RIDER #4 (OF 5) BATTLE LINES 3.99
COSMO TP VOL 01 12.99
CUCUMBER QUEST SC GN VOL 04 FLOWER KINGDOM 14.99
CURSE OF BRIMSTONE #7 FOIL 2.99
DARK SOULS AGE OF FIRE #4 (OF 4) 3.99
DC DESIGNER SER TRINITY BY JASON FABOK STATUE 395
DEAD HAND TP VOL 01 COLD WAR RELICS 16.99
DEAD RABBIT #1 3.99
DEADPOOL #5 3.99
DEADPOOL #5 BATTLE LINES 3.99
DEATH OF INHUMANS #4 (OF 5) 3.99
DEATH OF INHUMANS #4 (OF 5) VAR 3.99
DEATH ORB #1 3.99
DEATHSTROKE #36 (ARKHAM) 3.99
DEATHSTROKE #36 VAR ED (ARKHAM) 3.99
DEEP ROOTS #4 CVR A STRIPS 3.99
DIE DIE DIE #3 3.99
DIVINICA #1 FALL COLL 3.99
DOCTOR STRANGE #6 3.99
DOCTOR STRANGE #6 BATTLE LINES 3.99
DOCTOR STRANGE BY DONNY CATES TP VOL 02 15.99
DOCTOR WHO 11TH DOCTOR SONIC SCREWDRIVER BOTTLE OPENER 7.99
DOCTOR WHO 12TH DOCTOR SONIC SCREWDRIVER FLASHLIGHT 9.99
DOCTOR WHO BLACK & GOLD PINACHE LATTE MUG 9.99
DOCTOR WHO COMP HIST HC VOL 79 6TH DOCTOR STORIES 139 – 142 18.99
DOCTOR WHO LOGO DISH TOWEL 2PK SET 7.99
DOCTOR WHO TP LAND OF THE BLIND 19.99
DOLLMAN KILLS THE FULL MOON UNIVERSE #3 3.99
DORBZ HORROR W5 PENNYWISE VINYL FIG 7.99
DORBZ HORROR W5 PENNYWISE WROUGHT IRON VINYL FIG 7.99
DREAMING #2 3.99
DUCKTALES #13 CVR A 3.99
DUCKTALES #13 CVR B 3.99
ECLIPSE #11 3.99
EROMANGA SENSEI TP VOL 01 11.99
ERRAND BOYS #1 (OF 5) CVR A 3.99
ERRAND BOYS #1 (OF 5) CVR B 3.99
ETERNAL EMPIRE TP VOL 02 16.99
EUTHANAUTS #3 CVR A ROBLES 3.99
FUNKO 5 STAR DC CLASSIC BATMAN VINYL FIGURE 11.99
FUNKO 5 STAR DC CLASSIC JOKER VINYL FIGURE 11.99
GARFIELD SNACK PACK TP VOL 01 14.99
GRAVEDIGGERS UNION TP VOL 02 16.99
GREATEST VILLAIN GN VOL 01 16.99
GREEN ARROW #45 FOIL (HEROES IN CRISIS) 3.99
GREEN ARROW #45 VAR ED (HEROES IN CRISIS) 3.99
GREEN LANTERNS #56 FOIL 3.99
GREEN LANTERNS #56 VAR ED 3.99
GREEN LANTERNS TP VOL 07 14.99
GUNDAM BUILD DIVERS MACHINE RIDER HGBD MDL KIT
GUNDAM BUILD DIVERS RX-ZEROMARU HGBD MDL KIT
HARLEY QUINN #51 3.99
HARLEY QUINN #51 VAR ED 3.99
HARLEY QUINN RED WHITE & BLACK STATUE BY PHILIP TAN 80
HARROW COUNTY TP VOL 08 DONE COME BACK 17.99
HOW TO TREAT MAGICAL BEASTS GN VOL 02 12.99
INFINITY WARS SLEEPWALKER #1 (OF 4) 3.99
INJUSTICE 2 #35 2.99
JAMES BOND ORIGIN #2 3.99
JIM HENSON BENEATH DARK CRYSTAL #3 (OF 12) 3.99
JIM HENSON BENEATH DARK CRYSTAL #3 (OF 12) SUB 3.99
JOOK JOINT #1 (OF 5) CVR A MARTINEZ 3.99
JOOK JOINT #1 (OF 5) CVR B HAWTHORNE 3.99
JUNI TAISEN ZODIAC WAR GN VOL 01 9.99
JUSTICE LEAGUE #9 (DROWNED EARTH) 3.99
JUSTICE LEAGUE #9 VAR ED (DROWNED EARTH) 3.99
JUSTICE LEAGUE THE DARKSEID WAR ESS ED TP 29.99
KILLING JOKE NOVEL HC 24.95
KONUNGAR TP WAR OF THE CROWNS 19.99
LIKELY STORIES HC 17.99
LOLLIPOP KIDS #1 3.99
LONE RANGER VOL 3 #1 CVR A 3.99
LONE RANGER VOL 3 #1 CVR B 3.99
MAGIC ORDER #4 (OF 6) CVR A 3.99
MAGIC ORDER #4 (OF 6) CVR B 3.99
MANIFEST DESTINY TP VOL 06 16.99
MARVELOCITY MARVEL COMIC ART ALEX ROSS HC 50
MAZINGER Z INFINITY MAZINGER Z 1/144 PLASTIC MDL KIT
ME THE PEOPLE HC 14.99
MY HERO ACADEMIA GN VOL 15 9.99
MY HERO ACADEMIA VIGILANTES GN VOL 02 9.99
MY LITTLE PONY FRIENDSHIP IS MAGIC #71 CVR A 3.99
MY LITTLE PONY FRIENDSHIP IS MAGIC #71 CVR B 3.99
NARUTO 3IN1 TP VOL 24 14.99
NEW LIEUTENANTS OF METAL #4 (OF 4) 3.99
NIGHTMARE ON ELM STREET CHEF FREDDY 8IN RETRO AF 32.99
NIGHTWING #50 4.99
NIGHTWING #50 VAR ED 4.99
PAPER GIRLS #25 3.99
PARADISO #8 CVR A 3.99
PARADISO #8 CVR B 3.99
PATHFINDER WORLDSCAPE DEJAH THORIS ONE SHOT 19.99
PATHFINDER WORLDSCAPE REANIMATOR ONE SHOT 19.99
PATHFINDER WORLDSCAPE SWORDS OF SORROW ONE SHOT 19.99
PATHFINDER WORLDSCAPE VAMPIRELLA ONE SHOT 19.99
PELLUCIDAR #1 3.99
POP MARVEL GOTG COMIC ROCKET RACCOON CLASSIC PX VINYL FIGURE 11.99
POP RIDES INCREDIBLES 2 ELASTIGIRL ON ELASTICYCLE VIN FIG 27.99
PRE CODE CLASSICS BAFFLING MYSTERIES HC VOL 01 44.99
PRE CODE CLASSICS MISTER MYSTERY HC VOL 01 44.99
RAINBOW BRITE #1 CVR A 3.99
RAINBOW BRITE #1 CVR B 3.99
RAINBOW BRITE #1 CVR C 3.99
REGULAR SHOW 25 YEARS LATER #1 3.99
REDLANDS #7 CVR A DEL REY 3.99
RIPLEYS BELIEVE IT OR NOT #1 5.99
RUROUNI KENSHIN 3IN1 TP VOL 08 14.99
SATOKO & NADA GN VOL 01 12.99
SHATTERSTAR #1 (OF 5) 3.99
SHATTERSTAR #1 (OF 5) VAR 3.99
SPARROWHAWK #1 3.99
SPAWN #290 CVR A 2.99
SPAWN #290 CVR B 2.99
SPIDER-GWEN HC VOL 03 34.99
SPOOKHOUSE 2 #1 (OF 4) 3.99
STAR WARS #55 3.99
STAR WARS #55 ACTION FIG VAR 3.99
STAR WARS #55 REIS GALACTIC ICON VAR 3.99
STAR WARS BE MORE VADER HC 9.99
STAR WARS BE MORE YODA HC 9.99
STAR WARS TALES FROM VADERS CASTLE #1 (OF 5) CVR A 3.99
STAR WARS TALES FROM VADERS CASTLE #1 (OF 5) CVR B 3.99
STARGATE UNIVERSE VOL 1 TP 19.99
STEVEN UNIVERSE HARMONY #3 3.99
SUPERIOR OCTOPUS #1 SG 4.99
SUPERMAN BLANK COMIC #1 2.99
SWAMP THING THE BRONZE AGE OMNIBUS TP VOL 01 24.99
TAARNA #3 3.99
TANK GIRL ALL STARS #4 (OF 4) CVR B 3.99
TANK GIRL ALL STARS #4 (OF 4) CVR C 3.99
TANK GIRL COLORING BOOK 14.99
TAROT CAFE MANGA COLLECTION GN VOL 02 17.99
TEEN TITANS TP VOL 03 THE RETURN OF KID FLASH REBIRTH 16.99
THIEF OF THIEVES #41 3.99
TMNT MACROSERIES #1 DONATELLO CVR A 7.99
TMNT MACROSERIES #1 DONATELLO CVR B 7.99
TOMB OF DRACULA COMPLETE COLLECTION TP VOL 02 39.99
TOMB RAIDER INFERNO #4 (OF 4) 3.99
TONY STARK IRON MAN #4 3.99
TONY STARK IRON MAN #4 COSMIC GHOST RIDER VAR 3.99
TRANSFORMERS BUMBLEBEE MOVIE PREQUEL #4 (OF 4) CVR A 3.99
TRANSFORMERS BUMBLEBEE MOVIE PREQUEL #4 (OF 4) CVR B 3.99
TROLLHUNTERS TALES OF ARCADIA THE FELLED TP 10.99
TRUE BELIEVERS WHAT IF AVENGERS FOUGHT EVIL DURING 1950S #1 1
TRUE BELIEVERS WHAT IF JANE FOSTER FOUND HAMMER OF THOR #1 1
TYPHOID FEVER SPIDER-MAN #1 4.99
UMBRELLA ACADEMY HOTEL OBLIVION #1 CVR A 3.99
UMBRELLA ACADEMY HOTEL OBLIVION #1 CVR B 3.99
UNEXPECTED #5 FOIL 2.99
UNITED STATES VS MURDER INC #2 (OF 6) 3.99
VYNL RICK & MORTY SEAL TEAM RICK AND SCARY TERRY VIN FIG 2PK 14.99
WALK THROUGH HELL #5 3.99
WALKING DEAD #184 CVR A 3.99
WALKING DEAD #184 CVR B 3.99
WEAPON H #8 3.99
WEAPON X #24 3.99
WHAT IF? SPIDER-MAN #1 3.99
WHAT IF? X-MEN #1 3.99
WICKED & DIVINE TP VOL 07 MOTHERING INVENTION 17.99
WILLIAM THE LAST #1 3.99
WONDER WOMAN & JL DARK WITCHING HOUR #1 4.99
WONDER WOMAN BLANK COMIC #1 2.99
WONDER WOMAN EARTH ONE HC VOL 02 24.99
WRAITH TP 24.99
WWE #21 3.99
WWE #21 RAW 3.99
X-MEN BLACK MAGNETO #1 4.99
X-MEN PHOENIX IN DARKNESS BY GRANT MORRISON TP 24.99
ZINNOBER #2 3.99
ZORRO SWORDS OF HELL #1 3.99
We hope to see you soon at CQ!
Visit us at 2260 Morgan Avenue, Evansville
On the web at www.comicquest.com
On Facebook www.facebook.com/comicquestevansville
On Twitter @cqevansville
On Instagram: @comicquestevansville
Contact us at sales@comicquest.com or by phone at 812-474-1133.UWAR