Comic Quest Weekly for 9/24/17
CONGRATULATIONS

TO ENDER MILLER WINNER OF THE $250 SHOPPING SPREE!
Congratulations are in order to Ender Miller. Out of thousands of tickets his was the one chosen at 4 pm on Saturday. With Batman Day, our Magic the Gathering Pre-releases and our 27 year celebration the weekend was well attended and everyone had a good time! We thank everyone who attended Batman Day and our 27th Anniversary Celebration.
CALL FOR ARTISTS & COSPLAYERS FOR COMIC QUEST HALLOWEEN COMICFEST 2017!
If you are interested in setting up for the CQ Halloween Comic-Fest just send us an e-mail and we will reserve you a space. Halloween Comic-Fest grows each year and this year will be no different. Expect loads of free comics and many great costumes.
IN HONOR OF BATMAN DAY-NINE GREAT BATMAN COLLECTIONS!
If you are a fan of the Bat like we are we highly recommend the following Bat collections available at CQ:
BATMAN VOL. 1: I AM GOTHAM
$16.99
The Caped Crusader has never been stopped. Not by the Joker. Not by Two-Face. Not even by the Justice League.
BATMAN VOL. 3: I AM BANE
$16.99
The man who has physically tested the Dark Knight like no one before is back to finally break the Bat for good.
ALL STAR BATMAN VOL. 2: ENDS OF THE EARTH
$22.99
In these tales from issues #6-#9, the Dark Knight faces some of his greatest foes to trace the origin of a blight that's sweeping the planet, confronting Mr. Freeze, Poison Ivy and the Mad Hatter along the way!
BATMAN: THE DARK KNIGHT: MASTER RACE
$29.99
One of the most highly anticipated sequels of all time!
BATMAN: YEAR ONE THE DELUXE EDITION
$34.99
One of the most important and critically acclaimed Batman adventures ever— written by Frank Miller with art by David Mazzucchelli — returns in a new deluxe edition hardcover.
HARLEY QUINN VOL. 1: DIE LAUGHING
$16.99
Welcome back to Harley Quinn's crazy world on Coney Island … now get ready to wave goodbye, because everyone there just might get eaten alive!
HARLEY QUINN: A CELEBRATION OF 25 YEARS
$39.99
Twenty-five years? Seriously? Okay, yes, it's true: It's been a quarter of a century since Dr. Harleen Quinzel showed up and stole our hearts, our wallets and our dignity.
BATMAN: HIS GREATEST ADVENTURES
$9.99
The ultimate all-ages collected edition for Batman Day!
BATGIRL VOL. 1: BEYOND BURNSIDE
$16.99
Babs travels to Japan on a quest to train with one of her all-time heroes — but a chance meeting with an old friend puts a target on her back!
VINTAGE EMAIL SIGN-UP!
If you are a collector of older, vintage comics, e-mail us and we will put you on a special e-mail list that goes out when we get a nice collection of older books in the store. You can shoot us an e-mail or sign up for the news blast in-person at CQ.
MARVEL WEEKLY FLIP
Here's your link to the Marvel Weekly Flip which is a visually exciting way for us to show you the covers of the Marvel comics shipping this week. We hope that you find it helpful.
NEW ARRIVALS!
MARVEL LEGACY #1 $5.99



(W) Jason Aaron (A) Esad Ribic, Russell Dauterman, Chris Samnee, Alex Maleev, Stuart Immonen, Pepe Larraz, Jim Cheung, Daniel Acuna, Greg Land, Ed McGuinness, Steve McNiven (CA) Joe Quesada
EVERYTHING STARTS HERE!
It begins at the dawn of the human race, and ends with a child's prayer! In between, empires fall, mysteries brew, secrets are revealed, quests are undertaken and legends are forged! All leading up to the dramatic return you've been waiting for – and one you've been dreading!
Jason Aaron (MIGHTY THOR) and Esad Ribic (SECRET WARS) usher in a new dawn – one whose rays will touch every corner of the Marvel Universe in the days to come!
MARVEL LEGACY: It's everything you've been longing for – and more!
BATMAN THE MURDER MACHINE #1 (METAL) $3.99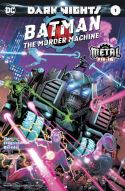 (W) Frank Tieri (A) Ricardo Federici (CA) Jason Fabok
As the events of DARK NIGHTS: METAL rock the DC Universe, the creatures of the Dark Multiverse stand ready to invade our world! How can even the World's Greatest Heroes stop a horde of deadly beings that appear to be powerful, nightmare versions of familiar figures? Find out in these special tie-in issues!
DUCKTALES #1 CVR A GHIGLIONE $3.99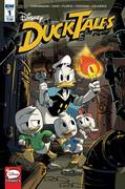 (W) Joe Caramagna (A) Lucas Usai, Gianfranco Florio (CA) Marco Ghiglione
Woo-oo! In "The Great Experiment of the Washing Machine," Donald and the Nephews visit a top-secret lab, chock-full of crazy inventions to make life easier… but might make them SHORTER, instead! And then, learn "The Chilling Secret of the Lighthouse!"
GENERATIONS CAPTAIN AMERICAS #1 $4.99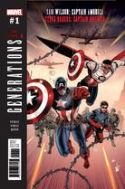 (W) Nick Spencer (A/CA) Paul Renaud
They were part of the Greatest Generation! And now Sam Wilson finds himself alongside them yet again in a strange yet familiar setting – fighting shoulder-to-shoulder with Captain America and Bucky against a seemingly unstoppable threat to the safety of the world
FLASH #31 $2.99


(W) Joshua Williamson (A) Neil Googe (CA) Carmine Di Giandomenico
"BLOODWORK" part two! Central City is the battleground for one of the most brutal fights of Barry Allen's life as he squares off against the monstrous Bloodwork, whose powers are so gruesome we can't tell you more about them here! Making things worse for The Flash as he confronts this unstoppable new threat is the fact that it's all his fault! Witness the penultimate act of the Negative-Flash story and the beginning of an unforgettable new chapter in Barry Allen's life…
GENERATIONS MORALES & PARKER SPIDER-MAN #1 $4.99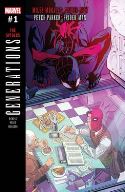 (W) Brian Michael Bendis (A/CA) Ramon K. Perez
• When it comes to problems, Peter Parker's got it all! Bullies at school, ailing aunt, a doppelganger, crushing responsibility, and –
wait, a doppelganger?!
• Can't Peter ever catch a break? And what does all this craziness have to do with Miles Morales?
THIS WEEK IN TOYS/STATUES
SANDMAN DEATH ANKH NECKLACE $69.95


A piece of THE SANDMAN by Neil Gaiman can become yours with this replica of Death of The Endless's signature Ankh and chain. Ankh measures approximately 2″ Tall and is made of solid sterling silver.
POP SMURFS SMURFETTE VINYL FIGURE $11.99



They live in mushroom-shaped houses deep in the forest.
The Smurfs, these three apple high creatures are
now receiving the Pop! vinyl treatment!
This series features the gentle and wise Papa Smurf,
the original female Smurf – Smurfette,
the intellectual and annoyance of the group Brainy Smurf,
and Astro Smurf who is also known as Dreamy Smurf.
Watch out for Purple Smurf, as this Smurf
has been infected by the Bzz fly.
Rounding out our series is the evil wizard
Gargamel, complete with his cat Azrael.
Add them all to your collection this summer!
MARVEL GALLERY NETFLIX DAREDEVIL PVC FIG $45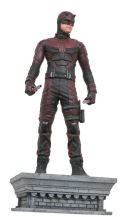 A Diamond Select Toys Release! The Netflix-based series of Marvel Gallery PVC dioramas continues with none other than Daredevil himself! Joining Luke Cage and the Punisher, this approximately 11″ sculpture depicts the TV version of the horned hero of Hell's Kitchen in amazing detail. Capturing the likeness and costume of actor Charlie Cox, this diorama sees Matt Murdock standing on a rooftop pedestal, his billy clubs at the ready. Daredevil is in scale to all Gallery and Femme Fatales PVC dioramas, and comes packaged in a full-color window box.
MYSTERY MINIS HARRY POTTER SERIES 2 12PC BMB DISP



Go back to the magical stories and adventure of Harry Potter and his friends with another great series of Mystery Minis! This series features Harry, Hermione and Ron wearing a Sorting Hat. In addition, Bellatrix, Pidwigeon, Luna, Snape and many more of your favorite Harry Potter characters. Blind mystery box packaging.
Trade-paperbacks of the Week!
FLASH THE SILVER AGE TP VOL 02 $29.99


(W) John Broome, Gardner Fox (A) Carmine Infantino, Murphy Anderson, Joe Giella (CA) Michael Cho
This thrilling volume collects the early 1960s adventures of the Flash, including the Scarlet Speedster's battles against Mirror Master, Abra Kadabra, Captain Boomerang, Gorilla Grodd and many more! This title also features the pivotal Silver Age story "The Flash of Two Worlds," which introduced the idea of the multiverse to DC Comics! Collects THE FLASH #117-132.
ROCK CANDY MOUNTAIN TP VOL 01 $9.99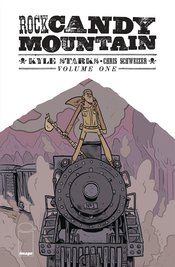 (W) Kyle Starks (A/CA) Kyle Starks
It's the first collection of the manic hobo-fighting epic that is ROCK CANDY MOUNTAIN. Come inside and meet the mysterious, unbeatable hobo Jackson on his quest to find the mythical hobo heaven. Meet his sidekick Pomona Slim. But watch out for the Devil! And the FBI! And the Hobo Mafia too! It's a fantastical fisticuff frolic through post-World War II America via the rails and backroads, through underground fight clubs, prison, and the hobo jungles wrought with dangers, hobo fights, jokes, and locomotive excitement. Collects ROCK CANDY MOUNTAIN #1-4.
KILL THEM ALL GN $19.99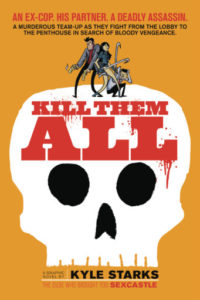 (W) Kyle Starks (A/CA) Kyle Starks, Luigi Anderson
The new gonzo graphic novel love letter to 90s action movies by Eisner-nominated cartoonist Kyle Starks (Sexcastle, Rick and Morty). A betrayed murderess wants revenge. A hard drinking former cop wants his job back. For either to get what they want, they're going to have to fight their way through fifteen flights of criminals, assassins, drug lords, murderers, yup, even accountants, and… KILL. THEM. ALL.
WALKING DEAD TP VOL 28 $16.99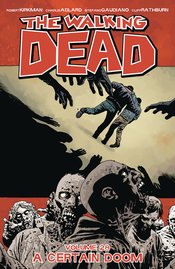 ((W) Robert Kirkman (A) Stefano Gaudiano, Cliff Rathburn (CA) Dave Stewart (A/CA) Charlie Adlard
In the aftermath of The Whisperer War – ALL IS LOST. Collects THE WALKING DEAD #163-168.
MASTER LIST OF STUFF ARRIVING THIS WEEK!
AARDVARK COMICS #1 (OF 1) 4
ACTION COMICS #988 (OZ EFFECT) 2.99
ACTION COMICS #988 VAR ED (OZ EFFECT) 2.99
ADVENTURE FINDERS #1 3.99
ADVENTURE TIME SUGARY SHORTS TP VOL 03 19.99
ALIENS DEFIANCE TP VOL 02 19.99
ALL NEW CLASSIC CAPTAIN CANUCK #4 CVR A FREEMAN 3.99
AMERICAN WAY THOSE ABOVE AND BELOW #3 (OF 6) 3.99
AMORY WARS HC SECOND STAGE TURBINE BLADE 39.99
ANGEL SEASON 11 #9 MAIN 3.99
ANIMAL NOIR TP 15.99
ANNUAL TP 9.99
ARCHIE #24 CVR A AUDREY MOK 3.99
ARCHIE #24 CVR B THOMAS PITILLI 3.99
ARYA #1 3.99
BABY BLUES COLLECTION TP BINGE PARENTING 18.99
BATGIRL #15 3.99
BATGIRL #15 VAR ED 3.99
BATMAN 66 MEETS STEED AND MRS PEEL TP 16.99
BATMAN 66 MEETS WONDER WOMAN 77 HC 24.99
BATMAN 66 RIDDLER 5.5IN BENDABLE FIGURE 8.99
BATMAN BEYOND #12 3.99
BATMAN BEYOND #12 VAR ED 3.99
BATMAN COMIC VINIMATE 9.99
BATMAN THE MURDER MACHINE #1 (METAL) 3.99
BATMAN THE SHADOW #6 (OF 6) 3.99
BATMAN THE SHADOW #6 (OF 6) JOCK VAR ED 3.99
BATMAN THE SHADOW #6 (OF 6) SALE VAR ED 3.99
BATMAN V SUPERMAN DOJ ARMORED BATMAN STATUE 150
BEN REILLY SCARLET SPIDER #8 3.99
BEST OF VAMPIRELLA MASTERS SERIES TP 39.99
BETTIE PAGE #3 CVR A LINSNER 3.99
BETTIE PAGE #3 CVR B CHANTLER 3.99
BETTIE PAGE #3 CVR C PHOTO 3.99
BLACK MAGICK #8 CVR A SCOTT 3.99
BLACK MAGICK #8 CVR B FRISON 3.99
BLACK MONDAY MURDERS #7 3.99
BLACK PANTHER #18 3.99
BLACK PANTHER #18 VENOMIZED KLAW VAR 3.99
BLOODSTONE & THE LEGION OF MONSTERS TP 34.99
BLUE BEETLE #13 3.99
BLUE BEETLE #13 VAR ED 3.99
BOMBSHELLS UNITED #2 2.99
BOTTOMS UP GN 15
BTVS SEASON 11 #11 MAIN 3.99
BUZZKILL TP 12.99
CABLE #5 3.99
CAPTAIN KRONOS (HAMMER) #1 3.99
CARTOON NETWORK TITANS STEVEN UNIVERSE 3IN VIN FIG 10.99
CARTOONS MAGAZINE #11 5.99
COMPLETE VOODOO HC VOL 03 29.99
DARK NORTH HC 34.99
DC COMICS BOMBSHELLS JOKER & HARLEY QUINN STATUE 2ND ED 250
DC COMICS SUPERMAN COMIC PANEL SHORT COMIC BOX
DC ICONS SUPERGIRL AF 28
DC SUPER HERO GIRLS TP VOL 04 9.99
DEADPOOL CLASSIC TP VOL 19 MAKE WAR NOT LOV 34.99
DEADPOOL KILLS MARVEL UNIVERSE AGAIN #5 (OF 5) 3.99
DEADPOOL KILLS MARVEL UNIVERSE AGAIN #5 (OF5)VAR 3.99
DETECTIVE COMICS #965 2.99
DETECTIVE COMICS #965 VAR ED 2.99
DIABLO HOUSE #2 CVR A SANTIPEREZ 3.99
DISHONORED PEERESS AND THE PRICE #1 3.99
DOCTOR WHO 11TH YEAR THREE #10 CVR A KLEBS JR 3.99
DOCTOR WHO 11TH YEAR THREE #10 CVR B PHOTO 3.99
DOCTOR WHO 12TH YEAR THREE #7 CVR A IANNICIELLO 3.99
DOCTOR WHO 12TH YEAR THREE #7 CVR B BROOKS 3.99
DOCTOR WHO 12TH YEAR THREE #7 CVR C WALKER 3.99
DOCTOR WHO 9TH HC VOL 02 DOCTORMANIA 19.99
DOCTOR WHO GHOST STORIES HC 22.99
DOLLFACE #9 CVR C TURNER PIN UP 4.99
DONALD & MICKEY QUEST FOR FACEPLANT TP 12.99
DUCKTALES #1 CVR A GHIGLIONE 3.99
DUCKTALES #1 CVR B GHIGLIONE 3.99
FAITH AND THE FUTURE FORCE #3 CVR A MOK 3.99
FAITH AND THE FUTURE FORCE #3 CVR B NORTON 3.99
FIRST STRIKE #3 CVR A WILLIAMS II 3.99
FIRST STRIKE #4 CVR A WILLIAMS II 3.99
FIRST STRIKE #4 CVR B DUNBAR 3.99
FIRST STRIKE #4 CVR C RONALD 3.99
FIVE FISTS OF SCIENCE TP (NEW EDITION) 16.99
FLASH #31 2.99
FLASH #31 VAR ED 2.99
FLASH THE SILVER AGE TP VOL 02 29.99
FLASH TV REVERSE FLASH AF 28
FROZEN 2017 ANNUAL 4.99
FU JITSU #1 CVR A WESLEY ST.CLAIRE 3.99
FU JITSU #1 CVR B GREG SMALLWOOD 3.99
FUTURE QUEST TP VOL 02 16.99
GENERATIONS CAPTAIN AMERICAS #1 4.99
GENERATIONS CAPTAIN AMERICAS #1 CASSADY VAR 4.99
GENERATIONS HAWKEYE & HAWKEYE #1 TORQUE VAR 4.99
GENERATIONS MORALES & PARKER SPIDER-MAN #1 4.99
GENERATIONS MORALES & PARKER SPIDER-MAN #1 VAR 4.99
GFT 2017 ARMED FORCES APPRECIATION CVR A REYES 5.99
GFT 2017 ARMED FORCES APPRECIATION CVR B VELEZ 5.99
GFT 2017 ARMED FORCES APPRECIATION CVR C 5.99
GFT 2017 ARMED FORCES APPRECIATION CVR D 5.99
GFT GRIMM TALES OF TERROR VOL 3 #9 A CVR LEISTER 3.99
GFT GRIMM TALES OF TERROR VOL 3 #9 C CVR REYES 3.99
GHIDOGODZI 1991 SOFUBI 60
GHOSTBUSTERS SELECT AF SERIES 5 ASST
GI JOE A REAL AMERICAN HERO #244 CVR A GALLANT 3.99
GI JOE A REAL AMERICAN HERO #244 CVR B ROYLE 3.99
GIRL GENIUS SECOND JOURNEY GN VOL 03 25
GODSHAPER #6 (OF 6) 3.99
GOING INTO TOWN LOVE LETTER TO NEW YORK GN 28
GREEN LANTERN COMIC VINIMATE 9.99
GUARDIANS OF GALAXY TELLTALE SERIES #3 (OF 5) 3.99
GUARDIANS OF GALAXY TELLTALE SERIES #3 (OF 5)VAR 3.99
GUNDAM UNICORN EFREET SCHNEID 1/144 MDL KIT
HADRIANS WALL TP 19.99
HAL JORDAN AND THE GREEN LANTERN CORPS #29 2.99
HAL JORDAN AND THE GREEN LANTERN CORPS #29 VAR 2.99
HALO RISE OF ATRIOX #2 3.99
HARD PLACE #2 (OF 5) CVR A STELFREEZE 3.99
HARLEY QUINN COMIC VINIMATE 9.99
HARLEY QUINN RED WHITE & BLACK ARKHAM STATUE 80
HARRY POTTER CHAMBER OF SECRETS 1/6 DOBBY AF
HELLBLAZER #14 3.99
HEROINES TP VOL 01 BACKPACK ED 12.99
HI-FI FIGHT CLUB #2 (OF 4) 3.99
I AM GROOT #5 3.99
IMAGE PLUS #2 (WYTCHES THE BAD EGG PT 2) 1.99
INDESTRUCTIBLE HULK BY WAID COMPLETE COLL TP 39.99
INFAMOUS IRON MAN #12 3.99
INFINITE LOOP NOTHING BUT THE TRUTH #1 (OF 6) CVR A 3.99
INJUSTICE GROUND ZERO HC VOL 02 24.99
JEM & THE HOLOGRAMS INFINITE #3 (OF 3) CVR A 3.99
JIM HENSON POWER OF DARK CRYSTAL #7 (OF 12) 3.99
JIM HENSON POWER OF DARK CRYSTAL #7 (OF 12) SUB 3.99
JOHN CARPENTER TALES OF SCI FI VAULT #3 (OF 3) 3.99
JOSEPHINE GN 12.95
JUSTICE LEAGUE OF AMERICA #15 2.99
JUSTICE LEAGUE OF AMERICA #15 VAR ED 2.99
JUSTICE LEAGUE POWER RANGERS #6 (OF 6) 3.99
KAMANDI CHALLENGE #9 (OF 12) 3.99
KILL THEM ALL GN 19.99
KNIGHTS OF THE DINNER TABLE #247 5.99
LAZARUS X PLUS 66 #3 (OF 6) 3.99
LEGO BATMAN MOVIE ESSENTIAL COLL SLIPCASE ED 19.99
LOONEY TUNES #239 2.99
MALEFIC #1 (OF 8) (RES) 4.99
MARVEL GALLERY BLACK PANTHER PVC FIG 45
MARVEL GALLERY NETFLIX DAREDEVIL PVC FIG 45
MARVEL GALLERY NETFLIX PUNISHER PVC FIG 45
MARVEL LEGACY #1 5.99
MARVEL SPIDER-MAN WEB 5 PK SHORT COMIC STORAGE BOX
MICRONAUTS FIRST STRIKE #1 CVR A DANIEL 3.99
MIGHTY CAPTAIN MARVEL #9 3.99
MIGHTY MORPHIN POWER RANGERS #19 3.99
MIGHTY THOR #23 3.99
MIGHTY THOR #23 CRAIN VENOMIZED HELA VAR 3.99
MIGHTY THOR #23 RUDY ROCK N ROLL VAR 3.99
MISTER X THE MODERN AGE TP 29.99
MONSTER GIRL ENCYCLOPEDIA SC VOL 02 29.99
MOON GIRL AND DEVIL DINOSAUR #23 3.99
MOTHER PANIC #11 (MR) 3.99
NANCY DREW HARDY BOYS #3 CVR B CHARRETIER 3.99
MUNCHKIN TP VOL 06 (OF 6) 14.99
MY LITTLE PONY LEGENDS OF MAGIC #6 CVR A HICKEY 3.99
MY LITTLE PONY LEGENDS OF MAGIC #6 CVR B STERLING 3.99
MY LITTLE PONY MOVIE ADAPTATION TP 7.99
MYSTERY MINIS HARRY POTTER SERIES 2 12PC BMB DISP
MYTHTRESSES COLORING BOOK 3.99
NEIL GAIMAN NEVERWHERE ILLUSTRATED HC ED 19.99
NOVA #7 3.99
NICK FURY #6 3.99
NICK FURY #6 JOHNSON VAR 3.99
NIGHTWING THE NEW ORDER #2 (OF 6) 3.99
NYCC 2016 NOW CHAMPIONS #1 MINIMATES VAR 2.99
OCCUPY AVENGERS TP VOL 02 IN PLAIN SIGHT 15.99
OTOME MANIA GN VOL 02 12.99
OVER GARDEN WALL ONGOING #18 (C: 1-0-0) 3.99
OVER GARDEN WALL ONGOING #18 SUB VAR 3.99
PATHFINDER RUNESCARS #5 (OF 5) CVR A LAU 4.99
PATHFINDER RUNESCARS #5 (OF 5) CVR B QUALANO 4.99
PATHFINDER RUNESCARS #5 (OF 5) CVR C MUTTI 4.99
POP GAME OF THRONES WUN WUN 6IN VINYL FIG 14.99
POP DESTINY IKORA VINYL FIGURE 11.99
POP DESTINY IKORA VINYL FIGURE 11.99
POP DESTINY ORYX VINYL FIGURE 11.99
POP DESTINY ORYX VINYL FIGURE 11.99
POP DESTINY ZAVALA VINYL FIGURE 11.99
POP DESTINY ZAVALA VINYL FIGURE 11.99
POP DISNEY DUCKTALES HUEY VINYL FIGURE 11.99
POP DISNEY DUCKTALES LOUIE VINYL FIGURE 11.99
POP DISNEY DUCKTALES SCROOGE MCDUCK VINYL FIGURE 11.99
POP DISNEY DUCKTALES WEBBY VINYL FIGURE 11.99
POP HARRY POTTER DUMBLEDORE WAND VINYL FIG 11.99
POP INHUMANS LOCKJAW VINYL FIGURE 11.99
POP INHUMANS MAXIMUS VINYL FIGURE 11.99
POP LORD OF THE RINGS FRODO VINYL FIG 11.99
POP METALLICA JAMES HETFIELD VINYL FIG 11.99
POP METALLICA KIRK HAMMETT VINYL FIG 11.99
POP METALLICA ROBERT TRUJILLO VINYL FIG 11.99
POP SMURFS ASTRO SMURF VINYL FIGURE 11.99
POP SMURFS BRAINY SMURF VINYL FIGURE 11.99
POP SMURFS GARGAMEL WITH AZRAEL VINYL FIGURE 11.99
POP SMURFS GNAP SMURF PURPLE VINYL FIGURE 11.99
POP SMURFS PAPA SMURF VINYL FIGURE 11.99
POP SMURFS SMURFETTE VINYL FIGURE 11.99
POP STRANGER THINGS BRENNER VINYL FIGURE 11.99
POP STRANGER THINGS ELEVEN HOSPITAL GOWN VINYL FIGURE 11.99
POP STRANGER THINGS HOPPER WITH DONUT VINYL FIG 11.99
POP STRANGER THINGS JONATHAN WITH CAMERA VINYL FIG 11.99
POP STRANGER THINGS NANCY WITH GUN VINYL FIG 11.99
POP THOR RAGNAROK HEIMDALL VINYL FIGURE 11.99
POP THOR RAGNAROK HELA MASKED VINYL FIGURE 11.99
POP THOR RAGNAROK HULK HELMET GLADIATOR VINYL FIGURE 11.99
POP THOR RAGNAROK LOKI SAKAARIAN VINYL FIGURE 11.99
POP THOR RAGNAROK THOR GLADIATOR VINYL FIGURE 11.99
POP THOR RAGNAROK VALKYRIE SCAVENGER SUIT VINYL FIGURE 11.99
POP WWE MILLION DOLLAR MAN OLD SCHOOL VINYL FIG 11.99
PREVIEWS #349 OCTOBER 2017 3.99
PROJECT SUPERPOWERS HERO KILLERS #5 (OF 5) CVR A 3.99
PROX TRANSMISSIONS TP 19.99
PUNISHER #16 3.99
RAT QUEENS SPECIAL ORC DAVE #1 (ONE-SHOT) 3.99
REBELS THESE FREE & INDEPENDENT STATES #7 (OF 8) 3.99
RIVERDALE (ONGOING) #3 CVR A FRANCAVILLA 3.99
RED SONJA #9 CVR A MCKONE 3.99
RED SONJA #9 CVR B WILSON 3.99
RED SONJA #9 CVR C MEYERS 3.99
RED SONJA #9 CVR D COSPLAY 3.99
RED SONJA #9 CVR E RUBI EXC SUBSCRIPTION VAR 3.99
REDNECK #6 3.99
REVOLUTIONARIES #8 CVR A LIMA 4.99
REVOLUTIONARIES #8 CVR B RODRIGUEZ 4.99
RICHARD STARKS PARKER THE SCORE TP 17.99
RICK & MORTY #30 3.99
ROBOTECH #3 CVR A NAKAYAMA 3.99
ROBOTECH #3 CVR B KERSCHL 3.99
ROBOTECH #3 CVR C ACTION FIGURE VAR 3.99
ROCK CANDY MOUNTAIN TP VOL 01 9.99
ROM #13 CVR A LAFUENTE 3.99
ROM #13 CVR B PANDA 3.99
ROM VS TRANSFORMERS SHINING ARMOR #3 CVR A 3.99
ROM VS TRANSFORMERS SHINING ARMOR #3 CVR B 3.99
ROUGH RIDERS RIDERS ON THE STORM #6 3.99
ROYAL CITY TP VOL 01 NEXT OF KIN 9.99
SAGA #47 2.99
SANDMAN DEATH ANKH NECKLACE 69.95
SCOOBY DOO TEAM UP #30 2.99
SDCC 2017 DW TITANS CLOSING TIME 11TH DOCTOR 4.5 IN VIN FIG 14.5
SDCC 2017 DW TITANS PANDORICA OPENS TARDIS 4.5 IN VIN FIG 14.5
SDCC 2017 GOT TITANS DROGON GLOW 4.5 IN VIN FIG 14.5
SDCC 2017 GOT TITANS NIGHT KING TRANSLUCENT 4.5 IN VIN FIG 14.5
SEX CRIMINALS TP VOL 04 FOURGY 16.99
SLAYER REPENTLESS #3 (OF 3) 4.99
SHUTTER TP VOL 05 SO FAR BEYOND 19.99
SISTERS OF SORROW #3 (OF 4) MAIN & MIX 3.99
SKULL ISLAND BIRTH OF KONG #3 3.99
SPIDER-MAN VS VULTURE TP 34.99
SOUTHERN BASTARDS #18 CVR A LATOUR 3.99
SPAWN #278 CVR A ALEXANDER 2.99
SPAWN #278 CVR B B&W ALEXANDER 2.99
SPIDER-GWEN #24 3.99
SPIDER-GWEN #24 VENOMIZED VULTURE VAR 3.99
SPIDER-MAN 2099 TP VOL 07 BACK TO FUTURE SHOCK 17.99
SPIDER-MAN DAILY BUGLE TP 29.99
SPIDER-MAN DEADPOOL TP VOL 03 ITSY BITSY 17.99
STAR TREK GREEN LANTERN TP VOL 02 STRANGER WORLDS 19.99
STAR WARS JEDI REPUBLIC MACE WINDU #2 (OF 5) 3.99
STAR WARS JEDI REPUBLIC MACE WINDU #2 (OF 5) VAR 3.99
STEVEN UNIVERSE ONGOING #8 (C: 1-0-0) 3.99
STEVEN UNIVERSE ONGOING #8 SUBSCRIPTION VAR 3.99
SUICIDE SQUAD #26 (METAL) 2.99
SUICIDE SQUAD #26 VAR ED (METAL) 2.99
SUPERMAN REBIRTH DLX COLL HC BOOK 01 34.99
TAROT WITCH OF THE BLACK ROSE #106 2.95
THANOS #11 3.99
THANOS #11 ROBSON VENOMIZED DEATH VAR 3.99
THE BEAUTIFUL DEATH #1 CVR A GRAHAM 5.99
THE BEAUTIFUL DEATH #1 CVR B BABLET 5.99
THOR EPIC COLLECTION TP WRATH OF ODIN 39.99
TITANS TP VOL 02 MADE IN MANHATTAN (REBIRTH) 16.99
TITHE TP VOL 03 SAMARITAN 19.99
TMNT ONGOING #74 CVR A SMITH 3.99
TMNT ONGOING #74 CVR B EASTMAN 3.99
TUROK #2 CVR A LOPRESTI 3.99
TWIN STAR EXORCISTS ONMYOJI GN VOL 10 9.99
UNBEATABLE SQUIRREL GIRL TP VOL 06 15.99
VENOMVERSE #4 (OF 5) 3.99
VENOMVERSE #4 (OF 5) CRAIN CONNECTING VAR 3.99
WALKING DEAD TP VOL 28 16.99
WAR MOTHER #2 CVR A MACK 3.99
WAR MOTHER #2 CVR B GUEDES 3.99
WARHAMMER 40000 FALLEN #1 (OF 4) CVR A SVENDSEN 3.99
WARHAMMER 40000 FALLEN #1 (OF 4) CVR B BETTIN 3.99
WEIRD LOVE #20 4.99
WEIRD LOVE UNLUCKY IN LOVE HC 29.99
WOLVERINE OLD MAN LOGAN TP VOL 05 PAST LIVES 17.99
WONDER WOMAN #31 2.99
WONDER WOMAN #31 VAR ED 2.99
WONDER WOMAN ART OF WAR STATUE BY CONNER 80
WWE #9 3.99
WWE #9 UNLOCKABLE ACTION FIGURE VAR 3.99
WWE #9 UNLOCKABLE ROYAL RUMBLE VAR 3.99
YO-KAI WATCH #2 3.99
X-FILES ORIGINS II DOG DAYS OF SUMMER #4 (OF 4) 3.99
X-MEN BLUE #12 3.99
X-O MANOWAR (2017) #7 (NEW ARC) CVR A LAROSA 3.99
X-O MANOWAR (2017) #7 (NEW ARC) CVR B POLLINA 3.99
X-O MANOWAR (2017) CVR E #4-9 PRE-ORDER ED#7 3.99
X-O MANOWAR (2017) VOL 02 GENERAL 9.99
ZODIAC STARFORCE CRIES OF FIRE PRINCE #2 3.99
We hope to see you soon at CQ!
Visit us at 2260 Morgan Avenue, Evansville
On the web at www.comicquest.com
On Facebook www.facebook.com/comicquestevansville
On Twitter @cqevansville
On Instagram: @comicquestevansville
Contact us at sales@comicquest.com or by phone at 812-474-1133