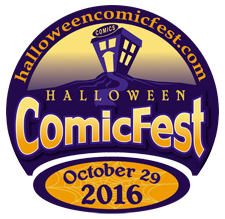 CQ Gaming Newsletter & Weekly Calendar
for the week of Oct. 28-Nov. 3, 2016
HALLOWEEN COMICFEST & TRUNK-OR-TREAT IS TOMORROW
Come join us for Halloween ComicFest on Saturday October 29 for all kinds of spooky fun!
Comic Quest will have some great free comics to give away!! This year, there are 32 titles available for FREE on Halloween Comicfest—19 full-sized comics and 13 mini-comics—available, including select titles from Marvel Comics (Darth Vader: Doctor Aphra #1, Spidey #1, Unbeatable Squirrel Girl: You Choose the Story #1, and The Haunted Mansion #1), DC Comics (DC Superhero Girls #1 and Scooby Apocalypse/Hanna-Barbera Sampler), Dark Horse Comics (Harrow County #1), and IDW Publishing (My Little Pony: The Haunted Dungeon) among other spooktacular tales.
**NEW THIS YEAR: TRUNK OR TREAT (from 2 p.m. – 5 p.m.)
We will have emplyees and friends of Comic Quest decorate their cars and hand out Halloween treats from their trunks!!! Safe Trick-or-Treating Comic Quest style! For more information about the Trunk-or-Treat event, visit the FB event page: https://www.facebook.com/events/1408482185847891/
COSUME CONTEST
Don your best costumes and enter our costume contest! Winners will receive a Halloween Gift Bag with goodies from Comic Quest! Come anytime from 10 – 5 to enter, we will take your pricture and then at the end of the day our judges will choose the winners!
CAR DECORATION CONTEST
If you're parking a vehicle to participate in the Trunk-or-Treat, be sure to decorate up in a fun theme! One lucky winner will receive a Comic Quest Gift Certificate for having the BEST VEHICLE THEME!
Door Prizes will be drawn every hour! So come in early to get your ticket!
SALE SALE SALE!
50% off $1, $2 & $3 books!

20% off Regular Back Issues

20% off Toys & Statues

Select toys, comics and hardcovers will be on a Liquidation Table!

10% off Trade Paperbacks, Role-Playing Games, Board Games & Vintage Comics
FEATURED LOCAL ARTISTS
John Sergesketter, Tim Smith, Tony T, Bryan Bretz & Jeremiah Silliman!
CQ PRESENTS:
We are proud to Welcome Gore Galore as a part of our Halloween Comicfest Trunk-or-Treat! They will be bringing the Gore Galore Hearse! It will be in front of the store and you'll definitely want your picture taken with it!


Comic Quest will also be welcoming Playground Adventures! Playground Adventures is dedicated to bringing family friendly adventures to your gaming table! We believe that learning to use your imagination is a skill that can be taught right alongside reading and arithmetic and that gaming should be fun for all ages. As such, we strive to make our adventures entertaining and appropriate for all gamers no matter their age.

LOCAL COSPLAYER
Bree Williams, a very talented cosplayer, will have a table with goodies for the little ghouls and goblins along with prints available for sale. Ask her real nice, and she'll pose for pictures too!
LOCAL CRAFTERS
The Nerd Nook will be returning, check out their Facebook page and look for them and their stuff for sale in the Trunk-or-Treat!
Lennie's Eerie Tales will also be joining us with her nerdy pillows, scarves and some ears and tails! So if you don't have a costume, she can help! Check out her Facebook Page and look for her inside the store!
Doctor Who: Time Clash coming this November!
During the Essen Spiel, Cubicle 7 showed off their newest card game based on the Doctor Who Franchise: The Time Clash starter set. This new card game features an all new, unique design that has been well received by convention patrons and will be hitting store shelves this November. The game plays quickly for 2-4 players with an emphasis on balancing threats from different angles. As described on Cubicle 7's website:
"You'll play cards representing plans, threats, tech, and quips to stacks that represent the time of the struggle, the Doctor's companion, and the enemy's influence. The two sides also compete to control the Doctor's location, which activates or deactivates crucial powers."
Look for this exciting new game in the coming months here at Comic Quest!
---
NEW IN GAMING
POKEMON TCG: MYTHICAL POKEMON COLLECTION – GENESECT

Rare and mysterious, Mythical Pokemon arrive when they choose and disappear just as quickly! Step forward into a new level of play with the Pokemon TCG: Mythical Pokemon Collection – Genesect!
The Pokemon TCG: Mythical Pokemon Collection – Genesect includes:
– A never-before-seen foil promo card featuring Genesect
– A Genesect collector's pin
– 2 booster packs from the special Pokemon TCG: Generations expansion!
– A code card for the Pokemon Trading Card Game Online
POTION EXPLOSION


Publisher: Cool Mini or Not
Players: 2-4
Playing time: 30-60 minutes
Age: 8+
Dear students, it's time for the final exams of the Potions class! The rules are always the same: Take an ingredient marble from the dispenser and watch the others fall. If you connect marbles of the same color, they explode and you can take them, too! Complete your potions using the marbles you collect, and drink them to unleash their magical power. Remember, though, that to win the Student of the Year award, being quick won't be enough: you'll also need to brew the most valuable potions in Potion Explosion!
---
FEATURED EVENT(S) THIS WEEK
Halloween Comicfest & Trunk-or-Treat
SATURDAY, OCT. 29 10 a.m. – 5p.m.
Get FREE comics, trick-or-treat at our featured guest tables and enter our Costume Contest from 10 a.m. – 5 p.m. Bring the whole family for our FIRST EVER COMIC QUEST TRUNK-OR-TREAT! Comic Quest is offering SAFE and FUN trick-or-treating in front of the store in our parking lot from 2 – 5 p.m. Come see all the fun decorated cars and get goodies! (See above or see our FB Event Page for more details!
POKEMON XY EVOLUTIONS PRE-RELEASE & AFTERDRAFT
Friday, Oct. 28 6 p.m. & Saturday, Oct. 29 11 a.m. and 5 p.m.
Entry Fee (Pre-Release) $30
Entry Fee (Afterdraft) $15
PRERELEASE
**EVERY REGISTERED PLAYER RECEIVES 1 CUSTOM MADE BUTTON AND 1 CUSTOM MADE DICE. Only Entries of the Prerelease will receive one of these dice for entering the XY—Evolutions Prerelease…
Prerelease's are great events to see the new EX's, the new trainers and new Pokemon, also a chances to trade with other players before the actual street release date. Fun filled events. Door prizes, custom dice and new cards…Now this part is new and a big change to the Pokemon Prereleases. Everyone receives the new XY—Evolutions Prerelease Deck instead of 8 packs. Each Deck Includes:
· 22 card evolution pack featuring key cards from current and prior sets
· 4 XY—Evolutions Booster Packs
· 1 of 4 alternate art promo cards
· 1 Deck building tip sheet
Each players will build their deck from this kit.
AFTERDRAFT
There will be a AFTERDRAFT Event after the Prerelease for $15.00 and you receive 1 XY—Evolutions Prerelease Deck, plus there are booster pack prizes awarded for this event.
This is going to be a amazing set. Lots of fun for everyone.. Great event to have fun and hang-out with friends. Each players receives 1 Raffle Ticket for entering the Prerelease but also a 2nd Raffle Ticket for entering the Afterdraft . Then you can also get one additional raffle tickets for each $5.00 you spend at the Store and show us a receipt.
INCENTIVE PROGRAM!
We also have a incentive program that if you bring a new player who enters the prerelease and they have not played in any of my prior Prereleases you will receive an additional XY—Evolutions Booster booster pack FREE for bringing a new player. What a great chance to receive a FREE booster pack before the release date. See everyone at in Evansville, Indiana at Comic Quest
---
WEEKLY EVENTS
THURSDAYS
Evansville Star Wars X-Wing League
Time: 5 p.m.
Comic Quest Star Wars X-Wing current League is hosted every Thursday. The group has certain missions and other unique formats during certain periods so you will need to check with the league. This is just a notice to let players know that Star Wars X-Wing is played at Comic Quest weekly on Thursday..
Entry fee is $1.00
Prizes awarded after each period.
DiceMasters Meet & Play!
 Magic the Gathering: Free Commander
START TIME: 6:30 P.M.
Each participant will receive a free promo that could be from past FNMs, Game Days, Pre-Releases, and many others.
This is a sanctioned event so the banned list will be enforced and proxies will not be allowed.
FRIDAYS
Evansville Pokemon League
Time: 5 p.m. – 9:45 p.m.
Every Friday night, the Evansville Pokemon League meets at our store. These weekly meetings include open play and trading, as well as frequent opportunities to win free cards, patches, pins, and other merchandise from the Pokemon franchise.
Newcomers to the game will be freely assisted in learning the basic rules to the game, as well as basic deck building skills and strategies.
The Pokemon League is a great opportunity for players of all ages to enjoy the game of Pokemon while meeting new people and forming a social network in the process.
Pokemon Friday Night Competitive Play
Kid gloves off! This event is for the competitive players! Players who want to battle and win! This is not "kids league." We encourage and invite all of you to participate in our competitive events for battling and winning boosters!
Event Type: Standard
Entry: $5.00
Sign-Up: 5 – 5:55 p.m.
Starts: 6 p.m.
Friday Night Magic – Standard
FNM: Standard Casual Play – $5 Entry; Standard Casual Play;  Every player receives a booster pack and Additional packs go to top players!!!!
FNM: Standard Win-A-Box – $10 entry; Top 4 Players Split a Box! *Must have 8 players to award a box
FNM: Sealed Booster Draft – $12 Entry; Every player gets 3 packs to draft from; Additional packs put in for winners!
SATURDAYS
Pokemon Training Center
Time: 11 a.m. – 2 p.m.
Cost: FREE
Learn how to plya the Pokemon Trading Card Game! This "Pokemon Training Center" is for kids of all ages, young and old! No need to own your own cards. We will have some you can use to play! Our skilled Pokemon Trainers will help you and/or your kids learn how to play!
If you're slightly more advanced, but still need help building your own deck…our Trainers can help with that too! Come learn to play in a relaxed, fun, safe environment!
Force of Will Weekly Tournament
Time: 6 p.m.
Force of Will events will take place on Saturdays and Sundays at Comic Quest.
These weekly events will be run as either round robin or swiss depending on attendance.
Entry fee is $5.
Every player receives one (1) Force of Will booster pack of their choice from our FOW inventory.
Magic the Gathering Saturday Night Standard
When FNM isn't enough Magic or you simply can't make it, we always have our trusty SNS.
Time: Beginning at 6 p.m.
Yu-Gi-Oh Weekly Tournament
Saturdays 5 p.m.
Come Battle it out for superiority in the Official Yu-Gi-Oh! Rating system! Weekly tournaments provide players the chance to battle, trade, and talk about the game they love!
Cost: $5
Participation: Each player will receive 2 OTS Packs.
SUNDAYS
Lazy Sunday Gaming
Who doesn't love kicking back with your family and friends to play games? We sure do! Join us on Sundays, from Noon until 6 p.m. to play any tabletop games you want! We have plenty of tabletop space, soda, snacks and you won't even have to clean your house to get together with friends! We do the working, you do the playing!
WEDNESDAYS
Dungeons & Dragons
Time: 6 p.m.
The D&D Adventurers League is an ongoing official organized play campaign for Dungeons & Dragons. It uses the fifth edition of the Dungeons & Dragons rules, and features the Forgotten Realms setting.
Each player will be issued a DCI # number because the store has to report attendance. If you have a DCI number great, if not we can issue you one. There is no fee.
As of now we have 3 groups playing, and room for a few more players!
D&D is free at the store and we only ask that you show some patronage to the store by buying supplies, drinks, snacks etc. Purchasing your snacks and supplies in the store helps us keep events like this one FREE!
WizKid Wednesdays
Our WizKid Heroclix League meets every Wednesday evening, beginning at 5 p.m. Some weeks they have official Organized Play events, other weeks it is just a free-for-all fun night!
Starts: 5 p.m.
 If there is an event you are interested in that s not currently on our schedule, please talk to our Store Manager, Monti and we will do our best to accommodate your event request.
You can subscribe to our Facebook Events page to stay completely up to date on all the events we have scheduled in the store and those event are great places to ask questions and talk to other people who will be attending! Subscribe to those events by clicking here.
---
ALSO NEW & RE-STOCKED THIS WEEK
THE RESISTANCE 3RD EDITION
D&D SWORD COAST ADVENTURERS GUIDE
PF BEGINNER BOX REVISED
MUNCHKIN ZGREG HYLAND GUEST ARTIST E
MAGE WARS ARENA PALADIN VS SIREN
LEGENDARY MARVEL GUARDIANS EXP
CHEZ GEEK HOUSE PARTY EDITION
MUNCHKIN 3 MARVEL COSMIC CHAOS
PK XY10 FATES COLLIDE BOOSTER
LOTR LCG ADV PK THE CITY OF CORSAIR
SMASH UP BIG GEEKY BOX
LEGENDARY MARVEL DARK CITY EXP
SMASH UP CEASE AND DESIST
SMASH UP EXPANS: OBLIGATORY CTHULHU
SMASH UP EXPANSION PRETTY PRETTY
SMASH UP EXPAN: AWESOME LEVEL 9000
D&D LORDS WATERDEEP BG
MRV LEG SPIDERMAN PAINT TOWN RED
MYSTIC VALE
ZBP 3D DOORS
DBZ AWAKENING BOOSTER
BETRAYAL AT HOUSE ON HILL WIDOW WLK
Doggy Go!
PK MEWTWO EX BOX
PK CHARIZARD EX BOX – FIRE BLAST
D&D CASTLE RAVENLOFT BOARDGAME
MG – GUNDAM AGE-2 DOUBLE BULLET
MG – GUNDAM RX-78-4
DBZ AWAKENING STARTER DECK
PK MEGA BEEDRILL-EX PREMIUM COLL
EPIC SPELL WAR WIZ DUEL SKULLFYRE
EPIC SPELL WAR WIZ II CST TENTAKILL
SW X-WING HEROES OF THE RESIST EXP
DREAM HOME
PK XY8 BREAKTHROUGH BOOSTER
PK XY9 BREAKPOINT BOOSTER
KING OF TOKYO 2ND EDITION
D&D SPELL DECKS BARD
D&D SPELL DECKS PALADIN
D&D: PALADIN OATHS DECK
D&D: MARTIAL POWERS RACES ARCHETYPE
MARVEL MUNCHKIN UNIVERSE
MUNCHKIN YULE LOG
POKEMON XY4 PHANTOM FORCES THEME DK
PK XY7 ANCIENT ORIGINS BOOSTER BOX
PK XY9 BREAKPOINT BOOSTER
PK XY10 FATES COLLIDE BOOSTER
MARVEL MUNCHKIN 2 MYSTIC MAYHEM
We hope to see you soon at CQ!
Visit us at 2260 Morgan Avenue, Evansville
On the web at www.beta.comicquest.com 
On Facebook www.facebook.com/comicquestevansville
On Twitter  @cqevansville
On Instagram: @comicquestevansville
Contact us at sales@beta.comicquest.com or by phone at 812-474-1133.