Comic Quest Weekly for 4/30/18
FCBD THIS SATURDAY 5/5/18 !
Finally the best day of the year is almost here!!
What IS Free Comic Book Day? Check out this video to find out more!
Click here and watch a video to find out!
Comic Quest will be giving away 6 FREE COMICS to everyone who attends FCBD at Comic Quest (as supplies last).
Click here to see a list of this year's FCBD comics! (NOTE: Some of the comics on the list will not be available at Comic Quest).
We have also decided to up the giveaway of trade-paperbacks! Instead of the first 200 people in line, we will be giving away trade-paperbacks to the first 500 people that come through the store. (Note: Most of these are not for younger kids. They are rates for young adults and adults. Many Image, Dark Horse, and Independent trades will be part of the giveaways!)
Expect some store discounts…to be announced throughout the day!
We will also be welcoming back some AMAZINGLY TALENTED, as well as some new local artists, local creators and cosplay groups and individuals. Be sure to visit their tables and show them how much the Evansville community loves and supports local talent!
ARTIST SPECIAL GUESTS:
Pin Aw SaucerQueen (http://saucerqueen.com/)
Joseph Morris
Tyler Bass
Tim Smith The Art of Tim Smith
Clint Basinger
Sean Dulaney
Bryan Bretz
Anthony Demarco Hicks (Aka Tony T)
Steve Young
Akpan Akpan
Pizzaface (aka Art & Designs by Kristina Arwood)
Project Nexus: Code Black
Johnny Skulls
Erika Hunter
Corey Knaebel Artists-Illustrator
Jake Harris -Author
LOCAL VENDORS:
Ali Cat Corner
Little Twisted Triad Crafts
Lennie Romero
Imaginekrafts
Graves Tabletop Gaming – Custom Wooden Game Accessories.
LOCAL ORGANIZATIONS AND GROUPS:
Bloodfin Garrison – 501st Legion
Ai No Hoshi Maid Café
Demolition City Roller Derby
COSPLAY SPECIAL GUESTS:
Bree Williams -Harley Quinn
Becca Cleek -Deadpool
Nicholas Caliendo -Punisher
KIDS KORNER
Hosted by Ai No Hoshi Maid Café
And what do you do at the Heroes Arcade during FCBD…how about free Arcade play for the kids.!!!! FREE FREE FREE
Expect the same great selection of FCBD books, some special sales, fantastic local artists, multiple local vendors offering collectibles, costumed Super-hero and anime characters, cosplay contests, door prices and a few extra surprises. We will have a few FCBD specialty items for sales including a Previews exclusive FCBD 2018 POP SAGA BLOODY LYING CAT PX VIN FIG, FCBD 2018 MARVEL HEROCLIX EX FIG GLADIATOR HULK and a FCB HARLEY QUINN BOMBSHELLS FIG. More details as our planning continues.
…and the winner is
We ran a contest last week for FREE passes to the CQ Heroes Arcade! All you had to do was Like & Share the post to win! Thank you to all who liked and shared the post! Without further adieu, the winner of the the FULL DAY pass is: BRIAN GORDON! Congratulations!!
POKEMON FORBIDDEN LIGHT EARLY RELEASE AT CQ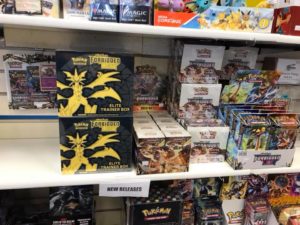 Comic Quest is one of the few stores across the country, and the ONLY store in the area, that gets to sell Pokemon Forbidden Light early! When we open today, on Monday, April 30, 2018, we will have the Pokemon TCG Forbidden Light sets on sale before anyone else in the area!! We have Boosters, Booster Boxes, Elite Trainer Boxes, Theme Decks…and more! We've even got some Pre-releases boxes left and lots of single card available!!! Come by Comic Quest and check out everything we have for Forbidden Light…EXCLUSIVELY available early at CQ!!!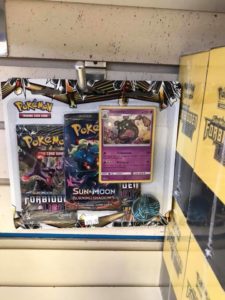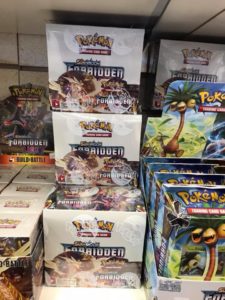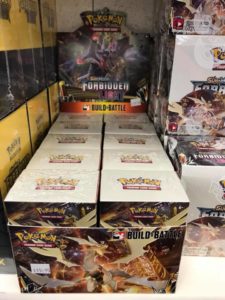 NEW ARRIVALS!
AVENGERS #1 $4.99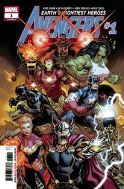 (W) Jason Aaron (A/CA) Ed McGuinness
A NEW ERA DAWNS FOR EARTH'S MIGHTIEST HEROES –
courtesy of JASON AARON and ED McGUINNESS!
Thor Odinson. Steve Rogers. Tony Stark. The Big Three of the Avengers are reunited at last! And just in time to save the world from total annihilation at the hands of their most powerful enemies yet: the 2000-foot-tall space gods known as Celestials.
Behold the coming of the Final Host.
Who will answer the call to assemble for a wild new era of Earth's Mightiest Heroes? Hint: one of them has a flaming skull for a head. And what strange, world-shaking connection exists between the Final Host and Odin's ancient band of Prehistoric Avengers?
BATMAN #46 $2.99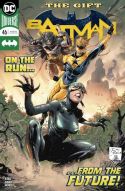 (W) Tom King (A) Sandu Florea (A/CA) Tony S. Daniel
"THE TRAVELERS" part two! Booster Gold's wedding present has screwed up Batman's past, and done even more damage to his present. Now, with the Caped Crusader himself refusing to cooperate, the only way for Booster to correct this runaway timeline is to get Catwoman on his side. But with her own past altered, can he make Catwoman recognize the qualities in her husband-to-be that brought them together in the first place? Plus, if Batman isn't doing his job, Gotham City may become way more dangerous than our bumbling time-traveler might be ready for.
NIGHTMARE BEFORE CHRISTMAS ZEROS JOURNEY #1 $3.99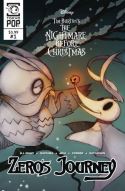 (W) Dj Milky (A/CA) Kei Ishiyama
When Jack Skellington's faithful pet Zero gets lost, the ghost pup must get the help of the residents of Christmas Town to find his way back. With Halloween plans on hold while Jack mounts a search, will they be reunited in time to save both holidays?
DC NATION #0 $0.25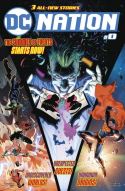 (W) Tom King, Scott Snyder, James TynionIV, Joshua Williamson, Brian Michael Bendis (A) Clay Mann, Jos? Luis Garc?a-L?pez (A/CA) Jorge Jimenez
These stories will appear only in this comic book and will not be reprinted in another comic book before each series' collected editions. Only the first printing of this issue will have a cover price of $0.25. This issue will ship with four covers. Please see the order form for details.
Just in time for Free Comic Book Day, this special comic priced at just $0.25 US features three brand-new stories from a lineup of superstar talent-and each tale serves as a prelude to some of the biggest DC events of 2018!
First, find out how The Joker reacts when he discovers Catwoman has turned her back on crime and plans to marry his archnemesis. Can the Clown Prince of Crime stand to see Batman happy? Writer Tom King and artist Clay Mann set up the events that lead to BATMAN #50!
Then, DARK NIGHTS: METAL shook the DC Universe to its deepest foundations-now it's time to rejoin legendary writer Scott Snyder, along with all-star artist Jorge Jimenez and co-writers James Tynion IV and Joshua Williamson, for the prelude to JUSTICE LEAGUE: NO JUSTICE! Discover what universe-shattering mysteries have emerged from the most wondrous and chaotic corners of the cosmos to hunt the Justice League in DC's summer blockbuster event!
And get your first glimpse at Superman's new world in this exclusive preview of the upcoming six-issue miniseries MAN OF STEEL, written by Brian Michael Bendis with art by José Luis García-López. With Truth, Justice and the American Way all under attack, both Superman and Clark Kent find there's never been a more important time to stand up for what they believe in.
RED SONJA TARZAN #1 $3.99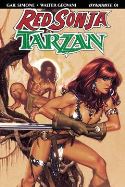 (W) Gail Simone (A) Walter Geovani (CA) Adam Hughes
The She-Devil with a Sword meets the Lord of the Jungle!
Eson Duul is an evil man. The mere mention of his name makes powerful quake with fear. He has no regard for life, including that of man. But he may finally have met his match when he finds himself up against Red Sonja and Tarzan!
Gail Simone (Birds of Prey, Red Sonja) and Walter Geovani (Red Sonja, Clean Room) reunite to bring us the crossover event featuring two of fiction's greatest heroes side by side at last!
HARLEY LOVES JOKER #1 (OF 2) $3.99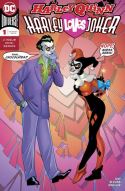 (W) Paul Dini (A) Bret Blevins (CA) Amanda Conner
Paul Dini returns to the character he co-created to deliver the incredible two-issue wrap-up of the "Harley Loves Joker" flashback tale that ran as a backup in HARLEY QUINN last year! As far as The Joker's concerned, the new headquarters Harley built for them is absolutely perfect…but only she knows the whole place is rigged to come crashing down around them-and she doesn't know how to stop it!
THIS WEEK IN TOYS/STATUES
ALIEN OVOMORPH EGG COOKIE JAR $39.95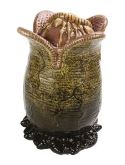 Think twice about sticking your hand in this ominous ovomorph cookie jar… you might not get it back! This terrifying kitchen accessory is waiting patiently for unsuspecting snackers or brave bakers to deposit a batch of oatmeal-raisin offerings to fill its empty insides.
IRON MAIDEN ACES HIGH EDDIE REACTION FIGURE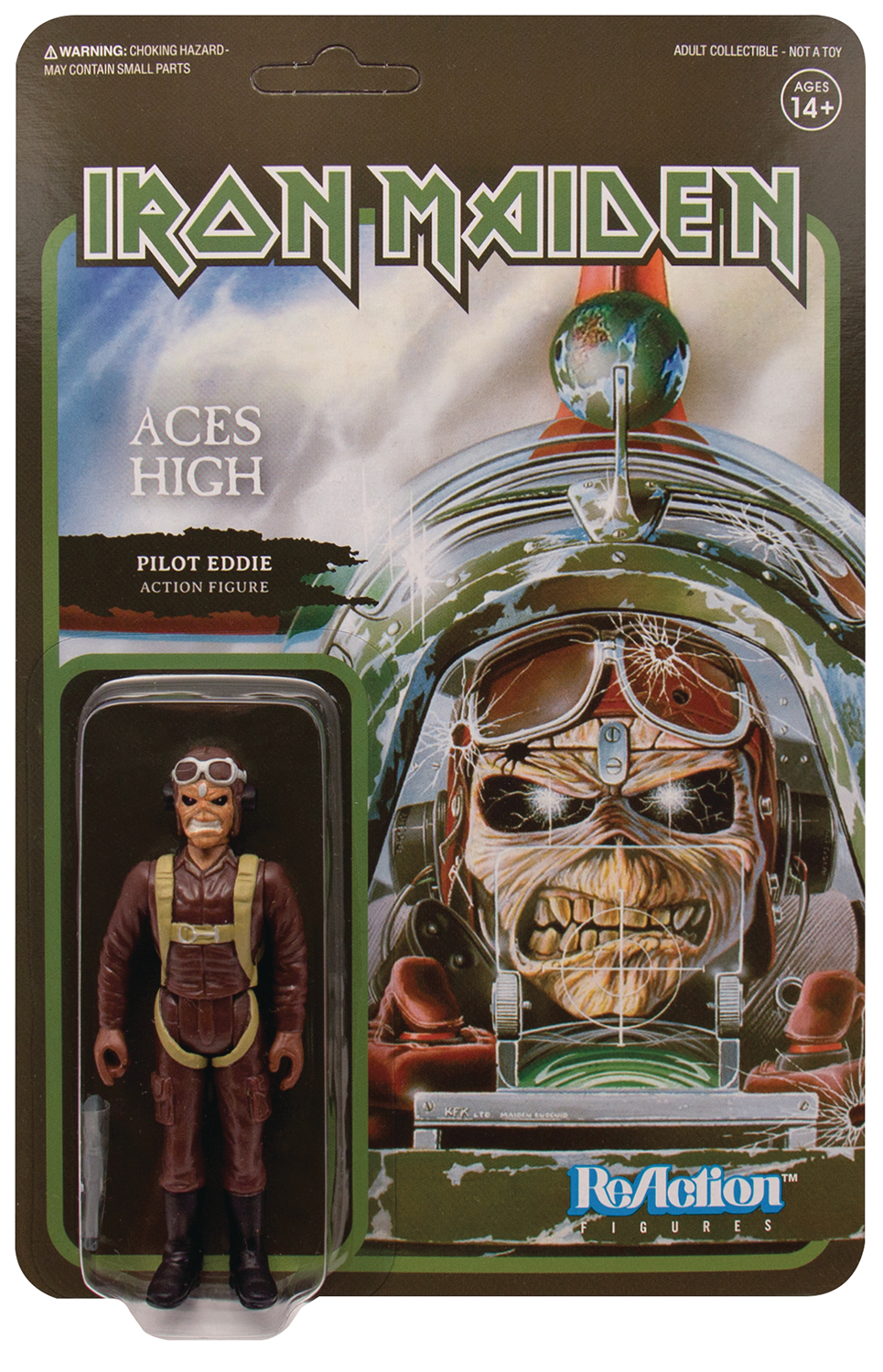 An official Super7 x Iron Maiden collaboration! Maiden's iconic mascot Eddie comes to life as 3 3/3″ ReAction figures. Each figure recreates the classic 1980s-style action figure. Choose from Aces High Eddie Killers, Eddie, Power Slave Eddie, or Trooper Eddie. Blister card packaging.
METALS BATMAN ARKHAM KNIGHT BATMOBILE 1/24 VEHICLE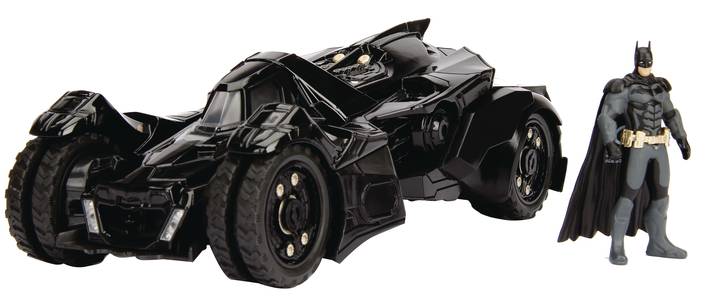 From the Arkham Knight game comes the Batmobile in 1:24 scale along with a 2 3/4-inch tall figure of the Dark Knight himself! The Batmobile features an opening cockpit, die-cast metal body, and rubber tires. The Batman Arkham Knight Batmobile 1:24 Scale Die-Cast Vehicle with Figure comes packaged in a window box.
MYSTERY MINIS NICKELODEON 90S SER1 12PC BMB DISP



From Funko. It is a blast from the past! Some of your favorite characters from Nickelodeon TV are now Funko Mystery Minis! Collect characters from Rugrats, Aaahh!!! Real Monsters, Ren & Stimpy, The Angry Beavers, CatDog, Hey Arnold! and The Wild Thornberrys. Each figure stands 2 1/2″ tall. Blind mystery box packaging
TRADE PAPERBACKS OF THE WEEK
GREEN ARROW TP VOL 05 HARD TRAVELING HERO REBIRTH $16.99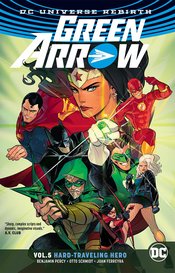 (W) Ben Percy (A) Juan Ferreyra, Jamal Campbell, Stephen Byrne (A/CA) Otto Schimdt
Unwilling to let another city suffer the same fate as Seattle, Green Arrow kicks off a quest to hunt down the Ninth Circle across America! To stop disaster before it can happen, the hot-headed Oliver Queen must mend fences with those he's alienated, including the Flash, Wonder Woman, Superman, Batman and Green Lantern! But can even the Justice League help the Emerald Archer take down his deadliest foes? Collects GREEN ARROW #26-31.
GRAVEDIGGERS UNION TP VOL 01 $16.99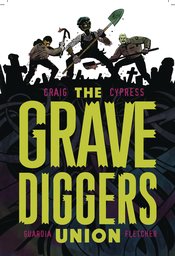 (W) Wes Craig (A) Toby Cypress (CA) Wes Craig
DEADLY CLASS co-creator WES CRAIG launches a new series with art by rising star TOBY CYPRESS (Omega Men)! The supernatural world has gone crazy! The apocalypse is coming, and only the Gravediggers Union can stop it! How? Well, first their leader Cole has to find his estranged daughter. But is she the one behind the apocalypse? Wild comedic horror with steroid zombies, monster gods, swamp vampires, ghost storms, and space monkeys! OVERSIZED FIRST ISSUE
ZERO HOUR CRISIS IN TIME HC $24.99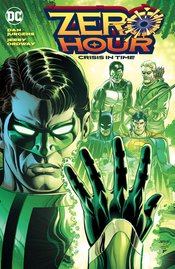 (W) Dan Jurgens (A) Frank Fosco, Ken Branch (A/CA) Dan Jurgens, Jerry Ordway
All of reality comes under attack when a mysterious force of entropy begins slowly erasing time itself – making its way from both the past and future toward the present! As history itself unravels around them, the heroes of the world–including Superman, Batman, Wonder Woman, The Flash, the Justice Society and the Titans – scramble to fix the broken time stream. But even if they stop the true source of the chaos, the world they save will never be the same! Collects ZERO HOUR #0-4 in hardcover for the first time. Includes a new introduction by Dan Jurgens, updated timeline to the DC Universe and never-before-collected bonus material.
FUTURE QUEST PRESENTS TP VOL 01 $16.99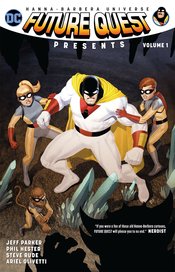 (W) Jeff Parker, Phil Hester (A) Steve Rude (A/CA) Ariel Olivetti
After the thrilling events of FUTURE QUEST, a new adventure begins! Space Ghost and his young wards Jan and Jace team up with the Herculoids to rebuild the mighty Space Force. Will they rise again to become defenders of the galaxy? Or is there something lurking in the shadows ready to stop them for good? Collects issues #1-3 and #5-7.
MASTER LIST OF STUFF ARRIVING THIS WEEK!
30 DAYS OF NIGHT #5 (OF 6) CVR A TEMPLESMITH 3.99
ADVENTURE TIME REGULAR SHOW TP 19.99
ALIEN EGG SALT AND PEPPER SHAKER SET 19.95
ALIEN OVOMORPH EGG COOKIE JAR 39.95
AMAZING AGE TP 9.95
ARCHIE TP VOL 05 17.99
ARIFURETA FROM COMMONPLACE LIGHT NOVEL V2 14.99
ASTONISHING X-MEN #11 LEG 3.99
AVENGERS #1 4.99
AVENGERS #1 BLANK VAR 4.99
AVENGERS #1 KUDER YOUNG GUNS VAR 4.99
AVENGERS #1 LAND PARTY VAR 4.99
AVENGERS ASSEMBLE GAME ON DIGEST TP 9.99
BACK ISSUE #104 8.95
BATMAN #46 2.99
BATMAN #46 VAR ED 2.99
BLACK SCIENCE #35 CVR A SCALERA & DINISIO 3.99
BLEACH 3IN1 TP VOL 23 14.99
BOMBSHELLS UNITED #17 2.99
CAPTAIN AMERICA #701 LEG 3.99
CAPTAIN AMERICA #701 NAKAYAMA DEADPOOL VAR 3.99
CAPTAIN AMERICA #701 TEDESCO CONNECTING VAR 3.99
CHASMA KNIGHTS GN VOL 01 17.99
CODA #1 (OF 12) MAIN & MIX 3.99
COLOR YOUR OWN DEADPOOL AGAIN TP 9.99
COLOR YOUR OWN STAR WARS HAN SOLO TP 9.99
COME INTO ME #2 3.99
CURSE OF BRIMSTONE #2 2.99
CYBER SPECTRE #1 CVR A ALE GRAZA 3.99
CYBORG #22 3.99
CYBORG #22 VAR ED 3.99
DARK ARK #6 CVR A DOE 3.99
DAYGLOAYHOLE QUARTERLY #1 6
DC NATION #0 0.25
DEADPOOL CLASSIC COMPANION TP VOL 02 34.99
DEATH OR GLORY #1 CVR A BENGAL 4.99
DEATH OR GLORY #1 CVR B FEGREDO 4.99
DEATH OR GLORY #1 CVR C HARREN 4.99
DEATHSTROKE #31 3.99
DEATHSTROKE #31 VAR ED 3.99
DOCTOR STAR & KINGDOM LOST TOMORROWS #3 MAIN CVR 3.99
DOCTOR STRANGE BUST BANK 19.99
DOCTOR WHO MAGAZINE #524 11.99
DOOM PATROL #11 VAR ED 3.99
DORBZ DISNEY WINNIE THE POOH EEYORE VINYL FIG 7.99
DORBZ DISNEY WINNIE THE POOH PIGLET VINYL FIG 7.99
DORBZ DISNEY WINNIE THE POOH POOH VINYL FIG 7.99
DORBZ DISNEY WINNIE THE POOH TIGGER VINYL FIG 7.99
EAST OF WEST #37 3.99
EXIT STAGE LEFT THE SNAGGLEPUSS CHRONICLES #5 3.99
EXIT STAGE LEFT THE SNAGGLEPUSS CHRONICLES #5 VAR ED 3.99
EXTREMITY TP VOL 02 WARRIOR 16.99
FIGHTING AMERICAN TIES THAT BIND #3 (OF 4) CVR B KIRBY 3.99
FUBAR ALL STAR TP 14.95
FUTURE QUEST PRESENTS TP VOL 01 16.99
GFT DANCE OF THE DEAD #5 (OF 6) CVR A 3.99
GFT DANCE OF THE DEAD #5 (OF 6) CVR B 3.99
GFT DANCE OF THE DEAD #5 (OF 6) CVR C 3.99
GFT DANCE OF THE DEAD #5 (OF 6) CVR D 3.99
GFT OZ THE WIZARD ONE SHOT CVR A 5.99
GFT OZ THE WIZARD ONE SHOT CVR B 5.99
GFT OZ THE WIZARD ONE SHOT CVR C 5.99
GFT OZ THE WIZARD ONE SHOT CVR D 5.99
GI JOE A REAL AMERICAN HERO #251 CVR A 3.99
GI JOE A REAL AMERICAN HERO #251 CVR B 3.99
GO GO POWER RANGERS #8 2ND PTG 3.99
GO GO POWER RANGERS #9 MAIN & MIX SG 3.99
GO GO POWER RANGERS #9 SUB 3.99
GRAVEDIGGERS UNION #6 CVR A CRAIG 3.99
GRAVEDIGGERS UNION TP VOL 01 16.99
GREEN ARROW #40 3.99
GREEN ARROW #40 VAR ED 3.99
GREEN ARROW TP VOL 05 HARD TRAVELING HERO REBIRTH 16.99
GREEN LANTERN KYLE RAYNER TP VOL 02 29.99
GREEN LANTERNS #46 2.99
GREEN LANTERNS #46 VAR ED 2.99
GRIMGAR OF FANTASY & ASH LIGHT NOVEL VOL 06 13.99
GUNDAM BUILD DIVERS GUNDAM AGE-2 MAGNUM HGBM MDL KIT
HARBINGER WARS 2 PRELUDE #1 CVR A ALLEN 3.99
HARBINGER WARS 2 PRELUDE #1 CVR B CHO 3.99
HARLEY LOVES JOKER #1 (OF 2) 3.99
HARLEY LOVES JOKER #1 (OF 2) VAR ED 3.99
HARLEY QUINN TP VOL 05 VOTE HARLEY REBIRTH 16.99
HILLBILLY #9 3.99
HOOKAH GIRL & OTHER TRUE STORIES GN 6.95
HUNT FOR WOLVERINE WEAPON LOST #1 (OF 4) 3.99
HUNT FOR WOLVERINE WEAPON LOST #1 (OF 4) DAVIS VAR 3.99
INFINITY COUNTDOWN #3 (OF 5) DRAX VAR LEG 4.99
INFINITY COUNTDOWN #3 (OF 5)CONNECTING VAR 4.99
INFINITY COUNTDOWN #3 (OF 5) LEG 4.99
INFINITY COUNTDOWN #3 (OF 5) LIM VAR LEG 4.99
INJUSTICE 2 #25 2.99
IRON MAIDEN ACES HIGH EDDIE REACTION FIGURE
IRON MAIDEN KILLERS EDDIE REACTION FIGURE
IRON MAIDEN POWER SLAVE EDDIE REACTION FIGURE
IRON MAIDEN TROOPER EDDIE REACTION FIGURE
JASMINE CROWN OF KINGS #1 (OF 5) CVR A 3.99
JASMINE CROWN OF KINGS #1 (OF 5) CVR B 3.99
JASMINE CROWN OF KINGS #1 (OF 5) CVR C 3.99
JEEPERS CREEPERS #1 CVR B BAAL 3.99
JOHN CARPENTER TALES OF SCI FI VORTEX #7 3.99
JUDGE DREDD MEGAZINE #394 13
KOSHCHEI THE DEATHLESS #5 3.99
KULL ETERNAL #3 CVR A PIZZARI 3.99
LOEG THE BLACK DOSSIER TP NEW ED 19.99
LONG LOST #6 3.99
LUMBERJANES ILLUS HC NOVEL VOL 02 MOON IS UP 14.99
MANFRIED MAN GN 14.99
METALS BATMAN ARKHAM KNIGHT BATMOBILE 1/24 VEHICLE
MIGHTY MORPHIN POWER RANGERS #25 (2ND PTG) 4.99
MILK & CHEESE DAIRY PRODUCTS GONE BAD TP 19.99
MY LITTLE PONY LEGENDS OF MAGIC TP VOL 02 19.99
MYSTERY MINIS NICKELODEON 90S SER1 12PC BMB DISP
NARUTO CHIBI SASUKE SHARINGAN LEGEND GN VOL 03 9.99
NIGHTMARE BEFORE CHRISTMAS ZEROS JOURNEY #1 CVR A 3.99
NIGHTMARE BEFORE CHRISTMAS ZEROS JOURNEY #1 CVR B 3.99
NIGHTWING #44 3.99
NIGHTWING #44 VAR ED 3.99
NIGHTWING THE NEW ORDER TP 16.99
OZ GN VOL 02 CLASH OF TITANS 16.99
POKEMON SUN & MOON GN VOL 01 4.99
POP ATOMIC BLONDE LORRAINE WHITE COAT VINYL FIG 11.99
POP ATOMIC BLONDE LORRAINE WITH GUN VINYL FIG 11.99
POP GOT S8 DAENERYS WHITE COAT VINYL FIG 11.99
POP GOT S8 DAVOS SEAWORTH VINYL FIG 11.99
POP GOT S8 JON SNOW BEYOND THE WALL VINYL FIG 11.99
POP HERCULES BABY HERCULES VINYL FIG 11.99
POP HERCULES BABY PEGASUS VINYL FIG 11.99
POP HERCULES HERCULES VINYL FIG 11.99
POP HERCULES MEG VINYL FIG 11.99
POP TOMB RAIDER LARA CROFT VINYL FIG 11.99
PORTAL BOUND #2 (OF 5) CVR A ARIZMENDI 3.99
REBORN TP 16.99
RED SONJA #15 CVR A MCKONE 3.99
RED SONJA #15 CVR B GOMEZ 3.99
RED SONJA #15 CVR C DOE 3.99
RED SONJA #15 CVR D COSPLAY 3.99
RED SONJA TARZAN #1 CVR A HUGHES 3.99
RED SONJA TARZAN #1 CVR B LEE 3.99
RED SONJA TARZAN #1 CVR C LOPRESTI 3.99
RED SONJA TARZAN #1 CVR D GEOVANI 3.99
RED SONJA TARZAN #1 CVR E SUB 3.99
RISE OF BLACK PANTHER #5 (OF 6) LEG 3.99
RISE OF SUPERHEROES GREATEST SILVER AGE COMIC BOOKS HC 24.99
ROGUE & GAMBIT #5 (OF 5) LEG 3.99
SAMURAI JACK TP QUANTUM JACK 17.99
SCALES & SCOUNDRELS #9 3.99
SCARLETTS STRIKE FORCE TP VOL 01 17.99
SEX CRIMINALS #24 3.99
SHADE THE CHANGING WOMAN #3 3.99
SHE-HULK TP VOL 03 JEN WALTERS MUST DIE 15.99
SHERLOCK HOLMES ADVENTURES OF THE OPERA GHOST TP 8.99
SHERLOCK HOLMES VANISHING MAN #1 CVR A CASSADAY 3.99
SHIELD BY HICKMAN AND WEAVER REBIRTH #1 5.99
SHOWTIME GN 22.5
SIDEWAYS #3 2.99
SPAWN #285 CVR A MATTINA 2.99
SPAWN #285 CVR B MATTINA 2.99
SPAWN #285 CVR C MATTINA 2.99
SPIDER-MAN #240 LEG 3.99
SPIDER-MAN FREE FALLING DIGEST TP 9.99
SPREAD TP VOL 05 16.99
STAR TREK BOLDLY GO TP VOL 03 19.99
STAR TREK TNG THROUGH THE MIRROR #1 CVR A WOODWARD 3.99
STAR TREK TNG THROUGH THE MIRROR #1 CVR B JOHNSON 3.99
STAR WARS #47 3.99
STAR WARS #47 CHRISTOPHER ACTION FIG 3.99
STAR WARS #47 REIS GALACTIC ICON VAR 3.99
STAR WARS HAN SOLO HC 24.99
STAR WARS TAG & BINK WERE HERE #1 7.99
STRAY BULLETS SUNSHINE & ROSES #34 3.99
STREET ANGEL GOES TO JUVIE HC 19.99
SUICIDE SQUAD REBIRTH DLX COLL HC BOOK 02 34.99
SWASHBUCKLERS SAGA CONTINUES #2 CVR A GUICE 3.99
TALES OF TMNT OMNIBUS TP VOL 01 29.99
TANK GIRL FULL COLOR CLASSICS 1988-1989 #1 6.99
TEENAGE MUTANT NINJA TURTLES TP VOL 03 29.99
THE GHOST THE OWL HC 9.99
TRANSFORMERS GEN POWER O/T PRIMES VOYAGER AF ASST 201801
TRANSFORMERS VS VISIONARIES #5 (OF 5) CVR A 3.99
TRANSFORMERS VS VISIONARIES #5 (OF 5) CVR B 3.99
TRUE BELIEVERS KITTY PRYDE AND WOLVERINE #1 1
TRUE BELIEVERS WOLVERINE SWORD QUEST #1 1
ULTRAMAN GN VOL 10 12.99
VENOMIZED #5 (OF 5) 3.99
VOLCANOSAURUS #2 V-REX MAIN MAGMA BONK CVR 3.99
VYNL HELLBOY HELLBOY & ABE SAPIEN VINYL FIG 2PK 14.99
WALKING DEAD #179 CVR A ADLARD & STEWART 3.99
WALKING DEAD #179 CVR B SIENKIEWICZ 3.99
WARHAMMER 40000 TP VOL 03 THE FALLEN 16.99
WEAPON X #17 LEG 3.99
X-MEN GOLD #27 LEG 3.99
XERXES FALL OF HOUSE OF DARIUS #2 4.99
YOU ARE DEADPOOL #1 (OF 5) 3.99
YOU ARE DEADPOOL #1 (OF 5) ESPIN RPG VAR 3.99
YOU ARE DEADPOOL #1 (OF 5) LIM VAR 3.99
YOUNG FRANCES HC VOL 01 POPE HATS 19.95
YOUNG TERRORISTS TP 13.99
YUUNA & HAUNTED HOT SPRINGS GN VOL 01 12.99
ZERO HOUR CRISIS IN TIME HC 24.99
ZODIAC STARFORCE CRIES OF FIRE PRINCE #4 3.99
We hope to see you soon at CQ!
Visit us at 2260 Morgan Avenue, Evansville
On the web at www.comicquest.com
On Facebook www.facebook.com/comicquestevansville
On Twitter @cqevansville
On Instagram: @comicquestevansville
Contact us at sales@comicquest.com or by phone at 812-474-1133