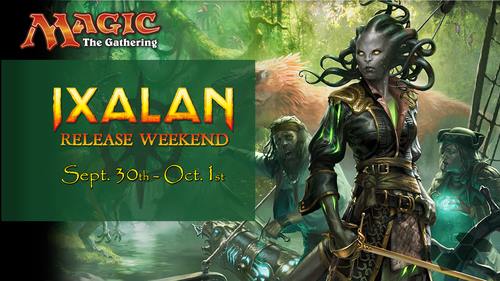 Magic the Gathering Ixalan Draft Weekend Event Sunday
Welcome to Comic Quest Ixalan Draft Weekend.
What's Draft Weekend?
Draft Weekend is the very first chance players get to draft with Ixalan. Join us as we celebrate the release of a new Magic set with a weekend of collection-building Booster Draft events that reward participants will receive a promotional Alternate Art card (*while supplies last).
Entry: $12
MUST have 8 players for event to fire..
Each players recieves 3 x Ixalan Booster Packs to draft with
Lands will be provided to use and booster packs awarded at the end of the event when land is returned to land display.
Format: Booster Draft
Swiss Rounds Rounds 4 and done…
Prize:
1st Place (Standings) 4 Ixalan Booster Packs
2nd Place (Standings) 2 Ixalan Booster Packs
3rd & 4th Place (Standings) 1 Ixalan Booster Packs
All Players recieve the Alternate Art Promo Card (while supplies last)