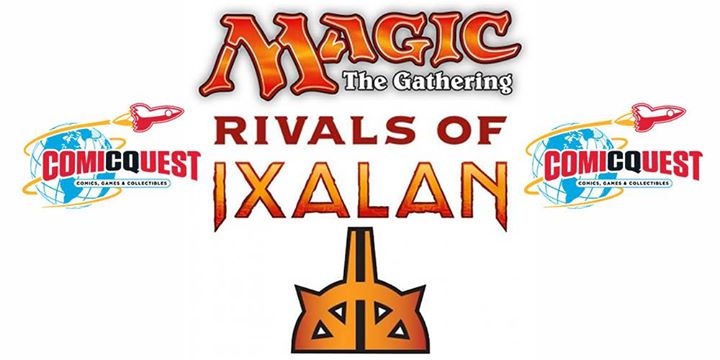 MTG Rivals of Ixalan Prerelease Sunday 12:00pm Event
Welcome to Comic Quest Rivals of Ixalan Prereleases..
NEW FEATURE: Anyone who "Preregisters & Prepays" the entry fee is $25.00 BUT! You MUST "Preregister & Prepay before end of store hours January 11th, 2018 10:00pm… Please remember this because Friday ALL entry fees are $30.00
**You might ask what makes Comic Quest Prerelease the one to attend. Here is why
1. We are the only one who gives a Voucher for FREE Pizza/Drink but also a FREE Ixalan booster pack the following Friday on release date.. The voucher alone is a great value.
2. We give a choice of any of our MTG Holiday Guft Box to one lucky winner right before the event starts…
3. For every 25 players in attendance 1 lucky winner will win a FROM THE VAULT BOX based on attendance to lucky winner(s)…
4. Door prizes; we do more door prizes at every prerelease and every time the value is over $1000 in prizes for the whole prerelease weekend.
Comic Quest is the place to play your Aether Revolt Prerelease
5. Now Preregistration & Prepay option available prior to January 11th
Format: Sealed
Entry: $25 Preregisterations and Prepay / $30 Friday and at Event
All Prerelease's are done as 4 rounds and done then go by standings (this may be a little different for 2HG and attendance
Prizes Pool:
1 x Rivals of Ixalan booster pack awarded for each win but everyone else in attendance receives 1 booster pack.
_____________________________________________
Each player registering will once again receive Comic Quests Prerelease voucher!
The voucher is good for 1 Free Pack of Rivals Ixalan the day of release and a pizza slice / drink combo the night of.
_____________________________________________
The Magic Ixalan Pre-release offers players their first chance to crack open packs and play Sealed Deck with the new set one week prior to the official release!
_____________________________________________
Here is list of all RIvals of Ixalan Prerelease times for the weekend
Midnight Lock-In
Saturday 10:00am Sealed Box to Top winners, Top Cut
Saturday 2:00pm
Saturday 6:00pm 2HG
Saturday 10:00pm
Sunday 1:00pm
Door Prizes for all of the Prerelease events…
Join us for a week of Magic the Gathering Aether Revolt Prerelease