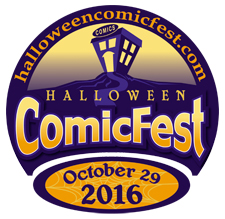 CQ Gaming Newsletter & Weekly Calendar
for the week of Oct. 28-Nov. 3, 2016
HALLOWEEN COMICFEST & TRUNK-OR-TREAT IS TOMORROW
Come join us for Halloween ComicFest on Saturday October 29 for all kinds of spooky fun!
Comic Quest will have some great free comics to give away!! This year, there are 32 titles available for FREE on Halloween Comicfest—19 full-sized comics and 13 mini-comics—available, including select titles from Marvel Comics (Darth Vader: Doctor Aphra #1, Spidey #1, Unbeatable Squirrel Girl: You Choose the Story #1, and The Haunted Mansion #1), DC Comics (DC Superhero Girls #1 and Scooby Apocalypse/Hanna-Barbera Sampler), Dark Horse Comics (Harrow County #1), and IDW Publishing (My Little Pony: The Haunted Dungeon) among other spooktacular tales.
**NEW THIS YEAR: TRUNK OR T...
Read More