Comic Quest Weekly for 12/30/2018
HAPPY NEW YEAR!
Join us for special hours tomorrow from noon to 1am to ring in the New Year! Comic Quest will be playing games all day tomorrow. We have a ton of games happening including, but not limited to, Magic the gathering, Castle panic, and pay to play. If you want a tournament for another game we will work with you to set it up. So join our host Nate and Debbie as we ring in the new year with gaming and your favorite friendly local comic shop Comic Quest! Whether you bring your own games for open play or you participate in an organized event….the store's hours are extended for you! In order to provide some excitement for the New Year come in tomorrow to shop or play games and register for $100.00 CQ gift card to be given away at midnight! Note: You do not have to be present to win.
NEW COMICS THIS WEEK TO BE AVAILABLE THIS WEDNESDAY JANUARY 2ND!
Pull and holds and the new comics will be available, as usual, on Wednesday!
Free Comic Book Day 2019 Full List of Comic Books Announced!
Free Comic Book Day (FCBD) 2019 features an amazing selection of comic book titles for the industry's most anticipated annual event which happens Saturday, May 4, 2019 at Comic Quest.
Comic shop retailers will chose from fifty-one titles overall that can be available on Free Comic Book Day. There are twelve Gold Sponsor comics(all of which CQ will have in abundance) and potentially thirty-nine Silver Sponsor comics that give fans a great opportunity to discover new titles and genres. This year's announcement of Silver Sponsor comics includes such great titles as Minecraft & Disney's The Incredibles, Little Lulu, Bob's Burgers, The Amazing Spider-Man, My Hero Academia, Star Wars Adventures, and more.
"Each year, we continue to push ourselves to bring fans the very best Free Comic Book Day experience," said Joe Field, originator of FCBD, and owner of Flying Colors Comics in Concord, CA. "The caliber, strength and depth of this year's comic book titles is fantastic and independent comic book shop retailers all over the world can't wait to treat fans and customers to an incredible day of fun, discovery, and learning about comic books and comic book shops."
A complete listing of all fifty-one FCBD titles, including the twelve Gold Sponsor and thirty-nine Silver Sponsor comic books, can be found in the January issue of Diamond Comic Distributors' PREVIEWS catalog, on sale at comic book shops on December 28, 2018. You can also access a youtube video on these 51 FCBD offerings.
COMIC QUEST CREATOR'S ALLIANCE MEETS THIS SATURDAY 1/5/19!
Calling all comic book artists and writers…next Saturday 1/5/19 the first meeting of the CQCA will be meeting from 3pm to 4:30pm. This provides a great opportunity to meet fellow artists/writers and share your love for creating comics! Come and bring any work you have done recently and enjoy hanging out with other like minded creators!
NEW ARRIVALS!
CONAN THE BARBARIAN #1 4.99
(W) Jason Aaron (A) Mahmud A. Asrar (CA) Esad Ribic
BY CROM, THE GREATEST SWORD-AND-SORCERY HERO RETURNS TO MARVEL!
From an age undreamed…hither came Conan the Cimmerian, black-haired, sullen-eyed, sword in hand, a thief, a reaver, a slayer, with gigantic melancholies and gigantic mirth, to tread the jeweled thrones of the Earth under his sandaled feet…
Robert E. Howard's creation returns to comics, in an epic tale as only MARVEL could bring you! Conan's travels have brought him to the far reaches of the unkown, from his birthplace in Cimmeria to the kingdom of Aquilonia and all in between. As his fighting prowess allows him to carve his way through life, so too does it attract the forces of death!
The all-new ages-spanning saga begins here, by writer Jason Aaron (THE MIGHTY THOR, STAR WARS) and artist Mahmud Asrar (UNCANNY X-MEN, ALL-NEW, ALL-DIFFERENT AVENGERS), as Conan's destiny is forever changed!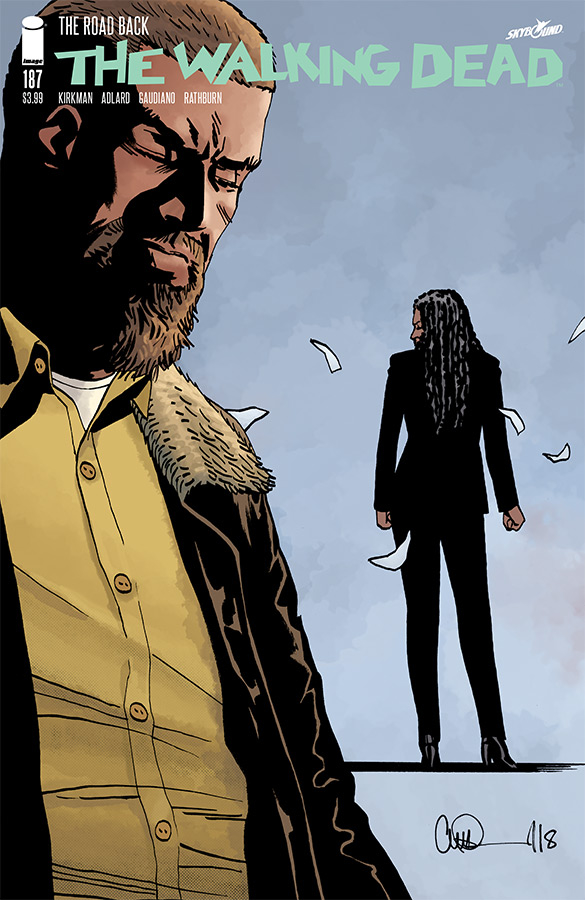 (W) Robert Kirkman (A) Stefano Gaudiano, Cliff Rathburn (CA) Dave Stewart (A/CA) Charlie Adlard
"THE ROAD BACK"
Can Rick Grimes bring peace to the Commonwealth-or will he tear it apart?
FLASH #61 3.99
(W) Joshua Williamson (A) Christian Duce (CA) David Yardin
Powerhouse looks to turn the Scarlet Speedster into a scarlet skid mark! The two Force wielders find themselves at odds when Alexa wants to overthrow the criminal government of Corto Maltese that's crushing her people. (Remember that locale from THE DARK KNIGHT RETURNS?) Barry must quash their beef and convince Powerhouse to join his Force Quest if he ever hopes to learn the secrets behind these new Force powers!
STAR WARS AOR OBI-WAN KENOBI #1 3.99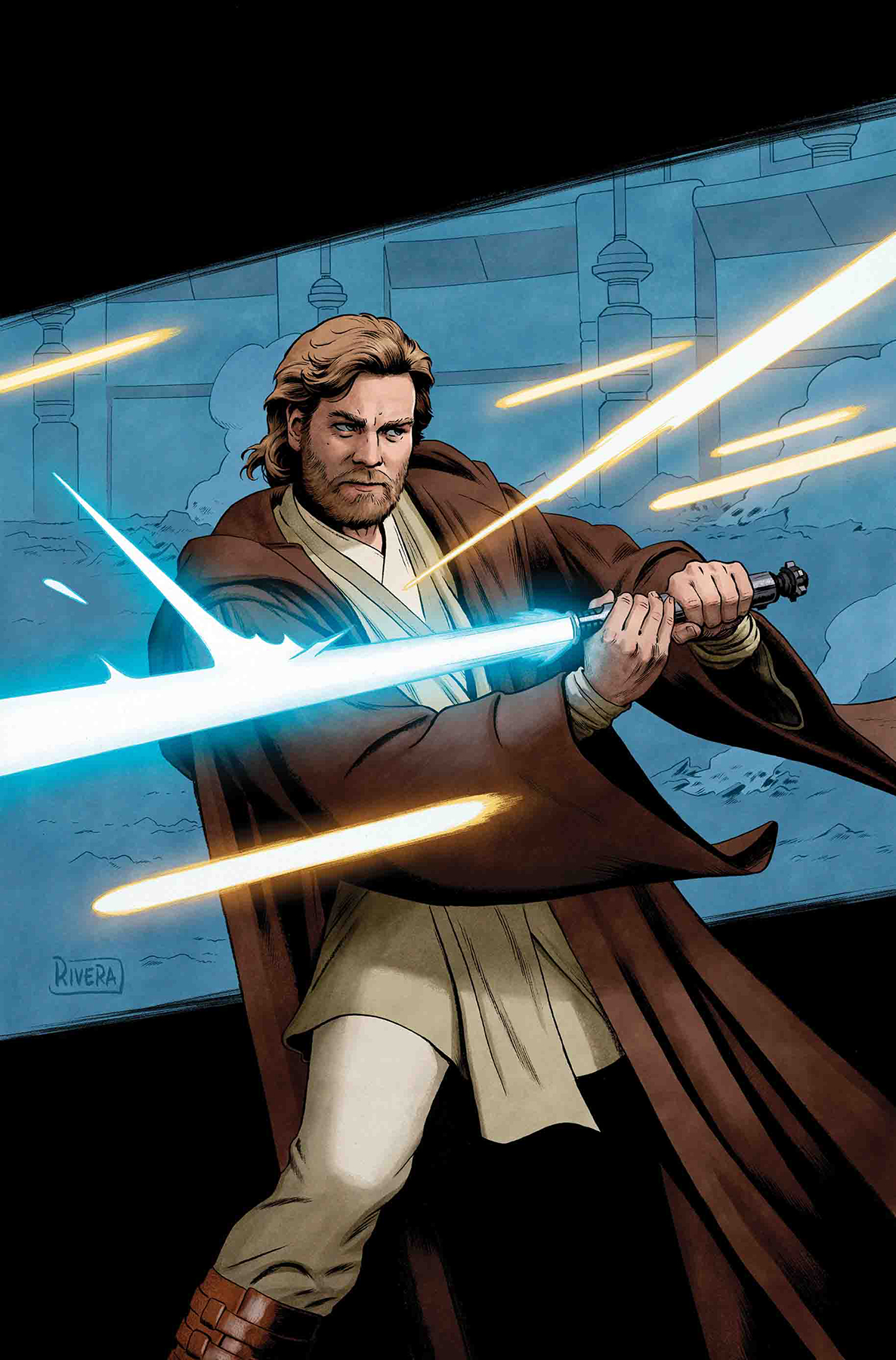 (W) Jody Houser (A) Cory Smith (CA) Paolo Rivera
THE EARLY DAYS OF OBI-WAN KENOBI, JEDI KNIGHT!
• Following the wishes of his master, OBI-WAN has taken on ANAKIN SKYWALKER as an apprentice.
• Will his mission alongside his young Padawan bring them closer together, or sow the seeds that will drive them apart?
• And who else is after the ancient holocron that they seek?
BATGIRL #30 VAR 3.99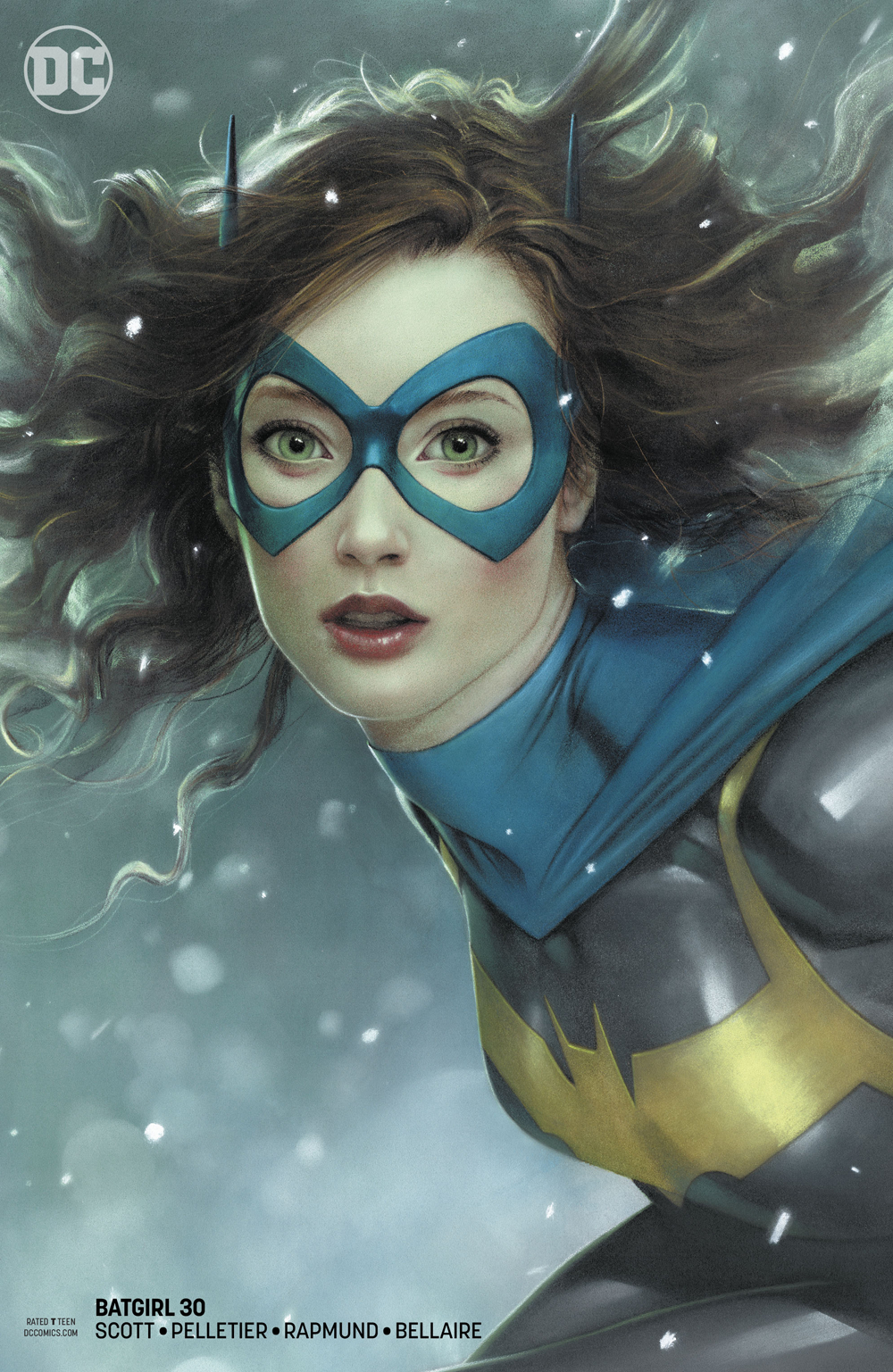 (W) Mairghread Scott (A) Paul Pelletier, Norm Rapmund (CA) Joshua Middleton
You can take the Batgirl out of Gotham City, but you can't take Gotham out of the Batgirl! Politics gets personal as the race for Congress in Gotham City heats up, leading to civil unrest in Barbara's new neighborhood-as a new villain begins to make themselves known!
HEROES IN CRISIS #4 (OF 9) 3.99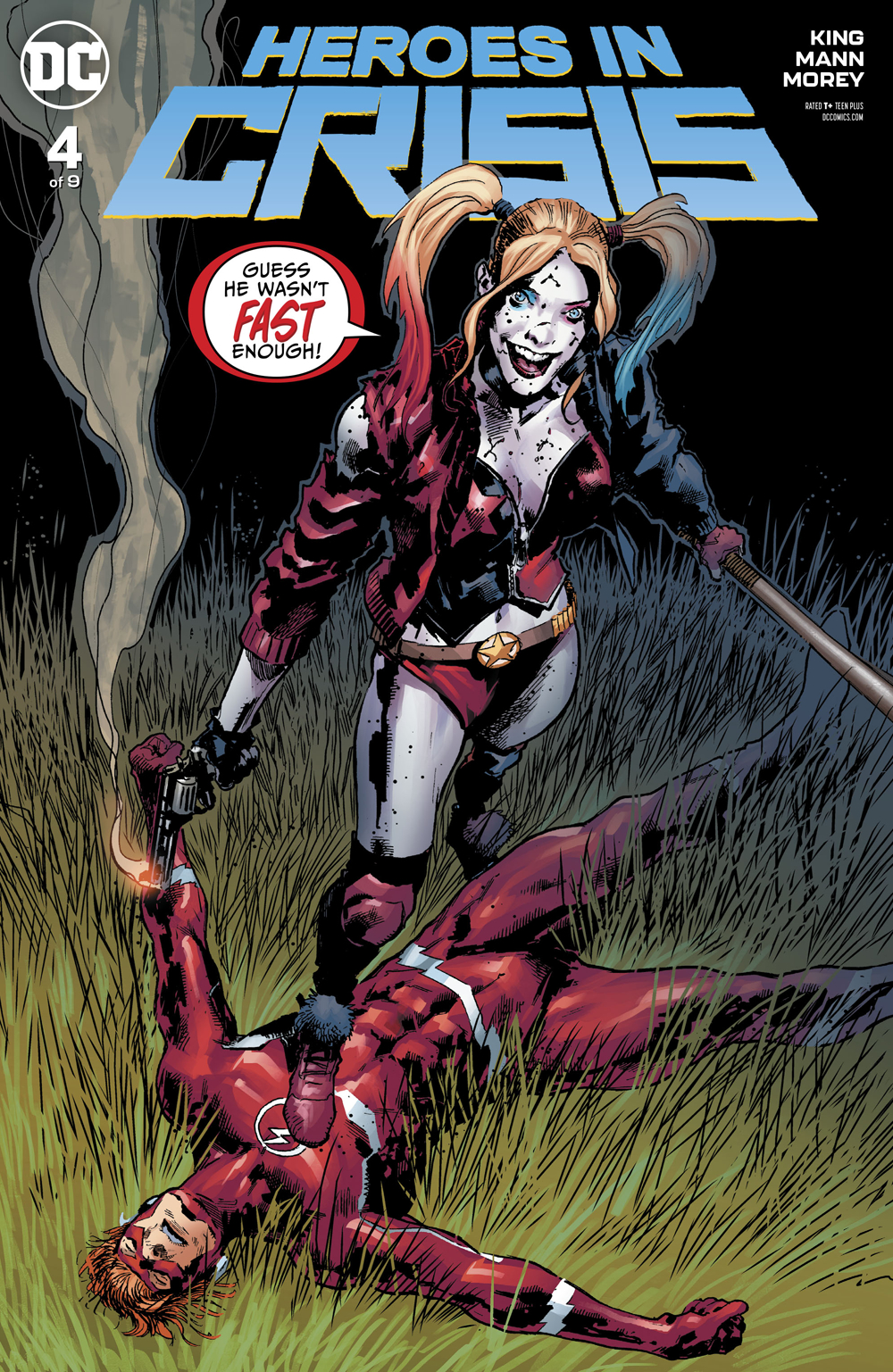 (W) Tom King (A/CA) Clay Mann
Wonder Woman versus…Booster Gold?! Diana finds out the hard way that Booster can be a formidable opponent when his back's against the wall. Of course, being the prime suspect in a superhero massacre and exposing a secret trauma hospital for metahumans will do just that. Meanwhile, Batman and the Flash combine their detective skills to investigate what went awry at Sanctuary and uncover a serious glitch in the system-not to mention an explosive, spoiler-ific secret!
THIS WEEK IN TOYS/STATUES
POP POWER RANGERS LORD DRAKKON PX VINYL FIGURE 12.99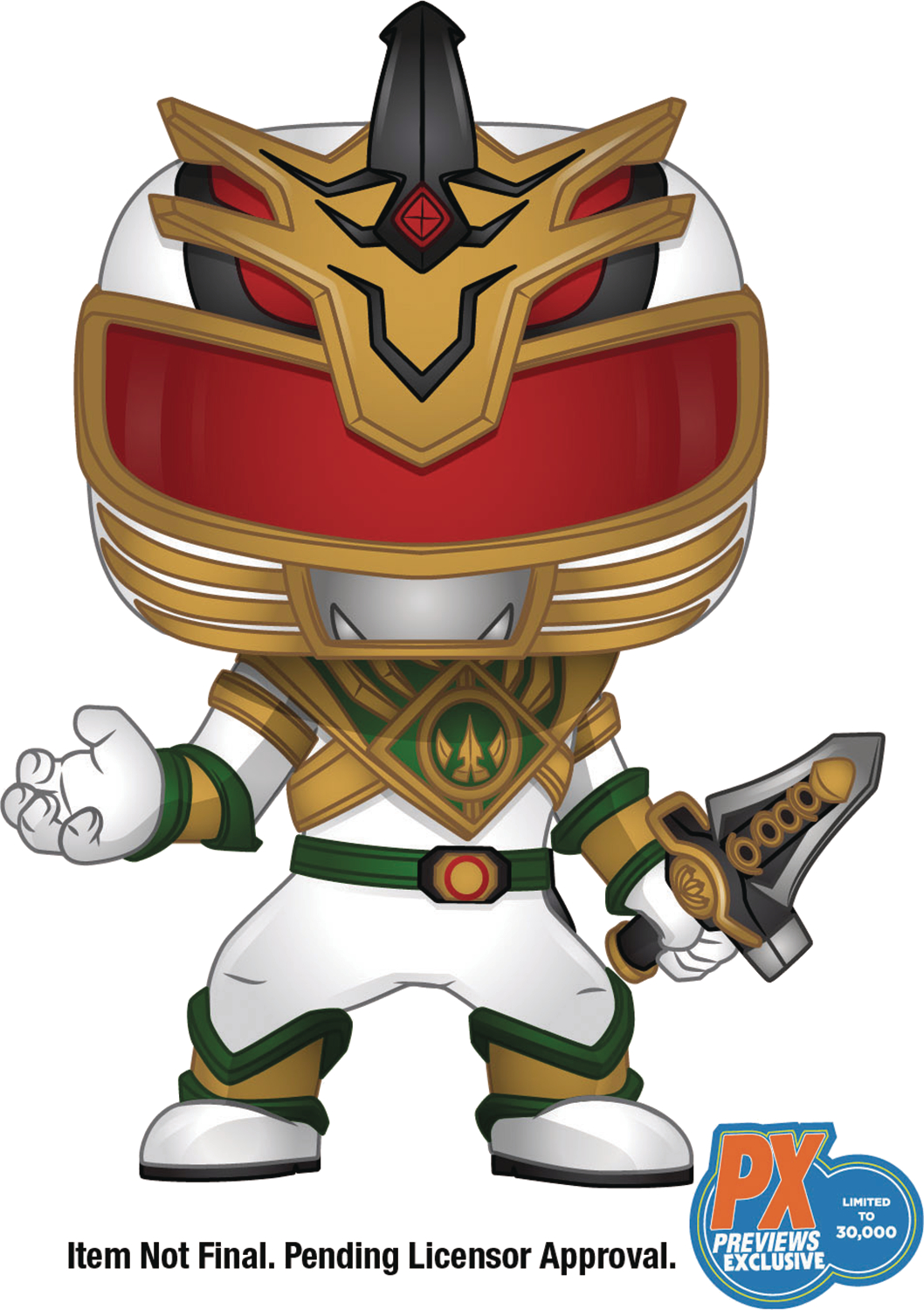 From Funko. A PREVIEWS Exclusive. Lord Drakkon is back, seeking power and might as a new PREVIEWSexclusive Funko POP! figure. No Ranger is safe from this detailed vinyl figure of the evil green Ranger, an alternate-reality version of Tommy Oliver. Limited to only 30,000 pieces worldwide, this collectible figure of the Power Rangers tyrant Lord Drakkon features the familiar stylized Funko design and comes in a collector-friendly window box package. Add this fearsome villain to your Power Rangers collection today! Limited to 40,000 pieces!
GUNDAM MSV-R 23 GM INTERCEPT CUSTOM 1/144 MDL KIT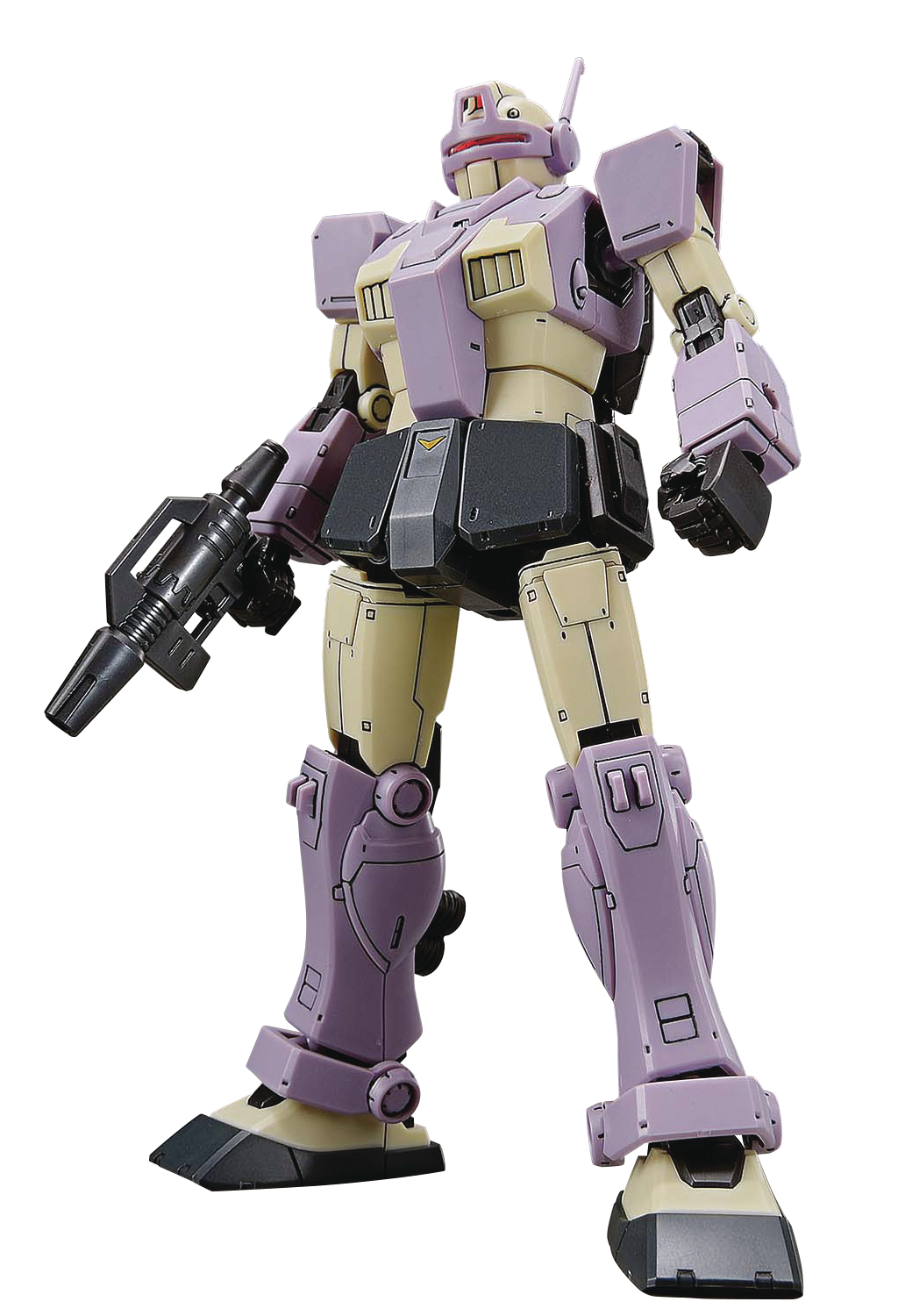 From Bandai Hobby. Bandai's High Grade kit of the GM Intercept Custom from Mobile Suit Gundam: The Originfeatures snap-fit assembly, and it's molded in color so painting isn't necessary (although it'll look even more awesome with paint)! Comes with stickers for its markings and its beam spray gun and beam saber weapons, too.
TRANSFORMERS MASTERPIECE PROWL AF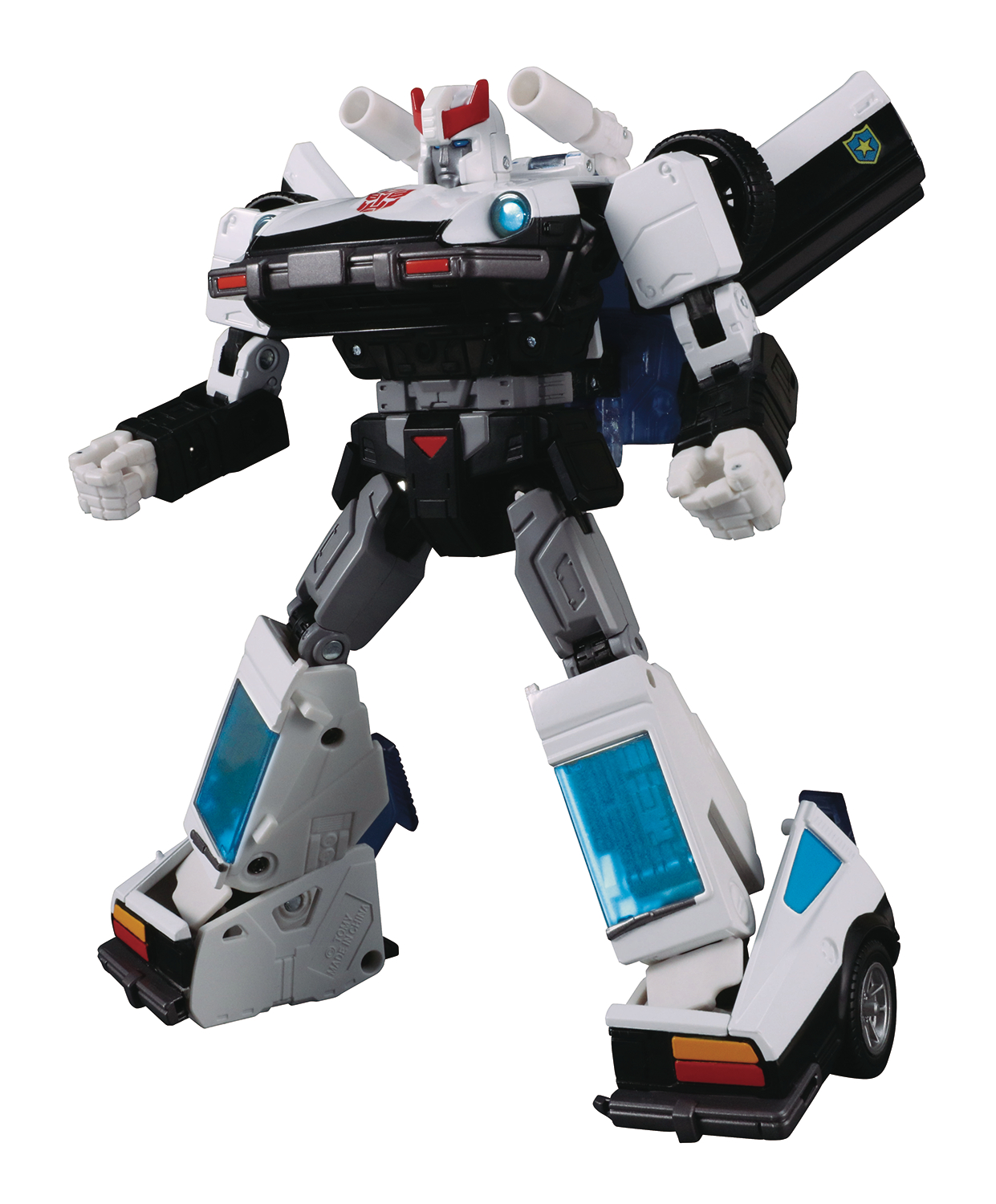 From Hasbro. Prowl is the military strategist for the Autobots. He is quiet, competent, loyal and enduringly patient. His dedication to logic and reason makes him seem uptight and stifling to his fellow Autobots. Masterpiece Prowl transforms into a licensed Nissan Fairlady 280Z-T. He features a glossy white and black paint scheme. Roughly as tall as a Voyager Class figure, he is also in scale with MP-10 Optimus Prime, and can fit inside Prime's trailer in vehicle mode. Prowl comes with his rifle that can be held in either hand or mount onto the back of his light-bar. He also comes with a pair of built-in shoulder cannons that can be deployed in robot mode.
GUNDAM BUILD DIVERS GBN GUARD FRAME HGBD 1/144 MDL KIT 




From Bandai Hobby. From Gundam Build Divers comes the new GBN Guard Frame HG. This patrol unit comes the 
world of GBN. Despite the simple build there is a wide range of articulation and customization that can be 
achieved by this kit. The model comes with two head pieces, one with a canopy and one with a full face in 
two colors black or blue. The Backpack comes ready for customizing with its multiple hard points. Included 
in the model: Rifle x 1, Runners x 8, Stickers x 1 and Manual x 1  
Trade-paperbacks of the Week!
DARK DAYS ROAD TO METAL TP 19.99 (W) Scott Snyder, James TynionIV, Tim Seeley, Grant Morrison (A) John RomitaJr, Doug Mahnke, Andy Kubert, J. G. Jones, Klaus Janson, Danny Miki, Carlos Pacheco, Marco Rudy, Christian Alamy, Jesus Merino, Tom Nguyen, Drew Geraci, Norm Rapmund, Rodney Ramos, Walden Wong, Chris Sprouse, Karl Story, Greg Capullo, Javi Fernandez, Eddy Barrows, Eber Ferreira, Rian Hughes (A/CA) Jim Lee, Scott Williams
For years, Batman has been tracking a mystery. He's quietly been pulling a thread, conducting research in secret laboratories across the globe and stowing evidence deep in the Batcave, hidden even from his closest allies. Now, in an epic story spanning generations, the heroes and villains of the DC Universe, including Green Lantern, The Joker, Wonder Woman and more, are about to find out what he's discovered-and it could threaten the very existence of the Multiverse! This trade paperback edition collects Dark Days: The Forge #1 and Dark Days: The Casting #1, as well as classic DC stories that built the foundations of Metal, including Final Crisis #6-7, The Return of Bruce Wayne #1, Batman #38-39, Nightwing #17 and more!
AVENGERS TP KREE SKRULL WAR NEW PTG 24.99 (W) Roy Thomas (A) Sal Buscema, John Buscema (A/CA) Neal Adams
A conflict of star-spanning proportions – with Earth caught in the crossfire! Those eternal intergalactic enemies, the merciless Kree and the shape-changing Skrulls, have gone to war – and our planet is situated on the front lines! Can Earth's Mightiest Heroes bring about an end to the fighting before humanity becomes a casualty of war? And what good are even a dozen super-powered champions against the vast military machines of two of the great empires of the cosmos? The key to victory lies with the expatriate Kree Captain Mar-Vell – and his human host, honorary Avenger Rick Jones! Featuring the trend-setting artwork of Neal Adams, the Kree/Skrull War is universally acknowledged as one of the finest and most important sagas in the Marvel canon. Guest-starring the Fantastic Four, Nick Fury of S.H.I.E.L.D. and more! Collecting AVENGERS (1963) #89-97.
SPIDER-GEDDON TP EDGE OF SPIDER-GEDDON 15.99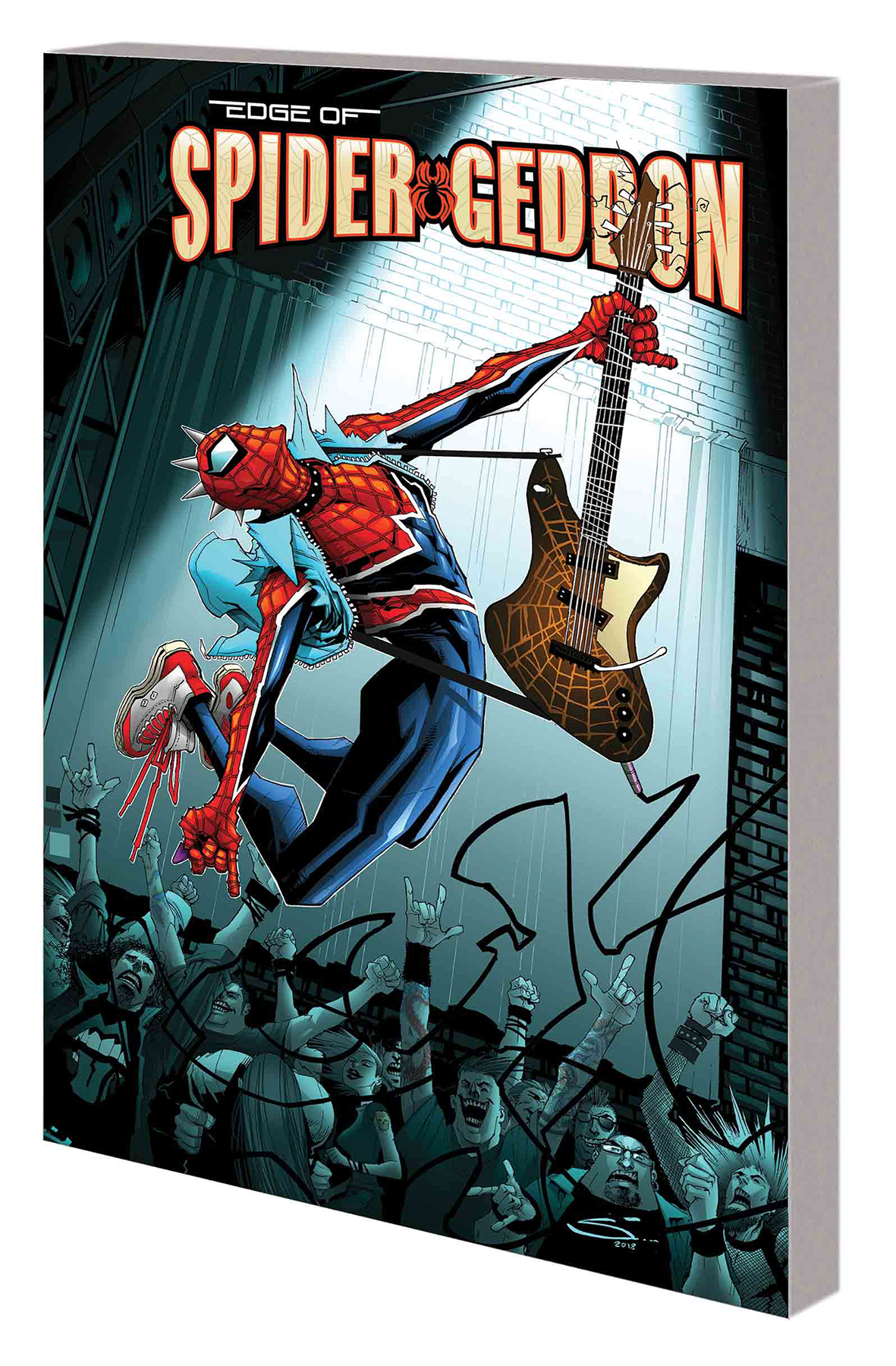 (W) Jed MacKay, Zac Thompson, More (A) Gerardo Sandoval, Alberto Alburquerque, More (CA) Gerardo Enrique
Every world has its spider! Spider-Punk is back and better than ever, tackling his home dimension's problems with arachnid attitude! And witness the next chapter in the life of Peni Parker, A.K.A. the fan-favorite SP//dr! But the amazing, spectacular alternate-reality heroes don't stop there! In one universe, when Uncle Ben is shot in a mugging, Peter Parker's radioactive blood donation turns Ben into a Spider-Hero too! And then there's the Earth where industrialist Norman Osborn received the arachnid bite – and changed the world as a very different Spider-Man! But what's Superior to a spider? An Octopus! And you won't believe what Otto Octavius, in his new body, is up to as the savior of San Francisco! Experience the stories that set the stage for the Spidey event of the year: Spider-Geddon! Collecting EDGE OF SPIDER-GEDDON #1-4 and SUPERIOR OCTOPUS #1.
SUPERMAN KRYPTONITE DELUXE ED HC 29.99
(W) Darwyn Cooke (A/CA) Tim Sale
The amazing story from SUPERMAN CONFIDENTIAL #1-5 and 11 written by Darwyn Cooke (DC: THE NEW FRONTIER) and illustrated by Tim Sale (BATMAN: THE LONG HALLOWEEN) is collected in a new deluxe edition hardcover! While Superman struggles to survive his first encounter with Kryptonite, will Lois Lane fall prey to a mysterious stranger?
MASTER LIST OF STUFF ARRIVING THIS WEEK!
ACTION COMICS #1006 3.99
ACTION COMICS #1006 VAR 3.99
ANIMOSITY #18 3.99
ARCHIE 1941 #4 (OF 5) 3.99
ASPEN VISIONS IRIS MIDST OF CHAOS #1 3.99
AVENGERS TP KREE SKRULL WAR NEW PTG 24.99
BATGIRL #30 3.99
BATGIRL #30 VAR 3.99
BATMAN BEYOND #27 3.99
BATMAN BEYOND #27 VAR 3.99
BATMAN BY NEAL ADAMS TP BOOK 02 24.99
BATMAN PRODIGAL TP NEW ED 24.99
BATMAN SHADOW THE MURDER GENIUSES TP 16.99
BILL & TED SAVE UNIVERSE TP 19.99
BLACK HAMMER TP VOL 03 AGE OF DOOM 19.99
BLACK KNIGHT #3 (OF 5) 3.99
BOOKS OF MAGIC #3 3.99
BPRD DEVIL YOU KNOW #12 3.99
CAPTAIN MARVEL #1 BY ALEX ROSS POSTER 8.99
CHAMPIONS #1 3.99
CHANCELLOR AND THE CITADEL GN 15
CONAN READER TP 29.99
CONAN THE BARBARIAN #1 4.99
DARK DAYS ROAD TO METAL TP 19.99
DC HEROES BATMAN SCULPTED MUG 15
DC HEROES WONDER WOMAN GIRL POWER MUG 12
DC HEROES WONDER WOMAN SCULPTED MUG 15
DEADPOOL #8 3.99
DEADPOOL #8 GOTG VAR 3.99
DEADPOOL SKOTTIE YOUNG TP VOL 01 MERCIN HARD FOR MONEY 17.99
DEATH OF INHUMANS TP 15.99
DETECTIVE COMICS #995 3.99
DETECTIVE COMICS #995 VAR 3.99
DISNEY COMICS AND STORIES #2 5.99
DISNEY TRADITIONS NBX LOCK SHOCK AND BARREL 2 FIG 50
DOLLFACE TP VOL 04 14.99
DOOMSDAY CLOCK #8 (OF 12) 4.99
DOOMSDAY CLOCK #8 (OF 12) VAR 4.99
DRAGON BALL SUPER GN VOL 04 9.99
DRAGON BALL SUPER HEROIC BATTLE GAME 19.99
DRAGON BALL Z OVER 9000 GAME 19.99
EDGAR ALLAN POE`S SNIFTER OF TERROR #2 3.99
EMPTY MAN #3 3.99
ERRAND BOYS #4 (OF 5) 3.99
FANTASTIC FOUR OVERSIZED BY BYRNE VINYL POSTER 34.99
FLASH #61 3.99
FLASH #61 VAR 3.99
GASOLINA #14 (MR) 3.99
GUARDIANS OF THE GALAXY #1 BY SHAW POSTER 8.99
GUNDAM BUILD DIVERS GBN GUARD FRAME HGBD 1/144 MDL KIT
GUNDAM MSV-R 23 GM INTERCEPT CUSTOM 1/144 MDL KIT
HAL JORDAN & THE GLC TP VOL 07 DARKSTARS RISING 19.99
HALO LONE WOLF #1 (OF 4) 3.99
HEAVY METAL #292 8.95
HEROES IN CRISIS #4 (OF 9) 3.99
HEROES IN CRISIS #4 (OF 9) VAR 3.99
HEX WIVES #3 3.99
IMMORTAL HULK #11 3.99
IMMORTAL HULK #11 NOTO 3.99
IN CHRIST THERE IS NO EAST OR WEST GN 25
INFINITY WARS INFINITY #1 3.99
INJUSTICE VS THE MASTERS OF THE UNIVERSE #6 (OF 6) 3.99
INK & ANGUISH TP JAY LYNCH ANTHOLOGY 39.99
INVADERS #1 BY ALEX ROSS POSTER 8.99
IRON FIST MPGN TP 19.99
JIM HENSON POWER OF DARK CRYSTAL TP VOL 01 16.99
JIM LEE DC LEGENDS ARTIFACT ED HC 125.00
JOHN CARPENTER TALES OF SCI FI TWITCH #1 3.99
JUGHEAD THE HUNGER #11 CVR A 3.99
JUGHEAD THE HUNGER #11 CVR B 3.99
JUGHEAD THE HUNGER #11 CVR C 3.99
JUSTICE LEAGUE ODYSSEY #4 3.99
JUSTICE LEAGUE ODYSSEY #4 VAR 3.99
KILLMONGER #3 (OF 5) 3.99
LOW #20 3.99
MAGIKA SWORDSMAN & SUMMONER GN VOL 10 12.99
MAN WITHOUT FEAR #1 3.99
MARVEL COMICS PRESENTS #1 BY ARTHUR ADAMS POSTER 8.99
MARVEL KNIGHTS 20TH #5 (OF 6) 3.99
MARVEL KNIGHTS 20TH #5 (OF 6) ANDREWS CONNECTING VAR 3.99
MARVEL TALES FANTASTIC FOUR #1 7.99
MIGHTY CRUSADERS TP VOL 01 12.99
MR AND MRS X #7 3.99
MSH ADVENTURES SPIDER-MAN ACROSS SPIDER-VERSE #1 3.99
MY HERO ACADEMIA VIGILANTES GN VOL 03 9.99
MY LITTLE PONY PONYVILLE MYSTERIES TP VOL 01 17.99
OLD LADY HARLEY #3 (OF 5) 3.99
POKEMON SUN & MOON GN VOL 03 4.99
POP ANIMATION DBS GOKU ULTRA INSTINCT VIN FIG 11.99
POP DISNEY CHRISTOPHER ROBIN MOVIE EEYORE VIN FIG 11.99
POP MARVEL VENOMIZED CAPTAIN AMERICA VINYL FIG 11.99
POP POWER RANGERS LORD DRAKKON PX VINYL FIGURE 12.99
POP STAR WARS HOLIDAY R2D2 VINYL FIG 11.99
POP TV FLASH JAY GARRICK VINYL FIG 11.99
POWERS TP BOOK 02 NEW ED 29.99
PREVIEWS #364 JANUARY 2019 3.99
PROJECT SUPERPOWERS #5 3.99
RADIANT GN VOL 03 9.99
RAGS #2 2ND PTG 3.99
RAINBOW BRITE #3 3.99
RAINBOW BRITE #3 3.99
RASL COLOR ED TP VOL 03 12.99
RAVEN DAUGHTER OF DARKNESS #11 (OF 12) 3.99
REDNECK #18 3.99
REVENGE OF WONDERLAND #6 (OF 6) 3.99
RICK & MORTY #45 CVR A
RICK & MORTY #45 CVR B 3.99
RUNAWAYS #17 3.99
SCARLET #5 (OF 5) 3.99
SCOOBY DOO TEAM UP #45 2.99
SHATTERSTAR #4 (OF 5) 3.99
SILENCER #12 2.99
SKYWARD #9 3.99
SPIDER-GEDDON TP EDGE OF SPIDER-GEDDON 15.99
STAR WARS AOR OBI-WAN KENOBI #1 3.99
STAR WARS AOR OBI-WAN KENOBI #1 MCCAIG CONCEPT VAR 3.99
STAR WARS AOR OBI-WAN KENOBI #1 RAHZZAH VAR 3.99
STAR WARS AOR OBI-WAN KENOBI #1 YU HEROES VAR 3.99
STAR WARS HAN SOLO IMPERIAL CADET #3 (OF 5) 3.99
STRANGER THINGS #4 CVR A 3.99
STRANGER THINGS #4 CVR B 3.99
STRANGER THINGS #4 CVR C 3.99
STRANGER THINGS #4 CVR D 3.99
SUPERMAN KRYPTONITE DELUXE ED HC 29.99
SWEET TOOTH TP BOOK 03 24.99
SWORD DAUGHTER #5 CVR A 4.99
SWORD DAUGHTER #5 CVR B 4.99
TERRIFICS #11 2.99
TITANS #32 3.99
TITANS #32 VAR 3.99
TONY STARK IRON MAN #7 3.99
TONY STARK IRON MAN TP VOL 01 15.99
TRANSFORMERS MASTERPIECE PROWL AF
TRUE BELIEVERS CONAN THE BARBARIAN #1 1
TRUE BELIEVERS CONAN TOWER OF ELEPHANT #1 1
UMBRELLA ACADEMY HOTEL OBLIVION #4 3.99
UNCANNY X-MEN #8 3.99
UNNATURAL #6 (OF 12) CVR A 3.99
UNNATURAL #6 (OF 12) CVR B 3.99
VAMPIRELLA DYNAMITE YEARS OMNIBUS TP V4 34.99
WALKING DEAD #187 3.99
WILDSTORM MICHAEL CRAY TP VOL 02 16.99
WINTER SOLDIER #2 3.99
WITCHFINDER TP VOL 05 GATES OF HEAVEN 19.99
WOLVERINE LONG NIGHT ADAPTATION #1 (OF 5) 4.99
WONDER WOMAN #61 3.99
WONDER WOMAN #61 VAR 3.99
WWE #24 3.99
WWE #24 VAR 3.99
We hope to see you soon at CQ!
Visit us at 2260 Morgan Avenue, Evansville
On the web at www.comicquest.com
On Facebook www.facebook.com/comicquestevansville
On Twitter @cqevansville
On Instagram: @comicquestevansvilletwitter.com/cqevansville
Contact us at sales@comicquest.com or by phone at 812-474-1133.