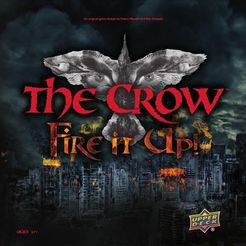 CQ Gaming Report & Weekly Calendar




for the week of Dec. 1 – 7, 2o16
CQ PLANNING NEW YEAR'S EVE BASH
While we haven't announced the details yet and we have a few things to iron out, one thing we know for sure is that a New Year's Eve Bash WILL BE HAPPENING here at Comic Quest this year! That's right! You and your family (kiddos included) can join us for a night of fun and games as well all bid adieu to 2016 and welome 2017 together!
Keep an eye on our Facebook Events page for all the details, because that's where we will post them first and it is sure to be a great time for all of you looking for something fun to do that includes all of your friends and family!
LOVE IELLO MONSTER GAMES?
Well, more are on their way in 2017!
First up is a small addition to the King of Tokyo and King of New York family – the first in a line of Monster Packs that are planned for the popular pair featuring the cult favorite, Cthulhu. These monster packs will come with a standee, player board, and evolution cards for both Tokyo and New York. Cthulhu also comes with several cultist tokens and a double-sided temple presumably used in conjunction with his unique set of evolution cards.
Next is a fast and fun game for 2 to 6 players called The Legend of the Wendigo. Players take the roles of scouts at a campground, who've heard a tale of the Wendigo who now lurks among them. It sounds very similar to Werewolf with each player receiving a hidden role token, one of which is the Wendigo who can "steal" (or most likely, eliminate from play) one other scout at night-time. There's a sand-timer included, and a 10-minute play time on the box which both suggests this plays like a speed version of Werewolf more focus on memory while not trying to be as condensed as the instantly classic One Night series. It'll be interesting to see what other twists in the rules will separate this game from the rest as we learn more about it.
Last is a new small-box card game that takes us back to the time of Ancient Egypt. Pyramids is about building the eponymous wonders by collecting the best materials and organizing them for points. As described on the product page,
 "Your necropolis, a place of eternal sleep, luxury, and glory, will be made up of Pyramids, Obelisks, and Tombs. Select the best combination of stones in the quarry, optimize their layout, and make your necropolis the most famous in all of Egypt!"
Watch for these awesome games to hit the shelves here at Comic Quest sometime in Q1 2017!
---
JUST IN!
Harry Potter: The Deck Building Game


Publisher: USAopoly
# of Players: 2-4
Age: 11+
Playing Time: 30 – 60 minutes
The forces of evil are threatening to overrun Hogwarts castle in Harry Potter: Hogwarts Battle, a cooperative deck-building game, and it's up to four students to ensure the safety of the school by defeating villains and consolidating their defenses. In the game, players take on the role of a Hogwarts student: Harry, Ron, Hermione or Neville, each with their own personal deck of cards that's used to acquire resources.
By gaining influence, players add more cards to their deck in the form of iconic characters, spells, and magical items. Other cards allow them to regain health or fight against villains, keeping them from gaining power. The villains set back players with their attacks and Dark Arts. Only by working together will players be able to defeat all of the villains, securing the castle from the forces of evil.
The Crow: Fire it Up!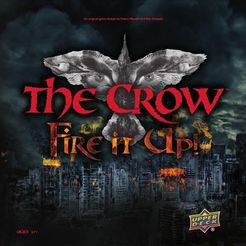 Publisher: Upper Deck Entertainment
# of Players: 2-5 (plays best with 2 players)
Playing Time: 45 minutes
Age: 17+
In a world without justice, one man was chosen to protect the innocent! On Devil's Night in the Motor City, play as Eric Draven as he dishes out revenge against the gang that took his life and the life of his fiance, Shelly, in The Crow: Fire It Up!
As Eric Draven, the player uses the aid of Officer Albrecht, Sarah, and the mysterious Crow to track down the Motor City Gang and stave off their reign of terror, while the opposing players portray members of the vicious gang consisting of Tin-Tin, Funboy, T-Bird, Grange, Myca, and Top Dollar spreading fires and mayhem throughout the city as they seek to lure the undead avenger out of the shadows and take him out!
Karibou Camp


Publisher: Gigamic
# of Players: 3-7
Age: 8+
Playing Time: 20 minutes
 Star Wars Destiny: Rey Starter Set


Publisher: Fantasy Flight Games
* LIMITED QUANTITIES!
Enter a world of epic, saga-spanning, "what if" battles with the Rey Starter Set for Star Wars(TM): Destiny! With an array of characters that spans the saga from The Phantom Menace to The Force Awakens, Star Wars: Destiny gives you the freedom to play out any battle you can imagine. Innovative gameplay blends dice and cards as you strategize exactly how to defeat your opponent's characters. Meanwhile, the game's collectible model invites you to enter the game at whatever pace you choose, tweaking your decks with the addition of new cards and dice from booster packs.
The Rey Starter Set is an excellent starting point for you to enter Star Wars: Destiny. Here, you'll find a fixed set of twenty-four heroic cards with nine premium dice, alongside tokens and a rule sheet-everything you need for one player to take command of Rey and Finn while fighting for the light side across the Star Wars galaxy.
---
FEATURED EVENT(s) THIS WEEK
WHEN: Saturday, Dec. 3
SIGN UPS: 5:00PM TO :50PM
STARTS: 6:00PM
ENTRY FEE: $20.00
AWAKENING has hit the shelves and so many DBZ players are returning to the game with a renewed excitement! So, we are hosting a tournament for you all!
For all the details, visit the FB event page (link above).
WHEN: Saturday, Dec. 3
SIGN UPS: 5:00 P.M. – 5:50 P.M.
STARTS: 6:00 P.M.
ENTRY FEE: $10
3 x Kaladesh Booster Packs in prize pool per-player
Deck List is required for this event.
See our Facebook Event for all the details! (Link above)
---
WEEKLY EVENTS
THURSDAYS
Evansville Star Wars X-Wing League
Time: 5 p.m.
Comic Quest Star Wars X-Wing current League is hosted every Thursday. The group has certain missions and other unique formats during certain periods so you will need to check with the league. This is just a notice to let players know that Star Wars X-Wing is played at Comic Quest weekly on Thursday..
Entry fee is $1.00
Prizes awarded after each period.
Weekly Dicemasters
 Magic the Gathering: Commander
START TIME: 6 P.M.
FREE PROMOS FOR EVERYONE
Each participant will receive a free promo that could be from past FNMs, Game Days, Pre-Releases, and many others.
This is a sanctioned event so the banned list will be enforced and proxies will not be allowed.
FRIDAYS
Evansville Pokemon League
Time: 5 p.m. – 9:45 p.m.
Every Friday night, the Evansville Pokemon League meets at our store. These weekly meetings include open play and trading, as well as frequent opportunities to win free cards, patches, pins, and other merchandise from the Pokemon franchise.
Newcomers to the game will be freely assisted in learning the basic rules to the game, as well as basic deck building skills and strategies.
The Pokemon League is a great opportunity for players of all ages to enjoy the game of Pokemon while meeting new people and forming a social network in the process.
Pokemon Friday Night Competitive Play
Kid gloves off! This event is for the competitive players! Players who want to battle and win! This is not "kids league." We encourage and invite all of you to participate in our competitive events for battling and winning boosters!
Event Type: Standard
Entry: $5.00
Sign-Up: 5 – 5:55 p.m.
Starts: 6 p.m.
FRIDAY NIGHT MAGIC – NEW FORMAT!!

FMN: Standard Casual /w Boosters – Fridays 7 – 10 p.m. – $5 Entry
Standard Casual Play
Players have choice of how prizes are award. At the beginning of each tournament players will be ask which of these 3 choices do they want prizes to be awarded;
1. Every player receives a booster pack, Additional packs go to top players!!!!
2. Every player receives both boosters at the end of the tournament
3. All booster packs go into prize pool and awarded to Top 4
FNM: Standard Competitive Win-A-Box – Fridays 7 – 10 p.m. – $10 Entry – This event is made more for the competitive players
Top 4 Players Split a Box!
1st Place: 18 packs
2nd Place: 10 packs
3rd & 4th PlaceL 4 packs
*Must have 8 players to award a box
FNM: Modern League /w Boosters – Fridays 7 – 10 p.m. –  $2 Entry – This is Modern League. League will run for 8 weeks. Players play for points and at the end of the 8 weeks prizes will be award according to top player to last player… Each week players will receive FNM Promos cards for winner and most sposrtman. 2 Promos each Friday for League
How you get points:
1. Attendance -1 point for each League night you attend
2. Win & Lose -2 points for a win & 1 point for a lose
3. Most sportsmanship -1 point for player who helps new players, cleans up area, good sportsmanship, and just being helpful in all ways
**Players have choice of how prizes are award. At the beginning of each tournament players will be ask which of these 3 choices do they want prizes to be awarded;
1. Every player receives a booster pack, Additional packs go to top players!!!!
2. Every player receives both boosters at the end of the tournament
3. All booster packs go into prize pool and awarded to Top 4
SATURDAYS
Pokemon Training Center
Time: 11 a.m. – 2 p.m.
Cost: FREE
Learn how to plya the Pokemon Trading Card Game! This "Pokemon Training Center" is for kids of all ages, young and old! No need to own your own cards. We will have some you can use to play! Our skilled Pokemon Trainers will help you and/or your kids learn how to play!
If you're slightly more advanced, but still need help building your own deck…our Trainers can help with that too! Come learn to play in a relaxed, fun, safe environment!
Magic the Gathering: Standard Saturday Showdown
Standard Showdown is a pilot program, aimed at the Standard community and providing a reliable weekly setting for the most popular way to play Magic.
Special Standard Showdown Boosters Packs to be handed out at these events (10 per event).
Standard Showdown: Kaladesh is a Standard event.
One event per week, on four consecutive Saturdays between November 26–December 17.
Entry Fee $10.00
Format: Standard.
Yu-Gi-Oh Weekly Tournament
Saturdays 5 p.m.
Come Battle it out for superiority in the Official Yu-Gi-Oh! Rating system! Weekly tournaments provide players the chance to battle, trade, and talk about the game they love!
Cost: $5
Participation: Each player will receive 2 OTS Packs.
Meeple Meetup Saturdays!
Saturdays 2 – 10 p.m.
Every Saturday, Comic Quest's Board Game Diva, Debbie, will be hosting an afternoon of board game fun!!
She will have lots of board games on hand every Saturday and will be there to teach you to play or you can sit down and play on your own!!
Comic Quest has lots of snacks and drinks, so you can sit back, relax and enjoy an afternoon of gaming and snacks!
All are welcome!!!
Fun starts at 2:00 and goes until sometime in the late afternoon or even into the evening!!!
SUNDAYS
Lazy Sunday Gaming
Who doesn't love kicking back with your family and friends to play games? We sure do! Join us on Sundays, from Noon until 6 p.m. to play any tabletop games you want! We have plenty of tabletop space, soda, snacks and you won't even have to clean your house to get together with friends! We do the working, you do the playing!
WEDNESDAYS
Dungeons & Dragons
Time: 6 p.m.
The D&D Adventurers League is an ongoing official organized play campaign for Dungeons & Dragons. It uses the fifth edition of the Dungeons & Dragons rules, and features the Forgotten Realms setting.
Each player will be issued a DCI # number because the store has to report attendance. If you have a DCI number great, if not we can issue you one. There is no fee.
As of now we have 3 groups playing, and room for a few more players!
D&D is free at the store and we only ask that you show some patronage to the store by buying supplies, drinks, snacks etc. Purchasing your snacks and supplies in the store helps us keep events like this one FREE!
WizKid Wednesdays
Our WizKid Heroclix League meets every Wednesday evening, beginning at 5 p.m. Some weeks they have official Organized Play events, other weeks it is just a free-for-all fun night!
Starts: 5 p.m.
COMING SOON!
We will soon be adding regular Luck & Logic, Play Munchkin, Slamwich and other events! So watch our FB Events page for these exciting new events to be added!
 If there is an event you are interested in that s not currently on our schedule, please talk to our Store Manager, Monti and we will do our best to accommodate your event request.
You can subscribe to our Facebook Events page to stay completely up to date on all the events we have scheduled in the store and those event are great places to ask questions and talk to other people who will be attending! Subscribe to those events by clicking here.
---
ALSO NEW & RE-STOCKED THIS WEEK
MUNCHKIN S CARD SLEEVE FLOWER (50)
MUNCHKIN S CARD SLEEVE SPYKE (50)
DR WHO TIME CLASH STARTER
HIVE MIND
POKEMON MEGA GARCHOMP/SALAMENCE EX COLLECTION
BATTLE TILES 3′ DEEP SPACE ED
BATTLE TILES 3′ STARSHIP ED
PANDEMIC IBERIA
PK MYTHICAL COLL DEC: MELOETTA
FAMILY GUY QUAGMIRE CARD PACK
FAMILY GUY MOUTH FULL OF BLANKS
POP ANIMATION: COWBOY BEBOP – SPIKE
POP MARVEL: X-MEN – ARCHANGEL
CARCASSONNE AMAZONAS
D&D STORM KING DM SCREEN
LEGENDARY MARVEL GUARDIANS EXP
CALL OF CTHULHU 7E KEEPER CORE
7 WONDERS DUEL
SIMONS CAT
D&D NEXT PLAYER'S HANDBOOK
PK SUMMER'15: HOENN POWER TIN
POKEMON MEGA LATIOS FIGURE BOX
DBZ AWAKENING BOOSTER
MUNCHKIN DELUXE
MTG ELDRITCH MOON FAT PACK
ELDER SIGN EXP GATES OF ARKHAM
D&D SPELL DECKS ARCANE
TIME STORIES UNDER THE MASK
ELDRITCH HORROR EXP MOUNTAIN MADNES
ARKHAM HORROR
TIME STORIES A PROPHECY OF DRAGONS
STAR WARS X-WING CORE SET
D&D 5TH EDITION NEXT STARTER SET
ARKHAM HORROR THE CARD GAME
GOT LCG 2ED CH PK THERE IS MY CLAIM
MTG ETERNAL MASTERS WOTC
UP D&D PLAY MAT BEHOLDER
POP MARVEL: X-MEN – CABLE
SW: DESTINY – KYLO REN STARTER SET (LIMITED QUANTITIES)
SW: DESTINY – AWAKENINGS BOOSTER BX (LIMITED QUANTITIES)
TIME STORIES
Elder Sign: Unseen Forces Expansion
Elder Sign: Grave Consequences
Blood Bowl – 2016 Edition
Trailer Park Wars!
Trailer Park Wars!: Terror in the Trailer Park Expansion
One Night Ultimate Werewolf
Hive: Carbon
Hive: Pocket
Hive: Pillbug Pocket Expansion
---
We hope to see you soon at CQ!
Visit us at 2260 Morgan Avenue, Evansville
On the web at www.beta.comicquest.com
On Facebook www.facebook.com/comicquestevansville
On Twitter @cqevansville
On Instagram: @comicquestevansville
Contact us at sales@beta.comicquest.com or by phone at 812-474-1133.