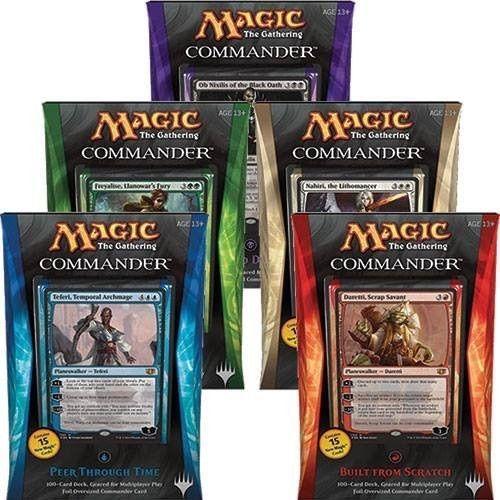 CQ Gaming Report & Weekly Calendar
for the week of Nov. 10 – 16, 2016
MAGIC THE GATHERING COMMANDER 2016 COMING!!!
It is almost here! MtG Commander 2016!
What is it: The set will feature five four-color, 100-card Commander decks, along with 56 new Magic cards legal in Eternal formats (Vintage and Legacy) but not legal in Standard, Block Constructed, or Modern.
Release Date: Friday, Nov. 11, 2016
Commander is an exciting, unique way to play Magic that is all about awesome legendary creatures, big plays, and battling your friends in epic multiplayer games! In Commander, each player chooses a legendary creature as the commander of their deck. They then play with a 99-card deck that contains only cards of their commander's colors. Also, other than basic lands, each deck can only use one copy of any card. During the game, you can cast your commander multiple times, meaning your favorite Legendary Creature can come back again and again to lead the charge as you battle for victory!
Lanterns makes the transition to Digital
To coincide with the release of the first Tabletop episode featuring the game Lanterns, Renegade games has announced the launch of the Lanterns app.  The app is now available in both the iTunes and Google Play stores for download on your phone and tablet devices for $4.99.  The game features a solo mode and a multiplayer mode using pass and play or online playing along with ranked matching.  The app itself looks amazing with the tiles fading away when played to look like lanterns floating on a lake.  The game will also come with achievements that you can strive towards in order to unlock new art for the game.  Download the game on iTunes or Good Play.
And if you haven't played the tabletop edition, you can pick up a copy right here at Comic Quest!
SAVE THE DATE: CQ PLANNING NEW YEARS EVE PARTY
We are in the early planning stages for a New Year's Even gaming party that will be so much fun for the whole family! Get out, celebrate the New Year, play games and do it with all your family and friends…all at Comic Quest!
---
NEW THIS WEEK IN GAMING
SCYTHE

Publisher: Stonemaier Games
Player #: 1-5
Playing Time: 90-115 minutes
Age: 14+
It is a time of unrest in 1920s Europa. The ashes from the first great war still darken the snow. The capitalistic city-state known simply as "The Factory", which fueled the war with heavily armored mechs, has closed its doors, drawing the attention of several nearby countries.
Scythe is a Worker Placement/Economic Engine board game set in an alternate-history 1920s period. It is a time of farming and war, broken hearts and rusted gears, innovation and valor. In Scythe, each player represents a character from one of five factions of Eastern Europa who are attempting to earn their fortune and claim their faction's stake in the land around the mysterious Factory. Players conquer territory, enlist new recruits, reap resources, gain villagers, build structures, and activate monstrous mechs.
Each player begins the game with different resources (power, coins, combat acumen, and popularity), a different starting location, and a hidden goal. Starting positions are specially calibrated to contribute to each faction's uniqueness and the asymmetrical nature of the game (each faction always starts in the same place).
Scythe gives players almost complete control over their fate. Other than each player's individual hidden objective card, the only elements of luck or variability are "encounter" cards that players will draw as they interact with the citizens of newly explored lands. Each encounter card provides the player with several options, allowing them to mitigate the luck of the draw through their selection. Combat is also driven by choices, not luck or randomness.
Scythe uses a streamlined action-selection mechanism (no rounds or phases) to keep gameplay moving at a brisk pace and reduce downtime between turns. While there is plenty of direct conflict for players who seek it, there is no player elimination.
Every part of Scythe has an aspect of engine-building to it. Players can upgrade actions to become more efficient, build structures that improve their position on the map, enlist new recruits to enhance character abilities, activate mechs to deter opponents from invading, and expand their borders to reap greater types and quantities of resources. These engine-building aspects create a sense of momentum and progress throughout the game. The order in which players improve their engine adds to the unique feel of each game, even when playing one faction multiple times.
CATAN 5th Ed.

Player #: 3-4
Playing Time: 60-120 minutes
Ages: 10+
In Catan (formerly The Settlers of Catan), players try to be the dominant force on the island of Catan by building settlements, cities, and roads. On each turn dice are rolled to determine what resources the island produces. Players collect these resources (cards)—wood, grain, brick, sheep, or stone—to build up their civilizations to get to 10 victory points and win the game.
TICKET TO RIDE: RAILS & SAILS


Publisher: Days of Wonder
Player #: 2-5
Playing Time: 60-120 minutes
Ages: 10+
Ticket to Ride: Rails & Sails takes the familiar gameplay of Ticket to Ride and expands it across the globe — which means that you'll be moving across water, of course, and that's where the sails come in.
As in other Ticket to Ride games, in Ticket to Ride: Rails & Sails players start with tickets in hand that show two cities, and over the course of the game they try to collect colored cards, then claim routes on the game board with their colored train and ship tokens, scoring points while doing so. When any player has six or fewer tokens in their supply, each player takes two more turns, then the game ends. At that point, if they've created a continuous path between the two cities on a ticket, then they score the points on that ticket; if not, then they lose points instead.
Ticket to Ride: Rails & Sails puts a few twists on the TtR formula, starting with split card decks of trains and ships (with all of the wild cards going in the train deck). Three cards of each type are revealed at the start of the game, and when you draw cards, you replace them with a card from whichever deck you like. (Shuffle the card types separately to form new decks when needed.)
Similarly, players choose their own mix of train and ship tokens at the start of the game. To claim a train route (rectangular spaces), you must play train cards (or wilds) and cover those spaces with train tokens, and to claim a ship route (oval spaces), you must play ship cards (or wilds) and cover those spaces with ship tokens. Ship cards depict one or two ships on them, and when you play a double-ship card, you can cover one or two ship spaces. You can take an action during play to swap train tokens for ships (or vice versa), and you lose one point for each token you swap.
Some tickets show tour routes with multiple cities instead of simply two cities. If you build a network that matches the tour exactly, you score more points than if you simply include all of those cities in your network.
Each player also starts the game with three harbors. If you have built a route to a port city, you can take an action during the game to place a harbor in that city (with a limit of one harbor per port). To place the harbor, you must discard two train cards and two ship cards of the same color, all of which must bear the harbor symbol (an anchor). At the end of the game, you lose four points for each harbor not placed, and you gain 10-40 points for each placed harbor depending on how many of your completed tickets show that port city.
Ticket to Ride: Rails & Sails includes a double-sided game board, with one side showing the world and the other side showing the Great Lakes of North America. Players start with a differing number of cards and tokens depending on which side they play, and each side has a few differences in gameplay.
GAME OF THRONES: THE IRON THRONE

Publisher: Fantasy Flight Games
Player #: 3-5
Playing Time: 30-60 minutes
Age: 18+
In Game of Thrones: The Iron Throne, which uses the game systems from Cosmic Encounter, you and your friends each command one of the Great Houses of Westeros, pitting iconic characters against each other in epic battles and schemes. Negotiate, bluff, forge alliances, threaten your rivals — use every tool at your disposal to spread your influence, establish supremacy, and claim the ultimate prize: the Iron Throne!
STAR TREK ASCENDANCY


Publisher: Gale Force Nine
Player #: 3
Playing Time: 90-180 minutes
Age: 14+
Boldly go where no one has gone before. In Star Trek: Ascendancy — a board game of exploration, expansion and conflict between the United Federation of Planets, the Klingon Empire, and the Romulan Star Empire — you control the great civilizations of the Galaxy, striking out from your home worlds to expand your influence and grow your civilization. Will you journey for peace and exploration, or will you travel the path of conquest and exploitation? Command starships, establish space lanes, construct starbases, and bring other systems under your banner. With more than 200 plastic miniatures and 30 star systems representing some of the Star Trek galaxy's most notable planets and locations, Star Trek: Ascendancy puts the fate of the galaxy in your hands.
The great unknown lies before you; with every turn is a new adventure as your ships explore new space systems, encounter new life forms and new civilizations, make wondrous discoveries, and face challenging obstacles, all drawn from the vast fifty year history of Star Trek. Will you brave the hazards of Rura Penthe to harvest vital resources, race to develop Sherman's Planet before your rivals stake their claim, or explore the mysteries of the Mutara Nebula on an ever-growing, adaptive map of the galaxy. With an infinite combination of planets and interstellar phenomena, no two games of Star Trek: Ascendancy will ever play the same!
---
FEATURED UPCOMING EVENT(S)
When: Saturday, Nov. 12; Noon – ???
Cost: Free
Every other Saturday, Comic Quest's Board Game Diva, Debbie, will be hosting an afternoon of board game fun!!
She will have lots of board games on hand every other Saturday and will be there to teach you to play or you can sit down and play on your own!!
Comic Quest has lots of snacks and drinks, so you can sit back, relax and enjoy an afternoon of gaming and snacks!
All are welcome!!!
Fun starts at Noon and goes until sometime in the late afternoon or even into the evening!!!
When: Saturday, Nov. 19; 10 – 4 p.m.
Local Comic Shop Day, organized by ComicsPRO, is coming up on Small Business Saturday – Saturday, Nov. 19.
Seven of your favorite comics publishers(Archie Comics, BOOM! Entertainment, IDW Publishing. Marvel Comics, Oni Press, Valiant Entertainment and VIZ Media) are participating and some pretty awesome exclusive titles will be available to you at Comic Quest that day…
…BUT COME IN EARLY! We sold out fast last year! So the earlier you come, the better chance you have to get the titles you want!
---
WEEKLY EVENTS
THURSDAYS
Evansville Star Wars X-Wing League
Time: 5 p.m.
Comic Quest Star Wars X-Wing current League is hosted every Thursday. The group has certain missions and other unique formats during certain periods so you will need to check with the league. This is just a notice to let players know that Star Wars X-Wing is played at Comic Quest weekly on Thursday..
Entry fee is $1.00
Prizes awarded after each period.
DiceMasters Meet & Play!
 Magic the Gathering: Free Commander
START TIME: 6:30 P.M.
Each participant will receive a free promo that could be from past FNMs, Game Days, Pre-Releases, and many others.
This is a sanctioned event so the banned list will be enforced and proxies will not be allowed.
FRIDAYS
Evansville Pokemon League
Time: 5 p.m. – 9:45 p.m.
Every Friday night, the Evansville Pokemon League meets at our store. These weekly meetings include open play and trading, as well as frequent opportunities to win free cards, patches, pins, and other merchandise from the Pokemon franchise.
Newcomers to the game will be freely assisted in learning the basic rules to the game, as well as basic deck building skills and strategies.
The Pokemon League is a great opportunity for players of all ages to enjoy the game of Pokemon while meeting new people and forming a social network in the process.
Pokemon Friday Night Competitive Play
Kid gloves off! This event is for the competitive players! Players who want to battle and win! This is not "kids league." We encourage and invite all of you to participate in our competitive events for battling and winning boosters!
Event Type: Standard
Entry: $5.00
Sign-Up: 5 – 5:55 p.m.
Starts: 6 p.m.
Friday Night Magic – Standard
FNM: Standard Casual Play – $5 Entry; Standard Casual Play;  Every player receives a booster pack and Additional packs go to top players!!!!
FNM: Standard Win-A-Box – $10 entry; Top 4 Players Split a Box! *Must have 8 players to award a box
FNM: Sealed Booster Draft – $12 Entry; Every player gets 3 packs to draft from; Additional packs put in for winners!
SATURDAYS
Pokemon Training Center
Time: 11 a.m. – 2 p.m.
Cost: FREE
Learn how to plya the Pokemon Trading Card Game! This "Pokemon Training Center" is for kids of all ages, young and old! No need to own your own cards. We will have some you can use to play! Our skilled Pokemon Trainers will help you and/or your kids learn how to play!
If you're slightly more advanced, but still need help building your own deck…our Trainers can help with that too! Come learn to play in a relaxed, fun, safe environment!
 Force of Will Weekly Tournament
Time: 6 p.m.
Force of Will events will take place on Saturdays and Sundays at Comic Quest.
These weekly events will be run as either round robin or swiss depending on attendance.
Entry fee is $5.
Every player receives one (1) Force of Will booster pack of their choice from our FOW inventory.
Magic the Gathering Saturday Night Standard
When FNM isn't enough Magic or you simply can't make it, we always have our trusty SNS.
Time: Beginning at 6 p.m.
Yu-Gi-Oh Weekly Tournament
Saturdays 5 p.m.
Come Battle it out for superiority in the Official Yu-Gi-Oh! Rating system! Weekly tournaments provide players the chance to battle, trade, and talk about the game they love!
Cost: $5
Participation: Each player will receive 2 OTS Packs.
SUNDAYS
Lazy Sunday Gaming
Who doesn't love kicking back with your family and friends to play games? We sure do! Join us on Sundays, from Noon until 6 p.m. to play any tabletop games you want! We have plenty of tabletop space, soda, snacks and you won't even have to clean your house to get together with friends! We do the working, you do the playing!
WEDNESDAYS
Dungeons & Dragons
Time: 6 p.m.
The D&D Adventurers League is an ongoing official organized play campaign for Dungeons & Dragons. It uses the fifth edition of the Dungeons & Dragons rules, and features the Forgotten Realms setting.
Each player will be issued a DCI # number because the store has to report attendance. If you have a DCI number great, if not we can issue you one. There is no fee.
As of now we have 3 groups playing, and room for a few more players!
D&D is free at the store and we only ask that you show some patronage to the store by buying supplies, drinks, snacks etc. Purchasing your snacks and supplies in the store helps us keep events like this one FREE!
WizKid Wednesdays
Our WizKid Heroclix League meets every Wednesday evening, beginning at 5 p.m. Some weeks they have official Organized Play events, other weeks it is just a free-for-all fun night!
Starts: 5 p.m.
 If there is an event you are interested in that s not currently on our schedule, please talk to our Store Manager, Monti and we will do our best to accommodate your event request.
You can subscribe to our Facebook Events page to stay completely up to date on all the events we have scheduled in the store and those event are great places to ask questions and talk to other people who will be attending! Subscribe to those events by clicking here.
---
ALSO NEW & RE-STOCKED THIS WEEK
ATTACK ON TITAN DECK BUILDING GAME
SPACE MOVERS 2201
BURGER UP BURGERS OF THE WORLD
LOVE LETTER PREMIUM EDITION
ARKHAM HORROR THE CARD GAME
A GOT HAND OF THE KING
EVOLUTION CLIMATE
NUTS CARD GAME
PATHFINDER RPG HORROR ADVENTURES
12 DAYS
ONITAMA
PF ROLEPLAYING GAME: BESTIARY 5
THIEVES!
IMP ASLT EXP BESPIN GAMBIT CAMPAIGN
D&D VOLO'S GUIDE TO MONSTERS
D&D 4 ESS.DUNGEON TILE SET DUNGEON
MTG DUEL DECK NISSA VS OB NIXILIS
PF PAWNS INNER SEA
SWS IMP ASSAULT VILLAIN PK GREEDO
SW IMP ASLT BANTHA RIDER VILLAIN
SW IMPERIAL ASSAULT STORMTROOPERS
SW IMPERIAL ASLT VILLAN IG-88
SWS IMP ASSAULT VILL PK THE GND INQ
PK FALL'16: BATTLE HEART TIN
PK BREAKPOINT THEME DECK
VS SYSTEM MARVEL A FORCE EXP
PK XY10 FATES COLLIDE THEME DECKS
SW IMPERIAL ASLT DICE PACK
ELDRITCH HORROR BOARD GAME
PANDEMIC (NEW VERSION)
SW IMPERIAL ASSAULT WOOKIE WARRIORS
PK MEGA SWAMPERT BLAZIKEN PREM COLL
IMP ASLT VILLAIN PK BOSSK
ASSORTED DECK BOXES and DECK PROTECTORS
ASSORTED DICE
ASSORTED FUNKO POP! VINYL FIGURES
PK ALOLA COLLECTION
ASSORTED MTG COMMANDER 2016 PLAYMATS & DECK BOXES/PROTECTORS
DC HeroClix: Brainiac Skull Ship
Dungeons and Dragons Dice Masters: Battle for Faerun Starter Set
DC Dice Masters: World`s Finest
DC Dice Masters: World`s Finest Starter Set
Pathfinder RPG: Adventure Path – Curse of the Crimson Throne Hardcover
Pokemon TCG: Collection Chest Tin Box
Pokemon Black & White Outstanding Oshawott Box
Pokemon Black & White Super Snivy Box
Rifts RPG: Coalition Wars Siege on Tolkeen 1 Sedition
Evolution: 2nd Edition
Exploding Kittens NSFW Edition
Catan: Explorers and Pirates Expansion
Dr. Eureka
Star Trek Catan
Catan: 5-6 Player Extension
Catan: Traveler Edition
Catan: Dice Game Clamshell Edition
Catan: Catan Histories – Settlers of the Stone Age
Forbidden Desert: Thirst for Survival
Forbidden Island
Pearl Mermaid
Assorted versions of FLUXX
Marvel HeroClix: Superior Foes of Spider Man Booster
Marvel HeroClix: Spider Man and His Greatest Foes Fast Forces
Settlers of Catan: Cities and Knights Game Expansion
Star Wars X-Wing Miniatures Game: The Force Awakens – Heroes of the Resistance Expansion Pack
Settlers of Catan: Deluxe Dice Game
We hope to see you soon at CQ!
Visit us at 2260 Morgan Avenue, Evansville
On the web at www.beta.comicquest.com
On Facebook www.facebook.com/comicquestevansville
On Twitter @cqevansville
On Instagram: @comicquestevansville
Contact us at sales@beta.comicquest.com or by phone at 812-474-1133.