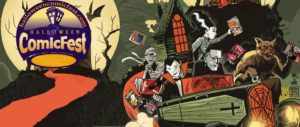 This year's event takes place on Saturday, October 28 and run through Halloween night Tuesday, October 31 at 6 p.m. We will have a full compliment of free comic books, both full size and mini comics. We will run a sale on horror items during this time. For a preview of the books that will be available just click on the following link: https://www.halloweencomicfest.com/Catalog
We will be offering a costume contest from Saturday through Halloween night with gifts for the winners (More details to follow).
The Halloween Comicfest will begin with our "main event" on Saturday, Oct. 28 with our 2nd Annual Trunk-or-Treat, and we will have some artists inside the store with their art for sale and some goodies to give away as well. But then the awesomeness of Halloween Comicfest will continue on through Halloween, with guests artists coming to the store and all the awesome free comics!