GUY GILCHRIST THIS WEEK AT CQ!
World-renowned illustrator, author, comic strip artist, and songwriter, Guy Gilchrist (best known as Jim Henson's cartoonist) will appear:
September 16 & 17 at Comic Quest 2260 E. Morgan Ave. Evansville IN 47711
From 10 a.m. to 8 p.m. each day. Come prepared with items to get autographed, with questions for Guy, and of course with smiles! You can contact Comic Quest with any questions by calling (812) 474-1133.


Guy will have original artwork and prints for sale, sign autographs, and be available to do one-of-a-kind sketches on demand. Stop in and prepare to be Muppetized!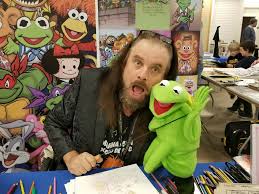 At the age of 24, he was hand-selected to draw the "Muppets" comic strip (printed worldwide in 660-
plus newspapers daily from 1981 to 1986)
● Gilchrist's panel led to the crea...
Read More