COMIC QUEST WILL BE OPEN EASTER SUNDAY NORMAL HOURS.
Comic Quest will be open Easter Sunday from noon to 6pm!
NEW COMICS THIS WEEK!
BETA RAY BILL #1 (OF 5) KIB 4.99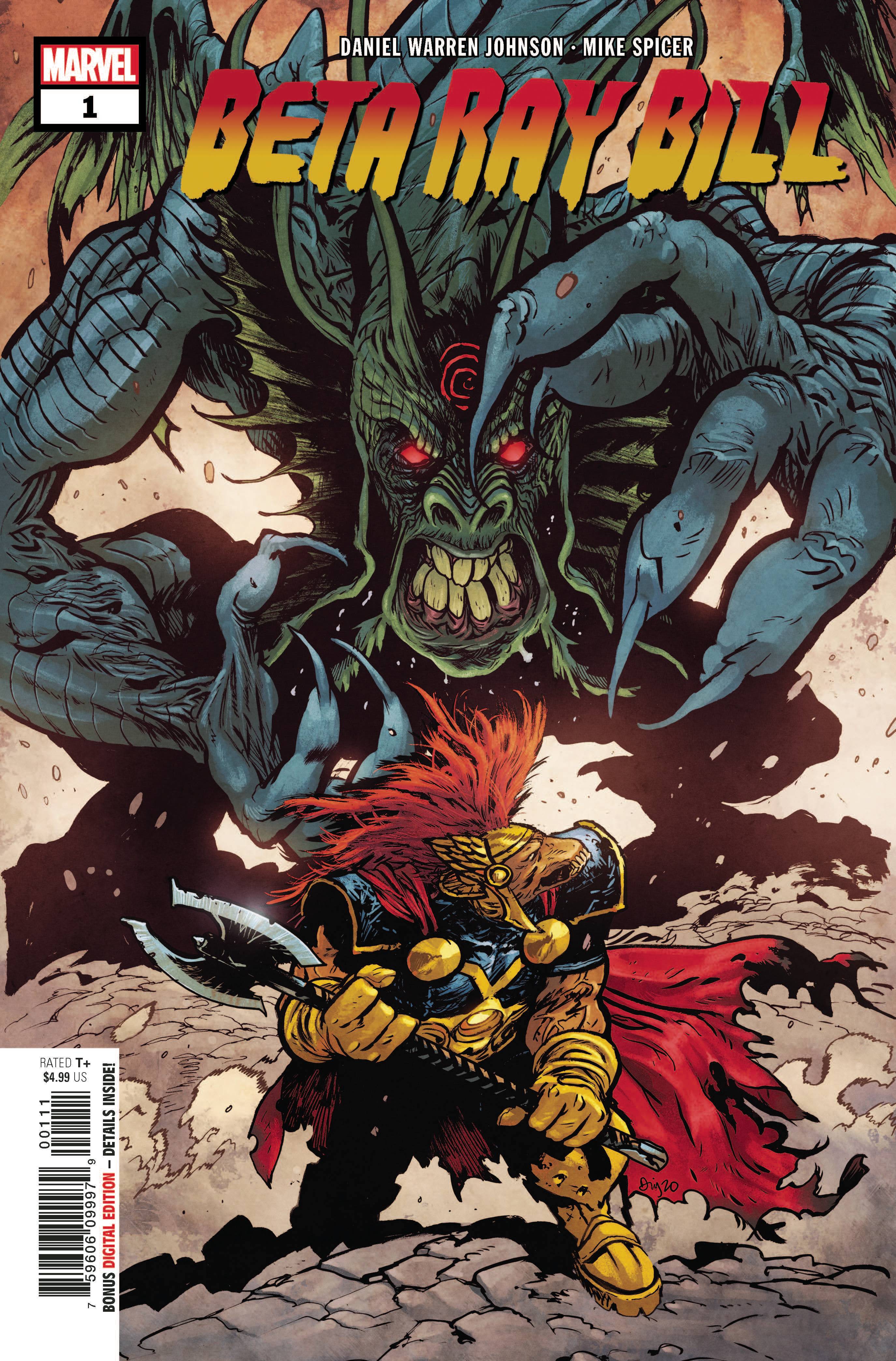 (W) Daniel Warren Johnson (A/CA) Daniel Warren Johnson
FROM THE PAGES OF DONNY CATES' THOR AND SPINNING OUT OF THE EVENTS OF KING IN BLACK!
The second-most famous wielder of Mjolnir. The right-hand man to the god of Thunder. And now, a warrior without his best weapon. Beta Ray Bill is tired of playing second fiddle to Thor – and with Bill's famous hammer, Stormbreaker, recently destroyed at the new All-Father's hands, tensions are higher than ever. The Korbinite must strike out in search of a new weapon…and a new destiny. Assuming he can first defeat a Knullified Fin Fang Foom! Writer/artist Daniel Warren Johnson (Extremity, Murder Falcon) and colorist Mike Spicer take Beta Ray Bill on a journey beyond the shadow of a god! Plus: This oversize first issue contains an exclusive conversation between Johnson and Beta Ray Bill's creator, the legendary Walter Simonson!
SHADECRAFT #1 CVR A GARBETT 3.99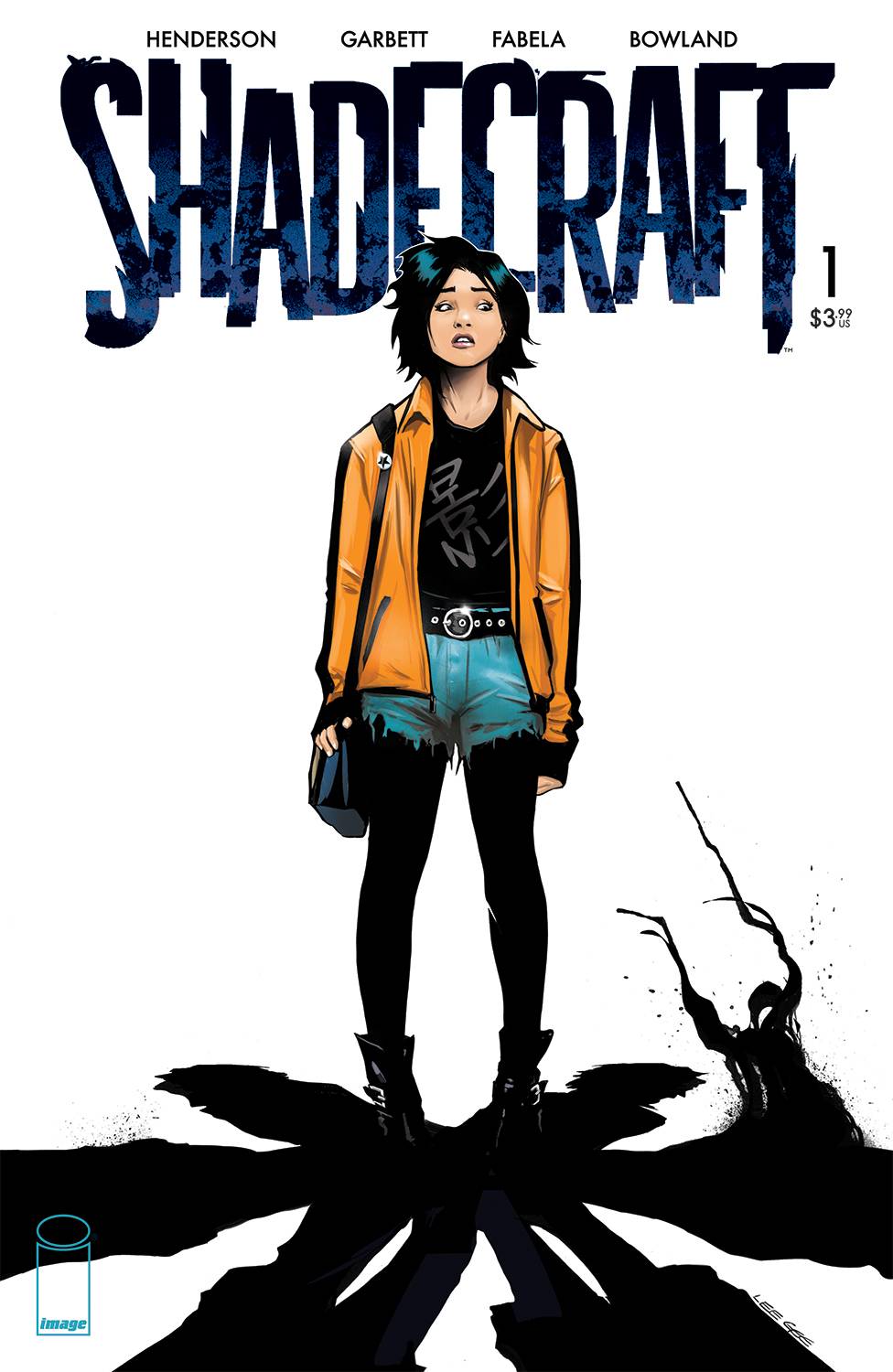 (W) Joe Henderson (A) Antonio Fabela (A/CA) Lee Garbett
Zadie Lu is afraid of her own shadow. She's a teenager, so she REALLY should have grown out of it by now, right? But something weird is happening in her small town. Zadie could swear the shadows are coming to life. Watching her. Trying to KILL her. But how do you fight something you can't even touch? And how does all of this tie into her FAMILY, of all things?

From the creative team that brought you the Eisner-nominated SKYWARD, writer JOE HENDERSON (showrunner of Netflix's Lucifer) and artist LEE GARBETT (Captain Marvel). Join Zadie Lu as she ventures into the shadows to face her fears and discovers a legacy she never knew she had.
BATMAN CATWOMAN #4 (OF 12) CVR A CLAY MANN 4.99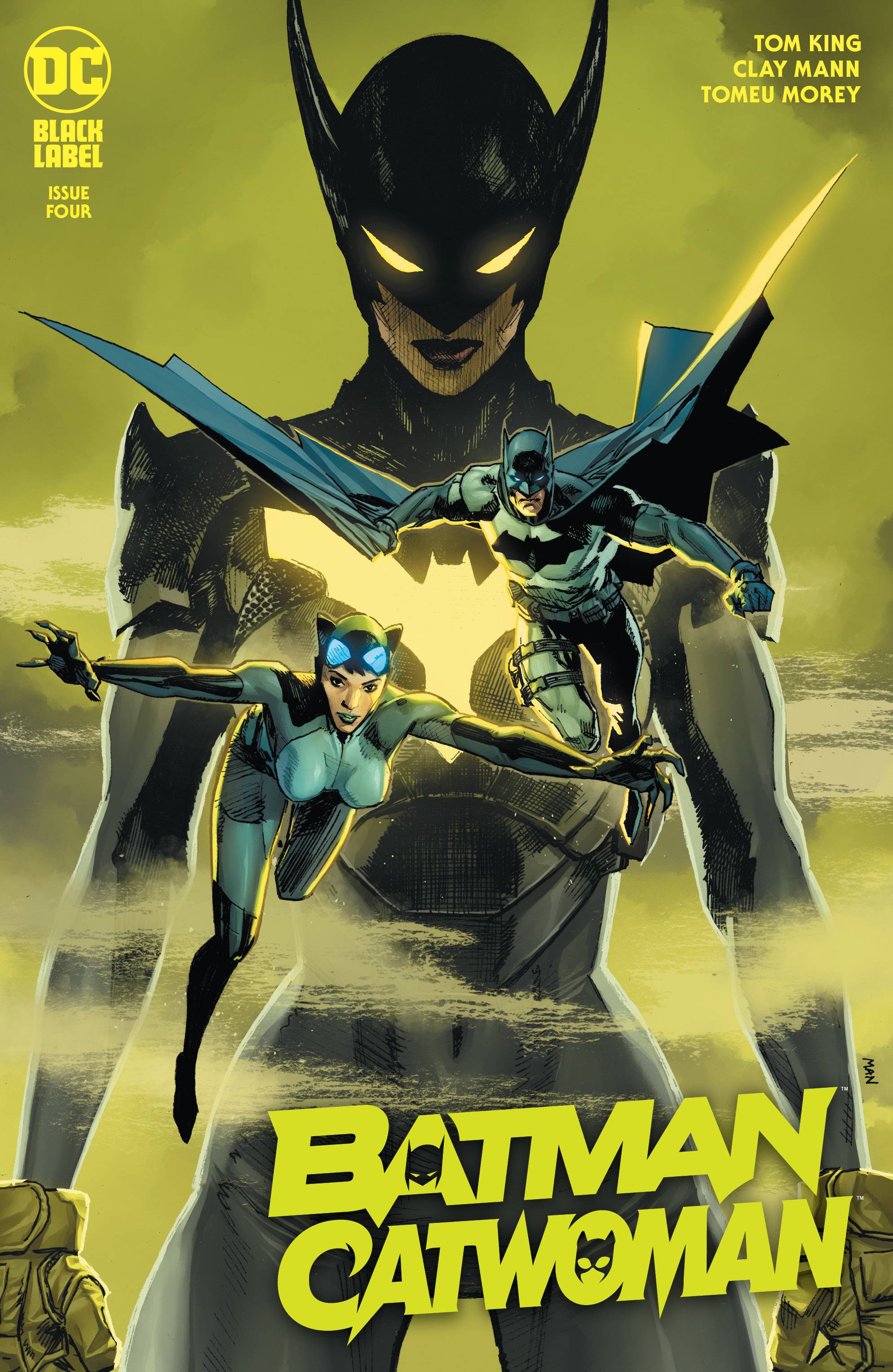 The Joker has hidden a bomb in Gotham—but there might be a bigger explosion if Batman proves his suspicions true, and Catwoman actually knows where it is! It's a dangerous secret that threatens to destroy the couple's relationship in its early days, and it's going to reverberate throughout their time together. In the present day, it will affect how Selina handles Andrea Beaumont, a.k.a. Phantasm, who has a vendetta to carry out against the Clown Prince of Crime, fueled by the righteous fury of a mother who lost her son. And this whole chain of events is what ultimately leads to Catwoman killing The Joker in the future—a secret she can't keep from her daughter, Batwoman, much longer. Particularly now that old man Penguin is involved.
WITCHBLOOD #1 CVR A STERLE 3.99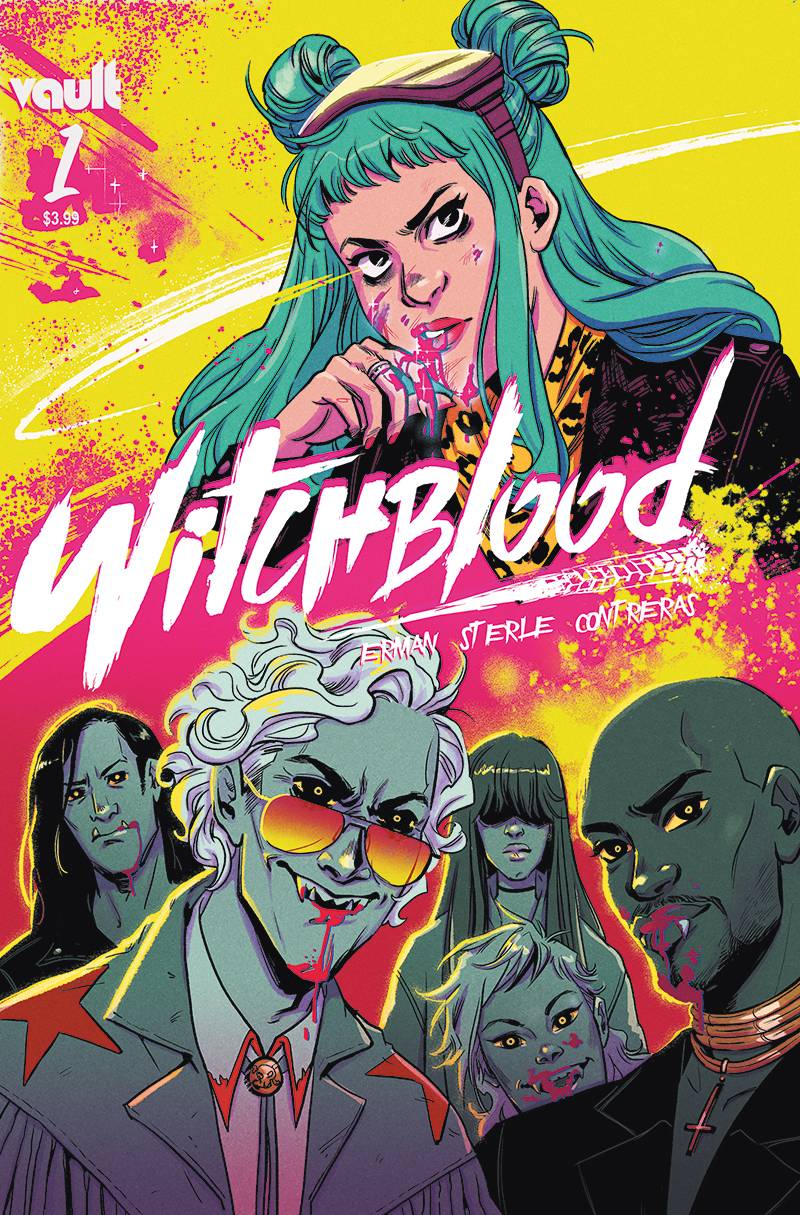 (W) Matthew Erman (A/CA) Lisa SterleA modern, Wild West road trip about a witch named Yonna cruising the Southwest as a band of bloodthirsty biker vampires, The Hounds of Love, hunt her scattered coven for the source of all magic: witch blood. From the critically acclaimed creators of The Modern Witch Tarot Deck and Long Lost comes WITCHBLOOD, a blend of action, lore, and Americana-perfect for fans of Buffy and American Gods.
KING IN BLACK GHOST RIDER #1 4.99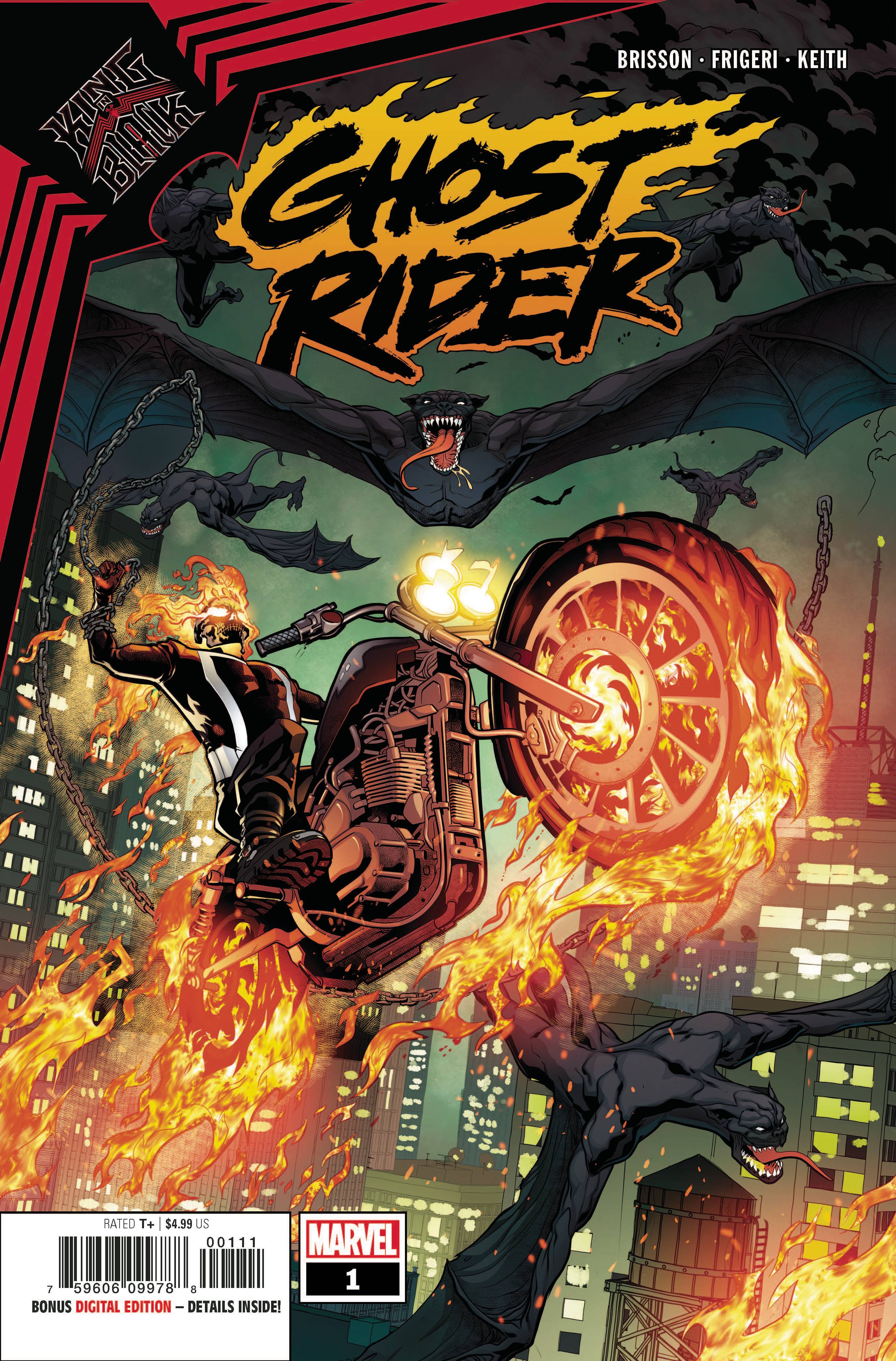 (W) Ed Brisson (A) Juan Frigeri (CA) Will SlineyTHE WAR FOR HELL'S THRONE MEETS THE KING IN BLACK!
All Ghost Rider wants is to destroy Mephisto, round up an army of escaped demons, and secure his seat on the throne of hell. Is that so much to ask? But now a dark god from space has shown up to throw the world into chaos, and some of Johnny's old friends have come to ask for his help. It may take everything they've got to stop this madness. Maybe even…the devil himself?
SILK #1 (OF 5) 3.99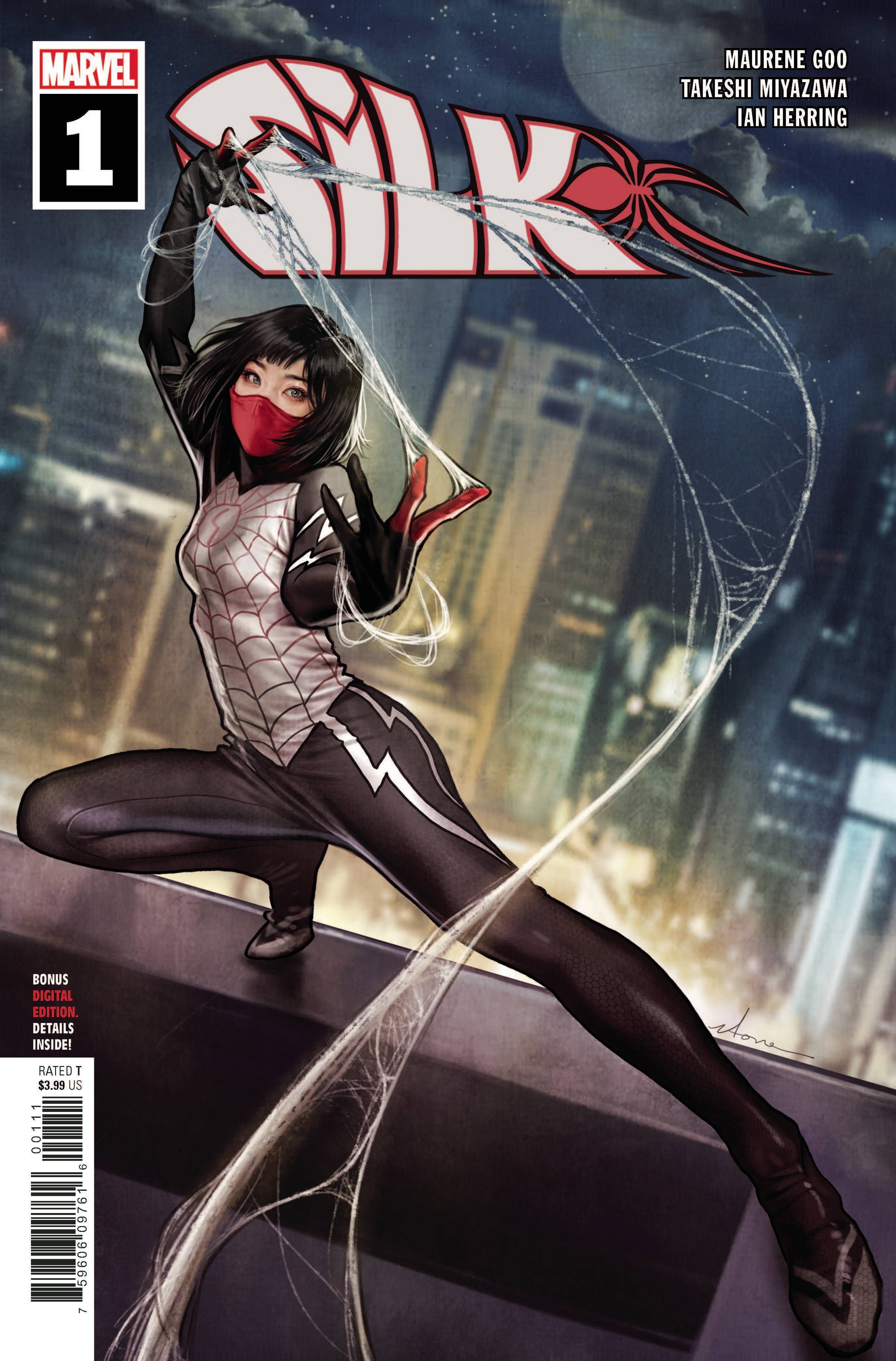 (W) Maurene Goo (A) Takeshi Miyazawa (CA) StonehouseBy day Cindy Moon is an intrepid reporter for the upstart new media empire Threats & Menaces under her old boss, J. Jonah Jameson. By night, she's Silk, crime fighting super hero! But those worlds are about to collide, as an investigation into a series of gangland murders puts Silk and everyone she loves in danger! Who is this powerful new player in New York's underworld, where did she come from, and what is she doing with that strange cat demon? It will take all of Cindy's prowess as reporter and hero to find the answers…and stay alive! Written by Maurene Goo (I Believe in a Thing Called Love) and drawn by Takeshi Miyazawa (RUNAWAYS, GHOST SPIDER), Cindy is on assignment, and nothing can stop her!
THIS WEEK IN TOYS/STATUES
DC GALLERY SUPERMAN ASCENDANT PVC STATUE 49.99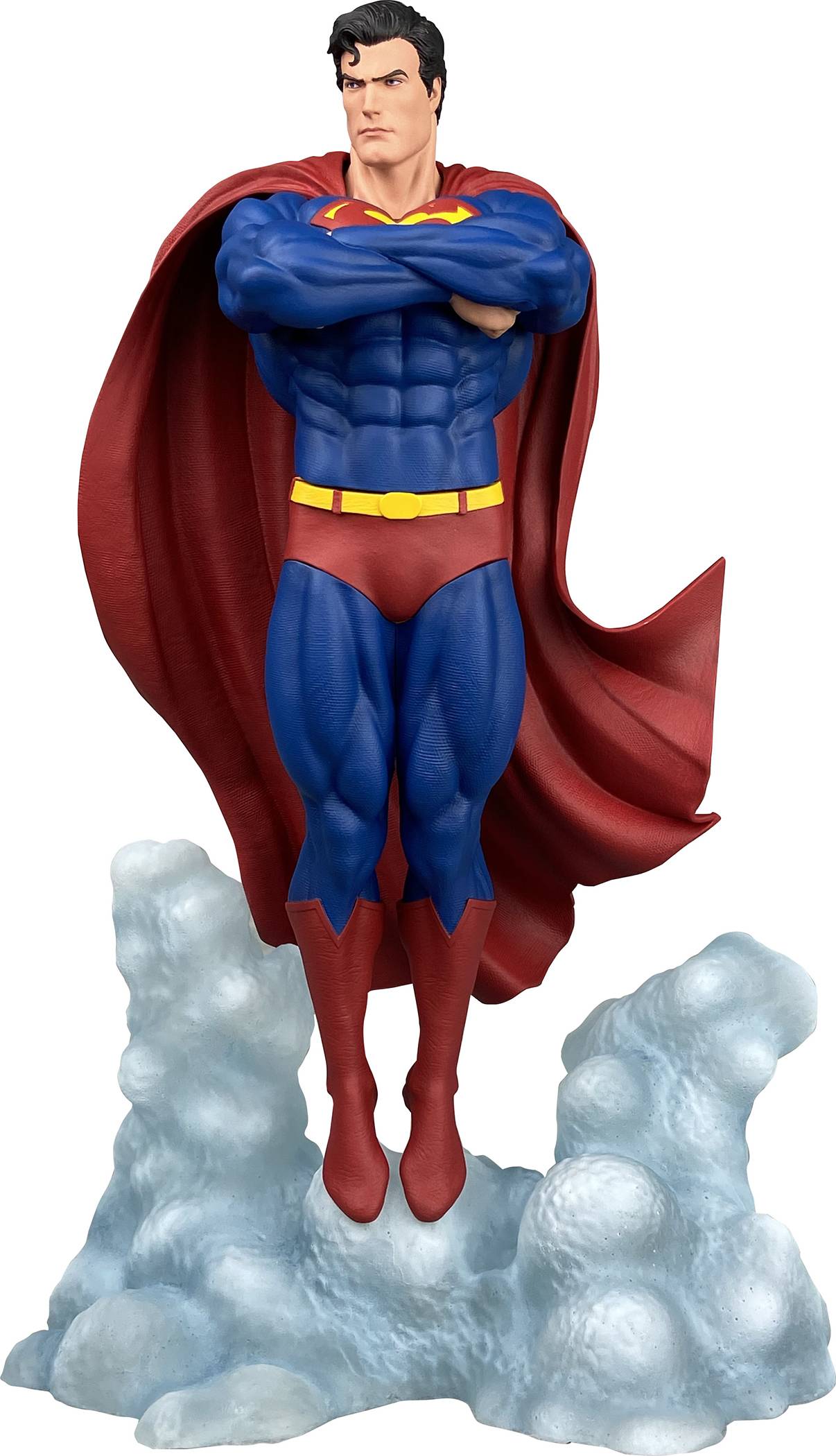 A Diamond Select Toys Release! Look, up in the sky! Superman rises above the clouds in this all-new installment in the DC Gallery line of dioramas! Measuring approximately 10″ high, this PVC sculpture features detailed sculpting and paint applications, and comes packaged in a full-color window box.
DRAGON BALL Z SHENRON CREATOR X CREATOR FIG 29.99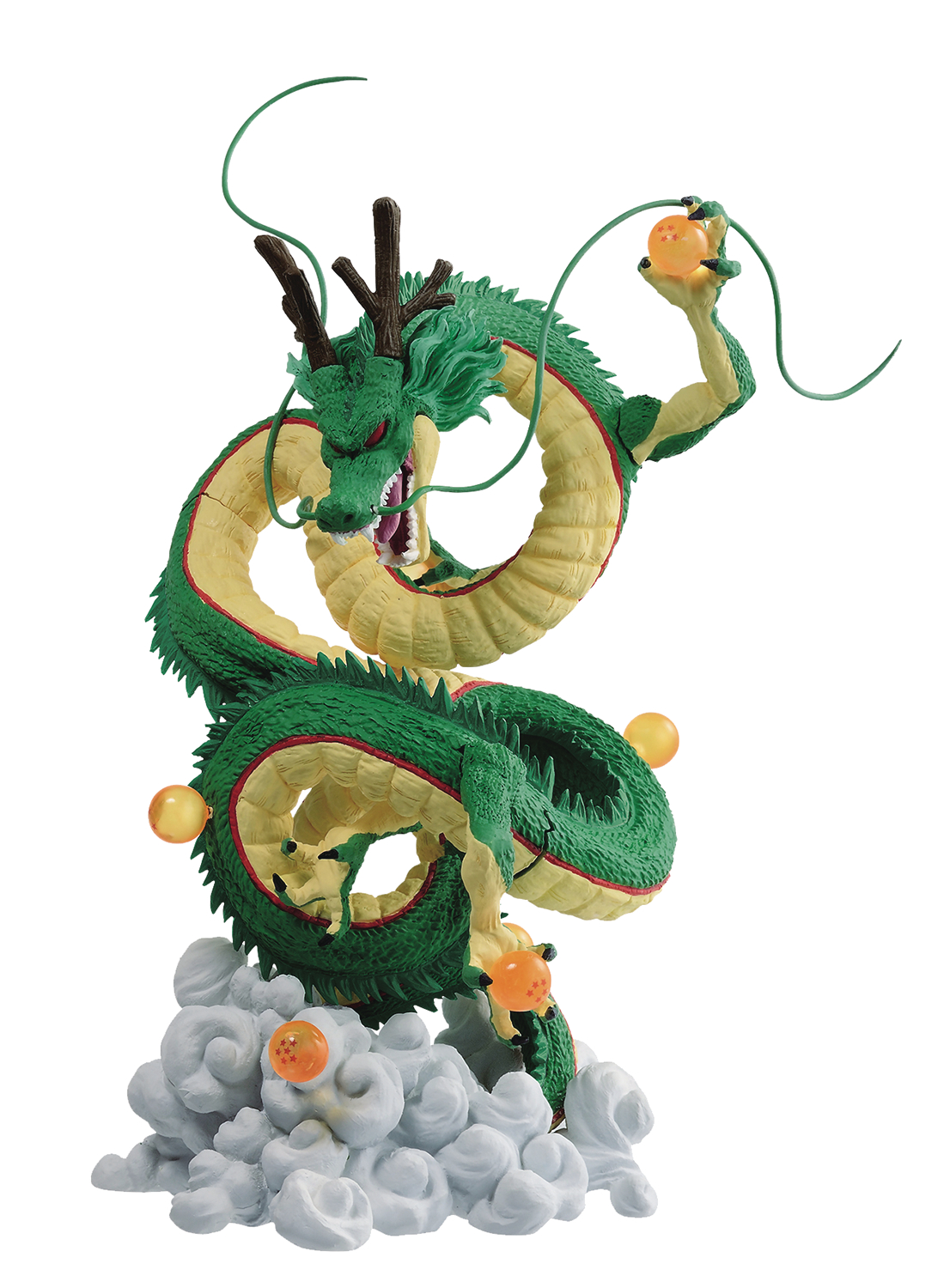 From Banpresto! Rising into the air, the dragon Shenron of Dragonball Z is the next release in Banpresto's Creator x Creator series! The mighty dragon, surrounded by the dragon balls, stands 5 7/8″ tall.
POP GAMES MILES MORALES GAME MILES MORALES 2020 SUIT FIG 11.99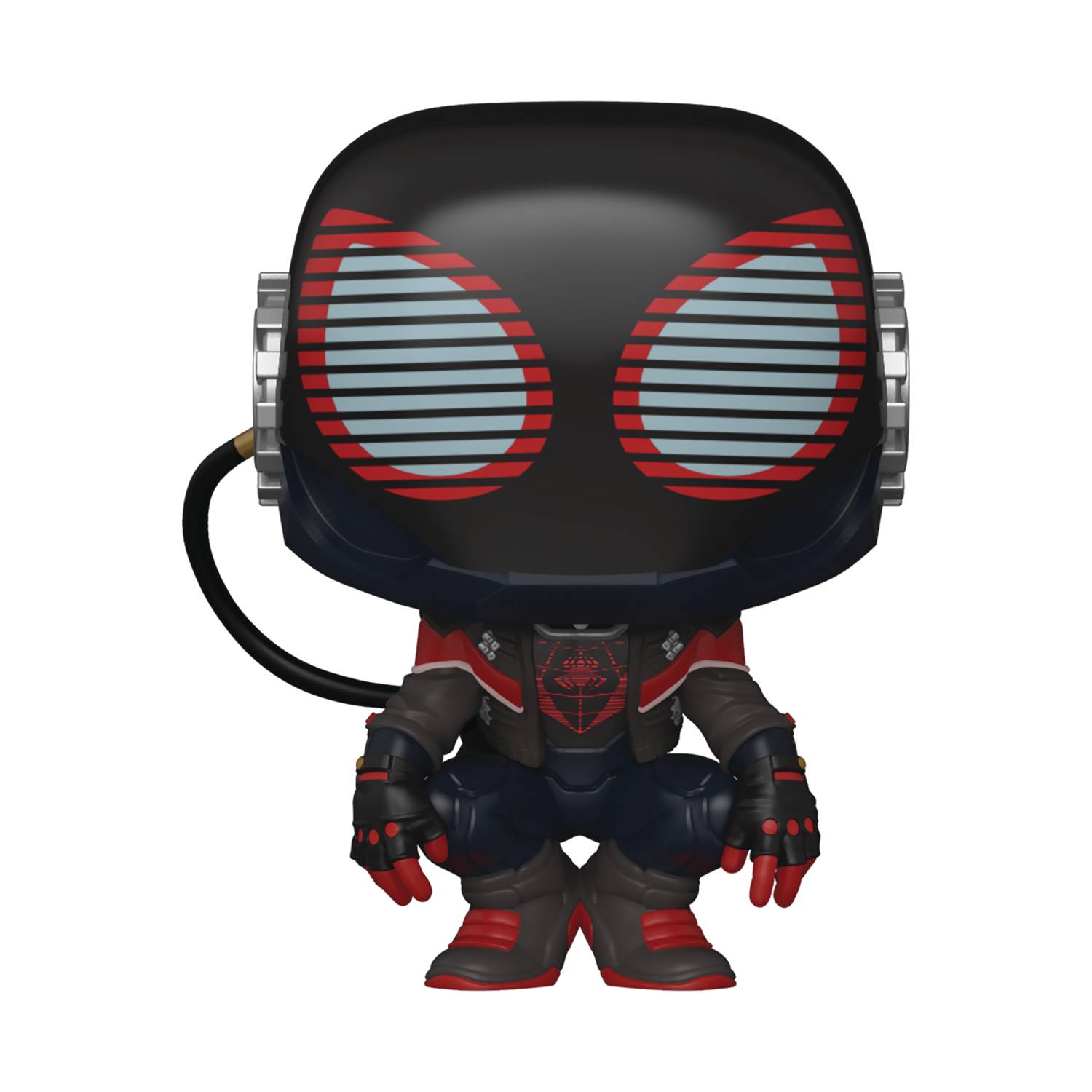 From Funko. Take to the streets as Miles in the new Marvel's Spider-Man: Miles Morales game and collect some of your favorite looks with that familiar Funko flair with these POP! figures! Each figure stands about 3 3/4″ tall and comes packaged in a window box, perfect for display. Collect Strike Suit, Bodega Cat Suit, 2020 Suit, Crimson Cowl Suit, Winter Suit, Advanced Tech Suit, Programmable Suit, and Purple Reign!
JOJOS BIZARRE ADV STARDUST CRUSADERS DIO GRANDISTA FIG 29.99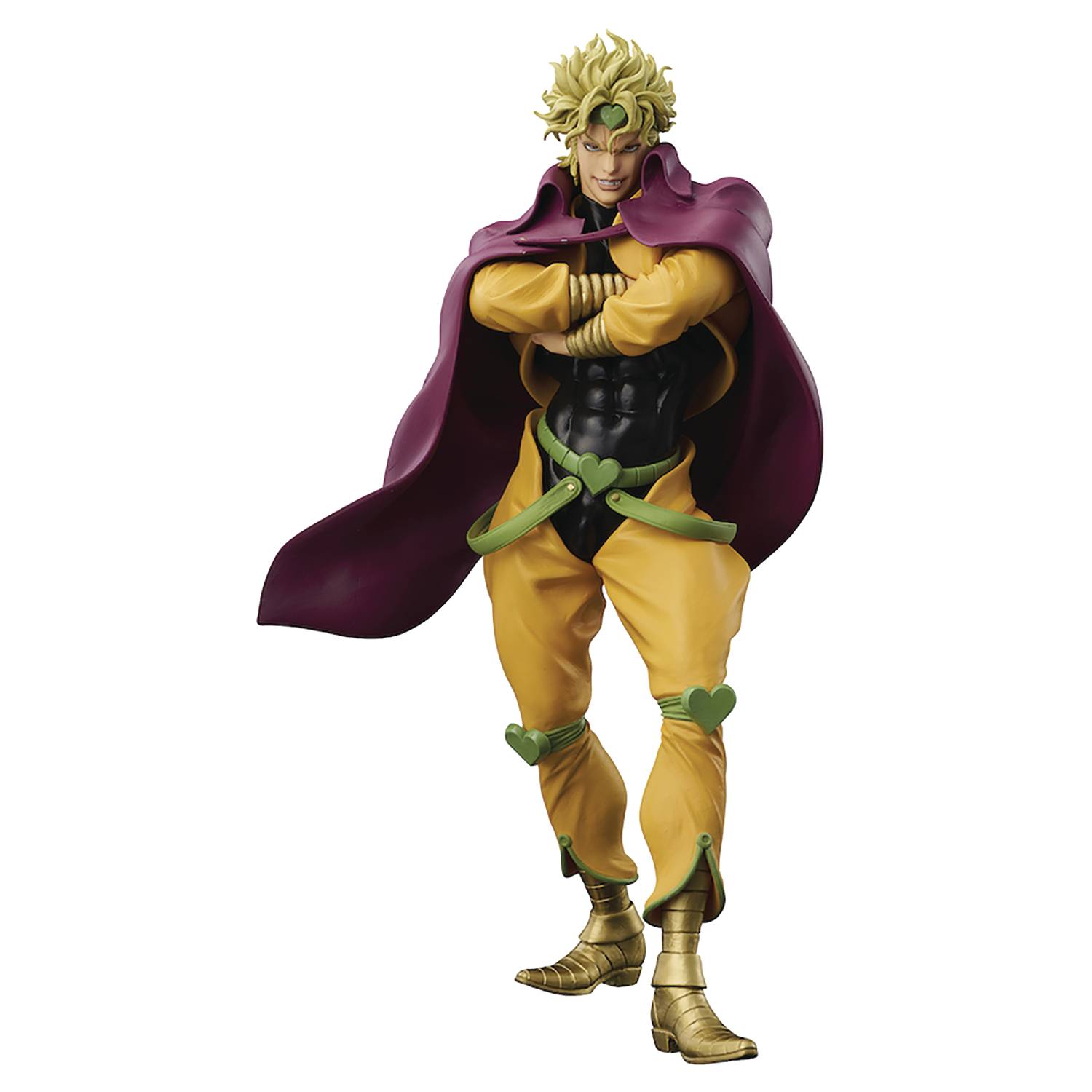 From Banpresto. From Banpresto comes this Grandista figure of vampire Dio from JoJo's Bizarre Adventure: Stardust Crusaders. Measuring 10 5/8″ tall, he poses with his arms crossed flashing an arrogant smile drunk on power. Highlights include the sculpting of his messy blonde hair and muscular torso as well as the billowing of his cape in the wind. Clean paintwork of his outfit including its heart motifs and metallic gold details makes it pop!
Trade-paperbacks of the Week!
ROBIN THE BRONZE AGE OMNIBUS HC 125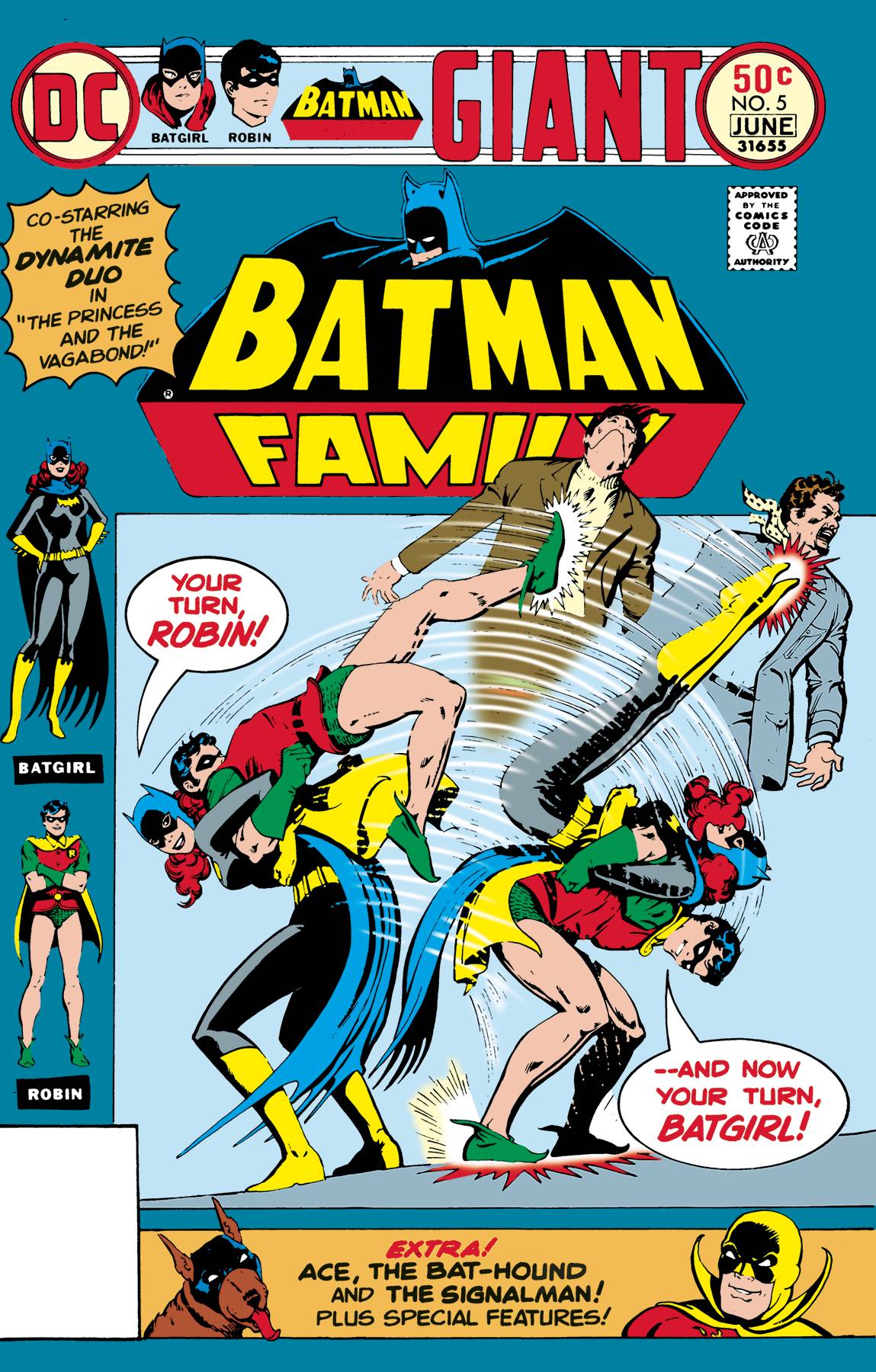 (W) Various (A) Various (CA) Mike Grell
The 1970s stories of Batman's sidekick Robin, now college age, are collected for the very first time! In these stories, Robin has moved out from the shadow of Batman to attend college, where he continues to battle crime. Collecting dozens of stories in which Robin deals with bullying, motorcycle gangs, campus protests and much more. Collects BATMAN #192, #202, #213, #227, #229-231, #234-236, #239, #240-242, #244, #245, #248-250, #252, #254, #259, #333, #337-339 and #341-343; DETECTIVE COMICS #390-391, #394, #395, #398-403, #445, #447, #450, #451 and #481-495; BATMAN FAMILY #1, #3-9 and #11-20; WORLD'S FINEST COMICS #200 and DC COMICS PRESENTS #31 and #58.
SHANG-CHI TP EARTHS MIGHTIEST MARTIAL ARTIST 24.99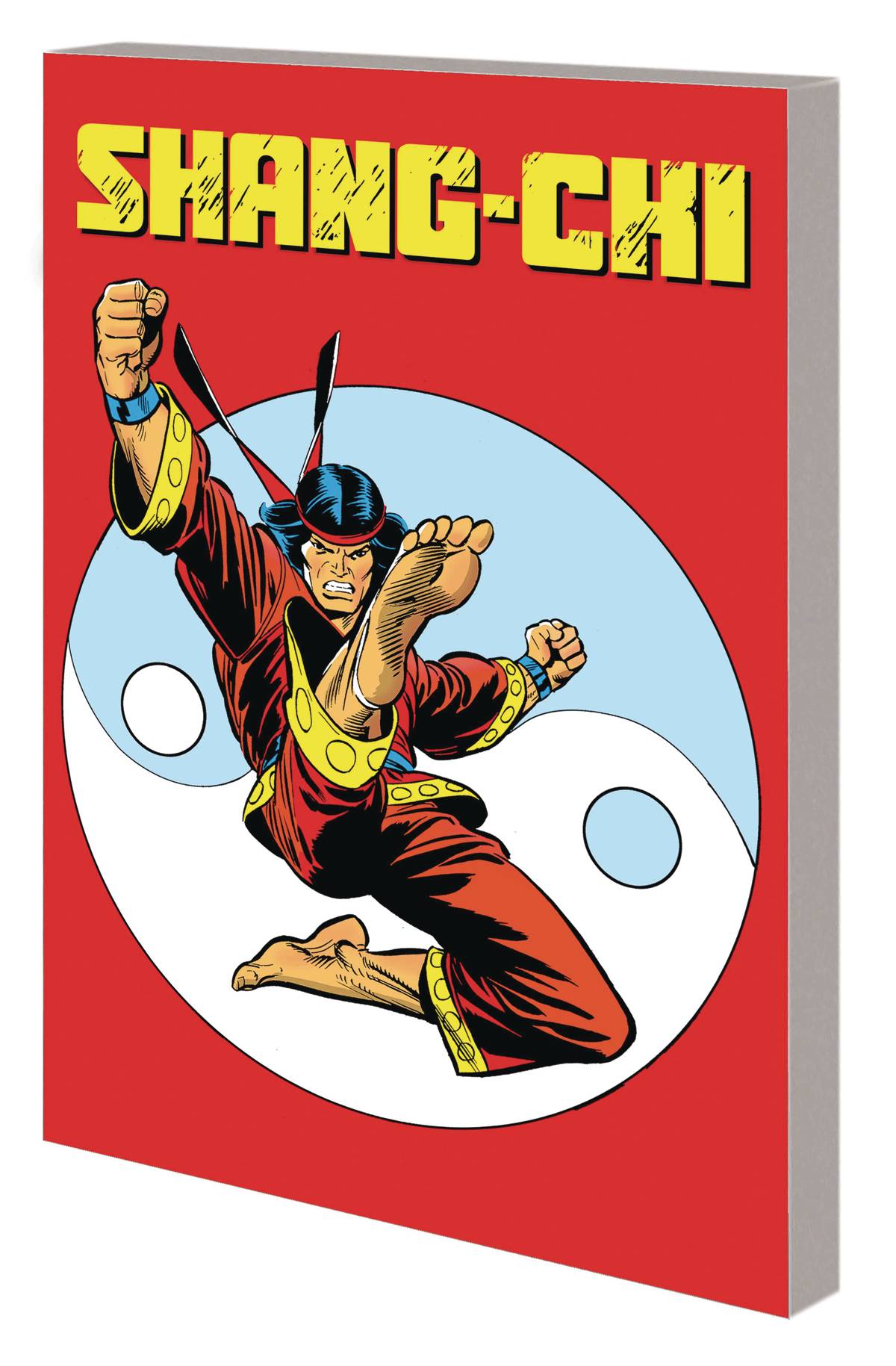 (W) Scott Lobdell, More (A) Carlos Pacheco, More (CA) Dustin Weaver
Shang-Chi demonstrates his martial-arts prowess across the Marvel Universe! There's hellfire in Hong Kong as the Master of Kung Fu lends his deadly hands to the X-Men's cause in battle with Sebastian Shaw and the Kingpin! Then, he and Wolverine join Iron Fist and the Heroes for Hire, tackling pirates on the high seas off Madripoor! But when Mister Negative exploits the chaos of Shadowland, Shang-Chi and Spider-Man must stop the villain's Inner Demons from adding Hell's Kitchen to his criminal empire! Plus: When Arnim Zola threatens Earth, only Shang-Chi, Steve Rogers and Black Widow stand between us and oblivion! And when the Master of Kung Fu joins the Avengers, he shows exactly why he's one of Earth's Mightiest Heroes! Collecting X-MEN (1991) #62-64, HEROES FOR HIRE (1997) #18-19, SHADOWLAND: SPIDER-MAN, SECRET AVENGERS (2010) #18 and AVENGERS (2012) #11.
AVENGERS BY HICKMAN COMPLETE COLLECTION TP VOL 04 44.99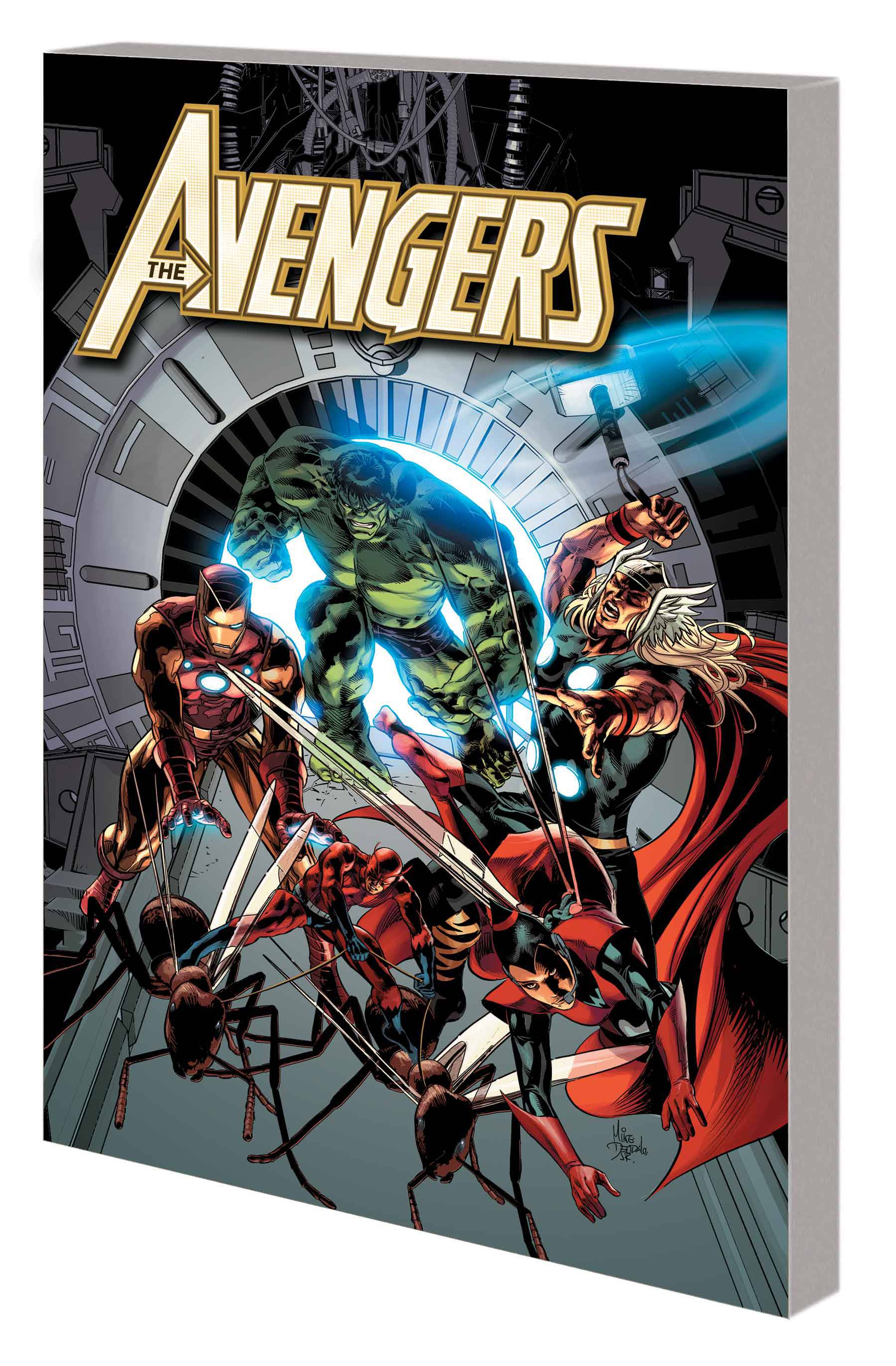 (W) Jonathan Hickman (A) Esad Ribic, More (CA) Mike DeodatoJonathan Hickman's saga gets even more epic! From the ashes of INFINITY, the Avengers evolve once again – and a new Illuminati gathers in a bid to save the multiverse! The Avengers confront a visitor from the future and familiar faces from the past! Then, the Time Gem sends the team on a journey into tomorrow – first 50, then 500, 5,000 and finally 50,000 years from now! The first Avenger meets the last, the Avengers World crumbles and the darkest secret of all is revealed! Meanwhile, the Illuminati grapples with the enigmatic Black Swan and the Mapmakers – and Black Panther and Namor have a blood feud to settle. But must a perfect world be destroyed so Earth can live? Collecting AVENGERS (2012) #24-34 and NEW AVENGERS (2013) #13-23.
MY LITTLE PONY TRANSFORMERS TP FRIENDSHIP IN DISGUISE 15.99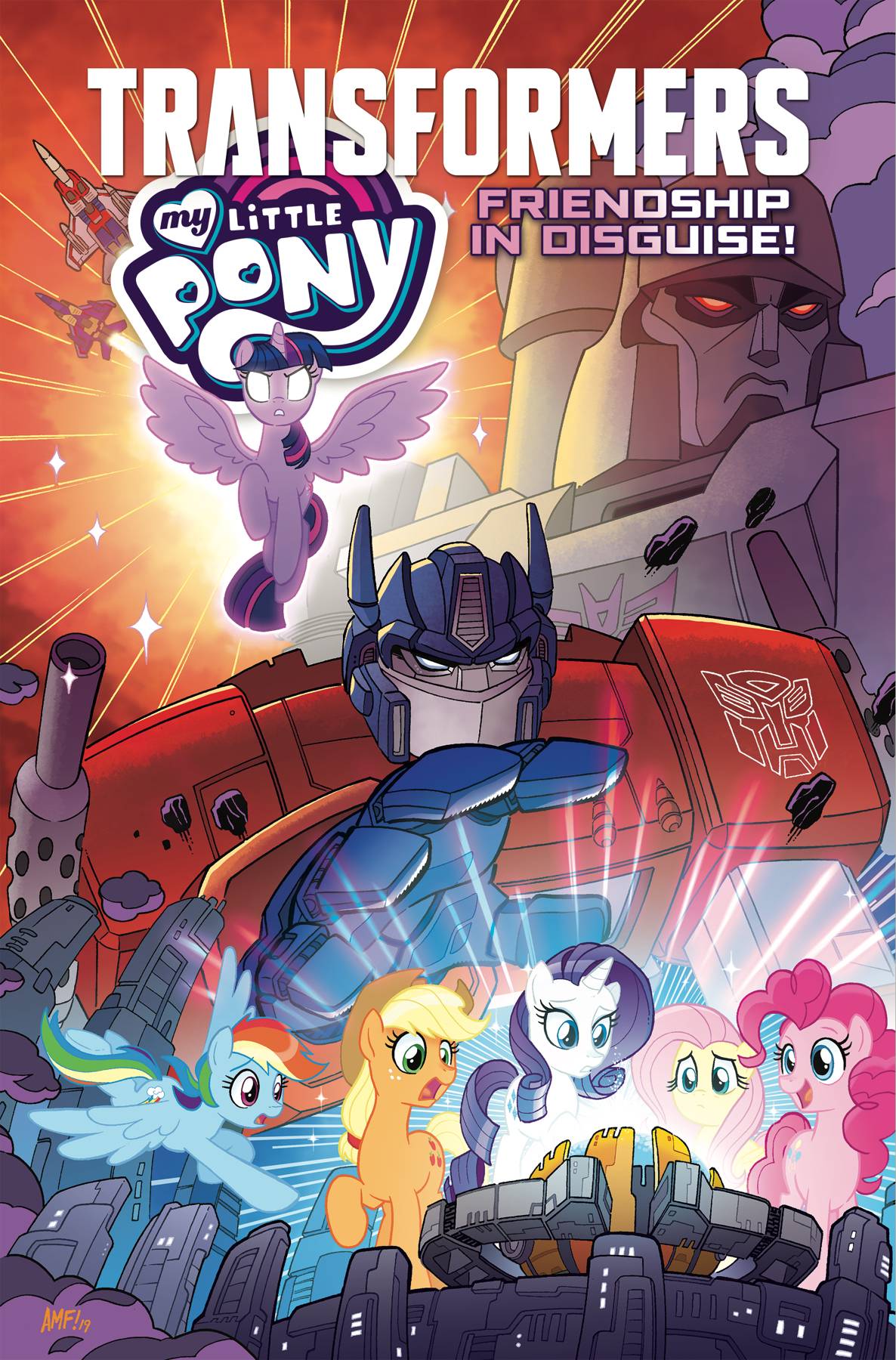 (W) James Asmus, Ian Flynn, Sam Maggs (A) Jack Lawrence, Sara Pitre-Durocher, Casey W. Coller, Priscilla Tramontano (A/CA) Tony Fleecs
Collecting the comic book crossover event of the year where Ponies, Autobots, and Decepticons mix it up together!

When Queen Chrysalis casts a spell looking for more changelings, she accidentally interferes with a malfunctioning Spacebridge! What's this mean for our favorite fillies? There are suddenly a bunch of Autobots and Decepticons in Equestria! And as the dust settles, Rarity and Arcee find themselves teaming up against a hostile Decepticon force. Plus Spike and Grimlock; Pinkie Pie, Gauge, and Shockwave; Fluttershy, Discord, and Soundwave; Rainbow Dash and Windblade; and Optimus Prime and Twilight Sparkle all team up for more adventures because in the end, Pony and Autobots are both fighting for friendship.
MASTER LIST OF PRODUCTS ARRIVING THIS WEEK!
A SISTER GN 24.99
ADLER TP VOL 01 16.99
ASADORA GN VOL 01 14.99
AUTOBIOGRAPHIX HC 24.99
AVENGERS ACADEMY TP VOL 03 COMPLETE COLLECTION 44.99
AVENGERS BY HICKMAN COMPLETE COLLECTION TP VOL 04 44.99
AVENGERS CURSE MAN-THING #1 4.99
AVENGERS CURSE MAN-THING #1 CASSARA 4.99
AVENGERS CURSE MAN-THING #1 SPROUSE VAR 4.99
BATMAN CATWOMAN #4 (OF 12) CVR A CLAY MANN 4.99
BATMAN CATWOMAN #4 (OF 12) CVR B JIM LEE & WILLIAMS VAR 4.99
BATMAN CATWOMAN #4 (OF 12) CVR C TRAVIS CHAREST VAR 4.99
BATMANS GRAVE THE COMPLETE COLLECTION HC 39.99
BEASTARS GN VOL 10 12.99
BETA RAY BILL #1 (OF 5) COELLO 4.99
BETA RAY BILL #1 (OF 5) CONLEY VAR KIB 4.99
BETA RAY BILL #1 (OF 5) KIB 4.99
BETA RAY BILL #1 (OF 5) NAUCK HEADSHOT VAR KIB 4.99
BETA RAY BILL #1 (OF 5) STEGMAN VAR KIB 4.99
BIDENS TITANS #1 CVR A RYAN ODAGAWA 4.99
BITTER ROOT #11 CVR A GREENE (MR) 3.99
BLACK CAT #4 3.99
BLACK CAT #4 BARTEL BLACK CAT 3.99
BLACK CAT #4 BUSTOS VAR 3.99
BLACK GHOST TP 19.99
BLOODSHOT RISING SPIRIT TP 24.99
BYTE SIZED #4 3.99
CANT STOP CURSING YOU GN VOL 01 13
CAPTAIN AMERICA #28 3.99
CAPTAIN AMERICA #28 MICHAEL CHO 3.99
CROSSOVER #4 2ND PTG 3.99
CROSSOVER #5 CVR A SHAW 3.99
CULT OF DRACULA #1 (OF 6) CVR A NEMETH 3.99
DAMNED CURSED CHILDREN #3 (OF 5) (MR) 3.99
DC GALLERY SUPERMAN ASCENDANT PVC STATUE 49.99
DEAD END KIDS SUBURBAN JOB #3 (OF 4) CVR A MADD 3.99
DECORUM #7 CVR A HUDDLESTON (MR) 3.99
DECORUM #7 CVR B HUDDLESTON (MR) 3.99
DEPARTMENT OF TRUTH #2 3RD PTG (MR) 3.99
DEPARTMENT OF TRUTH #3 3RD PTG (MR) 3.99
DEPARTMENT OF TRUTH #4 2ND PTG (MR) 3.99
DEPARTMENT OF TRUTH #5 2ND PTG (MR) 3.99
DEPARTMENT OF TRUTH #6 2ND PTG (MR) 3.99
DEPARTMENT OF TRUTH #7 CVR A SIMMONDS 3.99
DEPARTMENT OF TRUTH #7 CVR B BOSS 3.99
DESTINY NY #1 CVR A ROMBOLI 3.99
DESTINY NY #1 CVR B ROMBOLI INTERLOCKING 3.99
DOCTOR WHO MAGAZINE #560 11.99
DOCTOR WHO MAGAZINE PRESENTS DALEKS 19.99
DOCTOR WHO MAGAZINE SPECIAL #56 2021 YEAR BOOK 13.5
DOG MAN GN VOL 10 MOTHERING HEIGHTS 12.99
DONT TOY WITH ME MISS NAGATORO GN VOL 06 12.95
DRAGON AGE DARK FORTRESS #1 (OF 3) 3.99
DRAGON BALL SUPER GOGETA SUPER KAMEHAMEHA II FIG VER 3 29.99
DRAGON BALL Z SHENRON CREATOR X CREATOR FIG 29.99
EC ARCHIVES SHOCK ILLUSTRATED HC 49.99
EC COMICS RACE SHOCK & SOCIAL PROTEST SC 29.95
EDGAR ALLAN POE`S SNIFTER OF BLOOD #6 4.99
EIGHTH IMMORTAL #3 (OF 4) 3.99
FANTASTIC FOUR ANTITHESIS TREASURY EDITION TP 34.99
FINAL FANTASY TCG TIN GIFT SET 44.99
FIREFLY #27 CVR A BENGAL 3.99
FIREFLY #27 CVR B RAHZZAH 3.99
FIREFLY BLUE SUN RISING HC VOL 01 19.99
FLAMING CEREBUS COMICS ONE SHOT 4
FLASH #768 CVR A BRANDON PETERSON 4.99
FLASH #768 CVR B IAN MACDONALD VAR 4.99
FLEETWAY PICTURE LIBRARY SC WESTERNS
FUTURE STATE SUPERMAN VS IMPERIOUS LEX #3 (OF 3) CVR A 3.99
FUTURE STATE SUPERMAN VS IMPERIOUS LEX #3 (OF 3) CVR B 4.99
GIGA #3 CVR A LE 3.99
GIGA #3 CVR B GORHAM 3.99
GOBLIN SLAYER SIDE STORY II DAI KATANA GN VOL 01 13
GREEN ARROW 80 YEARS OF THE EMERALD ARCHER THE DELUXE EDITION HC 29.99
GRIMM FAIRY TALES #47 CVR A IGOR VITORINO 3.99
GRIMM FAIRY TALES #47 CVR B SALAZAR 3.99
GRIMM FAIRY TALES #47 CVR C KHAMUNAKI 3.99
GRIMM FAIRY TALES #47 CVR D COCCOLO 3.99
HEAVENS DESIGN TEAM GN VOL 04 12.99
HELLS PARADISE JIGOKURAKU GN VOL 06 12.99
HORROR COMICS BLACK AND WHITE #2 (OF 3) 3.99
I BREATHED A BODY #3 3.99
IM GREAT PRIEST IMHOTEP GN VOL 08 15
JOHN CONSTANTINE HELLBLAZER VOL 02 BEST VERSION OF YOU TP 16.99
JOJOS BIZARRE ADV STARDUST CRUSADERS DIO GRANDISTA FIG 29.99
JUSTICE LEAGUE ODYSSEY VOL 04 LAST STAND TP 16.99
KILLADELPHIA TP VOL 02 16.99
KING IN BLACK GHOST RIDER #1 4.99
KING IN BLACK GHOST RIDER #1 BARTEL WOMENS HISTORY VAR 4.99
KING IN BLACK GHOST RIDER #1 PAREL VAR 4.99
KING IN BLACK RETURN OF VALKYRIES #4 (OF 4) 3.99
KING IN BLACK RETURN OF VALKYRIES #4 (OF 4) NAUCK HEADSHOT V 3.99
KING IN BLACK RETURN OF VALKYRIES #4 (OF 4) NOTO VALKYRIE PR 3.99
KORGI GN VOL 05 (OF 5) END OF SEASONS 14.99
LAUGHING UNDER THE CLOUDS GN VOL 01 12.99
LIVING WITH MOCHI TP 16.99
LOVE OF KILL GN VOL 01 13
MARVEL ACTION SPIDER-MAN #1 3.99
MARVEL COMICS IN THE 1970S EXPANDED ED TP 29.95
MARVEL GRAPHIC COMIC BOXES ALIEN #1
MINECRAFT INSPIRED MISADV FRIGIEL & FLUFFY HC VOL 02 12.99
MIRKA ANDOLFOS UNSACRED VOL 2 #5 3.99
MOON MAID THREE KEYS #2 3.99
MY LITTLE PONY TRANSFORMERS TP FRIENDSHIP IN DISGUISE 15.99
NARUTO SHIPPUDEN VIBRATION STARS GARA FIG 29.99
NOCTERRA #1 2ND PTG 3.99
NUCLEAR FAMILY #2 3.99
ONE PIECE TREASURE CRUISE WORLD JOURNEY V6 KOALA FIG 29.99
ONE PIECE TREASURE CRUISE WORLD JOURNEY V6 SABO FIG 29.99
ORIENT GN VOL 02 10.99
OTHER HISTORY OF THE DC UNIVERSE #3 (OF 5) CVR A 6.99
OTHER HISTORY OF THE DC UNIVERSE #3 (OF 5) CVR B 6.99
PHOEBE & HER UNICORN GN VOL 13 UNICORN FAMOUS 11.99
PIN-UP ART OF ARCHIE DICKENS SC VOL 02 14.95
POP GAMES FORTNITE SCIENTIST VINYL FIGURE 11.99
POP GAMES MILES MORALES GAME MILES MORALES 2020 SUIT FIG 11.99
POP GAMES MILES MORALES MILES MORALES PROGRAMMABLE SUIT 11.99
POP GAMES MILES MORALES MILES MORALES WINTER SUIT FIG 11.99
POP HEROES DC DEATH METAL WONDER WOMAN PX VIN FIG W/CHASE 11.99
POP MOVIES BRAMSTOKERS ARMORED DRACULA W/O HELMET VIN FIG 11.99
POP MOVIES BRAMSTOKERS DRACULA W/ CHASE VIN FIG 11.99
POP MOVIES BRAMSTOKERS VAN HELSING VIN FIG 11.99
POP MOVIES BRAMSTOKERS YOUNG DRACULA VIN FIG 11.99
POP RIDES EVEL KNIEVEL ON MOTORCYCLE VINYL FIG 29.99
POP ROCKS BRITNEY SPEARS STEWARDESS VIN FIG 11.99
POP ROCKS IRON MAIDEN NUMBER OF THE BEAST VIN FIG 11.99
POP TV E&D KENNY IN CORNROWS VIN FIG 11.99
POWER RANGERS UNLTD HEIR TO DARKNESS #1 CVR A MORA 7.99
POWER RANGERS UNLTD HEIR TO DARKNESS #1 CVR B YOO 7.99
REDNECK #30 3.99
ROBIN THE BRONZE AGE OMNIBUS HC 125
SAVE IT FOR LATER PROMISES PARENTHOOD URGENCY PROTEST GN 24.99
SCHOOL FROZEN IN TIME GN VOL 01 12.95
SD GUNDAM SUPERIOR DRAGON FIG 24.99
SEA OF SORROWS #4 (OF 5) 3.99
SECRETS OF CAMP WHATEVER SC 17.99
SHADECRAFT #1 CVR A GARBETT 3.99
SHADECRAFT #1 CVR B JOCK 3.99
SHADECRAFT #1 CVR C BLANK CVR 3.99
SHADOW SERVICE #6 3.99
SHANG-CHI BY GENE LUEN YANG TP VOL 01 BROTHERS AND SISTERS 15.99
SHANG-CHI TP EARTHS MIGHTIEST MARTIAL ARTIST 24.99
SHIKIMORIS NOT JUST A CUTIE GN VOL 03 12.99
SILK #1 (OF 5) 3.99
SILK #1 (OF 5) BARTEL SILK WOMENS HISTORY MONTH VAR 3.99
SILK #1 (OF 5) JEEHYUNG LEE VAR 3.99
SILK #1 (OF 5) WOOH VAR 3.99
SILK #1 (OF 5) YOUNG VAR 3.99
SONIC THE HEDGEHOG TP VOL 08 OUT OF BLUE 15.99
SPACED OUT ONESHOT 3.99
SPAWN #316 CVR A MATTINA 2.99
SPAWN #316 CVR B CAPULLO & MCFARLANE 2.99
SPAWN #316 CVR C BARENDS 2.99
STAR WARS BOBA FETT CHIBI PIN 7.95
STAR WARS HIGH REPUBLIC #2 3RD PTG VAR 3.99
STAR WARS HIGH REPUBLIC #3 2ND PTG VAR 3.99
STAR WARS INSIDER #201 NEWSSTAND ED 9.99
STAR WARS INSIDER #201 PX ED 9.99
STRANGE ADVENTURES #9 (OF 12) CVR A MITCH GERADS 4.99
STRANGE ADVENTURES #9 (OF 12) CVR B EVAN DOC SHANER 4.99
STRANGER THINGS TP VOL 04 SCIENCE CAMP 19.99
STRAWBERRY FIELDS ONCE AGAIN GN VOL 02 13
STRONTIUM DOG SEARCH AND DESTROY HC 26.99
SYMBIOTE SPIDER-MAN KING IN BLACK #5 (OF 5) 3.99
THAT TIME I REINCARNATED SLIME MONSTER NATION GN VOL 04 13
THE UNION #4 (OF 5) 3.99
THE UNION #4 (OF 5) BROWN VAR 3.99
TMNT THE LAST RONIN #2 (OF 5) 2ND PTG 8.99
TRANSFORMERS #28 CVR A CASEY W COLLER 3.99
TRANSFORMERS #28 CVR B ADAM BRYCE THOMAS 3.99
TRIAL OF THE WIZARD KING TP BOOK TWO 12.99
TWO MOONS #2 CVR A GIANGIORDANO 3.99
TWO MOONS #2 CVR B MOBILI & SEGALA 3.99
UMBRELLA ACADEMY PROP FIGURE #6 BEN 29.99
UNFINISHED BUSINESS HC 19.99
US AGENT #4 (OF 5) 3.99
US AGENT #4 (OF 5) BENNETT VAR 3.99
USAGI YOJIMBO SAGA TP VOL 09 24.99
USAGI YOJIMBO WANDERERS ROAD #5 (OF 6) PEACH MOMOKO CVR 3.99
VENGEANCE OF VAMPIRELLA #16 CVR A PARRILLO 3.99
VENGEANCE OF VAMPIRELLA #16 CVR B OLIVER 3.99
VENGEANCE OF VAMPIRELLA #16 CVR C SEGOVIA 3.99
WHEN A MAGICIANS PUPIL SMILES GN 30
WITCHBLOOD #1 CVR A STERLE 3.99
WITCHBLOOD #1 CVR B STERLE 3.99
WITCHBLOOD #1 CVR C DANIEL 3.99
WITCHER FADING MEMORIES #4 (OF 4) 3.99
WIZARDS OF MICKEY GN VOL 02 16
WONDER WOMAN 1984 WONDER WOMAN & CHEETAH PIN 9
WORLD OF ARCHIE TP VOL 02 10.99
X-MEN #19 3.99
X-MEN #19 BARTEL EMMA FROST WOMENS HISTORY MONTH VAR 3.99
X-MEN LEGENDS #2 3.99
X-MEN LEGENDS #2 CHRISTOPHER ACTION FIGURE VAR 3.99
YOUNG HELLBOY THE HIDDEN LAND #2 (OF 4) CVR A SMITH 3.99
YOUNG HELLBOY THE HIDDEN LAND #2 (OF 4) CVR B ARAGNO 3.99