DIAMOND COMICS WARNS THAT DELIVERIES MAY BE ONE DAY LATE NEXT WEEK DUE TO WEATHER!
So far it appears that our shipment will get to us as normal on Tuesday. More information will be available on Monday. If our shipment does not get to us until Wednesday, we will send out a newsflash about the delay. Hope to see everyone soon!
SPAWN NEWS!
Listening to Todd McFarlane during a ComicsPro session on Thursday 2/18/21 and he announced SPAWN UNIVERSE#1 for June 2021 and three new Spawn related comics for July including Gunslinger Spawn#1, The Scorched#1(Spawn team book)and
As part of his announcement, McFarlane announced four new titles coming out in 2021, with three of them continuing on as regular monthly titles, meaning that there will be an opportunity for fans of the Spawn character and his new expanding world to get their stories from it on a weekly basis instead of just twelve times a year.
In June, in what McFarlane is calling "2021 the year of Spawn," comic retailers will be able to order Spawn's Universe #1. This will be a book that will set the stage with a story that will then spill out into the other new monthly titles. The first title will release in August with a book called King Spawn #1. The character Spawn will now join the rare company of stalwart characters, like Superman, Batman, and Spider-Man, that will have multiple monthly books for the same title character. It will also mark the first time in twenty-eight years that anyone can buy a monthly issue #1 Spawn book. Giving McFarlane hope of reaching a new generation of readers that missed out on the initial launch of the Spawn back in 1992.

In October comes the second new monthly called Gunslinger Spawn. This title character has been a huge hit among the fanbase the past year and each of his appearances has garnered enthusiasm at the stores and online.

Finally, there will be a new #1 team book, which will band five characters together to fight against forces too big for any of them to take on alone. That book is titled The Scorched. Spawn, Redeemer, Gunslinger, Medieval Spawn and She-Spawn begin the group's adventures, but McFarlane promises a rotating cast of heroes over the coming months to keep the roster of heroes fresh. He also said that he will be bringing in new major villains into the fold, too.


To lend a creative hand on some of this expanding list of titles, McFarlane has recruited. An all-star list of comic book creators such as Art Adams, Jason Shawn Alexander, Carlo Barberi, Brett Booth, J. Scott Campbell, Greg Capullo, Donny Cates, Jim Cheung, Mike del Mundo, Javier Fernandez, David Finch, Jonathan Glapion, Kevin Keane, Aleš Kot, Puppeteer Lee, Sean Lewis, Sean Gordon Murphy, Ben Oliver, Stephen Segovia, Paulo Siqueira, Marc Silvestri, Marcio Takara, and Frank Quitely, as well as others he will be announcing in the coming months.
NEW COMICS THIS WEEK!
CROSSOVER #4 CVR A 3.99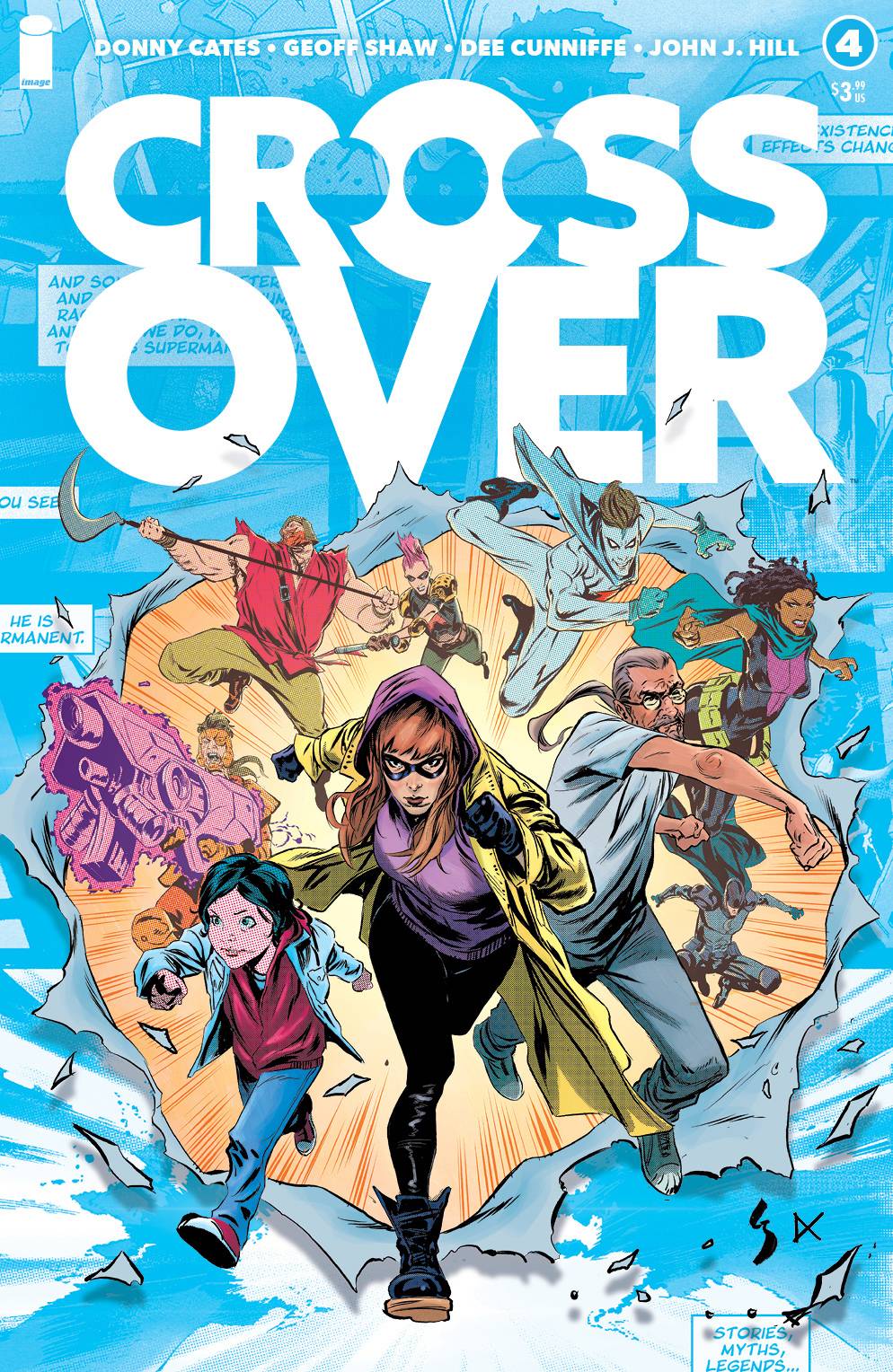 (W) Donny Cates (A/CA) Geoff Shaw, Dee Cunniffe, John J. Hill
"KIDS LOVE CHAINS," Part Four-Hey kids, time for a field trip! Journey to the strange land of magical Colorado as our intrepid team of heroes searches for a way to shatter the dome and expose the truth behind THE EVENT!! Also: Man, how about that last issue, right? Crazy.
FUTURE STATE SUPERMAN HOUSE OF EL #1 (ONE SHOT) CVR A 5.99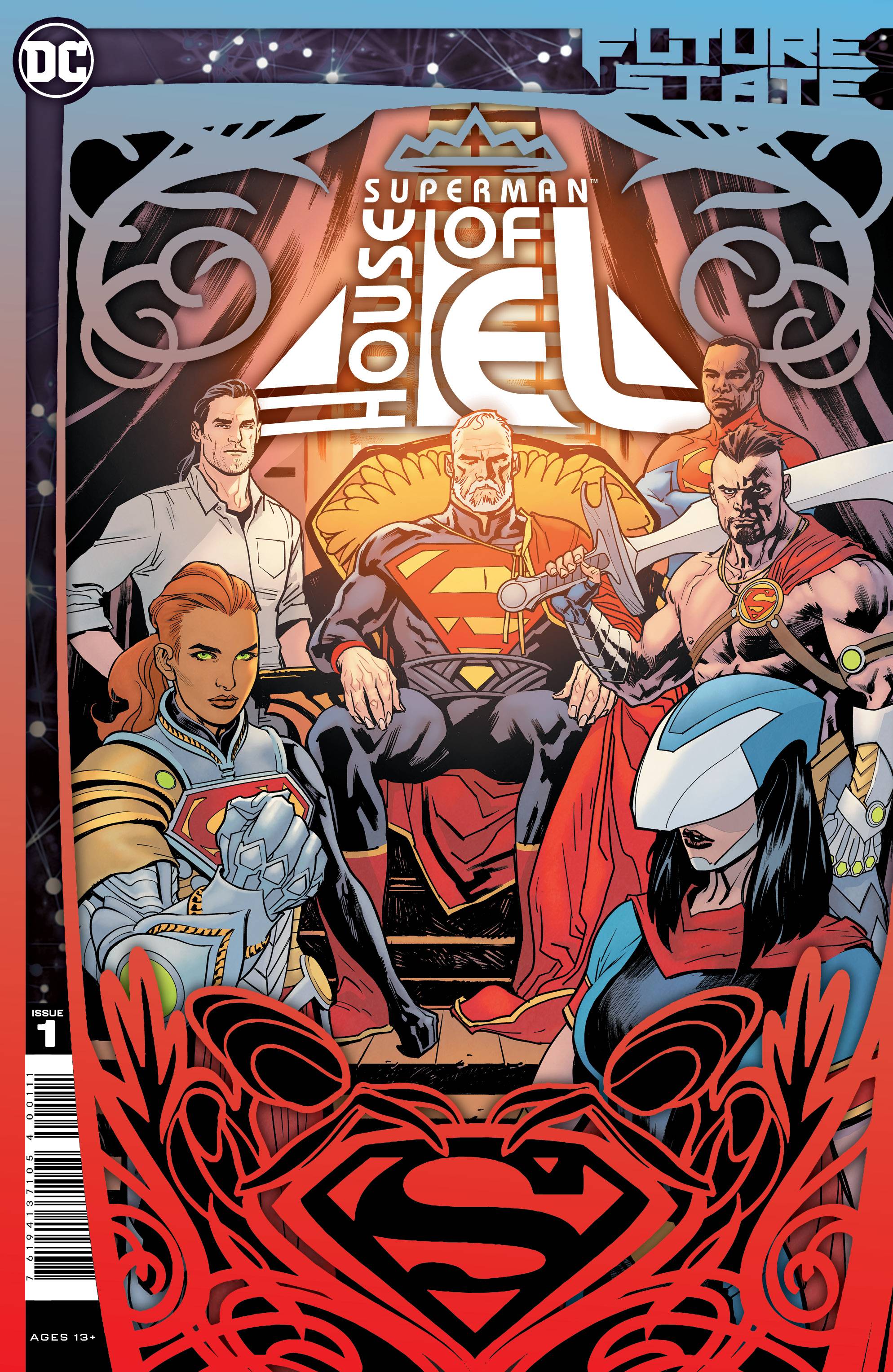 Description
Centuries into the future, the bloodline of Kal-El, the hero we know as Clark Kent, continues. Meet a new generation of Kryptonian heroes as they stand against one of the greatest threats they've ever faced: a diabolical foe called the Red King. Get ready for the unexpected debuts of the twins known as Rowan and Ronan Kent, descendants of Jonathan Kent. Rowan is the new Superman of Earth, while his sister is a Blue Lantern. Also on board are Theand'r Ban-El, whose mother was Tamaranean, and other heroes-all led by the original Man of Steel himself! Plus, don't miss an appearance by the Black Racer! See how the future of the Superman Family comes together in this wild, extra-size special!
MARVELS VOICES LEGACY #1 4.99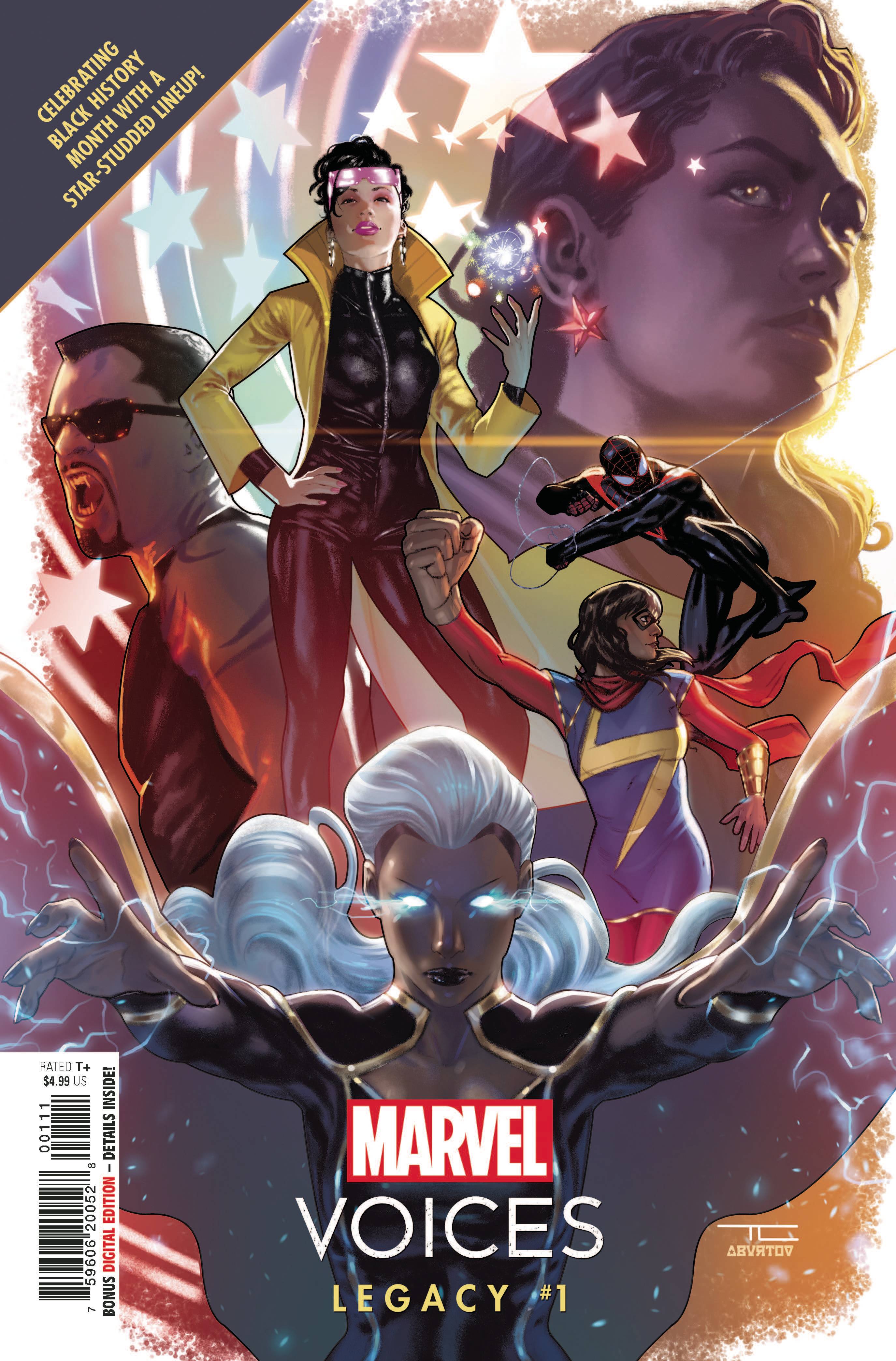 (W) Ho Che Anderson, Danny Lore, More (A) Sean Hill, Valentine De Landro, More (CA) Taurin Clarke
CELEBRATING BLACK HISTORY MONTH IN MIGHTY MARVEL STYLE!
Black Panther. Storm. Blade. Falcon. Ironheart. Luke Cage. Spectrum. And so many more. Marvel's incredible legacy of black heroes gets the star treatment in this action-packed special! New and established creators take on their favorite heroes in a dizzying array of stories designed to inspire and uplift! The Marvel's Voices program is your #1 stop for "the world outside your window" – don't sleep on this one!
SPAWN #315 CVR A 2.99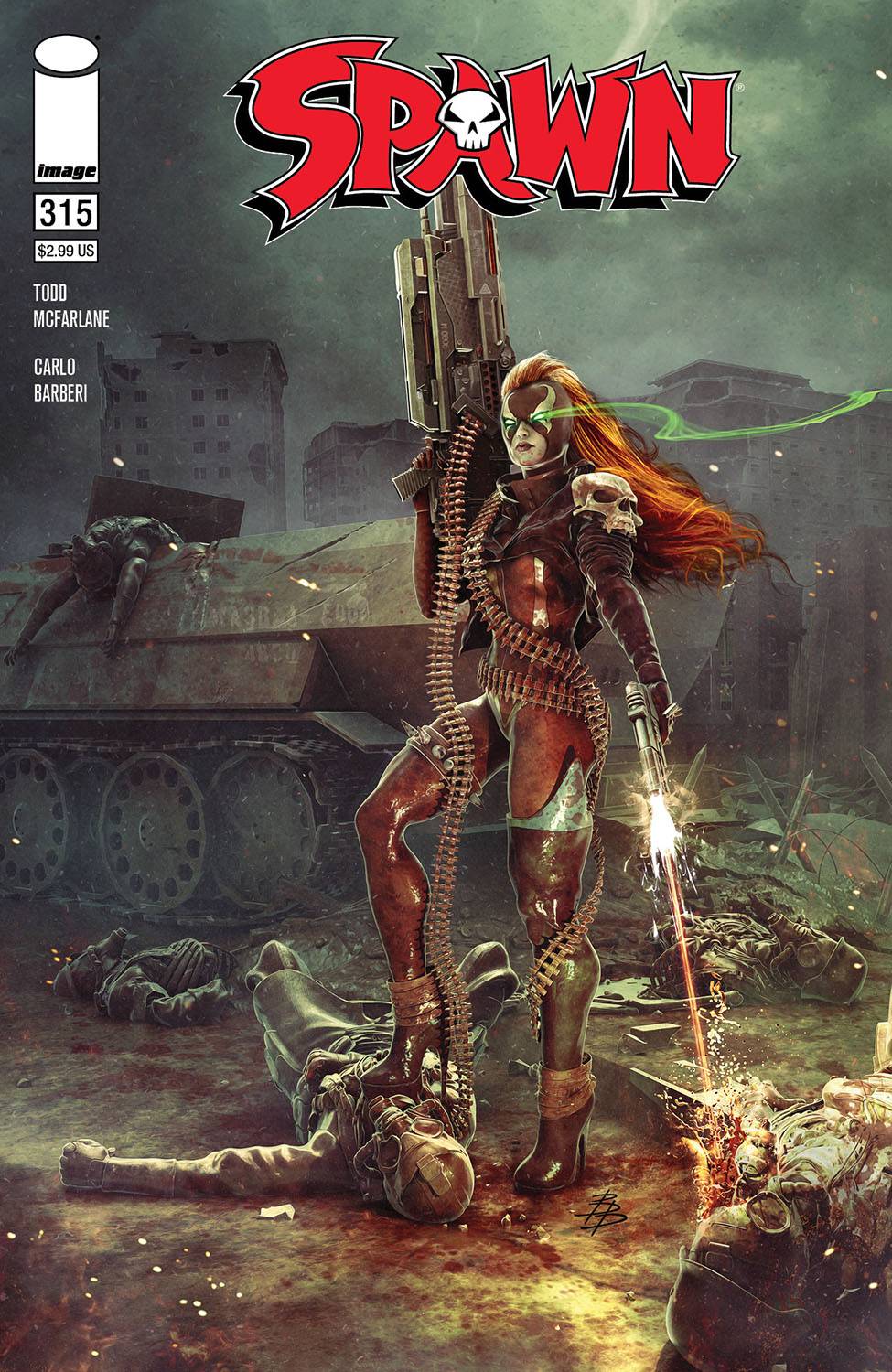 (W) Todd McFarlane (A) Carlo Barberi (CA) Bjorn Barends
"CHAIN GANG," Part Two-A NEW TEAM… THE CHAIN GANG! BUT WILL THEY LAST? She-Spawn! Gunslinger Spawn! Medieval Spawn! The Reaper!
WALKING DEAD DLX #1 CVR A FINCH & MCCAIG 2ND PTG (MR) 3.99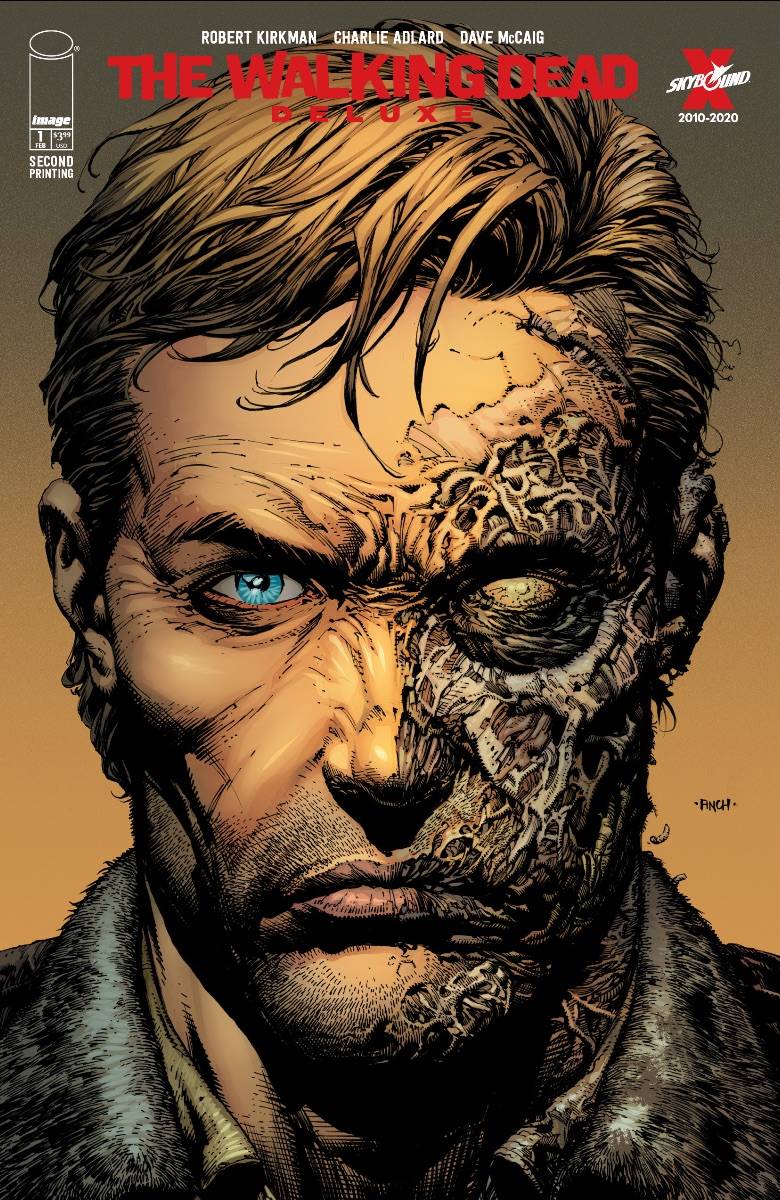 (W) Robert Kirkman (A) Tony Moore (CA) David Finch (A/CA) Dave McCaigRead it again! It's time to revisit the historic independent series that took the entertainment world by storm 17 years ago! Follow Rick Grimes's journey again, from the very beginning, but this time in STUNNING FULL COLOR by the masterful DAVE McCAIG.
This deluxe version will feature a memorable array of variant covers commemorating major character introductions and the series' most memorable twists and turns. Each issue will include a new installment of "The Cutting Room Floor," featuring ROBERT KIRKMAN's original handwritten plots along with commentary on abandoned storylines and things that may have changed along the way. This deluxe, definitive presentation of the story in full color will NOT be collected any time soon, so these single issues will be the only way to experience this.
STRAY DOGS #1 CVR A 3.99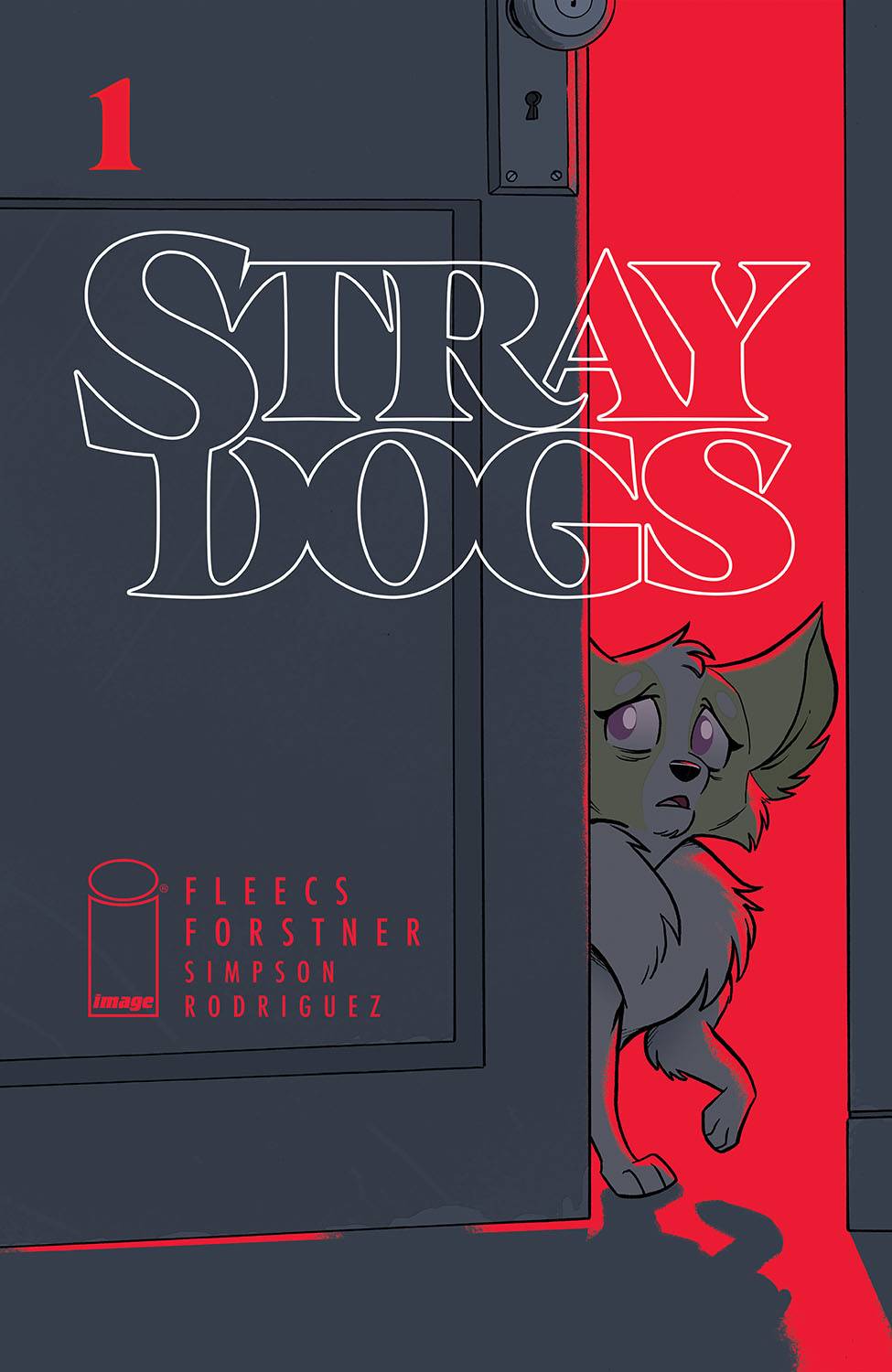 (W) Tony Fleecs (CA) Tony Fleecs (A/CA) Trish ForstnerLady and the Tramp meets Silence of the Lambs
It's scary being the new dog.

Sophie can't remember what happened. She doesn't know how she ended up in this house. She doesn't recognize any of these other dogs. She knows something terrible happened, but she just… can't…recall… WAIT! Where's her lady?

A five-issue Don Bluth-style suspense thriller by My Little Pony comic artists TONY FLEECS and TRISH FORSTNER, STRAY DOGS is Lady and the Tramp meets Silence of the Lambs.
THIS WEEK IN TOYS/STATUES
DC BATMAN DARK KNIGHT 12.5IN MAQUETTE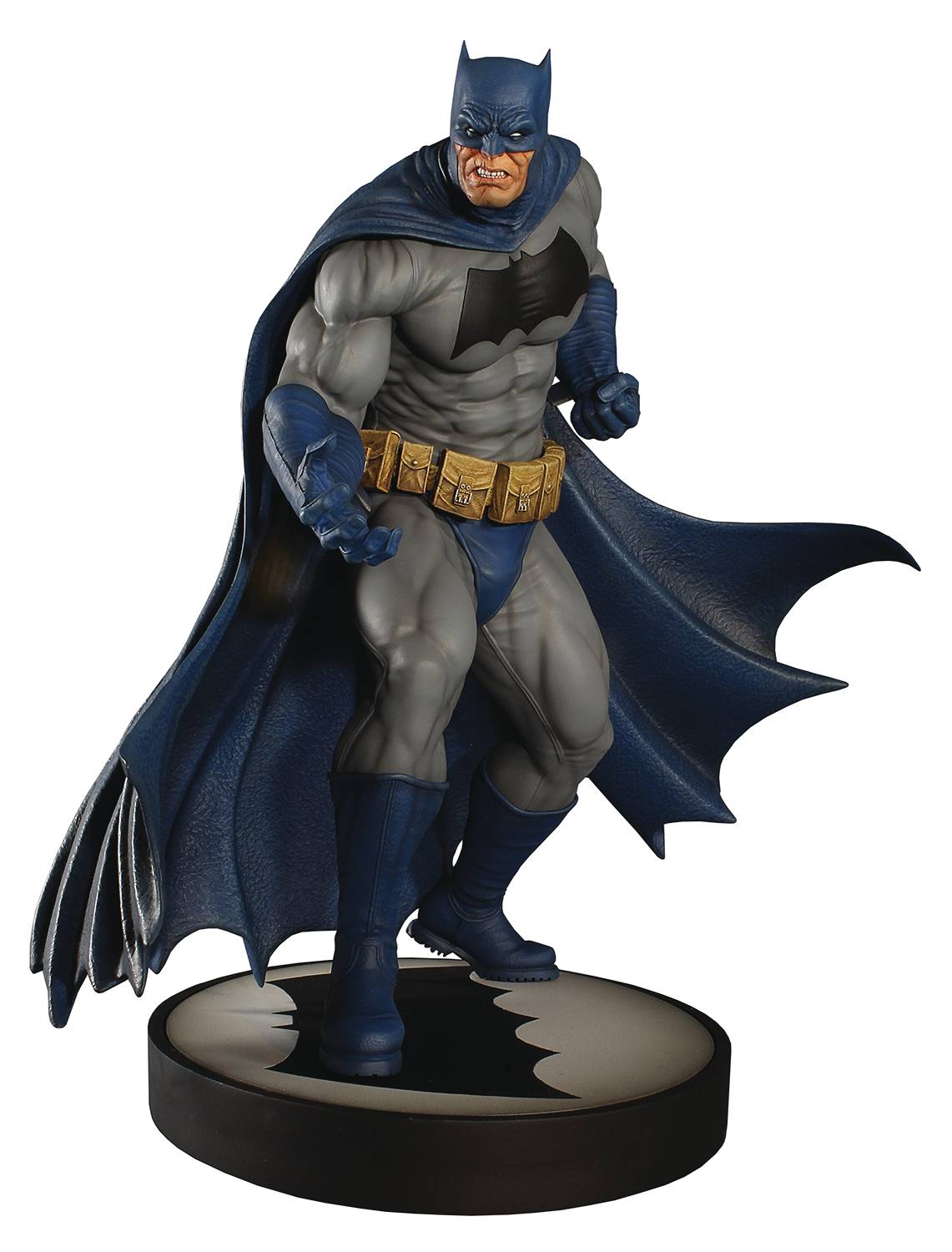 Designed by Nelson X Asencio and incredibly sculpted by Keith Kopinski, This new maquette from Tweeterhead features The Dark Knight in blue and grey in a stunning 1/6 scale at 12 1/2″ tall!
POP DELUXE MANDALORIAN ON BANTHA W/ CHILD VIN FIG 34.99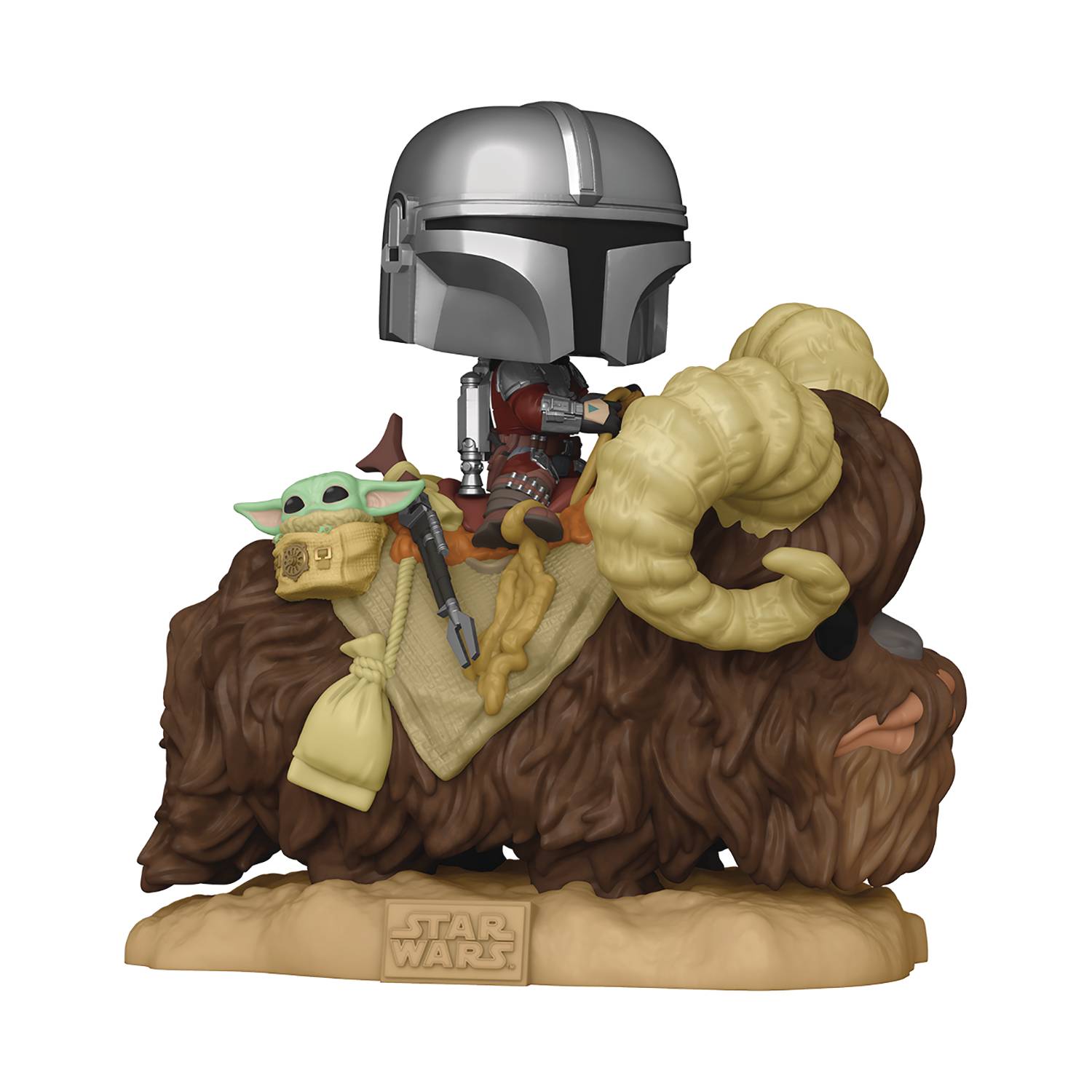 From Funko. Celebrate the most stellar fandom of them all with Disney's The Mandalorian! Returning to Funko with a new Pop! deluxe vinyl figure, now you can collect even more of your favorite characters from across the galaxy! The Pop! Deluxe Mandalorian on Bantha vinyl figure comes packaged in a window box for easy display.
DC MULTIVERSE 7IN SCALE RED SON SUPERMAN AF
In an alternate reality, the rocket ship carrying the infant who would later be known as Superman landed in the midst of the 1950s Soviet Union, rather than Smallville, Kansas.

Raised on a collective farm, the last survivor of Krypton grew up and now uses his incredible superpowers as a hero to the Soviet people, fighting a never-ending battle for Stalin and changing the world drastically from what we know.

Superman: Red Son figure

2 Pairs of hands

Flight stand

Trading card
ZOIDS BETA CLASS FIG ASST 202101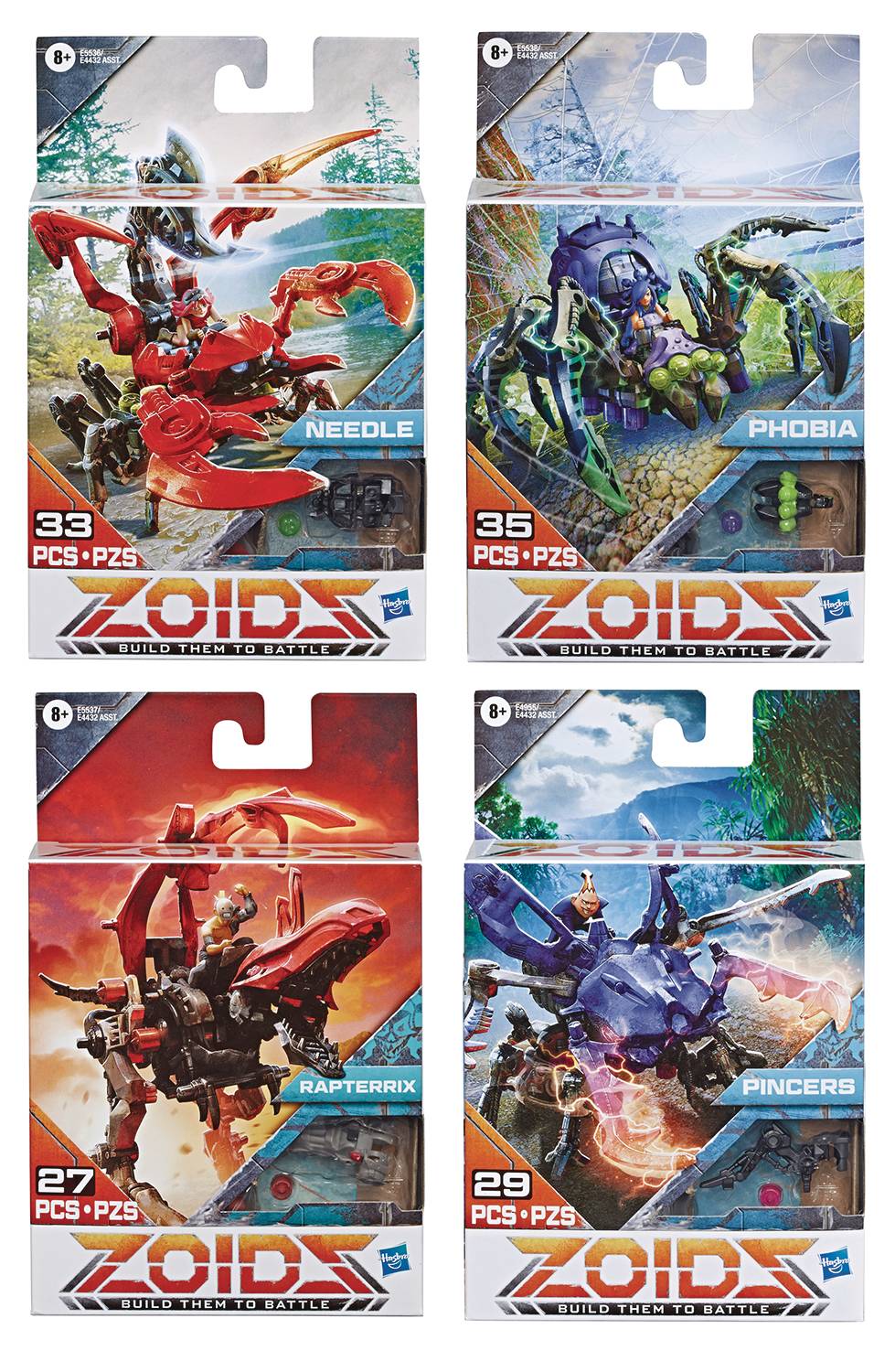 From Hasbro Toy Group. In the Zoids Wild animated series, Zoids beasts are massive mechanical creatures that resemble animals we know today. While many roam free, others have been captured by the evil Dark Metal Empire who hack their systems and force them to be their weapons. The heroic Team Freedom have banded together with Zoids partners to fight the Dark Metal threat. This Mega Battlers pack comes with pieces to build your own Zoids Beta Class figure. Once built, wind it up to activate its animatronic motion. Each Zoids toy comes with an attachable mini figure of their human partner, and includes a battle mat where 2 Mega Battlers figures can face-off in epic battles! Collect Pincers, Rapterrix, Phobia, and Needle.
Trade-paperbacks of the Week!
JOKER WAR SAGA HC 39.99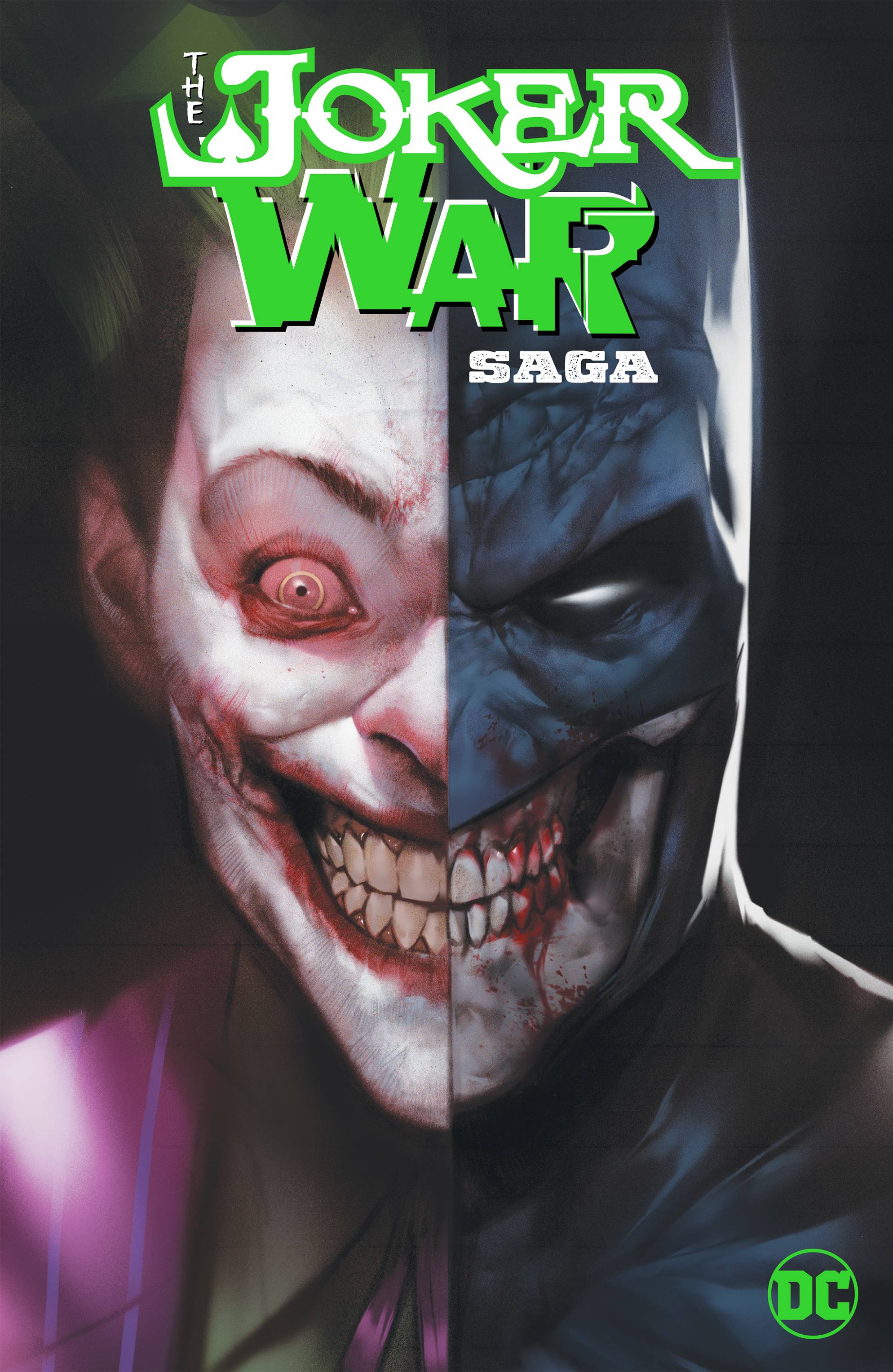 The summer 2020 blockbuster "The Joker War" is collected in this new hardcover that includes the tie-in chapters starring Batgirl, Red Hood, Nightwing, Catwoman, and, of course, Harley Quinn! As the Clown Prince of Crime battles the Dark Knight Detective head-to-head one last time, the Joker has never wanted to win before—he's never wanted his battle with Batman to end. But now his motivation has shifted…
This collection features the Joker's confrontation with Batgirl; his manipulation of the amnesiac Nightwing; and a turf war between Gotham City's many evildoers! Plus, the debut of Clownhunter, a cameo by Ghost-Maker, and an epic battle between Harley Quinn and Punchline! Collects Batman #95-100, Batgirl #47, Detective Comics #1025, Red Hood: Outlaw #48, Nightwing #74, The Joker War Zone #1, plus stories from Harley Quinn #75 and Catwoman #25.
MMW HOWARD THE DUCK HC VOL 01 75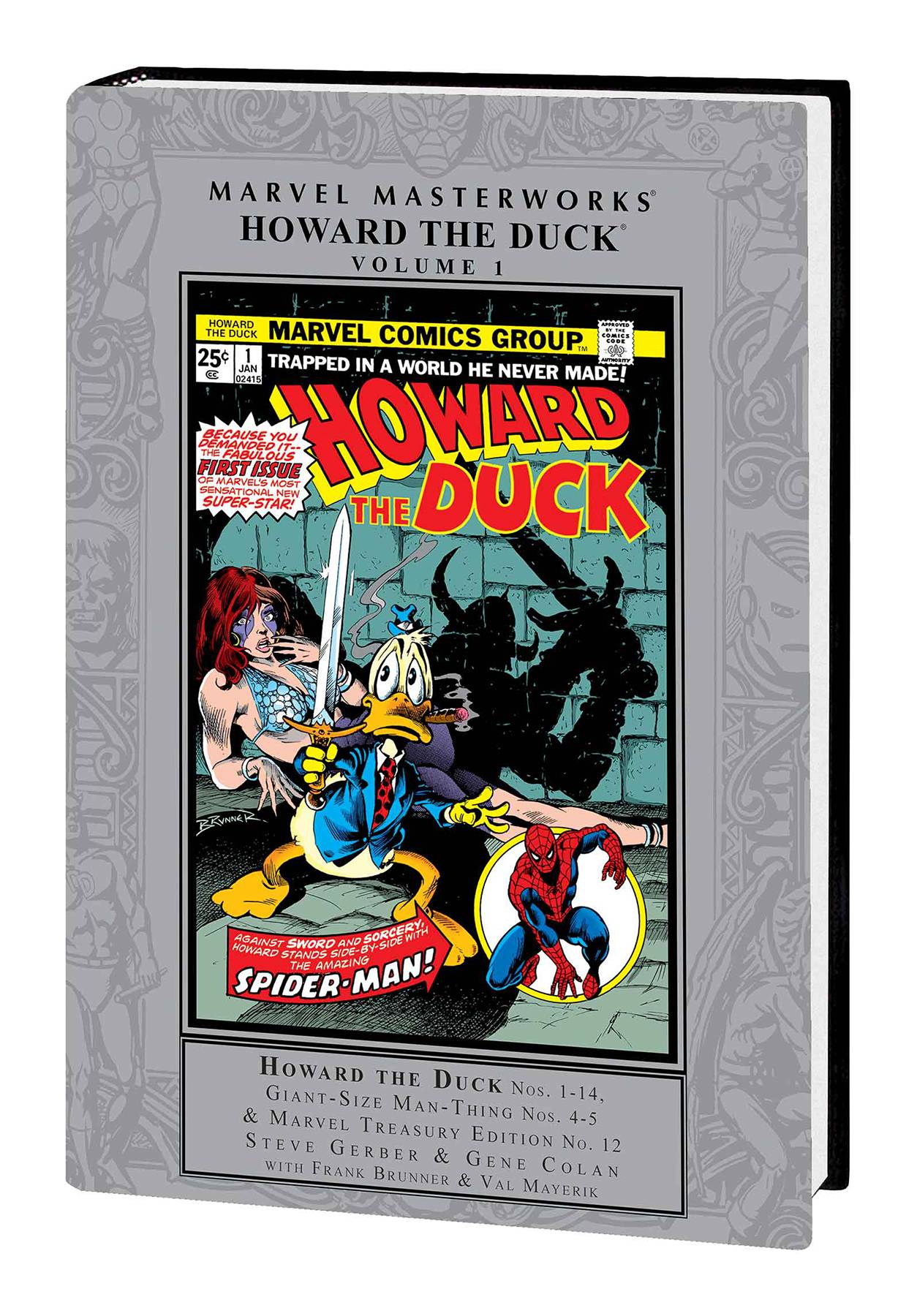 (W) Steve Gerber, Frank Brunner (A) Gene Colan, More (CA) Frank BrunnerTrapped in a Masterworks he never made! There were several worthy candidates for the milestone 300th Marvel Masterworks, but only one waddled away with victory: Howard the Duck! Steve Gerber and artistic cohorts Val Mayerik, Frank Brunner and Gene Colan crafted one of comics' most iconoclastic and hilarious characters. Now Howard's inaugural Masterworks kicks things off with his quirky first appearance as a "fowl out of water," teaming with the macabre Man-Thing to protect Cleveland from the Man-Frog and Hellcow! The satirical stories continue with Howard and gal-pal Beverly Switzler taking on dire threats like the Space Turnip, the Beaver and – public transportation?! And just wait until Howard runs for president! All restored in Masterworks glory! Collecting HOWARD THE DUCK (1976) #1-14; MARVEL TREASURY EDITION #12; and material from FEAR #19, MAN-THING (1974) #1, GIANT-SIZE MAN-THING #4-5 and F.O.O.M. #15.
BLADE RUNNER TP VOL 03 HOME AGAIN HOME AGAIN 16.99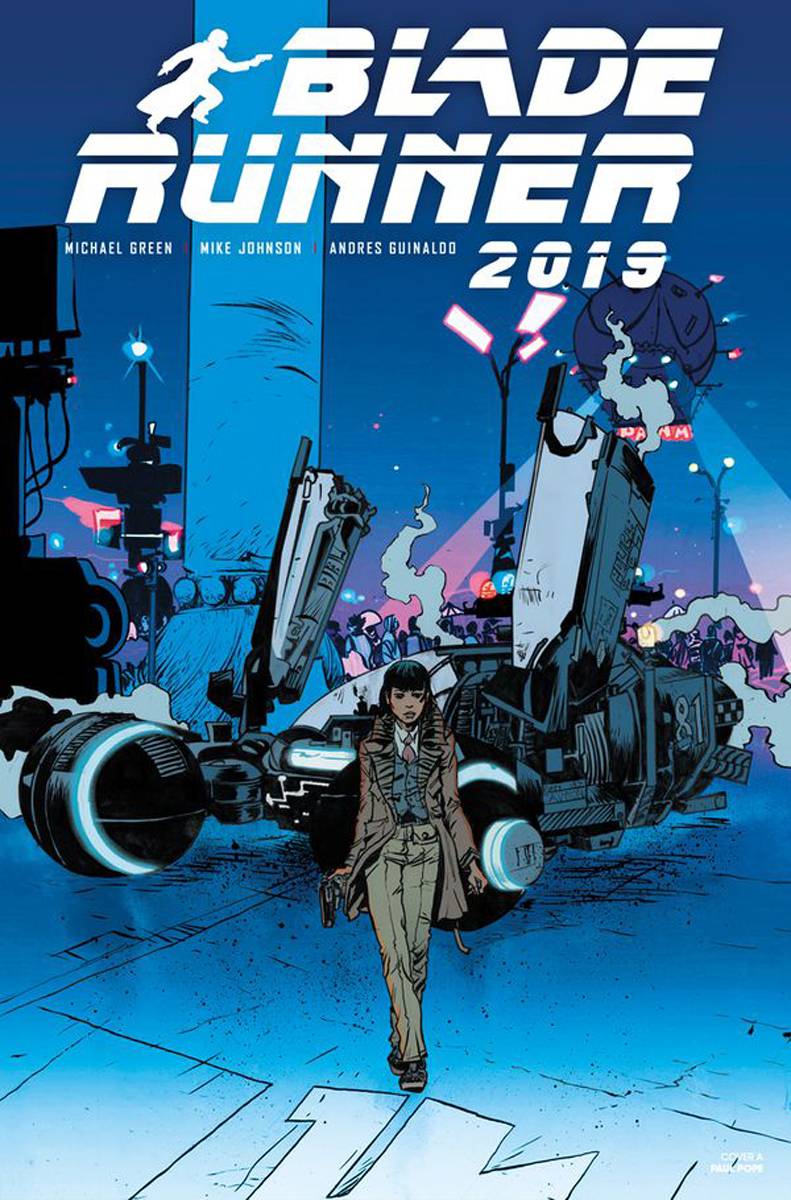 (W) Michael Green, Mike Johnson (A) Andres Guinaldo, Marco Lesko (CA) Paul PopeFrom the rain-soaked dystopic world of Los Angeles 2019 to the never-before-seen promised land of the Off-World colonies, Replicant-hating Blade Runner Ash's search for the runaway wife and child of a rich industrialist takes her where no other Blade Runner has ever gone before! Written by the Oscar-nominated screenwriter of Blade Runner 2049, Michael Green, and co-writer Mike Johnson (Star Trek, Supergirl) with artwork by Andres Guinaldo (Captain America, Justice League Dark).
DEPARTMENT OF TRUTH TP VOL 01 9.99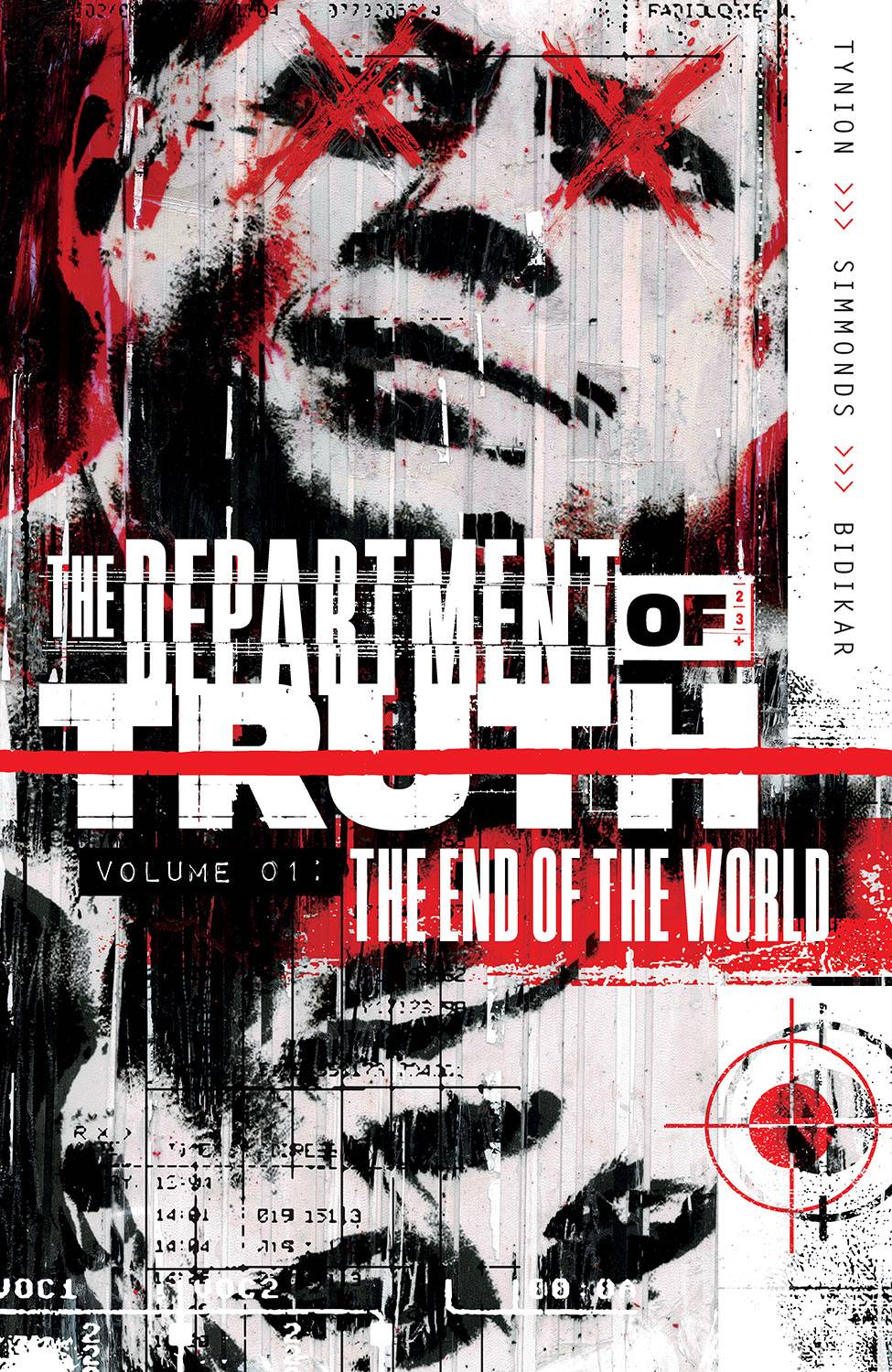 (W) James TynionIV (A/CA) Martin SimmondsSPECIAL LOW INTRODUCTORY PRICE OF $9.99!
COLE TURNER has studied conspiracy theories all his life, but he isn't prepared for what happens when he discovers that all of them are true, from the JFK Assassination to Flat Earth Theory and Reptilian Shapeshifters. One organization has been covering them up for generations. What is the deep, dark secret behind the Department of Truth?
From bestselling writer JAMES TYNION IV (Batman, Something is Killing the Children) and breakout artist MARTIN SIMMONDS (Dying is Easy)!
Collects THE DEPARTMENT OF TRUTH #1-5.
MASTER LIST OF PRODUCTS ARRIVING THIS WEEK!
AMAZING BATVARK ONE SHOT 4
AMAZING SPIDER-MAN #60 3.99
AQUARIUS DC COMICS 500PC 3 IN 1 PUZZLE 24.99
AQUARIUS MARVEL 500PC 3 IN 1 PUZZLE 24.99
BATMAN BLACK AND WHITE #3 (OF 6) CVR A 5.99
BATMAN BLACK AND WHITE #3 (OF 6) CVR B 5.99
BATMAN BLACK AND WHITE #3 (OF 6) CVR C 5.99
BATMAN GOTHAM KNIGHTS CONTESTED TP 29.99
BATMAN WHITE KNIGHT PRESENTS HARLEY QUINN #5 (OF 6) CVR A 4.99
BATMAN WHITE KNIGHT PRESENTS HARLEY QUINN #5 (OF 6) CVR B 4.99
BERSERK OF GLUTTONY GN VOL 01 12.99
BLACK CAT #2 2ND PTG VAR KIB 3.99
BLACK CAT #3 KIB 3.99
BLACK PANTHER #23 3.99
BLACK PANTHER #23 SOUZA 3.99
BLACK PANTHER #23 TEDESCO 3.99
BLADE RUNNER TP VOL 03 HOME AGAIN HOME AGAIN 16.99
BLOODSHOT (2019) #11 3.99
BROOKLYN GLADIATOR #4 (OF 5) 3.99
BUFFY THE VAMPIRE SLAYER FAITH #1 7.99
BY THE HORNS #1 (OF 6) 3.99
CAPTAIN AMERICA SAM WILSON COMPLETE COLLECTION TP VOL 02 39.99
CAPTAIN MARVEL #26 3.99
CAPTAIN MARVEL #26 CASTELLANI 3.99
CAPTAIN MARVEL #26 LUPACCHINO 3.99
CAPTAIN MARVEL MARVELS SNAPSHOTS #1 4.99
CAPTAIN MARVEL MARVELS SNAPSHOTS #1 ROE 4.99
CATWOMAN VOL 4 COME HOME ALLEY CAT TP 19.99
CHASING THE DRAGON #1 (OF 5) 3.99
CONAN TP EXODUS AND OTHER TALES 15.99
COURTNEY CRUMRIN TP VOL 07 12.99
CRIMSON FLOWER #2 3.99
CRIMSON FLOWER #2 VAR 3.99
CRISIS ON MULTIPLE EARTHS BOOK 01 CROSSING OVER TP 39.99
CROSSOVER #4 CVR A 3.99
CROSSOVER #4 CVR B ALLRED 3.99
CROSSOVER #4 CVR C BLANK 3.99
CRUMBS WORLD HC 45
DAREDEVIL #25 3RD PTG CHECCHETTO VAR 3.99
DC BATMAN DARK KNIGHT 12.5IN MAQUETTE
DC MULTIVERSE 7IN SCALE DEATH METAL BATMAN AF
DC MULTIVERSE 7IN SCALE RED SON SUPERMAN AF
DEPARTMENT OF TRUTH #6 CVR A 3.99
DEPARTMENT OF TRUTH #6 CVR B 3.99
DEPARTMENT OF TRUTH TP VOL 01 9.99
DEVILS DOMINION #2 3.99
DISASTER INC TP 16.99
DO YOU LIKE THE NERDY NURSE GN 20
EX MACHINA COMPENDIUM TWO TP 59.99
EDGAR ALLAN POE`S SNIFTER OF BLOOD #5 4.99
FAITHLESS II TP 17.99
FIRE POWER BY KIRKMAN & SAMNEE #5 3.99
FIREFLY #26 CVR A MAIN 3.99
FIREFLY #26 CVR B DOE 3.99
FRANK AT HOME ON THE FARM #2 3.99
FROM HELL MASTER EDITION HC 49.99
FUTURE STATE AQUAMAN #2 (OF 2) CVR A 3.99
FUTURE STATE AQUAMAN #2 (OF 2) CVR B 4.99
FUTURE STATE BATMAN SUPERMAN #2 (OF 2) CVR A 3.99
FUTURE STATE BATMAN SUPERMAN #2 (OF 2) CVR B 4.99
FUTURE STATE DARK DETECTIVE #4 (OF 4) CVR A 5.99
FUTURE STATE DARK DETECTIVE #4 (OF 4) CVR B 6.99
FUTURE STATE LEGION OF SUPER-HEROES #2 (OF 2) CVR A 3.99
FUTURE STATE LEGION OF SUPER-HEROES #2 (OF 2) CVR B 4.99
FUTURE STATE SUICIDE SQUAD #2 (OF 2) CVR A 5.99
FUTURE STATE SUICIDE SQUAD #2 (OF 2) CVR B 6.99
FUTURE STATE SUPERMAN HOUSE OF EL #1 (ONE SHOT) CVR A 5.99
FUTURE STATE SUPERMAN HOUSE OF EL #1 (ONE SHOT) CVR B J 6.99
FUTURE STATE SUPERMAN VS IMPERIOUS LEX #2 (OF 3) CVR A 3.99
FUTURE STATE SUPERMAN VS IMPERIOUS LEX #2 (OF 3) CVR B 4.99
GEORGE RR MARTIN A CLASH OF KINGS #11 3.99
GI JOE A REAL AMERICAN HERO YEARBOOK #1 3.99
GOLDEN JAPANESQUE YOKOHAMA KARENTAN GN VOL 01 13
GOON BUNCH OF OLD CRAP TP VOL 04 29.99
GRIMM FAIRY TALES #45 CVR A 3.99
GRIMM FAIRY TALES #45 CVR B 3.99
GRIMM FAIRY TALES #45 CVR C 3.99
GRIMM FAIRY TALES #45 CVR D 3.99
GRUMBLE TP VOL 03 MEMPHIS & BEYOND THE INFINITE 17.99
I BREATHED A BODY #2 3.99
ICE CREAM MAN #23 CVR A 3.99
ICE CREAM MAN #23 CVR B 3.99
IRON FIST HEART OF DRAGON #2 (OF 6) 3.99
JIM LEES X-MEN ARTIST ED HC 150
JOKER WAR SAGA HC 39.99
KAIJU SCORE #4 4.99
KARATE KID DANIEL LARUSSO 6IN SCALE AF
KARATE KID JOHNNY LAWRENCE 6IN SCALE AF
KILLADELPHIA #12 2ND PTG (MR) 4.99
KING IN BLACK NAMOR #4 (OF 5) 3.99
KING IN BLACK NAMOR #4 (OF 5) GIANGIORDANO 3.99
KING IN BLACK PLANET OF SYMBIOTES #1 (OF 3) 2ND PTG VAR 3.99
KING IN BLACK RETURN OF VALKYRIES #3 (OF 4) 3.99
KING IN BLACK RETURN OF VALKYRIES #3 (OF 4) NAUCK 3.99
KING IN BLACK RETURN OF VALKYRIES #3 (OF 4) NOTO 3.99
KING IN BLACK RETURN OF VALKYRIES #3 (OF 4) SOUZA 3.99
KNIGHTS OF THE DINNER TABLE #280 5.99
LEGACY OF MANDRAKE THE MAGICIAN TP VOL 01 12.95
MAESTRO WAR AND PAX #2 (OF 5) 3.99
MAESTRO WAR AND PAX #2 (OF 5) PACHECO 3.99
MAGNIFICENT MS MARVEL #18 4.99
MARVEL 1966 CORVETTE W/BLACK WIDOW 1/24 VEHICLE
MARVEL 1973 FORD MUSTANG W/CAPTAIN MARVEL 1/24 VEHICLE
MARVEL 2006 FORD MUSTANG GT W/CAPTAIN AMERICA 1/24 VEHICLE
MARVEL 2008 DODGE VIPER SRT10 W/VENOM 1/24 VEHICLE
MARVEL 2017 FORD GT W/MILES MORALES 1/24 VEHICLE
MARVEL ART OF BROTHERS HILDEBRANDT HC 59.99
MARVEL BLACK PANTHER LYKAN HYPERSPORT 1/32 VEHICLE 9.99
MARVEL CAPTAIN AMERICA 1972 PONTIAC FIREBIRD 1/32 VEHICLE 9.99
MARVEL FALCON 1957 CHEVY BEL AIR 1/32 VEHICLE 9.99
MARVEL IRON MAN 1969 CHEVY CAMARO 1/32 VEHICLE 9.99
MARVEL IRON MAN 2016 CHEVY CAMARO SS 1/32 VEHICLE 9.99
MARVEL MILES MORALES 1965 SHELBY COBRA 1/32 VEHICLE 9.99
MARVEL SPIDER-MAN 2017 FORD GT 1/32 VEHICLE 9.99
MARVEL SPIDER-MAN COVER 500PC PUZZLE
MARVEL WAR MACHINE 2010 CHEVY CAMARO SS 1/32 VEHICLE 9.99
MARVEL WINTER SOLDIER 1970 FORD MUSTANG BOSS 1/32 VEHICLE 9.99
MARVELS VOICES LEGACY #1 4.99
MARVELS VOICES LEGACY #1 BUSTOS STORMBREAKERS VAR 4.99
MARVELS VOICES LEGACY #1 COIPEL VAR 4.99
MARVELS VOICES LEGACY #1 EDGE VAR 4.99
MARVELS VOICES LEGACY #1 LASHLEY VAR 4.99
MARVELS VOICES LEGACY #1 SOUZA VAR 4.99
MILES MORALES TP VOL 04 ULTIMATUM 17.99
MIRKA ANDOLFOS UNSACRED VOL 2 #4 3.99
MMW HOWARD THE DUCK HC VOL 01 75
MONSTRESS #32 3.99
MOON MAID THREE KEYS #1 3.99
MOORCOCK LIB ELRIC ETERNAL CHAMPION HC VOL 01 19.99
NAILBITER RETURNS #10 3.99
NEW MUTANTS #16 3.99
NOMEN OMEN #12 (OF 15) 3.99
NUBIA REAL ONE TP 16.99
NUCLEAR FAMILY #1 4.99
OBLIVION SONG BY KIRKMAN & DE FELICI #30 3.99
ONE PIECE CREATOR X CREATOR BOA HANCOCK II FIG 29.99
PARANORMAL HITMEN #1 (OF 4) CVR A 3.99
PARANORMAL HITMEN #1 (OF 4) CVR B 3.99
PHANTOM STARKILLER #1 3RD PTG 3.99
POCKET POP SW MANDALORIAN CHILD KEYCHAIN 6.99
POP AD ICONS FRUITY PEBBLES BARNEY W/ CEREAL VINYL FIGURE 11.99
POP AD ICONS FRUITY PEBBLES FRED W/ CEREAL VINYL FIGURE 11.99
POP AD ICONS MCDONALD FRY GUY ORANGE AND BLUE 2PK 24.99
POP ALBUMS BIGGIE SMALLS VINYL FIG 14.99
POP ANIMATION SIMPSONS ITCHY VIN FIG 11.99
POP ANIMATION SIMPSONS SCRATCHY VIN FIG 11.99
POP ANIME MY HERO ACADEMIA LARGE ENAMEL PIN 12PC ASST
POP CANDYLAND KING KANDY VINYL FIGURE 11.99
POP CANDYLAND MR JOLLY VINYL FIGURE 11.99
POP CANDYLAND MR MINT VINYL FIGURE 11.99
POP CANDYLAND QUEEN FROSTINE VINYL FIGURE 11.99
POP DELUXE MANDALORIAN ON BANTHA W/ CHILD VIN FIG 34.99
POP GAMES VOX MACHINA KEYLETH VINYL FIGURE 11.99
POP HEROES IMPERIAL PALACE BATMAN VINYL FIGURE 11.99
POP HEROES IMPERIAL PALACE JOKER VINYL FIGURE 11.99
POP HEROES IMPERIAL PALACE ROBIN W/ CHASE VINYL FIGURE 11.99
POP MATTEL POLLY POCKET VINYL FIGURE 11.99
POP MLP BUTTERSCOTCH VINYL FIGURE 11.99
POP MLP COTTON CANDY VINYL FIGURE 11.99
POP MLP MINTY VINYL FIGURE 11.99
POP MLP SNUZZLE VINYL FIGURE 11.99
POP TENNIS LEGENDS ROGER FEDERER VINYL FIGURE 11.99
POST AMERICANA #3 (OF 6) 3.99
POWER RANGERS 2002 HONDA NSX W/GREEN RANGER 1/24 VEHICLE
POWER RANGERS 2009 NISSAN GTR W/RED RANGER 1/24 VEHICLE
POWER RANGERS RED RANGER 2009 NISSAN GTR 1/32 VEHICLE 9.99
PREVIEWS #390 MARCH 2021 3,99
RAIN LIKE HAMMERS #1 (OF 5) 2ND PTG 4.99
RAIN LIKE HAMMERS #2 (OF 5) 4.99
RED SONJA #24 3.99
RED SONJA VALENTINES SP ONE SHOT CVR B BROXTON 4.99
RED SONJA WORLDS AWAY TP VOL 05 END OF ROAD 19.99
ROCK & ROLL BIOGRAPHIES OINGO BOINGO 5.99
SAVAGE DRAGON #257 CVR A 3.99
SAVAGE DRAGON #257 CVR B 3.99
SCUMBAG #5 3.99
SKULLDIGGER & SKELETON BOY #6 (OF 6) 3.99
SOLO LEVELING GN VOL 01 20
SOMETHING IS KILLING THE CHILDREN #15 3.99
SONIC THE HEDGEHOG #37 CVR A 3.99
SONIC THE HEDGEHOG #37 CVR B 3.99
SPAWN #315 CVR A 2.99
SPAWN #315 CVR B 2.99
SPAWN #315 CVR C 2.99
SPAWN COMPENDIUM TP VOL 01 (NEW EDITION) 59.99
SPIDER-MAN TP BLOODLINE CHIP KIDD DM 17.99
SPIDER-MAN TP BLOODLINE COIPEL 17.99
STAR WARS DOCTOR APHRA #7 2ND PTG VAR 3.99
STRAY DOGS #1 CVR A 3.99
STRAY DOGS #1 CVR B 3.99
SUPERMAN BY GRANT MORRISON OMNIBUS HC 75
SWAMP THING THE BRONZE AGE VOL 3 TP 39.99
SWORD #2 2ND PTG 3.99
SWORD ART ONLINE PROJECT ALICIZATION GN VOL 02 13
SYMBIOTE SPIDER-MAN KING IN BLACK #4 (OF 5) 3.99
SYMBIOTE SPIDER-MAN KING IN BLACK #4 (OF 5) NAKAYAMA 3.99
SYMPATHY FOR NO DEVILS #5 3.99
TAARNA (2020) #3 (OF 6) 3.99
TALES FROM THE DC DARK MULTIVERSE TP 24.99
TALES FROM THE UMBRELLA ACADEMY YOU LOOK LIKE DEATH #6 (OF 6 3.99
TALES OF THE BATMAN STEVEN ENGLEHART HC 49.99
TAROT WITCH OF THE BLACK ROSE #126 3.99
TEEN TITANS VOL 4 ROBIN NO MORE TP 19.99
THE UNION #3 (OF 5) 3.99
THE UNION #3 (OF 5) JOHNSON 3.99
TRANSFORMERS HC VOL 03 ALL FALL DOWN 49.99
TRANSFORMERS SUPER CYBORG SOUNDWAVE
TWO MOONS #1 CVR A 3.99
TWO MOONS #1 CVR B 3.99
US AGENT #3 (OF 5) 3.99
US AGENT #3 (OF 5) WELL-BE 3.99
USAGI YOJIMBO WANDERERS ROAD #4 (OF 6) 3.99
VENGEANCE OF VAMPIRELLA #12 CVR B 3.99
VENGEANCE OF VAMPIRELLA #12 CVR C 3.99
VAMPIRELLA SEDUCTION OF THE INNOCENT VOL 01 19.99
VOYAGE TO THE STARS #3 (OF 4) 3.99
VENGEANCE OF VAMPIRELLA #15 3.99
VINYL SODA WB DUCK DODGERS W/ CHASE 13.99
WALKING DEAD DLX #1 CVR A FINCH & MCCAIG 2ND PTG (MR) 3.99
WALKING DEAD DLX #2 CVR A FINCH & MCCAIG 2ND PTG (MR) 3.99
WALKING DEAD DLX #3 CVR A FINCH & MCCAIG 2ND PTG (MR) 3.99
WALKING DEAD DLX #4 CVR A FINCH & MCCAIG 2ND PTG (MR) 3.99
WALKING DEAD DLX #5 CVR A FINCH & MCCAIG 2ND PTG (MR) 3.99
WALKING DEAD DLX #6 CVR A FINCH & MCCAIG 2ND PTG (MR) 3.99
WARHAMMER 40K MARNEUS CALGAR #5 (OF 5) 4.99
WARHAMMER 40K MARNEUS CALGAR #5 (OF 5) GAMES WORKSHOP 4.99
WE ONLY FIND THEM WHEN THEYRE DEAD #1 5TH PTG 3.99
WE ONLY FIND THEM WHEN THEYRE DEAD #2 4TH PTG 3.99
WE ONLY FIND THEM WHEN THEYRE DEAD #3 3RD PTG 3.99
WE ONLY FIND THEM WHEN THEYRE DEAD #4 3RD PTG 3.99
WE ONLY FIND THEM WHEN THEYRE DEAD #5 2ND PTG 3.99
WHO SAYS WARRIORS CANT BE BABES GN VOL 03 12.99
WOLVERINE #10 3.99
WOLVERINE #10 KUBERT 3.99
WRITE IT IN BLOOD TP 14.99
X-MEN #18 3.99
X-MEN #18 MOMOKO 3.99
X-MEN #18 SOUZA 3.99
YEAR ZERO VOL 2 #4 3.99
ZOIDS BETA CLASS FIG ASST 202101