Marvel's Alien #1 Trailer Showcases a New Era of Terror
ALIEN is coming! Marvel's first venture into the iconic—and terrifying—world of the ALIEN franchise arrives next month. This exploration of never-before-seen corners of the Alien universe will entertain both longtime fans and newcomers to the legendary horror/science-fiction saga as writer Phillip Kennedy Johnson and artist Salvador Larroca tell an all-new tale of the titan of horror and science fiction that has scared audiences for decades.
The new series will introduce readers to Gabriel Cruz who years ago almost literally gave his life to Weyland-Yutani when he barely survived an alien attack. Recently retired, Cruz is trying to patch things up with his abandoned son with the help of his friend, a Bishop-model android, but his re-entry into civilian life is not going smoothly…and his encounters with the deadly Xenomorph are far from over. No one is safe. No one is innocent. And no one can hear you scream. See the terrors in store in this all-new thrilling trailer, featuring never-before-seen artwork from the highly anticipated issue.
Don't miss this historic addition to the Alien legacy when ALIEN #1 arrives at Comic Quest on March 24th.
Keanu Reeves Narrates Brand New BRZRKR Trailer
BOOM! Studios has revealed a brand new trailer for BRZRKR #1 , the premiere issue of the twelve-issue limited series from the iconic Keanu Reeves in his Must Read comic book writing debut alongside New York Times bestselling co-writer Matt Kindt (Folklords, Bang!), acclaimed artist Ron Garney (Wolverine, Captain America), colorist Bill Crabtree (BPRD), and letterer Clem Robins (Hellboy), available this Wednesday March 3, 2021. The series trailer for the highest-selling original comic book launch in nearly 30 years features a voiceover by creator Keanu Reeves.
The man known only as B. is half-mortal and half-god, cursed and compelled to violence…even at the sacrifice of his sanity. But after wandering the world for centuries, B. may have finally found a refuge – working for the U.S. government to fight the battles too violent and too dangerous for anyone else. In exchange, B. will be granted the one thing he desires – the truth about his endless blood-soaked existence…and how to end it.
BRZRKR #1 features main cover art by superstar illustrator Rafael Grampá (Dark Knight Returns: The Golden Child) and variant cover art by superstar artists Mark Brooks (House of X/Powers of X), Dan Mora (Future State: Dark Detective), and Lee Bermejo (Batman).
NEW COMICS THIS WEEK!
BRZRKR (BERZERKER) #1 CVR A GRAMPA 4.99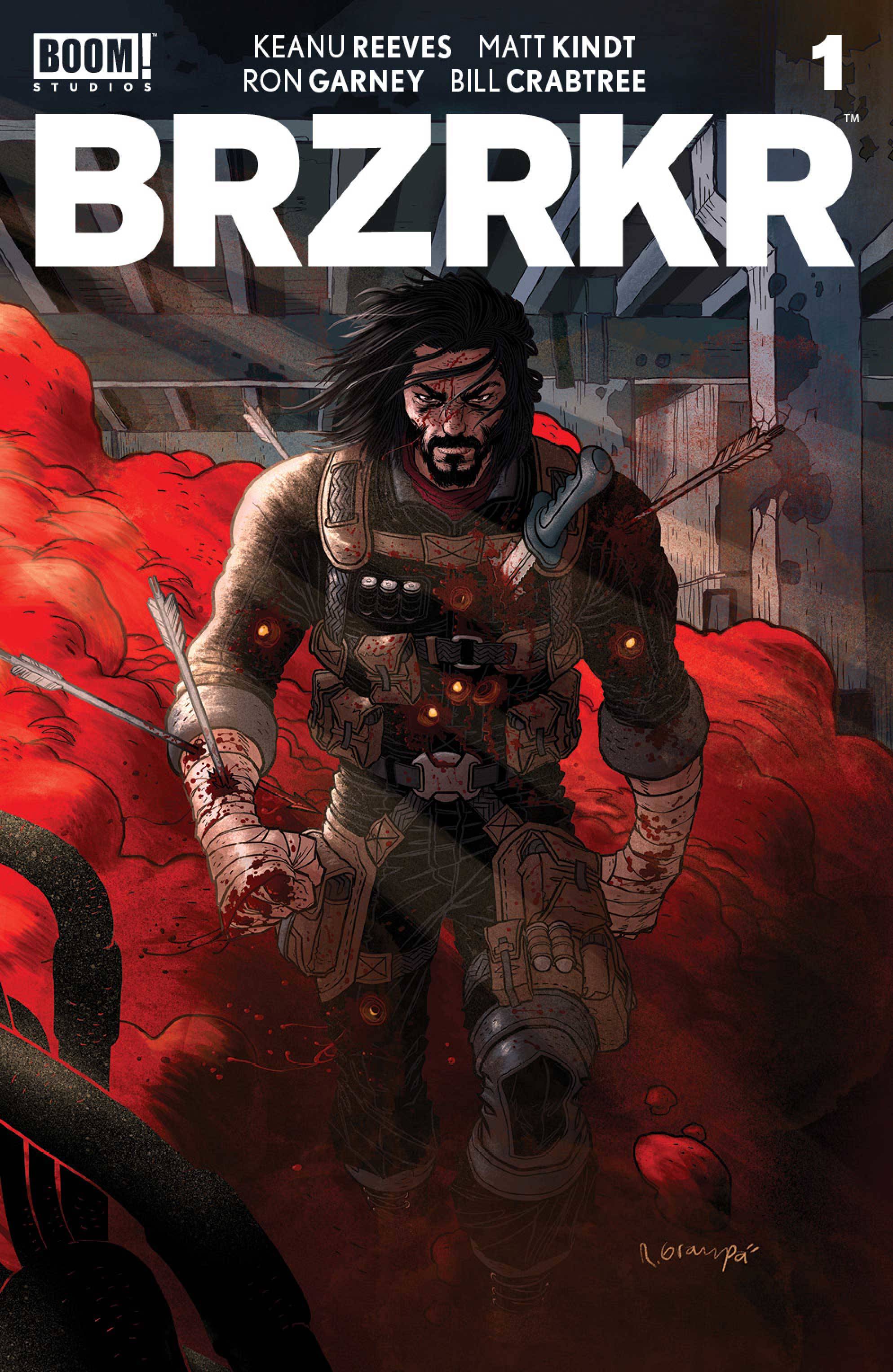 (W) Matt Kindt, Keanu Reeves (A) Ron Garney (CA) Rafael Gramp?
* Discover the next blockbuster action franchise from the iconic KEANU REEVES in his Must Read comic book writing debut alongside New York Times best-selling co-writer Matt Kindt (Folklords, Bang!) and acclaimed artist Alessandro Vitti (Marvel's Secret Warriors) in a brutally violent new series about one immortal warrior's fight through the ages.
* The man known only as Berzerker is half-mortal and half-God, cursed and compelled to violence…even at the sacrifice of his sanity.
* But after wandering the world for centuries, Berzerker may have finally found a refuge – working for the U.S. government to fight the battles too violent and too dangerous for anyone else.
* In exchange, Berzerker will be granted the one thing he desires – the truth about his endless blood-soaked existence… and how to end it.
NOTE: This is for Mature Readers
DEMON DAYS X-MEN #1 ARTGERM VAR 4.99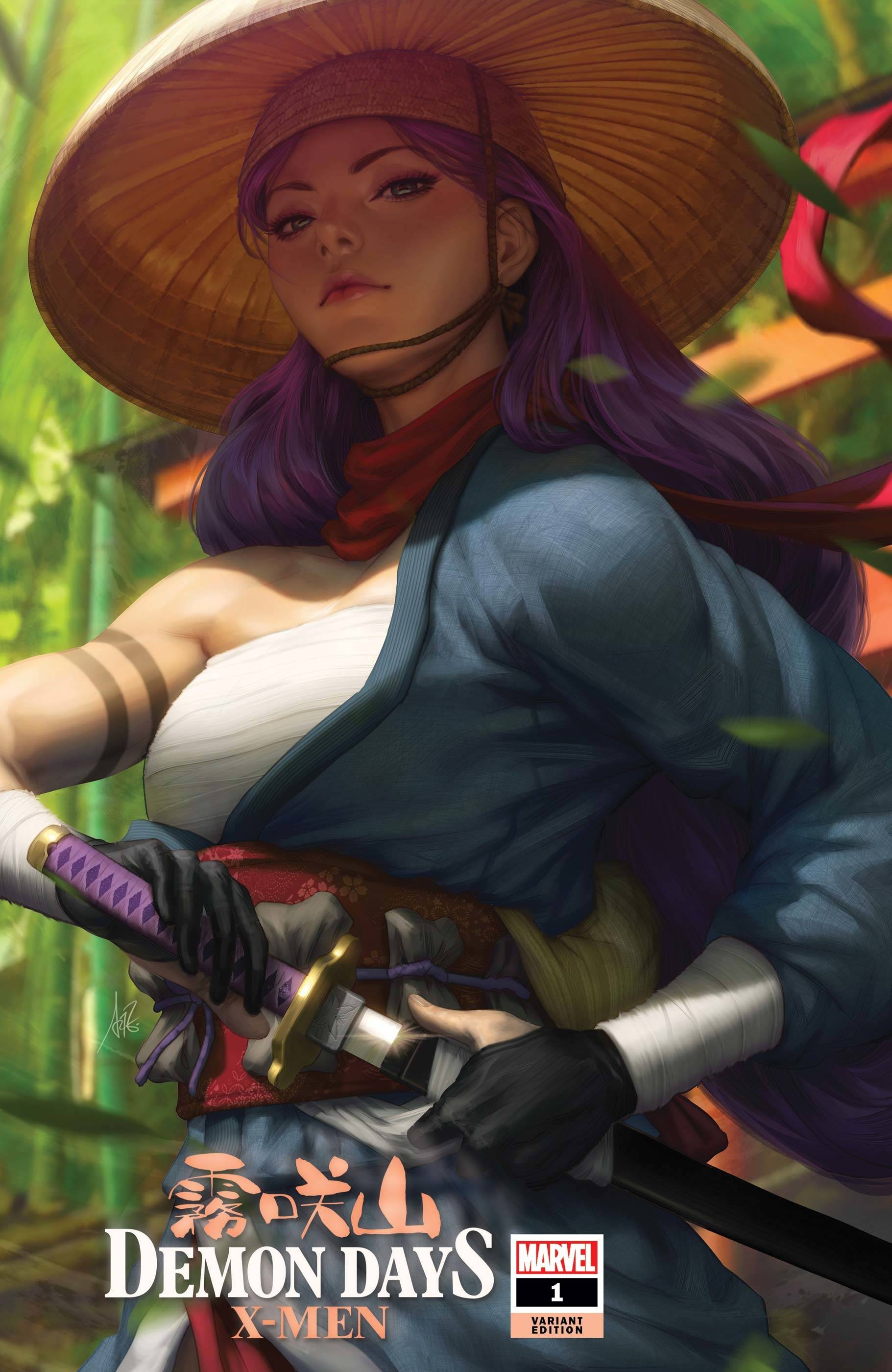 (W) Peach Momoko (A) Peach Momoko (CA) Artgerm
From STORMBREAKER PEACH MOMOKO comes a Marvel story unlike any you've ever seen before! A wandering swordswoman with a psychic blade arrives at village that's being targeted by demons. One demon is black and white with a terrifying red tongue and another may be the strongest demon there is! In the stunning kick-off issue of this prestige quarterly story, you'll see a revolutionary reimagination of the Marvel Universe that could only come from Peach Momoko. Ready your katana and enter a mysterious world of demons, monsters, mutants, and magic! Book ONE of FIVE of the DEMON DAYS saga!
NOCTERRA #1 CVR A DANIEL & MOREY 3.99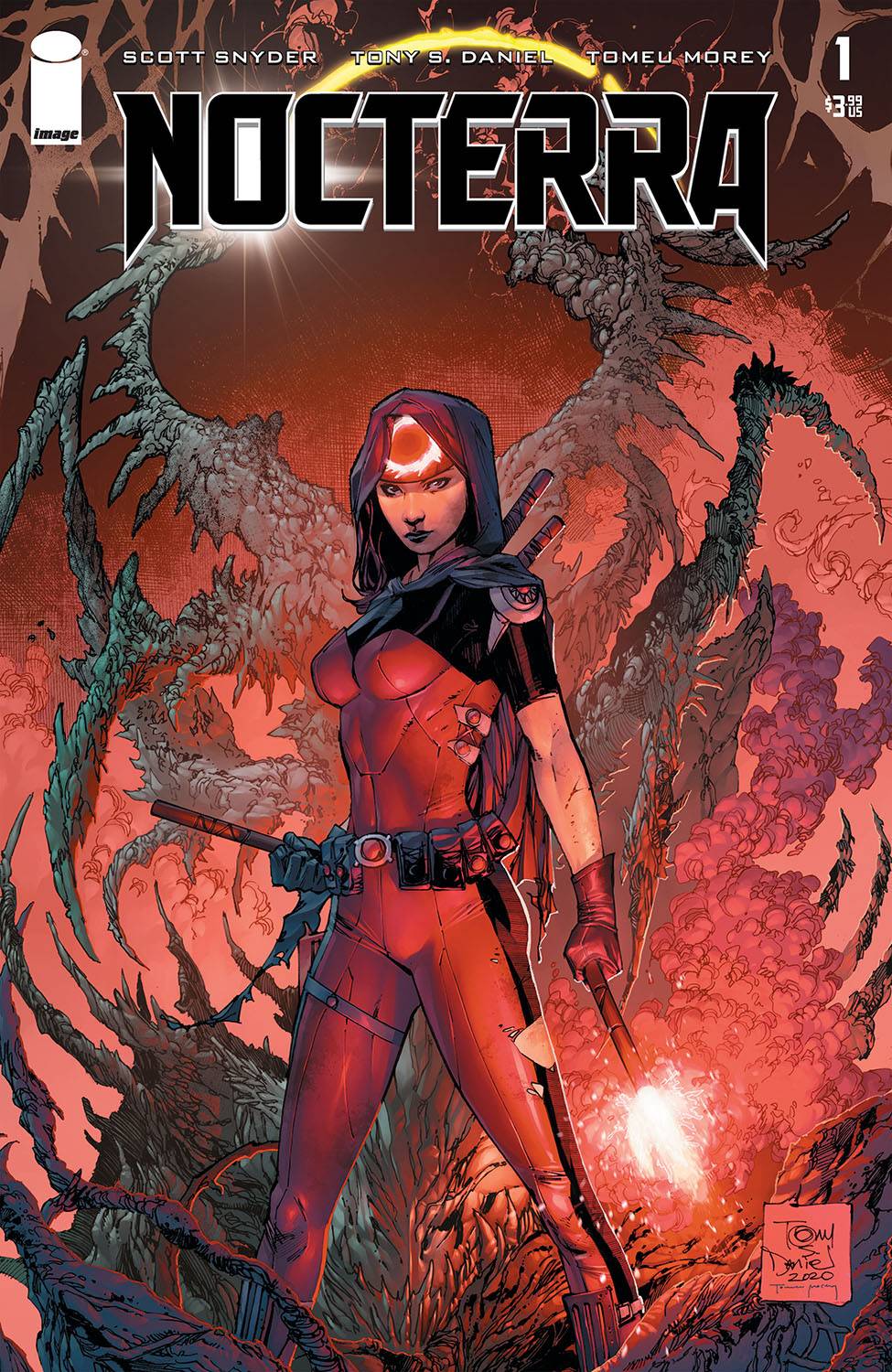 (W) Scott Snyder (A/CA) Tony S. Daniel, Tomeu Morey
"FULL THROTTLE DARK," Part One-Ten years after the world is plunged into an everlasting night that turns all living creatures into monstrous shades, the only way to survive is to stay close to artificial light. Enter Valentina "Val" Riggs, a skilled ferryman who transports people and goods along deadly unlit roads with her heavily illuminated eighteen wheeler.

This March, legendary creators SCOTT SNYDER (Dark Knights: Death Metal, WYTCHES) and TONY S. DANIEL (Batman, Deathstroke) unveil horrors beyond any shade in this extra-sized first issue.
AMERICA CHAVEZ MADE IN USA #1 (OF 5) 3.99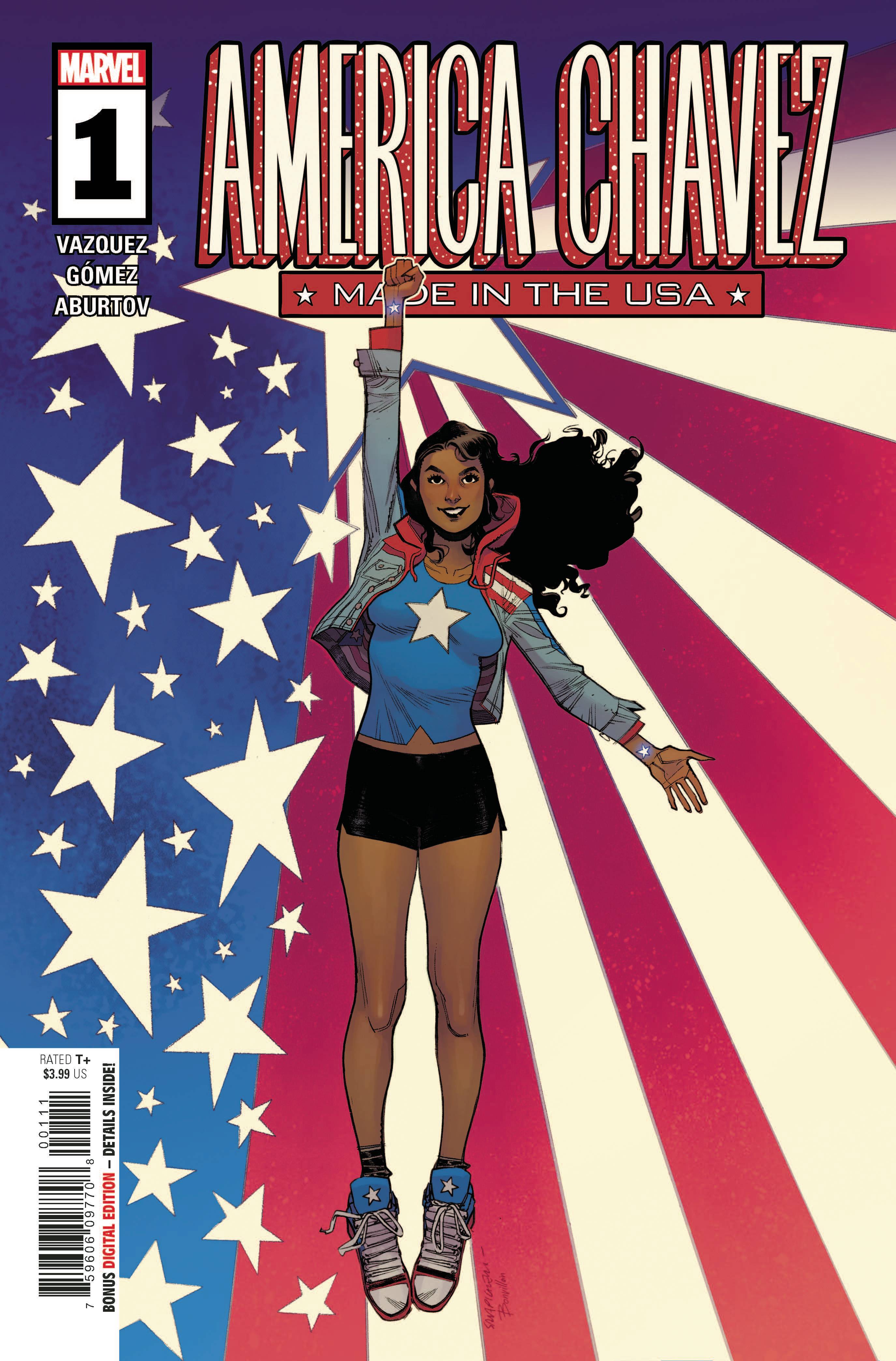 (W) Kalinda Vazquez (A) Carlos E. Gomez (CA) Sara Pichelli
WHO IS AMERICA? America Chavez is incredible – her origins, her strength, her dimension-shattering star portals! But when the foundation of everything she believes is shaken, America will stand up and face the parts of herself she's been running from. From writer Kalinda Vazquez (Marvel's Runaways) and artist Carlos Gomez (Amazing Mary Jane) comes an explosive, brand-new story all about what made America Chavez who she is – and what she'll do to protect the ones she loves.
INFINITE FRONTIER #0 (ONE SHOT) CVR A 5.99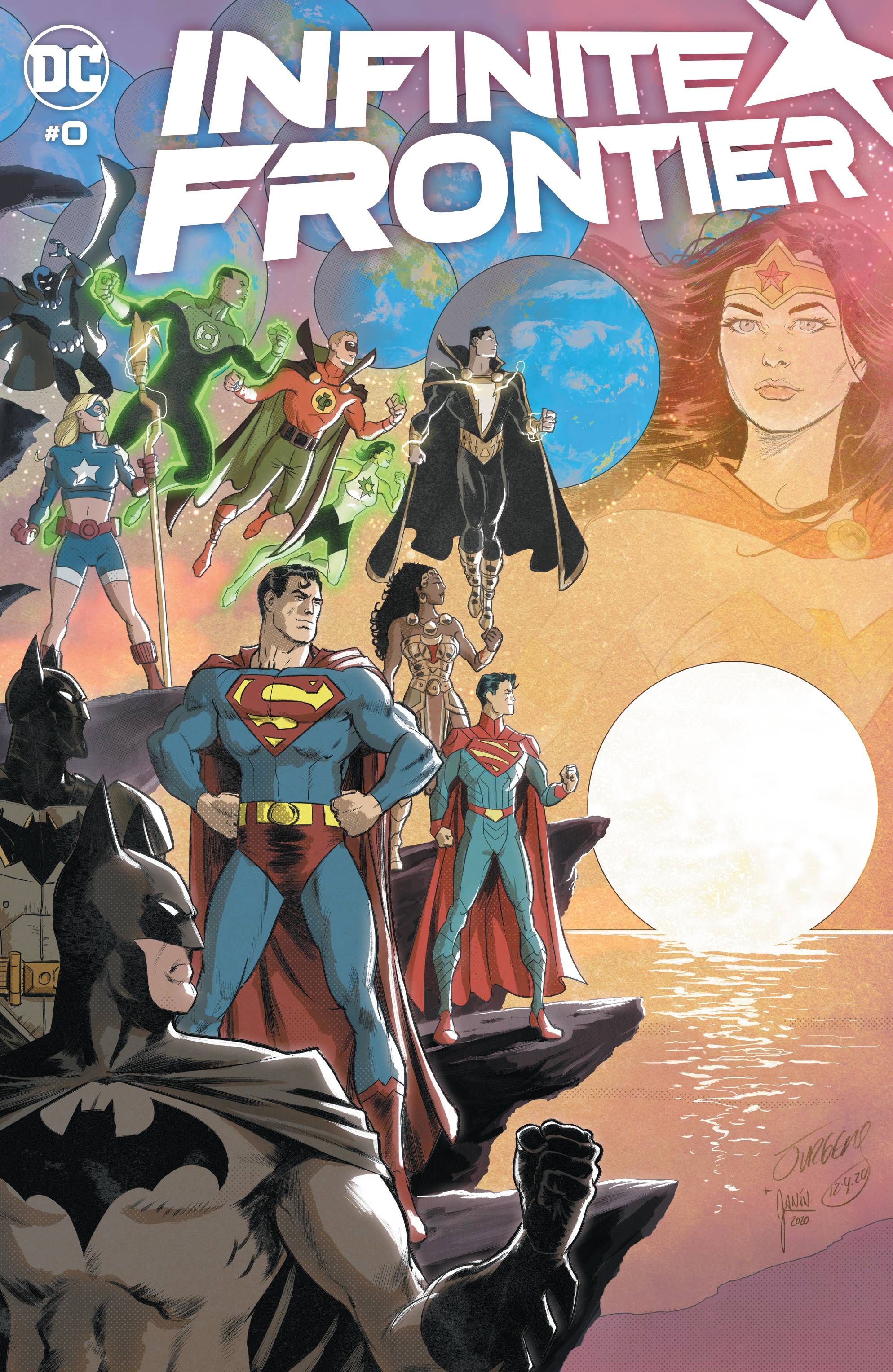 The next phase of the DC Universe begins here! Dark Knights: Death Metal presented the darkest threats of the Multiverse. DC Future State revealed what may lie ahead. Now it's time to look into the Infinite Frontier of the current-day DC Universe.
In Gotham City, The Joker jolts citizens awake with an attack even the Dark Knight never expected. In Brazil, a young woman discovers her destiny and her connection to the Amazons. In Belle Reve, Amanda Waller plots an invasion of Arkham Asylum. In the far reaches of space, Mongul dreams of galactic domination, while the Green Lantern Corps hosts a summit of its greatest enemies. At the Hall of Justice, the League joins forces with Black Adam. Beyond the mortal world, Wonder Woman settles into a new role in the godsphere. And somewhere in the DC Universe—it's the return of Stargirl, in an all-new tale written by Geoff Johns!
This oversized, all-star issue kicks off the next great era of storytelling and excitement as top writers and artists reveal what's next for the World's Greatest Heroes and opens the door to some of the greatest stories of 2021.
BATMAN #106 CVR A JORGE JIMENEZ 4.99
Following the tragic events of Infinite Frontier #1, Batman and his new ally, Ghost-Maker, must reckon with a new gang operating in Gotham City—but are they connected to the reemergence of the Scarecrow? Meanwhile, shadowy billionaire Simon Saint pitches an advanced law-enforcement system to the new mayor! The creative team behind the epic "The Joker War" returns with a thrill-packed, dangerous new storyline called "The Cowardly Lot." Plus, the backup story "Demon or Detective" begins as Damian Wayne is on the run! After everything Damian has gone through, can he escape Gotham and find his way back to where his journey started—to his mother, Talia al Ghul? This two-part tale concludes this month in Detective Comics #1034!
THIS WEEK IN TOYS/STATUES
MARVEL LEGENDS IN 3D WOLVERINE 1/2 SCALE BUST 175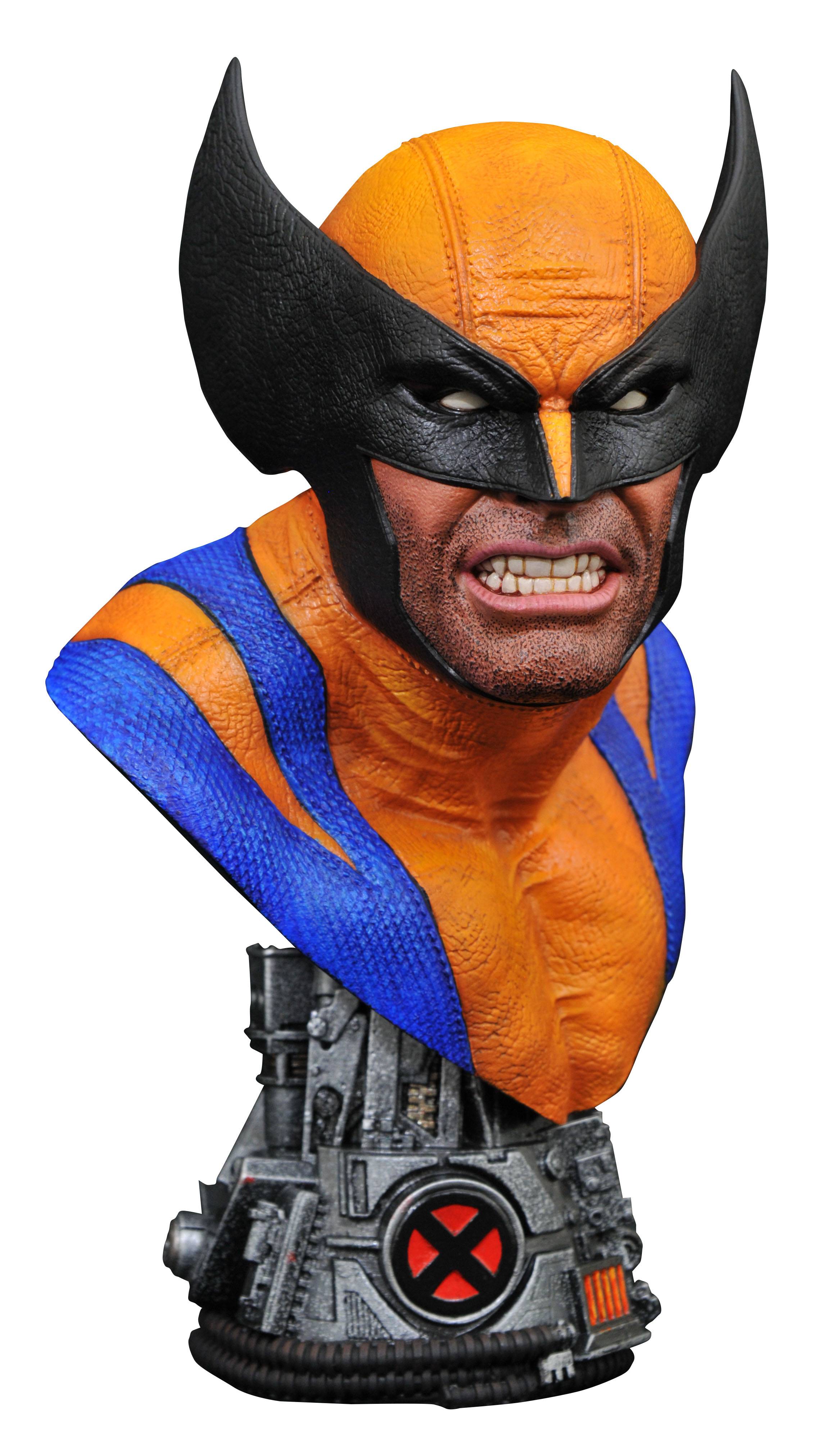 A Diamond Select Toys release! He's the best there is at what he does, and he's a Legend in 3D! This half-scale bust of Wolverine is based on his appearance in Marvel Comics, and measures approximately 10 inches tall. Featuring detailed sculpting and paint applications, he is limited to only 1,000 pieces, and comes packaged in a full-color box with a numbered certificate of authenticity. Designed by Joe Allard, sculpted by Rocco Tartamella.
POP ALBUMS LINKIN PARK HYBRID THEORY VINYL FIG   16.99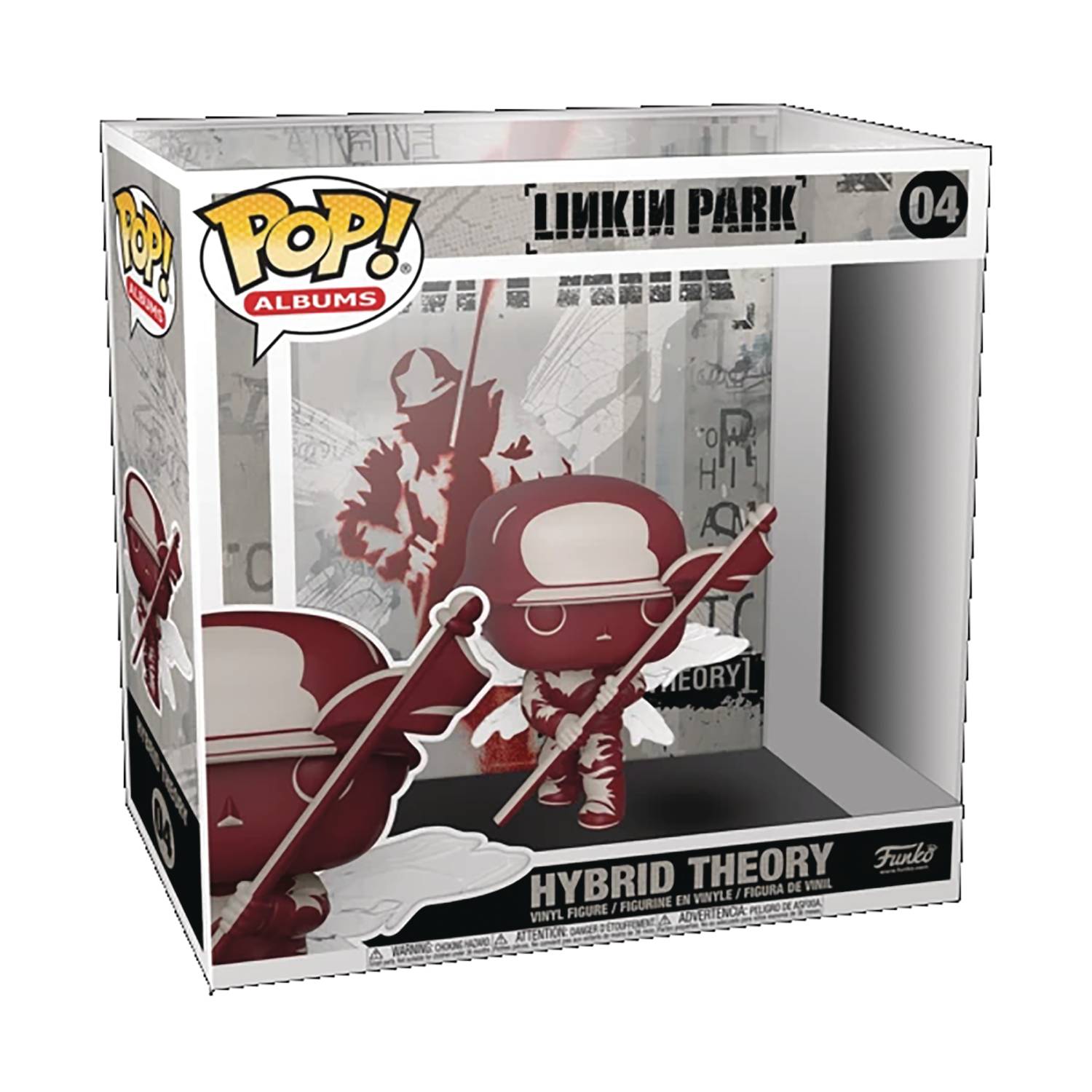 From Funko. Celebrate the 20 Year Anniversary of the Hybrid Theory album by showcasing this new Funko Pop! Album center stage of your music collection. Item comes with a Pop! and record artwork packaged together in a window box. Vinyl figure is approximately 3 3/4″ tall, album in case is approximately 9″ tall.
Trade-paperbacks of the Week!
DC POSTER PORTFOLIO GREG CAPULLO TP 24.99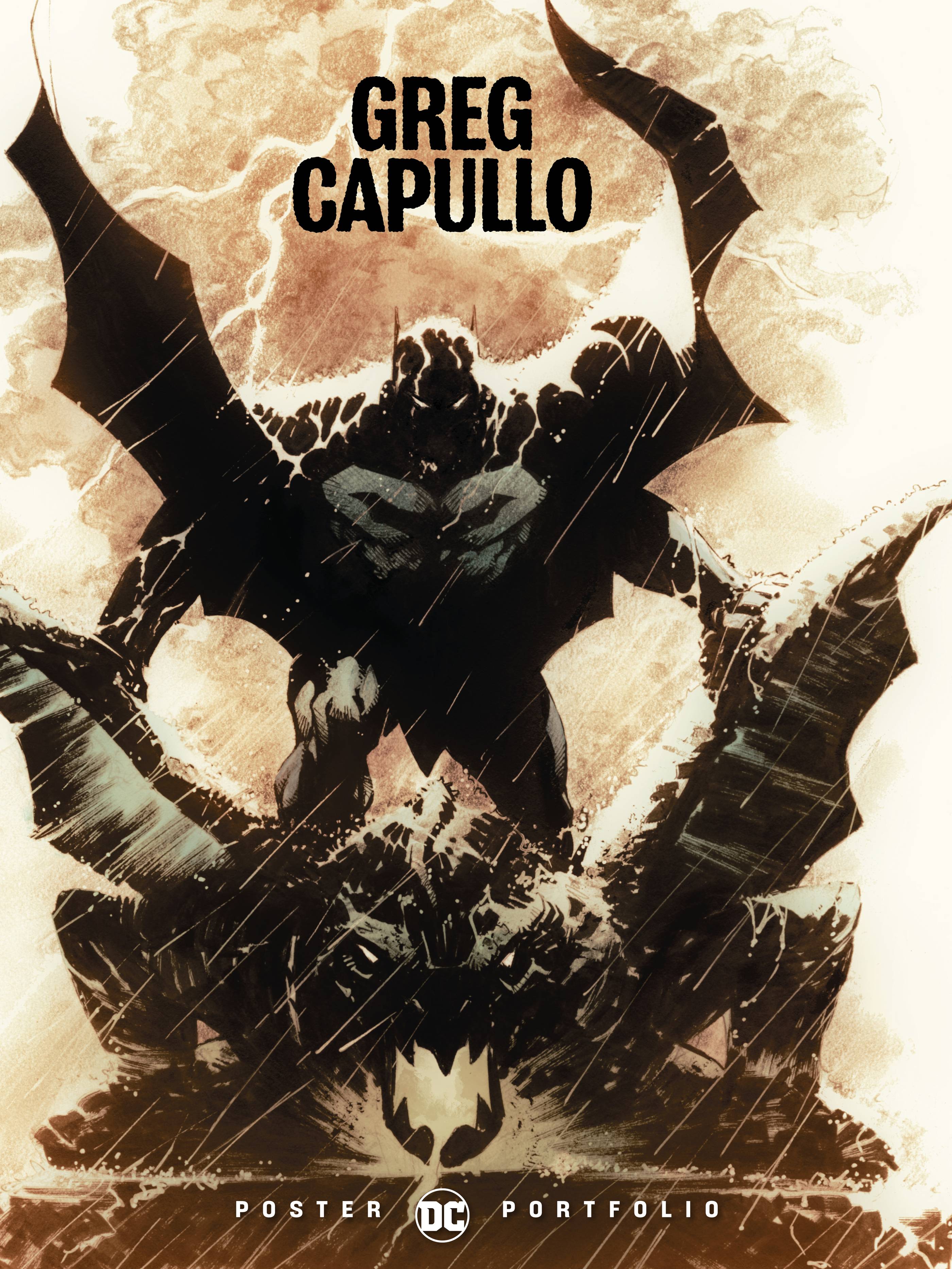 DC spotlights top cover artists with the new Poster Portfolio series, continuing with era-defining superstar Greg Capullo! This collection includes 20 of Capullo's most memorable DC images, highlighted by his years on Batman and his DC Universe-rocking events Dark Nights: Metal and Dark Nights: Death Metal!
Printed on heavy card stock paper at a big 12 inches by 16 inches, the pages of the Poster Portfolio are easily removed from the binding and are suitable for framing.
ELFQUEST STARGAZERS HUNT TP 17.99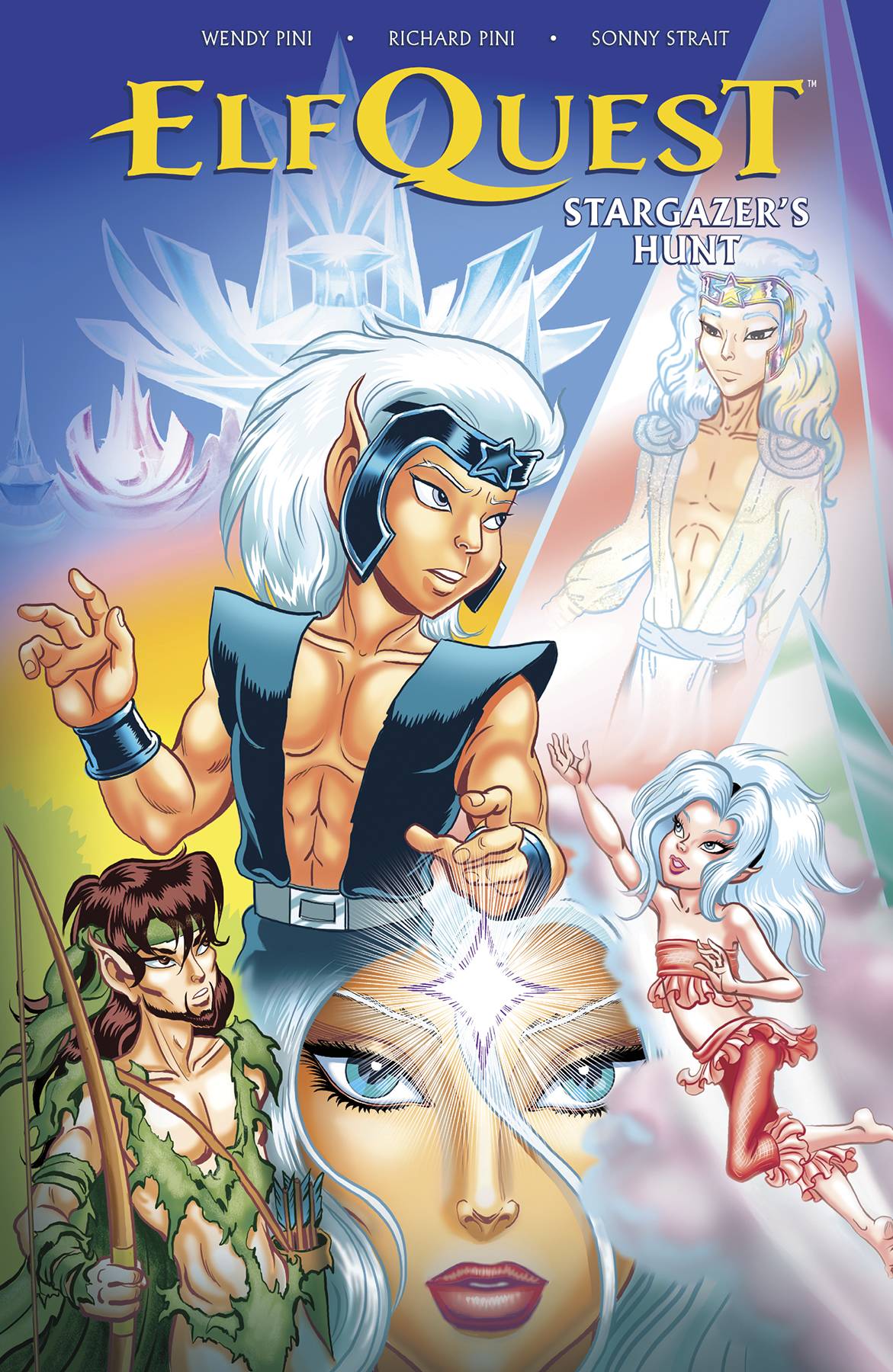 (W) Wendy Pini, Richard Pini (A) Sonny Strait (CA) Wendy Pini
When ElfQuest: The Final Quest concluded, it ended the hero's journey of Cutter Kinseeker, chief of the Wolfriders. But that was only the start of a new adventure for Cutter's "brother in all but blood," Skywise. Now the stargazer elf, who thought he knew everything about Cutter, discovers how mistaken he was.

This volume collects issues #1-#4 of Stargazer's Hunt, with story by ElfQuest co-creators Wendy and Richard Pini, with script and layouts by Wendy Pini. Veteran ElfQuest alumnus Sonny Strait returns at full force as the artist and colorist for the new series.
NIGHTWING THE JOKER WAR HC 29.99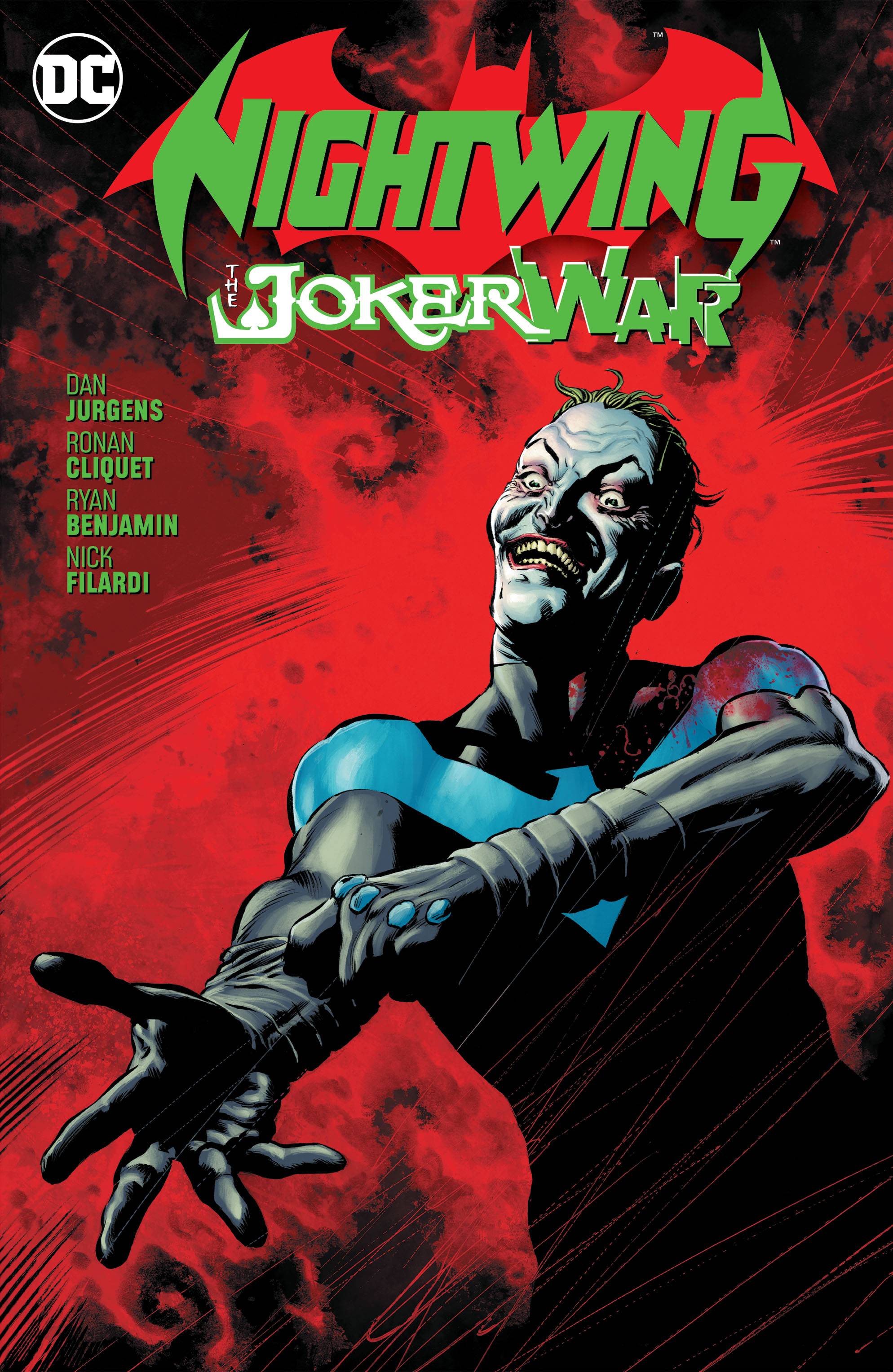 The return of Dick Grayson!
A bullet from KGBeast robbed Nightwing of his memories and shattered the identity of Dick Grayson. Now he has found himself living as Ric Grayson, free from the influence of Batman and all that comes with him.
But when the Joker comes to town, armed with a mind-controlling crystal and a taste for mayhem, Ric finds his identity in question once again. Is he Nightwing, wisecracking hero fighting for what's right? Is he Ric, masked vigilante attempting to carve out a new life? Or is he Dicky-Boy, son of the Joker, sinister foot soldier in his "father's" deadly war against Batman?
To find the anser, and to rightfully take his mantle as Nightwing again, Ric will need to delve deep into his own subconscious. But how will he be able to do that whenthe Joker War rages all around him?
Comics legend Dan Jurgens (The Death of Superman, Batman Beyond), along with artists Ronan Cliquet (Green Lanterns), Ryan Benjamin (The Immortal Men), and Travis Moore (Batman), brings the Ric Grayson saga to an epic and heartbreaking conclusion in Nightwing: The Joker War. Collects Nightwing Annual #3, Nightwing #70-77.
SUPERMAN & BATMAN GENERATIONS OMNIBUS HC 75
They are the world's two greatest superheroes. Superman. The Last Son of Krypton. Batman. The Dark Knight Detective.

In 1939, at the dawn of their careers, Metropolis's Man of Steel and Gotham City's Caped Crusader meet for the first time, teaming up to
battle the fearsome Ultra-Humanite.

As the years pass, their paths cross time and time again. Facing menaces as diverse as the Joker, Lex Luthor, and Mr. Mxyzptlk, they must combine their skills and powers to avert disaster. But even as they pass their mantles to a new generation of heroes, enemies from their pasts conspire against them. And at the brink of the 21st century, startling revelations will forever change the legacies of the world's finest heroes!

For the first time, Superman & Batman: Generations Omnibus collects John Byrne's (Superman: The Man of Steel) entire epic saga chronicling the life and times of Clark Kent, Bruce Wayne, and their families as their lives progress through the ages. Includes Superman & Batman: Generations #1-4, Superman & Batman: Generations II #1-4 and Superman & Batman: Generations III #1-12!
MASTER LIST OF PRODUCTS ARRIVING THIS WEEK!
AMAZING SPIDER-MAN BY NICK SPENCER TP VOL 11 LAST REMAINS 17.99
AMERICA CHAVEZ MADE IN USA #1 (OF 5) 3.99
AMERICA CHAVEZ MADE IN USA #1 (OF 5) HANS VAR 3.99
AMERICA CHAVEZ MADE IN USA #1 (OF 5) YOON VAR 3.99
AMETHYST TP 16.99
AVATAR THE NEXT SHADOW #3 (OF 4) 3.99
AVENGERS #43 3.99
AVENGERS #43 ALEX ROSS TIMELESS VAR 3.99
AVENGERS #43 ANT-MAN AND WASP TWO-TONE VAR 3.99
AVENGERS #43 BARTEL SHE-HULK WOMENS HISTORY MONTH VAR 3.99
AVENGERS #43 WEAVER CONNECTING VAR 3.99
AVENGERS MECH STRIKE #2 (OF 5) 3.99
AVENGERS MECH STRIKE #2 (OF 5) SNG VAR 3.99
BAD MOTHER TP 9.99
BATMAN #106 CVR A JORGE JIMENEZ 4.99
BATMAN #106 CVR B JORGE JIMENEZ WRAPAROUND VAR 4.99
BATMAN & THE OUTSIDERS VOL 03 THE DEMONS FIRE TP 14.99
BOYS DEAR BECKY TP 19.99
BRZRKR (BERZERKER) #1 CVR A GRAMPA (MR) 4.99
BRZRKR (BERZERKER) #1 CVR B BROOKS (MR) 4.99
BRZRKR (BERZERKER) #1 CVR E BLANK SKETCH VAR (MR) 4.99
BUFFY THE VAMPIRE SLAYER #23 CVR A LOPEZ 3.99
BUFFY THE VAMPIRE SLAYER #23 CVR B FINDEN 3.99
BYTE SIZED #3 3.99
CAPTAIN AMERICA EPIC COLL TP LIVES AGAIN NEW PTG 39.99
CASUAL FLING #2 (MR) 3.99
CHARIOT #1 CVR A DEKAL 3.99
CHARIOT #1 CVR B DEODATO JR 3.99
COMP DARKNESS TP VOL 01 (MR) 29.99
CONAN BARBARIAN ORIG MARVEL YRS OMNIBUS HC VOL 05 125
CRIME SYNDICATE #1 CVR A JIM CHEUNG 3.99
CRIME SYNDICATE #1 CVR B SKAN VAR 3.99
DAREDEVIL #26 2ND PTG VAR KIB 3.99
DC POSTER PORTFOLIO GREG CAPULLO TP 24.99
DEAD DOGS BITE #1 (OF 4) CVR A BOSS (RES) 4.99
DEAD DOGS BITE #1 (OF 4) CVR B BERTRAM (RES) 4.99
DEMON DAYS X-MEN #1 4.99
DEMON DAYS X-MEN #1 ARTGERM VAR 4.99
DEMON DAYS X-MEN #1 BROOKS VAR 4.99
DEMON DAYS X-MEN #1 GURIHIRU VAR 4.99
DEMON DAYS X-MEN #1 YU VAR 4.99
DOCTOR DOOM TP VOL 02 BEDFORD FALLS 15.99
DR STONE REBOOT BYAKUYA GN 9.99
DREAMING WAKING HOURS #8 (MR) 3.99
ELFQUEST STARGAZERS HUNT TP 17.99
ENGINEWARD #8 CVR A EISMA 3.99
EXECUTIONER & HER WAY OF LIFE NOVEL SC VOL 01 15
FEAR CASE #2 (OF 4) CVR A JENKINS 3.99
FEAR CASE #2 (OF 4) CVR B CAMPBELL 3.99
FIRE POWER BY KIRKMAN & SAMNEE #9 3.99
GIRLSPLAINING ORIGINAL HC 17.99
HEAVY METAL #304 CVR A DOMINICIS 13.99
HELLIONS #10 3.99
INFINITE FRONTIER #0 (ONE SHOT) CVR A 5.99
INFINITE FRONTIER #0 (ONE SHOT) CVR B 6.99
IVE BEEN KILLING SLIMES 300 YEARS MAXED OUT GN VOL 05 (C: 0- 13
JAMES BOND AGENT OF SPECTRE #1 3.99
JONNA AND THE UNPOSSIBLE MONSTERS #1 CVR A SAMNEE (RES) 3.99
JONNA AND THE UNPOSSIBLE MONSTERS #1 CVR B MAIHACK (RES) 3.99
JONNA AND THE UNPOSSIBLE MONSTERS #1 CVR D BARTEL 3.99
KING IN BLACK CAPTAIN AMERICA #1 4.99
KING IN BLACK CAPTAIN AMERICA #1 AVENGERS MECH STRIKE VAR 4.99
KING IN BLACK CAPTAIN AMERICA #1 BLACK HISTORY MONTH VAR 4.99
KING IN BLACK CAPTAIN AMERICA #1 GUICE VAR 4.99
KING IN BLACK GWENOM VS CARNAGE #1 (OF 3) 2ND PTG VAR 3.99
KING IN BLACK GWENOM VS CARNAGE #3 (OF 3) 3.99
KING IN BLACK GWENOM VS CARNAGE #3 (OF 3) LAFUENTE VAR 3.99
KING IN BLACK HANDBOOK #1 4.99
KING IN BLACK THUNDERBOLTS #3 (OF 3) 3.99
KING IN BLACK THUNDERBOLTS #3 (OF 3) GONZALES VAR 3.99
KING IN BLACK WICCAN HULKLING #1 4.99
KING IN BLACK WICCAN HULKLING #1 DAUTERMAN VAR 4.99
KING IN BLACK WICCAN HULKLING #1 MOMOKO STORMBREAKERS VAR 4.99
MAESTRO TP SYMPHONY IN GAMMA KEY 15.99
MAN-BAT #2 (OF 5) 3.99
MARVEL ACTION CAPTAIN MARVEL (2021) #1 3.99
MARVEL LEGENDS IN 3D WOLVERINE 1/2 SCALE BUST 175
MIKE MIGNOLA QUARANTINE SKETCHBOOK HC 39.99
MY HERO ACADEMIA TEAM-UP MISSIONS GN VOL 01 9.99
MY HERO ACADEMIA VIGILANTES GN VOL 09 9.99
NARUTO SHIKAMARUS STORY MOURNING CLOUDS SC 10.99
NIGHTWING THE JOKER WAR HC 29.99
NOCTERRA #1 CVR A DANIEL & MOREY (MR) 3.99
NOCTERRA #1 CVR B JOCK (MR) 3.99
NOCTERRA #1 CVR C BOSSLOGIC (MR) 3.99
NOCTERRA #1 CVR D CAPULLO (MR) 3.99
NOCTERRA #1 CVR E BLANK CVR (MR) 3.99
OVERWATCH TRACER LONDON CALLING #4 CVR A BENGAL 3.99
OVERWATCH TRACER LONDON CALLING #4 CVR B BARTEL 3.99
PENGUIN GENTLEMAN HC 18
PLAY IT COOL GUYS GN VOL 01 15
PLOT #8 3.99
POP ALBUMS LINKIN PARK HYBRID THEORY VINYL FIG 16.99
POWER PACK #4 (OF 5) 3.99
RED SONJA (2019) TP VOL 02 QUEENS GAMBIT 19.99
RICK AND MORTY PRESENTS JERRYBOREE #1 CVR A ALLNATT 4.99
RICK AND MORTY WORLDS APART #2 CVR A FLEECS 3.99
RUNAWAYS #34 3.99
RUNAWAYS #34 ANKA VAR 3.99
SAVAGE AVENGERS TP VOL 03 ENTER THE DRAGON 17.99
SENSATIONAL WONDER WOMAN #1 CVR A YASMINE PUTRI 3.99
SENSATIONAL WONDER WOMAN #1 CVR B EJIKURE VAR 3.99
SONJAVERSAL #2 CVR A LEE & CHUNG 3.99
SONJAVERSAL #2 CVR B LINSNER 3.99
SONJAVERSAL #2 CVR C ROBSON 3.99
SONJAVERSAL #2 CVR D SAMPAIO 3.99
SONJAVERSAL #2 CVR E KINGSTON COSPLAY 3.99
STAR WARS HIGH REPUBLIC #2 2ND PTG VAR 3.99
STAR WARS HIGH REPUBLIC #3 3.99
STAR WARS HIGH REPUBLIC #3 WALKER VAR 3.99
STAR WARS HIGH REPUBLIC ADVENTURES #2 (C: 1-0-0) 3.99
STAR WARS RISE OF SKYWALKER GN TP (C: 1-1-2) 9.99
SUICIDE SQUAD #1 CVR A EDUARDO PANSICA 3.99
SUICIDE SQUAD #1 CVR B GERALD PAREL VAR 3.99
SUPER HXEROS GN VOL 01 13.99
SUPERMAN & BATMAN GENERATIONS OMNIBUS HC 75
SUPERMAN ADVENTURES LEX LUTHOR MAN OF METROPOLIS TP 9.99
SWAMP THING #1 (OF 10) CVR A MIKE PERKINS 3.99
SWAMP THING #1 (OF 10) CVR B FRANCESCO MATTINA VAR 3.99
THIS WONDERFUL SEASON WITH YOU GN (MR) 14.99
TRANSFORMERS 84 TP SECRETS & LIES (C: 0-1-1) 17.99
TRANSFORMERS BEAST WARS #2 CVR A JOSH BURCHAM 3.99
TRANSFORMERS BEAST WARS #2 CVR B DAN SCHOENING 3.99
UNDONE BY BLOOD OTHER SIDE OF EDEN #1 CVR A KIVELA & WORDIE 4.99
UNEARTH #10 (MR) 3.99
VAMPIRELLA RED SONJA TP VOL 01 THESE DARK SYNCHRONICITIES 19.99
WALKING DEAD DLX #10 CVR A FINCH & MCCAIG (MR) 3.99
WALKING DEAD DLX #10 CVR B MOORE & MCCAIG (MR) 3.99
WALKING DEAD DLX #10 CVR C ADAMS & MCCAIG (MR) 3.99
X OF SWORDS HC BROOKS DM VAR 100
X-MEN EPIC COLLECTION FATE OF PHOENIX TP 39.99