Patrick Gleason and Peach Momoko Unleash 'Carnage' in 'Black, White, And Blood'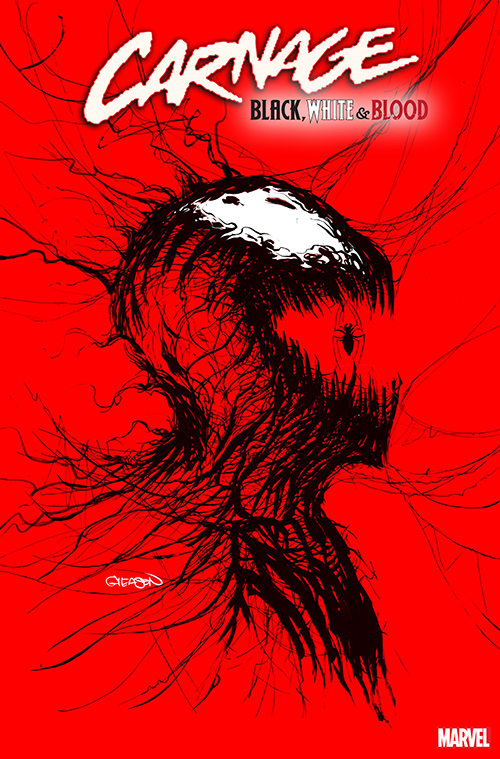 Featuring all-star creators such as Donny Cates, Ken Lashley, Sara Pichelli, and more, CARNAGE: BLACK, WHITE, BLOOD will feature Carnage's most spine-chilling tales presented in BLACK, WHITE AND BLOOD. See Cletus Kasady cackle at the horror he's about to unleash on Gleason's cover below and don't miss adding this extraordinary cover to your collection when CARNAGE: BLACK, WHITE, AND BLOOD #1 hits stands in March.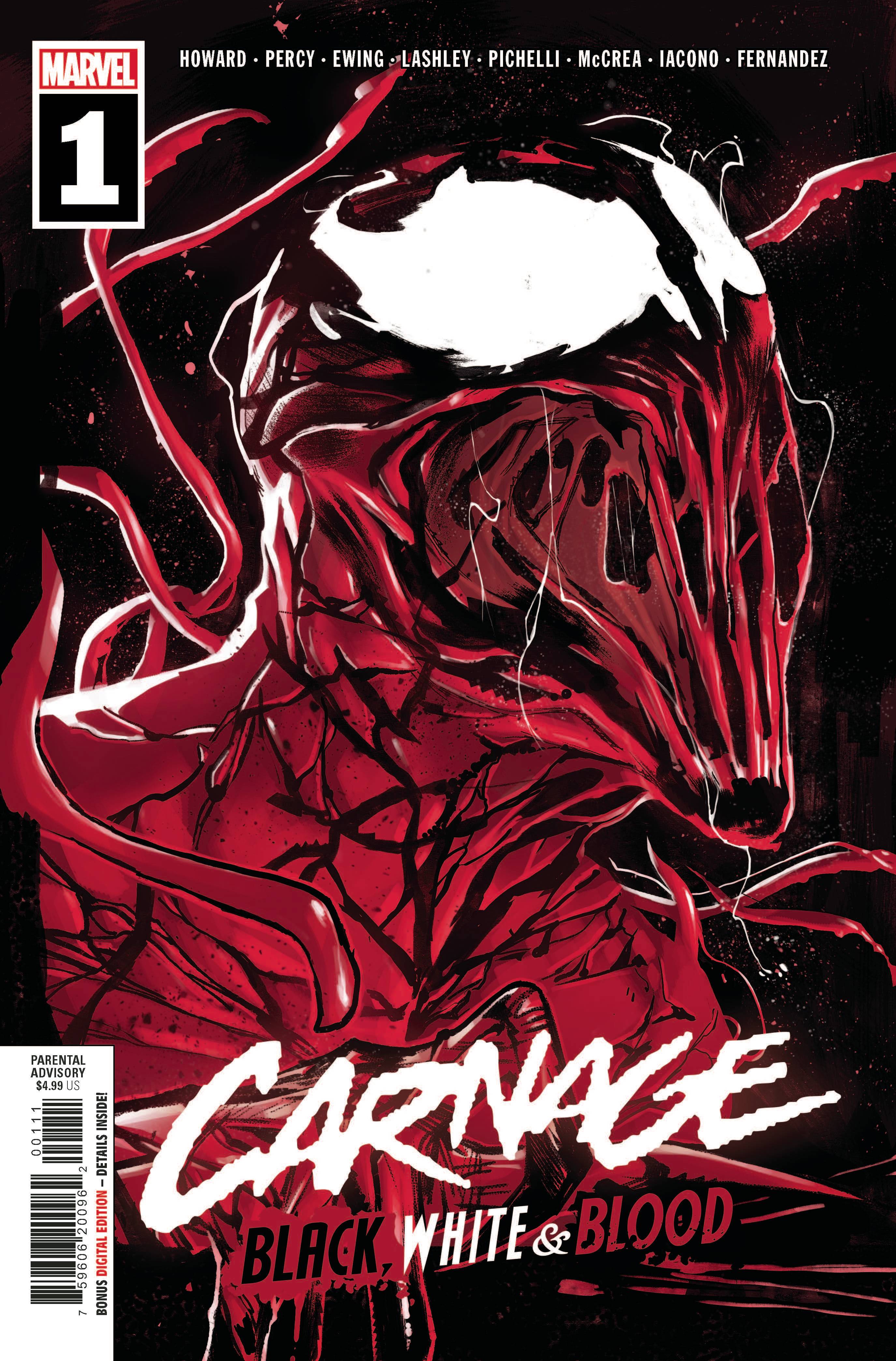 (W) Donny Cates, Ben Percy, Tini Howard (A) Ken Lashley (A/CA) Sara Pichelli
CARNAGE RULES!
Witness the cerebral chaos caused by CARNAGE, brought to life by some of the greatest creators at Marvel!
But beware, True Believers, true to their titular character's namesake, these spine-chilling tales are not for the faint of heart and presented in BLACK, WHITE AND BLOOD!
Marvel's Darkhawk Reclaims His Destiny as the Hero's 30th Anniversary Kicks Off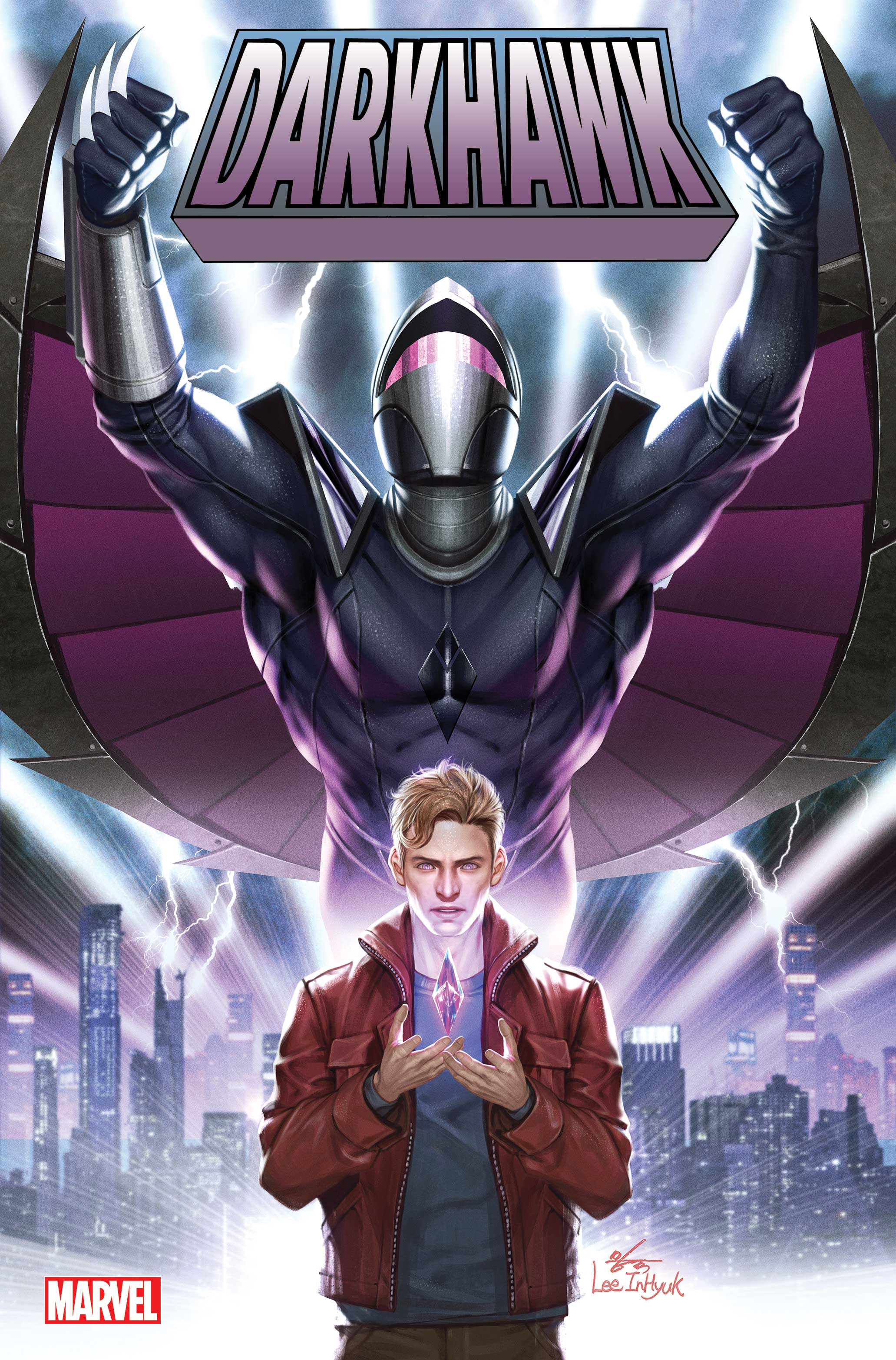 One of Marvel's most popular 90s creations, Darkhawk will return in April in a special giant-sized celebration issue. Honoring the iconic hero's 30th anniversary, Darkhawk: Heart of the Hawk will feature three spectacular tales from all-star creative teams including Darkhawk's creators: writer Danny Fingeroth and artist Mike Manley. This action-packed issue will celebrate Darkhawk's legacy, explore his defining eras, and set up the hero up for his bright Marvel Comics future.
When teenager Chris Powell discovered a mysterious amulet, he was transformed into the armored spacefaring hero known as Darkhawk. Now, Danny Fingeroth and Mike Manley reunite to revisit the beginning of Darkhawk's saga.
From street-level vigilante to cosmic defender, Darkhawk has proven to be one of Marvel's most unpredictable and resilient heroes. See what's next to come for this beloved character when Darkhawk: Heart of the Hawk #1 hits comic shops in April.
NEW COMICS THIS WEEK!
DAREDEVIL #25 2ND PTG VAR 3.99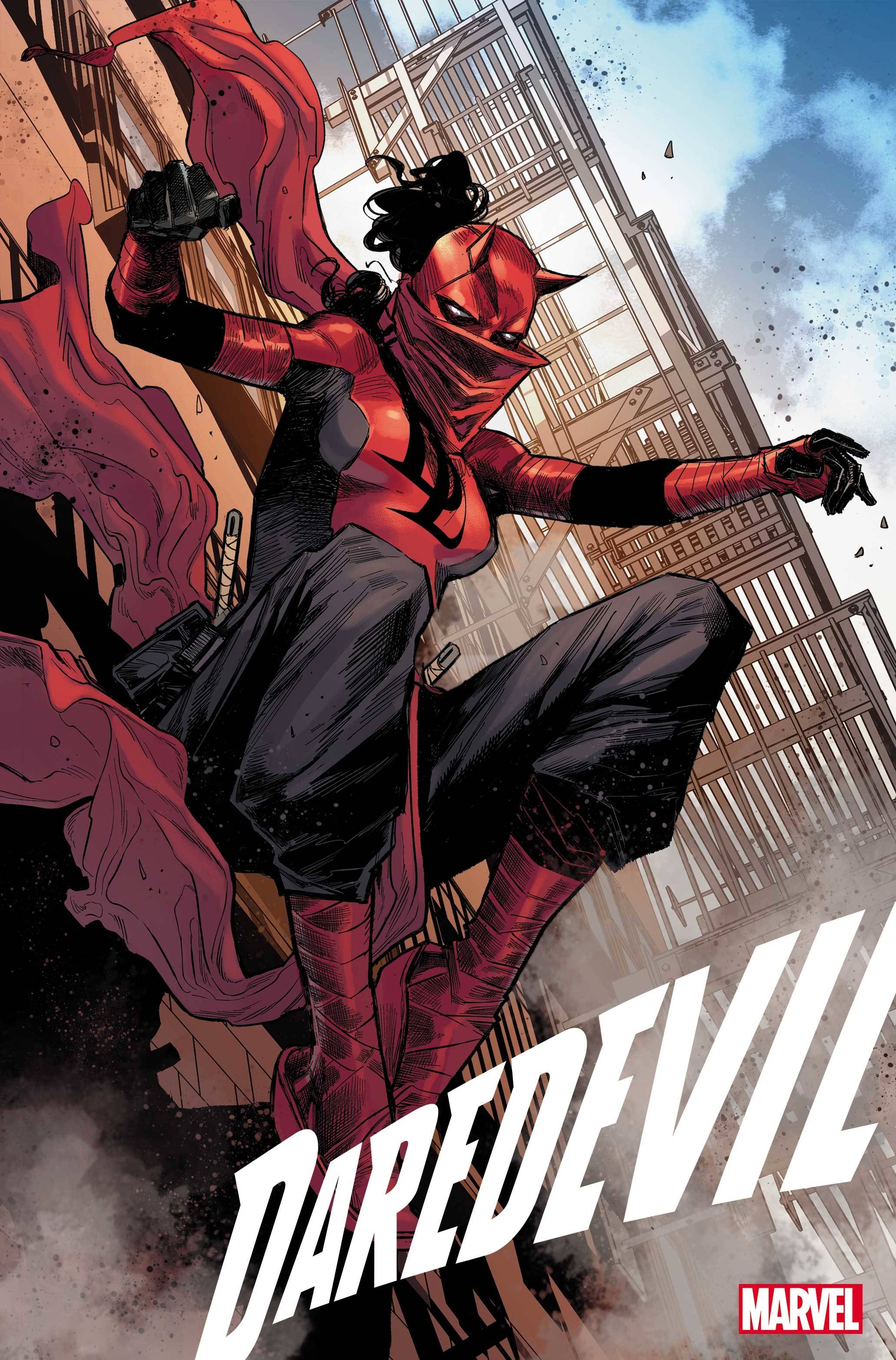 After a landmark year that put Daredevil through the wringer, this December, CHIP ZDARSKY and MARCO CHECCHETTO are dropping the Man Without Fear into familiar territory: behind bars. But there are no conspiracies against Daredevil to be found here – just the truth that his actions led to a man's death.
Faced with the reality and consequences of his actions, will Daredevil have the stomach to serve his term? Worse still, facing down a prison's worth of criminals he helped put away, will he survive it?
FUTURE STATE SUPERMAN WORLDS OF WAR #1 (OF 2) CVR A MIKEL JANIN 7.99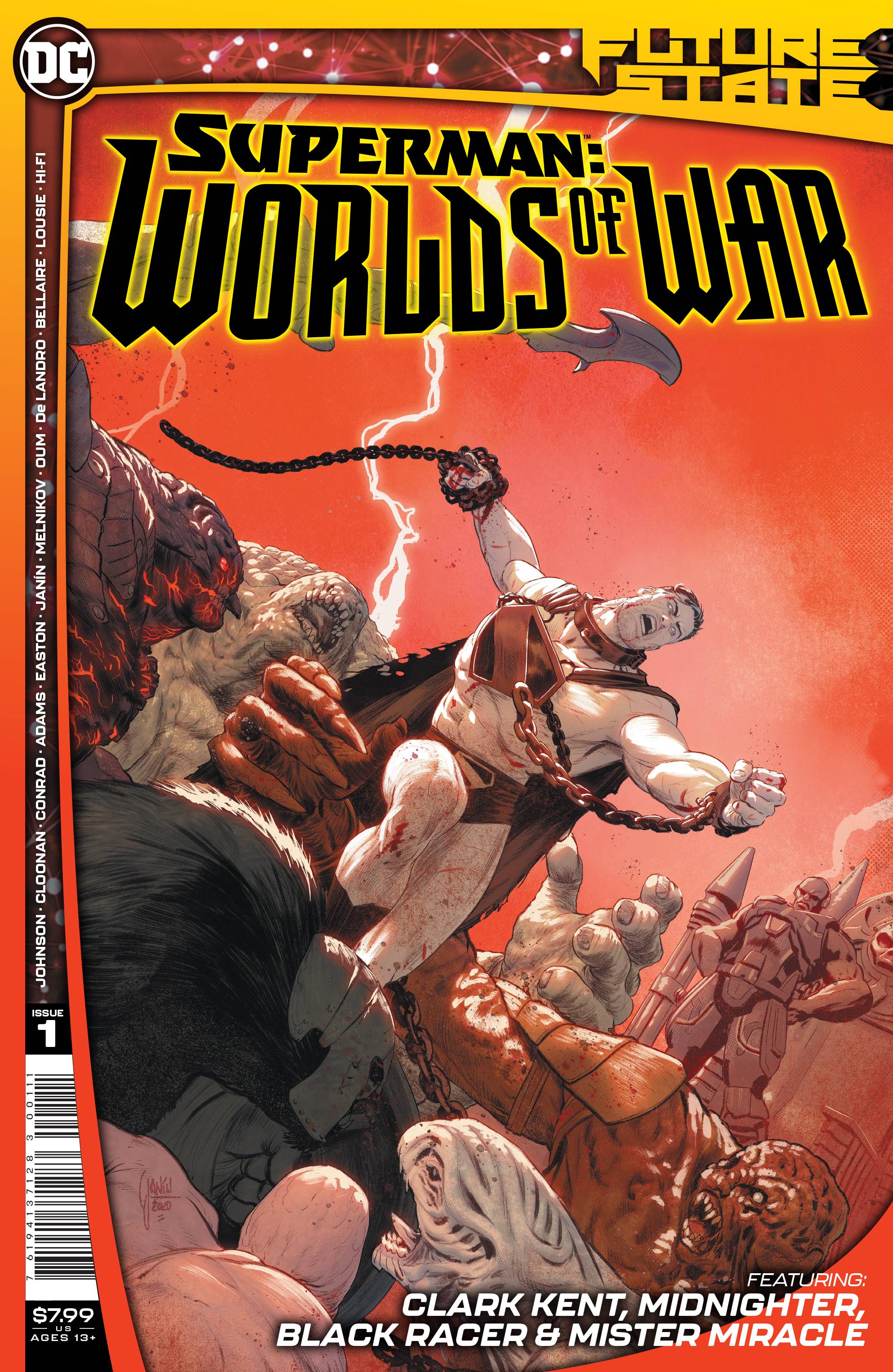 (W) Various (A) Various (CA) Mikel Janin
This monumental Future State title features four big stories! First, Clark Kent is gone, leaving a Superman-shaped hole behind. People gather in Smallville to celebrate their hero, little realizing that he is across the galaxy helping others. Superman has gone to Warworld, where he fights as a gladiator in the deadly pits of Mongul. But this is Superman we're talking about—and his idea of a victory does not line up with the expectations of Mongul's hordes! Meanwhile, on the other side of Warworld, other agents are at work, struggling for a better life. Shilo Norman, the man known as Mister Miracle, has ridden a Boom Tube across the cosmos from Metropolis to finds himself at odds with an entire planet! At the same time, Midnighter, the greatest fighter from Earth, is punching his way through a whole mess of trouble. He's on the hunt for a new energy source deadlier than Kryptonite. His goal: to shut it down before it gets unleashed on an unsuspecting universe. On top of that, the Black Racer, a girl raised in the slums of Warworld to be one of its top competitors, turns betrayal into a crusade to fight for the freedom of others like her.
KING IN BLACK #3 (OF 5) 4.99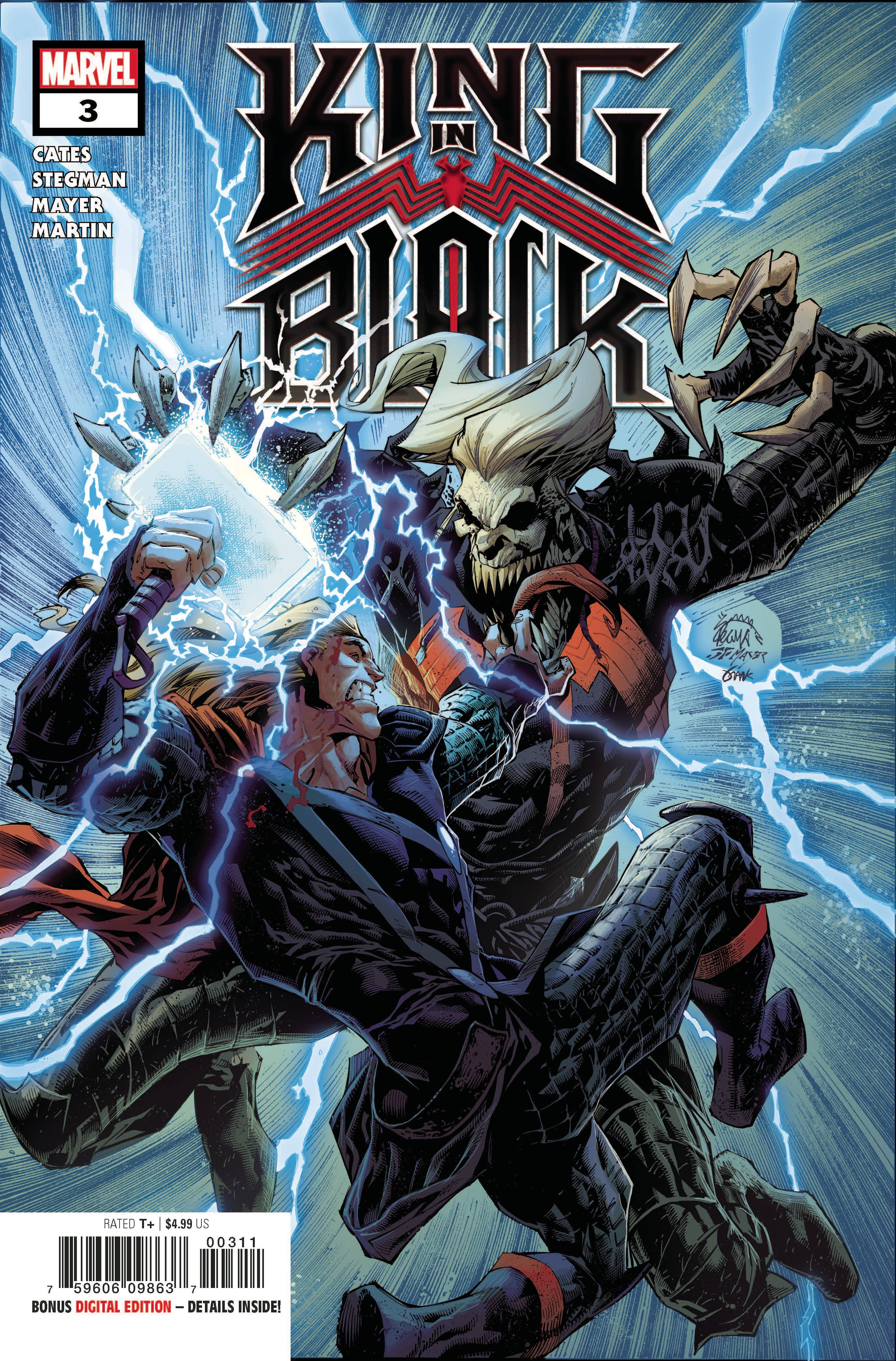 (W) Donny Cates (A/CA) Ryan Stegman
After last issue's shocking finale, the heroes of the Marvel Universe are reeling. Outgunned and outmanned, but never outdone, they unite and face KNULL, God of the Abyss, as he ensnares the planet in the darkness of his reign! Superstars DONNY CATES and RYAN STEGMAN continue to raise the game – and the stakes for the Marvel Universe in this Earth-shattering epic!
CRIMSON FLOWER #1 CVR A 3.99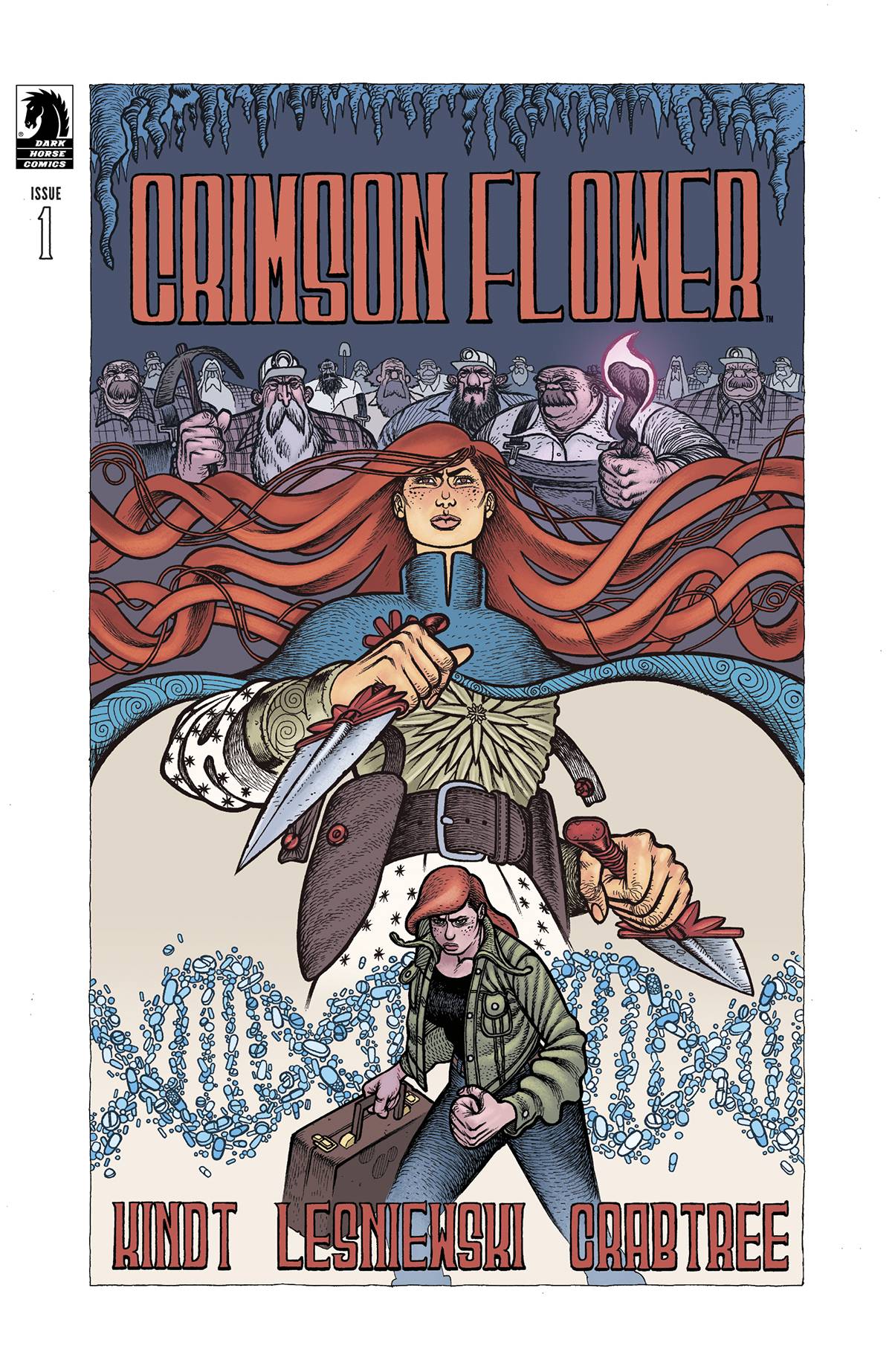 (W) Matt Kindt (A/CA) Matt Lesniewski
From New York Times-bestselling Mind MGMT creator Matt Kindt and Matt Lesniewski (The Freak) comes a brand-new, mind-altering journey through Russian folk tales, trained assassins, and government conspiracies.

After losing her family in a violent home invasion, a woman uses folk tales to cope. In a blood-soaked journey toward revenge, she tracks down the man responsible for her family's deaths, only to discover a startling government plot-to weaponize folk tales and use them to raise children into super assassins.
MAESTRO WAR AND PAX #1 (OF 5) 4.99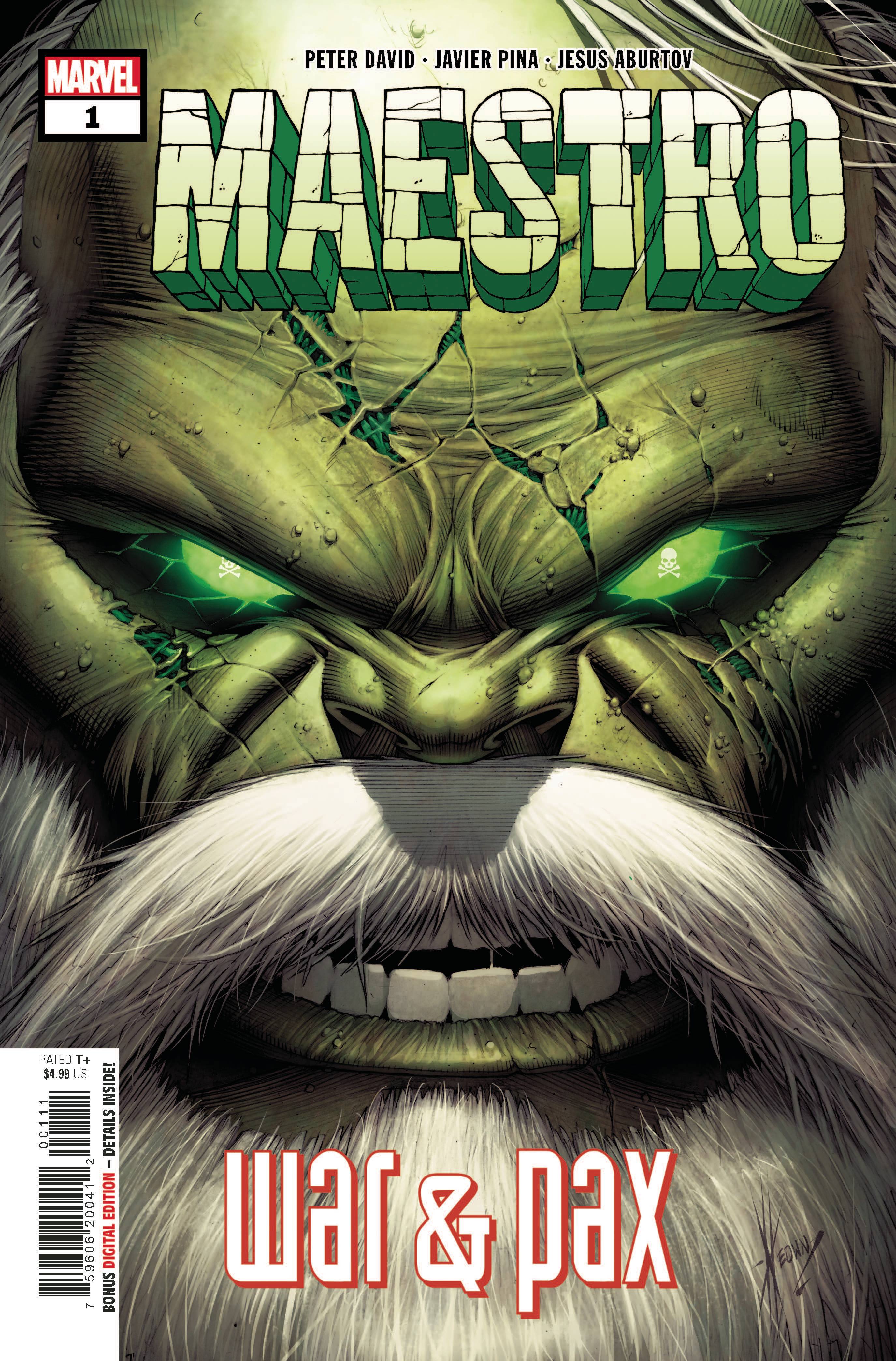 (W) Peter David (A) Javier Pina (CA) Dale Keown
PETER DAVID AND THE MAESTRO RETURN IN A BRAND-NEW SERIES!
The man once known as the Hulk is now neither man, nor Hulk – call him only THE MAESTRO! After deposing Dystopia's ancient ruler, the Maestro sets his sights even bigger. It's time the entire planet Earth recognized their one true god! But the Maestro isn't the only immortal left…and if he wants to truly dominate the planet, he'll have to face the most powerful beings in creation! PETER DAVID continues the tale that began decades ago in the legendary Future Imperfect!
FUTURE STATE IMMORTAL WONDER WOMAN #1 (OF 2) CVR A JEN BARTEL 5.99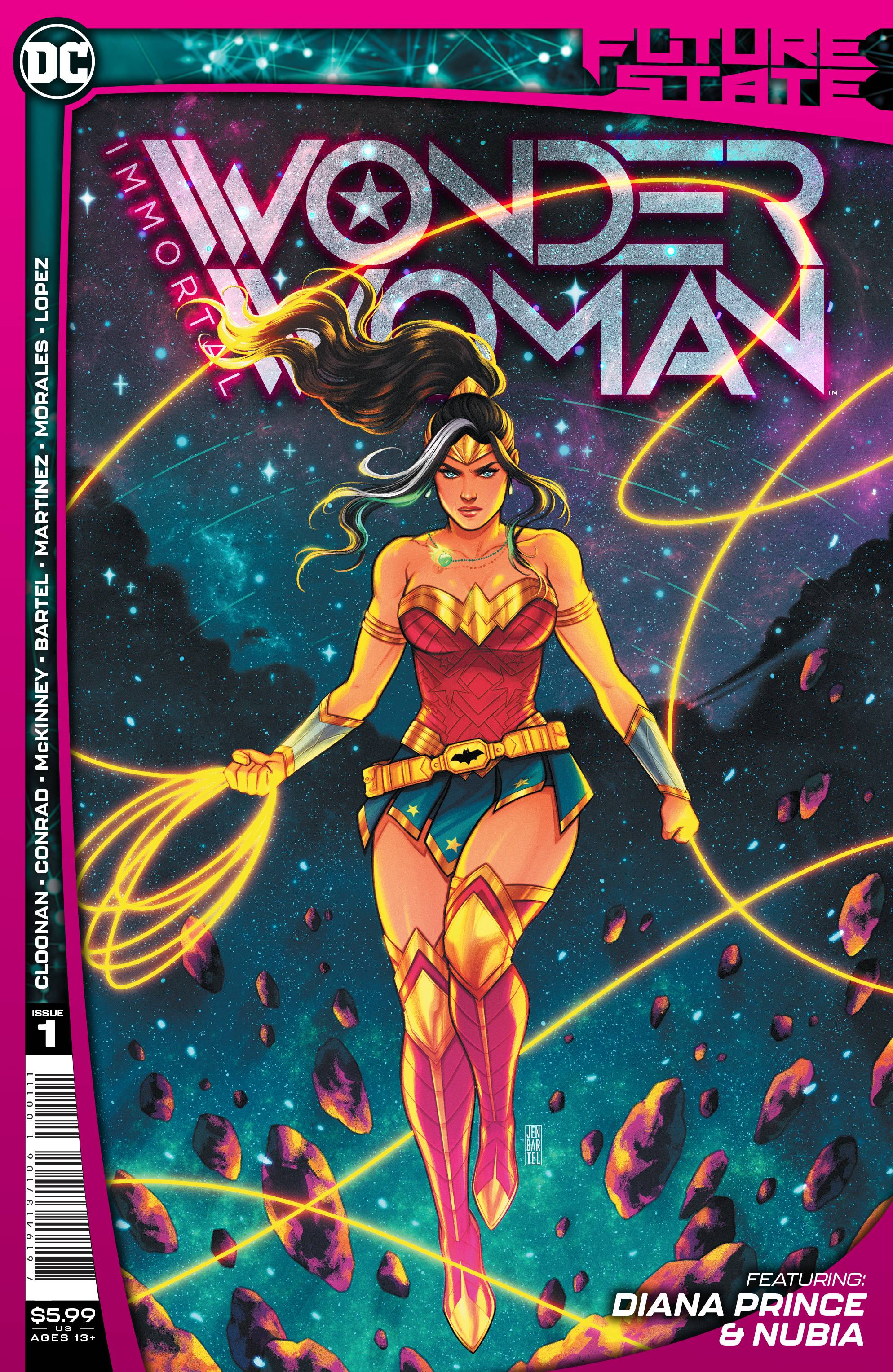 (W) Michael W. Conrad – Becky Cloonan – LL McKinney (A) Jen Bartel – Alitha Martinez – Mark Morales (CA) Jen Bartel
The Undoing are coming. Long past the Age of Heroes, few of Diana Prince's friends survive, and most of her sisters have passed as well. As an immortal goddess, this is her lot. But then, a threat appears that even the mighty Darkseid can't handle—and it's up to Wonder Woman to take on the battle! It's big action and high fantasy at the end of time, courtesy of Eisner Award-winning cartoonist Becky Cloonan (By Chance or Providence, Gotham Academy) and her Doom Patrol co-writer Michael W. Conrad, with the popular artist Jen Bartel (Blackbird) making her interior art debut for DC. Then, peer into a closer future as the original champion of Themyscira strikes out on her own. Things have not been stable on Paradise Island for some time, and Nubia has found a new home in Man's World. Now, she is tasked with protecting it from the dangers of the world of myths and magic. The writer of DC's Nubia: Real One, L.L. McKinney, takes this powerful Amazon to a whole new level.
THIS WEEK IN TOYS/STATUES
DC GALLERY DCEASED HARLEY QUINN PVC STATUE 49.99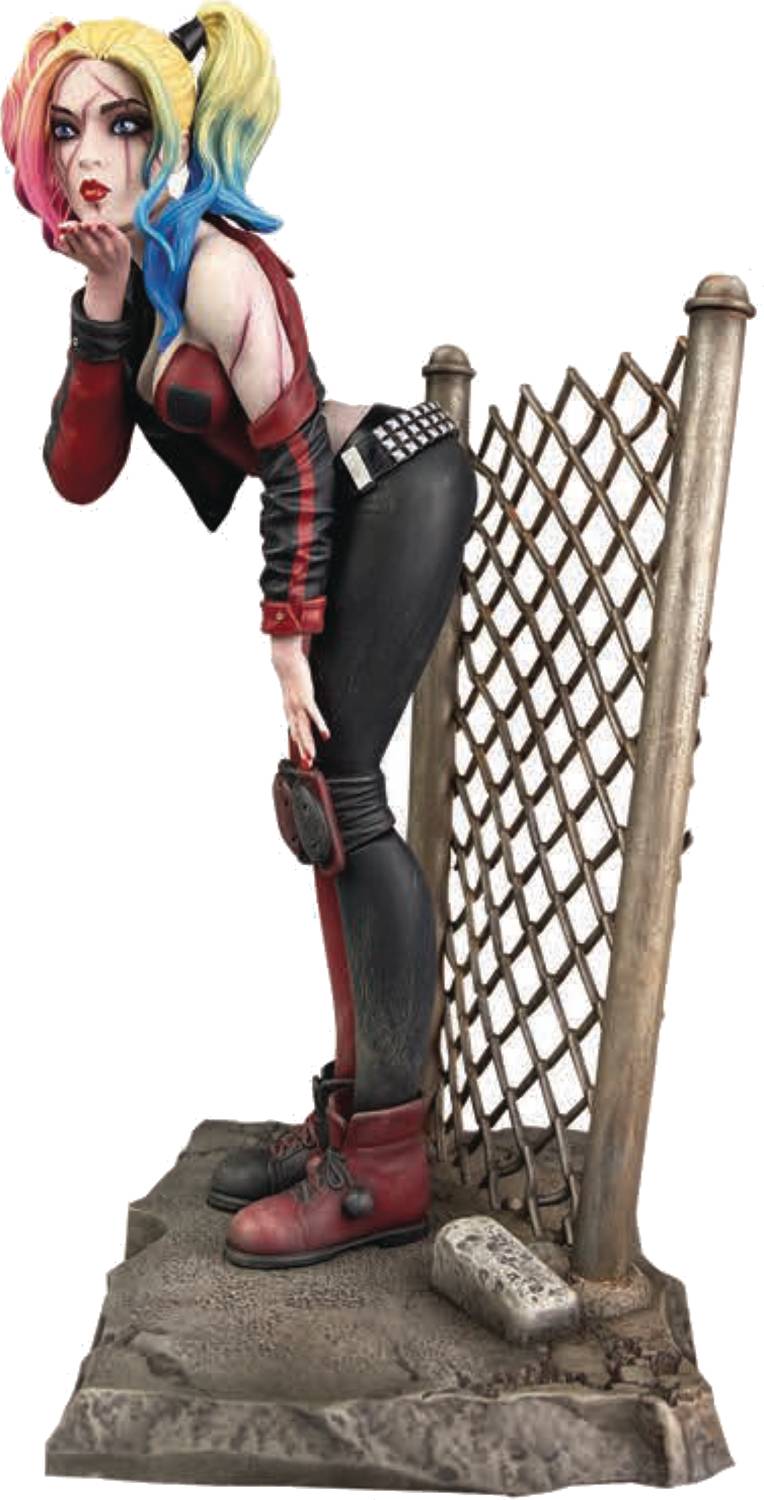 A Diamond Select Toys Release! Death becomes her! The Suicide Squad's liveliest heroine has survived the zombie outbreak and retained her trademark attitude. Blowing a kiss with her face covered with scars, she strikes a pose by a chain-link fence in this approximately 8″ sculpture. Cast in high-quality PVC, it features detailed sculpting and paint applications and comes packaged in a full-color window box. Sculpted by Sam Greenwell.
SW BLACK SERIES 6IN AF ASST 202101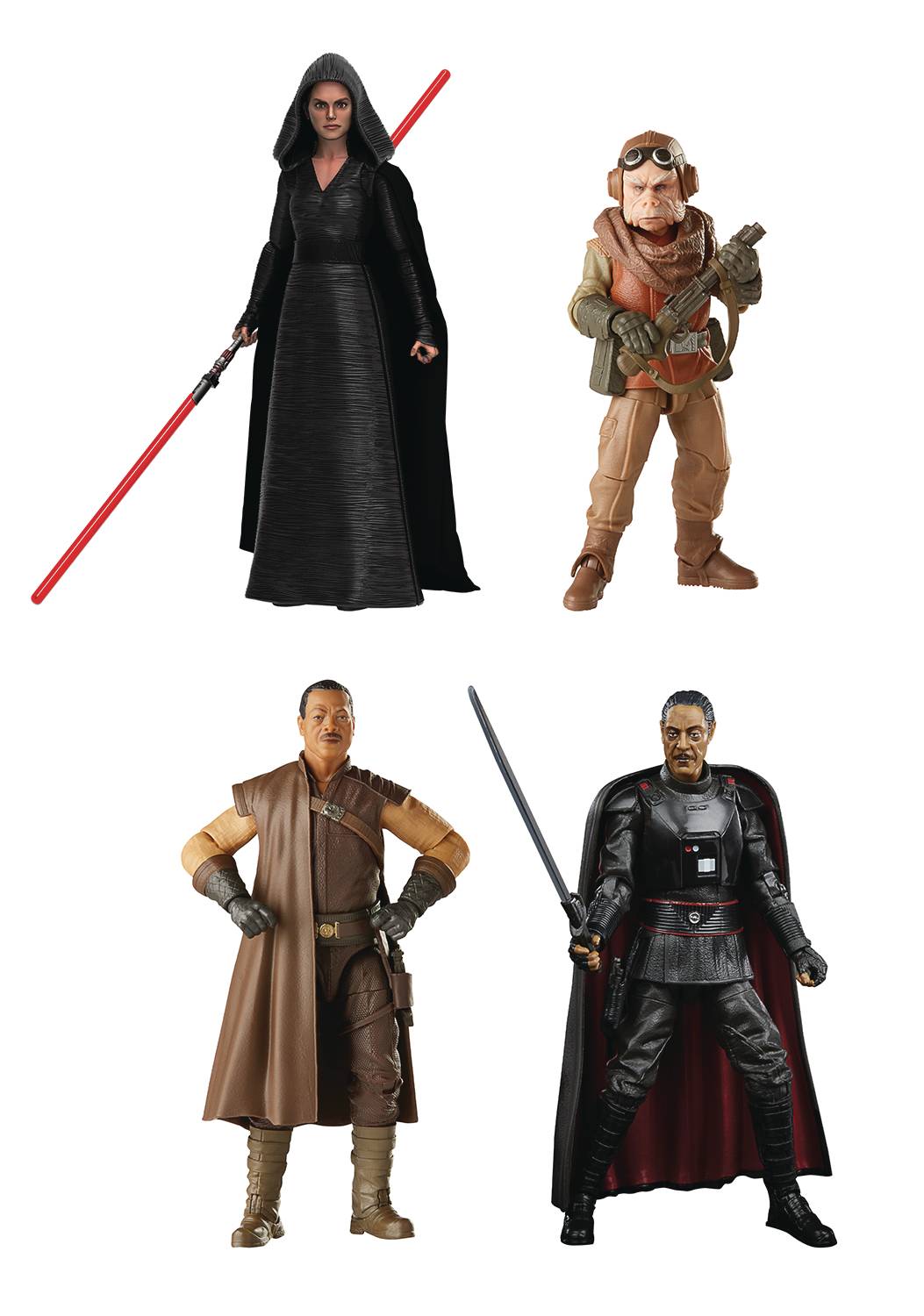 Re-create the biggest battles and missions of the Star Wars saga with these 6″ figures from The Black Series! With exquisite features and articulated movement, the figures in this series embody the quality and realism that Star Wars devotees love. Each figure is crafted to display true-to-story detail and comes with an accurately decorated accessory. Act out favorite battles or create brand new ones! Choose from Rey/D-0, Sith Trooper, 1st Order Jet Trooper, Luke Ceremony(2), Jannah, Wedge, and Cara Dune.
DRAGON BALL SUPER GRANDISTA NERO GOGETA FIG 41.99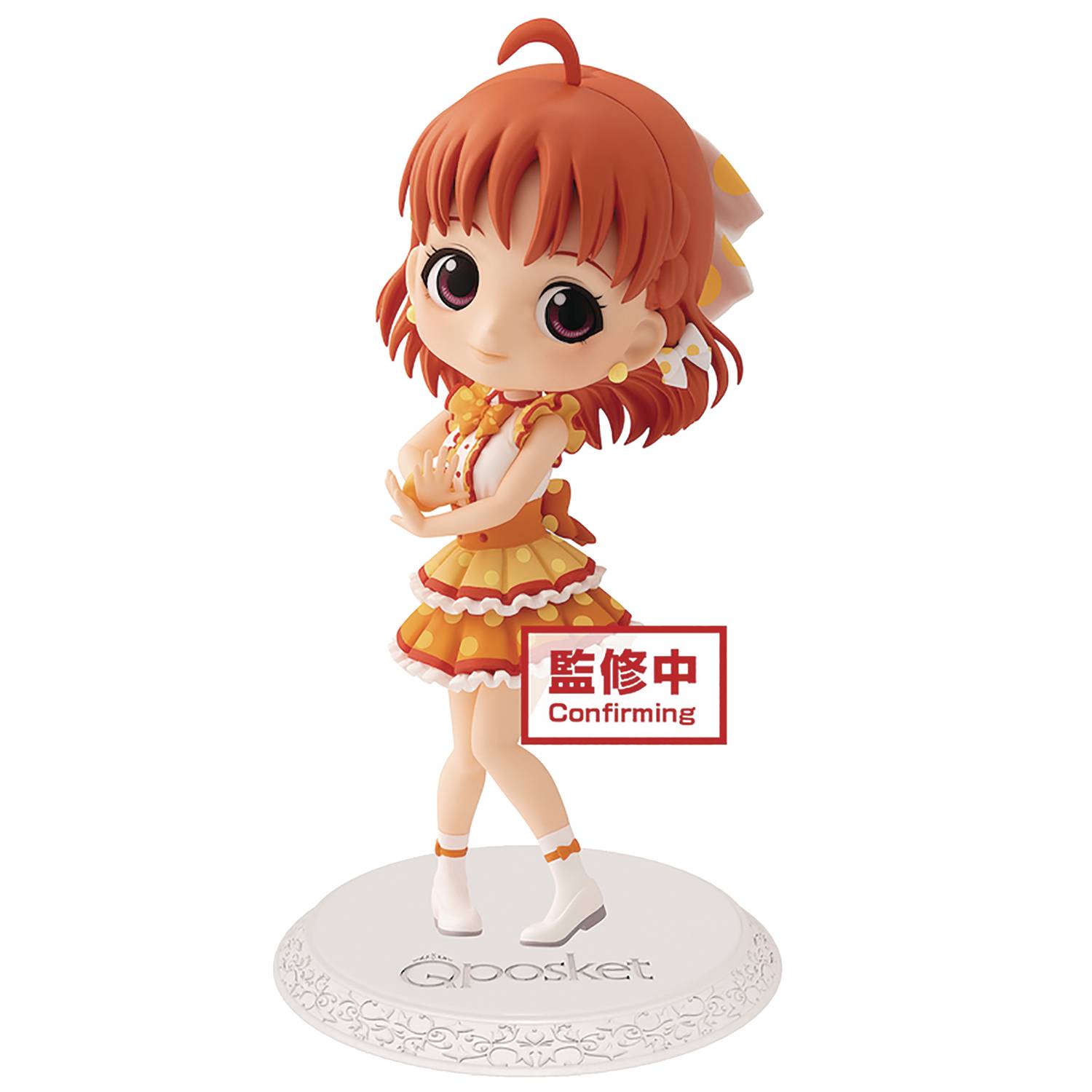 From Banpresto. Gogeta joins The Dragon Ball Super Grandista line from Banpresto! This incredible figure stands about 10″ tall.
MARVEL GALLERY HANDSTAND SPIDER-GWEN PVC STATUE 49.99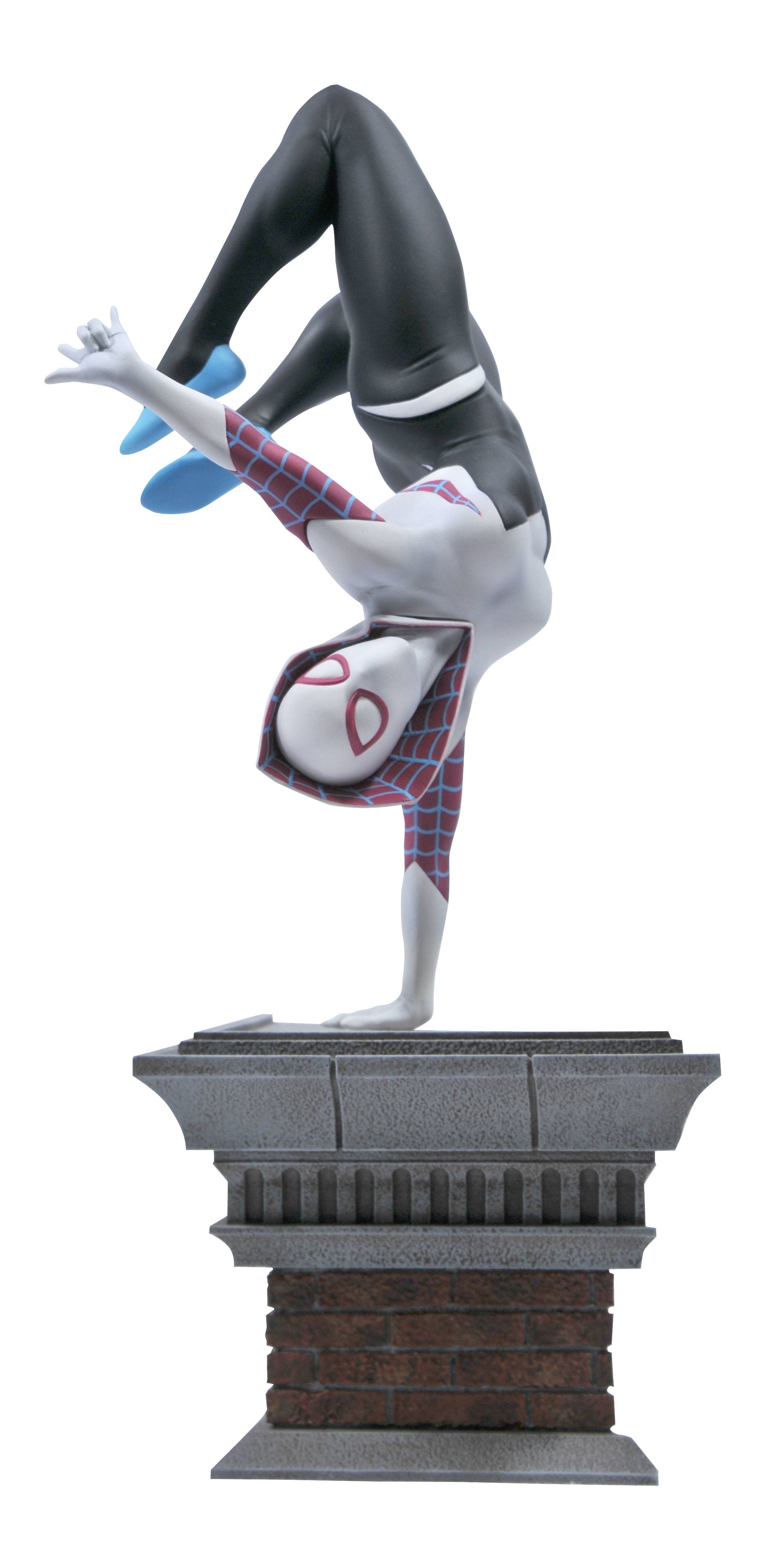 A Diamond Select Toys release! Posting a handstand on a New York City rooftop, the web-slinger formerly known as Spider-Gwen leaps back into the Marvel Gallery line with this all-new sculpt! Measuring approximately 11 inches tall, this dynamic sculpture is cast in high-quality PVC and features detailed sculpting and paint applications. It comes packaged in a full-color window box.
Trade-paperbacks of the Week!
ROM DIRE WRAITHS TP 15.99
.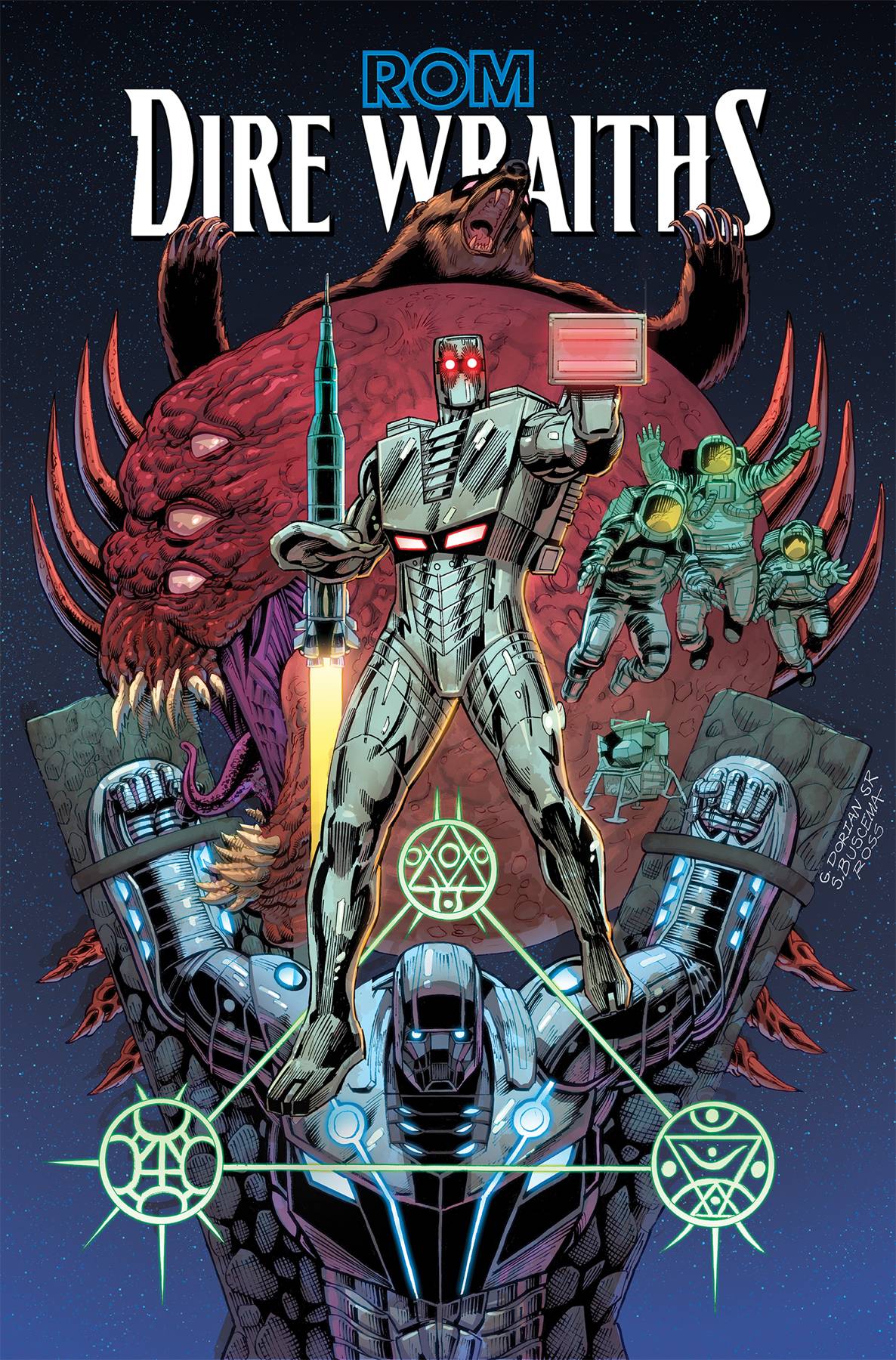 (W) Chris Ryall (A) Guy Dorina Sr., Sal Buscema (A/CA) Luca Pizzari
July, 1969. Neil Armstrong and Buzz Aldrin are about to become the first humans to set foot on the moon, but something inhuman is waiting for them!
Seeking to conquer everything in their path, the Dire Wraiths wield powerful dark magic and can infect other creatures transforming them into more of their kind. The only thing powerful enough to oppose them is Rom the Spaceknight. But, with Rom nowhere in sight, can even the Earth Corp help prevent one giant leap for Wraithkind or is there no way to stop an invasion of Earth? Only the crew of Apollo 11 and some unexpected guest-stars stand in their way! Plus, a special back-up story with art by Guy Dorian, Sr. and Rom legend Sal Buscema!
ESSENTIAL JUDGE DREDD APOCALYPSE WAR TP 24.99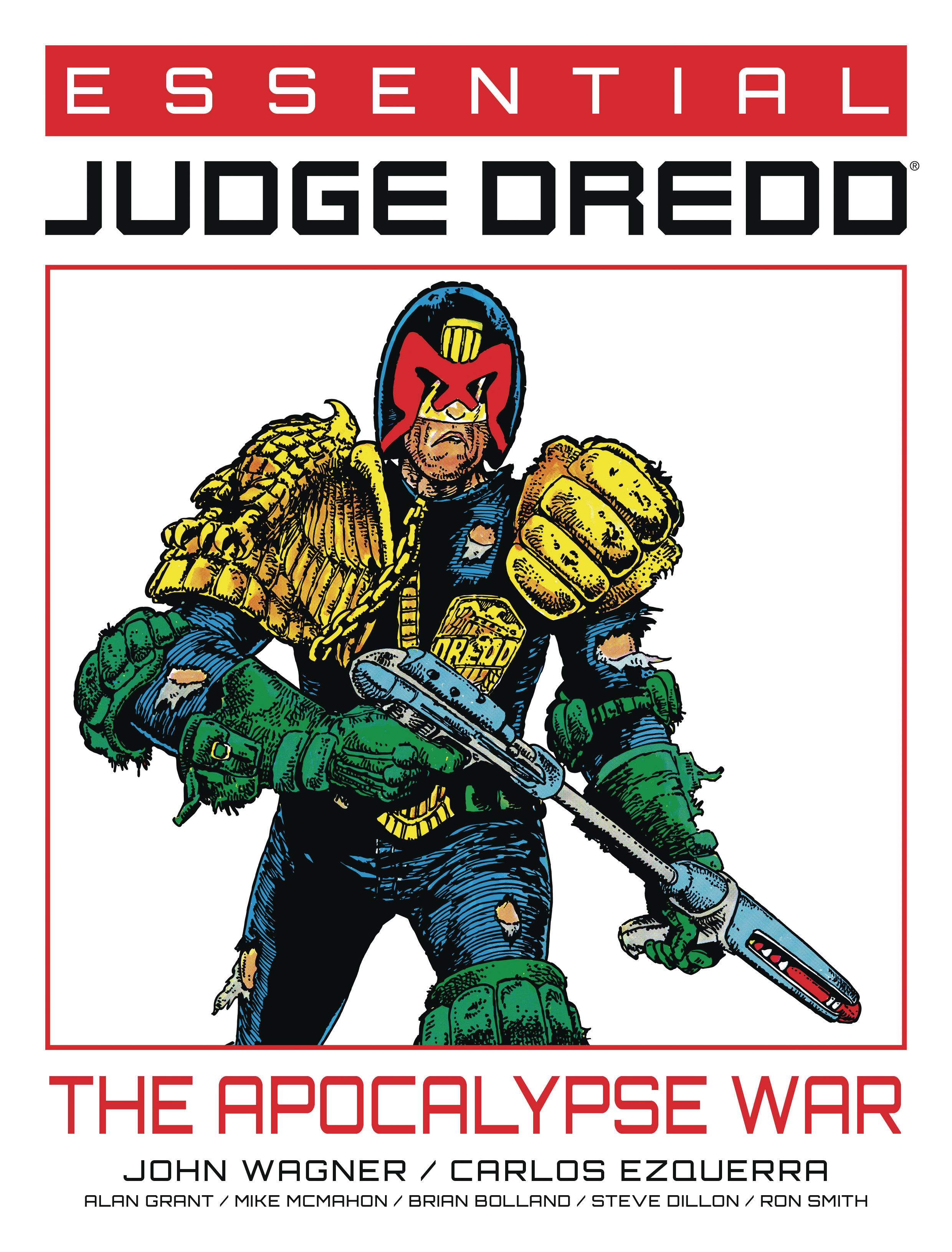 (W) John Wagner (A) Alan Grant
When the citizens of Mega-City One's massive city blocks declare war on each other, Judge Dredd realises it is merely a prologue to an all-out nuclear attack by East Meg One! As warheads rain down, Dredd leads a brave guerrilla resistance against the Sov forces, building to an earth-shattering decision that shakes his world to the core! The Apocalypse War is the mother of all "epic" Dredd storylines, which forever fixed the character in readers' minds and ensured Carlos Ezquerra's title as the definitive Dredd artist in comics' hall of fame.
IMMORTAL HULK TP VOL 08 KEEPER OF THE DOOR 15.99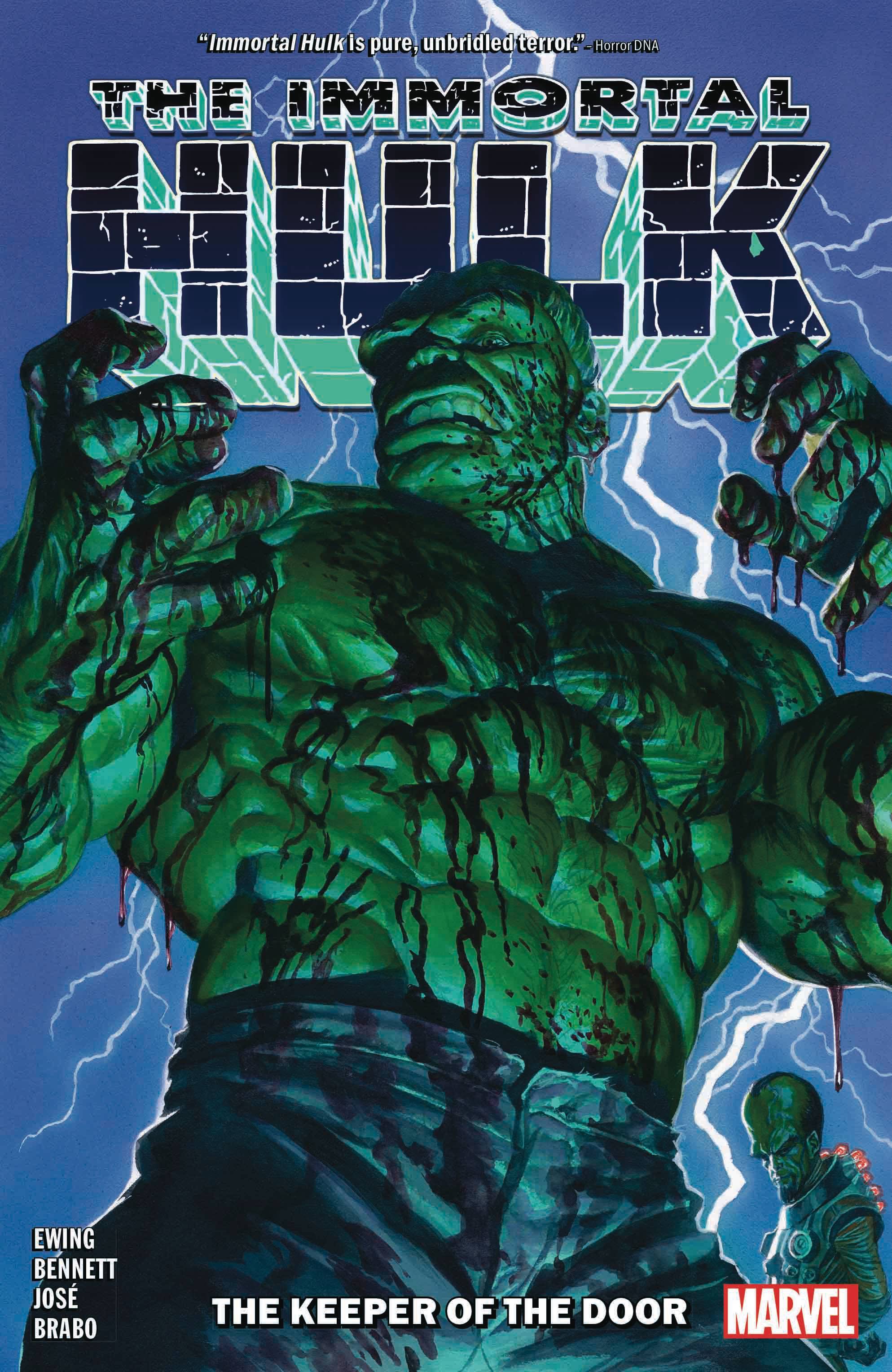 (W) Al Ewing (A) Joe Bennett (CA) Alex Ross
Follow the Leader! The Hulk's archenemy has set his sights on infiltrating the green behemoth's friend group in preparation to enact his nefarious, long-fomenting plans. But can the Leader push the immortal Hulk beyond his breaking point? Meanwhile, when Bruce Banner first came to Shadow Base, he was cut up into pieces and stored in jars – but he was only the second test subject. The first subject has just been freed! Plus: Some time ago, an outside force entered Bruce Banner's system. The Devil Hulk says it's the Green Scar. The Green Scar says it's the Devil Hulk. They might both be wrong! But now, deep in Banner's mind, something is reaching through the Green Door – and it wants to hurt Banner badly. And the Devil Hulk takes that personally. Al Ewing's best-selling, Eisner Award-nominated story continues! Collecting IMMORTAL HULK #36-40.
CONAN CHRONICLES EPIC COLLECTION TP SONG OF BELIT 44.99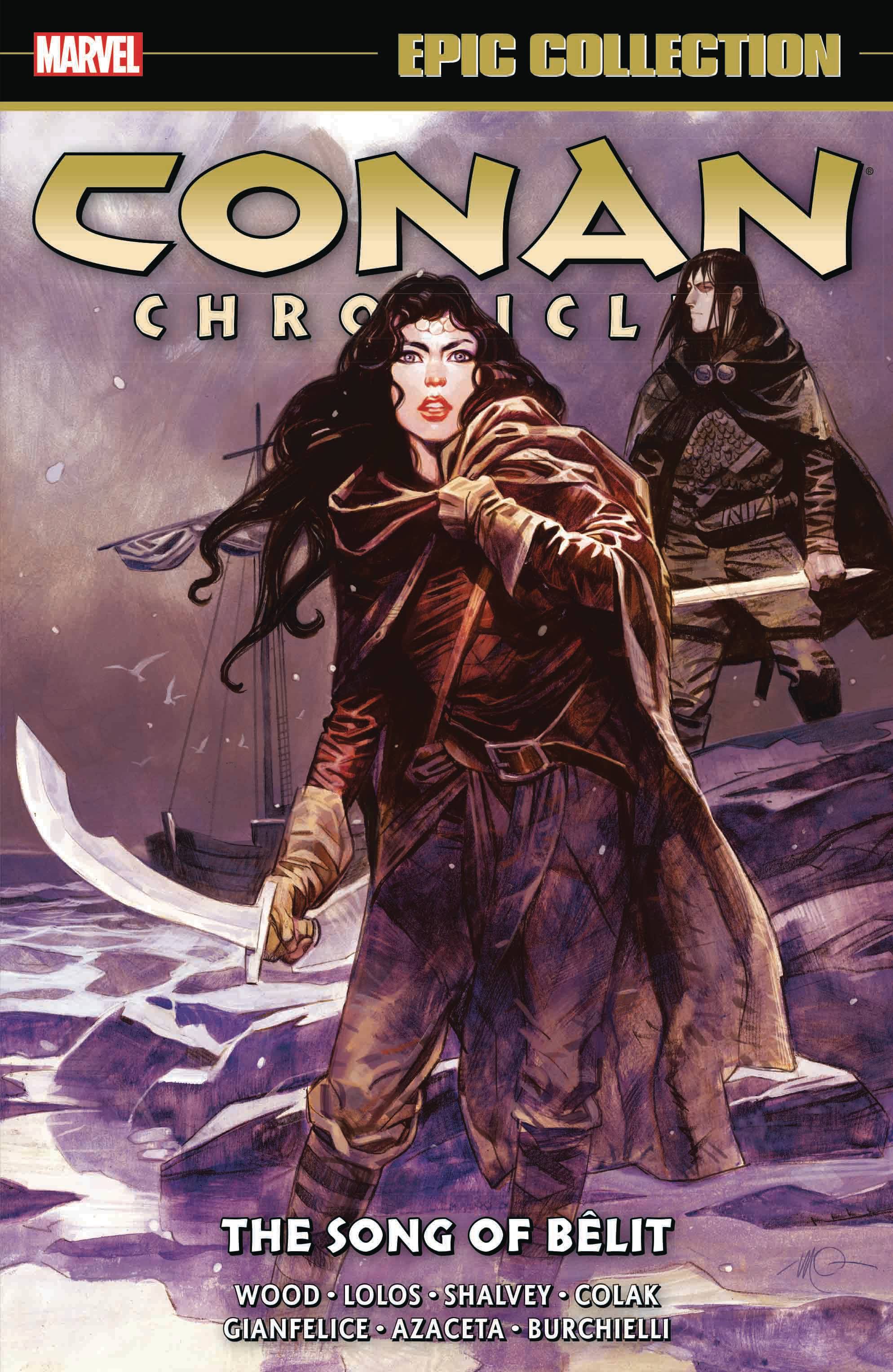 (W) Brian Wood (A) Becky Cloonan, Vasilis Lolos, Declan Shalvey, Mirko Colak, Andrea Mutti, Davide Gianfelice, Paul Azaceta, Riccardo Burchielli, Leandro Fernandez (CA) Massimo Carnevale
The Queen of the Black Coast! Conan the Barbarian and the maritime monarch Bêlit are the undisputed masters of the Western Ocean, their names whispered in fearful awe! But while most seafarers know better than to challenge their reign, strange new threats are arriving from unexpected shores. Conan must return to Cimmeria to hunt an impostor destroying villages in his name, but he discovers a shocking connection to his own past! In the wake of an unthinkable tragedy and an enormous strain, Conan and Bêlit find their bond buckling. As Bêlit returns to her childhood home, what she discovers in the sands of Shem could separate her from Conan – forever! Meanwhile, Conan seeks clarity through the mind-altering power of the yellow lotus – but will the visions revealed to him be more than he can bear? Collecting CONAN THE BARBARIAN (2012) #7-25.
MASTER LIST OF PRODUCTS ARRIVING THIS WEEK!
ABBOTT 1973 #1 (OF 5) CVR A 3.99
ABBOTT 1973 #1 (OF 5) CVR B 3.99
AMERICAN RONIN #4 (OF 5) (MR) 3.99
AVENGERS #41 3.99
AVENGERS #41 GARRON 3.99
AVENGERS #41 WEAVER 3.99
AVENGERS #41 YU 3.99
BARBALIEN RED PLANET #3 (OF 5) 3.99
BATMAN CATWOMAN #2 (OF 12) CVR A CLAY MANN 4.99
BATMAN CATWOMAN #2 (OF 12) CVR B JIM LEE & SCOTT WILLIAMS VAR 4.99
BATMAN CATWOMAN #2 (OF 12) CVR C TRAVIS CHAREST VAR 4.99
BATMAN DETECTIVE TP VOL 01 FACES OF DEATH (N52) 16.99
BATMAN THE DARK KNIGHT DETECTIVE VOL 04 TP 29.99
BLACK CAT #2 DEYN 3.99
BLACK CAT #2 KIB 3.99
BLACK CAT #2 MOMOKO 3.99
BYTE SIZED #2 3.99
CABLE #7 3.99
CHU TP VOL 01 9.99
CONAN CHRONICLES EPIC COLLECTION TP SONG OF BELIT 44.99
CRIMSON FLOWER #1 CVR A 3.99
CRIMSON FLOWER #1 CVR B 3.99
CUTTING EDGE DEVILS MIRROR #1 (OF 2) 5.99
D&D RPG RICK & MORTY TABLETOP RPG SC 29.99
DAREDEVIL #25 2ND PTG VAR 3.99
DAWN OF X TP VOL 11 17.99
DCEASED DEAD PLANET #7 (OF 7) CVR A DAVID FINCH 4.99
DCEASED DEAD PLANET #7 (OF 7) CVR B FRANCESCO MATTINA CARD STOCK VAR 5.99
DCEASED DEAD PLANET #7 (OF 7) CVR C BEN OLIVER MOVIE HOMAGE CARD STOCK VAR 5.99
DC GALLERY DCEASED HARLEY QUINN PVC STATUE 49.99
DC POSTER PORTFOLIO FRANCESCO MATTINA TP 24.99
DC SUPER PETS YR TP METROPOLIS MONKEY TROUBLE 5.95
DISNEY PRINCESS MAKE WAY FOR FUN TP 10.99
DOCTOR WHO COMICS #3 3.99
DRAGON BALL SUPER GRANDISTA NERO GOGETA FIG 41.99
DUNGEONS & DRAGONS AT SPINE OF WORLD #3 (OF 4) 3.99
EC GEORGE EVANS SLIGHT CASE OF MURDER HC 35
ESSENTIAL JUDGE DREDD APOCALYPSE WAR TP 24.99
ETERNALS TP COSMIC ORIGINS 17.99
EXPANSE #2 (OF 4) CVR A 4.99
EXPANSE #2 (OF 4) CVR B 4.99
FISHKILL #3 (OF 4) 3.99
FUTURE STATE CATWOMAN #1 (OF 2) CVR A LIAM SHARP 3.99
FUTURE STATE CATWOMAN #1 (OF 2) CVR B STANLEY ARTGERM LAU CARD STOCK VAR 4.99
FUTURE STATE IMMORTAL WONDER WOMAN #1 (OF 2) CVR A JEN BARTEL 5.99
FUTURE STATE IMMORTAL WONDER WOMAN #1 (OF 2) CVR B PEACH MOMOKO CARD STOCK VAR 6.99
FUTURE STATE NIGHTWING #1 (OF 2) CVR A YASMINE PUTRI 3.99
FUTURE STATE NIGHTWING #1 (OF 2) CVR B NICOLA SCOTT CARD STOCK VAR 4.99
FUTURE STATE SHAZAM #1 (OF 2) CVR A BERNARD CHANG 3.99
FUTURE STATE SHAZAM #1 (OF 2) CVR B GERALD PAREL CARD STOCK VAR 4.99
FUTURE STATE SUPERMAN WORLDS OF WAR #1 (OF 2) CVR A MIKEL JANIN 7.99
FUTURE STATE SUPERMAN WORLDS OF WAR #1 (OF 2) CVR B RICCARDO FEDERICI CARD STOCK VAR 8.99
FUTURE STATE THE NEXT BATMAN #2 (OF 4) CVR A LADRONN 7.99
FUTURE STATE THE NEXT BATMAN #2 (OF 4) CVR B FRANCESCO MATTINA CARD STOCK VAR 8.99
FUTURE STATE THE NEXT BATMAN #2 (OF 4) CVR C DOUG BRAITHWAITE CARD STOCK VAR 8.99
GEORGE RR MARTIN A CLASH OF KINGS #10 3.99
GODZILLA 1964 GHIDORAH 3-HEADED MONSTER MOVIE PINT GLASS 11.99
GODZILLA 1974 GODZILLA VS MECHAGODZILLA MOVIE PINT GLASS 11.99
GUNG HO SEXY BEAST #1 CVR A 3.99
GUNG HO SEXY BEAST #1 CVR C 3.99
HOLLYWOOD TRASH #4 (OF 5) 3.99
HOPE TP VOL 02 HOPE UNDER FIRE 9.99
HOW TO DRAW STAR WARS SC 14.99
I BREATHED A BODY #1 4.99
IMMORTAL HULK TP VOL 08 KEEPER OF THE DOOR 15.99
IRON FIST HEART OF DRAGON #1 (OF 6) 3.99
IRON FIST HEART OF DRAGON #1 (OF 6) AJA 3.99
IRON FIST HEART OF DRAGON #1 (OF 6) JACINTO 3.99
IT EATS WHAT FEEDS IT #3 2ND PTG 3.99
JEALOUSY GN VOL 03 12.99
JUSTICE SOCIETY OF AMERICA THE DEMISE OF JUSTICE HC 39.99
KILLADELPHIA #12 CVR A 4.99
KILLADELPHIA #12 CVR B 4.99
KILLADELPHIA #12 CVR C 4.99
KING IN BLACK #3 (OF 5) 4.99
KING IN BLACK #3 (OF 5) TATTOO 4.99
KING IN BLACK #3 (OF 5) MARVEL VS ALIEN VAR 4.99
KING IN BLACK #3 (OF 5) LASHLEY 4.99
KING IN BLACK #3 (OF 5) YU 4.99
LEGION OF SUPER-HEROES #12 CVR A RYAN SOOK 3.99
LEGION OF SUPER-HEROES #12 CVR B MATT TAYLOR VAR 3.99
LOONEY TUNES #258 2.99
LOVE LIVE SUNSHINE Q-POSKET CHIKA TAKMI FIG VER 2 29.99
MAESTRO WAR AND PAX #1 (OF 5) 4.99
MAESTRO WAR AND PAX #1 (OF 5) MCGUINNESS VAR 4.99
MAESTRO WAR AND PAX #1 (OF 5) STEGMAN VAR 4.99
MAESTRO WAR AND PAX #1 (OF 5) YOUNG VAR 4.99
MARKED TP VOL 02 ORIGINS (MR) 16.99
MARVEL GALLERY HANDSTAND SPIDER-GWEN PVC STATUE 49.99
MISFIT OF DEMON KING ACADEMY GN VOL 03 10.99
MISKATONIC #3 3.99
MY LITTLE PONY OMNIBUS TP VOL 06 24.99
ONCE & FUTURE #15 3.99
ONE PIECE LOG FILE SELECT FIGHT V1 ZORO DXF FIG 29.99
ONE PIECE SWEET STYLE PIRATES CARROT FIG VER 1 29.99
ONE PIECE SWEET STYLE PIRATES CARROT FIG VER 2 29.99
ORIENT GN VOL 01 10.99
PERSONA 5 MANGA GN VOL 05 9.99
POKEMON SUN & MOON GN VOL 09 4.99
POP AD ICONS MCDONALDS ROCK OUT RONALD VINYL FIGURE 11.99
POP CLUE MISS SCARLET W/ CANDLESTICK VIN FIG 11.99
POP CLUE MR GREEN W/ LEAD PIPE VIN FIG 11.99
POP CLUE PROFESSOR PLUM W/ ROPE VIN FIG 11.99
POP COKE COCA COLA BOTTLE CAP VIN FIG 11.99
POP DISNEY FANTASIA 80TH HYACINTH HIPPO VINYL FIG 11.99
POP GAMES VOX MACHINA PERCIVAL DE ROLO VINYL FIGURE 11.99
POP KOOL AID ORIGINAL KOOL AID PACKET VIN FIG 11.99
POP MOVIES BLADE RUNNER RACHAEL VINYL FIG 11.99
POP MUSIC LEWIS CAPALDI VIN FIG 11.99
POP RIDES OSCAR MAYER WIENERMOBILE VINYL FIG 29.99
POP ROCKS DEADMAU5 VIN FIG 11.99
POP SPAM CAN VIN FIG 11.99
POP TOWN BOB BIG BOY RESTAURANT W/ BIG BOY VIN FIG 29.99
PRETTY VIOLENT #10 3.99
POWER RANGERS #3 CVR A 3.99
POWER RANGERS #3 CVR B 3.99
POWER RANGERS #3 CVR C BLACK BLANK SKETCH 3.99
PULP TP 12.99
RAIN LIKE HAMMERS #1 (OF 5) 4.99
RE ZERO SLIAW CHAPTER 4 GN VOL 01 13
RED SONJA PRICE OF BLOOD #2 CVR A 3.99
RED SONJA PRICE OF BLOOD #2 CVR B 3.99
RICK & MORTY EVER AFTER #4 CVR A 3.99
RICK & MORTY EVER AFTER #4 CVR B 3.99
RICK & MORTY TP VOL 12 19.99
ROBERT E HOWARD RATTLE OF BONES HC 29.99
ROM DIRE WRAITHS TP 15.99
RORSCHACH #4 (OF 12) CVR A JORGE FORNES (MR) 4.99
RORSCHACH #4 (OF 12) CVR B TRAVIS CHAREST VAR (MR) 4.99
SAVAGE CIRCUS #2 (OF 10) 2.99
SCUMBAG #4 CVR A 3.99
SEVEN TO ETERNITY #16 CVR A 3.99
SEVEN TO ETERNITY #16 CVR B 3.99
SPLATOON MANGA GN VOL 11 9.99
STAR TREK VOYAGER SEVENS RECKONING #3 (OF 4) CVR A 3.99
STAR TREK VOYAGER SEVENS RECKONING #3 (OF 4) CVR B 3.99
STAR WARS DOCTOR APHRA #7 3.99
STAR WARS MANDALORIAN ART COLL ED HC VOL 02 19.99
STAR WARS THE MANDALORIAN IM ALL EARS DOORMAT 19.99
STAR WARS THE MANDALORIAN THE CHILD DOORMAT 19.99
STILLWATER BY ZDARSKY & PEREZ #5 3.99
SW BLACK SERIES 6IN AF ASST 202101
SW MANDALORIAN SIGNET BLACK & SILVER PX 3930 FLEXFIT CAP 29.99
THE IDOLMASTER CINDERELLA GIRLS ESPRESTO MIKA JOUGASAKI FIG 29.99
TMNT BEST OF LEONARDO 5.99
TMNT JENNIKA II #3 (OF 6) 4.99
TMNT ONGOING #113 CVR A 3.99
TMNT ONGOING #113 CVR B 3.99
TRANSFORMERS #27 CVR A 3.99
TRANSFORMERS #27 CVR B 3.99
UNIVERSE HC VOL 01 29.99
WALKING DEAD DLX #7 CVR A 3.99
WALKING DEAD DLX #7 CVR B 3.99
WALKING DEAD DLX #7 CVR C 3.99
WE LIVE #4 3.99
X-FORCE #16 3.99
X-FORCE #16 LARROCA 3.99
X-MEN DAYS OF FUTURE PAST TP NEW PTG 19.99
YOU LOOK LIKE DEATH TALES UMBRELLA ACADEMY #5 (OF 6) CVR A 3.99
YOU LOOK LIKE DEATH TALES UMBRELLA ACADEMY #5 (OF 6) CVR B 3.99
YOU LOOK LIKE DEATH TALES UMBRELLA ACADEMY #5 (OF 6) CVR C 3.99
YOUNG JUSTICE VOL 03 WARRIORS AND WARLORDS TP 19.99
ZORRO GALLEON OF DEAD #3 3.99
We hope to see you soon at CQ!
Visit us at 2260 Morgan Avenue, Evansville
On the web at www.comicquest.com
On Facebook www.facebook.com/comicquestevansville
On Twitter @cqevansville
On Instagram: @comicquestevansvilletwitter.com/cqevansville
Contact us at sales@comicquest.com or by phone at 812-474-