AWA Introduces a New Sci-fi Satire with 'Not All Robots'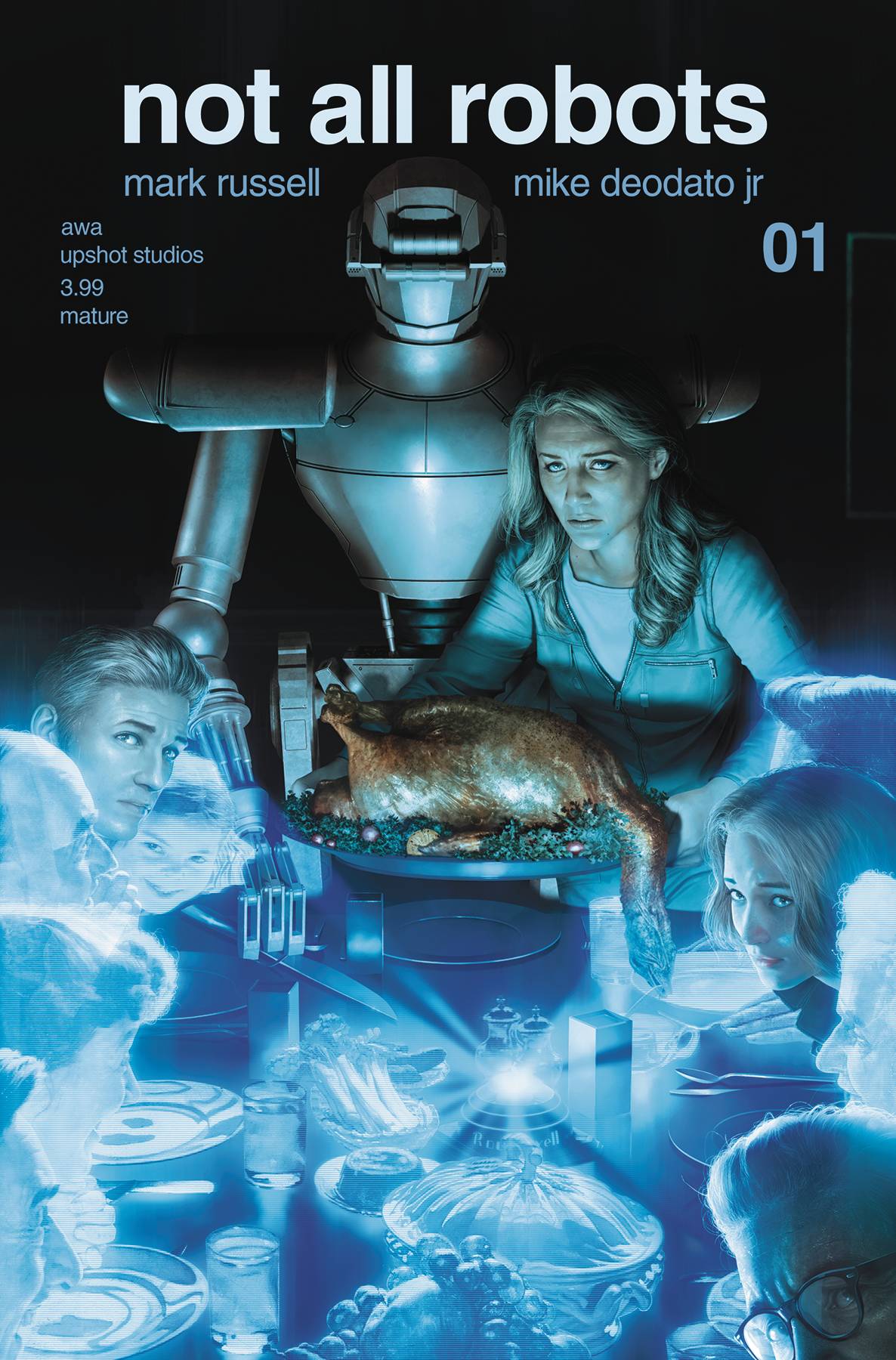 Not All Robots (JUN211321) is a black comedy set in a near future dystopia, think of it like a darker Futurama or a funnier Black Mirror.
Set in the year 2056, robots have replaced human beings in the work¬force. An uneasy co-existence develops between the newly intelligent robots and the ten billion humans living on Earth. Every human family is assigned a robot upon whom they are completely reliant. What could possibly go wrong?
Meet the Walters, a human family whose robot, Razorball, ominously spends his free time in the garage working on machines which they're pretty sure are designed to kill them in this sci-fi satire from Mark Russell (The Flintstones, Second Coming) and Mike Deodato Jr. (The Amazing Spider-Man, The Resistance).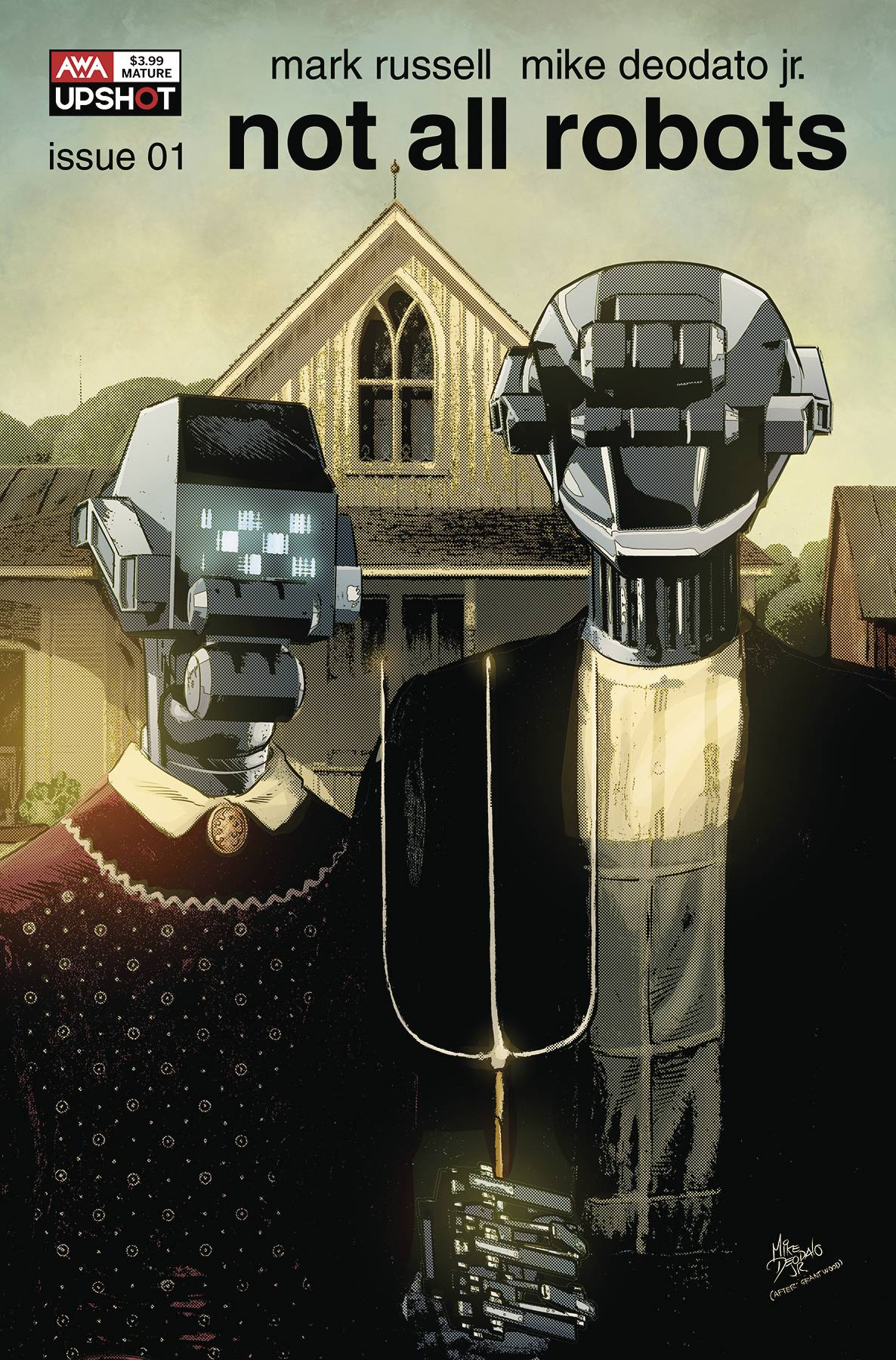 NEW COMICS THIS WEEK!
BLUE FLAME #1 CVR A GORHAM 3.99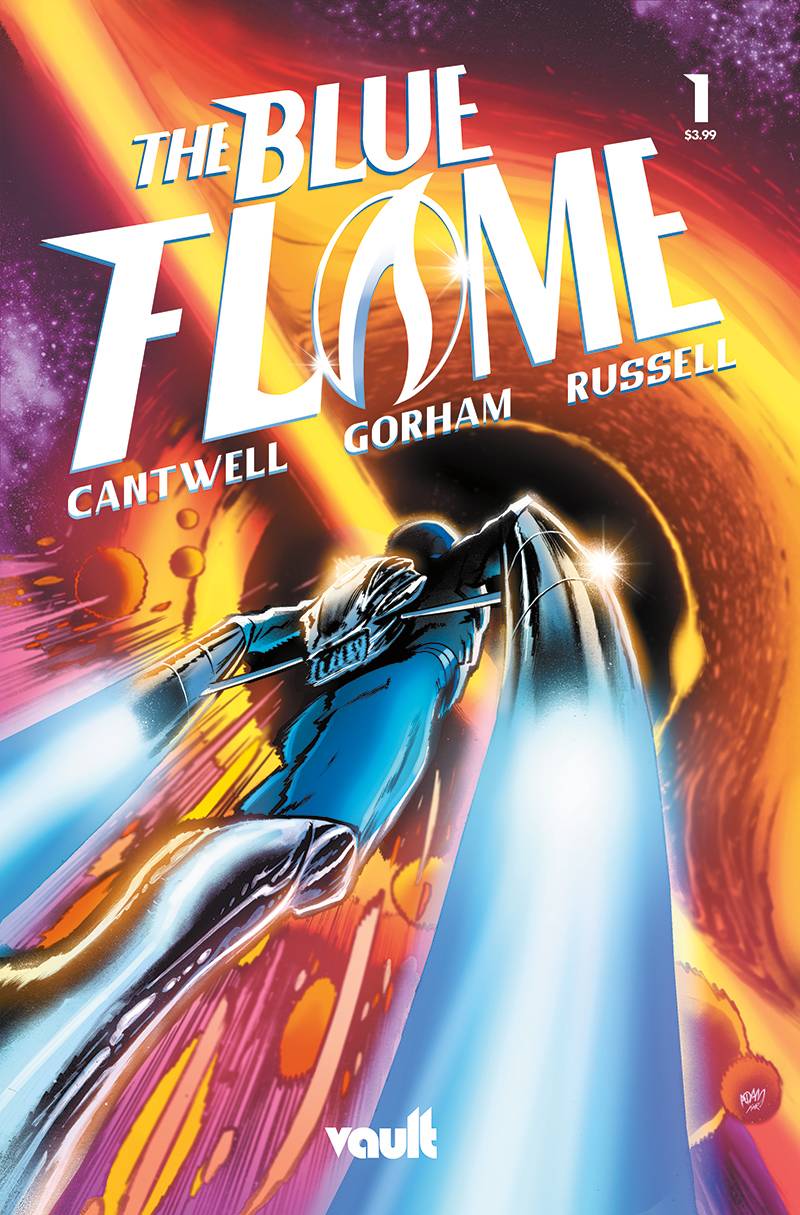 BLACK PANTHER #25 GLEASON STORMBREAKERS VAR 5.99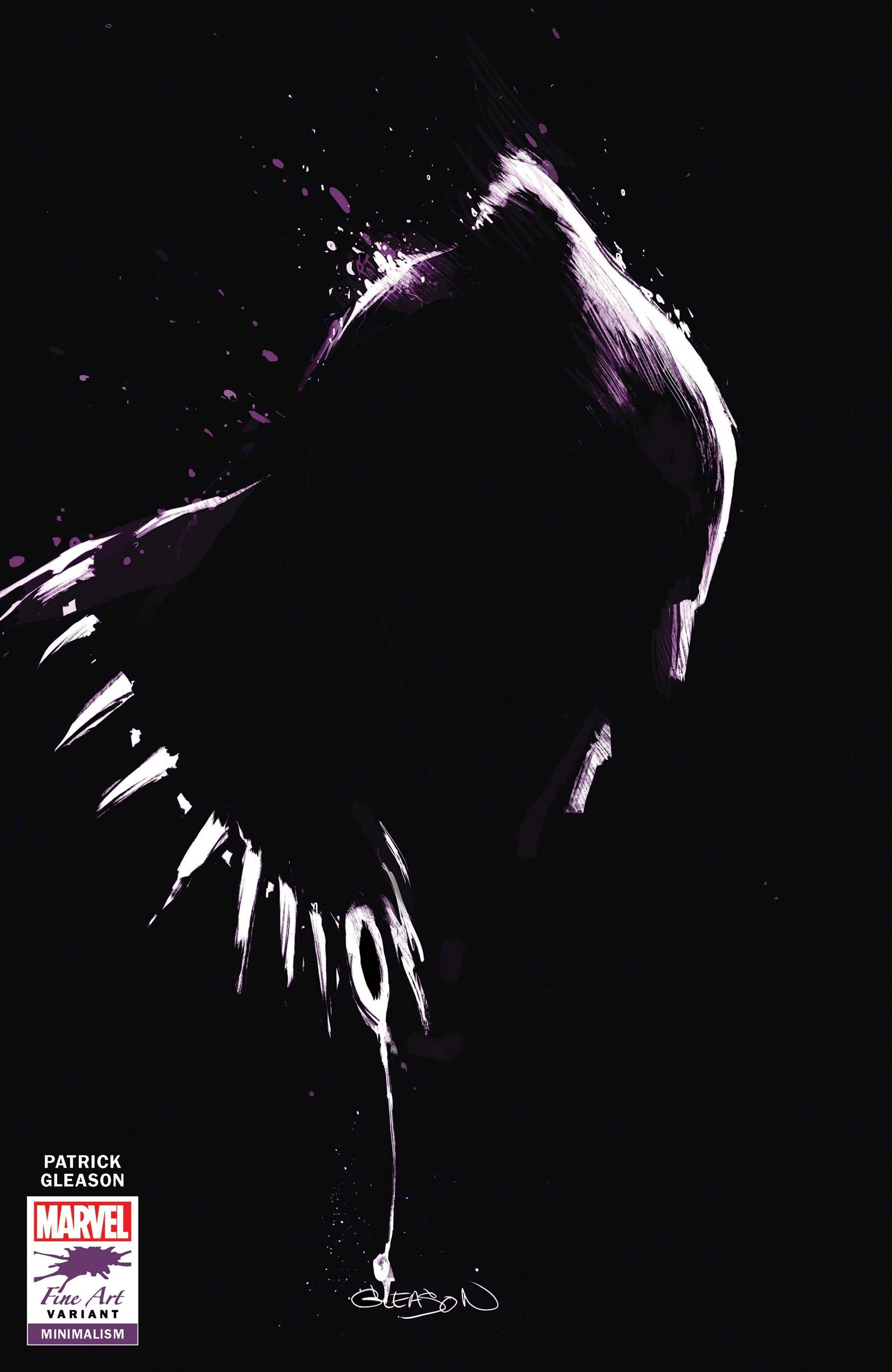 MILESTONE RETURNS INFINITE EDITION #0 (ONE SHOT) CVR A DENYS COWAN 4.99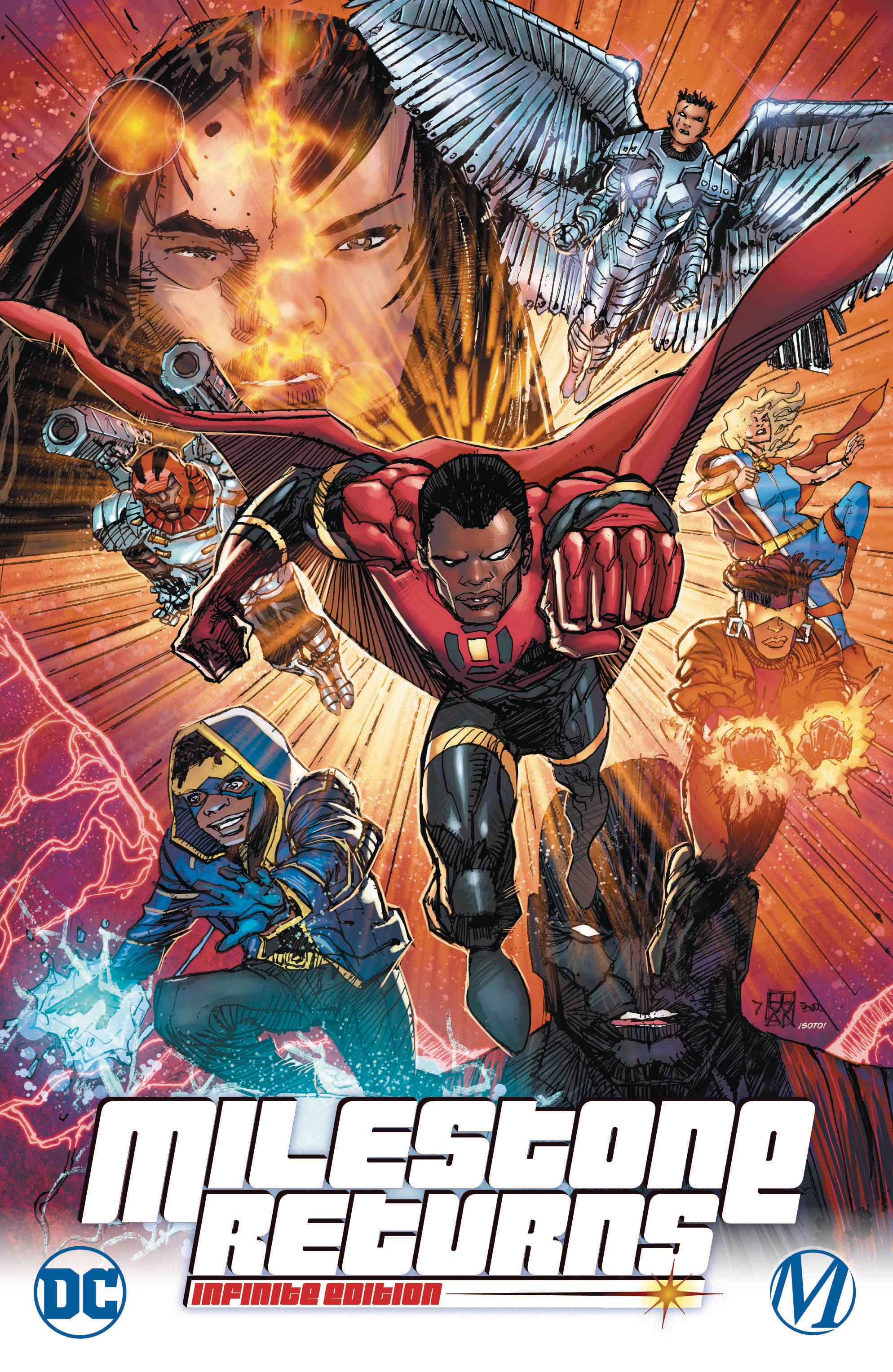 TMNT THE LAST RONIN #3 (OF 5) 8.99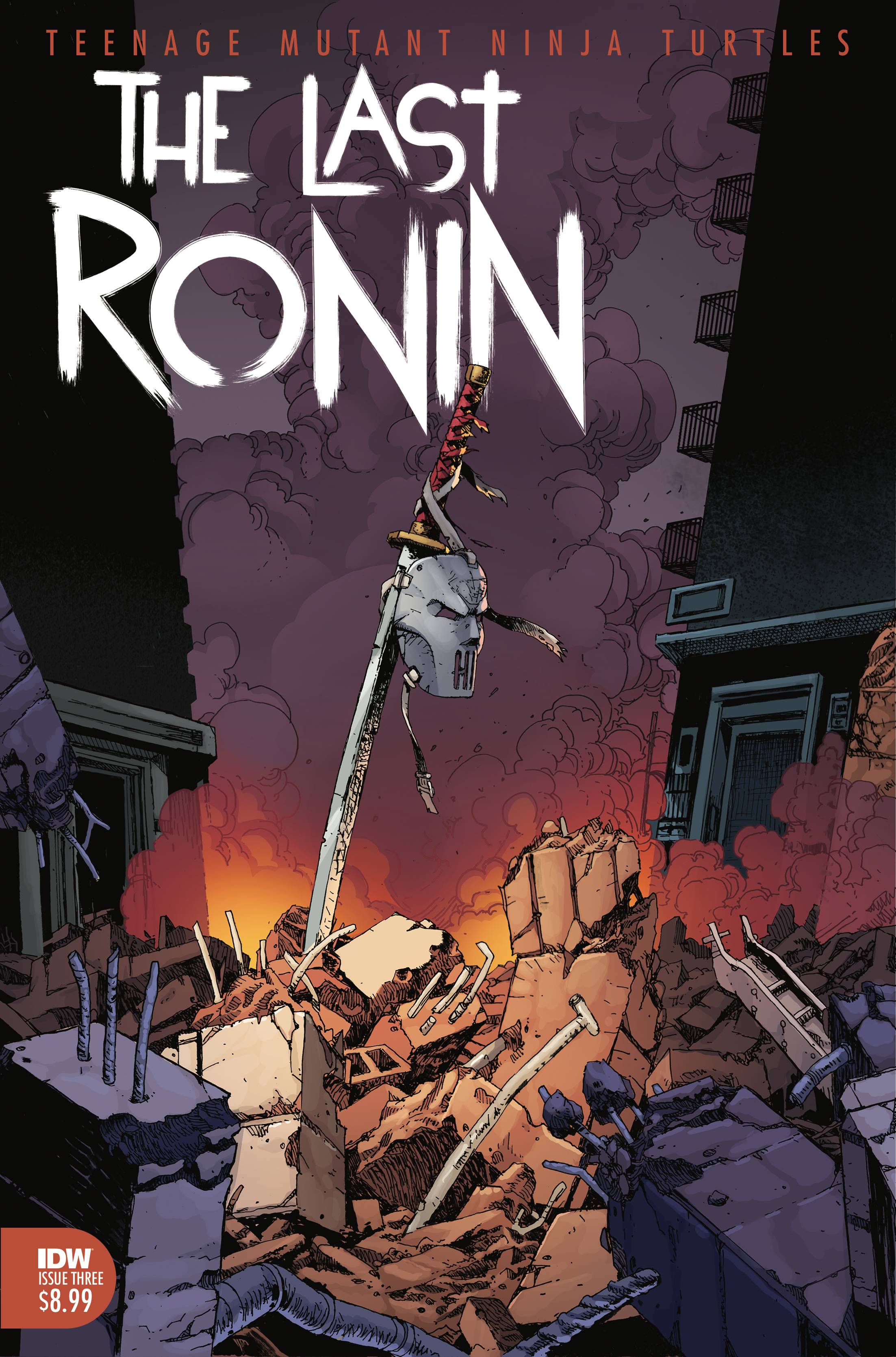 MILES MORALES SPIDER-MAN #26 3.99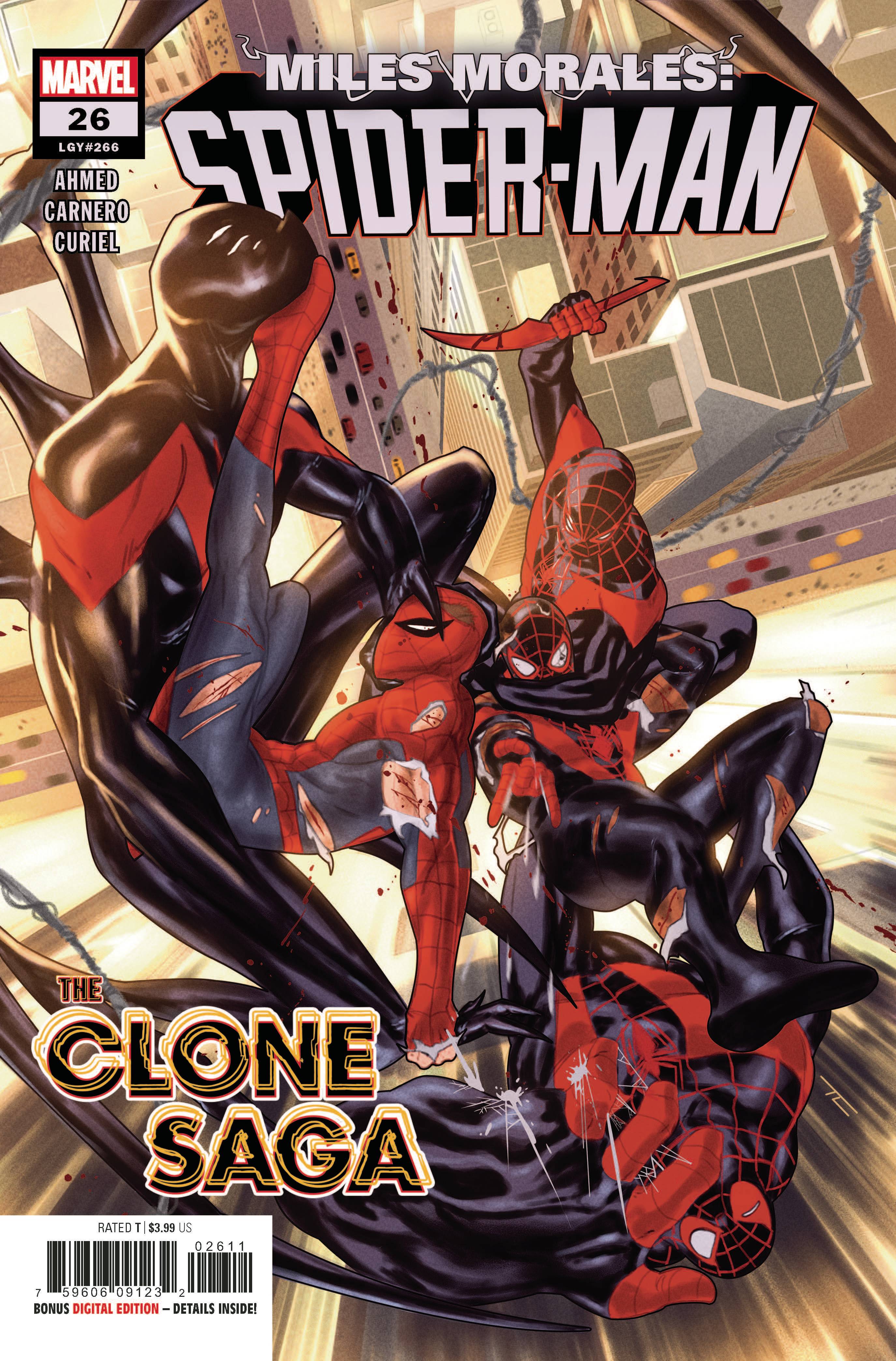 STARGIRL SPRING BREAK SPECIAL #1 (ONE SHOT) CVR A TODD NAUCK 5.99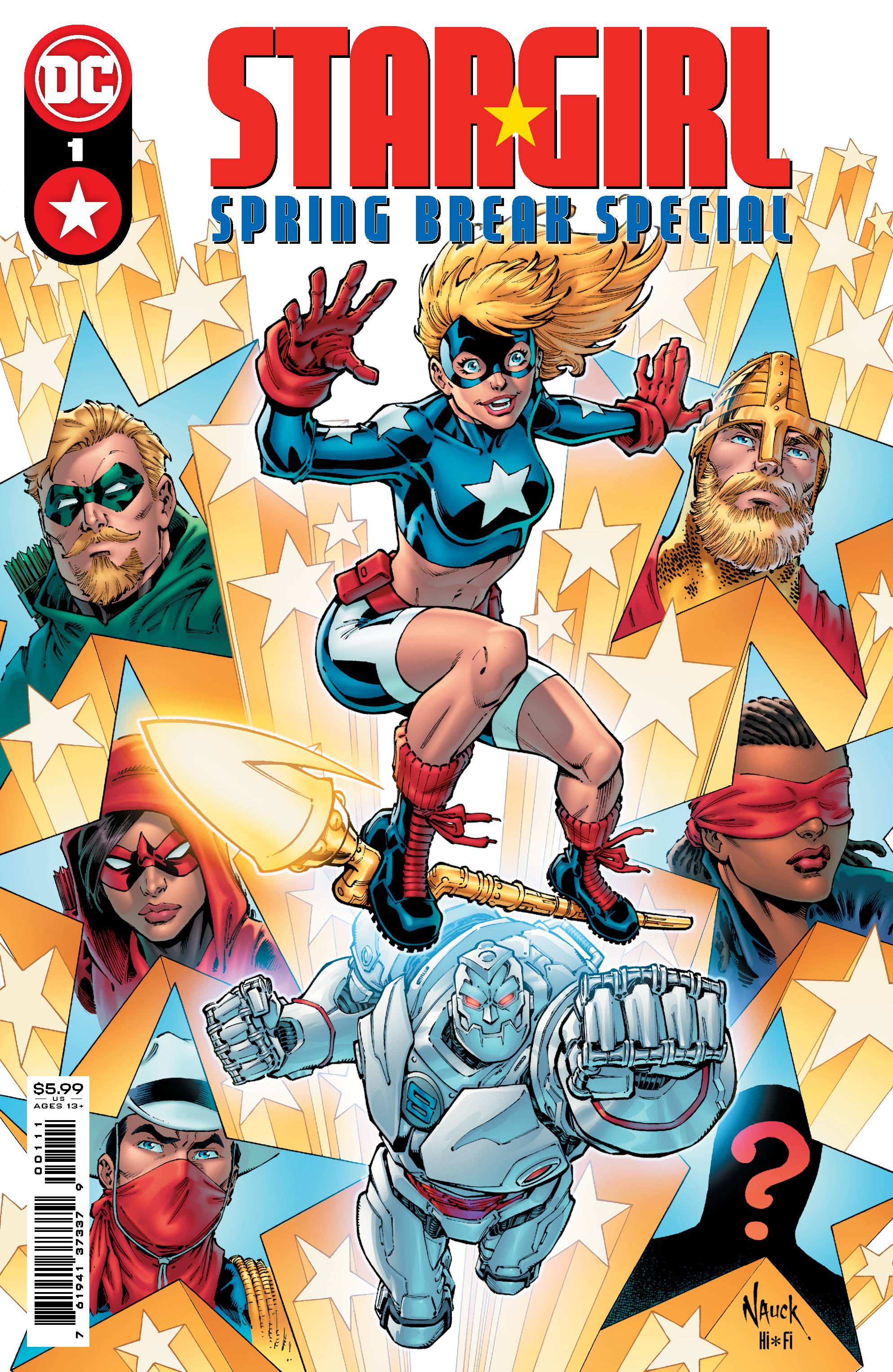 THIS WEEK IN TOYS/STATUES
WARHAMMER 40K 7IN WV2 AF ASST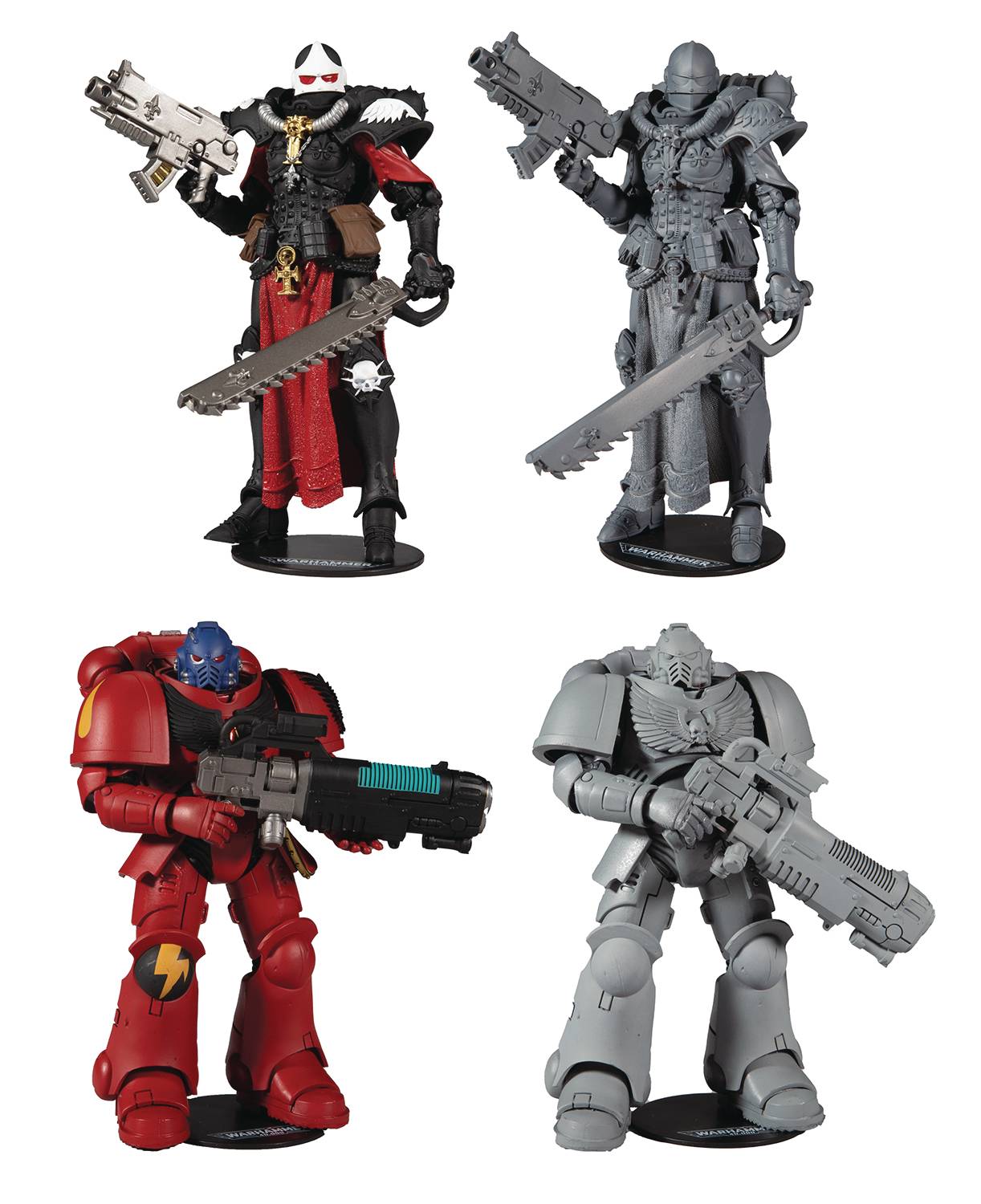 CASTLEVANIA GALLERY DRACULA PVC STATUE 49.99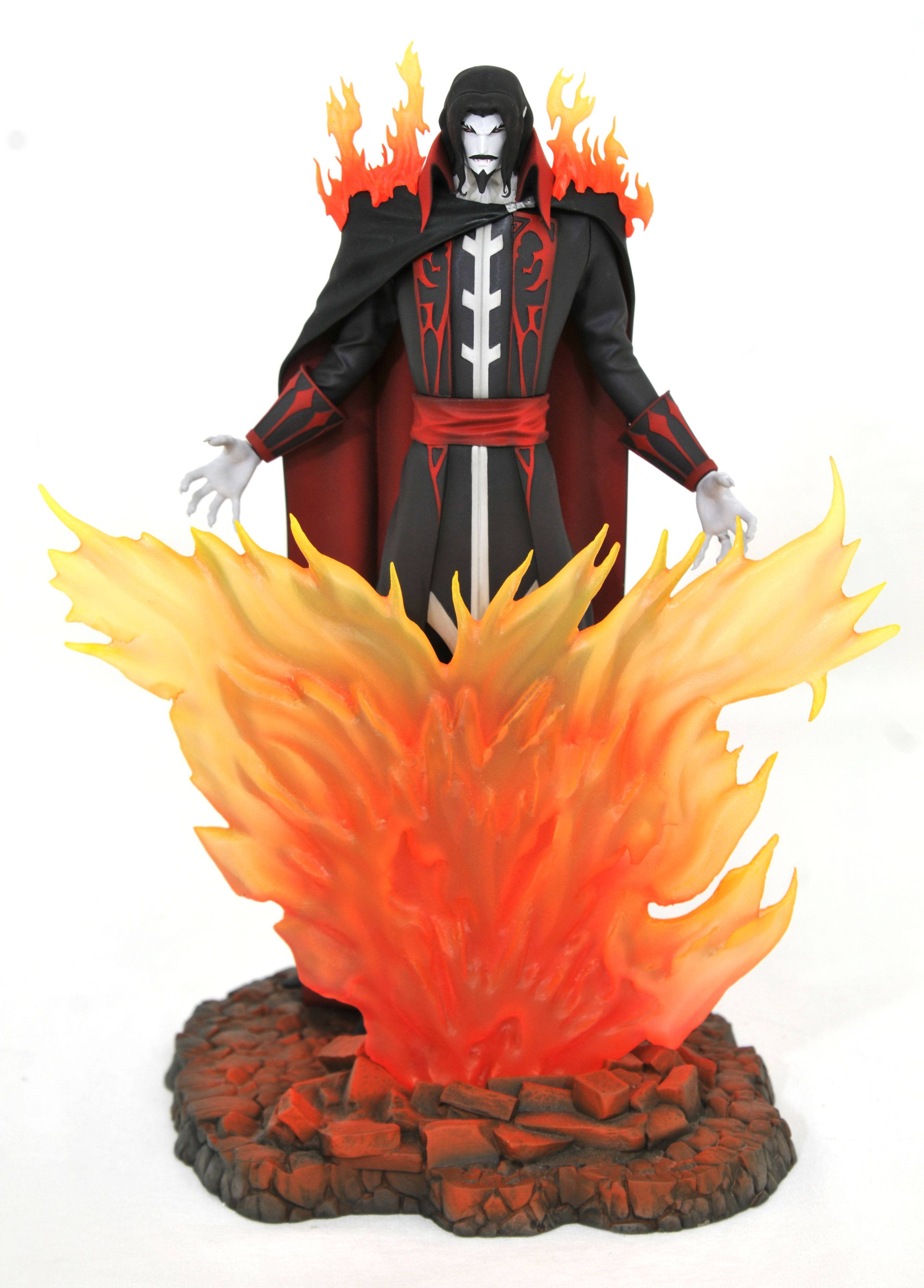 FANG OF THE SUN DOUGRAM COMBAT ARMORS MAX22 1/72 MDL KIT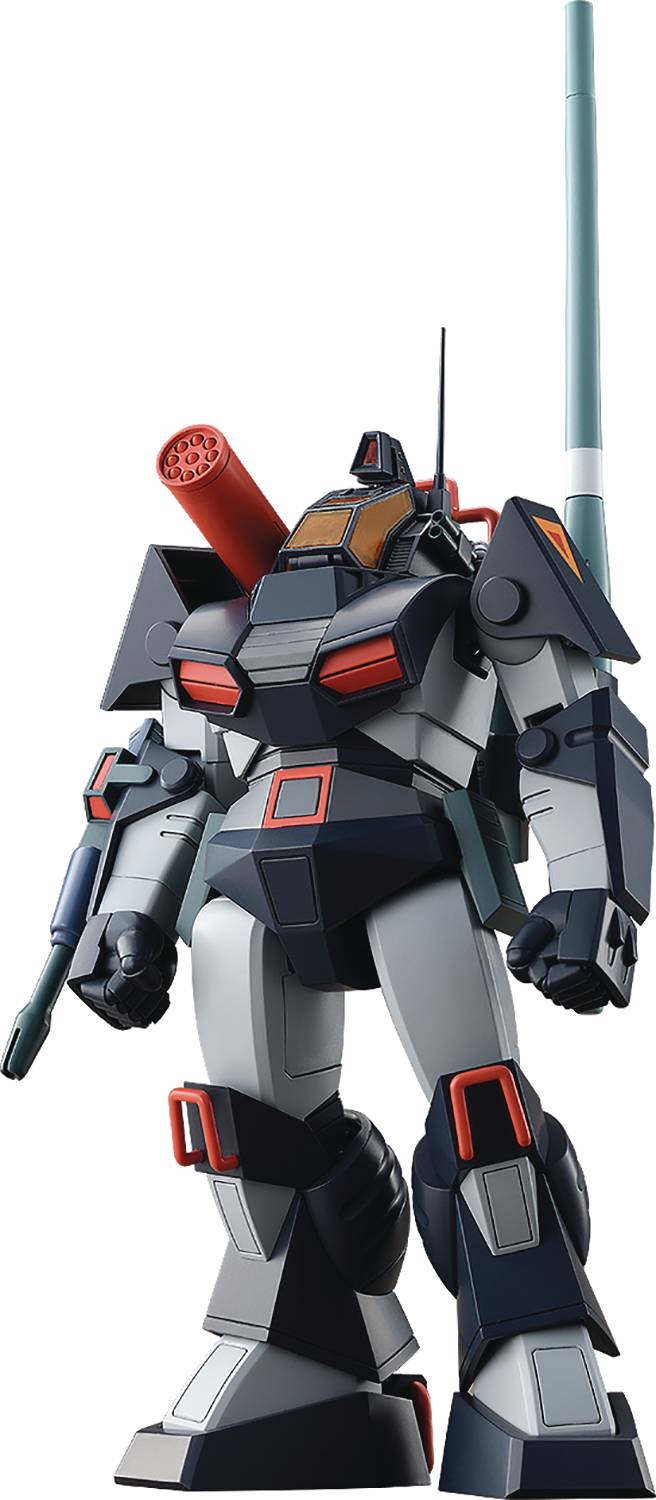 DC GAMING 7IN SCALE WV3 AF ASST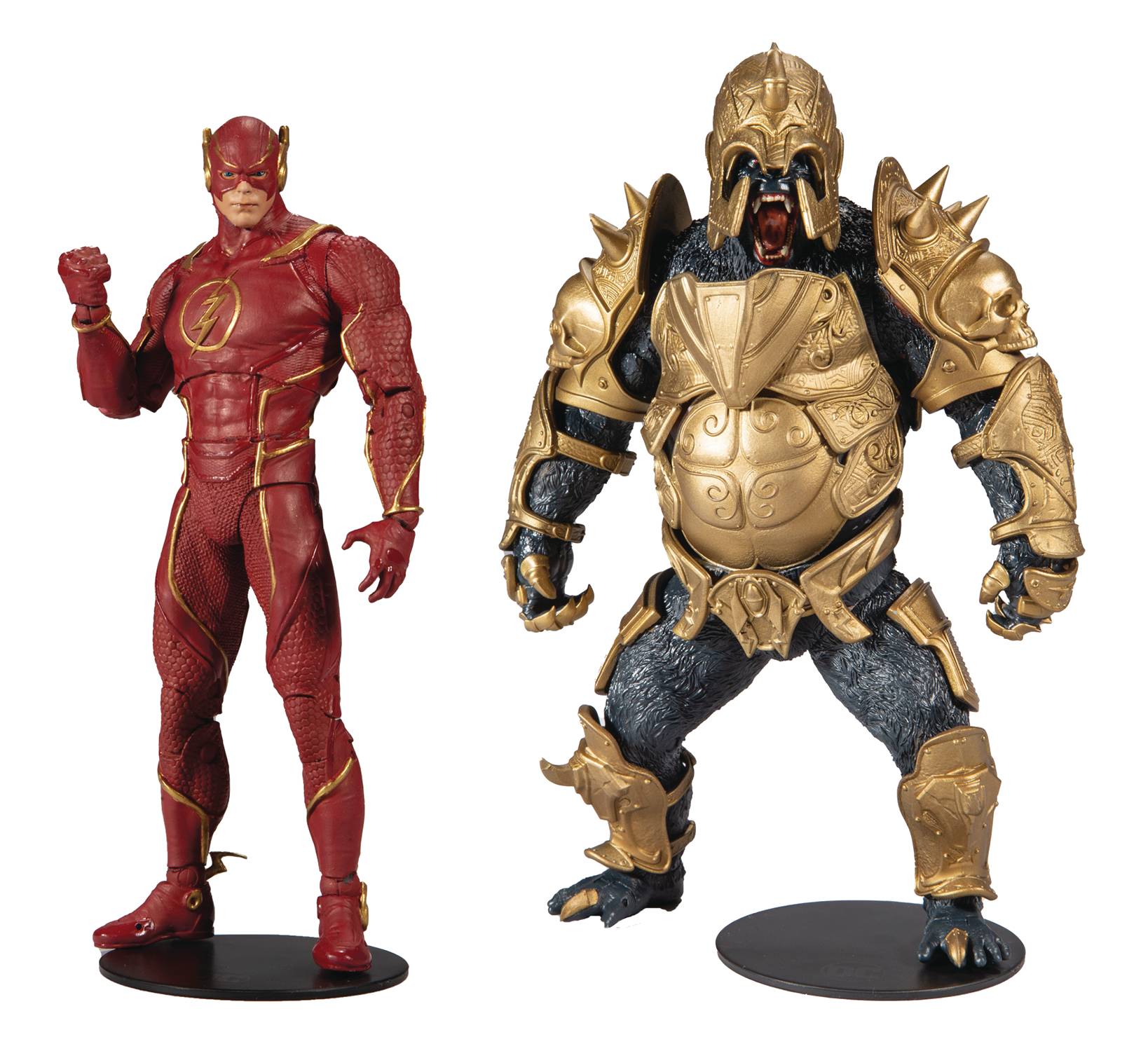 Trade-paperbacks of the Week!
MARVEL TREASURY EDITION TP 29.99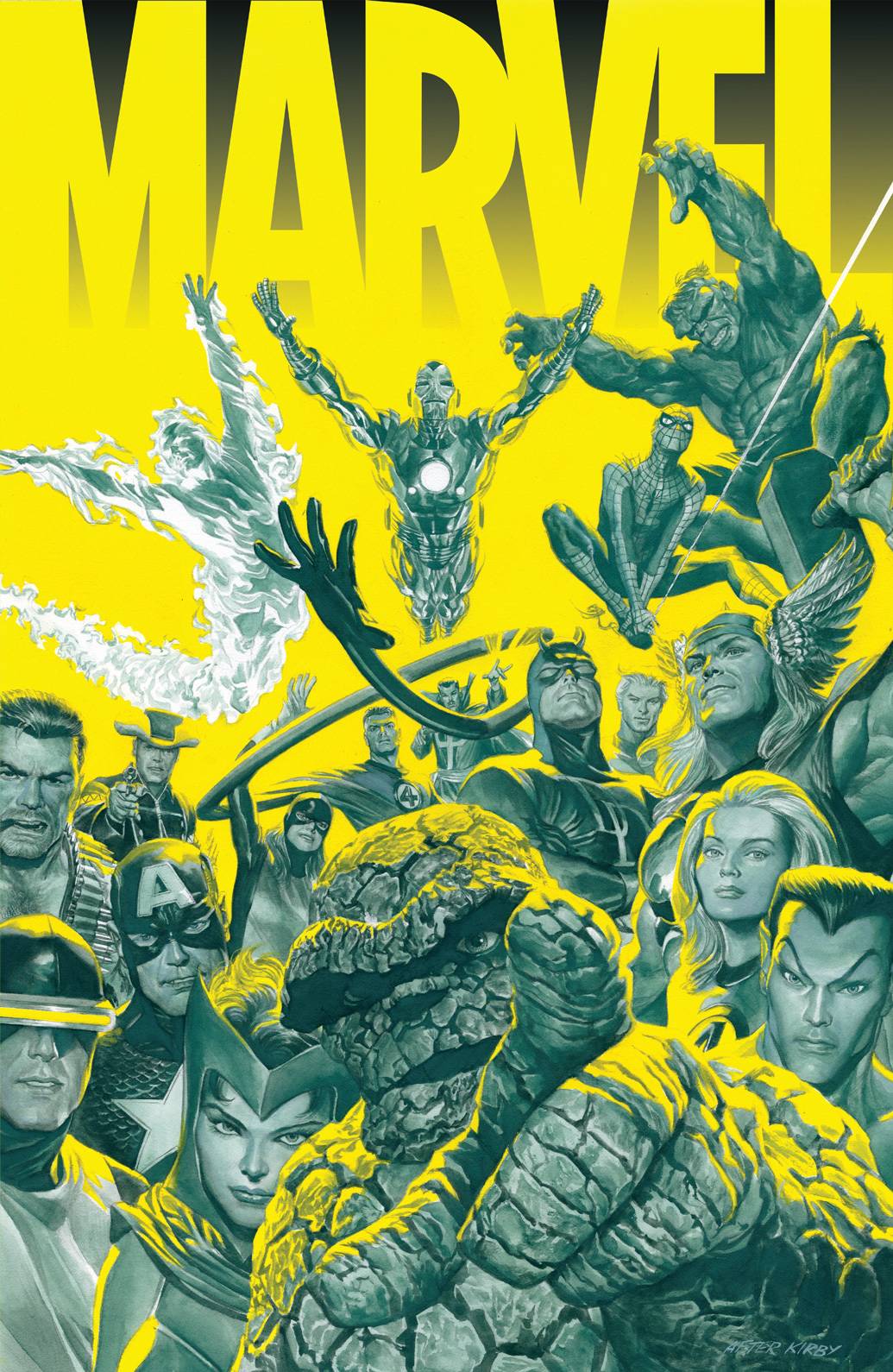 SPIDER-MAN LIFE STORY TP 24.99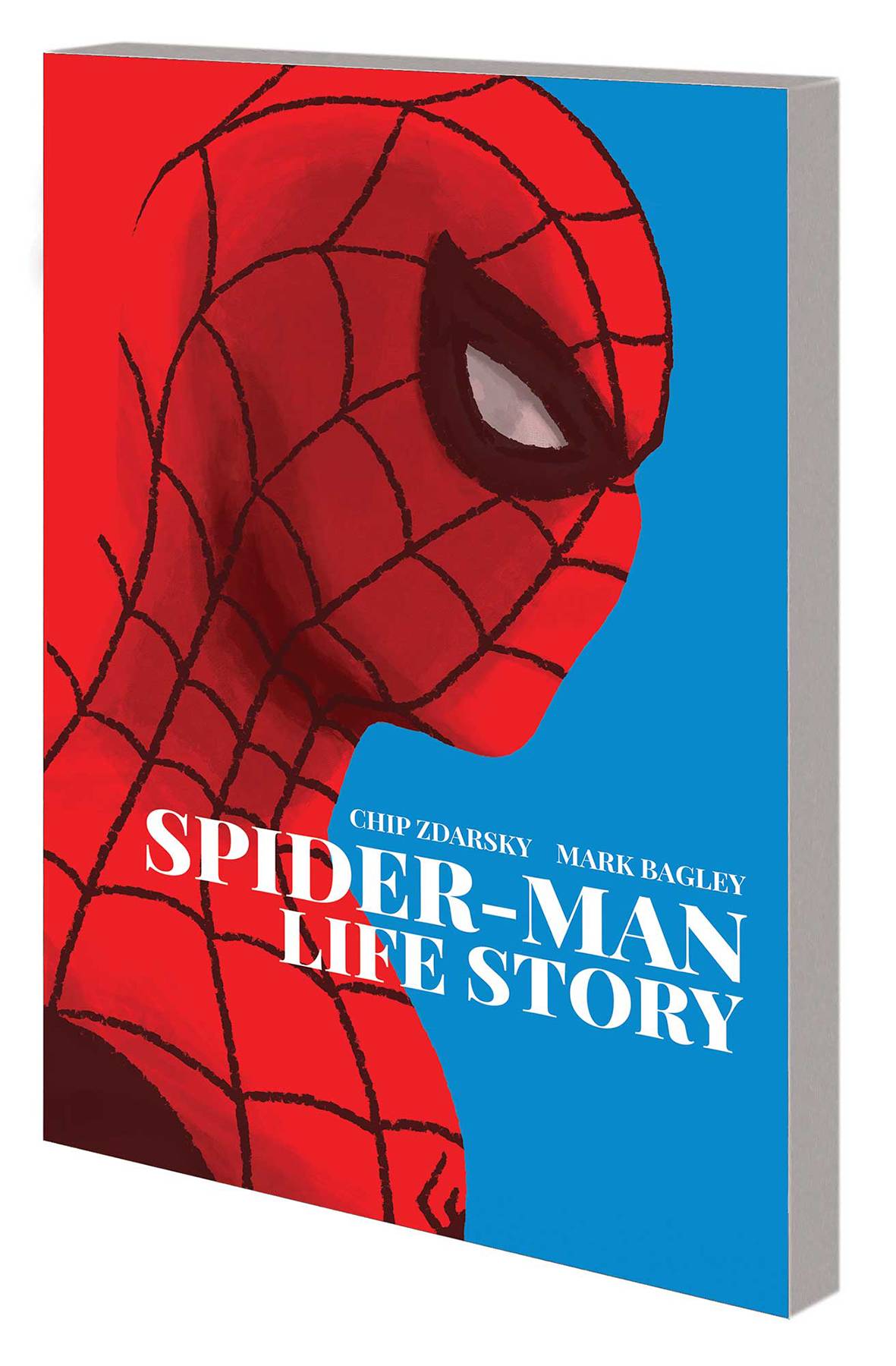 CROSSOVER TP VOL 01 19.99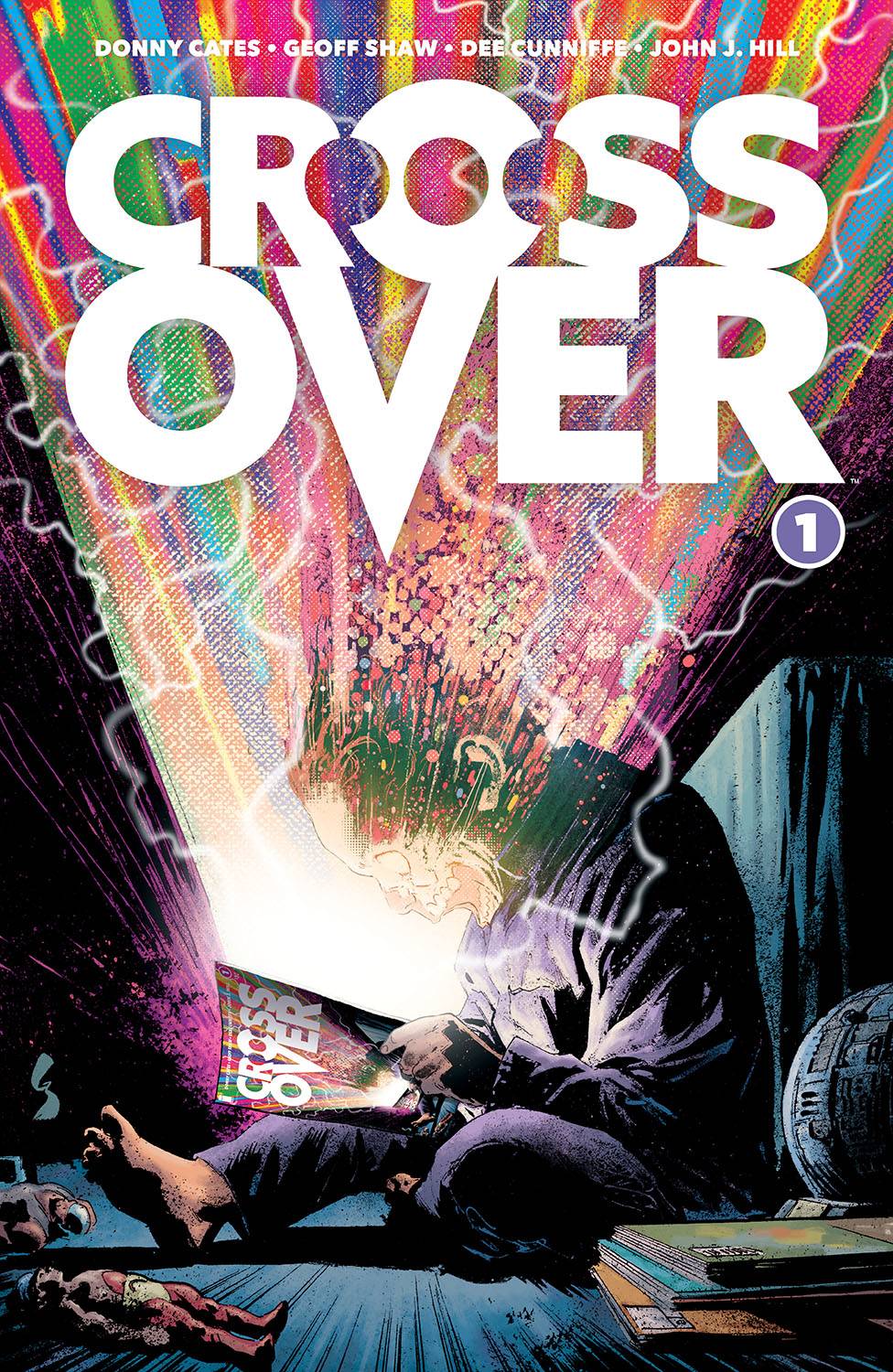 MARK SCHULTZ XENOZOIC (2021) NEW PTG TP 34.95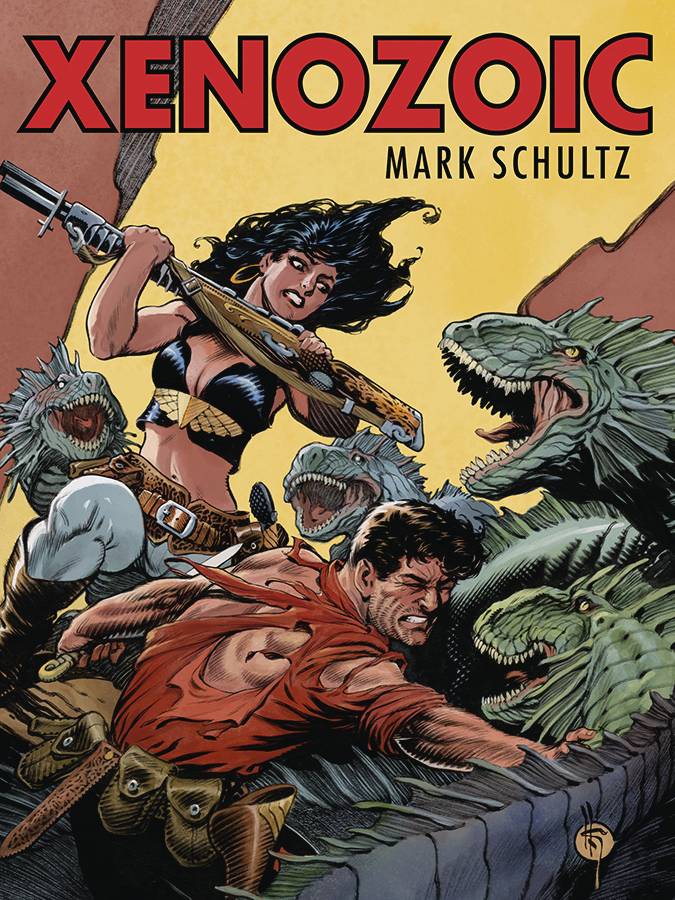 MASTER LIST OF PRODUCTS ARRIVING THIS WEEK!
ABBOTT 1973 #5 (OF 5) CVR A TENFOLD 3.99
ABBOTT 1973 #5 (OF 5) CVR B ALLEN 3.99
ACTION COMICS #1031 CVR A MIKEL JANIN 4.99
ACTION COMICS #1031 CVR B TEDESCO CARD STOCK VAR 5.99
AL WILLIAMSON STRANGE WORLD ADVENTURES SC 39.95
ALICE IN LEATHERLAND #2 (MR) 3.99
ALIEN #3 3.99
ALIEN #3 ADAM KUBERT VAR 3.99
AMAZING SPIDER-MAN BY NICK SPENCER TP VOL 12 SHATTERED WEB 15.99
ARCHIE GIANT COMICS THRILL TP 9.99
ASCENDER #15 3.99
AUTHORITY BOOK 2 TP 39.99
BABY YODA CEREBUS ONE SHOT 4
BATMAN BLACK AND WHITE #6 (OF 6) CVR A JOHN ROMITA JR & KLAUS JANSON 5.99
BATMAN BLACK AND WHITE #6 (OF 6) CVR B JASON FABOK VAR 5.99
BATMAN BLACK AND WHITE #6 (OF 6) CVR C YASMINE PUTRI MAD HATTER VAR 5.99
BATMAN FORTNITE ZERO POINT #2 Second Printing 4.99
BATMAN SUPERMAN #18 CVR A IVAN REIS 3.99
BATMAN SUPERMAN #18 CVR B SIMONE BIANCHI 4.99
BATMAN THE DARK KNIGHT DETECTIVE VOL 5 TP 24.99
BLACK FRIDAY #1 Second Printing 3.99
BERSERK GUTS 2D ACRYL FIGURE 9.99
BETA RAY BILL #3 (OF 5) 3.99
BITTER ROOT #13 CVR A GREENE 3.99
BLACK FRIDAY #2 (OF 3) (MR) 3.99
BLACK PANTHER #25 5.99
BLACK PANTHER #25 CASSARA STORMBREAKERS VAR 5.99
BLACK PANTHER #25 COELLO STORMBREAKERS VAR 5.99
BLACK PANTHER #25 GLEASON STORMBREAKERS VAR 5.99
BLACK PANTHER #25 MOMOKO STORMBREAKERS VAR 5.99
BLACK PANTHER #25 SPRATT VAR 5.99
BLACK PANTHER #25 STELFREEZE FINAL ISSUE VAR 5.99
BLACK WIDOW #7 3.99
BLUE FLAME #1 CVR A GORHAM 3.99
BLUE FLAME #1 CVR B 3.99
BLUE FLAME #1 CVR C DANIEL 3.99
BOYS RUN THE RIOT GN VOL 01 12.99
BROKEN GARGOYLES TP 9.99
CASTLEVANIA GALLERY DRACULA PVC STATUE 49.99
CASUAL FLING #4 3.99
CHAMPIONS TP VOL 01 OUTLAWED 17.99
CHARIOT #3 3.99
CHARTWELL MANAOR HC 29.99
CHASING THE DRAGON #3 (OF 5) 3.99
CLASSIC PULP GHOSTS ONESHOT 4
CREEPS #31 5.95
CROSSOVER TP VOL 01 19.99
DAWN OF X TP VOL 16 17.99
DC GAMING 7IN SCALE WV3 AF ASST
DEMON DAYS X-MEN #1 3RD PTG MOMOKO VAR 4.99
DEPARTMENT OF TRUTH #9 CVR A SIMMONDS 3.99
DEPARTMENT OF TRUTH #9 CVR B OEMING 3.99
DEPARTMENT OF TRUTH #9 CVR C THOROGOOD 3.99
DETECTIVE COMICS #1036 CVR A DAN MORA 4.99
DETECTIVE COMICS #1036 CVR B LEE BERMEJO 5.99
DISNEY LILO & STITCH LITTLE GOLDEN BOOK 5.99
DOWN RIVER PEOPLE ORIGINAL GN 19.99
DRAGON AGE DARK FORTRESS #3 (OF 3) 3.99
DRAWING FURRIES SC 16.95
DUNE HOUSE ATREIDES #7 (OF 12) CVR A CAGLE 4.99
DUNE HOUSE ATREIDES #7 (OF 12) CVR B SCHARF 4.99
DURARARA SH LIGHT NOVEL SC VOL 01 15
EDGAR RICE BURROUGHS SKETCHBOOK 2021 #1 3.99
ENERGY BOMB GANBARUGER MODEROID PLASTIC MDL KIT
ENIALE & DEWIELA GN VOL 03 (OF 3) 13
FANG OF THE SUN DOUGRAM COMBAT ARMORS MAX22 1/72 MDL KIT
FIREFLY #29 CVR A BENGAL 3.99
FIREFLY #29 CVR B WALTA 3.99
FLASH IMPULSE RUNS IN THE FAMILY TP 34.99
GEORGE RR MARTIN A CLASH OF KINGS #13 CVR A MILLER 3.99
GEORGE RR MARTIN A CLASH OF KINGS #13 CVR B RUBI 3.99
GIRLS OF DIMENSION 13 #2 3.99
GOBLIN TP 14.99
GODDAMNED VIRGIN BRIDES #5 (OF 5) 3.99
GOON BUNCH OF OLD CRAP TP VOL 05 29.99
GUNG HO ANGER #1 CVR A STEPHEN SEGOVIA 3.99
GUNG HO ANGER #1 CVR B DANIEL CLARKE 3.99
HAHA #5 (OF 6) CVR A WALTA 3.99
HAHA #5 (OF 6) CVR B CONNELLY 3.99
HARLEY QUINN #3 CVR A RILEY ROSSMO 3.99
HARLEY QUINN #3 CVR B DERRICK CHEW 4.99
HELM GREYCASTLE #2 (OF 4) CVR A DEFOREST 4.99
HELM GREYCASTLE #2 (OF 4) CVR B SEJIC 4.99
HEROES REBORN #4 (OF 7) 4.99
HEROES REBORN #4 (OF 7) BAGLEY TRADING CARD VAR 4.99
HEROES REBORN #4 (OF 7) CARNERO STORMBREAKERS VAR 4.99
HEROES REBORN #4 (OF 7) CHRISTOPHER ACTION FIGURE VAR 4.99
HEROES REBORN MAGNETO AND MUTANT FORCE #1 4.99
HEROES REBORN MAGNETO AND MUTANT FORCE #1 BENJAMIN VAR 4.99
HEROES REBORN MAGNETO AND MUTANT FORCE #1 CHANG SPOILER VAR 4.99
HEROES REBORN SIEGE SOCIETY #1 4.99
HEROES REBORN SIEGE SOCIETY #1 FERREIRA VAR 4.99
HEROES REBORN YOUNG SQUADRON #1 4.99
HEROES REBORN YOUNG SQUADRON #1 OKAZAKI VAR 4.99
HSE HUMAN STOCK EXCHANGE GN VOL 01 13.95
I BREATHED A BODY #5 3.99
INCREDIBLE HULK BY PETER DAVID OMNIBUS HC VOL 03 FRANK HULK 125
IRON MAN BY GRELL COMPLETE COLLECTION TP 39.99
KILLADELPHIA #13 CVR A ALEXANDER 3.99
KILLADELPHIA #13 CVR B MACK 3.99
KNIGHTS OF THE DINNER TABLE #283 6.99
LADY BALTIMORE WITCH QUEENS #3 (OF 5) 3.99
LITTLE VICTORIES AUTISM THROUGH A FATHERS EYES TP 19.99
LOKI AGENT OF ASGARD COMPLETE COLLECTION TP NEW PTG 39.99
LUKA MEGURINE 2D ACRYL FIGURE 9.99
MADE IN KOREA #1 (OF 6) 3.99
MAESTRO WAR AND PAX #5 (OF 5) 3.99
MAESTRO WAR AND PAX #5 (OF 5) CASSARA VAR 3.99
MAN-THING OMNIBUS HC BRUNNER DM VAR NEW PTG 125
MANIFEST DESTINY #43 CVR A ROBERTS 3.99
MARK SCHULTZ CARBON SC VOL 04 24.95
MARK SCHULTZ XENOZOIC (2021) NEW PTG TP 34.95
MARVEL ACTION CAPTAIN MARVEL #3 3.99
MARVEL ACTION CLASSICS SPIDER-MAN #3 4.99
MARVEL HERO COLLECTOR MUSEUM #1 IRON MAN MARK VII HELMET 39.95
MARVEL HERO COLLECTOR MUSEUM #2 THANOS INFINITY GAUNTLET 39.95
MARVEL HERO COLLECTOR MUSEUM #3 CAPTAIN AMERICAS SHIELD 39.95
MARVEL HERO COLLECTOR MUSEUM #4 MJOLNIR THORS HAMMER 39.95
MARVEL HERO COLLECTOR MUSEUM #5 BLACK PANTHERS MASK 39.95
MARVEL TREASURY EDITION TP 29.99
MARVEL-VERSE GN TP SHANG-CHI 9.99
MASHIN HERO WATARU PLAMAX MS-09 BLK METAL RYUOUMARU MDL KIT
MIKU HATSUNE 2D ACRYL FIGURE 9.99
MILES MORALES SPIDER-MAN #26 3.99
MILES MORALES SPIDER-MAN #26 VICENTINI VAR 3.99
MILESTONE RETURNS INFINITE EDITION #0 (ONE SHOT) CVR A DENYS COWAN 4.99
MISTER MIRACLE THE SOURCE OF FREEDOM #1 (OF 6) CVR A YANICK PAQUETTE 3.99
MISTER MIRACLE THE SOURCE OF FREEDOM #1 (OF 6) CVR B VALENTINE DE LANDRO 4.99
MLP TRANSFORMERS II #2 (OF 4) CVR A TONY FLEECS 3.99
MLP TRANSFORMERS II #2 (OF 4) CVR B BETHANY MCGUIRE-SMITH 3.99
MONEY SHOT #11 3.99
MONSTRESS #34 3.99
MOON MAID THREE KEYS #3 3.99
NEVERLAND ANNUAL 2021 7.99
NEW MUTANTS #18 3.99
NIGHTWING #79 Second Printing 3.99
NUCLEAR FAMILY #4 3.99
OLD GUARD TALES THROUGH TIME #2 (OF 6) CVR A FERNANDEZ 3.99
OLD GUARD TALES THROUGH TIME #2 (OF 6) CVR B DE LANDRO 3.99
OTHER HISTORY OF THE DC UNIVERSE #4 (OF 5) CVR A GIUSEPPE CAMUNCOLI 6.99
OTHER HISTORY OF THE DC UNIVERSE #4 (OF 5) CVR B JAMAL CAMPBELL VAR 6.99
OUTCAST BY KIRKMAN & AZACETA TP VOL 08 16.99
PLA ACT OPTION SERIES 03 SOUJIN PLASTIC MODEL KIT
POP MOVIES COOL RUNNINGS IRVING BLITZER VIN FIG 11.99
POP SUPER MARVEL HEROES IMMORTAL HULK 6IN PX VIN FIG W/CHASE 25.99
POP TV MARVEL MECH BLACK PANTHER VIN FIG 11.99
POP TV MARVEL MECH CAPTAIN AMERICA VIN FIG 11.99
POP TV MARVEL MECH CAPTAIN MARVEL VIN FIG 11.99
POP TV MARVEL MECH DR STRANGE VIN FIG 11.99
POP TV MARVEL MECH HULK VIN FIG 11.99
POP TV MARVEL MECH THOR VIN FIG 11.99
PREVIEWS #393 JUNE 2021 3.99
RAGNA CRIMSON GN VOL 02 12.99
RED SONJA #27 CVR A LEE 3.99
RED SONJA #27 CVR B LINSNER 3.99
REDSHIFT #1 (OF 6) 3.99
REPTIL #1 (OF 4) 3.99
REPTIL #1 (OF 4) DEL MUNDO VAR 3.99
RESISTANCE UPRISING #2 3.99
RICK AND MORTY PRESENTS TP VOL 03 19.99
RIN AND LEN KAGAMINE 2D ACRYL FIGURE 9.99
ROBIN #2 CVR A GLEB MELNIKOV 3.99
ROBIN #2 CVR B FRANCIS MANAPUL CARD STOCK VAR 4.99
RWBY JUSTICE LEAGUE #2 (OF 7) 3.99
SEA OF SORROWS #5 (OF 5) 3.99
SHADECRAFT #3 CVR A GARBETT 3.99
SHADECRAFT #3 CVR B CHEUNG 3.99
SHADOW DOCTOR #4 3.99
SHADOWMAN (2020) #2 CVR A DAVIS-HUNT 3.99
SHADOWMAN (2020) #2 CVR B WIJNGAARD 3.99
SHERLOCK HOLMES SHADOW OF JACK RIPPER GRAPHIC NOVEL ADV HC 22.99
SOMETHING IS KILLING THE CHILDREN #16 CVR A DELL EDERA 3.99
SOMETHING IS KILLING THE CHILDREN #16 CVR B FRISON 3.99
SPAWN #318 CVR A REVOLVER 2.99
SPAWN #318 CVR B MCFARLANE 2.99
SPAWN #318 CVR C BARENDS 2.99
SPECTER INSPECTORS #4 (OF 5) CVR A MCCURDY 4.99
SPECTER INSPECTORS #4 (OF 5) CVR B HENDERSON 4.99
SPIDER-MAN LIFE STORY TP 24.99
SPIDER-MAN SPIDERS SHADOW #1 (OF 5) 2ND PTG VAR 4.99
STARGIRL SPRING BREAK SPECIAL #1 (ONE SHOT) CVR A TODD NAUCK 5.99
STARGIRL SPRING BREAK SPECIAL #1 (ONE SHOT) CVR B MIKE MCKONE 6.99
STAR TREK YEAR FIVE TP VOL 03 WEAKER THAN MAN 19.99
STAR WARS ADVENTURES WEAPON OF A JEDI #1 (OF 2) 5.99
STAR WARS DARTH MAUL TP 16.99
STAR WARS DARTH VADER #12 3.99
STAR WARS DARTH VADER #12 KUDER CRIMSON VAR 3.99
STAR WARS DARTH VADER #12 SPROUSE EMPIRE STRIKES BACK VAR 3.99
STAR WARS DARTH VADER DARK LORD SITH TP VOL 03 BURNING SEAS 19.99
STAR WARS DOCTOR APHRA #10 3.99
STAR WARS DOCTOR APHRA #10 SWAY CRIMSON VAR 3.99
STAR WARS EMPIRE STRIKES BACK ANN SPECIAL HC 24.99
STRANGE ADVENTURES #10 (OF 12) CVR A MITCH GERADS 4.99
STRANGE ADVENTURES #10 (OF 12) CVR B EVAN DOC SHANER 4.99
SUMMONERS WAR LEGACY #2 3.99
SUPERMAN BY GRANT MORRISON OMNIBUS HC 75
SUPERMAN BY PETER J TOMASI & PATRICK GLEASON OMNIBUS HC 125
SUPERMAN VOL 4 MYTHOLOGICAL TP 19.99
SWEET DOWNFALL TP 19.99
TEEN TITANS ACADEMY #3 CVR A RAFA SANDOVAL 3.99
TEEN TITANS ACADEMY #3 CVR B PHILIP TAN 4.99
THE MARVELS #2 3.99
TMNT THE LAST RONIN #3 (OF 5) 8.99
TONGUES #4 18
TOUCHING EVIL TP VOL 02 19.99
TWO MOONS #4 CVR A GIANGIORDANO & CRABTREE (MR) 3.99
TWO MOONS #4 CVR B RUGGIERI 3.99
WARHAMMER 40K 7IN WV2 AF ASST
WHITE LILY #4 3.95
WITCHBLOOD #3 3.99
WITCHER WITCHS LAMENT #1 (OF 4) CVR A DEL REY 3.99
WITCHER WITCHS LAMENT #1 (OF 4) CVR B FINNSTARK 3.99
WITCHER WITCHS LAMENT #1 (OF 4) CVR C KOIDL 3.99
X-MEN #20 3.99
X-MEN #20 DEL MUNDO VAR 3.99
ZIG ZAG ONE SHOT 6.99
ZORRO NEW WORLD #1 3.99