July PREVIEWS Gems of the Month
FRONTIERSMAN #1 CVR A FERRARI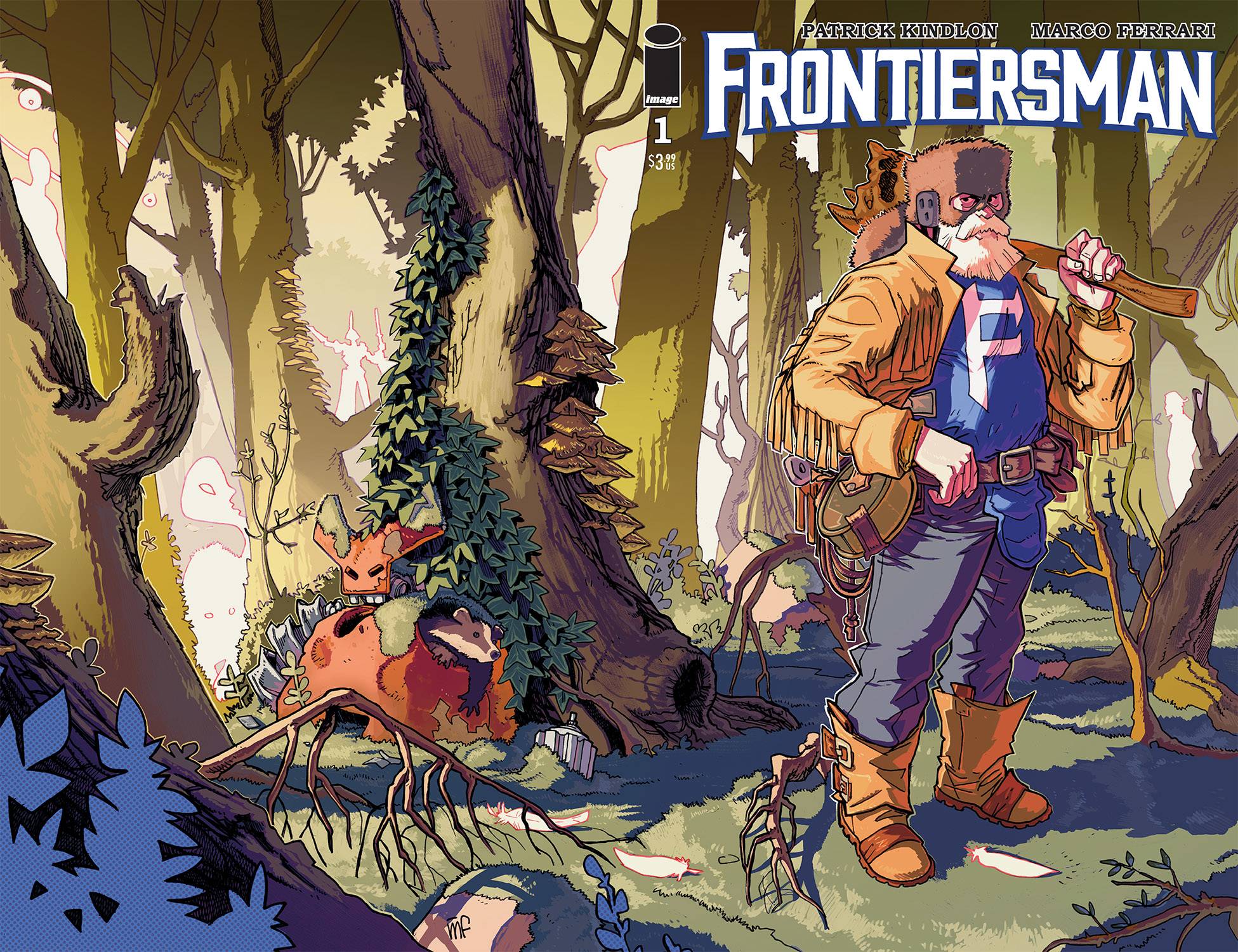 (W) Patrick Kindlon (A/CA) Marco Ferrari
PATIENCE! CONVICTION! REVENGE! team PATRICK KINDLON & MARCO FERRARI retunite for an all-new ONGOING SERIES at Image! Classic Green Arrow-style adventure blends with the thoughtfulness of Concrete in a superhero odyssey for mature, but uncynical, readers! Frontiersman is coaxed out of retirement by an environmentalist group, only to find that being a spokesperson makes him a target for old and new enemies alike! For the superhero reader looking for more.
PRIMORDIAL #1 (OF 6) CVR A SORRENTINO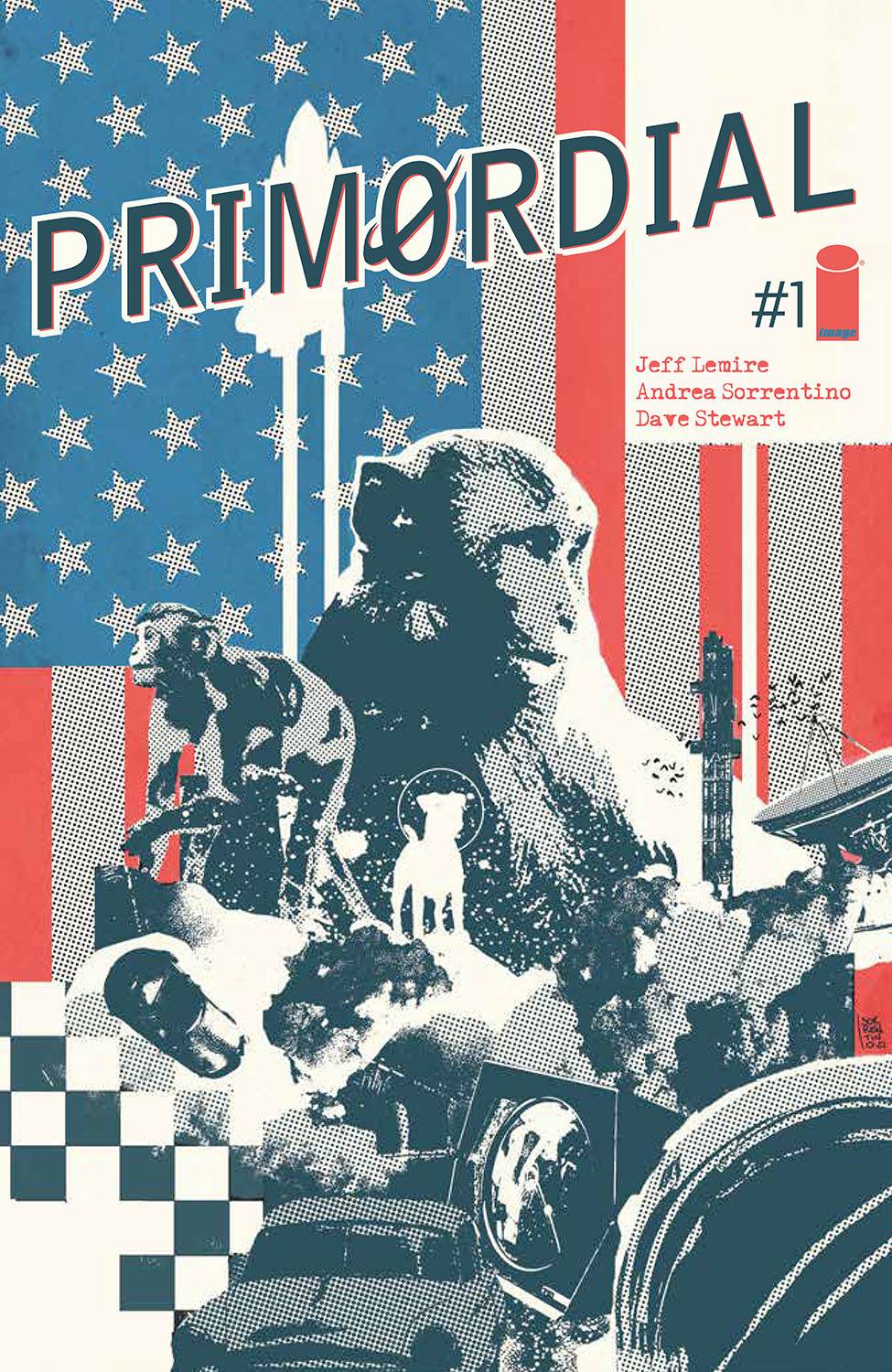 (W) Jeff Lemire (A/CA) Andrea Sorrentino
Mind-bending sci-fi collides with Cold War thriller in this six-issue miniseries by the bestselling and Eisner-winning creative team behind GIDEON FALLS!
In 1957, the USSR launched the dog, Laika, into Earth's orbit. Two years later, the USA responded with two monkeys, Able and Baker. These animals never returned. But, unbeknownst to everyone, they did not die in orbit…they were taken. And now they are coming home.
MAZEBOOK #1 (OF 5) CVR A LEMIRE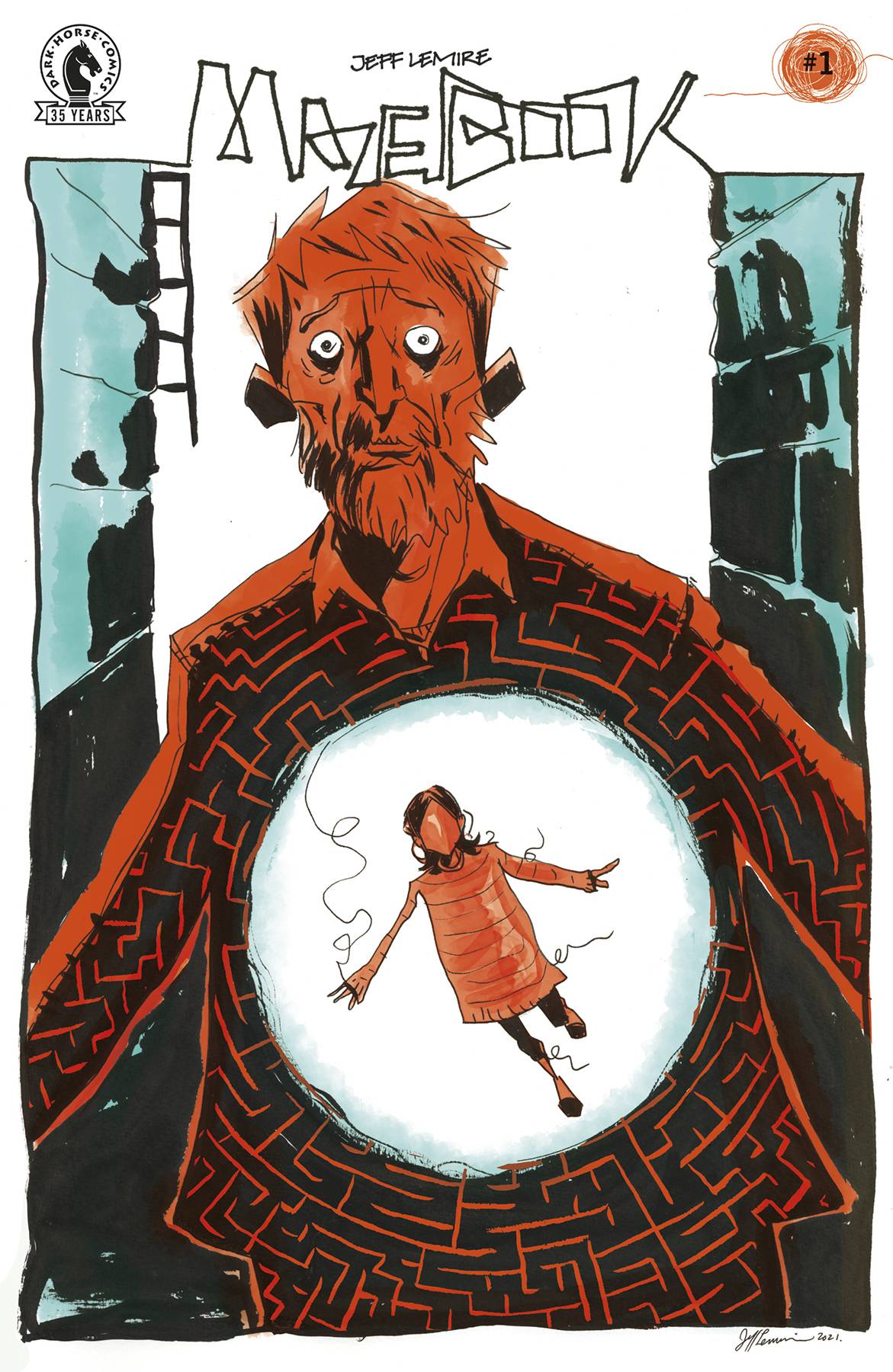 (W) Jeff Lemire (A/CA) Jeff Lemire
From New York Times bestselling and Eisner Award-winning Black Hammer creator Jeff Lemire comes this ambitious and haunting comic series about family, mourning, and reality.

A lonely building inspector still grieving the loss of his puzzle-loving daughter receives a mysterious phone call one night from a girl claiming it's her and that she's trapped in the middle of a labyrinth. Convinced that this child is contacting him from beyond this world, he uses an unfinished maze from one of her journals and a map of the city to trace an intricate path through a different plane of reality on an intense and melancholy adventure to bring his daughter back home.
DARK AGES #1 (OF 6)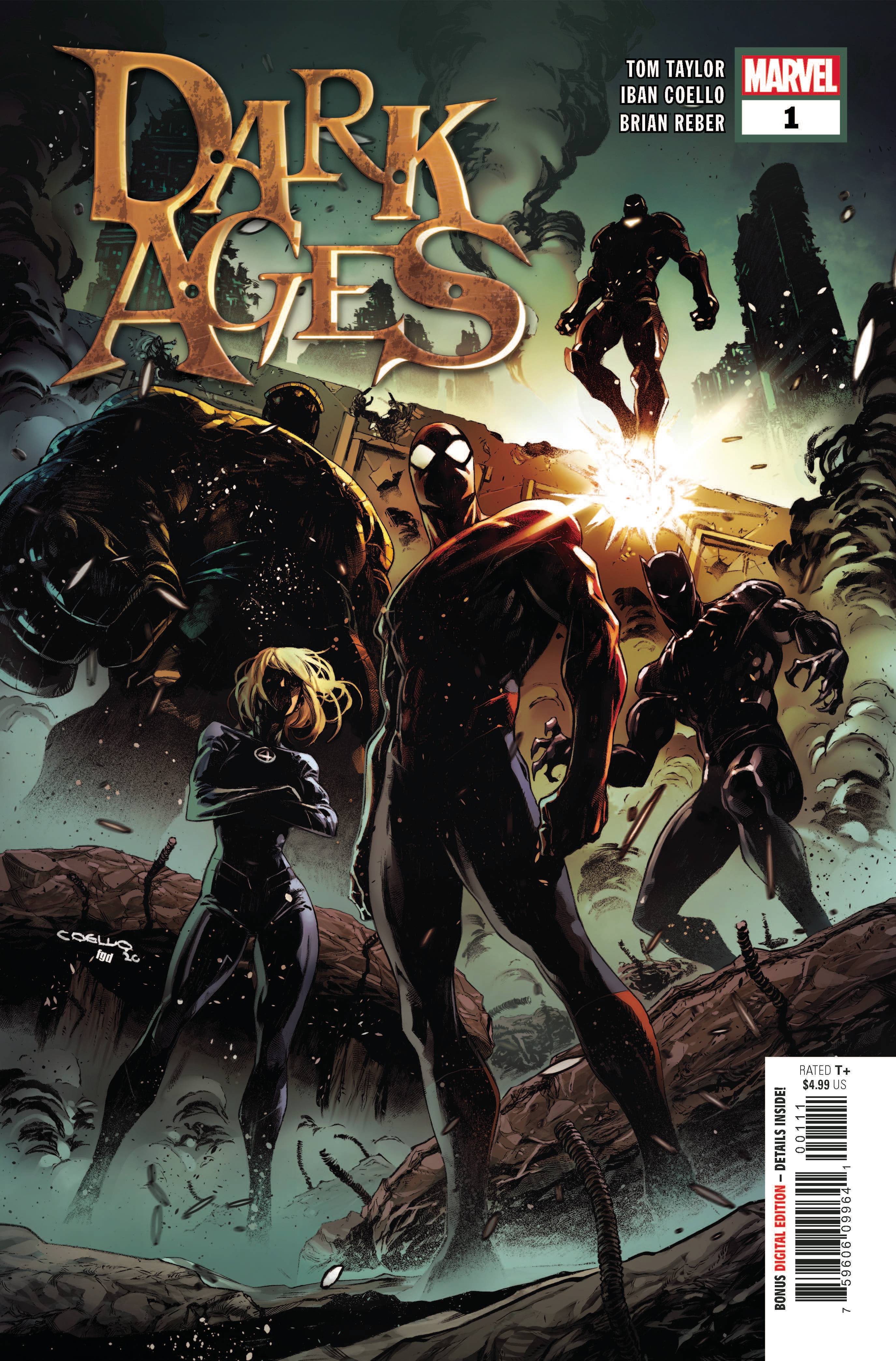 (W) Tom Taylor (A/CA) Iban Coello
This is what the Watcher has been watching for!
• A danger older than the Earth threatens everything. For once, the heroes who have saved the planet so many times are almost powerless in the face of it.
• X-Men and Avengers assemble. Spider-People and Fantastic Four come together. Heroes for Hire fight alongside Champions.
• None of it will be enough.
• The lights are about to go out.
• The world outside our window…is about to end.
• An all-new saga of the Marvel Universe as you've never seen it before from Tom Taylor and Iban Coello!
NEW COMICS THIS WEEK!
DARK BLOOD #1 (OF 6) CVR A DE LANDRO 3.99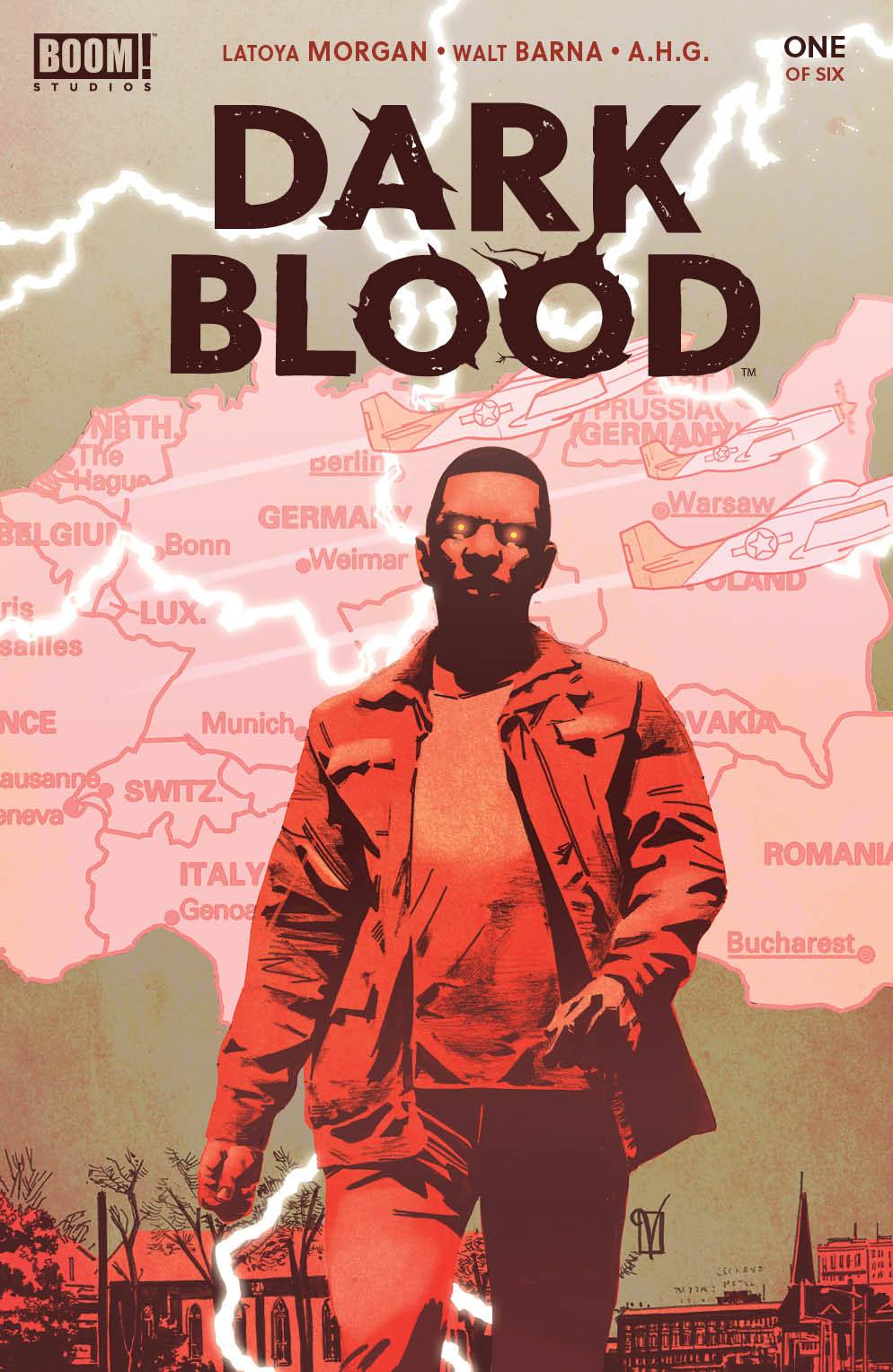 MOON KNIGHT #1 4.99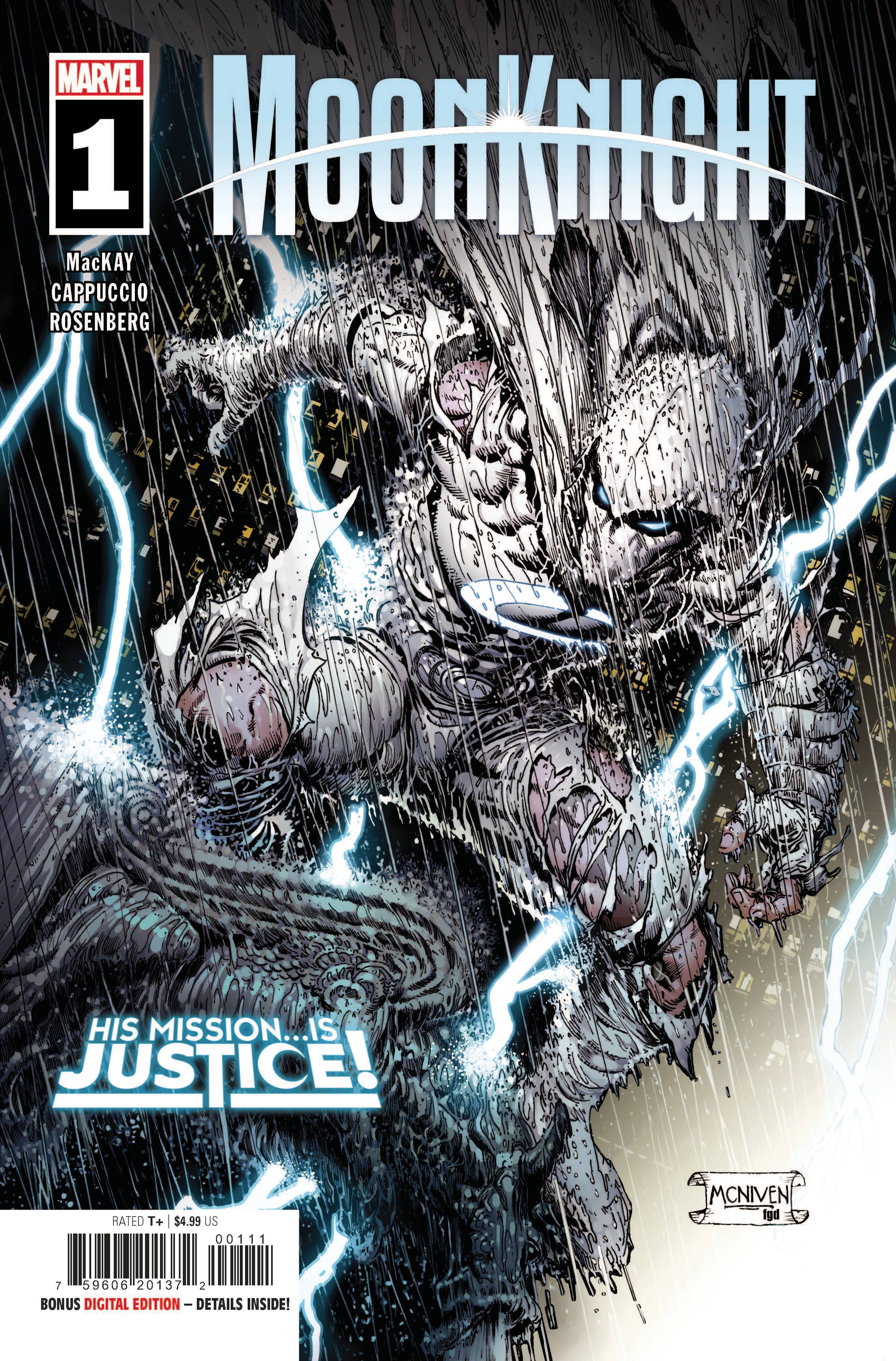 (W) Jed MacKay (A) Alessandro Cappuccio (CA) Steve McNiven
I AM MOON KNIGHT!
The mysterious Mr. Knight has opened his Midnight Mission, his people petitioning for protection from the weird and horrible. The Moon Knight stalks the rooftops and alleys marked with his crescent moon tag, bringing violence to any who would harm his people. Marc Spector, in whichever guise he dons, is back on the streets, a renegade priest of an unworthy god. But while Khonshu languishes in a prison that Moon Knight put him in, Moon Knight must still observe his duty: protecting those who travel at night. Let it be known – Moon Knight will keep the faith.
MOM MOTHER OF MADNESS #1 (OF 3) CVR A RATCLIFFE 5.99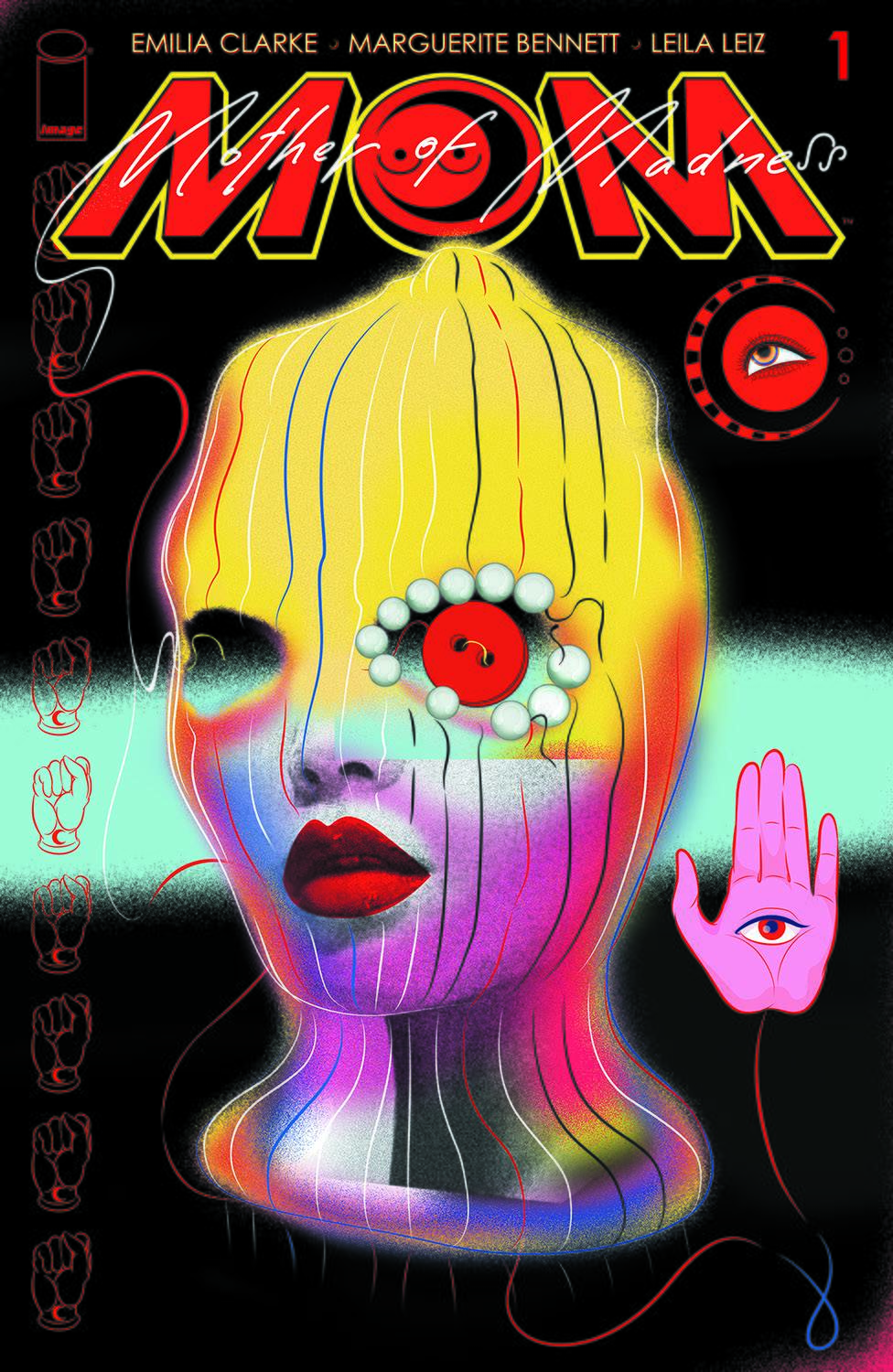 (W) Emilia Clarke, Marguerite Bennett (A) Leila Leiz (CA) Jo Ratcliffe
Game of Thrones superstar EMILIA CLARKE debuts an EXTRA-LENGTH, THREE-ISSUE MINISERIES! The mayhem begins with Maya, under-the-weather scientist by day, over-the-top superhero by night, and badass single mom 24/7. Deadpool action and Fleabag comedy collide when Maya activates her freakish superpowers to take on a secret sect of human traffickers. Mature readers only! Comedy and chaos await in the first of three 40-page issues by the glamorous artist of Horde, LEILA LEIZ!
BLUE & GOLD #1 (OF 8) CVR A RYAN SOOK 3.99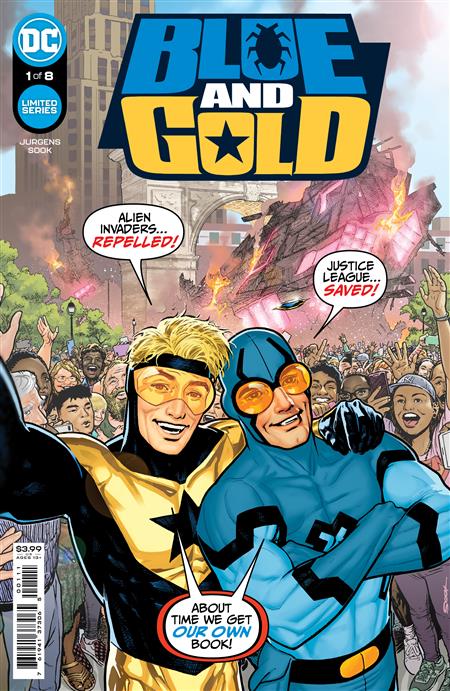 Desperate to regain the spotlight, Booster Gold looks to attract the public's (and Justice League's) attention the same way any washed-up, second-rate hero would—social media. The not-so-tech-savvy hero from the 25th century enlists the help of his best friend, Blue Beetle, who possesses both the money and the brains to help his old pal navigate the scary world of internet influencers. Watch out, evildoers, our heroes are live and online! Don't miss Dan Jurgens's triumphant return to Booster Gold with the help of all-star artist Ryan Sook (Legion of Super-Heroes), telling a tale filled with heart and maybe even redemption for DC's two favorite underdogs!Publisher: DC Comics/DC Universe: DC Heroes Writer: Dan Jurgens Artist: Ryan Sook
STAR WARS WAR BOUNTY HUNTERS JABBA HUTT #1 4.99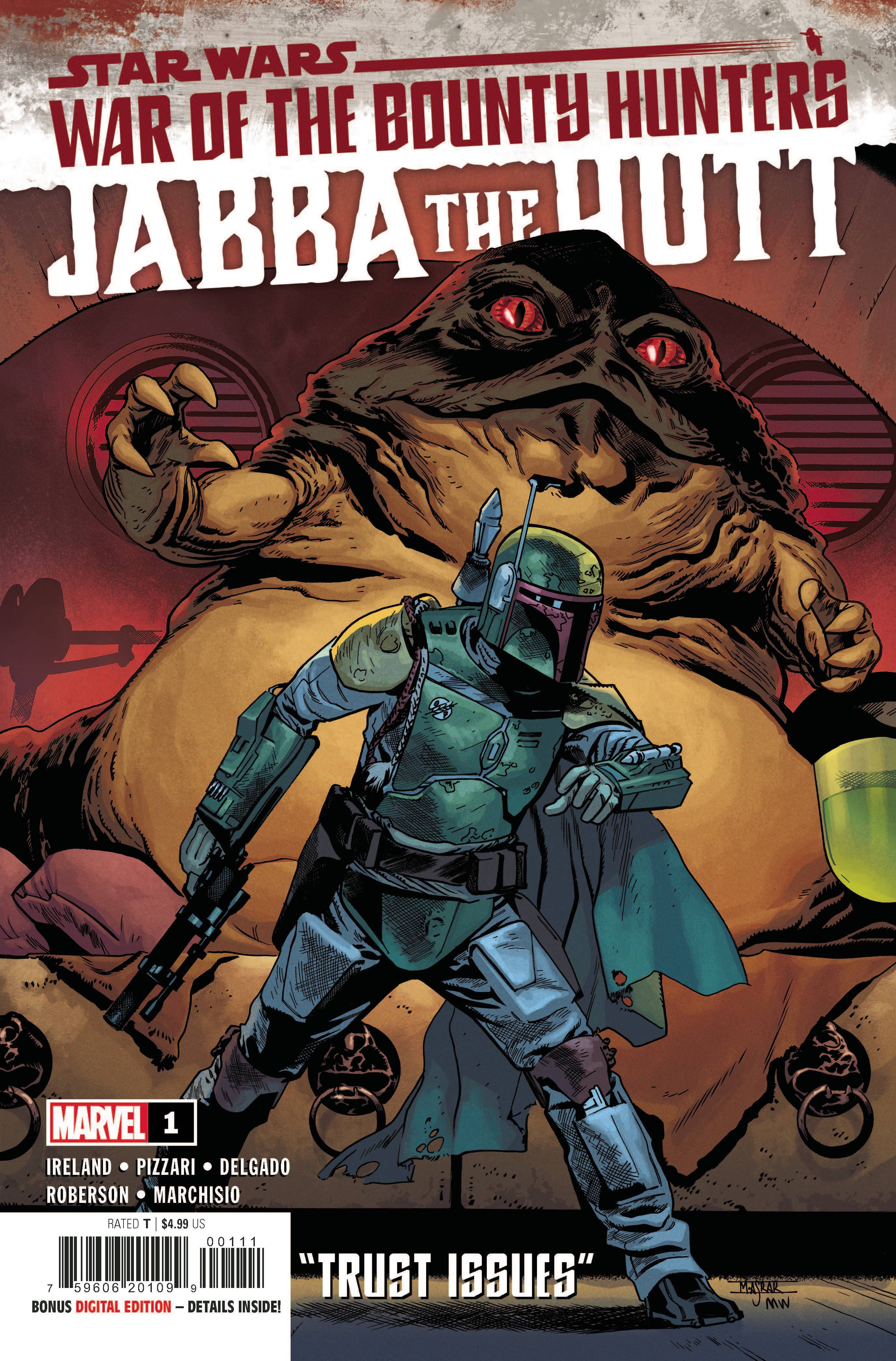 (W) Justina Ireland (A) Luca Pizarri, More (CA) Mahmud AsrarJABBA NEVER FORGIVES! JABBA NEVER FORGETS!
JABBA THE HUTT is one of the most powerful and ruthless gangsters in the galaxy-and BOBA FETT, his most trusted bounty hunter, has failed him. How will Jabba deal with betrayal? VIOLENTLY. And what does this have to do with a bounty hunter with ties to the HIGH REPUBLIC? Justina Ireland and Luca Pizzari's hutt-sized spectacular is the first of four action-packed "War of the Bounty Hunters" tie-ins about the criminal underworld's most notorious hunters and scoundrels, all told by the best Star Wars writers and illustrators in the galaxy.
SUPERMAN AND THE AUTHORITY #1 (OF 4) CVR A MIKEL JANIN 4.99
Sometimes even Superman finds a task almost impossible. Sometimes even the Last Son of Krypton needs to enlist help. Some tasks require methods and heroes that don't scream Justice League. So Clark Kent, the Metropolis Marvel, seeks out Manchester Black, the most dastardly of rogues, to form an all-new Authority tasked with taking care of some business on the sly. Not only will Black know the right candidates for the team, but if Superman can make him behave himself and act in service of the greater good, then he'll prove literally anyone can be a hero! They'll have to move quickly, however, as the Ultra-Humanite forms his own team to take out the Man of Steel. This new limited series helps launch an all-new Superman status quo, setting up story elements that reverberate across both Action Comics and Superman: Son of Kal-El in the months to come. And not only is Superman putting together a superstar team, but it takes superstars to tell the tale: Grant Morrison (The Green Lantern, All-Star Superman) and Mikel Janin (Batman, Future State: Superman: Worlds of War)!
THIS WEEK IN TOYS/STATUES
PUPPET MASTER PINHEAD & TUNNELER ULTIMATE 4IN AF 2PK 39.99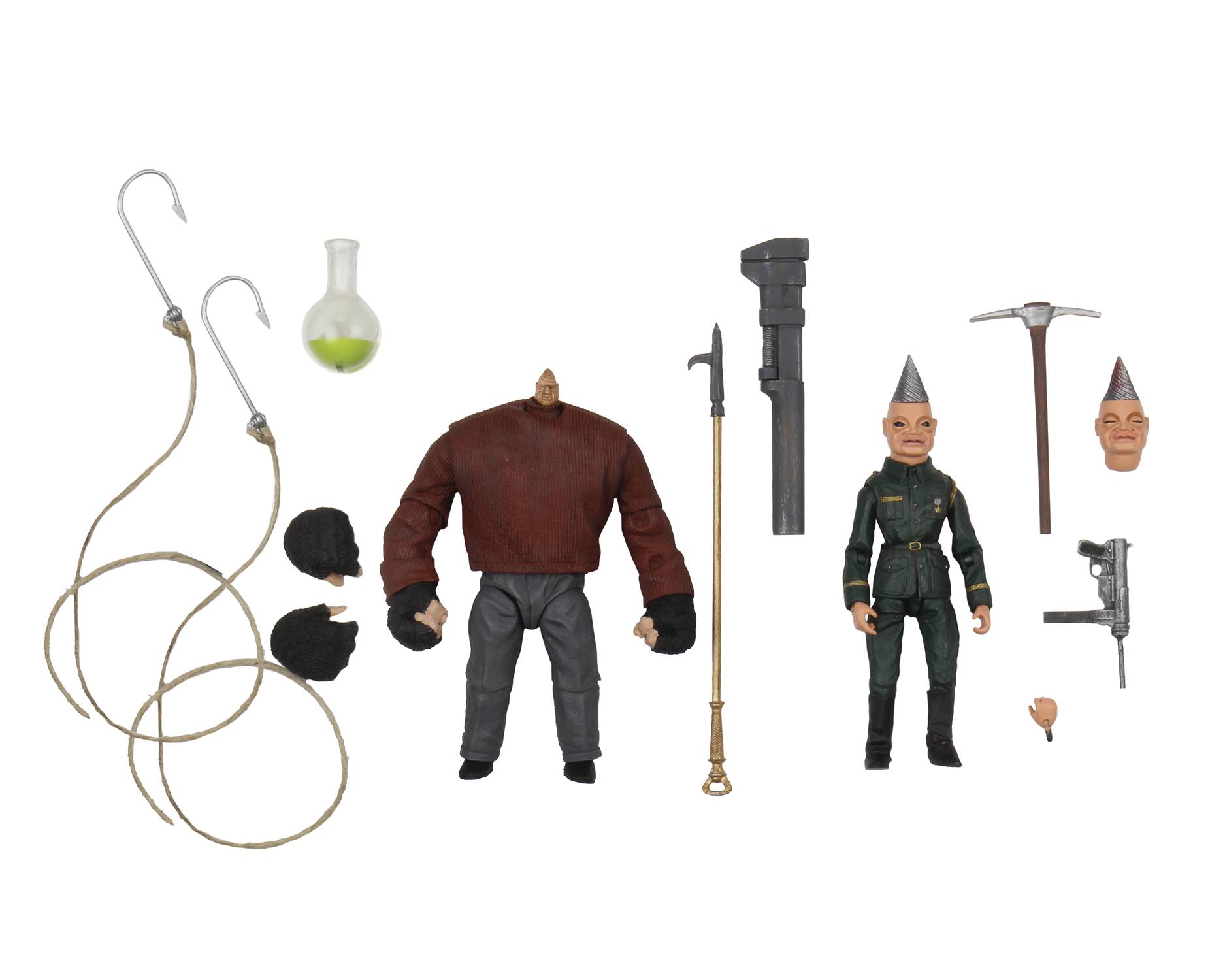 From NECA. "…and now a box of little toys has become a gang of little terrors." NECA is proud to present the Ultimate Pinhead & Tunneler 2 Pack from the cult series, Puppet Master! Each figure stands approximately 4.25″ tall, representing the classic look of each puppet, with accessories themed to the character's appearances across several films in the franchise. Pinhead includes two interchangeable hands, a fire poker, a vial of rejuvenation liquid, a wrench, and hooks. Tunneler is armed with a grease gun and pickaxe, along with interchangeable heads, hands, and an alternative bloody drill top. Comes in window box packaging replicating Andre Toulon's Puppet Case.
DC MULTIVERSE HELLBAT 7IN SCALE LUNAR NEW YEAR ED AF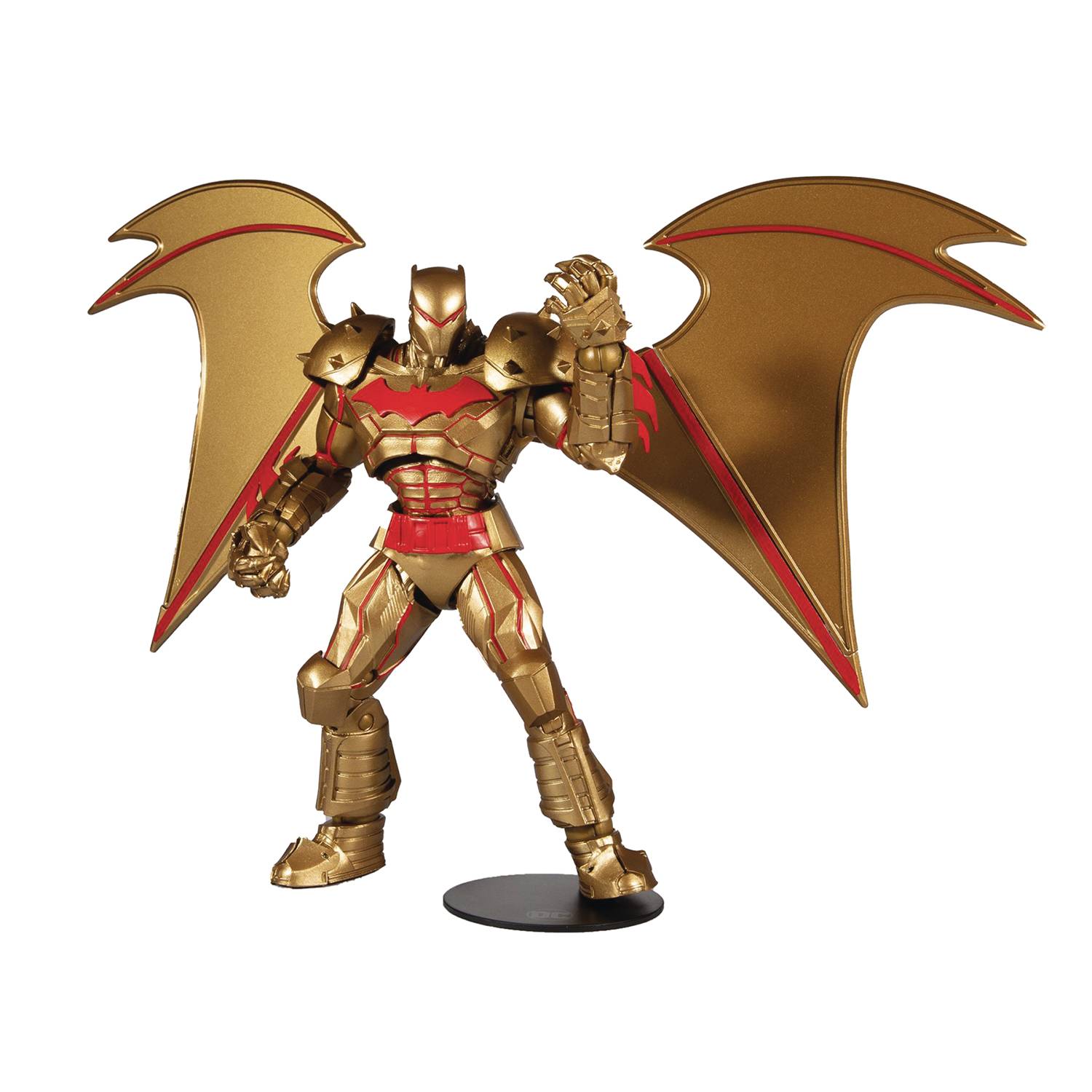 From TMP/MacFarlane's Toys. Determined to bring Damian back to life, Batman dons the experimental Hellbat suit and ventures to the hellscape of Apokolips to take on the virtually indestructible ruler Darkseid! This incredibly detailed 7″ scale figure is designed with Ultra Articulation with up to 22 moving parts for full range of posing and play. Included collectable art card with Batman Hellbat Suit artwork on the front, and character biography on the back
NBX SELECT PX CREATURE UNDER THE STAIRS FIGURE 29.99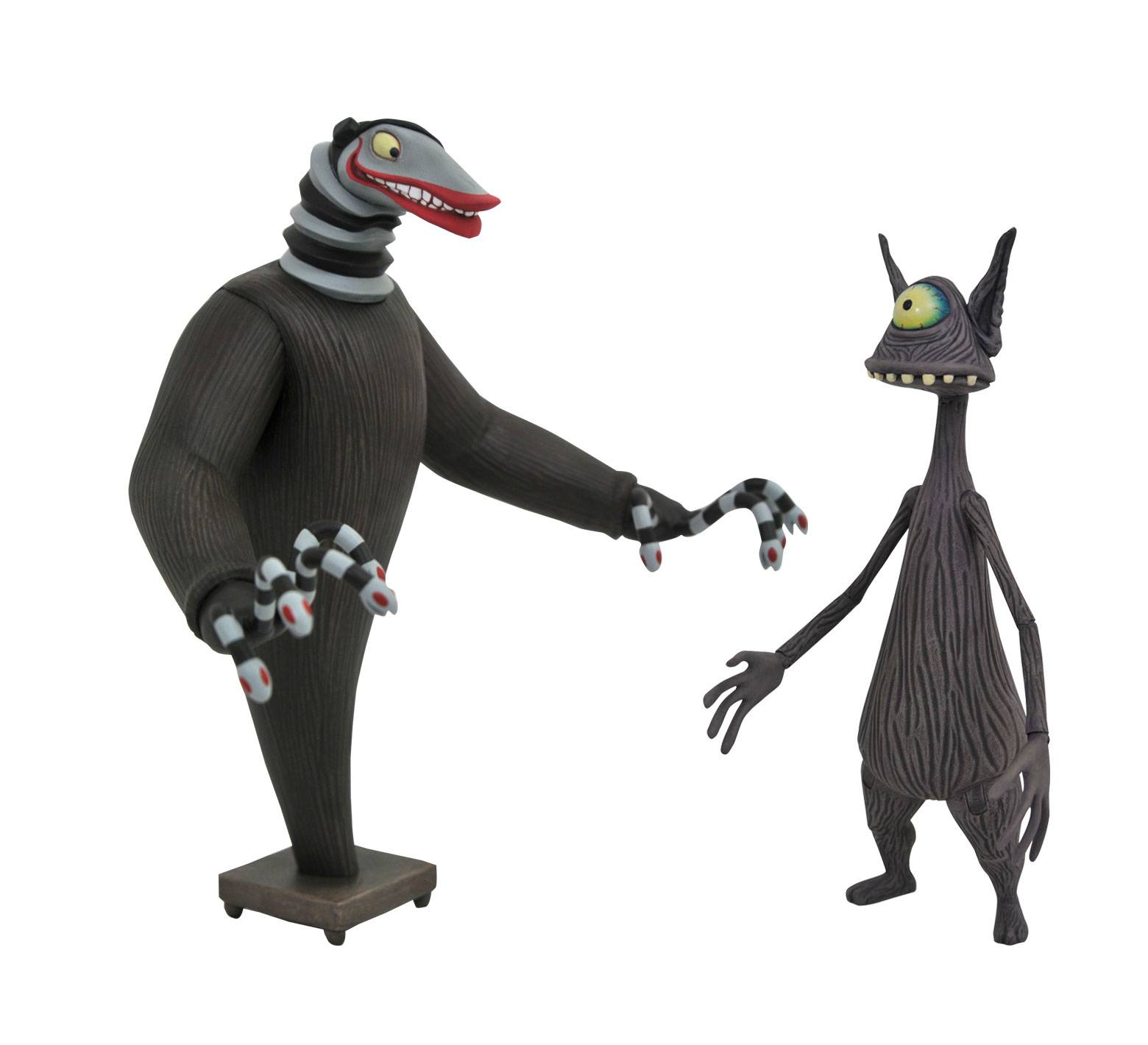 A Diamond Select Toys release! This is Halloween! Some of Halloween Town's creepiest citizens come out of the woodwork for this series of Nightmare Before Christmas Select action figures! Mr. Hyde with Corpse Dad, Corpse Mom with Duck Gift, and Mrs. Claus with Choir Elf each feature multiple points of articulation and include various scary and/or festive accessories. They each come packaged in Select action figure packaging, with side panel artwork for shelf reference.
PUPPET MASTER BLADE & TORCH ULTIMATE 4IN AF 2PK 39.99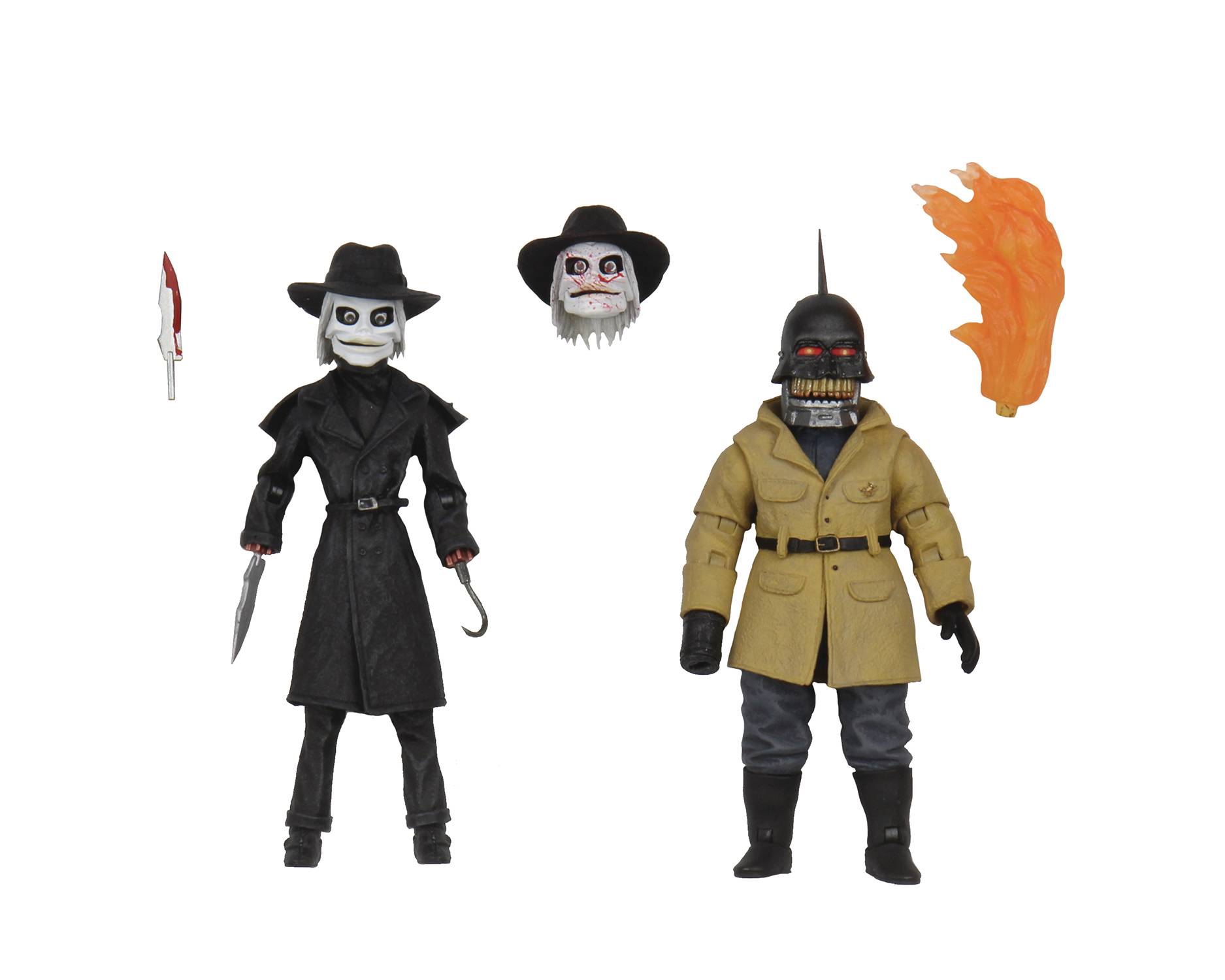 From NECA. "…and now a box of little toys has become a gang of little terrors." NECA is proud to present two figure 2-packs from the cult series, Pupper Master –  Ultimate Blade & Torch 2 Pack and the Pinhead & Tunneler 2-Pack. Each figure stands approximately 4.25″ tall, representing the classic look of each puppet, with accessories themed to the character's appearances across several films in the franchise. Blade includes interchangeable heads and knives, both with clean and bloody variations. Torch features an articulated jaw and can equip a flame effect for his right arm.
Trade-paperbacks of the Week!
BATMAN THE ADVENTURES CONTINUE SEASON ONE TP 19.99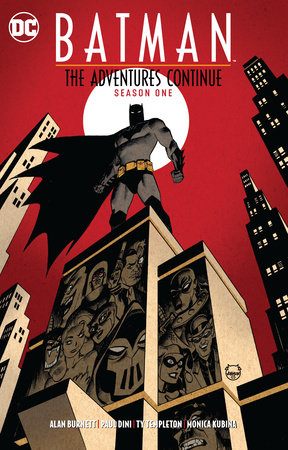 LOCKE & KEY KEYHOUSE COMPENDIUM HC 125
Named a "modern masterpiece" by The A.V. Club, Locke & Key tells a sprawling tale of magic and family, legacy and grief, good and evil. Acclaimed suspense novelist and New York Times-bestselling author Joe Hill (The Fireman, Heart-Shaped Box, NOS4A2) has created a gripping story of dark fantasy and wonder–with astounding artwork from Gabriel Rodriguez–that, like the doors of Keyhouse, will transform all who open it.
Following their father's gruesome murder in a violent home invasion, the Locke children return to his childhood home of Keyhouse in secluded Lovecraft, Massachusetts. Their mother, Nina, is too trapped in her grief–and a wine bottle–to notice that all in Keyhouse is not what it seems: too many locked doors, too many unanswered questions. Older kids Tyler and Kinsey aren't much better. But not youngest son Bode, who quickly finds a new friend living in an empty well and a new toy, a key, that offers hours of spirited entertainment. But again, all at Keyhouse is not what it seems, and not all doors are meant to be opened. Soon, horrors old and new, real and imagined, will come ravening after the Lockes and the secrets their family holds.
PUNISHER EPIC COLLECTION TP RETURN TO BIG NOTHING 44.99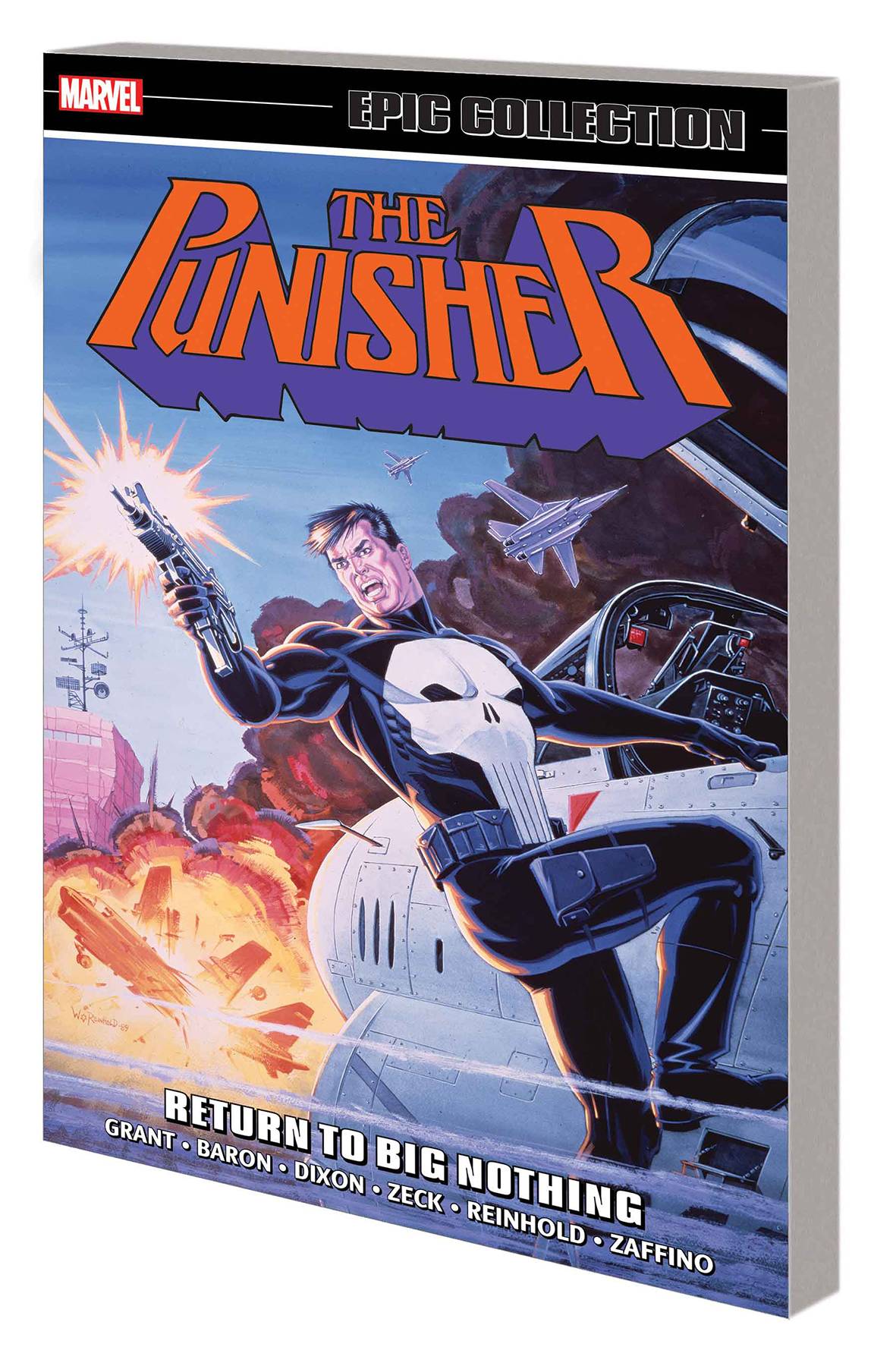 SUPERMAN MAN OF TOMORROW TP VOL 01 HERO OF METROPOLIS 19.99
MASTER LIST OF PRODUCTS ARRIVING THIS WEEK!
ALIEN #5 3.99
ALIEN #5 GIANGIORDANO VAR 3.99
ALIEN #5 LARROCA VAR 3.99
ALIENS ALIEN QUEEN Q-FIG MAX ELITE DIORAMA 49.95
ANNE BONNIE #12 3.99
APEX LEGENDS OVERTIME #2 (OF 4) 3.99
ASCENDER #17 3.99
BABYTEETH #19 3.99
BATMAN THE ADVENTURES CONTINUE SEASON ONE TP 19.99
BATMAN THE DARK PRINCE CHARMING TP 17.99
BATMAN YEAR ONE DELUXE SC 14.99
BEASTARS GN VOL 13 12.99
BERMUDA #1 (OF 4) 4.99
BIG HARD SEX CRIMINALS HC VOL 03 44.99
BLACK HAMMER REBORN #2 CVR A YARSKY 3.99
BLACK HAMMER REBORN #2 CVR B THOMPSON 3.99
BLACKS MYTH #1 3.99
BLUE & GOLD #1 (OF 8) CVR A RYAN SOOK 3.99
BLUE & GOLD #1 (OF 8) CVR B DAVE JOHNSON CARD STOCK VAR 4.99
BLISS TP 19.99
BREAKER OMNIBUS GN VOL 01 19.99
CAPTAIN MARVEL #30 4.99
CAPTAIN MARVEL #30 LIEFELD DEADPOOL 30TH VAR 4.99
CAPTAIN MARVEL #30 MOMOKO MARVEL ANIME VAR 4.99
CATWOMAN #33 CVR A YANICK PAQUETTE 3.99
CATWOMAN #33 CVR B JENNY FRISON CARD STOCK VAR 4.99
CHU #6 3.99
CIMMERIAN HC VOL 02 FROST GIANTS DAUGHTER 24.99
COMIC BOOK HISTORY OF ANIMATION TP 17.99
COMPASS #2 (OF 5) 3.99
DARK BLOOD #1 (OF 6) CVR A DE LANDRO 3.99
DARK BLOOD #1 (OF 6) CVR B BA 3.99
DC MULTIVERSE HELLBAT 7IN SCALE LUNAR NEW YEAR ED AF
DEADLY CLASS #47 CVR A CRAIG & WORDIE 3.99
DEADLY CLASS #47 CVR B DEKAL 3.99
DEJAH THORIS VS JOHN CARTER OF MARS #1 CVR A PARRILLO 3.99
DEJAH THORIS VS JOHN CARTER OF MARS #1 CVR B LINSNER 3.99
DEJAH THORIS VS JOHN CARTER OF MARS #1 CVR C MIRACOLO 3.99
DEVILS RED BRIDE #3 3.99
DESTINY NY #1 3.99
DEVILS CANDY GN VOL 01 16.99
DOCTOR STRANGE EPIC COLLECTION TP MASTER MYSTIC ARTS NEW PTG 39.99
EVERFROST #2 3.99
EXTREME CARNAGE PHAGE #1 3.99
EXTREME CARNAGE PHAGE #1 JOHNSON CONNECTING VAR 3.99
EXTREME CARNAGE PHAGE #1 YOUNG VAR 3.99
FIREFLY BRAND NEW VERSE #5 (OF 6) CVR A KHALIDAH 4.99
FIREFLY BRAND NEW VERSE #5 (OF 6) CVR B FISH 4.99
GAMMA FLIGHT #2 (OF 5) 3.99
GAMMA FLIGHT #2 (OF 5) PACHECO CONNECTING VAR 3.99
GAMMA FLIGHT #2 (OF 5) YOUNG VAR 3.99
GARBAGE PAIL KIDS HOME GROSS GAME 1000 PC PUZZLE 17.99
GENERATION X EPIC COLLECTION TP BACK TO SCHOOL 39.99
GI JOE SNAKE EYES RETRO MOUSE PAD 17.99
GI JOE STORM SHADOW RETRO MOUSE PAD 17.99
GODZILLA MONSTERS & PROTECTORS #4 CVR A DAN SCHOENING 3.99
GODZILLA MONSTERS & PROTECTORS #4 CVR B PHOTO CVR 3.99
GUERILLA GREEN OGN SC 16.99
GUARDIANS OF THE GALAXY #16 ANHL 3.99
GUARDIANS OF THE GALAXY #16 JIMENEZ VAR ANHL 3.99
GUARDIANS OF THE GALAXY #16 MOMOKO MARVEL ANIME VAR ANHL 3.99
HAWKING GN 22.99
HER ROYAL HIGHNESS SEEMS ANGRY 12.99
HISTORY COMICS GN AMERICAN BISON 12.99
HOME #4 (OF 5) 3.99
HOME SICK PILOTS #7 3.99
I MAKE BOYS CRY #2 CVR A TYNDALL 4.99
I MAKE BOYS CRY #2 CVR B BROOMALL HOLOGRAPHIC FOIL LOGO 9.99
JAMES BOND AGENT OF SPECTRE #5 3.99
JUPITERS LEGACY REQUIEM #2 (OF 12) CVR A EDWARDS 3.99
JUPITERS LEGACY REQUIEM #2 (OF 12) CVR B SOOK 3.99
JUPITERS LEGACY REQUIEM #2 (OF 12) CVR C SOOK B&W 3.99
JUPITERS LEGACY REQUIEM #2 (OF 12) CVR D NETFLIX PHOTO CVR 3.99
KILLADELPHIA #15 CVR A ALEXANDER 3.99
KILLADELPHIA #15 CVR B POPE 3.99
KING IN BLACK NAMOR TP 15.99
LEFT RIGHT CENTER RICK & MORTY DICE GAME 7.99
LEFT RIGHT CENTER SEINFELD DICE GAME 7.99
LEGENDS OF THE DARK KNIGHT #3 CVR A DARICK ROBERTSON & DIEGO RODRIGUEZ 4.99
LEGENDS OF THE DARK KNIGHT #3 CVR B JORGE MOLINA CARD STOCK VAR 4.99
LOCKE & KEY KEYHOUSE COMPENDIUM HC 125
MANY DEATHS OF LAILA STARR #4 (OF 5) CVR A ANDRADE 3.99
MANY DEATHS OF LAILA STARR #4 (OF 5) CVR B KRISTANTINA FOIL 4.99
MARAUDERS #22 3.99
MARAUDERS #22 PAREL VAR 3.99
MARIA LLOVETS EROS PSYCHE #5 3.99
MARJORIE FINNEGAN TEMPORAL CRIMINAL #3 3.99
MARVEL ACTION AVENGERS TP BOOK 05 OFF THE CLOCK 9.99
MARVEL ACTION SPIDER-MAN #4 3.99
MARVEL-VERSE GN-TP WANDA & VISION 9.99
MAWRTH VALLIIS TP 14.99
MILES MORALES SPIDER-MAN #28 3.99
MILES MORALES SPIDER-MAN #28 COELLO CAPTAIN AMERICA 80TH VAR 3.99
MINKY WOODCOCK GIRL ELECTRIFIED TESLA #4 3.99
MLP TRANSFORMERS II #4 (OF 4) CVR A TONY FLEECS 3.99
MLP TRANSFORMERS II #4 (OF 4) CVR B BETHANY MCGUIRE-SMITH 3.99
MOM MOTHER OF MADNESS #1 (OF 3) CVR A RATCLIFFE 5.99
MOM MOTHER OF MADNESS #1 (OF 3) CVR B BARTEL 5.99
MOM MOTHER OF MADNESS #1 (OF 3) CVR C LEIZ 5.99
MOM MOTHER OF MADNESS #1 (OF 3) CVR D BLANK 5.99
MOON KNIGHT #1 4.99
MOON KNIGHT #1 DELLOTTO VAR 4.99
MOON KNIGHT #1 GIST VAR 4.99
MOON KNIGHT #1 LARRAZ CAPTAIN AMERICA 80TH VAR 4.99
MOON KNIGHT #1 NAUCK HEADSHOT VAR 4.99
MOON KNIGHT #1 ROMITA JR VAR 4.99
MOON KNIGHT #1 YOUNG VAR 4.99
MOON KNIGHT #1 ZAFFINO VAR 4.99
NBX SELECT PX CREATURE UNDER THE STAIRS FIGURE 29.99
NEW MUTANTS #20 3.99
NEW MUTANTS #20 GO VAR 3.99
NIGHTWING #81 Second Printing 3.99
NIGHTWING #82 CVR A BRUNO REDONDO 3.99
NIGHTWING #82 CVR B JAMAL CAMPBELL CARD STOCK VAR 4.99
NO ONE RETURNS FROM THE ENCHANTED FOREST GN 14.99
NOTTINGHAM #5 (OF 5) 3.99
ONCE & FUTURE TP VOL 03 16.99
POP ANIMATION BAKUGAN DAN VINYL FIGURE 11.99
POP ANIMATION BAKUGAN SHUN VINYL FIGURE 11.99
POP ANIMATION BAKUGAN STORM SKYRESS VINYL FIGURE 11.99
POP ANIMATION BAKUGAN TIGRERRA VINYL FIGURE 11.99
POP ANIMATION ONE PIECE BROOK VINYL FIG 11.99
POP DISNEY LUCA PAGURO VIN FIG 11.99
POP DISNEY MIGHTY DUCKS COACH BOMBAY VINYL FIGURE 11.99
POP DISNEY MIGHTY DUCKS GOLDBERG VINYL FIGURE 11.99
POP MARVEL INFINITY WARPS ARACHKNIGHT VIN FIG 11.99
POP MARVEL INFINITY WARPS DIAMOND PATCH VIN FIG 11.99
POP MARVEL INFINITY WARPS GHOST PANTHER VIN FIG 11.99
POP MARVEL INFINITY WARPS SOLDIER SUPREME VIN FIG 11.99
POP MOVIES MUMMY EVELYN CARNAHAN VIN FIG 11.99
POP TV PARKS & REC ANDY AS PRINCESS RAINBOW SPARKLE VIN 11.99
POP TV PARKS & REC DUKE SILVER VIN FIG 11.99
POP TV PARKS & REC JANET SNAKEHOLE VIN FIG 11.99
POWER RANGERS #9 CVR A SCALERA 3.99
POWER RANGERS #9 CVR B LEGACY VAR DI NICUOLO 3.99
POWER RANGERS #9 CVR F FOC REVEAL VAR INTERMIX 3.99
PROCTOR VALLEY ROAD #5 (OF 5) CVR A FRANQUIZ 3.99
PROCTOR VALLEY ROAD #5 (OF 5) CVR B WILDGOOSE 3.99
PROJECT PATRON #4 3.99
PUNISHER EPIC COLLECTION TP RETURN TO BIG NOTHING 44.99
PUPPET MASTER BLADE & TORCH ULTIMATE 4IN AF 2PK 39.99
PUPPET MASTER PINHEAD & TUNNELER ULTIMATE 4IN AF 2PK 39.99
RADIANT BLACK #6 CVR A LAFUENTE & CUNNIFEE 3.99
RADIANT BLACK #6 CVR B OKAMOTO 3.99
REPTIL #3 (OF 4) 3.99
REPTIL #3 (OF 4) BLAS VAR 3.99
RICK AND MORTY PRESENTS HOTEL IMMORTAL #1 4.99
RICK AND MORTY RICKS NEW HAT #2 3.99
RIVER OF INK TP 22.99
SAVAGE AVENGERS #22 3.99
SAVE YOURSELF #2 (OF 4) 4.99
SECOND COMING ONLY BEGOTTEN SON #3 (RES) 3.99
SHADECRAFT #5 CVR A GARBETT 3.99
SHADECRAFT #5 CVR B BENGAL 3.99
SHAZAM #1 (OF 4) CVR A CLAYTON HENRY 3.99
SHAZAM #1 (OF 4) CVR B GARY FRANK CARD STOCK VAR 4.99
SIGNATURE GAMES DISNEY PRINCESS SEE THE STORY GAME 20.99
SILVER CITY #3 3.99
SKYBOUND X #3 CVR A ADAMS 4.99
SKYBOUND X #3 CVR B WALKER 4.99
SKYBOUND X #3 CVR C HENDERSON 4.99
SKYBOUND X #3 CVR D JOHNSON 4.99
SNOWPIERCER PREQUEL VOL 01 EXTINCTION 16.99
SOLO LEVELING GN VOL 02 20
SONIC THE HEDGEHOG #42 CVR A TRAMONTANO 3.99
SONIC THE HEDGEHOG #42 CVR B ABBY BULMER 3.99
SPELLBINDING EPISODES OF PHOEBE AND HER UNICORN TP 14.99
STAR WARS DARTH VADER #14 CAMUNCOLI HEADSHOT VAR WOBH 3.99
STAR WARS DARTH VADER #14 SPROUSE LUCASFILM 50TH VAR WOBH 3.99
STAR WARS DARTH VADER #14 WOBH 3.99
STAR WARS HIGH REPUBLIC ADVENTURES #6 3.99
STAR WARS TP VOL 01 DESTINY PATH 17.99
STAR WARS WAR BOUNTY HUNTERS JABBA HUTT #1 4.99
STAR WARS WAR BOUNTY HUNTERS JABBA HUTT #1 CHANG VAR 4.99
STAR WARS WAR BOUNTY HUNTERS JABBA HUTT #1 HEADSHOT VAR 4.99
SUICIDE SQUAD CASE FILES TP VOL 01 19.99
SUMMONERS WAR LEGACY #1 3.99
SUNDAYS FUN DAY CHARLIE BROWN SC 7.99
SUPERGIRL WOMAN OF TOMORROW #2 (OF 8) CVR A BILQUIS EVELY 4.99
SUPERGIRL WOMAN OF TOMORROW #2 (OF 8) CVR B LEE WEEKS VAR 4.99
SUPERMAN AND THE AUTHORITY #1 (OF 4) CVR A MIKEL JANIN 4.99
SUPERMAN AND THE AUTHORITY #1 (OF 4) CVR B BRYAN HITCH CARD STOCK VAR 5.99
SUPERMAN AND THE AUTHORITY #1 (OF 4) INC 1:25 JEN BARTEL HEADSHOT CARD STOCK VAR 5.99
SUPERMAN MAN OF TOMORROW TP VOL 01 HERO OF METROPOLIS 19.99
SUPERMAN RED & BLUE #5 (OF 6) CVR A AMANDA CONNER 5.99
SUPERMAN RED & BLUE #5 (OF 6) CVR B ARTHUR ADAMS VAR 4.99
SUPERMAN RED & BLUE #5 (OF 6) CVR C MIGUEL MERCADO VAR 5.99
SYPHON #1 (OF 3) 3.99
TALES FROM HARROW COUNTY FAIR FOLK #1 (OF 4) CVR A SCHNALL 3.99
TALES FROM HARROW COUNTY FAIR FOLK #1 (OF 4) CVR B CROOK 3.99
THOR ANNUAL #1 INFD 4.99
THOR ANNUAL #1 RON LIM CONNECTING VAR INFD 4.99
TIME BEFORE TIME #3 CVR A SHALVEY 3.99
TIME BEFORE TIME #3 CVR B WARD 3.99
TMNT ONGOING (IDW) COLL HC VOL 13 59.99
TRAILER PARK BOYS GET A F#ING COMIC BOOK #1 CVR A HERRERA 7.99
TRAILER PARK BOYS GET A F#ING COMIC BOOK #1 CVR D PHOTO 7.99
TRUTH & JUSTICE #6 (OF 7) CVR A JUNI BA 4.99
TRUTH & JUSTICE #6 (OF 7) CVR B DAMION SCOTT CARD STOCK VAR 5.99
UNDISCOVERED COUNTRY #14 3.99
UNION BRITANNIA PROJECT TP 15.99
USAGI YOJIMBO #21 3.99
VENGEANCE OF VAMPIRELLA #20 CVR A PARRILLO 3.99
VENGEANCE OF VAMPIRELLA #20 CVR B OLIVER 3.99
VENGEANCE OF VAMPIRELLA #20 CVR C SEGOVIA 3.99
VENOM BY DONNY CATES TP VOL 01 REX 17.99
WALKING DEAD DLX #19 CVR A FINCH & MCCAIG 3.99
WALKING DEAD DLX #19 CVR B MOORE & MCCAIG 3.99
WALKING DEAD DLX #19 CVR C TEDESCO 3.99
WALKING DEAD DLX #19 CVR D ADAMS 3.99
WALKING DEAD DLX #19 CVR E ADLARD 3.99
WALKING DEAD DLX #19 CVR F LIEFELD 3.99
WALKING DEAD DLX #19 CVR G MILTON 3.99
WALKING DEAD DLX #19 CVR H CONLEY 3.99
WITCHBLOOD #2 CVR A STERLE 3.99
WITCHBLOOD #2 CVR B STERLE 3.99
WHOLE HUMANITY HAS GONE YURI EXCEPT ME GN 22
WONDER WOMAN LORDS & LIARS TP 24.99
X-MEN LEGENDS #5 3.99
X-MEN LEGENDS #5 CHRISTOPHER ACTION FIGURE VAR 3.99
X-MEN LEGENDS #5 NAUCK PUZZLE VAR 3.99