The Fantastic Four Remake History in 'FF: Life Story'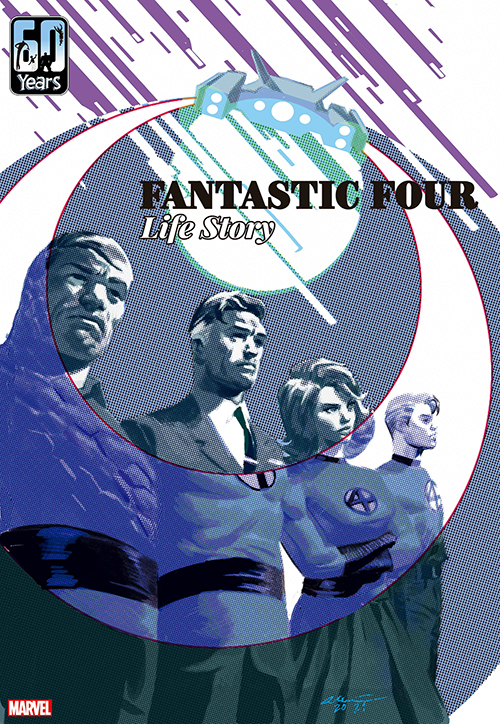 The Fantastic Four celebrates its 60th anniversary this year. The iconic Stan Lee and Jack Kirby creation, credited with kicking off Marvel Comics' historic Silver Age, have starred in some of the most memorable comic book adventures of all time, and now their illustrious saga will be presented in a radical new way in FANTASTIC FOUR: LIFE STORY.
Written by acclaimed writer Mark Russell (Second Coming, Wonder Twins) and drawn by Sean Izaakse (Fantastic Four, Avengers No Road Home) , FANTASTIC FOUR: LIFE STORY will be written in the same approach as Chip Zdarsky and Mark Bagley's hit series, SPIDER-MAN: LIFE STORY. FANTASTIC FOUR: LIFE STORY will tell the entire history of the Fantastic Four from beginning to end, set against the key events of the decades through which their stories were published.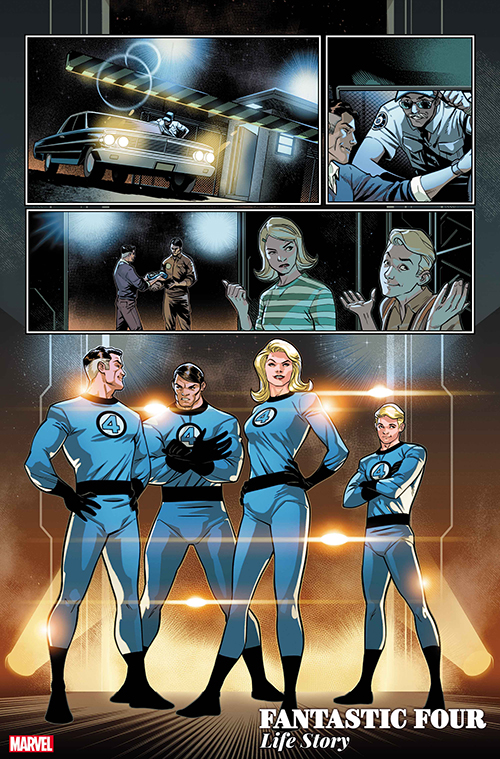 FANTASTIC FOUR: LIFE STORY #1 will take place in the "Swinging Sixties" when Reed, Ben, Sue, and Johnny took that fateful journey to space that changed the face of comic book storytelling forever. Against the backdrop of the Cold War and the Space Race, a terrible accident occurs that gives them great powers and a terrible secret, entangling them in Earth's history forever as they transform into the world's premiere super hero team.
The PREVIEWS Exclusive Jumbo Galactus Pop! Is Ready to pre-order!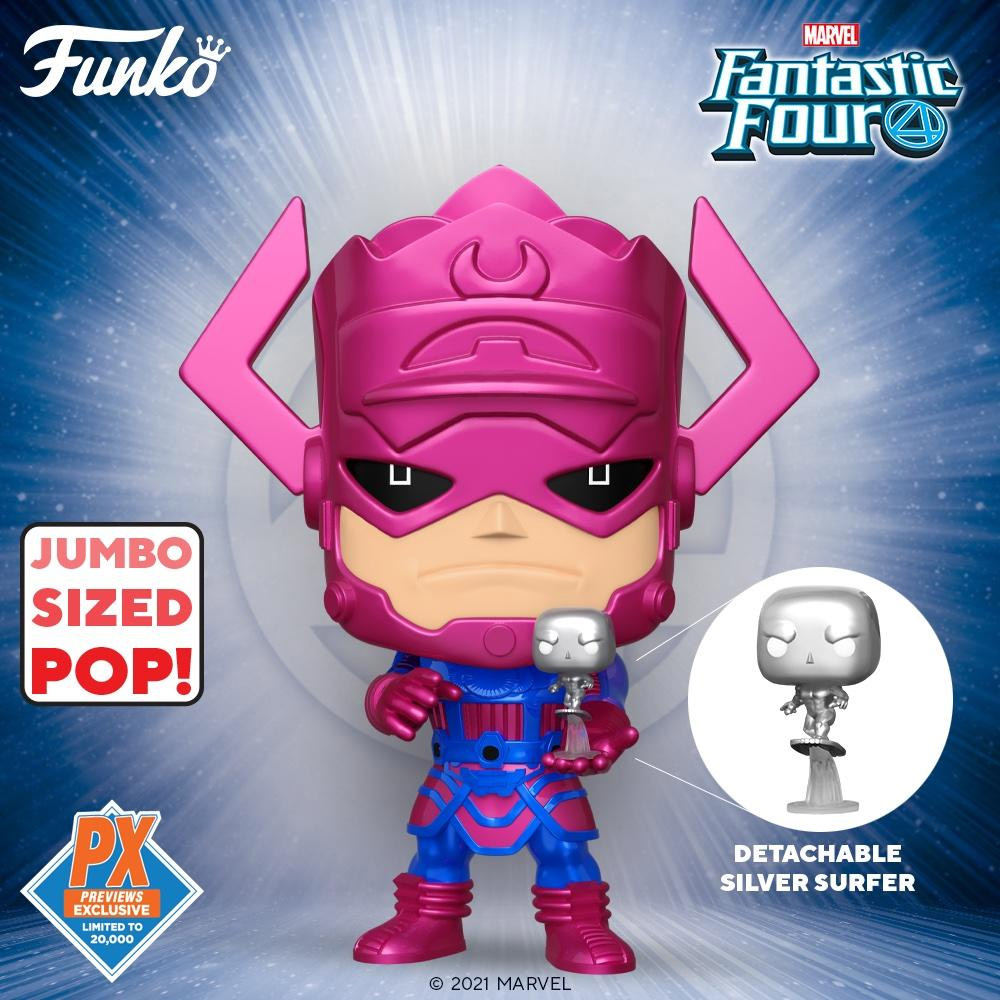 Galactus is ready to devour some planets with this POP! Jumbo Marvel Galactus with Silver Surfer Previews Exclusive 10" Figure Metallic Version ( SRP: $45.99), and it's available to pre-order now at Comic Quest!
Featuring classic square pupils, pink helmet and purple armor, complete with a shining metallic paint job. The classic Galactus and his herald, the Silver Surfer, are sure to loom over any collection, seeking out and consuming worlds at will.
This collectible 10" tall Pop! Figure will be produced in limited quantities and comes packaged in a window box, perfect for display.
Galactus scheduled to arrive in April 2021. Don't miss out, pre-order now !
NEW COMICS THIS WEEK!
CRITICAL ROLE VOX MACHINA ORIGINS III #1 3.99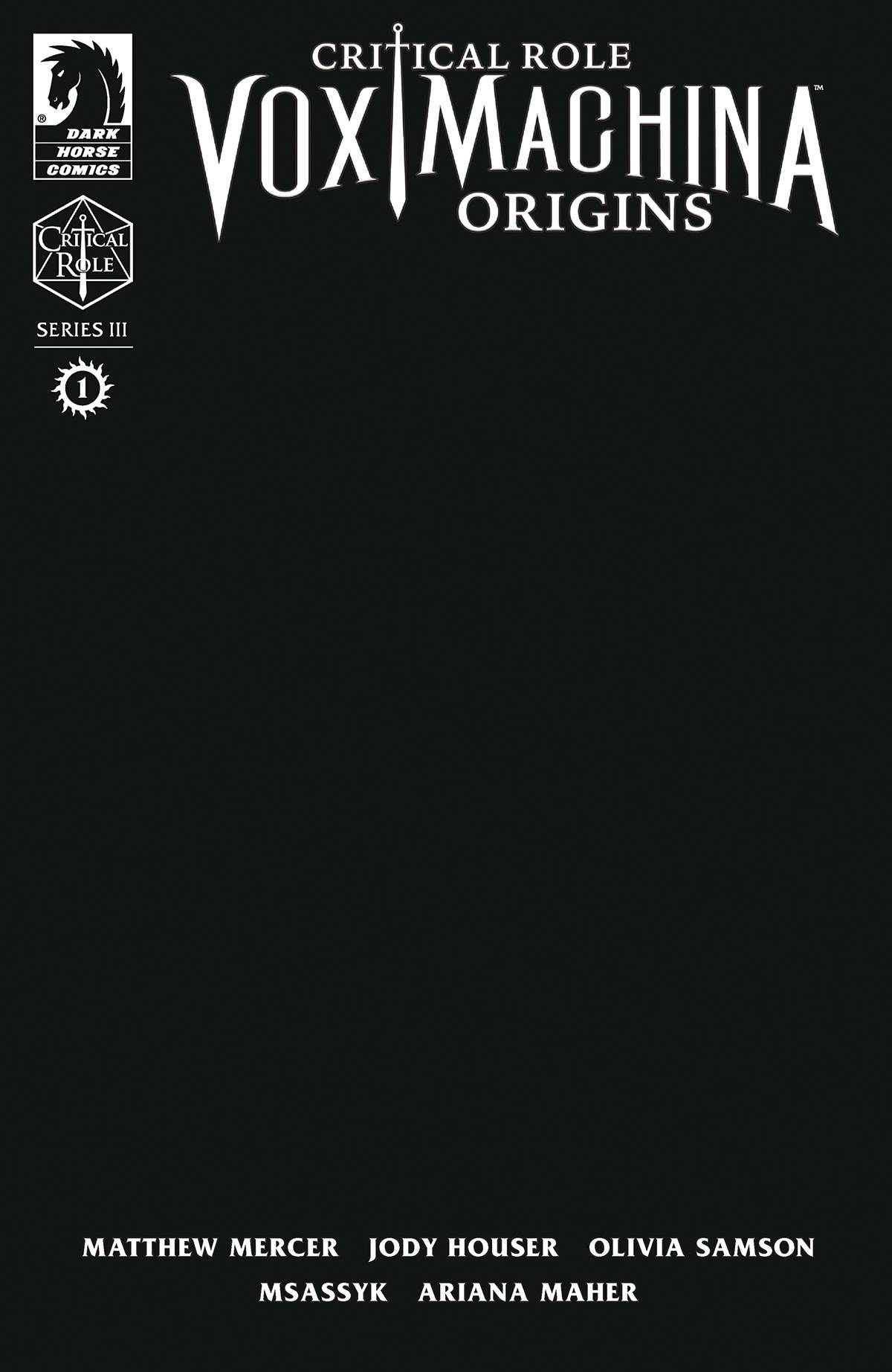 (W) Matthew Mercer, Jody Houser (A) Olivia Samson
The good life never lasts.

After paying off their debt to Drez Vina, Vox Machina enjoy a week in Westruun's lap of luxury. But that costs coin, which has a bad habit of running out. So to keep themselves in the black (and the taverns, and the brothels) they agree to join an underground fighting ring. But before they can bash their way to cash, their attention is snagged by the case of a missing child.

Prepare to jump back into the fray with series III of Critical Role: Vox Machina Origins, from the New York Times bestselling team of Jody Houser (Orphan Black, Stranger Things), Olivia Samson, MSASSYK (Isola, Gotham Academy), and Ariana Maher (James Bond, Xena)!
FUTURE STATE JUSTICE LEAGUE #2 (OF 2
) CVR A 5.99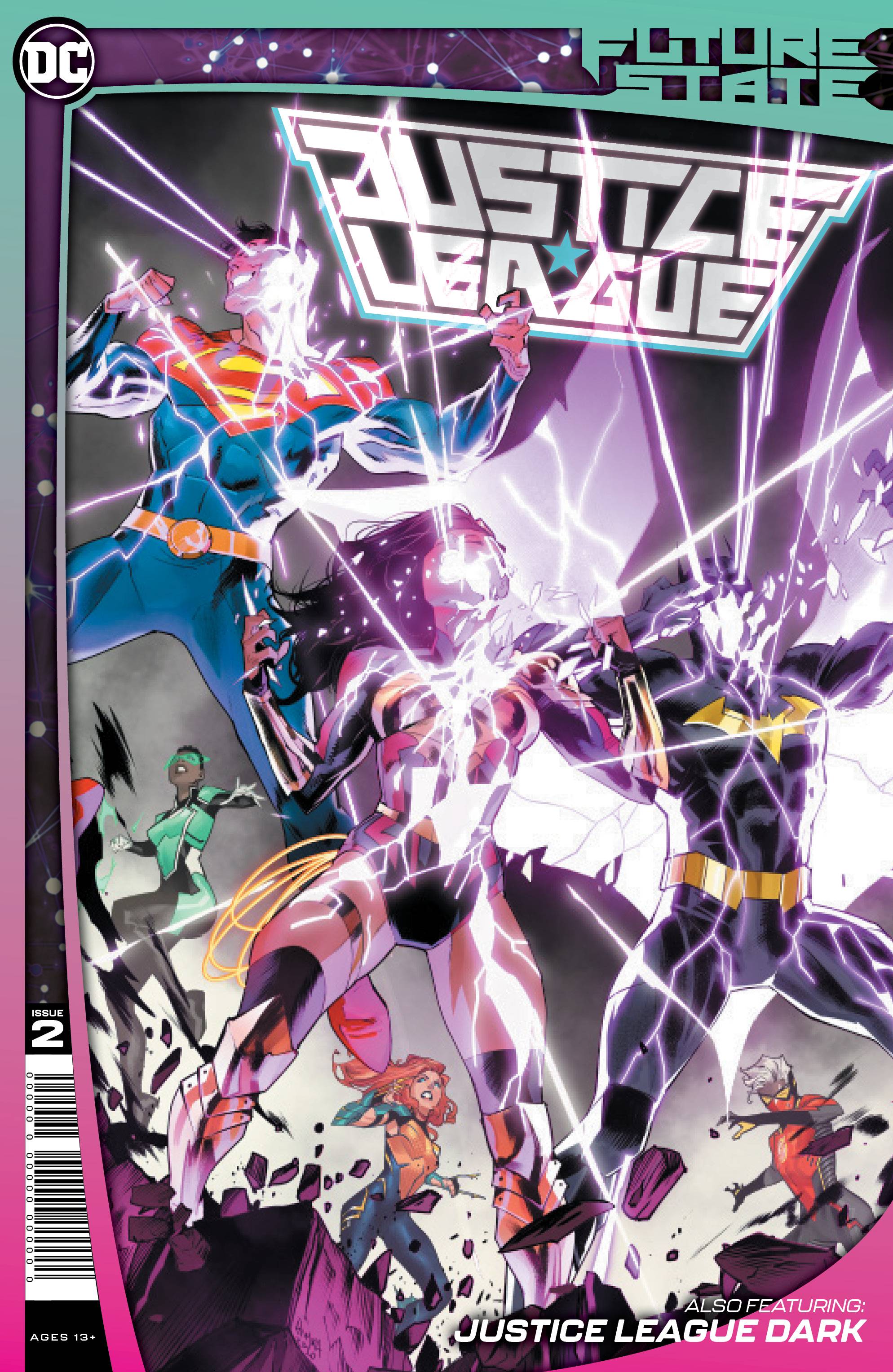 Exiled to a distant planet, the Justice League suspects an impostor in their midst, but not even the next Batman or Green Lantern can find the clues they're looking for. Meanwhile on Earth, the terrifying return of a classic Justice League villain may spell doom for the planet! Doppelgängers abound, paranoia runs rampant, and only the Justice League can save humanity—if they can ever find their way home. Plus, all the world's terrible truths are revealed as the Justice League Dark make their last stand. Hunted, beaten, and harvested for their magic, Zatanna, John Constantine, Detective Chimp, Ragman, Madame Xanadu, and Etrigan all unleash a desperate plan that could destroy them—but is it worth the cost to finish Mad Merlin and his mysterious Knights? Only Doctor Fate knows, and the truth may spell hope or doom!
DAREDEVIL #27 KIB 3.99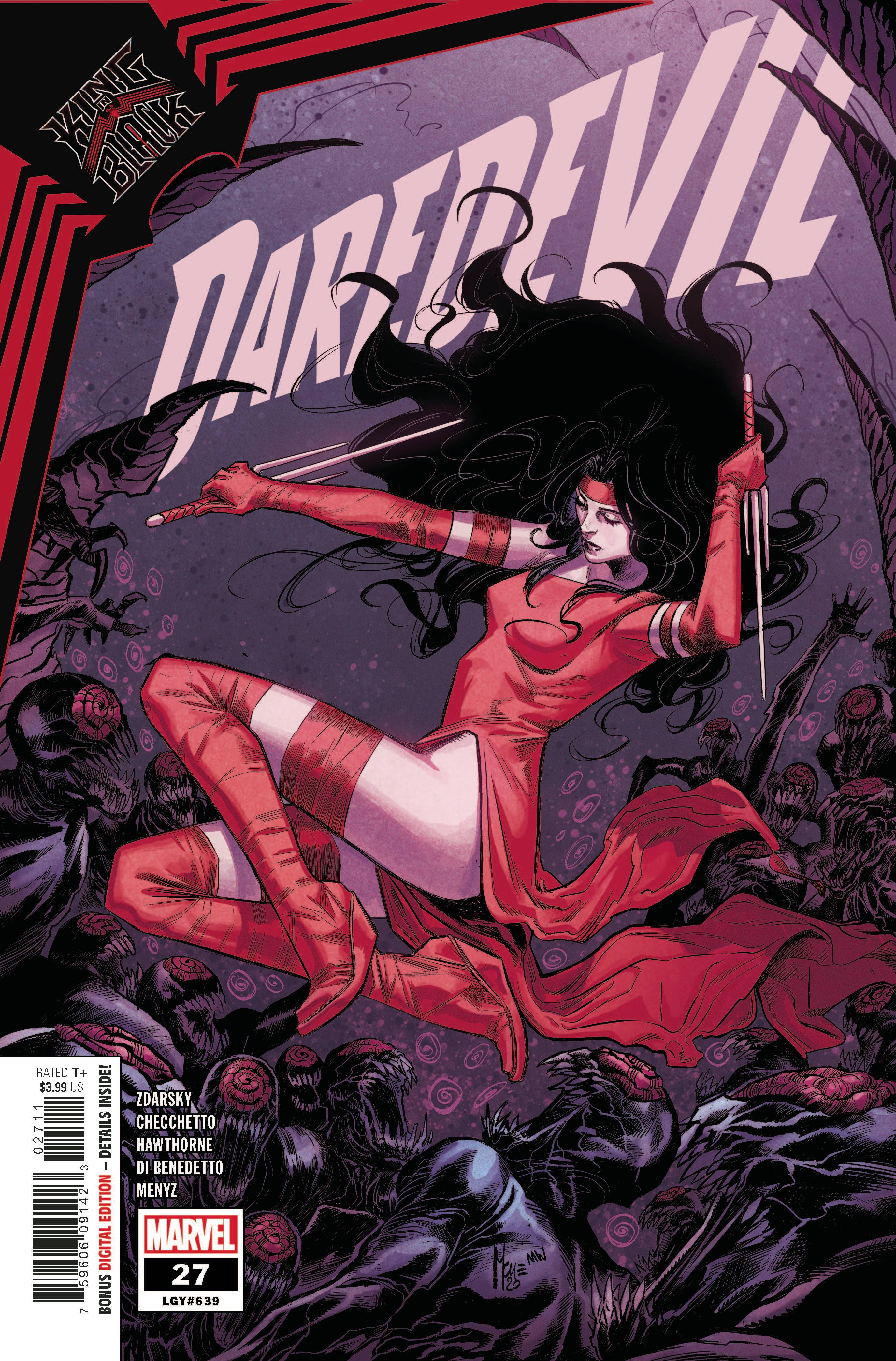 (W) Chip Zdarsky (A) Mike Hawthorne (A/CA) Marco ChecchettoENSNARED IN THE WEB!
• As New York begins to crack under the weight of Knull's symbiotic assault, Matt Murdock has a crisis of faith in the most electrifying issue of Chip Zdarksy and Marco Checchetto's groundbreaking DAREDEVIL run yet.
• BUT THIS TIME, they're joined by none other than MIKE HAWTHORNE, spearheading a brutal story that pits Daredevil against the god-king of the symbiotes himself – KNULL!
(W) Chip Zdarsky (A) Mike Hawthorne (A/CA) Marco ChecchettoENSNARED IN THE WEB!
•  As New York begins to crack under the weight of Knull's symbiotic assault, Matt Murdock has a crisis of faith in the most electrifying issue of Chip Zdarksy and Marco Checchetto's groundbreaking DAREDEVIL run yet.
•  BUT THIS TIME, they're joined by none other than MIKE HAWTHORNE, spearheading a brutal story that pits Daredevil against the god-king of the symbiotes himself – KNULL!
ORCS #1 (OF 6) 4.99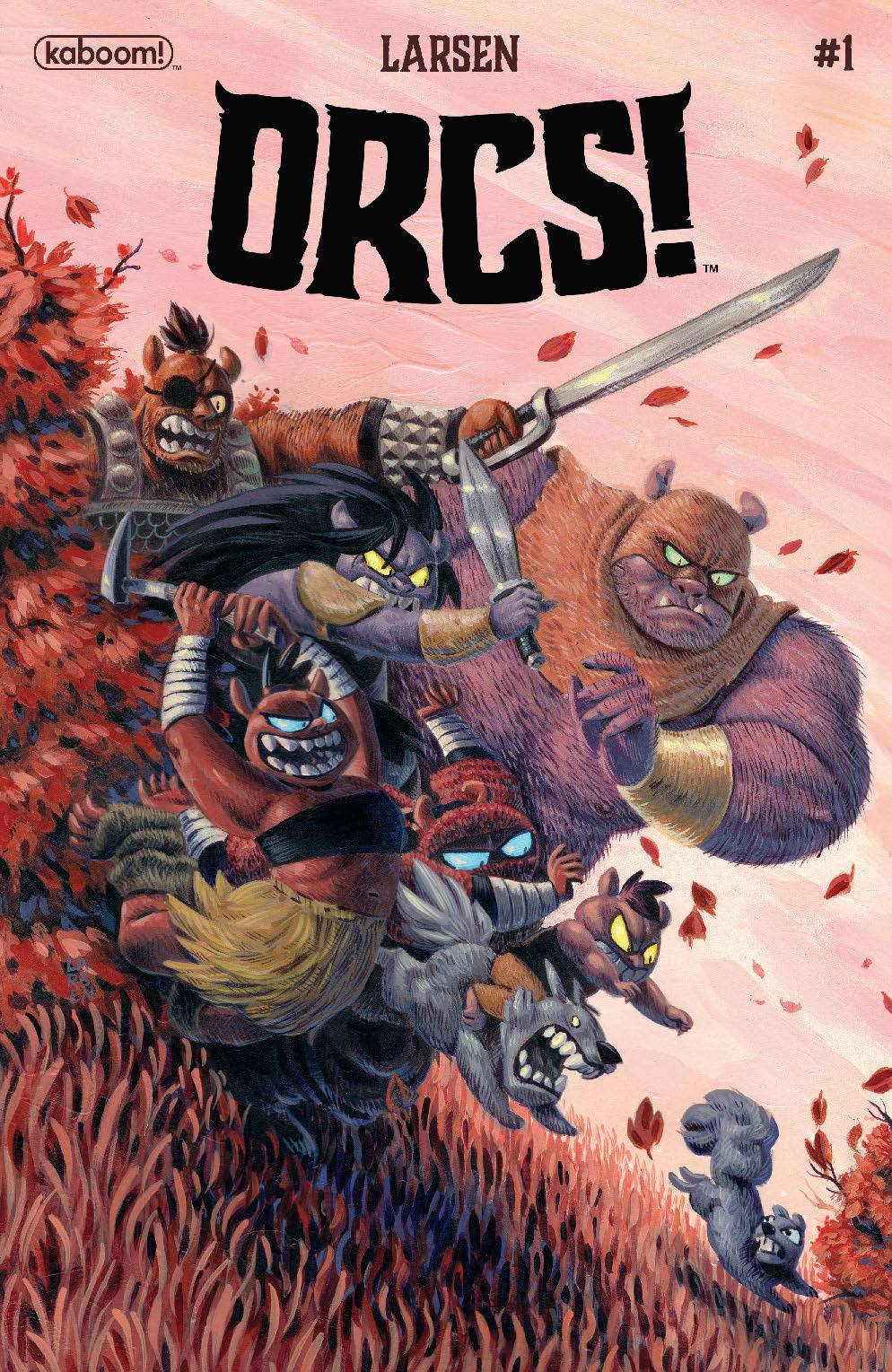 (W) Christine Larsen (A/CA) Christine Larsen* For fans of The Adventure Zone and Critical Role, meet Bog and his misfit crew of Orcs as they adventure through the Known World courtesy of acclaimed cartoonist Christine Larsen (Adventure Time).
* After being banished from their Orcish village by King Hrograhgah (it was a simple misunderstanding, involving an acorn-related prank!), Bog and his crew venture out into the world to seek their fortune, and hopefully find their way back home again.
* Tag along with Bog, Zep, Pez, Utzu and Gurh as they venture through the dreaded Eerieasallhel Forest, face off against Trolls, Gnomes, squirrels and more, and follow in the footsteps of the legendary Orc hero, Drod One-Eye!
* Every issue of Orcs! is oversized, featuring more than 30 story pages.
RADIANT BLACK #1 CVR A 3.99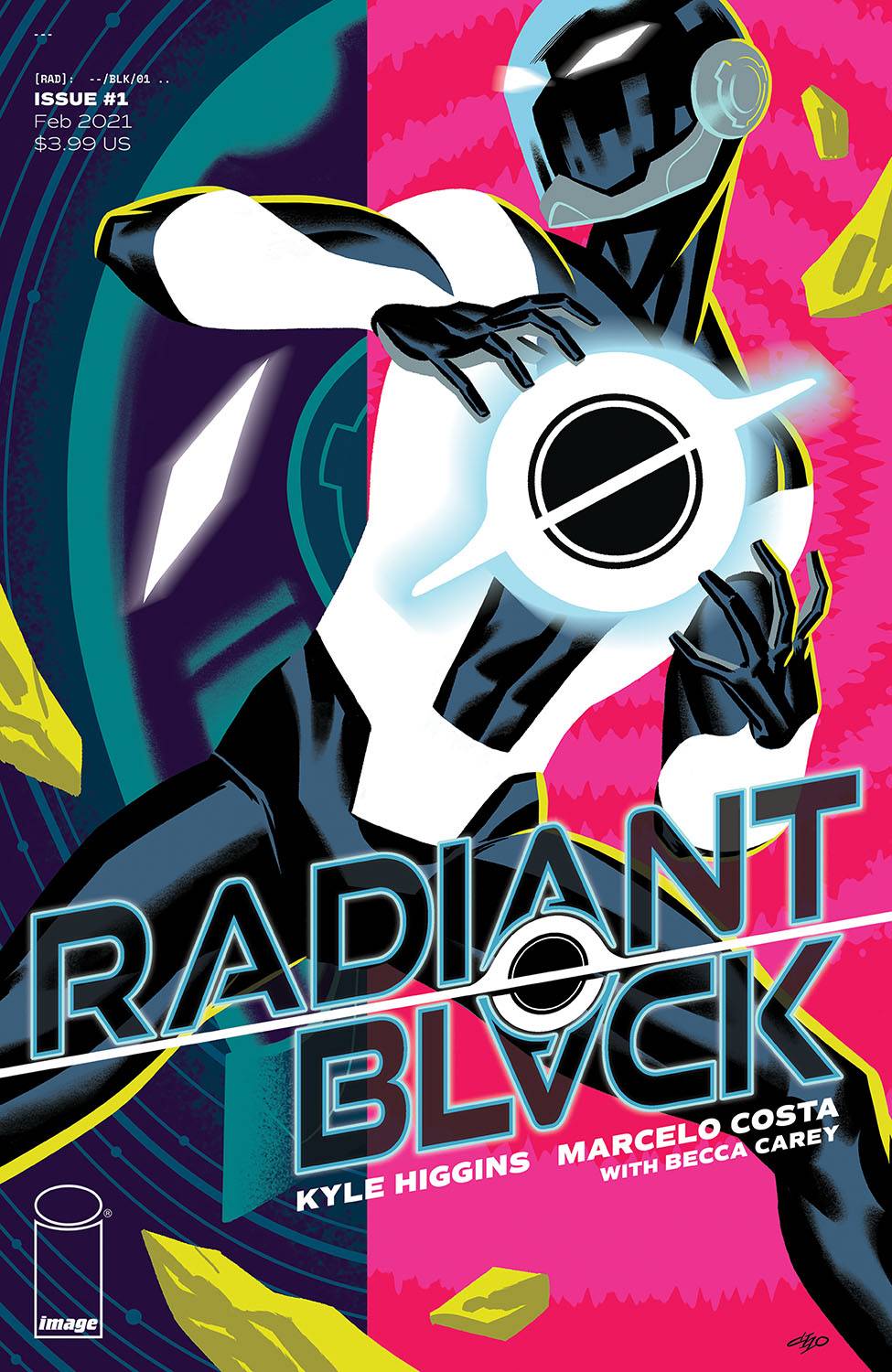 (W) Kyle Higgins (A) Marcello Costa (CA) Michael ChoFor fans of INVINCIBLE and Mighty Morphin Power Rangers comes a brand-new ONGOING SERIES from acclaimed writer KYLE HIGGINS (Ultraman, C.O.W.L.) and artist MARCELO COSTA that reinvents superheroes for a new generation!
Nathan Burnett has just turned thirty, and things aren't great: He's working (and failing) at two jobs, his credit card debt is piling up, and his only move… is moving back home with his parents.
But when Nathan discovers and unlocks the ethereal, cosmic RADIANT, he's given the power to radically change his fortunes!
There's just one problem: The powers don't belong to him. And the COSMIC BEINGS who created them want them back… by any means necessary.
KING IN BLACK BLACK PANTHER #1 4.99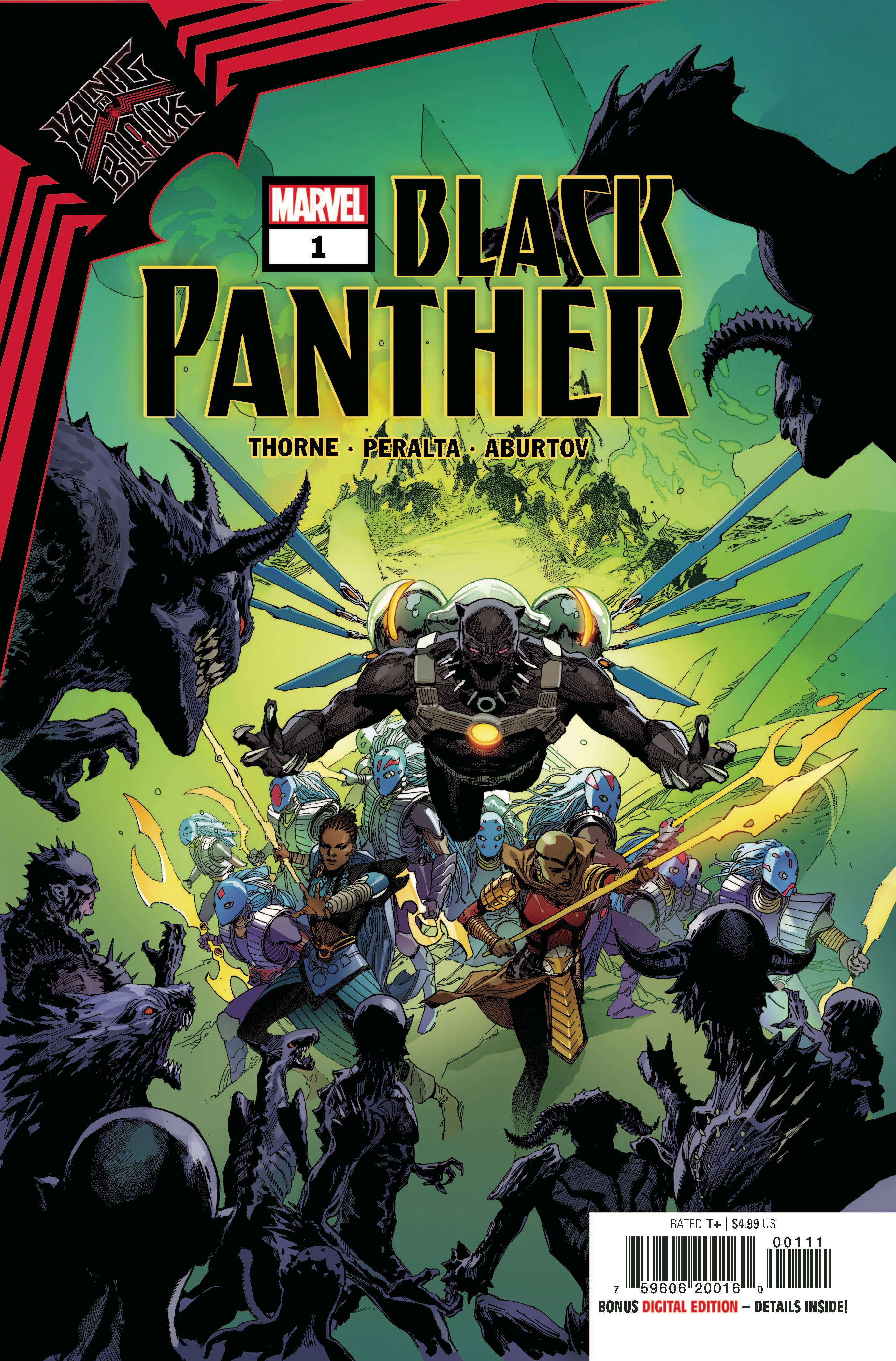 (W) Geoffrey Thorne (A) German Peralta (CA) Leinil Francis YuSYMBIOTES INVADE THE UNCONQUERABLE COUNTRY OF WAKANDA!
T'Challa's most treasured allies are lost in a storm of Knull's making in this wild one-shot! Critically acclaimed writer, actor and producer Geoffrey Thorne explores a Wakanda gone dark – invaded by Knull's massive symbiote army. Wakanda needs its king. It needs the Black Panther. But once again, the hero must choose between his role as an Avenger, his role as a king… and the yearnings of his heart.
THIS WEEK IN TOYS/STATUES
DC 1969 CORVETTE STINGRAY CONCEPT W/JOKER 1/24 VEHICLE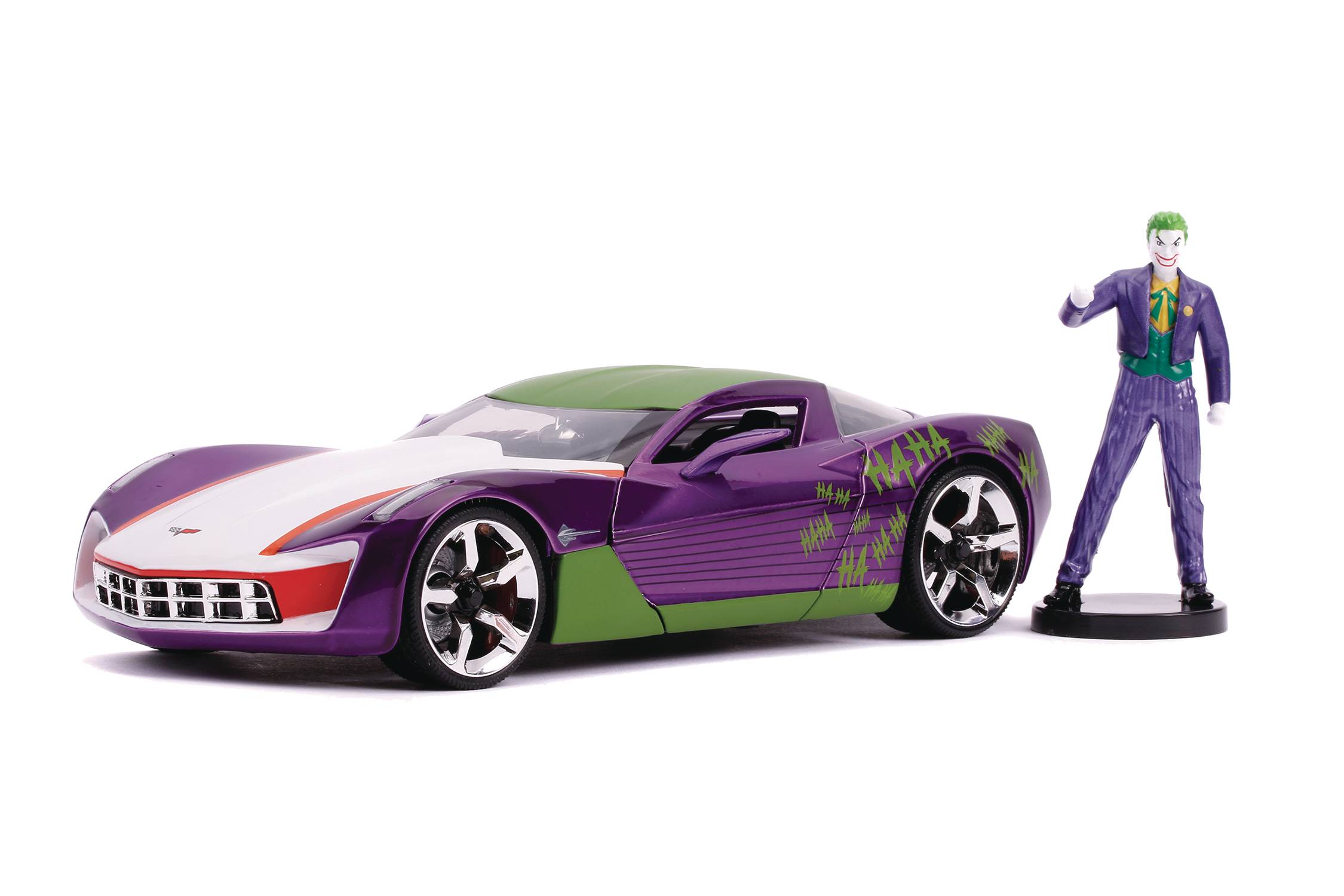 From Jada Toys. This 1969 Chevy Corvette Stingray takes its styling cues directly from the pages of DC Comics! Collectors can choose from Harley Quinn or The Joker paint styles, and each includes a 100% die-cast figure of the character! Each vehicle features opening doors and hood, along with a detailed interior. This beautifully sculpted collectible is sure to be a standout in any DC collection.
NARUTO SHIPPUDEN GRANDISTA NERO KAKASHI HATAKE FIG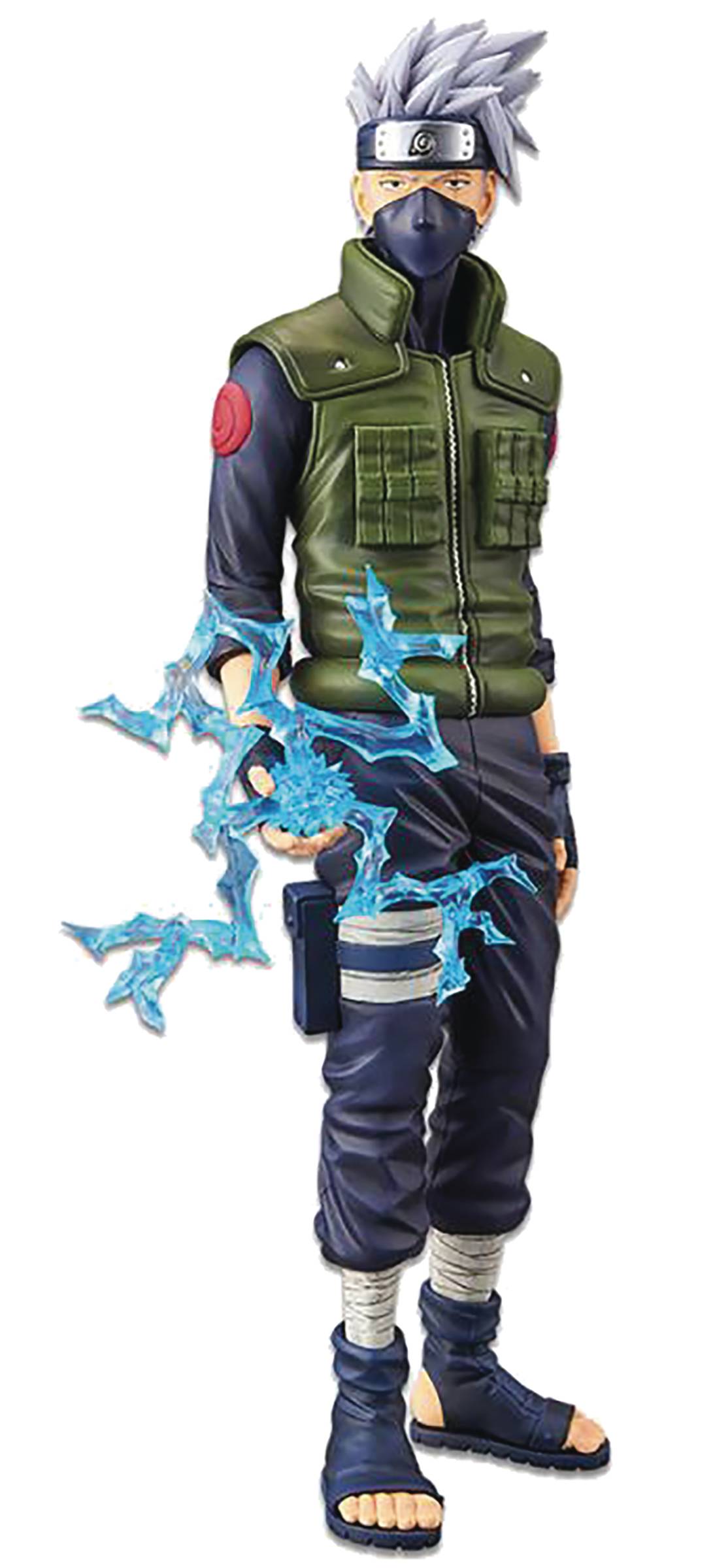 From Banpresto. Kakashi joins The Naruto Shippuden Grandista line from Banpresto! This incredible figure stands about 11 1/2″ tall.
INJUSTICE 2 SUPERMAN PX 1/18 SCALE FIG ENHANCED VER 19.99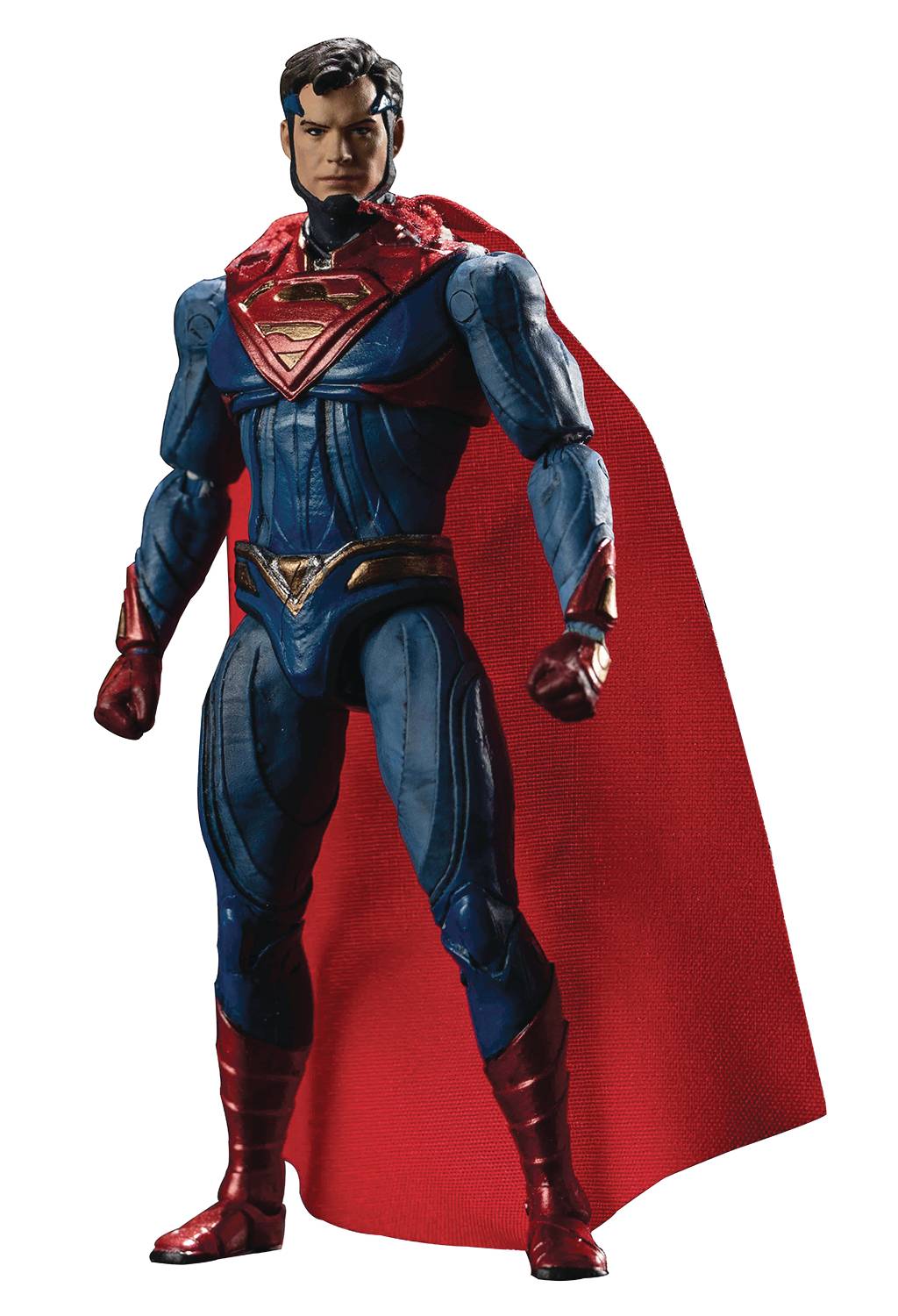 From Hiya Toys. A PREVIEWS Exclusive! Injustice 2 follows Batman and his allies as they try to rebuild the planet after taking down Superman, ending his reign of terror. But when Braniac sets his sights on Earth, Batman is forced to free his old friend, risking a new uprising from the Man of Steel, or face the total destruction of his world! Based on their appearances in Injustice 2, comes this line of 1/18-scale exclusive figures! Featuring full articulation and character specific accessories, these figures stand about 3 3/4″ tall. The enhanced version of Superman features even more detail than the previous version!
POP NASCAR DALE EARNHARDT JR VIN FIG 11.99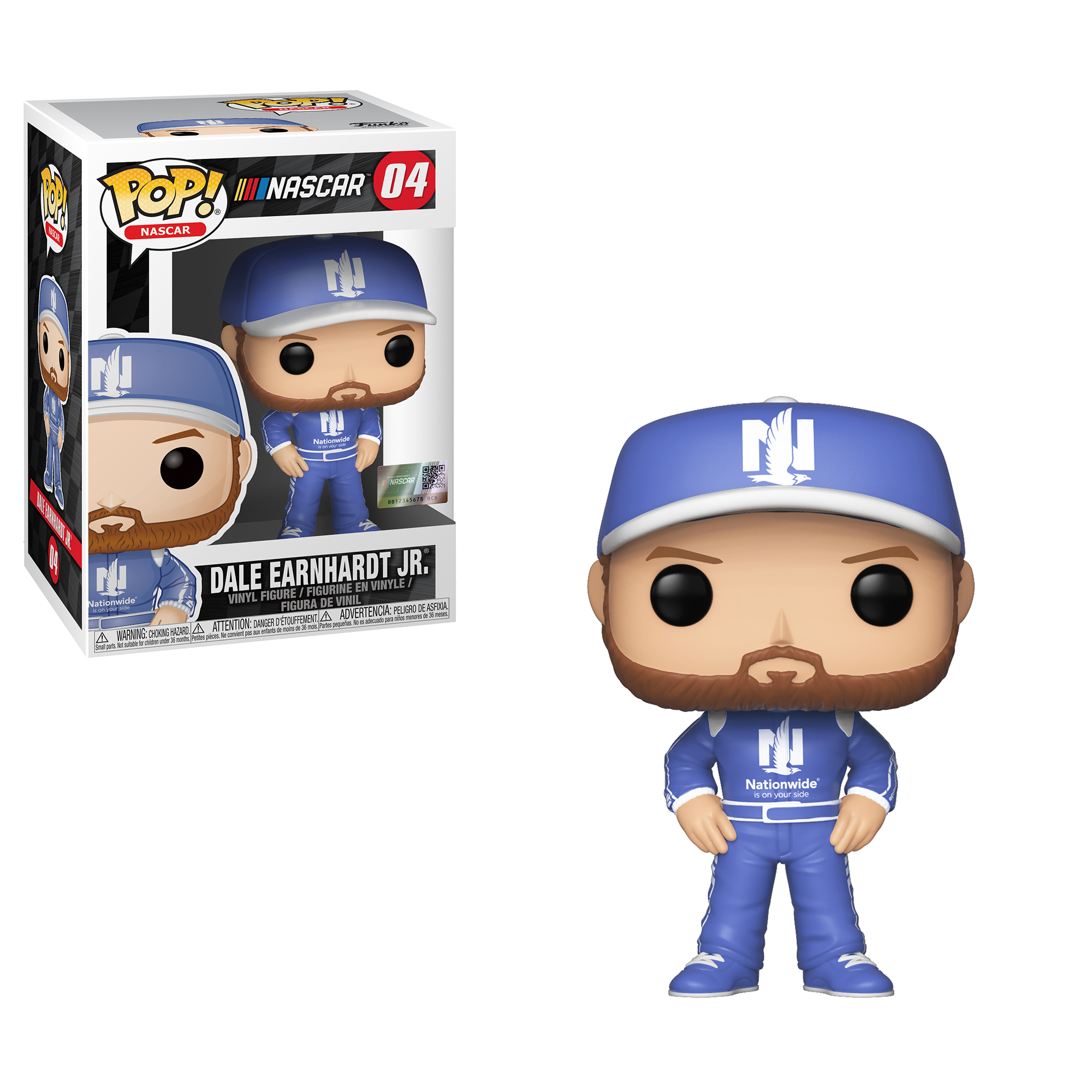 From Funko. Bring some speed to your collection with your favorite NASCAR drivers including Pop! Richard Petty, Dale Earnhardt Jr., Kevin Harvick, Jeff Gordon, Dale Earnhardt, Kyle Busch, Chase Elliott and Bill Elliott. Each Pop! Figure stands about 4″ tall and comes in a window box for display.
Trade-paperbacks of the Week!
BATMAN VOL 02 THE JOKER WAR HC 29.99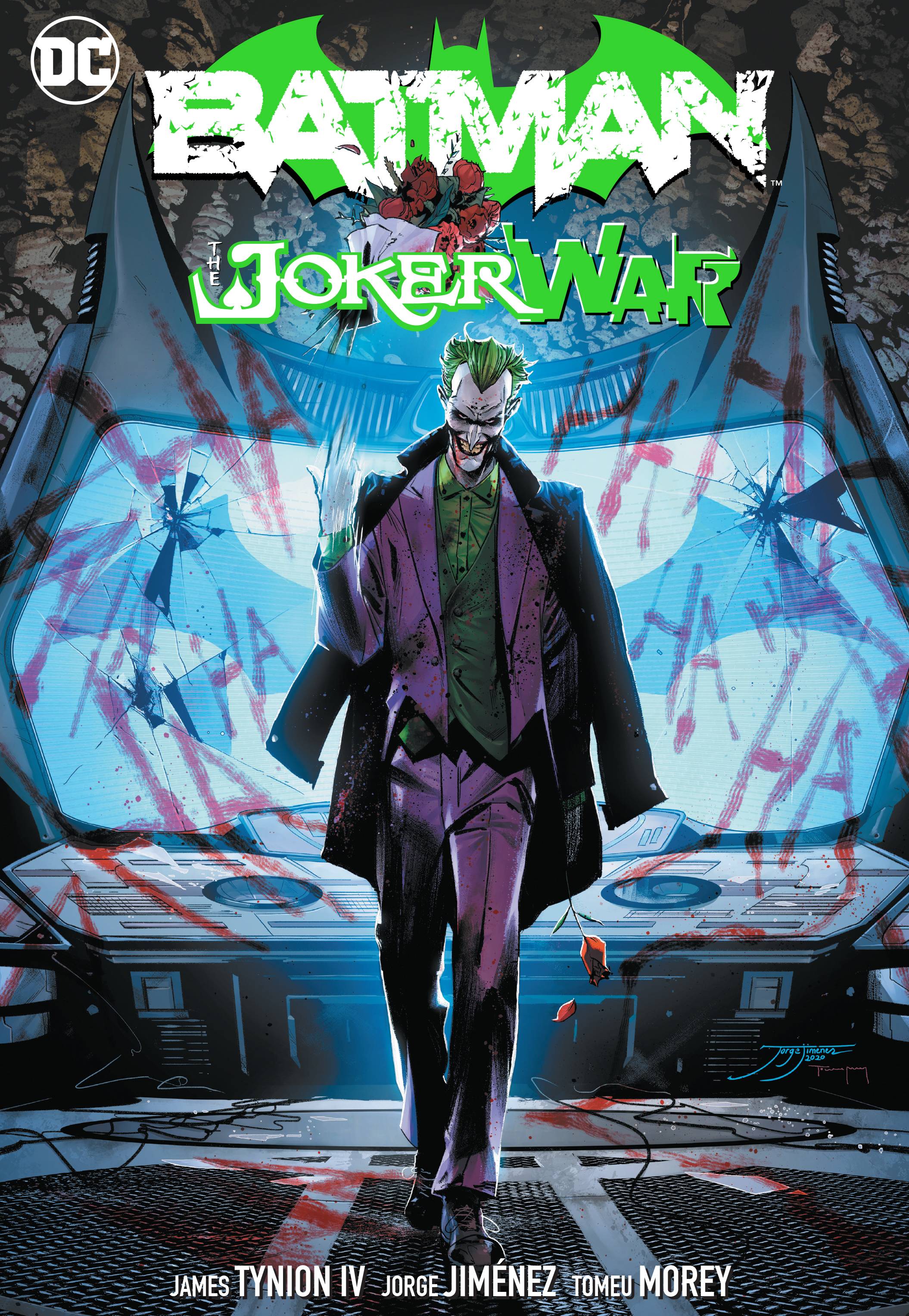 This is it: the Clown Prince of Crime battles the Dark Knight Detective head-to-head for the last time. And one way or another, this explosive struggle will pave the way to the future of Gotham City!
The Joker has never wanted to win before-he's never wanted his battle with Batman to end-but now his motivation has shifted. As The Joker assembles an army, Batman reels from a debilitating Joker Toxin attack. Amid the chaos, the villains of Gotham City are waiting out the carnage Joker has unleashed-and Catwoman assembles an army of her own! Plus, Harley Quinn battles Punchline, and Clownhunter joins the action! Collects Batman #95-100.
DISNEY MASTERS HC VOL 15 MURRY CONNELL OGLE PHANTOM BLOT 34.99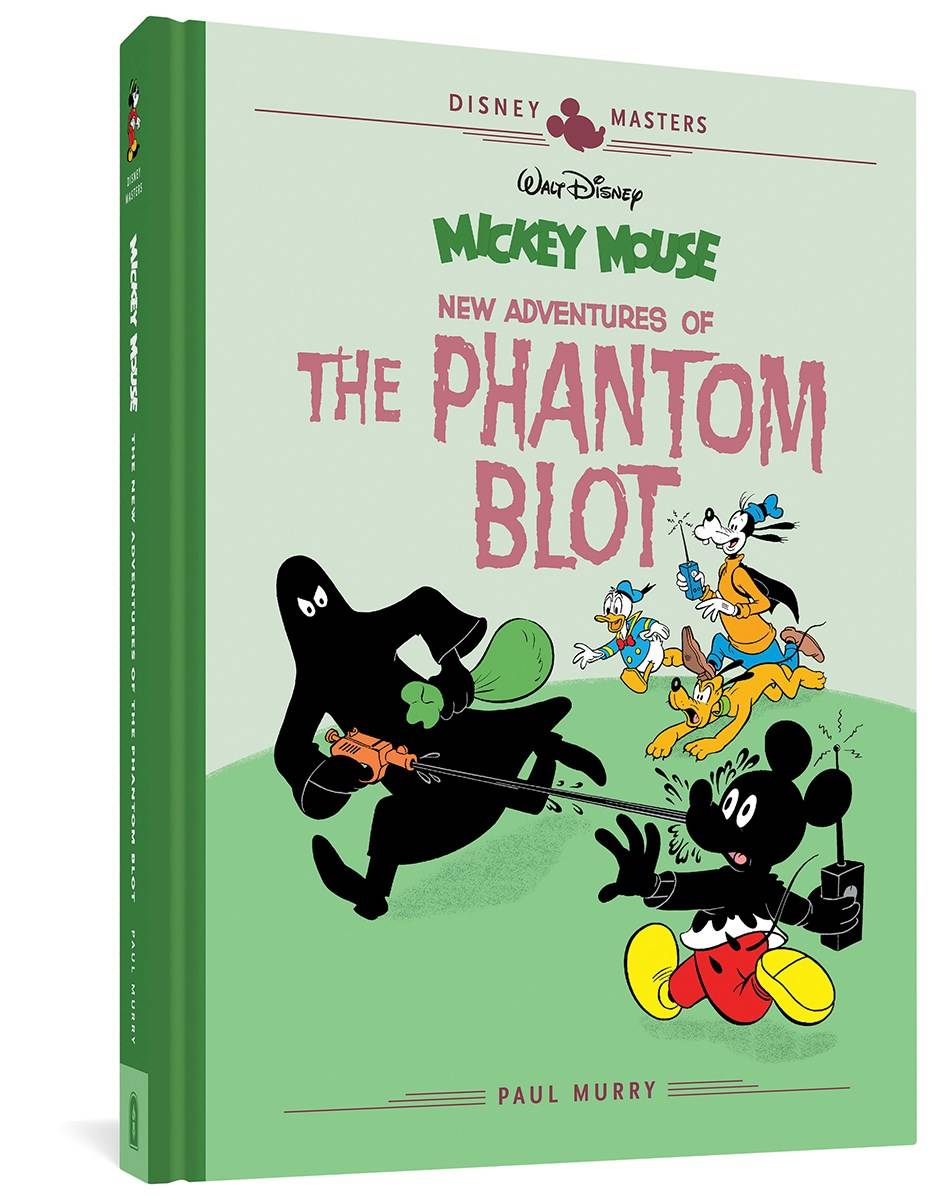 (W) Paul Murry, Del Connell, Bob OgleDisney's infamous inky bad guy was the first Mouseverse villain to get his own comic book; by popular demand, the whole Silver Age series is collected in one volume!
The Phantom Blot – a power-crazed supervillain in a ghostly black cloak – is on the loose, and Mickey, Donald, and Uncle Scrooge must assemble to stop him! From terrifying time travel to usurping "The Crown of Tasbah," the Blot will stop at nothing to turn the world upside down! Classic Disney artist Paul Murry teamed with writers Del Connell and Bob Ogle to create seven comic book issues starring The Blot. In the process, they introduced Goofy's new secret identity: Super Goof! Will the Blot move too fast for all our heroes? With allies like Mad Madam Mim, the Beagle Boys, and "The Mysterious Mr. X?" He just might!
MORBIUS EPIC COLLECTION TP LIVING VAMPIRE 39.99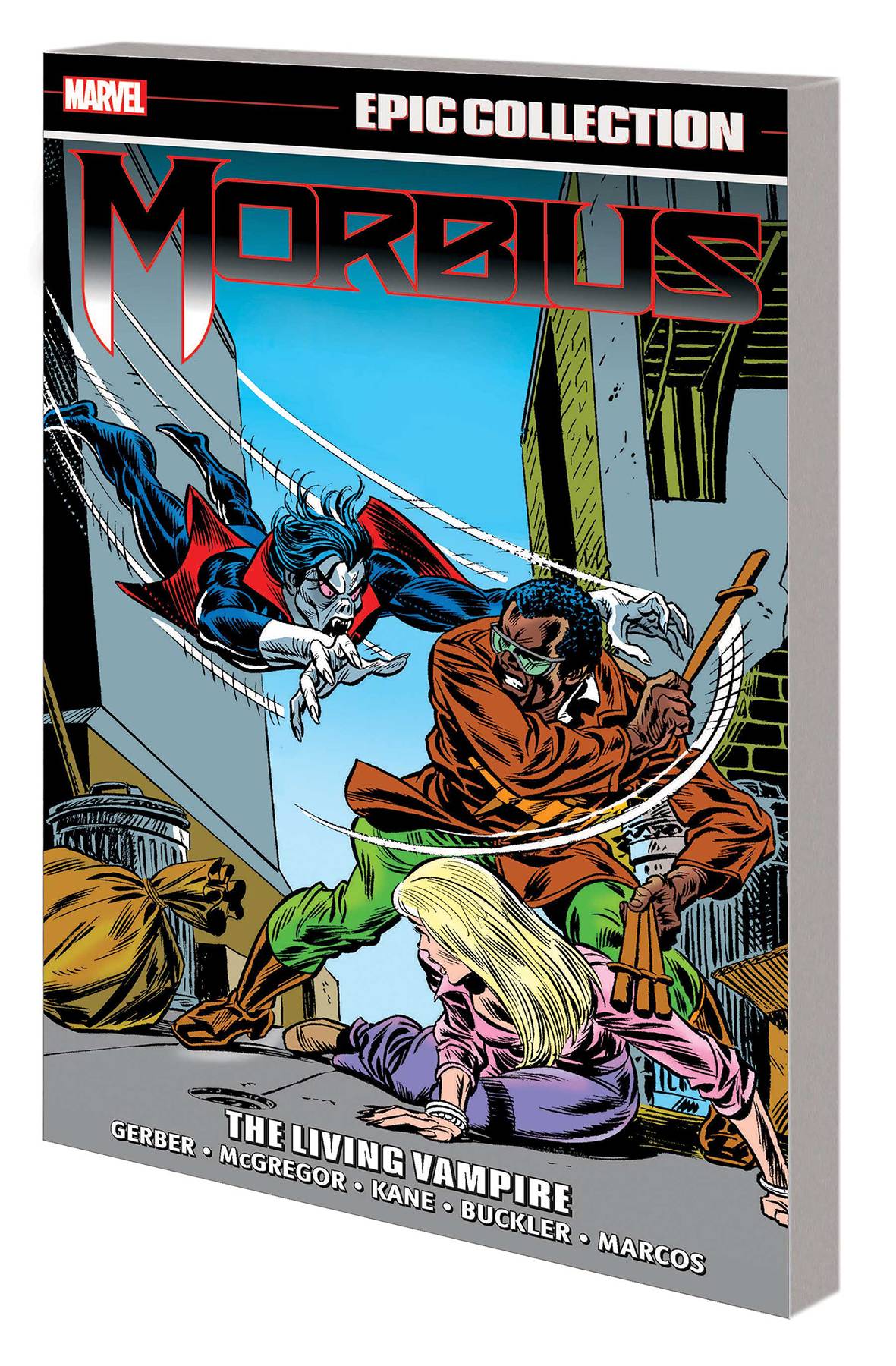 (W) Steve Gerber, More (A) More (A/CA) Gil KaneCursed by an experiment gone wrong, Dr. Michael Morbius is possessed by an unquenchable thirst for blood – yet his heart beats like any other man's. He is a living vampire! From his first appearance and solo color comic through his black-and-white adventures, this Epic Collection begins Morbius' tragic adventure into fear. The sometimes mad, sometimes misunderstood doctor must contend not just with super heroes, but with bizarre cultists and satanic demons! Prepare for stories that will take you to the darker side of Marvel – a world of horror and the supernatural that overtook the industry in the 1970s and defined comics for a generation! Collecting AMAZING SPIDER-MAN (1963) #101-102, MARVEL TEAM-UP (1972) #3-4, FEAR #20-26, GIANT-SIZE SUPER-HEROES #1, and material from VAMPIRE TALES #1-8 and GIANT-SIZE WEREWOLF #4.
AQUAMAN VOL 04 ECHOES OF A LIFE LIVED WELL TP 19.99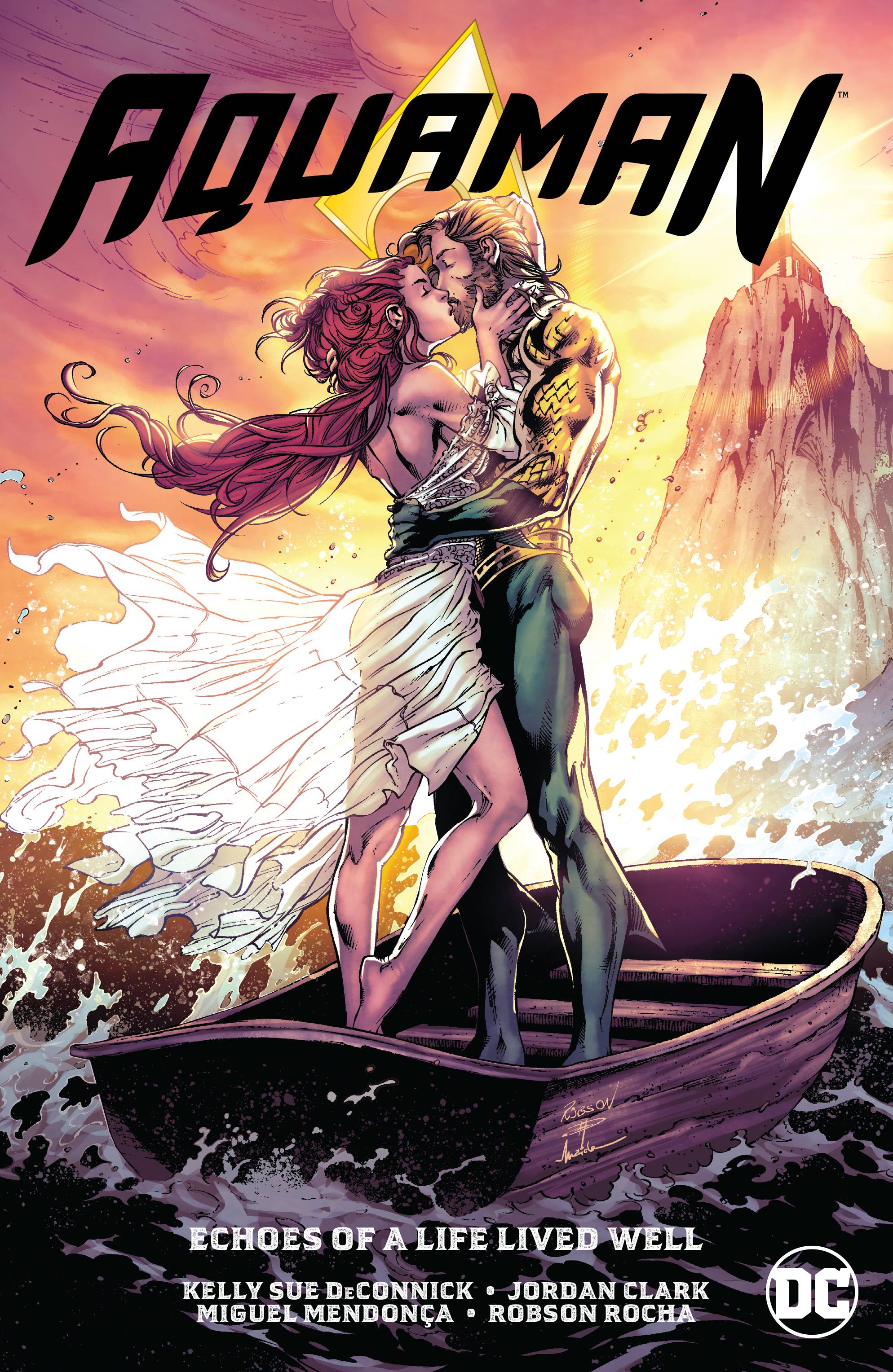 A wedding is supposed to be a happy occasion. But for Aquaman and his allies, the wedding of the century is here-and hell follows with it. When Mera awakens from her coma, she finds herself betrothed…but not to Aquaman. The secret of the groom could spell doom for Atlantis, and it all culminates in a brawl at the altar, with wedding crashers from across the Seven Kingdoms! Acclaimed writer Kelly Sue DeConnick's Aquaman run reaches its conclusion here! Collects Aquaman #58-65.
MASTER LIST OF PRODUCTS ARRIVING THIS WEEK!
100 BULLETS OMNIBUS VOL 01 HC 150
ABSOLUTE PLANETARY HC 150
A MAN AMONG YE TP VOL 01 14.99
ALFRED HITCHCOCK MONSTER GLOW REACTION FIGURE
ALTER EGO #168 9.95
AMAZING SPIDER-MAN #59 3.99
AMAZING SPIDER-MAN #59 MECH STRIKE VAR 3.99
AMAZING SPIDER-MAN #59 FERREIRA 3.99
AMAZING SPIDER-MAN #59 MASTERWORKS VAR 3.99
AMERICAN VAMPIRE 1976 #5 (OF 9) CVR A 3.99
AMERICAN VAMPIRE 1976 #5 (OF 9) CVR B 3.99
AQUAMAN VOL 04 ECHOES OF A LIFE LIVED WELL TP 19.99
BACK ISSUE #125 9.95
BATMAN VOL 02 THE JOKER WAR HC 29.99
BIRTHRIGHT #46 3.99
BLACK HAMMER VISIONS #1 (OF 8) 3.99
BLACK HAMMER VISIONS #1 (OF 8) EVAN DORKIN 3.99
BLISS #5 (OF 8) 3.99
BRICKJOURNAL #66 9.95
CAPTAIN AMERICA BY TA-NEHISI COATES TP VOL 04 ALL DIE YOUNG 17.99
CASUAL FLING #1 3.99
CHAINED TO THE GRAVE #1 (OF 5) 3.99
CHILDREN OF THE GRAVE #2 3.99
COMIC BOOK HISTORY OF ANIMATION #3 (OF 5) CVR A 3.99
COMIC BOOK HISTORY OF ANIMATION #3 (OF 5) CVR B 3.99
COMICS FOR CHOICE ILLUS ABORTION STORIES ANTHOLOGY GN 25
COMMANDERS IN CRISIS #5 (OF 12) CVR A TINTO (MR) 3.99
CRITICAL ROLE VOX MACHINA ORIGINS III #1 3.99
DAREDEVIL #27 KIB 3.99
DAREDEVIL #27 MASTERWORKS VAR 3.99
DC 1969 CORVETTE STINGRAY CONCEPT W/JOKER 1/24 VEHICLE
DC 1969 CORVETTE STINGRAY W/HARLEY QUINN 1/24 VEHICLE
DC LOVE IS A BATTLEFIELD #1 (ONE SHOT) 9.99
DEJAH THORIS (2019) #10 CVR A 3.99
DEJAH THORIS (2019) #10 CVR C 3.99
DISNEY KINGDOMS GN TP FIGMENT 15.99
DISNEY MASTERS HC VOL 15 MURRY CONNELL OGLE PHANTOM BLOT 34.99
DOCTOR WHO COMICS #4 CVR A 3.99
DOCTOR WHO COMICS #4 CVR B 3.99
DOCTOR WHO COMICS #4 CVR C 3.99
DRAGON BALL SUPER DRAGON STARS SS BLUE GOKU VER2 6.5 IN AF
DRAGON BALL SUPER GRANDISTA NERO SON GOKU FIG
E RATIC #3 3.99
ELVIS PRESLEY LIVE 1972 7IN AF
ETERNALS #2 3.99
ETERNALS #2 JIMENEZ 3.99
ETERNALS #2 MCKELVIE 3.99
ETERNALS #2 NAUCK HEADSHOT 3.99
ETERNALS #2 RIBIC DESIGN 3.99
EXCALIBUR #18 3.99
FANTASTIC FOUR #29 KIB 3.99
FANTASTIC FOUR #29 MASTERWORKS VAR KIB 3.99
FAULT LINES IN THE CONSTITUTION GN 28.99
FULLMETAL ALCHEMIST FULLMETAL EDITION HC VOL 12 19.99
FUTURE STATE DARK DETECTIVE #3 (OF 4) CVR A 5.99
FUTURE STATE DARK DETECTIVE #3 (OF 4) CVR B 6.99
FUTURE STATE GREEN LANTERN #2 (OF 2) CVR A 5.99
FUTURE STATE GREEN LANTERN #2 (OF 2) CVR B 6.99
FUTURE STATE JUSTICE LEAGUE #2 (OF 2) CVR A 5.99
FUTURE STATE JUSTICE LEAGUE #2 (OF 2) CVR B 6.99
FUTURE STATE KARA ZOR-EL SUPERWOMAN #2 (OF 2) CVR A 3.99
FUTURE STATE KARA ZOR-EL SUPERWOMAN #2 (OF 2) CVR B 4.99
FUTURE STATE ROBIN ETERNAL #2 (OF 2) CVR A 3.99
FUTURE STATE ROBIN ETERNAL #2 (OF 2) CVR B 4.99
FUTURE STATE SUPERMAN WONDER WOMAN #2 (OF 2) CVR A 3.99
FUTURE STATE SUPERMAN WONDER WOMAN #2 (OF 2) CVR B 4.99
FUTURE STATE TEEN TITANS #2 (OF 2) CVR A 3.99
FUTURE STATE TEEN TITANS #2 (OF 2) CVR B 4.99
GI JOE A REAL AMERICAN HERO #278 CVR A 3.99
GI JOE A REAL AMERICAN HERO #278 CVR B 3.99
GI JOE A REAL AMERICAN HERO YEARBOOK #1 5.99
GIVEN GN 12.99
GOOSEBUMPS SECRETS OF THE SWAMP #5 (OF 5) 3.99
GREEN LANTERN CIRCLE OF FIRE TP NEW EDITION 39.99
GREEN LANTERN SEASON TWO #11 (OF 12) CVR A 3.99
GREEN LANTERN SEASON TWO #11 (OF 12) CVR B 3.99
GRIEVLING TP 17.99
GRIMM SPOTLIGHT BLACK KNIGHT VS LORD OF FLIES 5.99
GUNG HO SEXY BEAST #2 3.99
HAPPY HOUR #4 3.99
HAWKMAN VOL 04 HAWKS ETERNAL TP 19.99
HEAVY #5 3.99
HOME SICK PILOTS #3 3.99
I WALK WITH MONSTERS #3 CVR A 3.99
I WALK WITH MONSTERS #3 CVR B 3.99
INJUSTICE 2 BATMAN PX 1/18 SCALE FIG ENHANCED VER 19.99
INJUSTICE 2 SUPERMAN PX 1/18 SCALE FIG ENHANCED VER 19.99
IT EATS WHAT FEEDS IT TP 9.99
JO & RUS ORIGINAL GN 12.99
JUDGE DREDD FALSE WITNESS #4 (OF 4) 3.99
KICK-ASS VS HIT-GIRL #4 (OF 5) CVR A 3.99
KICK-ASS VS HIT-GIRL #4 (OF 5) CVR B 3.99
KING IN BLACK #2 (OF 5) 2ND PTG SANDOVAL VAR 4.99
KING IN BLACK BLACK PANTHER #1 4.99
KING IN BLACK BLACK PANTHER #1 EPTING 4.99
KING IN BLACK THUNDERBOLTS #2 (OF 3) 3.99
KING IN BLACK THUNDERBOLTS #2 (OF 3) CHECCHETTO 3.99
KING TANK GIRL #3 (OF 5) CVR A 3.99
KING TANK GIRL #3 (OF 5) CVR B 5.99
KNOCK EM DEAD #3 3.99
LAST WITCH #2 CVR A 4.99
LAST WITCH #2 CVR B 4.99
LOST SOLDIERS TP 17.99
LOW #26 3.99
MARVEL AVENGERS COVER 500PC PUZZLE
MARVEL SUPER HERO ADV VILLAINS ON THE RUN BOARD BOOK 8.99
MIDNIGHT SKY #7 3.99
MIGHTY MORPHIN #4 CVR A 3.99
MIGHTY MORPHIN #4 CVR B LEGACY 3.99
MIGHTY MORPHIN #4 CVR C BLANK SKETCH 3.99
MIGHTY MORPHIN POWER RANGERS TP VOL 14 16.99
MORBIUS BOND OF BLOOD #1 3.99
MORBIUS EPIC COLLECTION TP LIVING VAMPIRE 39.99
NARUTO SHIPPUDEN GRANDISTA NERO KAKASHI HATAKE FIG
NEIL GAIMAN NORSE MYTHOLOGY #5 CVR A 3.99
NEIL GAIMAN NORSE MYTHOLOGY #5 CVR B 3.99
OLD HAUNTS TP 9.99
ORCS #1 (OF 6) 4.99
ORIGINS #4 (OF 6) 3.99
PANS LABYRINTH OLD FAUN GDT SIGNATURE COLLECTION 7IN AF
PARENTHESIS GN 19.99
POCKET POP STAR WARS BOBA FETT KEYCHAIN
POKEMON ADV COLLECTORS ED TP VOL 06 17.99
POP AD ICONS FRUITY PEBBLES FRED W/ CEREAL VINYL FIGURE 10.99
POP ANIMATION SIMPSONS BARNEY VIN FIG 10.99
POP ANIMATION SIMPSONS CHIEF WIGGUM VIN FIG 10.99
POP ANIMATION SIMPSONS MAFIA BART VIN FIG 10.99
POP ANIMATION SIMPSONS USA HOMER VIN FIG 10.99
POP DELUXE SIMPSONS HOMER WATCHING TV VIN FIG 25.99
POP DISNEY RAYA & THE LAST DRAGON NAMAARI VIN FIG 11.99
POP DISNEY RAYA & THE LAST DRAGON NOI VIN FIG 11.99
POP DISNEY RAYA & THE LAST DRAGON ONGI VIN FIG 11.99
POP DISNEY RAYA & THE LAST DRAGON RAYA VIN FIG 11.99
POP DISNEY RAYA & THE LAST DRAGON RAYA WARRIOR VIN FIG 11.99
POP DISNEY RAYA & THE LAST DRAGON SISU AS DRAGON VIN FIG 11.99
POP GAMES VOX MACHINA PIKE TRICKFOOT VINYL FIGURE 11.99
POP GI JOE DR MINDBENDER VINYL FIGURE 11.99
POP HEROES IMPERIAL PALACE HARLEY VINYL FIGURE 11.99
POP MLP BLOSSOM VINYL FIGURE 11.99
POP NASCAR DALE EARNHARDT JR VIN FIG 11.99
POP NASCAR DALE EARNHARDT SR VIN FIG 11.99
POP ROCKS RUN-DMC DMC VINYL FIGURE 11.99
POP ROCKS RUN-DMC JAM MASTER JAY VINYL FIGURE 11.99
POP ROCKS RUN-DMC RUN VINYL FIGURE 11.99
POWER PACK #3 (OF 5) 3.99
RADIANT BLACK #1 CVR A 3.99
RADIANT BLACK #1 CVR B 3.99
RADIANT BLACK #1 CVR C 3.99
RAI (2019) TP VOL 02 14.99
RED ATLANTIS #4 3.99
RED SONJA THE SUPERPOWERS #2 CVR A 3.99
RED SONJA THE SUPERPOWERS #2 CVR B 3.99
RED SONJA THE SUPERPOWERS #2 CVR C 3.99
RED SONJA THE SUPERPOWERS #2 CVR D 3.99
RED SONJA VALENTINES SP ONE SHOT CVR A 4.99
RED SONJA VALENTINES SP ONE SHOT CVR B 4.99
ROBOTECH ARCHIVE TP THE MASTERS 34.99
RORSCHACH #5 (OF 12) CVR A 4.99
RORSCHACH #5 (OF 12) CVR B 4.99
SAILOR MOON ETERNAL FLUFFY PUFFY ARTEMIS & DIANA FIG 29.99
SAILOR MOON GLITTER & GLAMOURS SAILOR MOON FIG VER A 29.99
SAILOR MOON GLITTER & GLAMOURS SAILOR MOON FIG VER B 29.99
SAILOR MOON SERIES4 3D FOAM BAG CLIP 24PC BMB DS
SCARENTHOOD #4 (OF 4) 4.99
SCOUTS HONOR #2 3.99
SHEPHERD #1 3.99
SHOW ME HISTORY SACAGAWEA COURAGEOUS TRAILBLAZER 12.99
SPACE BASTARDS #2 4.99
STAR TREK VOYAGER SEVENS RECKONING #4 (OF 4) CVR A 3.99
STAR TREK VOYAGER SEVENS RECKONING #4 (OF 4) CVR B 3.99
STAR WARS DARTH VADER #10 3.99
STAR WARS DARTH VADER #10 SPROUSE 3.99
STAR WARS HIGH REPUBLIC #1 3RD PTG VAR 3.99
STAR WARS INSIDER #200 NEWSSTAND ED 9.99
STAR WARS INSIDER #200 PX ED 9.99
SWEET TOOTH THE RETURN #4 (OF 6) 3.99
SWORD #3 KIB 3.99
SWORD #3 MIYAZAWA 3.99
TASKMASTER #3 (OF 5) 3.99
TMNT ONGOING #114 CVR A 3.99
TMNT ONGOING #114 CVR B 3.99
TMNT ONGOING (IDW) COLL HC VOL 12 59.99
TRANSFORMERS ESCAPE #2 (OF 5) CVR A 3.99
TRANSFORMERS ESCAPE #2 (OF 5) CVR B 3.99
TRANSFORMERS IDW COLL PHASE 2 HC VOL 12 59.99
TRAPPED IN DATING SIM WORLD OTOME GAMES NOVEL SC VOL 01 13.99
TRUE LIVES FABULOUS KILLJOYS NATIONAL ANTHEM #5 (OF 6) CVR A 3.99
TRUE LIVES FABULOUS KILLJOYS NATIONAL ANTHEM #5 (OF 6) CVR B 3.99
UNDISCOVERED COUNTRY #12 CVR A 3.99
UNDISCOVERED COUNTRY #12 CVR B 3.99
VAMPIRELLA #17 CVR A 3.99
VAMPIRELLA #17 CVR B 3.99
VAMPIRELLA #17 CVR C 3.99
VAMPIRELLA #17 CVR D 3.99
VAMPIRELLA #17 CVR E 3.99
VINYL SODA LUCHADORES IRON MAN W/ METALLIC W/ CHASE 13.99
VINYL SODA LUCHADORES VENOM W/ METALLIC W/ CHASE 13.99
VINYL SODA MARVEL THANOS W/ CHASE 13.99
VINYL SODA MHA DEKU W/ GLOW CHASE 13.99
VINYL SODA MOTU SCARE GLOW W/ GLOW CHASE 13.99
VINYL SODA SONIC W/ CHASE 12.99
VINYL SODA TCM LEATHERFACE W/ CHASE 12.99
VINYL SODA TMNT ROCKSTEADY W/ CHASE 12.99
VOLTRON REACTION FIGURE
WOLVERINE BLACK WHITE BLOOD #3 (OF 4) 4.99
WOLVERINE BLACK WHITE BLOOD #3 (OF 4) CLARKE 4.99
WORLDS FINEST ASSASSIN REINCARNATED ANOTHER WORLD GN VOL 01 13
X-FACTOR EPIC COLLECTION TP GENESIS AND APOCALYPSE NEW PTG 39.99
X-FORCE #17 3.99