NEW BACK ISSUE BIN SET UP OR HERE WE GO AGAIN!
We continue to look for a balance between making our back issue bins more accessable versus taking up too much space. To that end we have brought in some industrial shelving and trying to go three shelves high. Bear with us as we tweak the set-up. Our aim is to always make our shop a great place for you to come and find the comics you ar elooking for.
Funko Reveals PREVIEWS Exclusive DC Death Metal Wonder Woman Pop!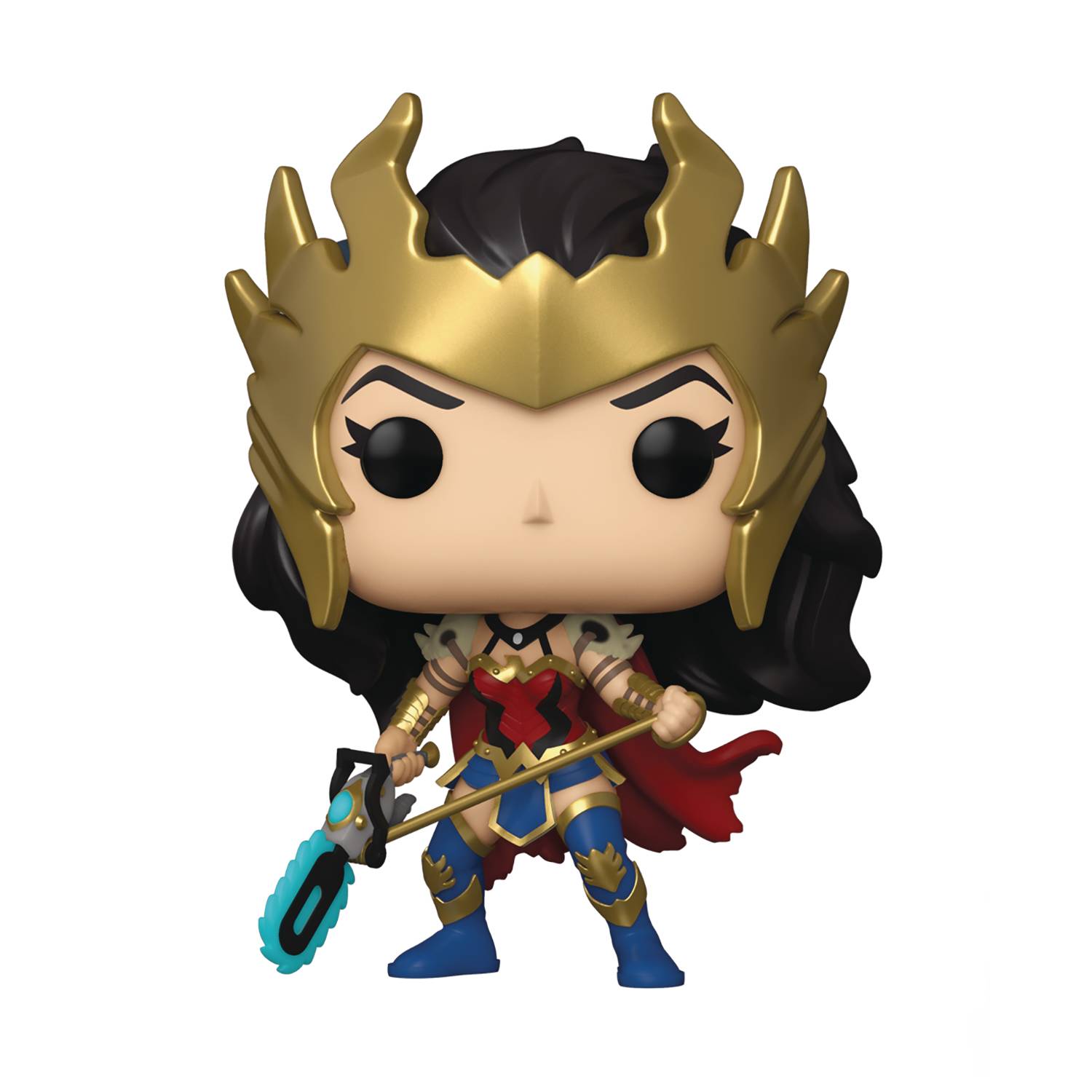 From Funko. A PREVIEWS Exclusive! Straight out of the Tartarus Pits of Hell in DC's Dark Nights: Death Metal by Scott Snyder and Greg Capullo, fans can celebrate the 80th Anniversary of Wonder Woman with this PREVIEWS Exclusive Death Metal Wonder Woman Pop! Vinyl figure! Wonder Woman appears in her Metal style with armor and spiked crown as she prepares to take down the Batman Who Laughs. Look out for a chase version with Wonder Woman wielding a glow in the dark Chainsaw of Truth! The PREVIEWS Exclusive Death Metal Wonder Woman measures about 3 3/4″ tall and comes packaged in a window box. Don't miss out on adding this heavy metal exclusive to your collection…pre-order yours today!
At Comic Quest: Mar 31, 2021
SEE KEANUE REEVES FIRST ATTEMPT AT WRITING COMICS IN BRZRKR (BERZERKER) #1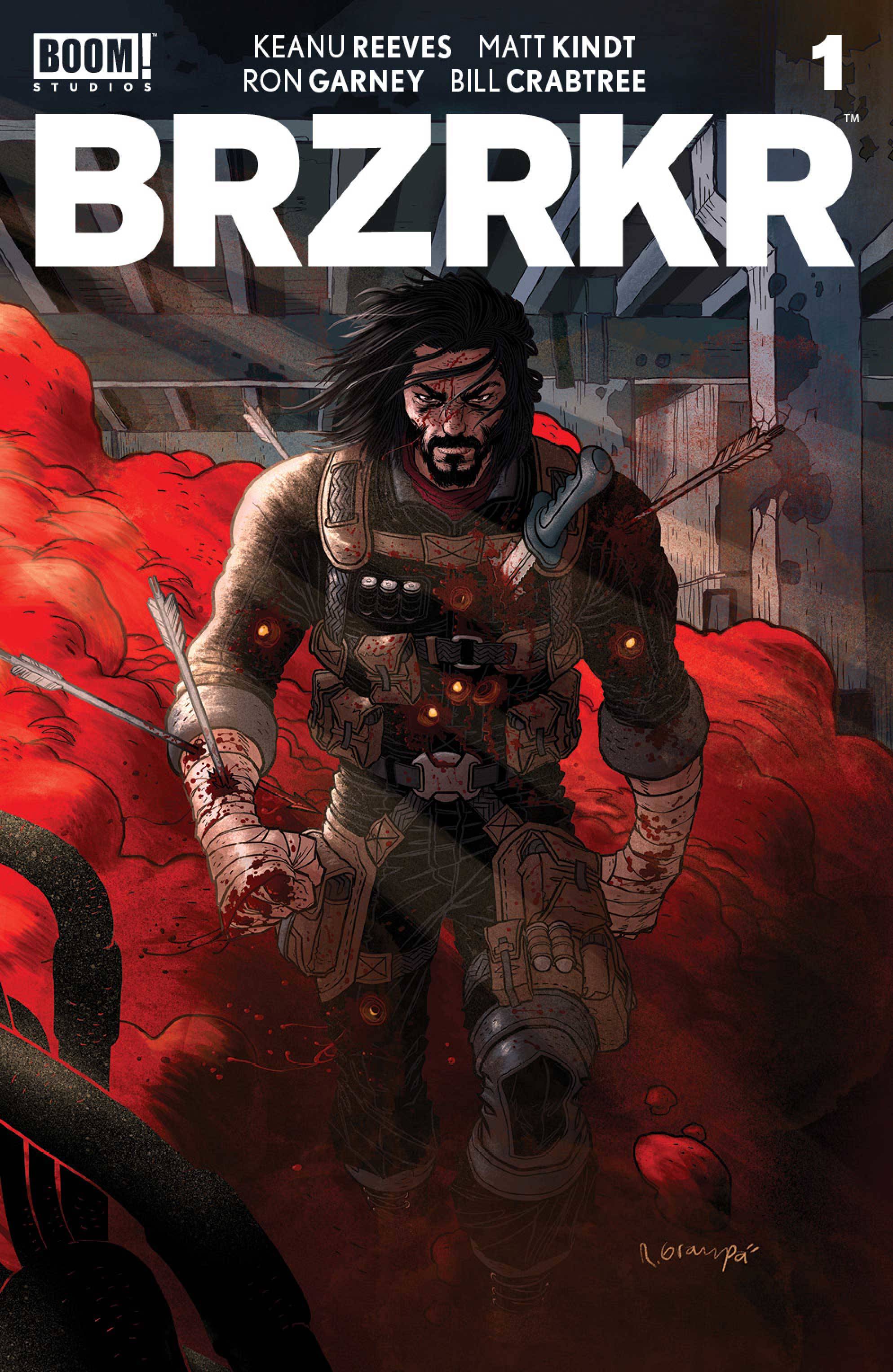 (W) Matt Kindt, Keanu Reeves (A) Ron Garney (CA) Rafael Gramp?
* Discover the next blockbuster action franchise from the iconic KEANU REEVES in his Must Read comic book writing debut alongside New York Times best-selling co-writer Matt Kindt (Folklords, Bang!) and acclaimed artist Alessandro Vitti (Marvel's Secret Warriors) in a brutally violent new series about one immortal warrior's fight through the ages.
* The man known only as Berzerker is half-mortal and half-God, cursed and compelled to violence…even at the sacrifice of his sanity.
* But after wandering the world for centuries, Berzerker may have finally found a refuge – working for the U.S. government to fight the battles too violent and too dangerous for anyone else.
* In exchange, Berzerker will be granted the one thing he desires – the truth about his endless blood-soaked existence… and how to end it.
NOTE: This is for Mature Readers…place your orders now!
At Comic Quest: Feb 24, 2021
NEW COMICS THIS WEEK!
AVENGERS #42 ALEX ROSS HAWKEYE TIMELESS 3.99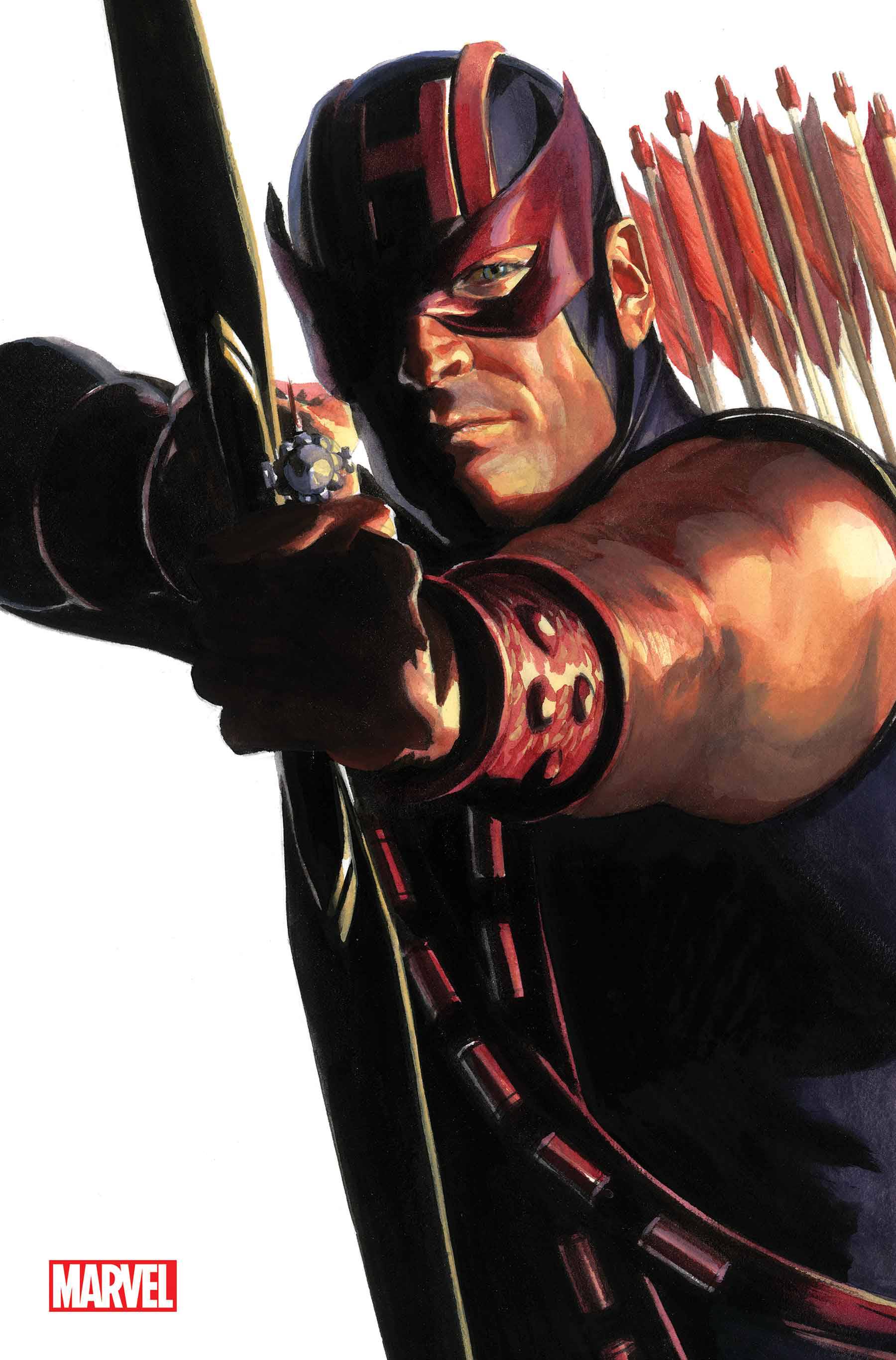 (W) Jason Aaron (A) Luca Maresca (CA) Alex RossTHE BATTLE TO DECIDE THE ALL-NEW PHOENIX RAGES ON!
Who will wield the destructive cosmic power of the Phoenix Force? Namor will stop at nothing to be the fiery victor. The Black Panther worries as much about victory as he does defeat. Jane Foster knows what it means to carry on a powerful legacy. The She-Hulk cannot be stopped. And the Orb has a giant, creepy eyeball for a head!
DEEP BEYOND #1 (OF 12) CVR A 3.99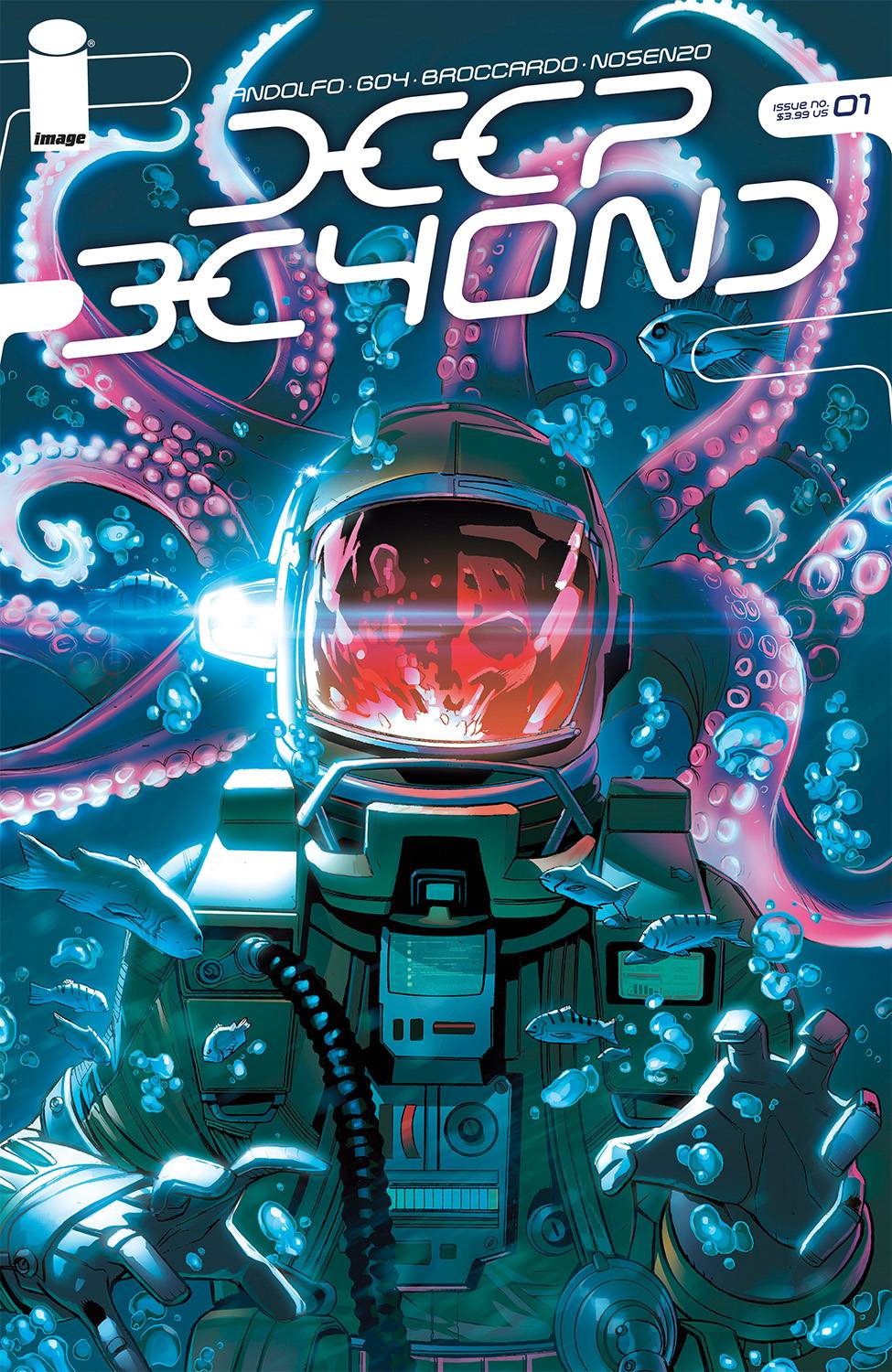 (W) Mirka Andolfo, David Goy (A/CA) Andrea BroccardoIn an underpopulated future Earth, devastated by the dire consequences of the millennium bug, the survival of mankind – and, maybe, of the planet itself – is handled by a small number of people. Talented scientists who, despite the adverse situation and the stupid feuds that continue to divide the small number of people still alive, try to understand and study what is hidden in the depths of the abyss. Something mysterious and dangerous, which could eventually cause an even worse and more destructive catastrophe!
AMAZING SPIDER-MAN #55 2ND PTG GLEASON VAR LR 3.99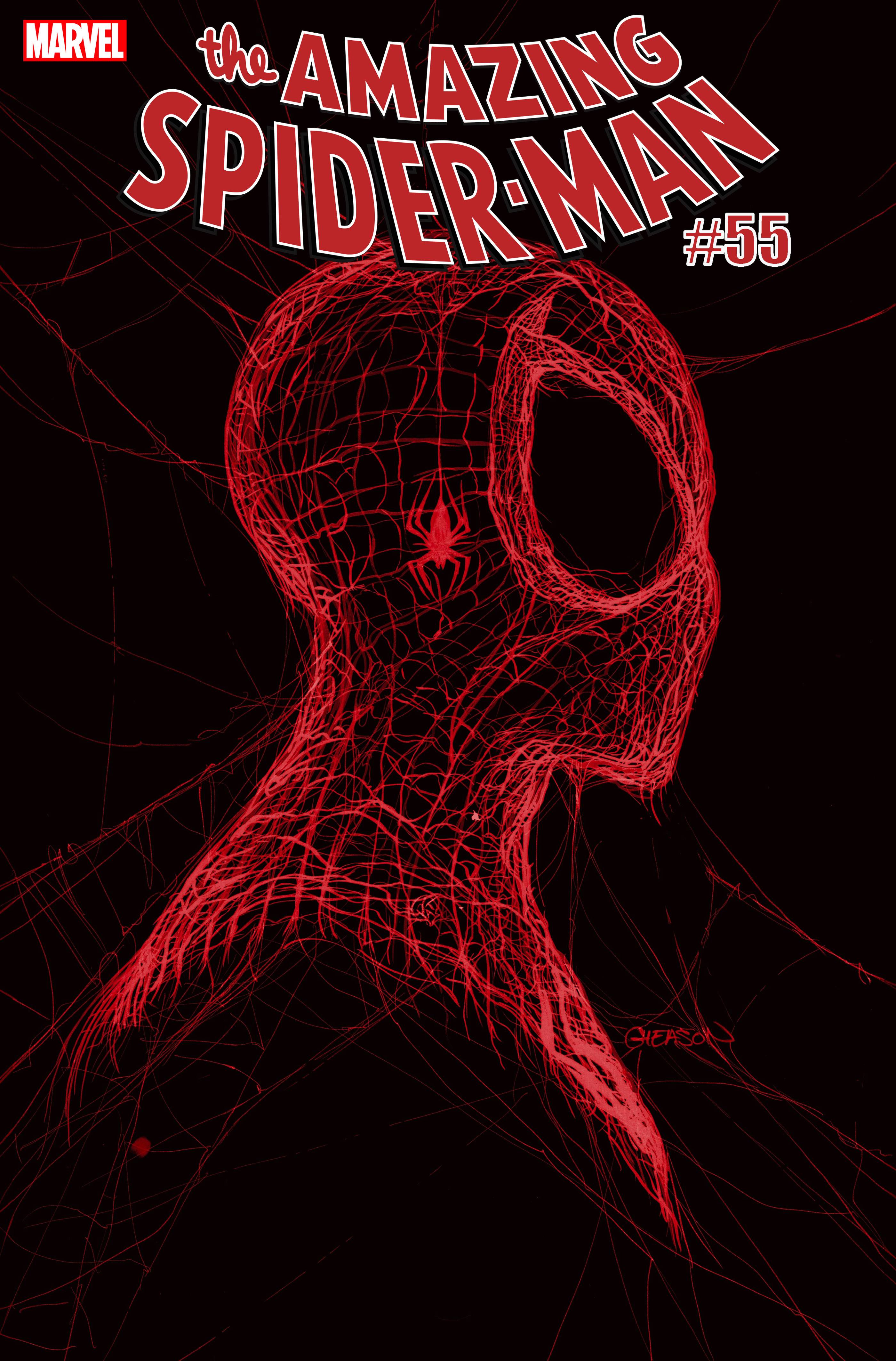 (W) Nick Spencer (A/CA) Patrick Gleason
Already and iconic Spider-man cover!
FEAR CASE #1 (OF 4) 3.99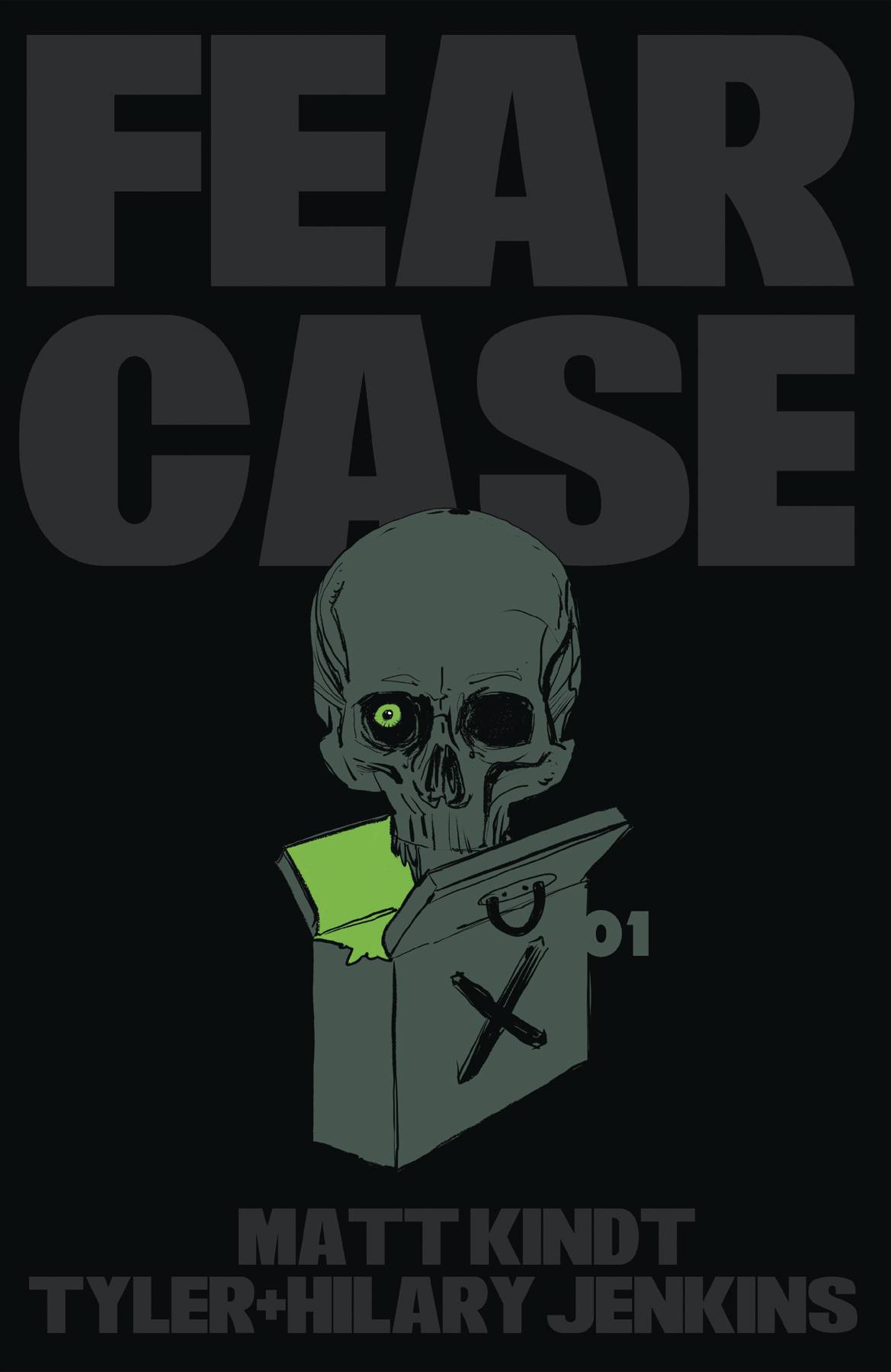 (W) Matt Kindt (A/CA) Tyler JenkinsA new, horrific detective series by Matt Kindt (Ether, Mind MGMT) and Tyler Jenkins (Grass Kings)!
A no-nonsense Secret Service agent and his new-age partner investigate a mysterious box known as the "Fear Case," which has appeared throughout history at sites of disaster and tragedy. Whoever comes into possession of this case must pass it on within three days or face deadly consequences. The agents must track down this Fear Case while staying one step ahead of a psychotic cult and the otherwordly forces behind the Case's existence.
FUTURE STATE THE NEXT BATMAN #3 (OF 4) CVR A LADRONN 7.99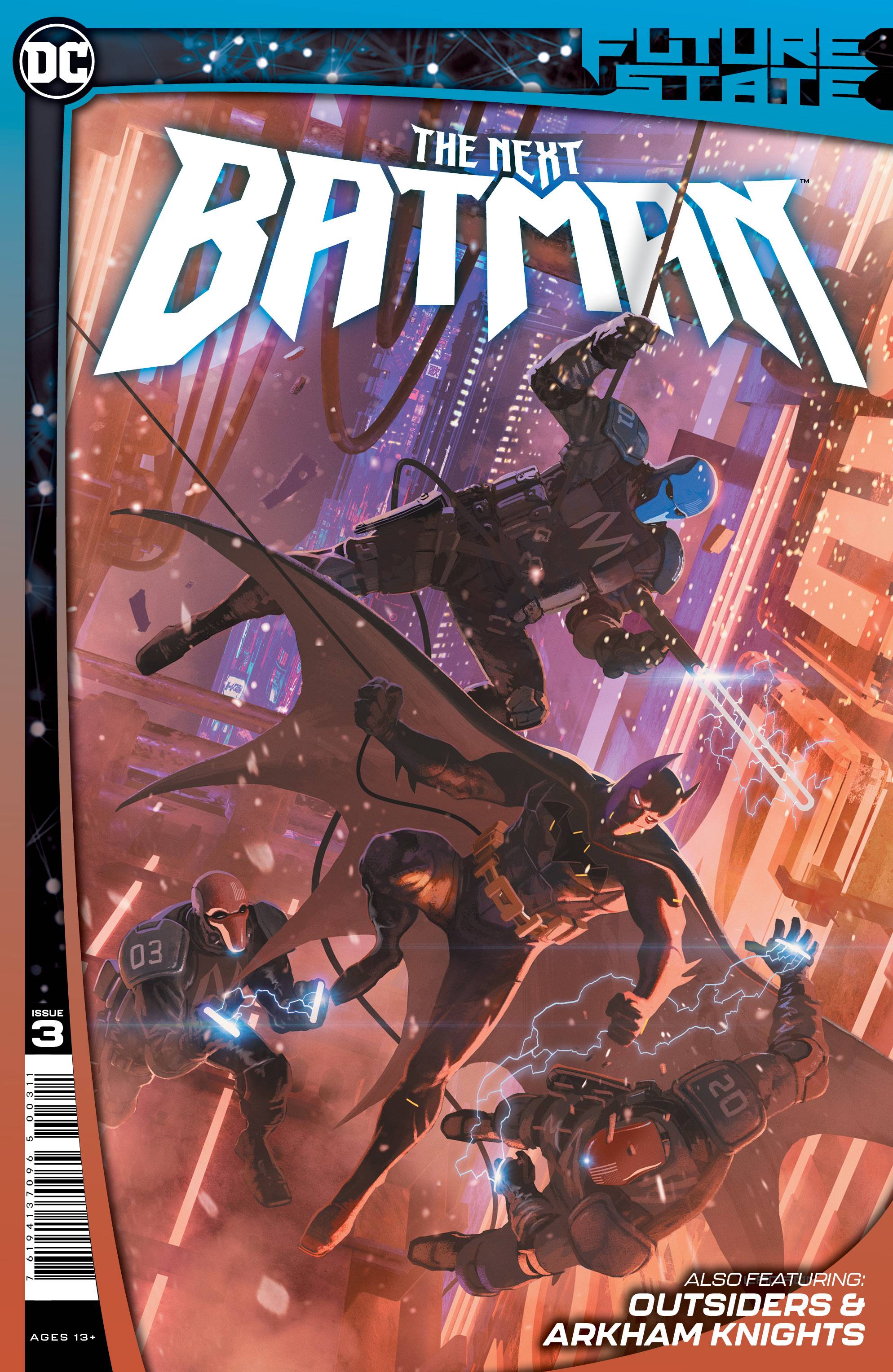 Writer: Various, Artist: Various, Cover Artist: Ladronn
The adventures of the next Batman continue! Batman has captured a pair of murderous fugitives, but he faces a tough decision: leave them for the Magistrate troops, which means certain death, or risk his life and fight his way through Gotham City to deliver them to the GCPD for trial. He's Batman…so there's only one choice! And in "Outsiders," Katana has reunited with Black Lightning, but her old friend and ally has changed…big-time! Now composed of literal black lightning, Jefferson Pierce arrives with a dire warning about Duke Thomas and his mission to liberate Gotham from the oppression of the Magistrate. They'll have to work together—and we really mean together—to have any hope of defeating the forces working against them! Plus, in "Arkham Knights," Astrid Arkham and her band of maniacal misfits have picked a fight with the Magistrate…and they're not going to back down! On the eve of their mission into the heart of Gotham's fascist occupiers, Croc, Zsasz, Phosphorus, Clayface, Harvey, and the rest steel themselves to try and shine a beacon of hope into the darkness—but not everyone will make it out alive!
SONJAVERSAL #1 CVR A LEE & CHUNG 3.99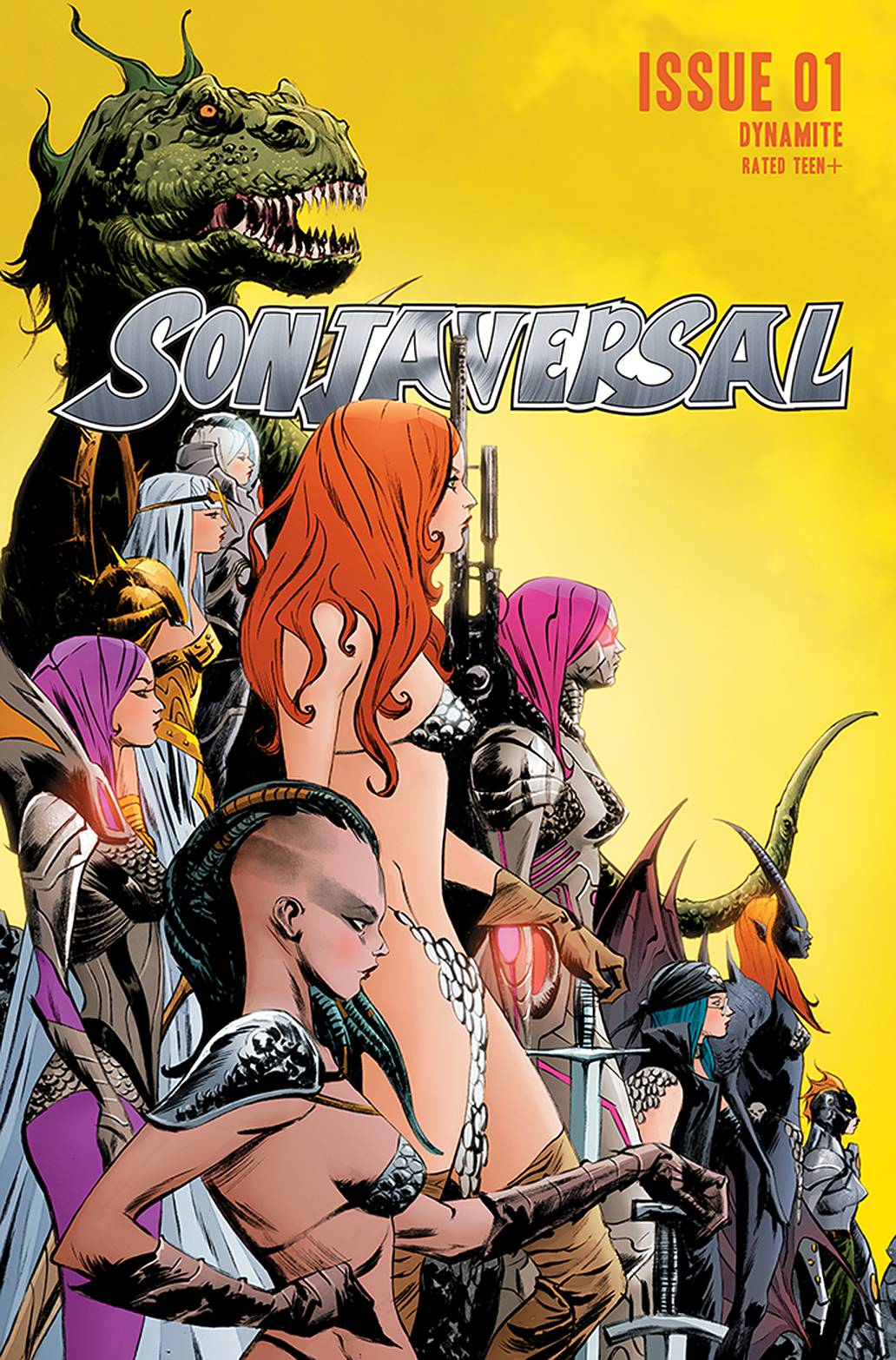 (W) Christopher Hastings (A) Pasquale Qualano (CA) Jae Lee, June ChungTHIS IS THE MOST IMPORTANT COMIC BOOK TO EVER COME OUT IN THE HISTORY OF THE WORLD. Starring: RED Sonja, BLUE Sonja, GREEN Sonja, ORANGE Sonja, SAINT Sonja, HELL Sonja, and MANY, MANY, MANY MORE!
An evil god punishes Sonja's across dimensions. What's the punishment? SONJA'S MUST KILL OTHER SONJA'S. The battle for SONJA SUPREMACY BEGINS IN THE EVENT OF 2021, by CHRISTOPHER HASTINGS (Gwenpool) and PASQUALE QUALANO (DIE!NAMITE)!
THIS WEEK IN TOYS/STATUES
DC VEHICLES DEATH METAL BATMAN BONE BIKE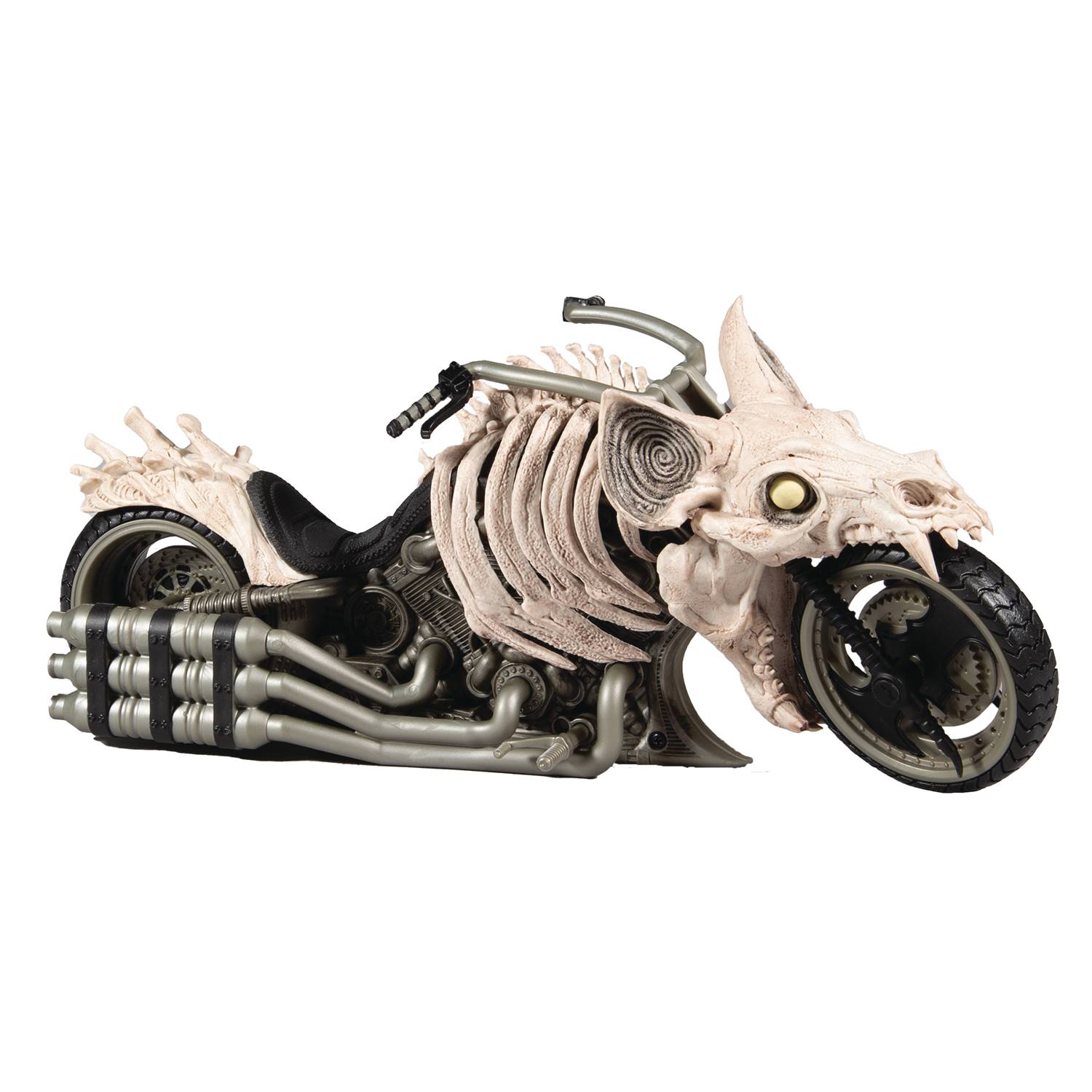 Build your DC Comics collection with more detailed action figures from McFarlane Toys!
TRANSFORMERS CYBERVERSE ULTRA AF ASST 202001

In the G1-inspired Cyberverse series, giant Transformers robots from the planet Cybertron engage in epic battles, harnessing the power of pure energy with their Energon Armor! Kids can imagine unleashing this new ability with these Ultra Class figures! With Energon Armor, both sides can harness incredible new powers, including the ability to convert energy into cool looking armor that allows them to fight in new ways. This extra layer of super-charged protection will be useful in the battles ahead. See how these new powers will be used to defend Cybertron… or threaten it. Ultra Class figures (each sold separately, subject to availability) include Energon Armor that combines automatically with the figure and converts it to its powered-up mode! Series 202001 includes Bumblebee, Hot Rod, and Clobber! Series 202002 includes Hot Rod, Bumblebee, and Rock'n'Ruin. Series 202003 includes Hot Rod, Bumblebee, and Thunderhawk.
DRAGON BALL SUPER DRAGON STARS SS4 GOGETA 6.5IN AF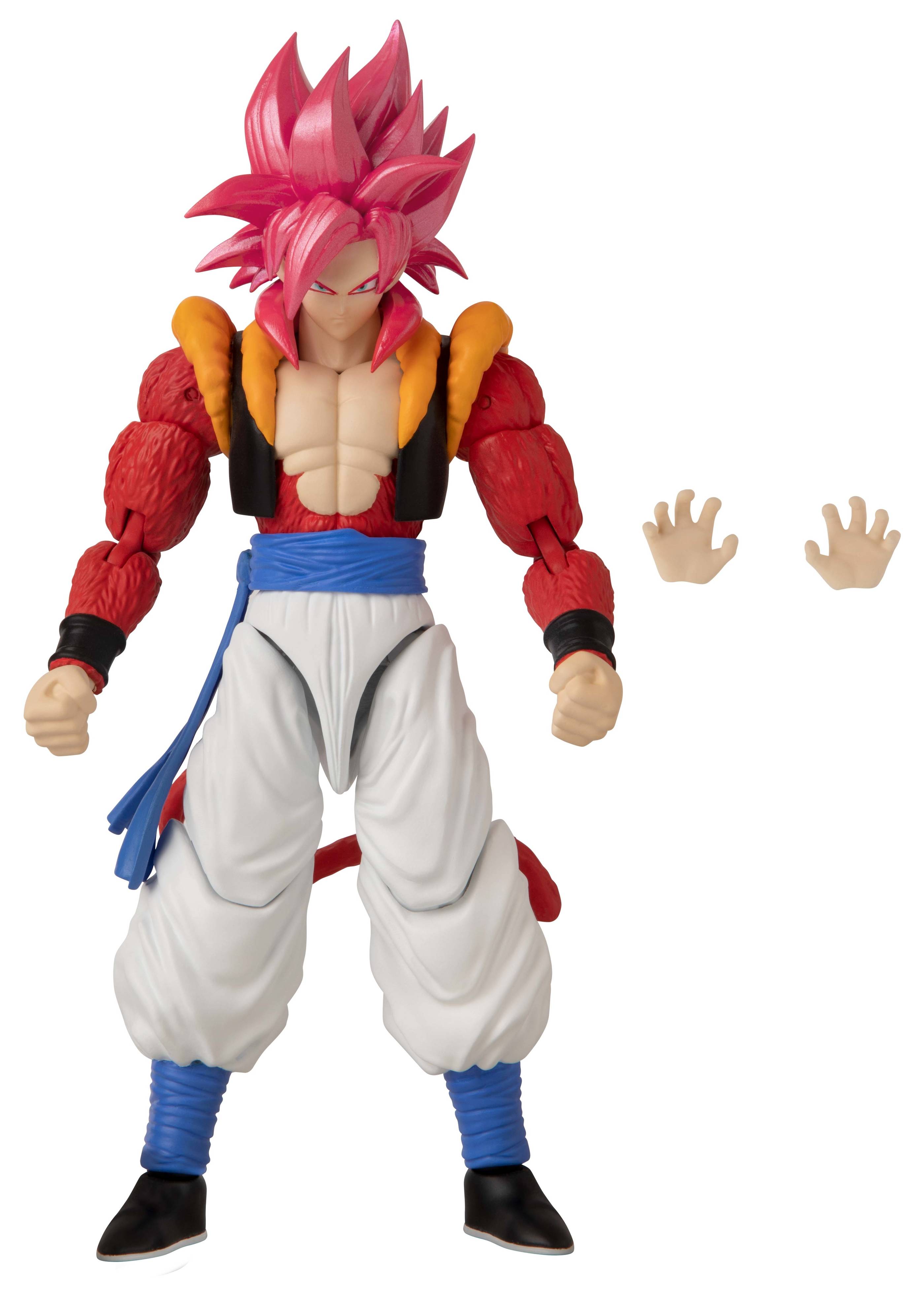 From Bandai America. Welcome the fierce battles of Dragon Ball Super into your world with these superior 6.5-inch Dragon Stars action figures. Finely crafted and intricately detailed with 16 points of articulation. This is the highest order of quality, and as close as you can get to the real thing. You can be the star of your own Dragon Ball battles, inspired by the show and limited only by your imagination.
POP & BUDDY PHIL W/ PUNXSUTAWNEY PHIL VINYL FIG 11.99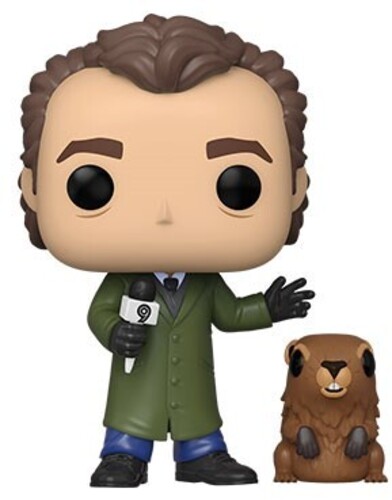 From Groundhog Day, Phil with Punxsutawney Phil, as a stylized Pop!
Stylized collectable stands 3 ¾ inches tall, perfect for any Groundhog Day fan!
Collect and display all Groundhog Day POP! Vinyls!
Trade-paperbacks of the Week!
R CRUMB LITERATURE AUTOBIOGRAPHY & QUEST FOR SELF 30
Robert Crumb (b. 1943) read widely and deeply a long roster of authors including Robert Louis Stevenson, Charles Dickens, J. D. Salinger, Jack Kerouac, William S. Burroughs, and Allen Ginsberg, as well as religious classics including biblical, Buddhist, Hindu, and Gnostic texts. Crumb's genius, according to author David Stephen Calonne, lies in his ability to absorb a variety of literary, artistic, and spiritual traditions and incorporate them within an original, American mode of discourse that seeks to reveal his personal search for the meaning of life.
R. Crumb: Literature, Autobiography, and the Quest for Self contains six chapters that chart Crumb's intellectual trajectory and explore the recurring philosophical themes that permeate his depictions of literary and biographical works and the ways he responds to them through innovative, dazzling compositional techniques.
.
DARK HISTORY OF REINCARNATED VILLAINESS GN VOL 01 13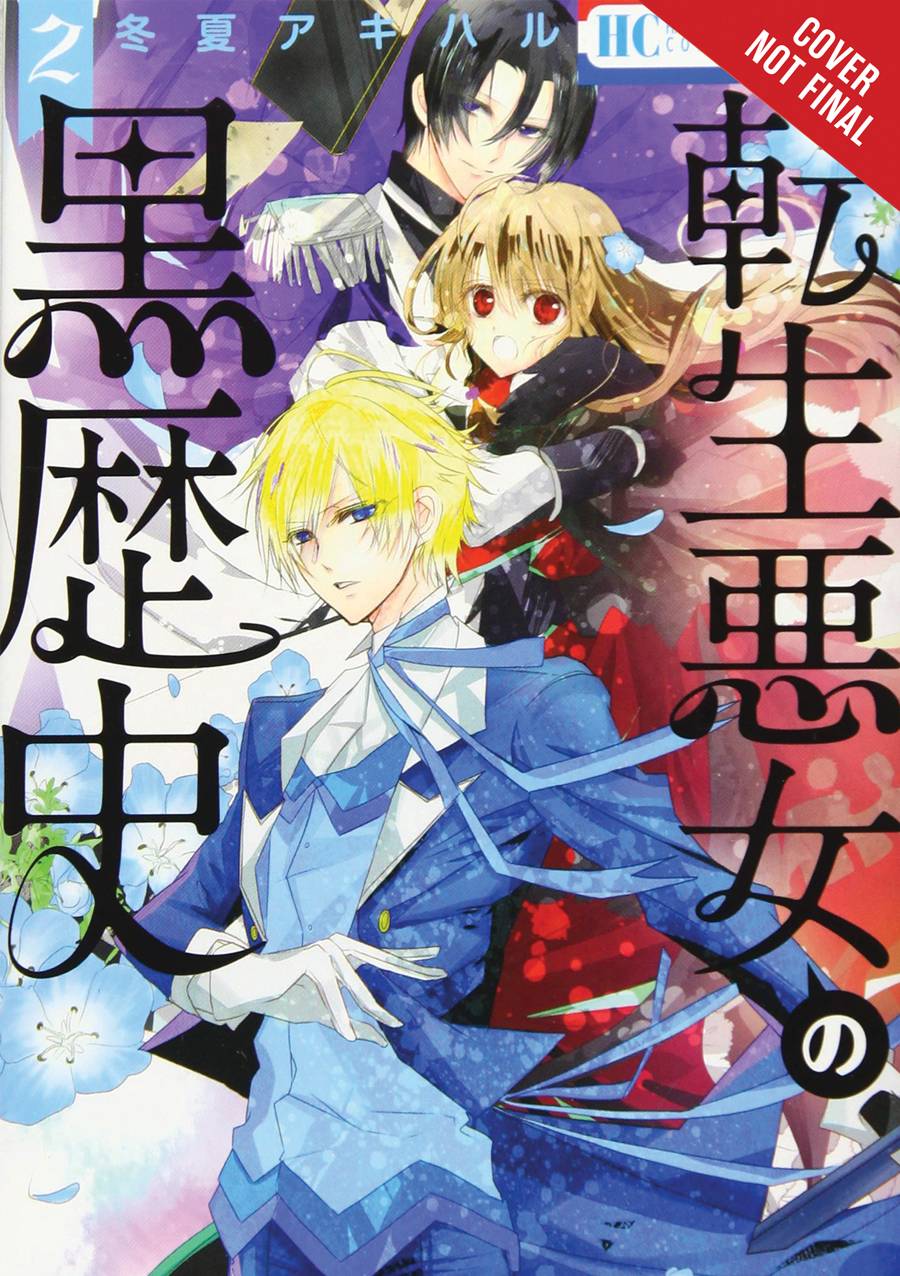 (W) Toka Akiharu (A) Toka Akiharu
After her reincarnation as the despicable villainess, Iana, there's only one way left to survive-protect Konoha at all costs to avoid tripping her own death flags. Unfortunately, when her childhood friend Yomi is reincarnated into her Dark History, Yomi doesn't feel the same way. With Yomi out to assassinate Konoha, Iana will have to pull out all the stops…
HERNANDEZ HYPNOTWIST HC 24.99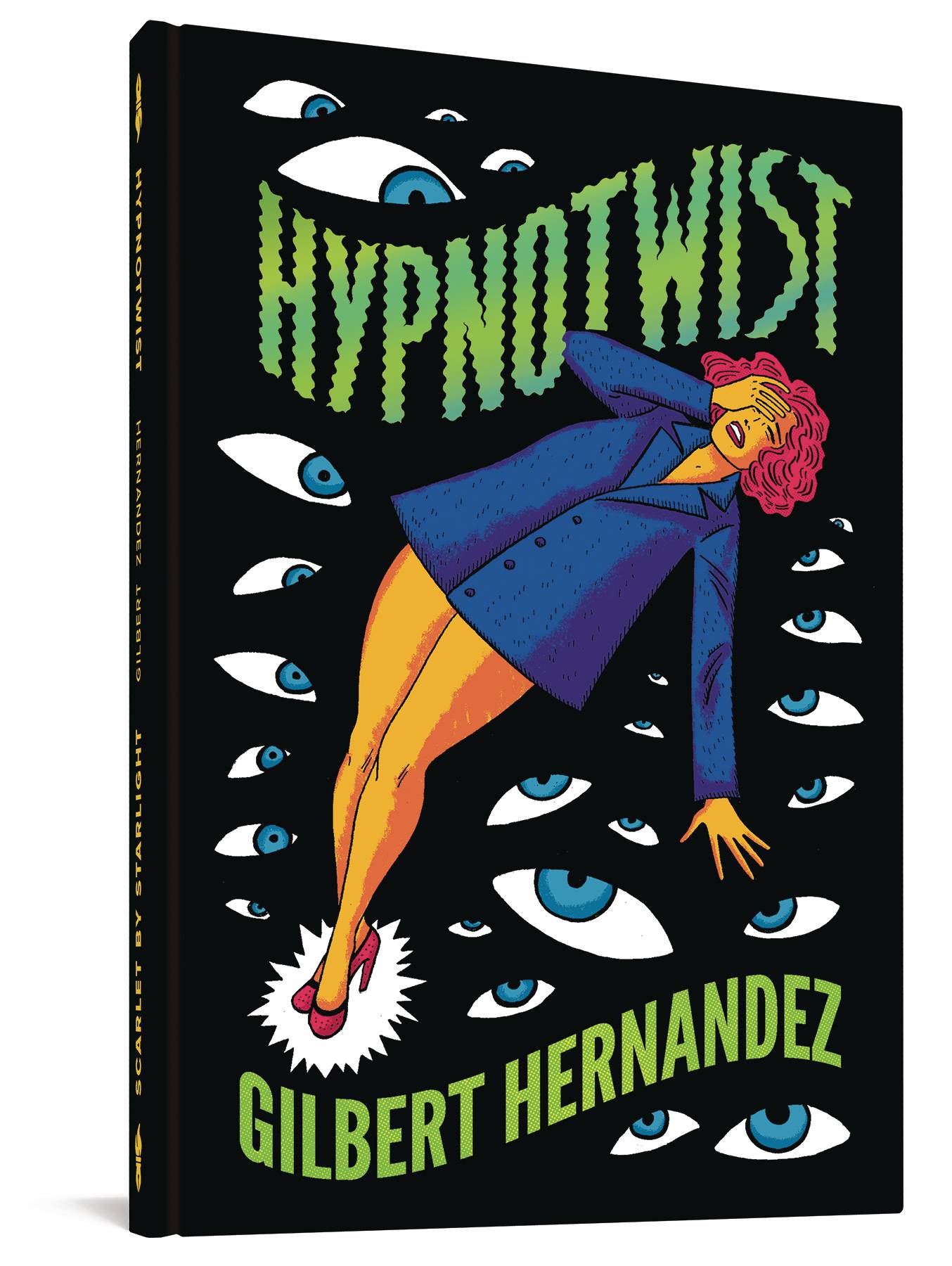 (W) Gilbert Hernandez (A/CA) Gilbert HernandezCollects (and expands!) the graphic novellas "Hypnotwist" and "Scarlet by Starlight" from Love and Rockets: New Stories in a handsome "Double Feature" package.
In the Eisner Award-winning wordless comic (silent movie?) "Hypnotwist," Hernandez's B-movie star Fritz plays a character who doesn't seem to be going anywhere, until she puts on a pair of glittery pumps. Her wanderings become increasingly surreal as she confronts motherhood, alcoholism, a sinister smiley face, cruelty, and her worst fate: "Killer" cameos! Includes 16 pages of previously unpublished, additional material. "Scarlet by Starlight" is a B movie that's Star Trek meets Heart of Darkness. "Scientists," or colonizers, are doing research, surrounded by "primitive" fauna they affectionately nickname or treat like pests. Fritz plays Scarlet, a peaceful, catlike humanoid with a mate and children. When she becomes infatuated with one of the scientists, the fragile web of relationships explodes into violence and death, calling into question who the "advanced, civilized" creatures really are.
TMNT ULTIMATE COLL TP VOL 05 29.99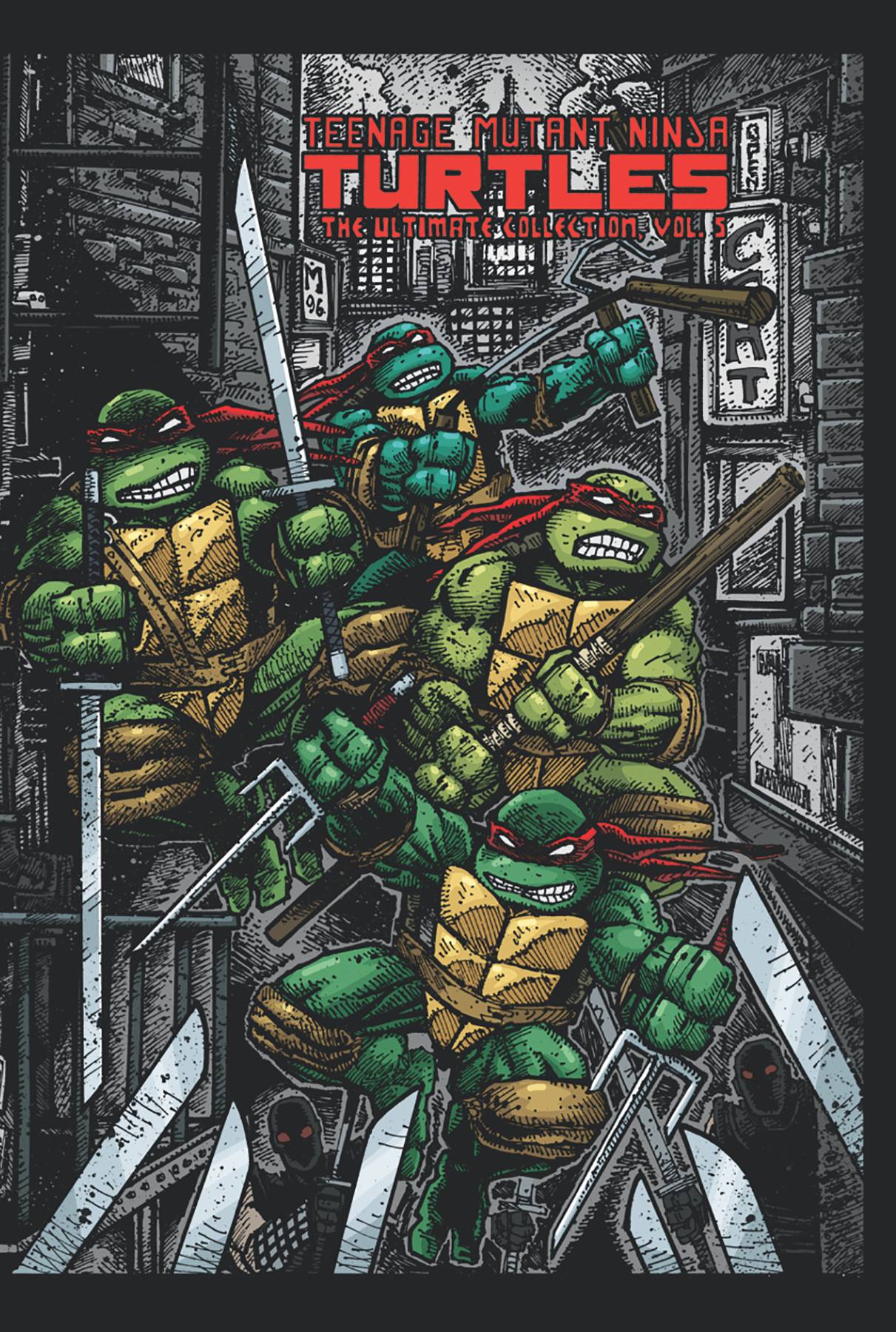 (W) Kevin Eastman, Peter Laird (A) Peter Laird, Jim Lawson (A/CA) Kevin EastmanA thorough look back at the TMNT's comic book origins with their first stories plus insightful annotations from co-creators Kevin Eastman and Peter Laird.
MASTER LIST OF PRODUCTS ARRIVING THIS WEEK!
A GIRL WALKS HOME ALONE AT NIGHT #1 2ND PTG 3.99
A GIRL WALKS HOME AT NIGHT TP VOL 01 9.99
AFTERLIFT TP 19.99
ALTER EGO MANGA GN 12.99
AMAZING SPIDER-MAN #101 FACSIMILE EDITION 3.99
AMAZING SPIDER-MAN #101 FACSIMILE POSTER 8.99
AMAZING SPIDER-MAN #55 2ND PTG GLEASON VAR LR 3.99
AVATAR THE NEXT SHADOW #2 (OF 4) 3.99
AVENGERS #42 3.99
AVENGERS #42 ALEX ROSS HAWKEYE TIMELESS 3.99
AVENGERS #42 SOUZA 3.99
AVENGERS #42 WEAVER CONNECTING 3.99
AVENGERS BY HICKMAN COMPLETE COLLECTION TP VOL 03 44.99
AVENGERS MECH STRIKE #1 (OF 5) 3.99
AVENGERS MECH STRIKE #1 (OF 5) SNG 3.99
AVENGERS MECH STRIKE #1 (OF 5) SU 3.99
AVENGERS MECH STRIKE #1 (OF 5) TOY 3.99
AVEREE PREMIER EDITION #1 3.99
BORUTO GN VOL 10 NARUTO NEXT GENERATIONS 9.99
BUFFY THE VAMPIRE SLAYER #22 3.99
BY THE GRACE OF GODS LIGHT NOVEL SC VOL 01 14.99
CANTO II HOLLOW MEN #5 (OF 5) 3.99
CAVEWOMAN METAL AGE #1 (OF 2) 4.5
CEREBUS IN HELL 2021 PREVIEW ONE SHOT 4
CHAINED TO THE GRAVE #1 (OF 5) 3.99
CIMMERIAN FROST GIANTS DAUGHTER #3 CVR A 3.99
CIMMERIAN FROST GIANTS DAUGHTER #3 CVR D 3.99
COLONEL WEIRD COSMAGOG TP 19.99
CONAN THE BARBARIAN BY AARON & ASRAR HC 34.99
DARK HISTORY OF REINCARNATED VILLAINESS GN VOL 01 13
DAWN OF X TP VOL 12 17.99
DC VEHICLES DEATH METAL BATMAN BONE BIKE
DEAR NORMAN GN VOL 01 13
DEEP BEYOND #1 (OF 12) CVR A 3.99
DEEP BEYOND #1 (OF 12) CVR B 3.99
DEEP BEYOND #1 (OF 12) CVR C 3.99
DEEP BEYOND #1 (OF 12) CVR D 3.99
DEEP BEYOND #1 (OF 12) CVR E 3.99
DEEP BEYOND #1 (OF 12) CVR F 3.99
DEEP BEYOND #1 (OF 12) CVR G 3.99
DEMON SLAYER KIMETSU NO YAIBA GN VOL 20 9.99
DEVILS DOMINION #1 CVR A 3.99
DIE!NAMITE BLOODY VALENTINE ONE SHOT CVR A SUYDAM 4.99
DIE!NAMITE BLOODY VALENTINE ONE SHOT CVR B LINSNER 4.99
DRAGON BALL SUPER DRAGON STARS SS4 GOGETA 6.5IN AF
DRAW FASHIONABLE MANGA GIRLS SC 14.99
DREAMING WAKING HOURS #7 (MR) 3.99
ENCODED #1 7.99
ENGINEWARD #7 3.99
ETERNALS POSTER BOOK TP 24.99
ETERNALS TP TO DEFY APOCALYPSE 24.99
EVEN THOUGH WERE ADULTS GN VOL 01 12.99
FAR SECTOR #10 (OF 12) CVR A JAMAL CAMPBELL (MR) 3.99
FAR SECTOR #10 (OF 12) CVR B YASMINE PUTRI VAR (MR) 3.99
FEAR CASE #1 (OF 4) 3.99
FEAR CASE #1 (OF 4) CVR B 3.99
FEAR CASE #1 (OF 4) CVR C 3.99
FIRE POWER BY KIRKMAN & SAMNEE #8 3.99
FLASH BY GEOFF JOHNS OMNIBUS VOL 02 HC 99.99
FLASH FACTS TP 9.99
FUTURE STATE HARLEY QUINN #2 (OF 2) CVR A DERRICK CHEW 3.99
FUTURE STATE HARLEY QUINN #2 (OF 2) CVR B GARY FRANK CARD STOCK VAR 4.99
FUTURE STATE SUPERMAN OF METROPOLIS #2 (OF 2) CVR A JOHN TIMMS 5.99
FUTURE STATE SUPERMAN OF METROPOLIS #2 (OF 2) CVR B INHYUK LEE CARD STOCK VAR 6.99
FUTURE STATE SWAMP THING #2 (OF 2) CVR A MIKE PERKINS 3.99
FUTURE STATE SWAMP THING #2 (OF 2) CVR B DIMA IVANOV CARD STOCK VAR 4.99
FUTURE STATE THE FLASH #2 (OF 2) CVR A BRANDON PETERSON 3.99
FUTURE STATE THE FLASH #2 (OF 2) CVR B KAARE ANDREWS CARD STOCK VAR 4.99
FUTURE STATE THE NEXT BATMAN #3 (OF 4) CVR A LADRONN 7.99
FUTURE STATE THE NEXT BATMAN #3 (OF 4) CVR B STANLEY ARTGERM LAU CARD STOCK VAR 8.99
FUTURE STATE WONDER WOMAN #2 (OF 2) CVR A JOELLE JONES 3.99
FUTURE STATE WONDER WOMAN #2 (OF 2) CVR B JENNY FRISON CARD STOCK VAR 4.99
GRAPHIC FANTASY #1 (FACSIMILE ED) (MR) 9.99
GRAPHIC FANTASY #2 (FACSIMILE ED) (MR) 5.99
GRIMM FAIRY TALES #44 CVR A 3.99
GRIMM FAIRY TALES #44 CVR B 3.99
GRIMM FAIRY TALES #44 CVR C 3.99
GRIMM FAIRY TALES #44 CVR D 3.99
HARLEY QUINN AND THE BIRDS OF PREY #4 (OF 4) CVR A AMANDA CONNER (MR) 5.99
HARLEY QUINN AND THE BIRDS OF PREY #4 (OF 4) CVR B TERRY DODSON VAR (MR) 5.99
HELLBLAZER RISE AND FALL #3 (OF 3) CVR A DARICK ROBERTSON (MR) 6.99
HELLBLAZER RISE AND FALL #3 (OF 3) CVR B SEAN PHILLIPS VAR (MR) 6.99
HELLIONS #9 3.99
HERNANDEZ HYPNOTWIST HC 24.99
HOW REALIST HERO REBUILT KINGDOM OMNIBUS GN VOL 01 19.99
HULK BY BROOKS VINYL POSTER 34.99
I SHALL SURVIVE USING POTIONS GN VOL 01 14.99
IMAGE FIRSTS ASCENDER #1 1
IMAGE FIRSTS BITTER ROOT #1 1
IMAGE FIRSTS DIE #1 (MR) 1
IMAGE FIRSTS KILLADELPHIA #1 1
IMAGE FIRSTS MIRKA ANDOLFO MERCY #1 1
IMAGE FIRSTS OLD GUARD #1 1
IMAGE FIRSTS UNDISCOVERED COUNTRY #1 1
IMMORTAL HULK #43 3.99
IMMORTAL HULK #43 BENNETT 3.99
IMMORTAL HULK #43 SHALVEY ALIEN VAR 3.99
INCREDIBLE HULK MY MIGHTY MARVEL FIRST BOOK BOARD BOOK 10.99
INKBLOT #6 3.99
INTERSPECIES REVIEWERS COMICS ANTHOLOGY GN DARKNESS 13
IVE BEEN KILLING SLIMES 300 YEARS MAXED OUT GN VOL 04 13
JOJOS BIZARRE ADV 4 DIAMOND IS UNBREAKABLE HC VOL 08 19.99
JUJUTSU KAISEN GN VOL 08 9.99
JUSTICE LEAGUE UNLIMITED HOCUS POCUS TP 9.99
KING IN BLACK BLACK KNIGHT #1 4.99
KING IN BLACK BLACK KNIGHT #1 SAIZ 4.99
KING IN BLACK BLACK KNIGHT #1 SU 4.99
KING IN BLACK GWENOM VS CARNAGE #2 (OF 3) 3.99
KING IN BLACK GWENOM VS CARNAGE #2 (OF 3) CARMEN 3.99
KING IN BLACK GWENOM VS CARNAGE #2 (OF 3) FLAVIANO 3.99
KING IN BLACK MARAUDERS #1 4.99
KING IN BLACK MARAUDERS #1 CASELLI 4.99
KING IN BLACK RETURN OF VALKYRIES #2 (OF 4) 3.99
KING IN BLACK RETURN OF VALKYRIES #2 (OF 4) NOTO 3.99
KINGDOM HEARTS III 3 THREE LIGHT NOVEL SC VOL 03 15
KINGS BEAST GN VOL 01 9.99
KNIGHTS OF THE DINNER TABLE #279 5.99
LADY DEATH BLASPHEMY ANTHEM #2 (OF 2) 4.99
LEGEND OF SHANG-CHI #1 3.99
LEGEND OF SHANG-CHI #1 LIM 3.99
LEGION OF SUPER-HEROES BEFORE THE DARKNESS VOL 01 HC 49.99
LUCIFER VOL 04 THE DEVIL AT HEART TP (MR) 16.99
LUKE CAGE EPIC COLLECTION TP RETRIBUTION 39.99
LUMBERJANES TP VOL 17 14.99
LUNA #1 (OF 5) 3.99
LUNA #1 (OF 5) JENNY FRISON VAR ED (MR) 3.99
MAGICAL HISTORY TOUR GN VOL 01 GREAT PYRAMID 6.99
MAMA AKUMA GN VOL 01 13
MAN-BAT #1 (OF 5) CVR A KYLE HOTZ 3.99
MAN-BAT #1 (OF 5) CVR B KEVIN NOWLAN VAR 3.99
MANHUNTER BY ARCHIE GOODWIN AND WALTER SIMONSON DELUXE EDITION HC 17.99
MANIAC OF NEW YORK #1 4.99
MANNS WORLD #2 3.99
MARVEL ACTION AVENGERS TP BOOK 04 LIVING NIGHTMARE 9.99
MARVEL ACTION CHILLERS #4 (OF 4) 3.99
MARVEL ACTION ORIGINS #1 (OF 5) 4.99
MARVEL SPIDER-MAN COVER 500PC PUZZLE 14.99
MARVEL ZOMBIES TP RESURRECTION 19.99
MIGHTY THOR #1 BY DAUTERMAN VINYL POSTER 34.99
MINT CHOCOLATE GN VOL 01 13
MONSTERS UNLEASHED BY MCNIVEN VINYL POSTER 34.99
MORBIUS TP PRELUDES AND NIGHTMARES 15.99
MYSTERIOUS TRAVELERS DITKO & SEARCH FOR NEW LIBERAL IDENTITY 30
OVERWATCH TRACER LONDON CALLING #3 3.99
POP & BUDDY PHIL W/ PUNXSUTAWNEY PHIL VINYL FIG 11.99
POP CLUE MRS WHITE W/ WRENCH VIN FIG 11.99
POP MOVIES 8 MILE RABBIT VIN FIG 11.99
POP NASCAR JEFF GORDON VIN FIG 10.99
POP ROCKS IRON MAIDEN KILLERS SKELETON EDDIE VIN FIG 11.99
POP ROCKS IRON MAIDEN PIECE OF MIND VIN FIG 11.99
POP ROCKS TLC CHILLI W/ CHASE VIN FIG 11.99
POP ROCKS TLC LEFT EYE W/ CHASE VIN FIG 11.99
POP ROCKS TLC TBOZ W/ CHASE VIN FIG 11.99
POP TASTY PEACH MEOWCHI VINYL FIGURE 11.99
POP TASTY PEACH NOMWHAL VIN FIG 11.99
POP TASTY PEACH UDON KITTEN VIN FIG 11.99
POP TASTY PEACH ZOMBIE ALPACA VIN FIG 11.99
POP TMNT LEONARDO VIN FIG 11.99
PSYCHODRAMA ILLUSTRATED #4 4.99
R CRUMB LITERATURE AUTOBIOGRAPHY & QUEST FOR SELF 30
REDEMPTION #1 CVR A 3.99
REDEMPTION #1 CVR B 3.99
RICK AND MORTY PRESENTS DEATH STALKERS #1 CVR A 4.99
RICK AND MORTY PRESENTS DEATH STALKERS #1 CVR B 4.99
RICK AND MORTY WORLDS APART #1 CVR A 3.99
RICK AND MORTY WORLDS APART #1 CVR B 3.99
RUNAWAYS #33 3.99
SANDMAN TP VOL 01 PRELUDES & NOCTURNES 30 ANNIV ED 19.99
SCARLET WITCH BY JAMES ROBINSON COMPLETE COLL TP 34.99
SEA OF SORROWS #3 (OF 5) 3.99
SECRET WARS BY ROSS OVERSIZED VINYL POSTER 49.99
SNAKE EYES DEADGAME #4 (OF 5) CVR A 4.99
SNAKE EYES DEADGAME #4 (OF 5) CVR B 4.99
SONJAVERSAL #1 CVR A LEE & CHUNG 3.99
SONJAVERSAL #1 CVR B LINSNER 3.99
SONJAVERSAL #1 CVR C ROBSON 3.99
SONJAVERSAL #1 CVR D SAMPAIO 3.99
SONJAVERSAL #1 CVR E COSPLAY 3.99
SPECTER INSPECTORS #1 (OF 5) 4.99
SPIDER-MAN KRAVENS LAST HUNT MARVEL SELECT HC 24.99
STAR WARS #11 3.99
STAR WARS #11 CHRISTOPHER 3.99
STAR WARS #11 SPROUSE 3.99
STAR WARS ADVENTURES (2020) #3 CVR A 3.99
STAR WARS ADVENTURES (2020) #3 CVR B 3.99
STAR WARS DOCTOR APHRA #7 3.99
STAR WARS HIGH REPUBLIC #2 3.99
STAR WARS HIGH REPUBLIC #2 WITTER 3.99
STAR WARS HIGH REPUBLIC ADVENTURES #1 3.99
STAR WARS LAST JEDI STORYBOOK DIE CUT ILLUS HC 9.99
STAR WARS RISE OF SKYWALKER STORYBOOK DIE CUT ILLUS HC 9.99
STRANGE ACADEMY #8 3.99
STRANGE ACADEMY #8 ART ADAMS 3.99
STRANGE ACADEMY #8 RAMOS 3.99
SUPERMAN IN THE FIFTIES TP 34.99
SWORD ART ONLINE PROGRESSIVE BARCAROLLE FROTH GN VOL 02 13
SWORD MASTER TP VOL 02 GOD OF WAR 17.99
TARTARUS #9 3.99
THAT TIME I REINCARNATED SLIME LIGHT NOVEL SC VOL 10 15
THEY FELL FROM THE SKY #1 3.99
TMNT JENNIKA II #4 (OF 6) 4.99
TMNT THE LAST RONIN #1 (OF 5) 3RD PTG 8.99
TMNT ULTIMATE COLL TP VOL 05 29.99
TRANSFORMERS BEAST WARS #1 CVR A 5.99
TRANSFORMERS BEAST WARS #1 CVR B 5.99
TRANSFORMERS CYBERVERSE ULTRA AF ASST 202001
TRANSFORMERS VS TERMINATOR TP 15.99
UNCANNY X-MEN HC X-MEN DISASSEMBLED 34.99
VAMPIRELLA VALENTINES SP ONE SHOT CVR A 4.99
VAMPIRELLA VALENTINES SP ONE SHOT CVR B 4.99
VENGEANCE OF VAMPIRELLA #14 CVR A 3.99
VENGEANCE OF VAMPIRELLA #14 CVR C 3.99
VENOM #33 KIB 3.99
VENOM #33 STEGMAN VAR KIB 3.99
VENOM BY DONNY CATES HC VOL 02 34.99
WALKING DEAD DLX #8 CVR A FINCH & MCCAIG 3.99
WALKING DEAD DLX #8 CVR B MOORE & MCCAIG 3.99
WALKING DEAD DLX #8 CVR C TEDESCO 3.99
WARHAMMER 40K MARNEUS CALGAR #4 (OF 5) 4.99
WARHAMMER 40K MARNEUS CALGAR #4 (OF 5) LUKE ROSS 4.99
WITCHER 7IN SCALE WV1 AF ASST
X-FACTOR #7 3.99
We hope to see you soon at CQ!
Visit us at 2260 Morgan Avenue, Evansville
On the web at www.comicquest.com
On Facebook www.facebook.com/comicquestevansville
On Twitter @cqevansville
On Instagram: @comicquestevansvilletwitter.com/cqevansville
Contact us at sales@comicquest.com or by phone at 812-474-