Kyle Starks(Evansville native) & Chris Schweizer's(Madionsville,KY) 'Six Sidekicks of Trigger Keaton' Take on a New Mystery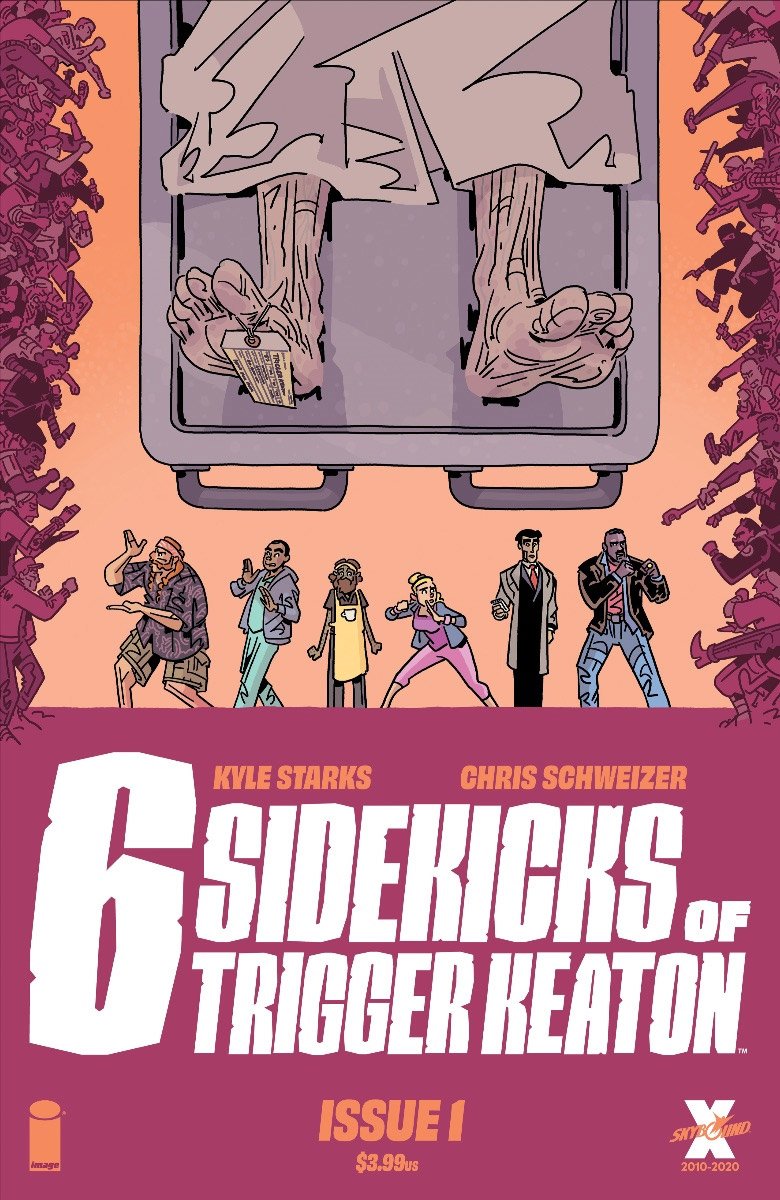 Who done it? Image/Skybound Entertainment have announced The Six Sidekicks of Trigger Keaton, a new action-mystery series from Eisner-nominees Kyle Starks (SexCastle, Assassin Nation) and Chris Schweizer (Crogan Adventures).
The world's most unlikable action star has been found dead, and his previous TV sidekicks take it upon themselves to find out who killed him. But how can you catch a murderer when almost everyone hated the victim? Time for the sidekicks to become the stars of this show…that is, if any can survive the STUNTMAN WAR!
"I'm so excited to be working with Skybound again on another great action-comedy series," said Starks. "This time I get to do it with my best friend, America's best kept cartoonist secret and three-time Eisner nominee Chris Schweizer. Chris came to me and suggested the remarkable title which we crafted into the tale of six former kid TV sidekicks trying to solve the murder of their awful human TV mentor. Sort of like Knives Out meets Once Upon A Time In Hollywood? If there are two things I love to write, it's charming dummies and action, and this book is full of both plus rising stakes, escalating nonsense and a lot of fun. Comics should be fun, so we made a fun one!"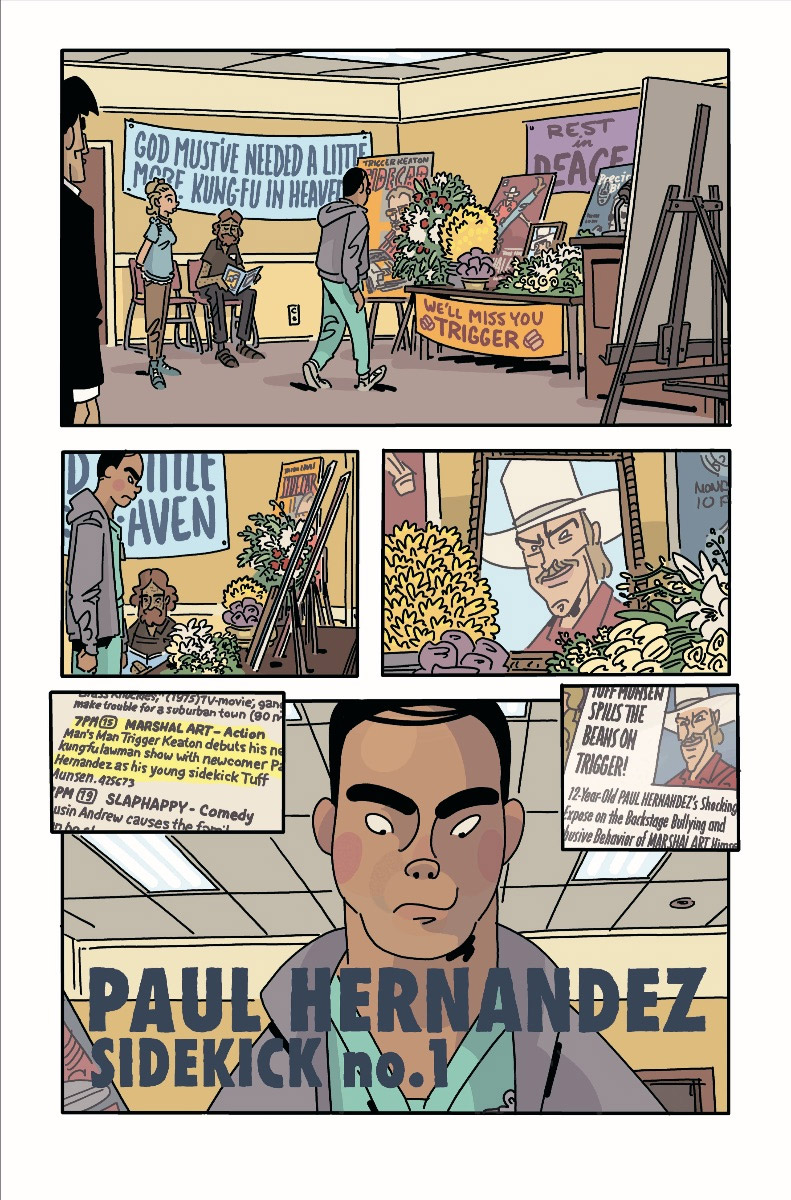 "Kyle and I are opposites in almost every way, with extremely different artistic and narrative priorities, except for one that we share: we both want to do our very best work, and we want that work to resonate with its audience," said Schweizer. "And that sentiment is enough for us to end up seeing eye-to-eye on things and helps to turn our disagreements over story or its execution into a whetstone that sharpens it up into something that we hope we can be proud of. We were keen to take an action story and structure it around a mystery. We both like mystery comedies like Monk, Knives Out, and Psych, and we wanted to combine those genres in a way that was fun for us and fresh for the reader."
The Six Sidekicks of Trigger Keaton #1 will be available at Comic Quest on Wednesday, June 9.
The Future of Mutantkind is Revealed in Planet-Size X-Men #1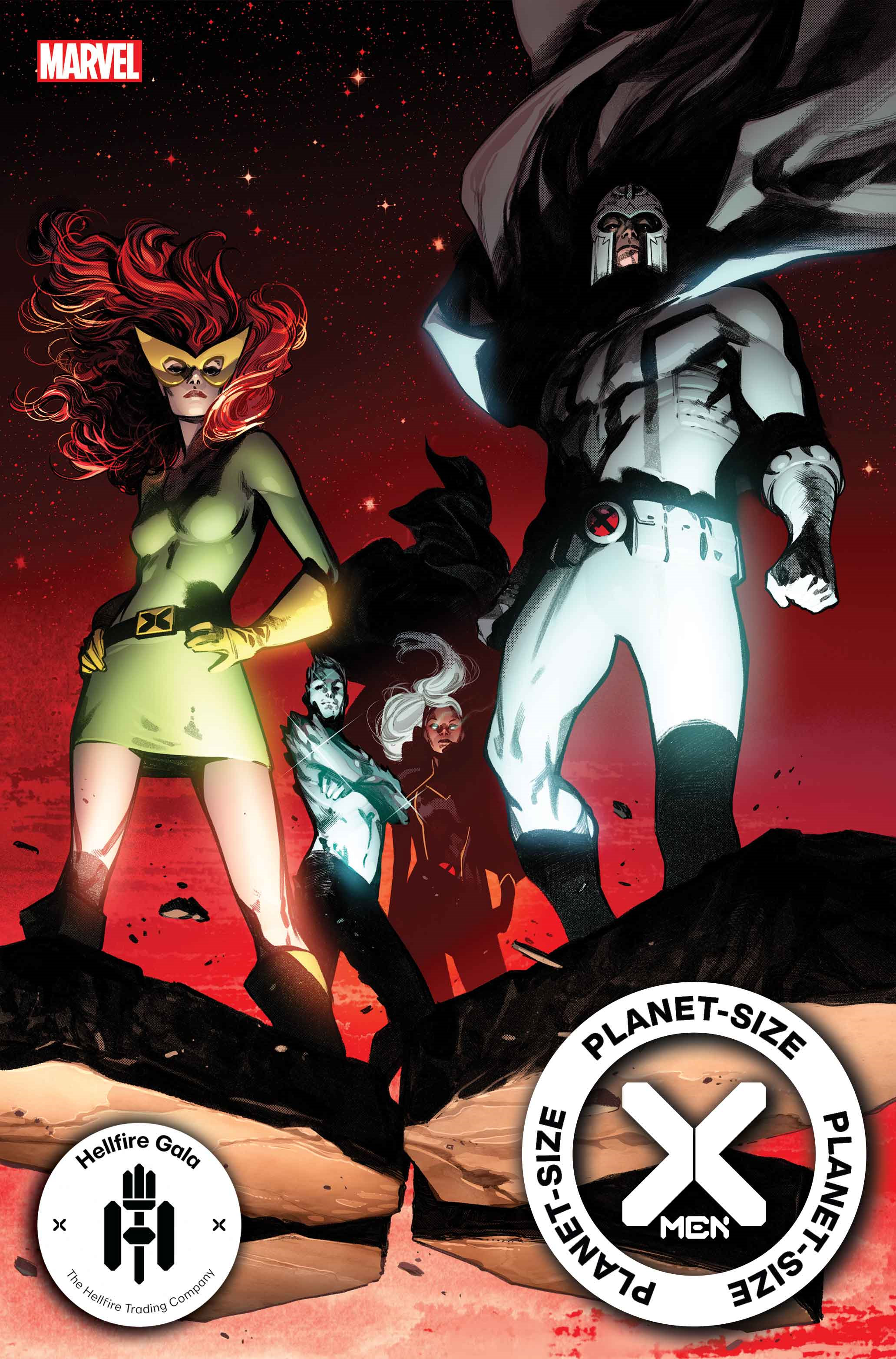 This June, the Hellfire Trading Company invites readers everywhere to the inaugural Hellfire Gala to announce the first team of Krakoan X-Men to the world and reveal the startling plans that mutantkind has in store for the Marvel Universe. This highly anticipated comics event will unfold in issues of your favorite ongoing X-Men series as well as Planet-Size X-Men, a special double-sized one-shot from two of mutantkind's most masterful creators: writer Gerry Duggan (Marauders, Savage Avengers) and artist Pepe Larraz (House of X). The Hellfire Gala rages on in one of the most pivotal chapters yet in Jonathan Hickman's X-Men era. But even bigger things are afoot a world away…

"Make no mistake—this is an X-Men book drawn by superstar artist Pepe Larraz. It is absolutely the most important issue of the month," Editor Jordan D. White promises. "Pepe is absolutely the star of the X-line and he is doing the most amazing work of his career. You cannot miss this."

Twelve titles, twelve stories, all focused on a single night that will go down in Marvel Comics history. Stay tuned for more Hellfire Gala cover reveals, costume designs, variants covers, and more as the buildup to this major turning point in the saga of the X-Men begins!
NEW COMICS THIS WEEK!
BEQUEST #1 FREDDIE WILLIAMS II 4.99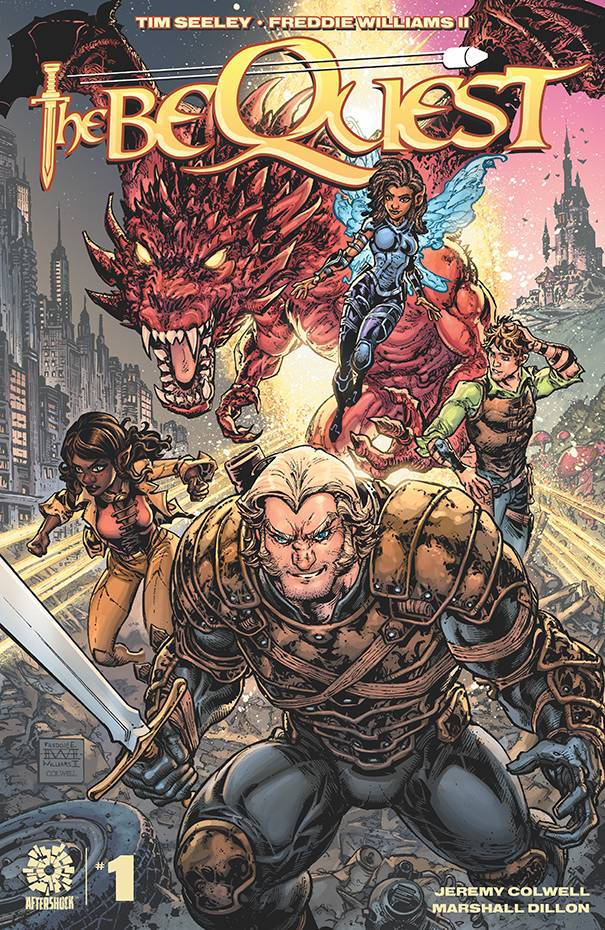 JUSTICE LEAGUE #59 CVR A DAVID MARQUEZ 4.99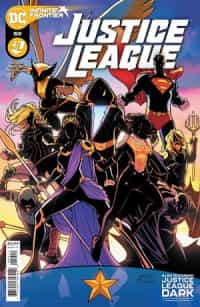 KING IN BLACK SPIDER-MAN #1 4.99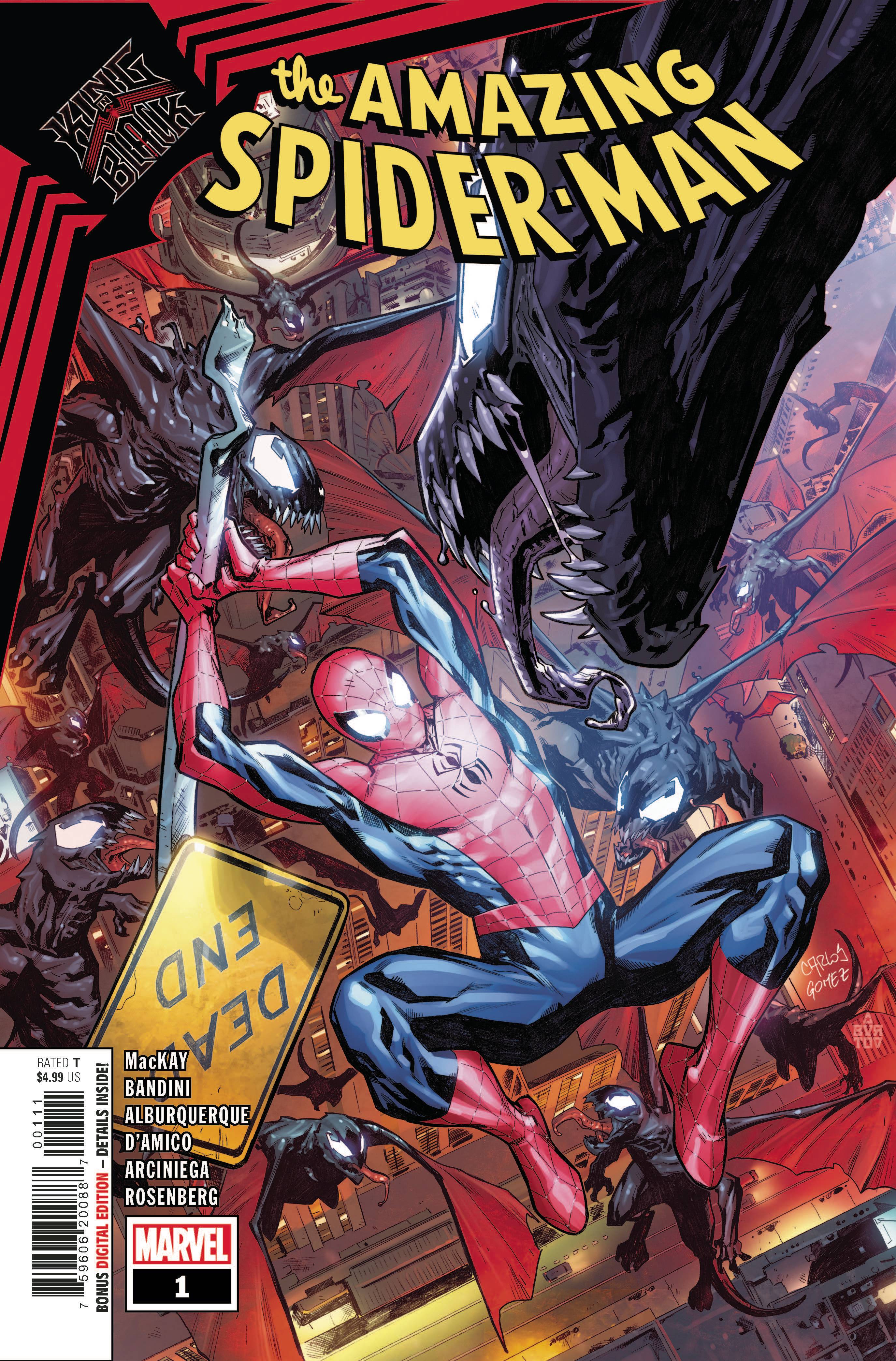 SUPERMAN RED & BLUE #1 (OF 6) CVR A GARY FRANK 5.99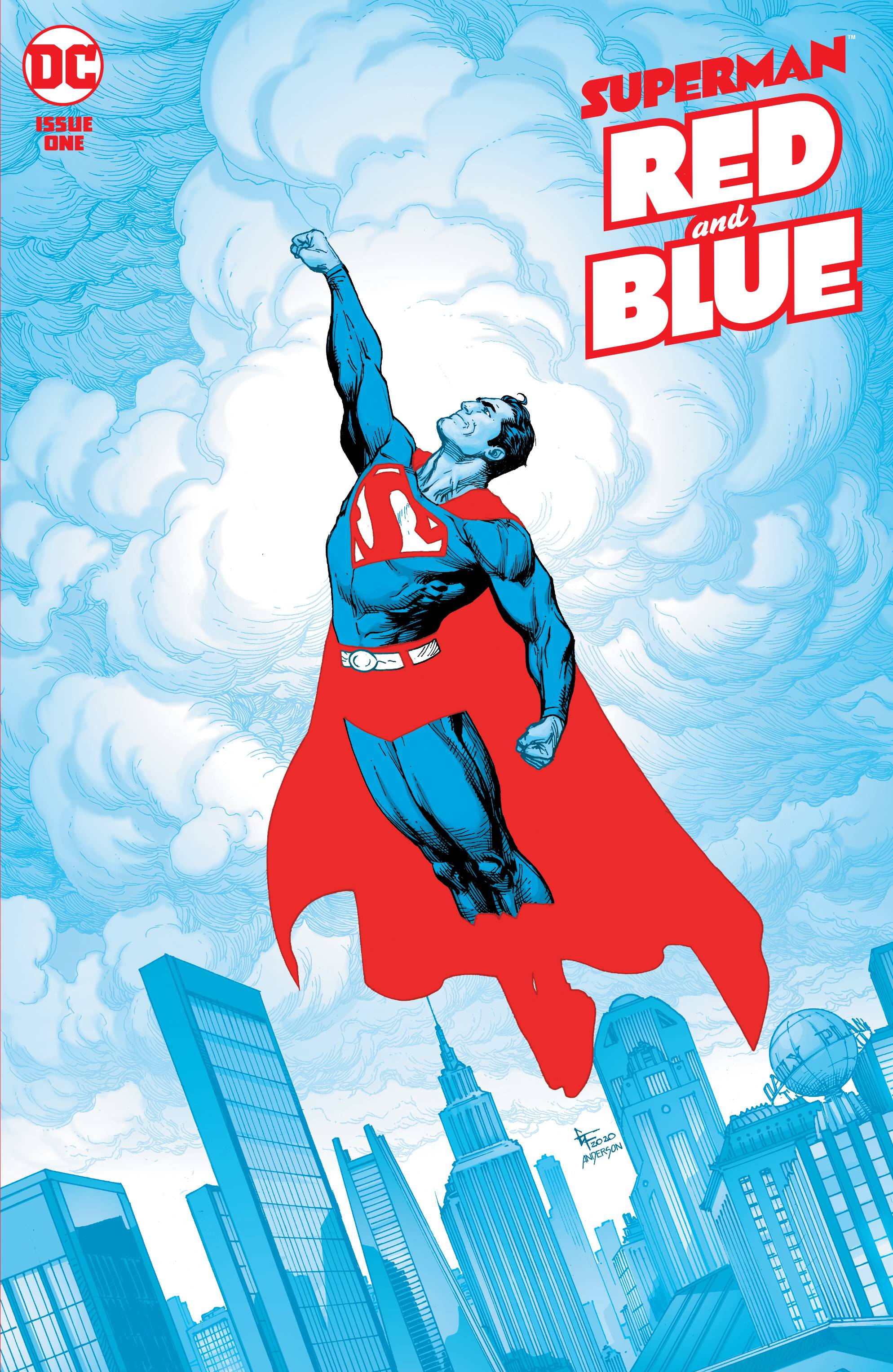 RADIANT BLACK #2 CVR A COSTA 3.99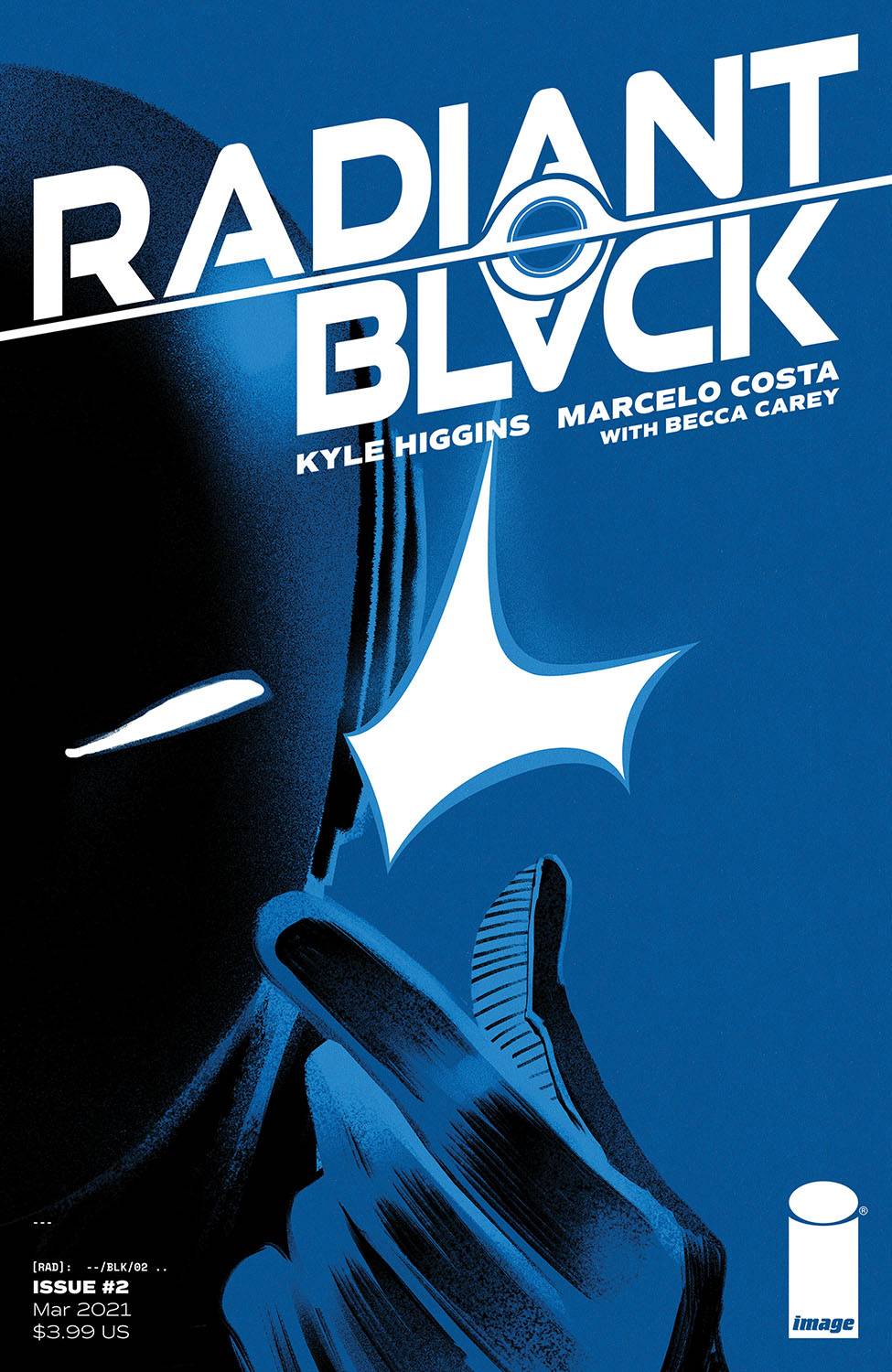 BLACK KNIGHT CURSE EBONY BLADE #1 (OF 5) 3.99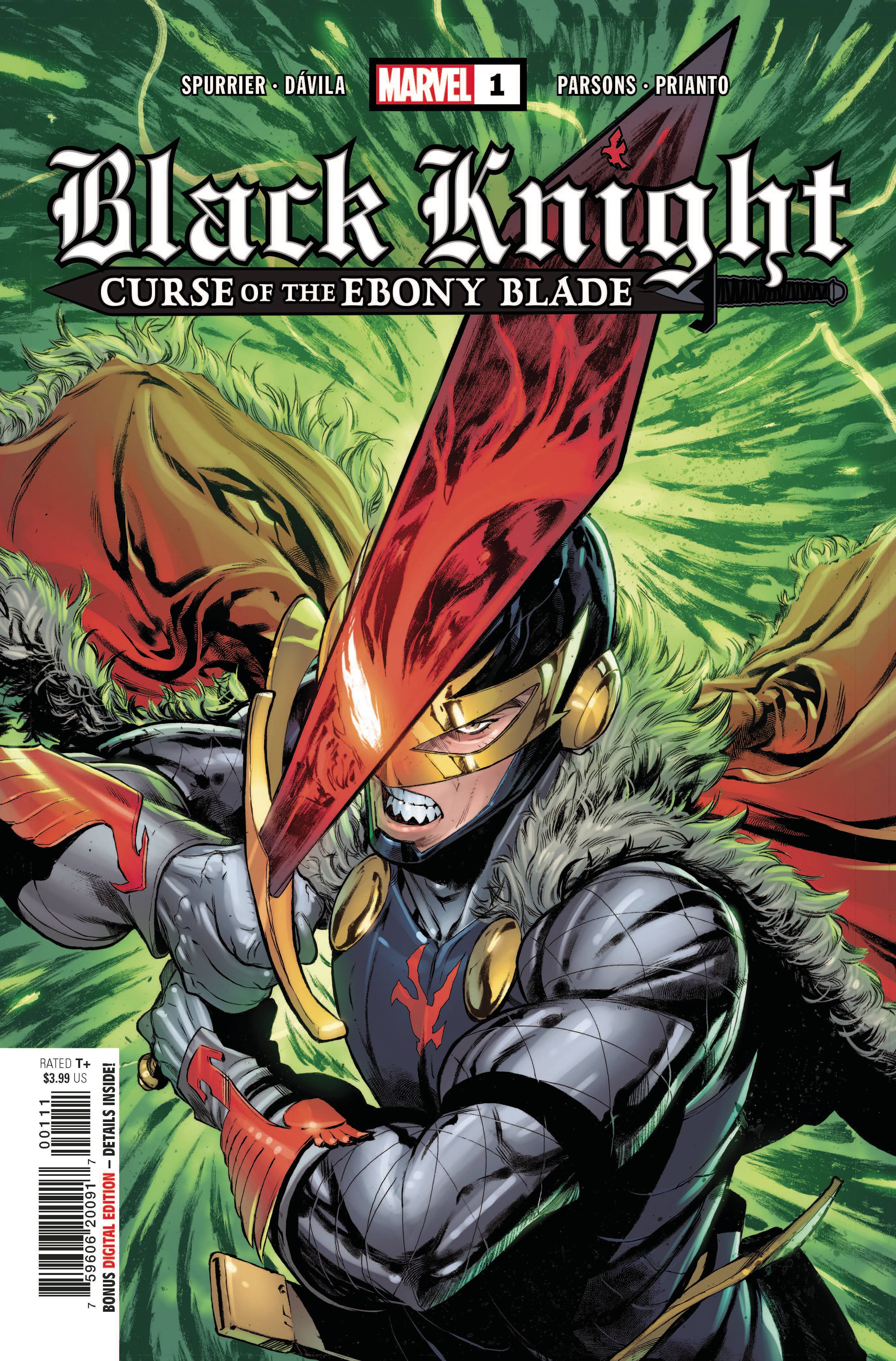 THIS WEEK IN TOYS/STATUES
MARVEL SELECT RAMPAGING HULK AF 29.99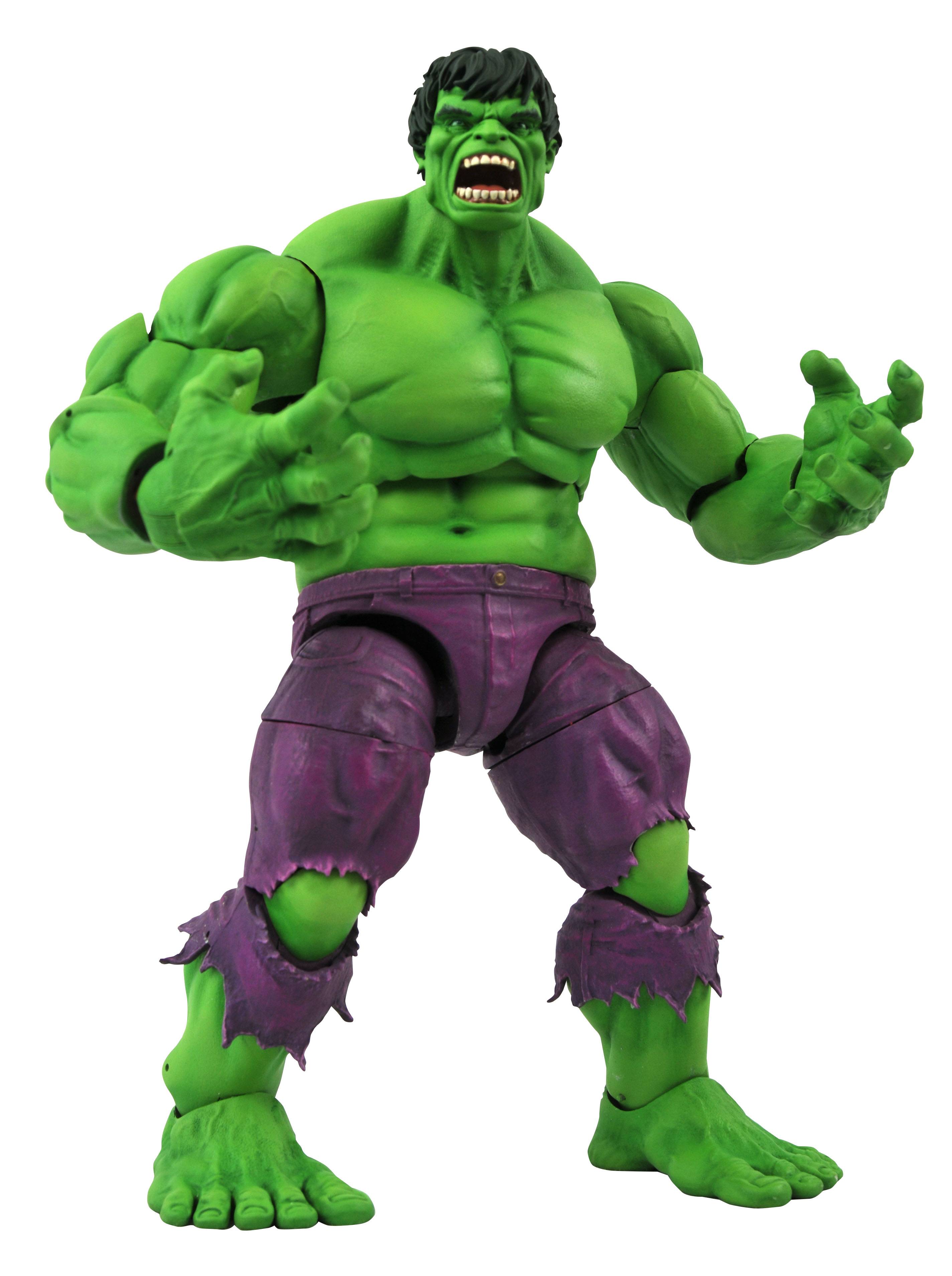 MARVEL GALLERY AVENGERS4 TEAM SUIT CAPTAIN AMERICA STATUE (C 49.99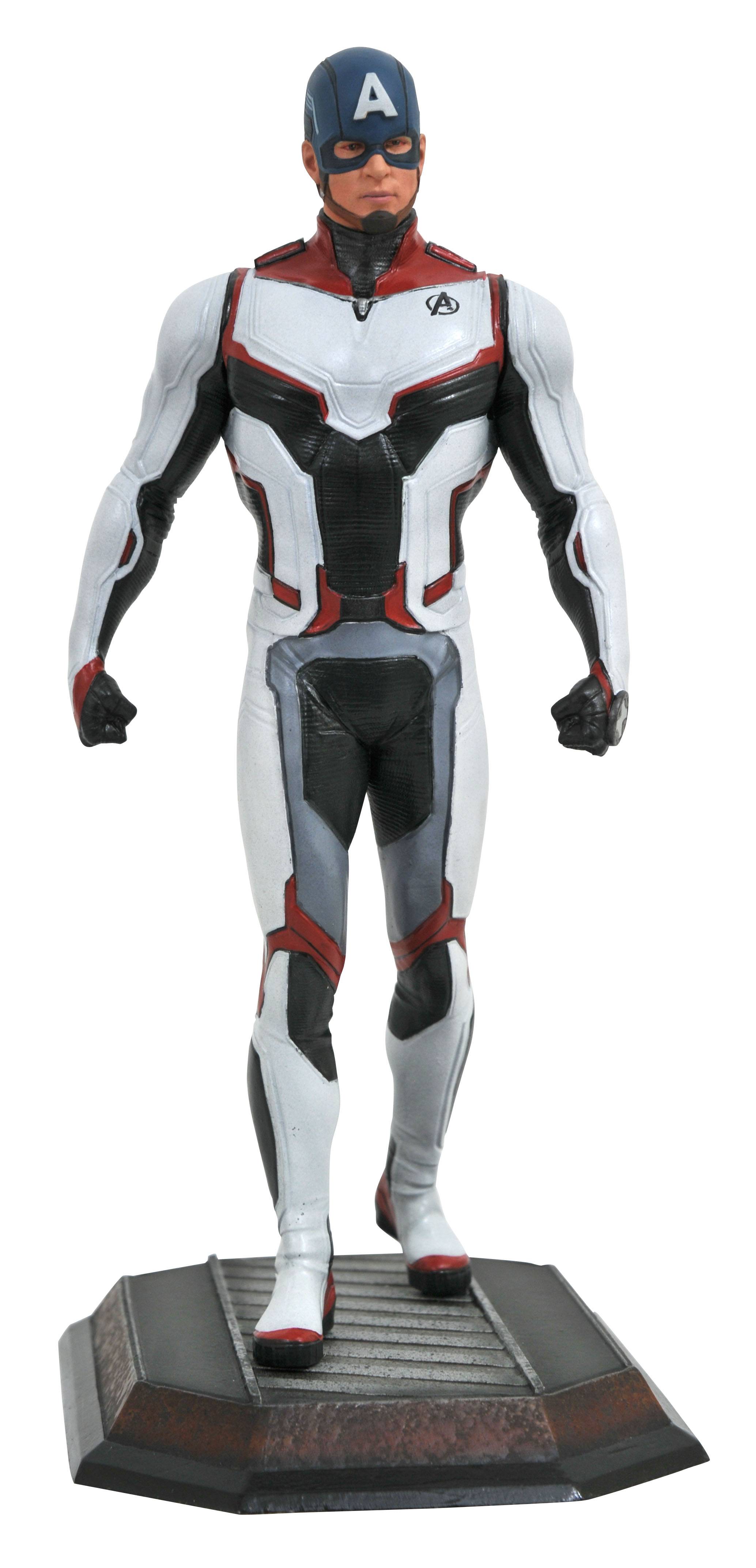 MY HERO ACADEMIA WORLD COLOSSEUM SPECIAL ALL MIGHT FIG 29.99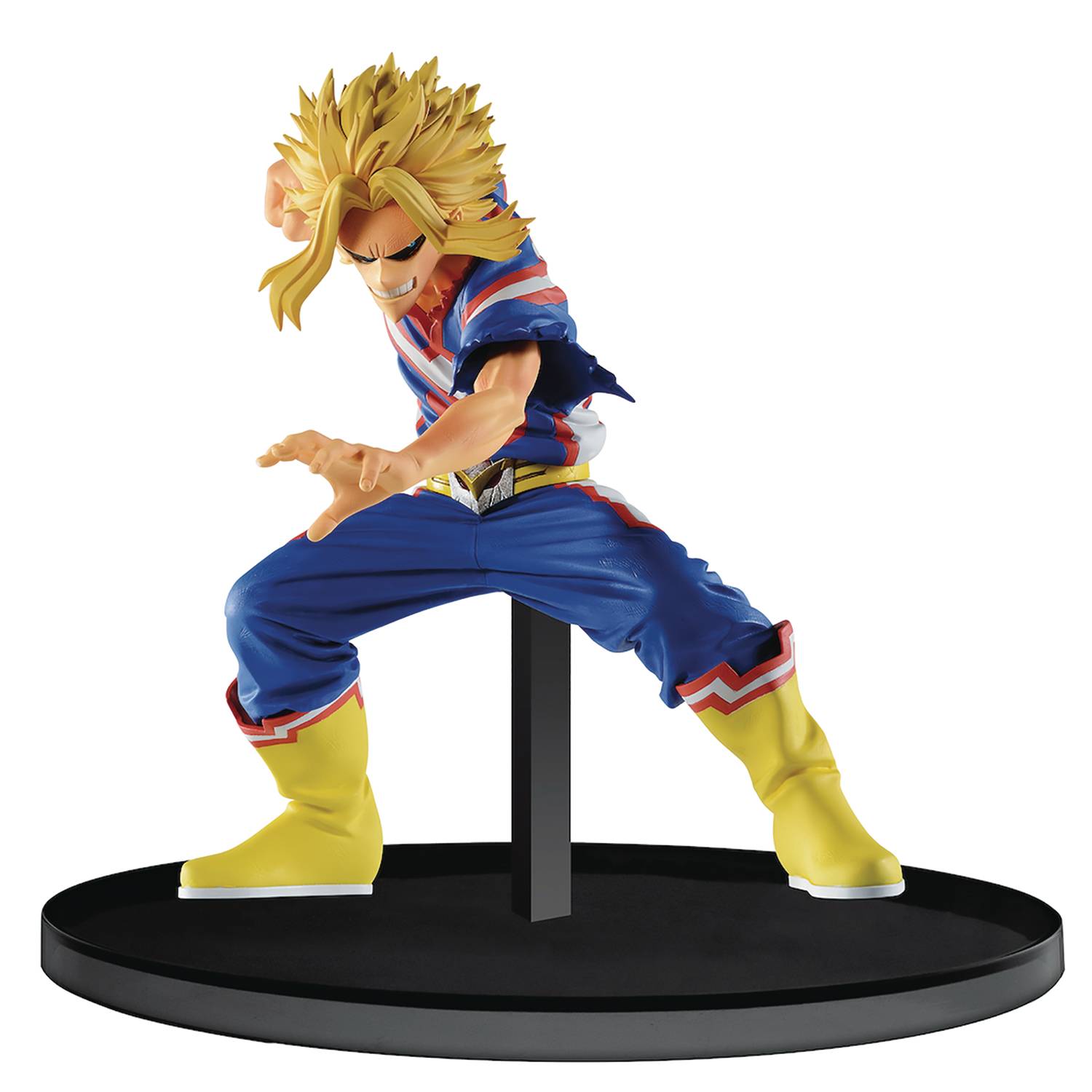 POP GAMES MILES MORALES GAME MILES MORALES CRIMSON COWL SUIT 11.99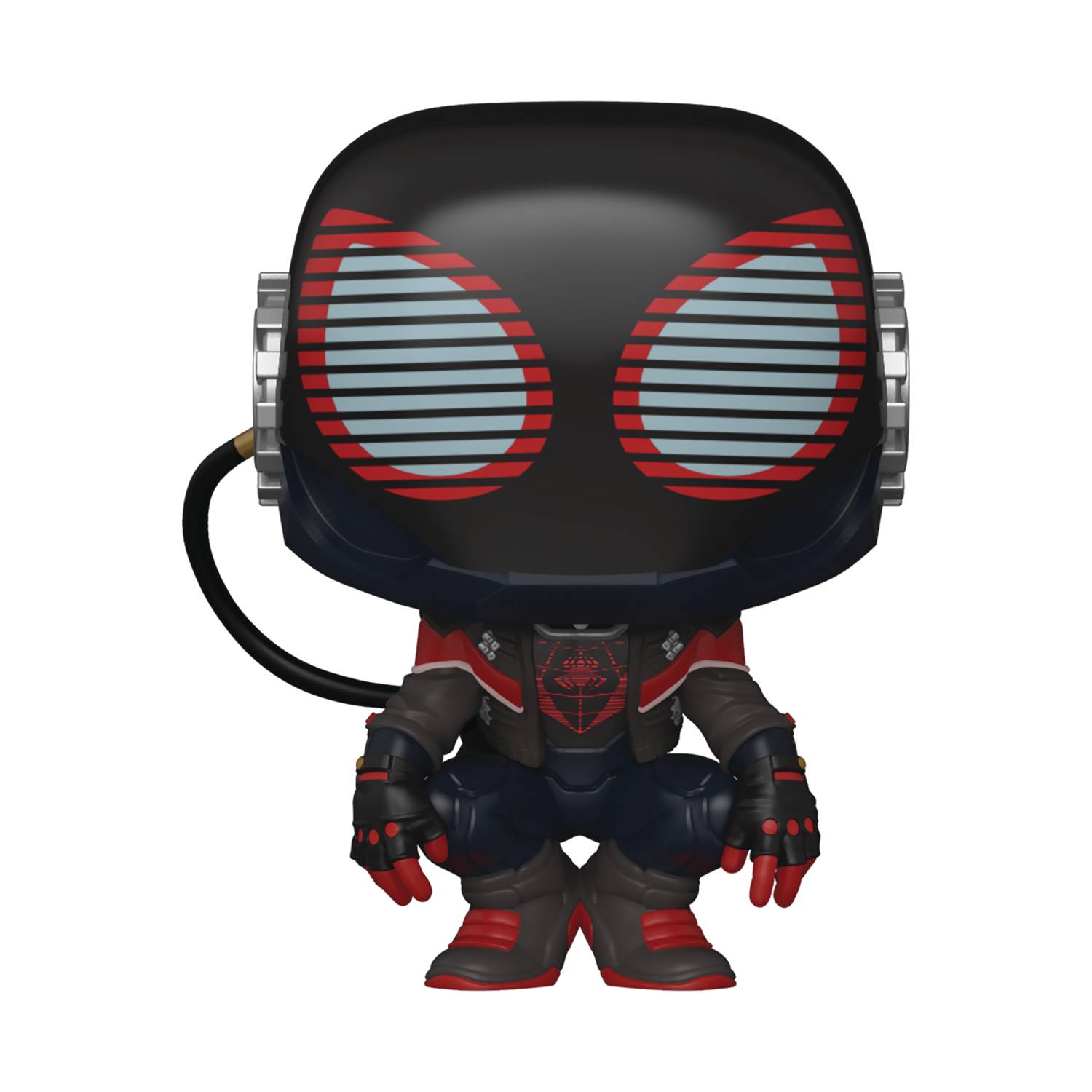 Trade-paperbacks of the Week!
JUGGERNAUT NO STOPPING NOW TP 15.99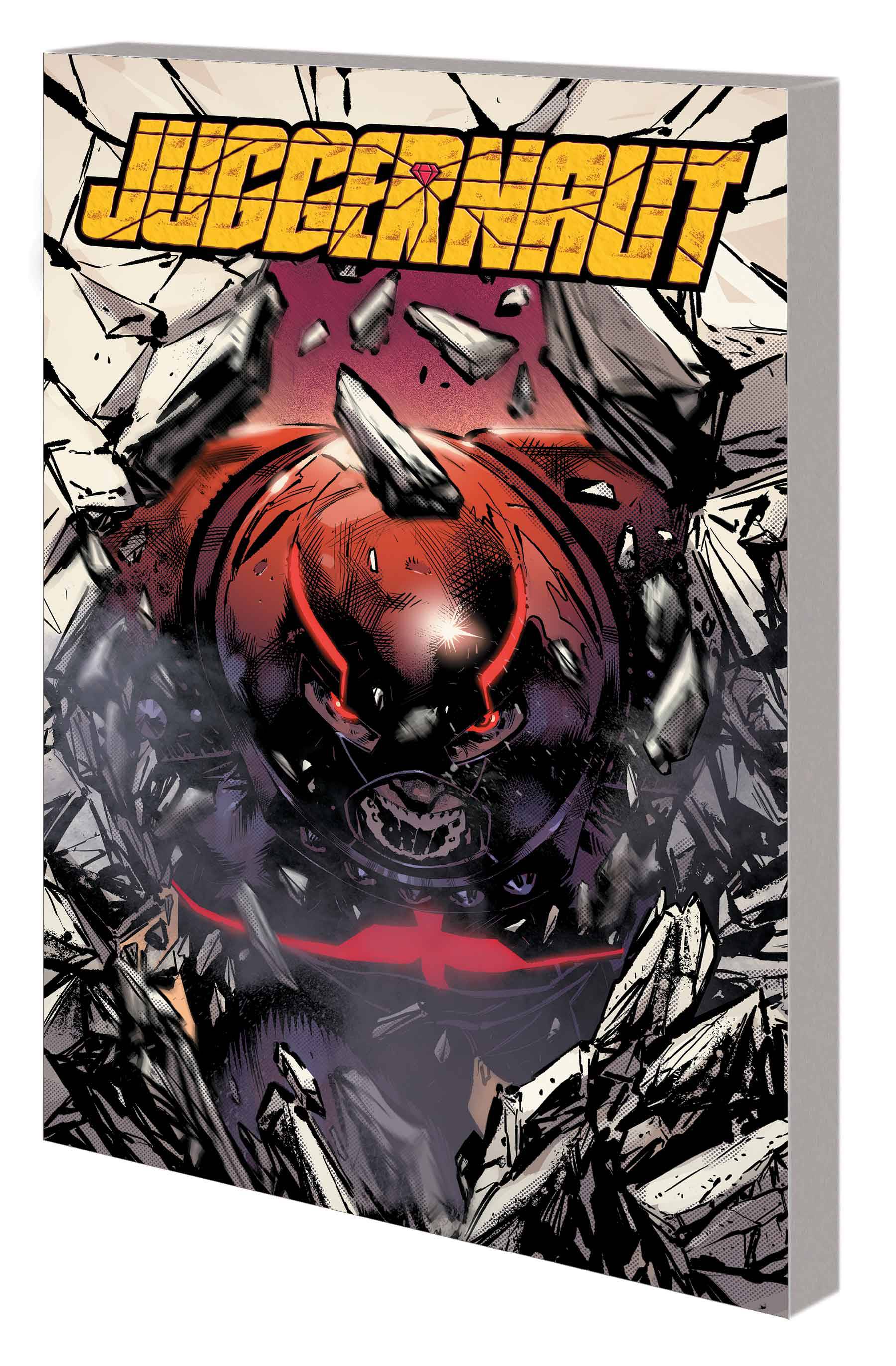 BATGIRL RETURNS OMNIBUS HC 99.99
CYBERPUNK 2077 TRAUMA TEAM TP 19.99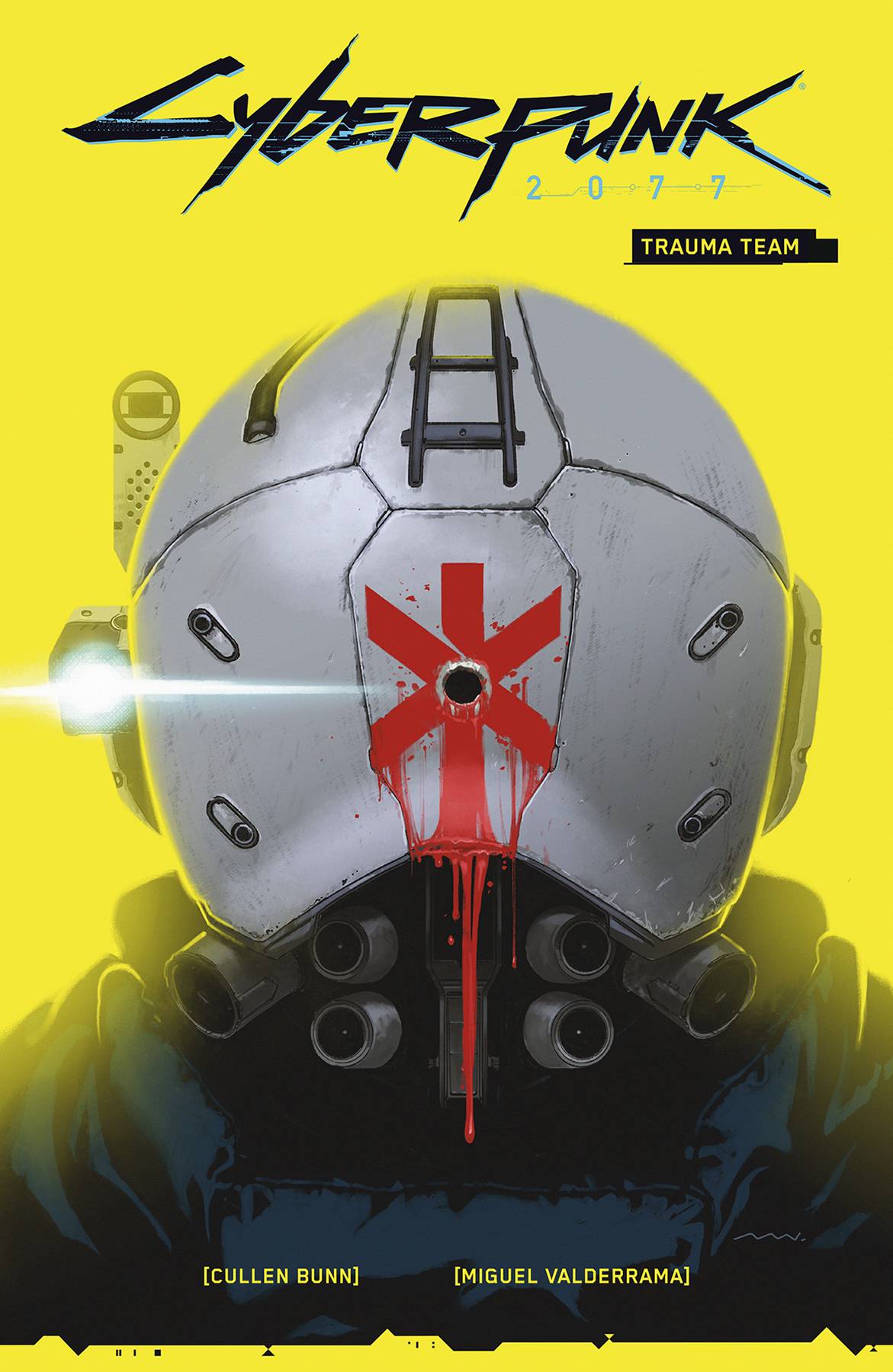 AVENGERS BY JASON AARON HC VOL 01 34.99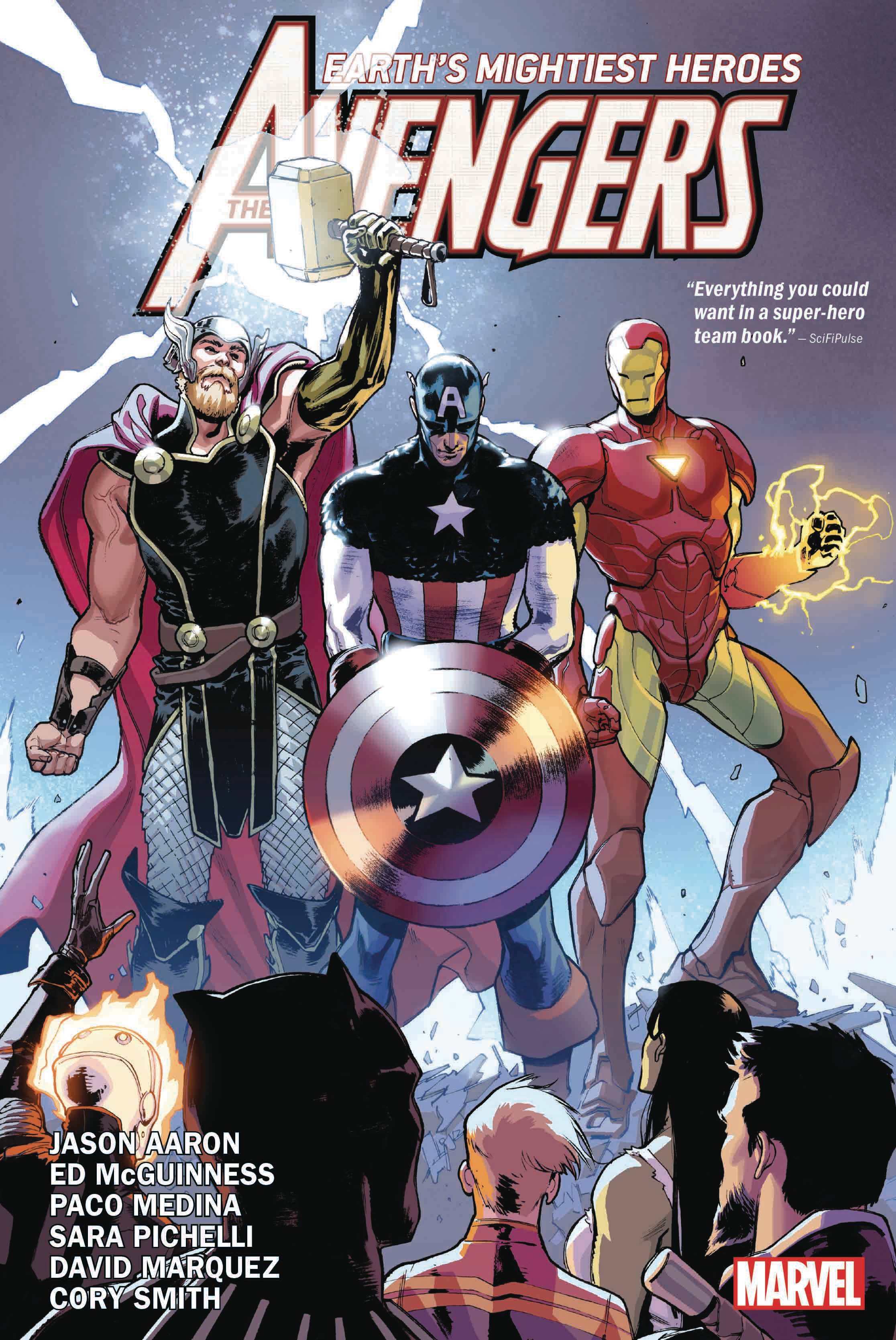 MASTER LIST OF PRODUCTS ARRIVING THIS WEEK!
AMERICAN RONIN TP 9.99
AQUARIUS DC COMICS 500PC 3 IN 1 PUZZLE 24.99
AQUARIUS DC COMICS RETRO CAST 1000PC PUZZLE 16.99
AQUARIUS HARRY POTTER 500PC 3 IN 1 PUZZLE 24.99
AQUARIUS HARRY POTTER MOVIE POSTERS 1000PC PUZZLE 16.99
AQUARIUS HARRY POTTER TRAVEL POSTERS 1000PC PUZZLE 16.99
AQUARIUS LORD OF THE RINGS SAGA 3000PC PUZZLE 29.99
AQUARIUS MARVEL 500PC 3 IN 1 PUZZLE 24.99
AQUARIUS MARVEL BLACK WIDOW MOVIE 500PC PUZZLE 13.99
AQUARIUS MARVEL PANELS 500PC PUZZLE 13.99
AQUARIUS PARKS AND RECREATION COLLAGE 500 PC PUZZLE 13.99
ARTEMIS FOWL GN VOL 02 ARCTIC INCIDENT 12.99
AVENGERS BY JASON AARON HC VOL 01 34.99
BATGIRL RETURNS OMNIBUS HC 99.99
BATMAN BEYOND VOL 08 THE ERADICATION AGENDA TP 16.99
BATMAN VS RAS AL GHUL #5 (OF 6) 3.99
BEASTARS GN VOL 11 (MR) 12.99
BEQUEST #1 FREDDIE WILLIAMS II 4.99
BILL & TED ARE DOOMED TP (C: 0-1-2) 19.99
BLACK KNIGHT CURSE EBONY BLADE #1 (OF 5) 3.99
BLACK KNIGHT CURSE EBONY BLADE #1 (OF 5) BLACK BLANK VAR 3.99
BLACK KNIGHT CURSE EBONY BLADE #1 (OF 5) CABAL STORMBREAKERS 3.99
BLACK KNIGHT CURSE EBONY BLADE #1 (OF 5) MOMOKO VAR 3.99
BLACK KNIGHT CURSE EBONY BLADE #1 (OF 5) NAUCK HEADSHOT VAR 3.99
BLACK KNIGHT CURSE EBONY BLADE #1 (OF 5) RON LIM VAR 3.99
BLOODSHOT RISING SPIRIT TP 24.99
BPRD DEVIL YOU KNOW OMNIBUS HC 39.99
BST AXN AC/DC ANGUS YOUNG 5IN AF 17.99
BST AXN BIG TROUBLE IN LITTLE CHINA LIGHTNING 5IN AF 17.99
BST AXN COWBOY BEBOP VICIOUS 5IN AF 17.99
BST AXN KISS THE DEMON 5IN AF 17.99
BST AXN LORD OF THE RINGS GANDALF THE GREY 5IN AF 17.99
BST AXN NAPOLEON DYNAMITE NAPOLEON 5IN AF 17.99
BST AXN SLASH 5IN AF 17.99
CAPTAIN AMERICA ANNIVERSARY TRIBUTE #1 6.99
CAPTAIN AMERICA ANNIVERSARY TRIBUTE #1 BROOKS VAR 6.99
CAPTAIN MARVEL #27 3.99
CAPTAIN MARVEL #27 CHANG 3.99
CATWOMAN #29 CVR A JOELLE JONES 3.99
CATWOMAN #29 CVR B JENNY FRISON CARD STOCK VAR 4.99
CHAMPIONS #5 3.99
CHAMPIONS #5 PICHELLI 3.99
CHILDREN OF THE GRAVE #3 3.99
COUNT TP 19.99
CRITICAL ROLE CHRONICLES OF EXANDRIA MIGHT NEIN DLX ED HC 124.99
CURTISS HILL TP 19.99
CYBERPUNK 2077 TRAUMA TEAM TP 19.99
CYCLE OF RED MOON TP VOL 02 14.99
DANGANRONPA ANOTHER EPISODE TP VOL 03 ULTRA DESPAIR GIRLS 12.99
DAREDEVIL BY CHIP ZDARSKY HC VOL 01 TO HEAVEN THROUGH HELL 34.99
DAWN OF X TP VOL 14 17.99
DEAD DAY TP VOL 01 16.99
DOSE #2 CVR A GEBBIA 4.99
DOSE #2 CVR B GEBBIA 4.99
E RATIC #4 3.99
EVERYTHING TP VOL 02 19.99
EXPANSE #4 (OF 4) CVR A FORBES 4.99
EXPANSE #4 (OF 4) CVR B WALKER 4.99
FALL TP VOL 01 16.99
FATE GRAND ORDER SSS SABER LAKSHMI BAI PVC FIG 29.99
GI JOE CASTLE FALL CVR A EVENHUIS 7.99
GOON TP VOL 03 FISHY MEN WITCHY WOMEN & BITTER BEER 17.99
HAPPY HOUR #5 3.99
HARRY POTTER GRYFFINDOR 500PC PUZZLE 16.99
HATSUNE MIKU GT PROJECT RACING MIKU 2020 CHATTING BANK VER 5 64.99
HAWKEYE GO WEST GN TP 12.99
HEAD LOPPER #15 CVR A MACLEAN & BELLAIRE 5.99
HEAD LOPPER #15 CVR B BROWN 5.99
HORROR COMICS BLACK AND WHITE #1 (OF 3) 3.99
I WALK WITH MONSTERS #4 CVR A CANTIRINO 3.99
I WALK WITH MONSTERS #4 CVR B HICKMAN 3.99
INVADER ZIM QUARTERLY ZIMS GREATEST PLAN #1 5.99
INVINCIBLE #1 AMAZON PRIME VIDEO EDITION 3.99
IRON FIST HEART OF DRAGON #3 (OF 6) 3.99
IRON FIST HEART OF DRAGON #3 (OF 6) VEREGGE 3.99
IRON MAN #7 3.99
IRON MAN #7 BARTEL 3.99
IRON MAN #7 MICHAEL CHO 3.99
IRON MAN TP VOL 01 BIG IRON 15.99
JAMES BOND AGENT OF SPECTRE #1 3.99
JIM HENSONS STORYTELLER TRICKSTERS #1 CVR A MOMOKO 4.99
JIM HENSONS STORYTELLER TRICKSTERS #1 CVR B PENDERGAST 4.99
JIM HENSONS STORYTELLER TRICKSTERS #1 CVR C BLANK 4.99
JUDGE DREDD END OF DAYS TP 19.99
JUGGERNAUT NO STOPPING NOW TP 15.99
JUSTICE LEAGUE #59 CVR A DAVID MARQUEZ 4.99
JUSTICE LEAGUE #59 CVR B DAVID MARQUEZ WRAPAROUND VAR 4.99
JUSTICE LEAGUE #59 CVR C JIM LEE SNYDER CUT VARIANT 5.99
JUSTICE LEAGUE #59 CVR D LEE BERMEJO SNYDER CUT VARIANT 5.99
JUSTICE LEAGUE #59 CVR E LIAM SHARP SNYDER CUT VARIANT 5.99
KICK-ASS VS HIT-GIRL #5 (OF 5) CVR A ROMITA JR 3.99
KICK-ASS VS HIT-GIRL #5 (OF 5) CVR B B&W ROMITA JR 3.99
KING IN BLACK SPIDER-MAN #1 4.99
KING IN BLACK SPIDER-MAN #1 LIEFELD 4.99
KING IN BLACK SPIDER-MAN #1 VINCENTINI 4.99
LAND THAT TIME FORGOT FEARLESS #2 3.99
LETS TALK ABOUT IT SC GN 17.99
LIVE OAK WITH MOSS 18.99
LOONEY TUNES #259 2.99
MARIA LLOVETS EROS PSYCHE #1 CVR A MIRKA ANDOLFO 3.99
MARIA LLOVETS EROS PSYCHE #1 CVR B MARIA LLOVET 3.99
MARIA LLOVETS EROS PSYCHE #1 CVR D SABINE RICH 3.99
MARTIAN GHOST CENTAUR SC 19.99
MARVEL #6 (OF 6) 4.99
MARVEL GALLERY AVENGERS4 TEAM SUIT CAPTAIN AMERICA STATUE (C 49.99
MARVEL SELECT RAMPAGING HULK AF 29.99
MEGA MAN 1000PC PUZZLE 20
MONSTER ART OF BASIL GOGOS SC LTD DRACULA VAR CVR 75
MY HERO ACADEMIA WORLD COLOSSEUM SPECIAL ALL MIGHT FIG 29.99
MY LITTLE PONY FRIENDSHIP IS MAGIC #95 CVR A KUUSISTO 3.99
NIGHTWING #78 CVR A BRUNO REDONDO 3.99
NIGHTWING #78 CVR B SKAN VAR 3.99
NO GUNS LIFE GN VOL 09 12.99
NORSE MYTHOLOGY HC VOL 01 29.99
OFFICIAL HANDBOOK MARVEL UNIVERSE DLX ED OMNIBUS HC BYRNE CV 150
ORCS #2 (OF 6) CVR A LARSEN 4.99
ORCS #2 (OF 6) CVR B BOO 4.99
ORIGINS #5 (OF 6) 3.99
ORPHAN & FIVE BEASTS #1 (OF 4) 3.99
OTAKU ELF GN VOL 01 12.99
POP DC HEROES DEATH METAL BATMAN W/GUITAR PX 13.99
POP GAMES MILES MORALES GAME MILES MORALES CRIMSON COWL SUIT 11.99
POP GAMES MILES MORALES GAME MILES MORALES PROGRAMMABLE SUIT 11.99
POP GAMES MILES MORALES GAME MILES MORALES STRIKE SUIT FIG 11.99
POP HEROES WW 80TH CLASSIC WW GOLDEN AGE VIN FIG 11.99
POP HEROES WW 80TH WW ULTRA MOD SECRET AGENT VINYL FIG 11.99
POP MOVIES 40 YO VIRGIN ANDY HOLDING OSCAR W/ CHASE VIN FIG 11.99
POP MOVIES 40 YO VIRGIN ANDY WAXED VINYL FIGURE 11.99
POP TOWN MHA HIGH SCHOOL W/ DEKU IN UNIFORM VIN FIG 29.99
POWER RANGERS DRAKKON NEW DAWN TP 19.99
RADIANT BLACK #2 CVR A COSTA 3.99
RADIANT BLACK #2 CVR B GRECO 3.99
RAGNAROK HC VOL 03 BREAKING OF HELHEIM 24.99
RE ZERO SSS FAIRY TALE REM NEMURIHIME NON SCALE PVC FIG 29.99
RED ATLANTIS #5 3.99
RESIDENT ALIEN YOUR RIDES HERE #4 3.99
REVOLVER TP 19.99
RWBY OFFICIAL MANGA GN VOL 02 BEACON ARC 12.99
SABRINA SOMETHING WICKED TP 14.99
SANDMAN THE DELUXE EDITION BOOK 02 HC 29.99
SAVAGE (2020) #2 CVR A TO 3.99
SCIENCE COMICS DIGESTIVE SYSTEM GN 12.99
SOUTHLAND TALES THE PRELUDE SAGA TP VOL 00 29.95
SPIDER-WOMAN #10 3.99
SPIDER-WOMAN #10 BARTEL 3.99
SPIDER-WOMAN #10 MICHAEL CHO 3.99
SPIDER-WOMAN #10 RON LIM VAR 3.99
SPY X FAMILY GN VOL 04 9.99
STAR TREK YEAR FIVE #19 3.99
STAR WARS ADVENTURES (2020) #4 CVR A 3.99
STAR WARS ADVENTURES (2020) #4 CVR B 3.99
STAR WARS BOUNTY HUNTERS #10 3.99
STAR WARS BOUNTY HUNTERS #10 SPROUSE 3.99
STEAMBOUND #2 3.99
STILLWATER BY ZDARSKY & PEREZ TP VOL 01 16.99
SUPERMAN RED & BLUE #1 (OF 6) CVR A GARY FRANK 5.99
SUPERMAN RED & BLUE #1 (OF 6) CVR B LEE BERMEJO VAR 5.99
SUPERMAN RED & BLUE #1 (OF 6) CVR C YOSHITAKA AMANO VAR 5.99
SUPERMAN VS SHAZAM TP 24.99
SWORD #4 KIB 3.99
TALES FROM UMBRELLA ACADEMY TP VOL 01 YOU LOOK LIKE DEATH 19.99
TARTARUS #10 3.99
THAT TIME I REINCARNATED SLIME TRINITY GN VOL 03 12.99
THOR #13 3.99
THOR #13 KLEIN VAR 3.99
THOR #13 MICHAEL CHO THOR TWO TONE VAR 3.99
TMNT ONGOING #115 CVR A SOPHIE CAMPBELL 3.99
TMNT ONGOING #115 CVR B EASTMAN 3.99
TMNT THE LAST RONIN DIRECTORS CUT #1 10.99
TONY STARK IRON MAN BY DAN SLOTT OMNIBUS HC DM VAR 100
TRANSFORMERS BACK TO FUTURE #3 (OF 4) CVR A JUAN SAMU 3.99
TRANSFORMERS BACK TO FUTURE #3 (OF 4) CVR B PHIL MURPHY 3.99
TRIALS OF ULTRAMAN #1 (OF 5) 4.99
TRIALS OF ULTRAMAN #1 (OF 5) ASAMIYA VAR 4.99
TRIALS OF ULTRAMAN #1 (OF 5) FRANK VAR 4.99
TRIALS OF ULTRAMAN #1 (OF 5) MANNA VAR 4.99
TRIALS OF ULTRAMAN #1 (OF 5) MOMOKO VAR 4.99
TRUTH & JUSTICE #2 CVR A KHARY RANDOLPH 4.99
TRUTH & JUSTICE #2 CVR B RYAN BENJAMIN & RICHARD FRIEND VAR 4.99
ULTRAMAN TP VOL 01 RISE OF ULTRAMAN 17.99
ULTRAMEGA BY JAMES HARREN #1 CVR A HARREN & STEWART 7.99
ULTRAMEGA BY JAMES HARREN #1 CVR B MOORE 7.99
UMBRELLA ACADEMY BOARD GAME 25
VAMPIRELLA DARK POWERS #4 CVR A LEE 3.99
VAMPIRELLA DARK POWERS #4 CVR B LINSNER 3.99
VINYL SODA CHEETOS CHESTER W/ CHASE 12.99
VINYL SODA JACK TORRANCE W/ CHASE 12.99
VINYL SODA LUCHADORES HULK W/ METALLIC W/ CHASE 12.99
VINYL SODA LUCHADORES SPIDER-MAN W/ METALLIC W/ CHASE 12.99
VINYL SODA SUICIDE SQUAD HARLEY W/ CHASE 13.99
WALKING DEAD DLX #11 CVR A FINCH & MCCAIG 3.99
WALKING DEAD DLX #11 CVR B MOORE & MCCAIG 3.99
WALKING DEAD DLX #11 CVR C TEDESCO (MR) 3.99
WALT DISNEY UNCLE SCROOGE HC VOL 05 ISLANDS IN THE SKY 29.99
WITH DOG AND CAT EVERYDAY IS FUN GN VOL 03 12.95
X-FORCE #18 3.99
X-FORCE #18 LIEFELD DEADPOOL 30TH VAR 3.99
YOUNG LEONARDO HC 14.99