NEW COMICS THIS WEEK!
AMAZING SPIDER-MAN #73 SINW 3.99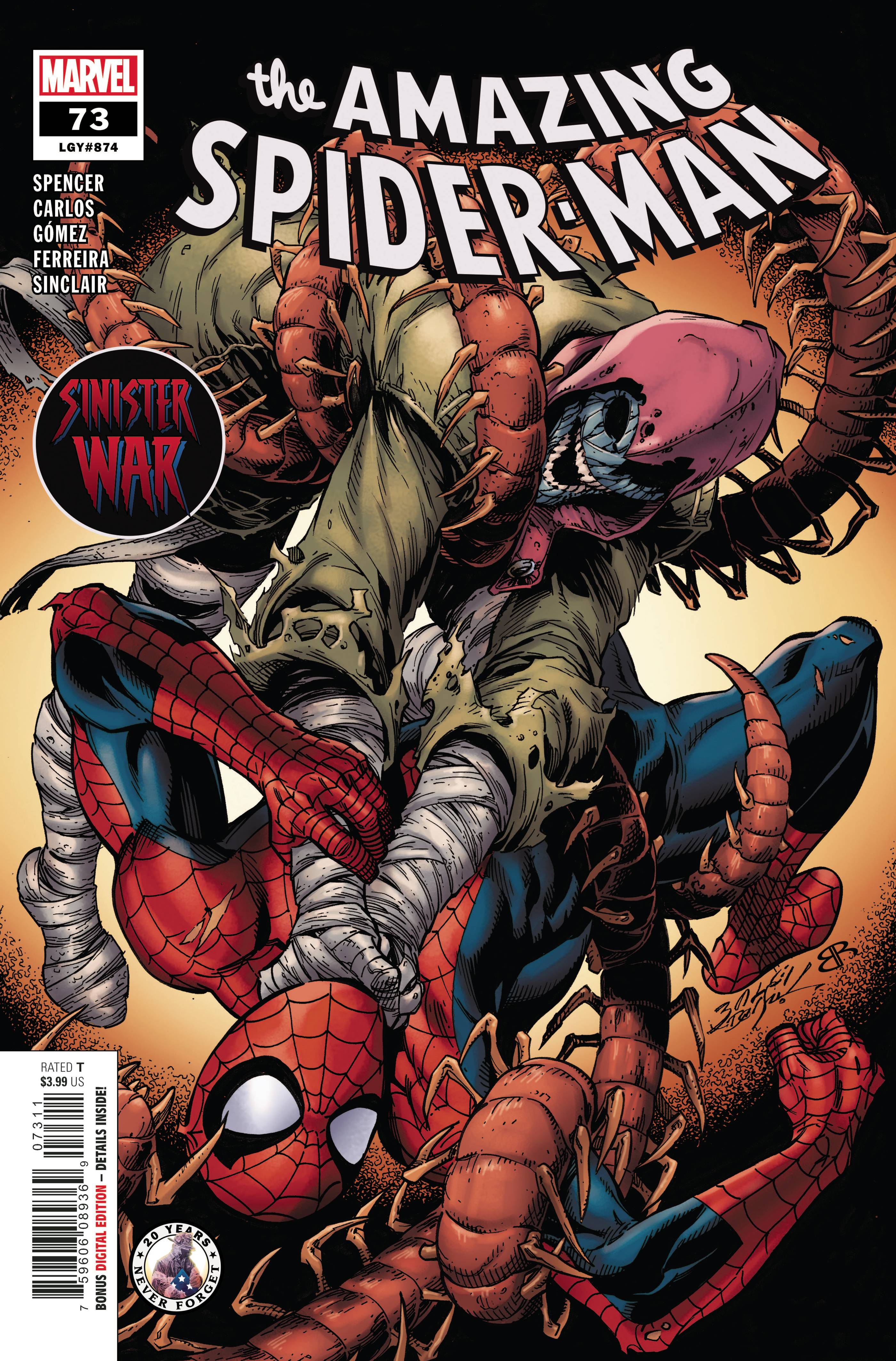 DEADBOX #1 CVR A TIESMA 3.99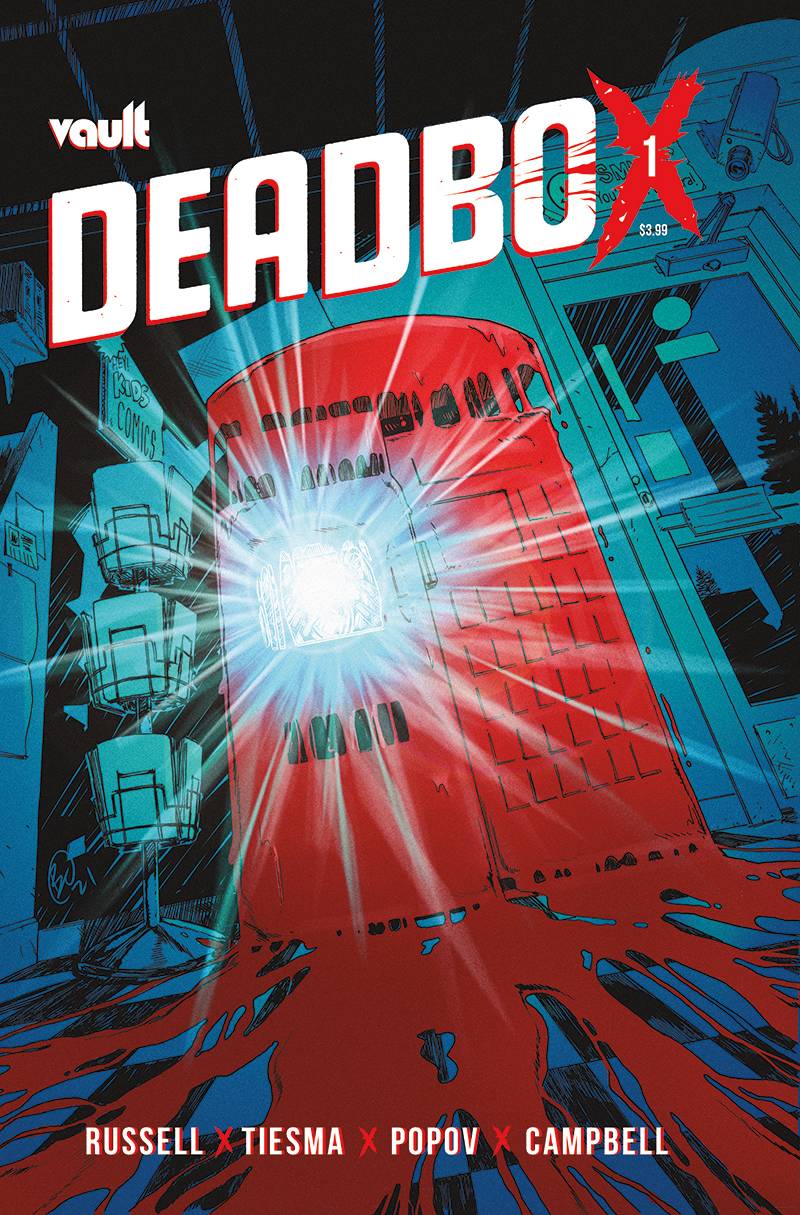 SUICIDE SQUAD 2021 ANNUAL #1 CVR A EDUARDO PANSICA 5.99
KA-ZAR LORD SAVAGE LAND #1 (OF 5) 3.99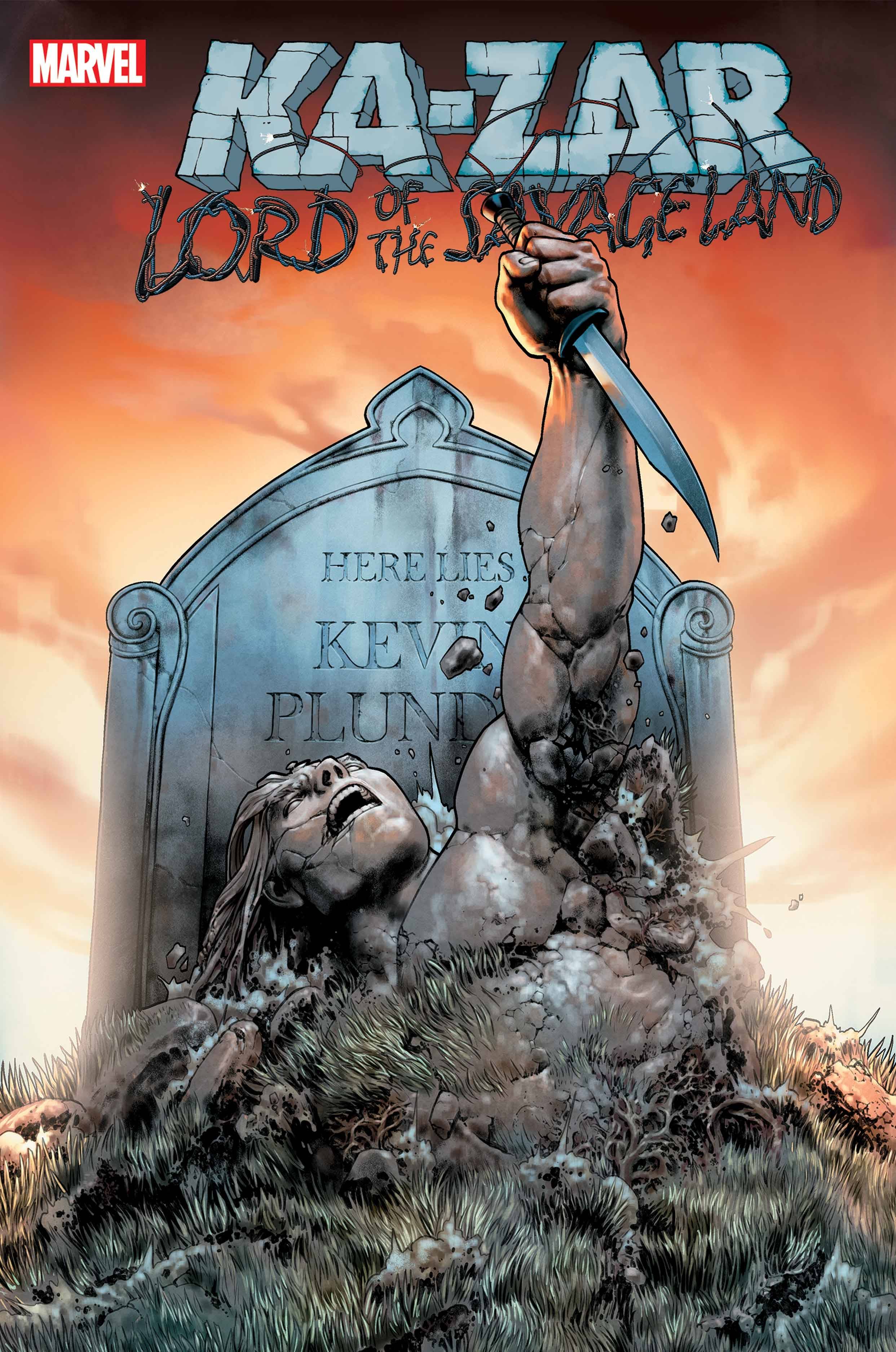 BATMAN #112 CVR A JORGE JIMENEZ 4.99
A story over a year in the making and set into motion with Infinite Frontier #0, Fear State begins! Batman played into the hands of the Scarecrow, who has unleashed a coordinated attack on Gotham City through his manipulation of Simon Saint and Peacekeeper-01! But there are other forces at work with the emergence of an Anti-Oracle spreading fake news across all channels and inciting terror and violence on the streets of Gotham! Backup: Clownhunter has turned down help from Batman, Leslie Thompkins, the Red Hood, and everyone else who has offered it to him, thinking that he can handle being a vigilante on the streets of Gotham City by himself. But when he takes a shot at fighting the Scarecrow one-on-one, he'll learn very quickly how much in this city he's not ready for yet. NEW HERO – PEACEKEEPER X!
EXTREME CARNAGE TOXIN #1 3.99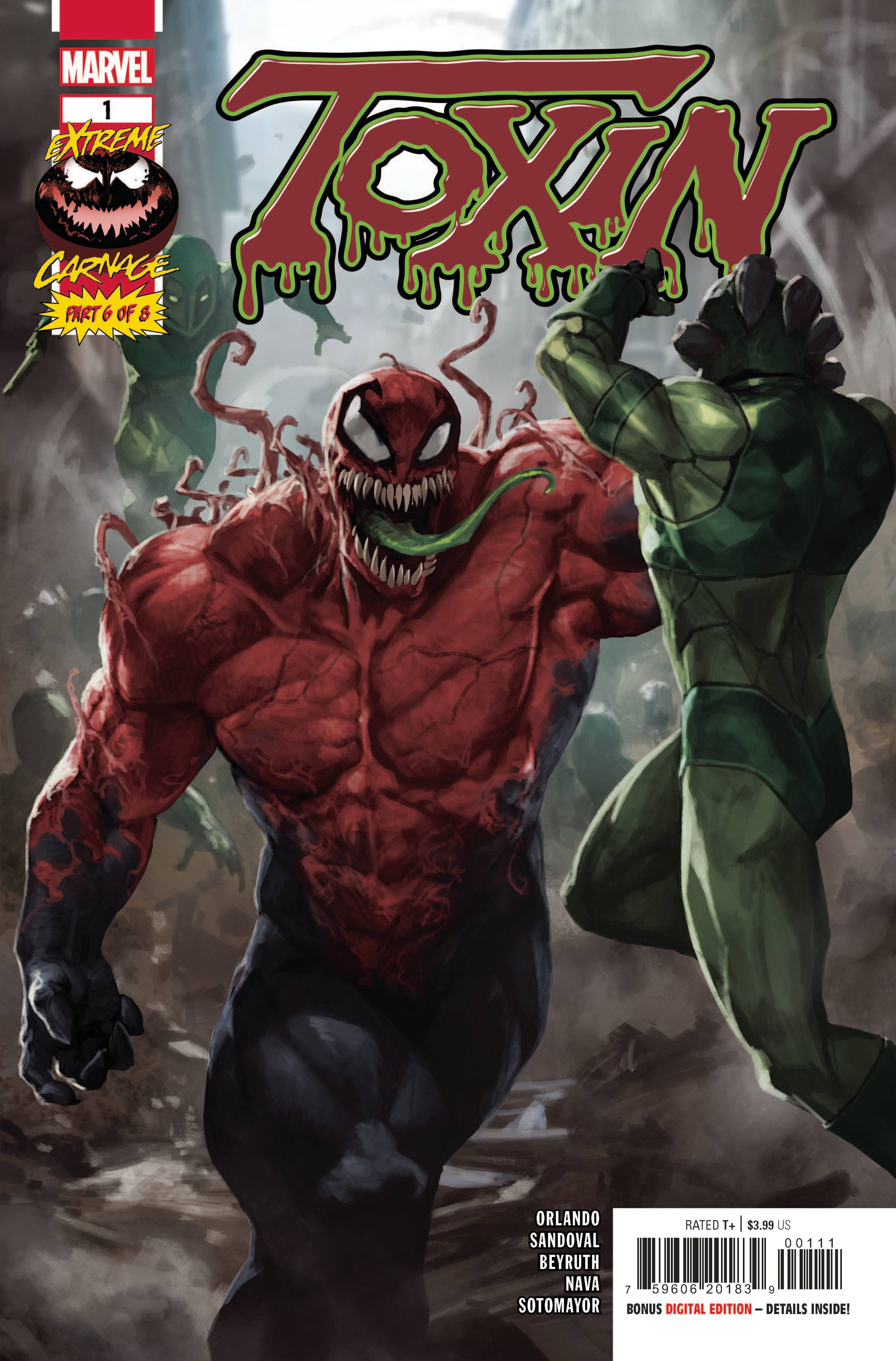 (W) Steve Orlando (A) Gerardo Sandoval (CA) Skan
TOXIN RETURNS! Bren Waters, the new host of TOXIN, enters the fray! Will he be enough to turn the tide?
THIS WEEK IN TOYS/STATUES
DC MULTIVERSE 7IN SCALE SHRIEK AF
GUNDAM INFINITY WING GUNDAM 4.5 IN AF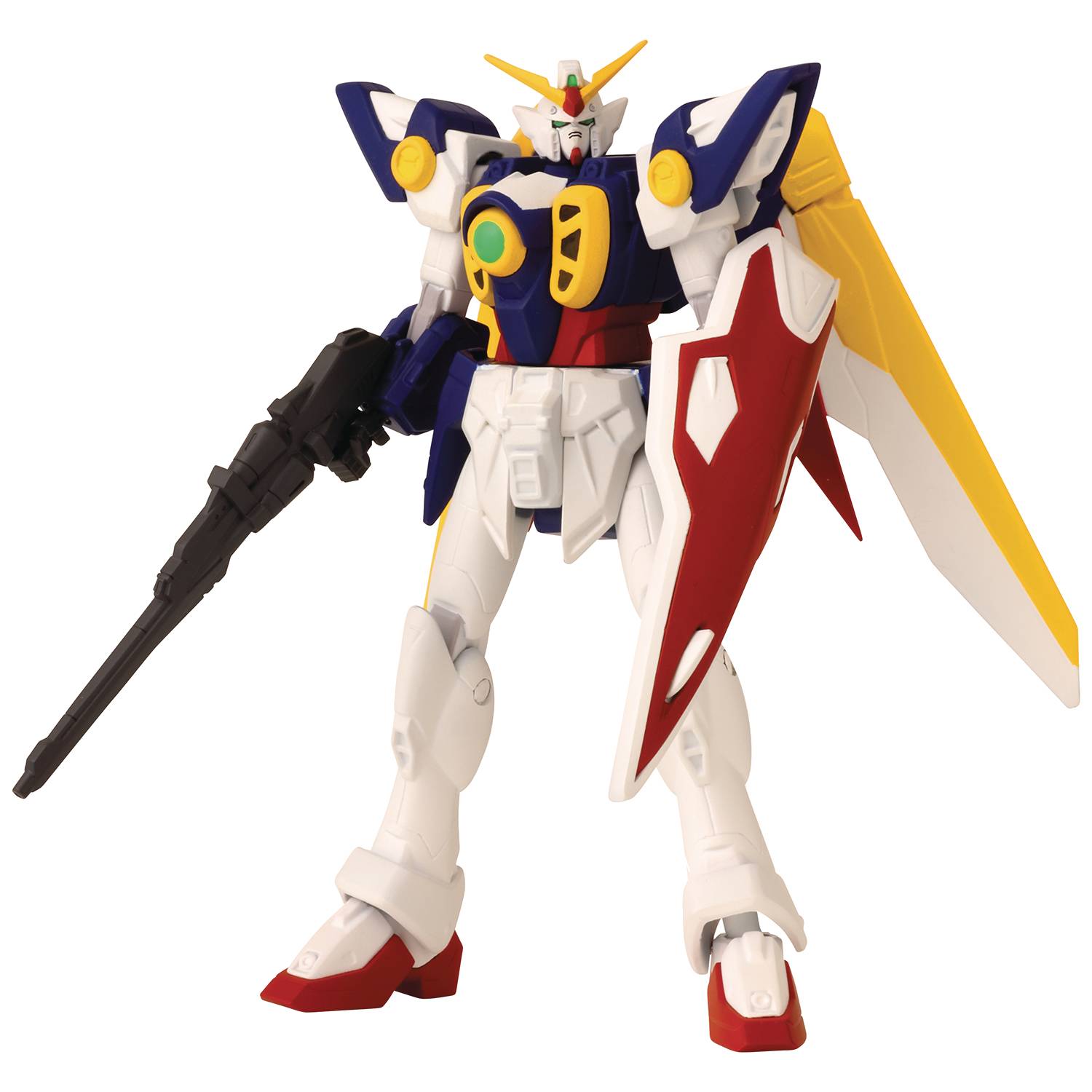 From Bandai America. The XXXG-01W Wing Gundam (aka Gundam Zero-One) is the titular mobile suit of the Mobile Suit Gundam Wing series. With detail and styling replicating the Mobile Suit from the series- this figure is sure to please any Gundam fan! Includes Buster Rifle, Beam Saber, Gundamium Alloy Shield, and Build a figure leg accessories for iconic MS-06F Zaku Mobile Suit!
TMNT ULTIMATES WAVE 3 MICHELANGELO ACTION FIGURE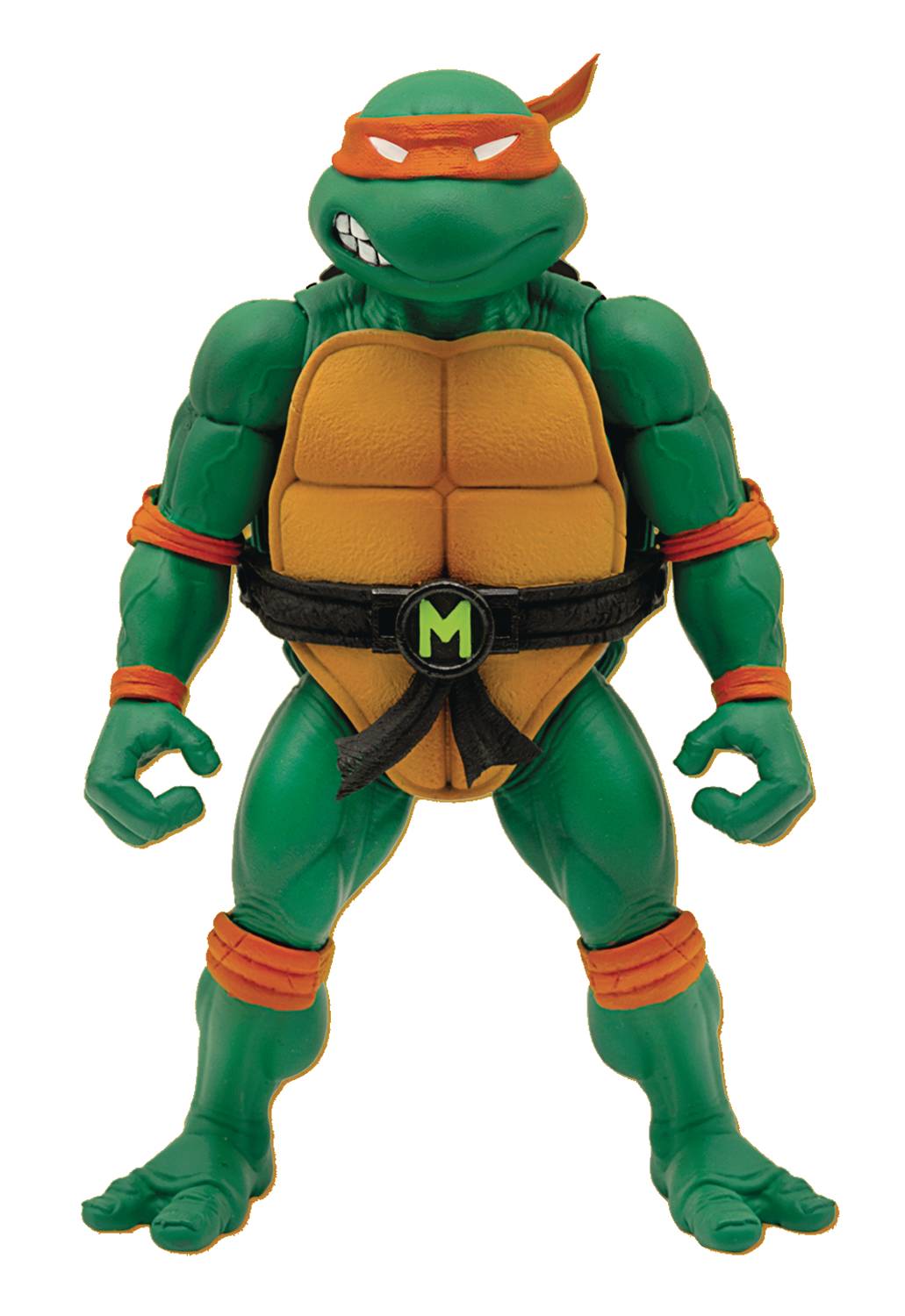 MY HERO ACADEMIA MODEROID IZUKU MIDORIYA PLASTIC MDL KIT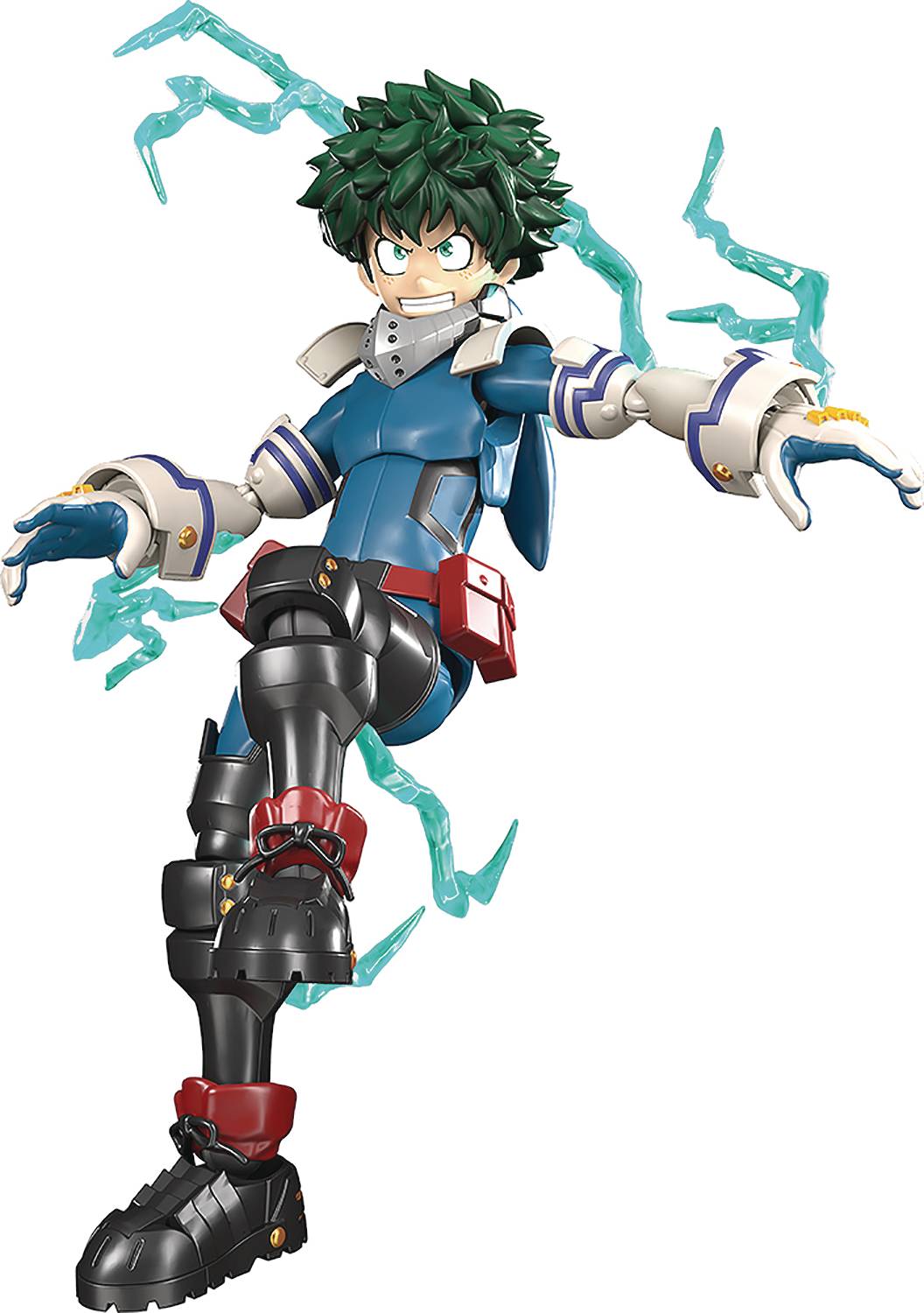 From Takara Tomy. From the anime series My Hero Academia comes plastic model kits of the heroes of the series! These plastic model kits of Izuku Midoriya! and Katsuki Bakugo make use of 7 different colored runners and some pre-painted parts, allowing you to recreate the characters with just a simple assembly. The model kits also features articulation, allowing you to pose the characters in action. Two face plates with pre-painted eyes are included as well. Effect parts for recreating the characters' Quirks are also included.
Trade-paperbacks of the Week!
SPIDER-MAN BY MCFARLANE OMNIBUS HC BLCK COST DM VAR NEW PTG 75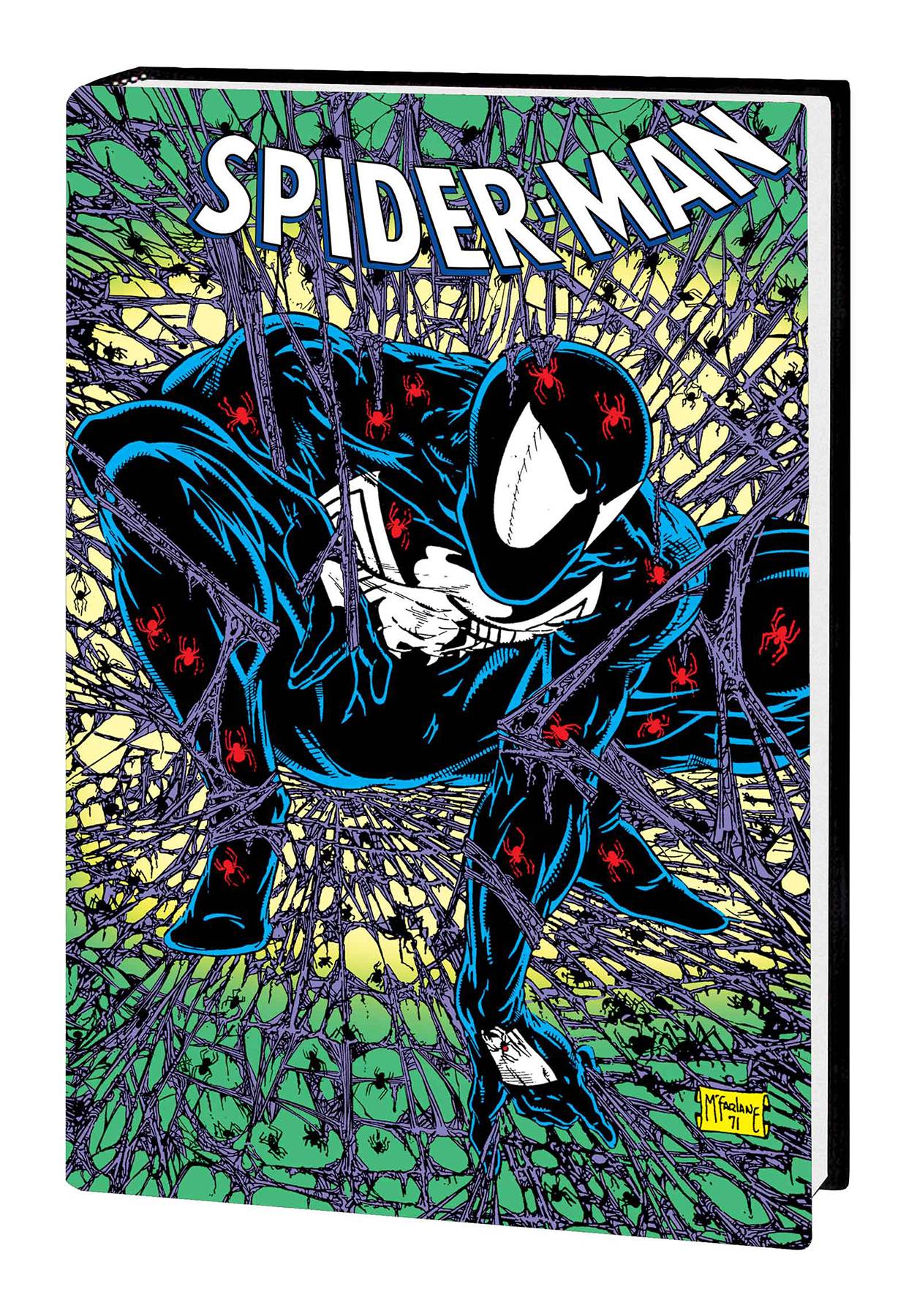 BATMAN IN THE FIFTIES TP 29.99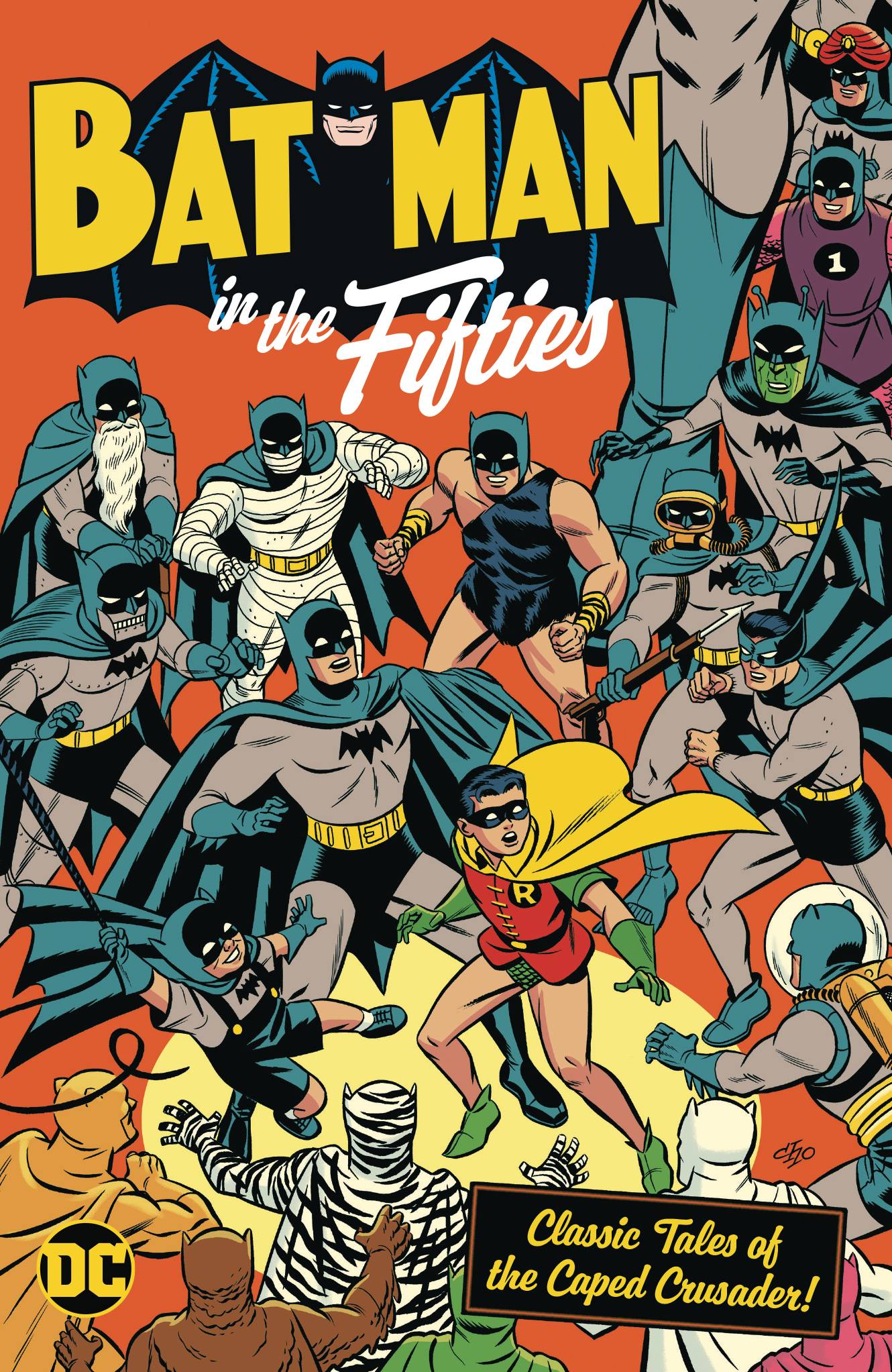 The most memorable Batman stories from the 1950s are collected in this new title.

The 1950s was a decade of change for the Dark Knight Detective, one that introduced new friends–and foes! These tales include the debuts of Deadshot, future member of the Suicide Squad; the original Batwoman, Kathy Kane; Mr. Zero, who would go on to greater fame as the nefarious Mr. Freeze; the original Red Hood; and the pesky interdimensional pixie known as Bat-Mite. This was also an era of great inventiveness, with tales that revealed how Batman's own father, Thomas Wayne, was once a Batman himself; how Batman became a Superman-like hero on the distant planet Zur-En-Arrh; the secrets of Batman's utility belt; and the introduction of an all-new Batmobile.


JOKER HARLEY CRIMINAL SANITY HC 34.99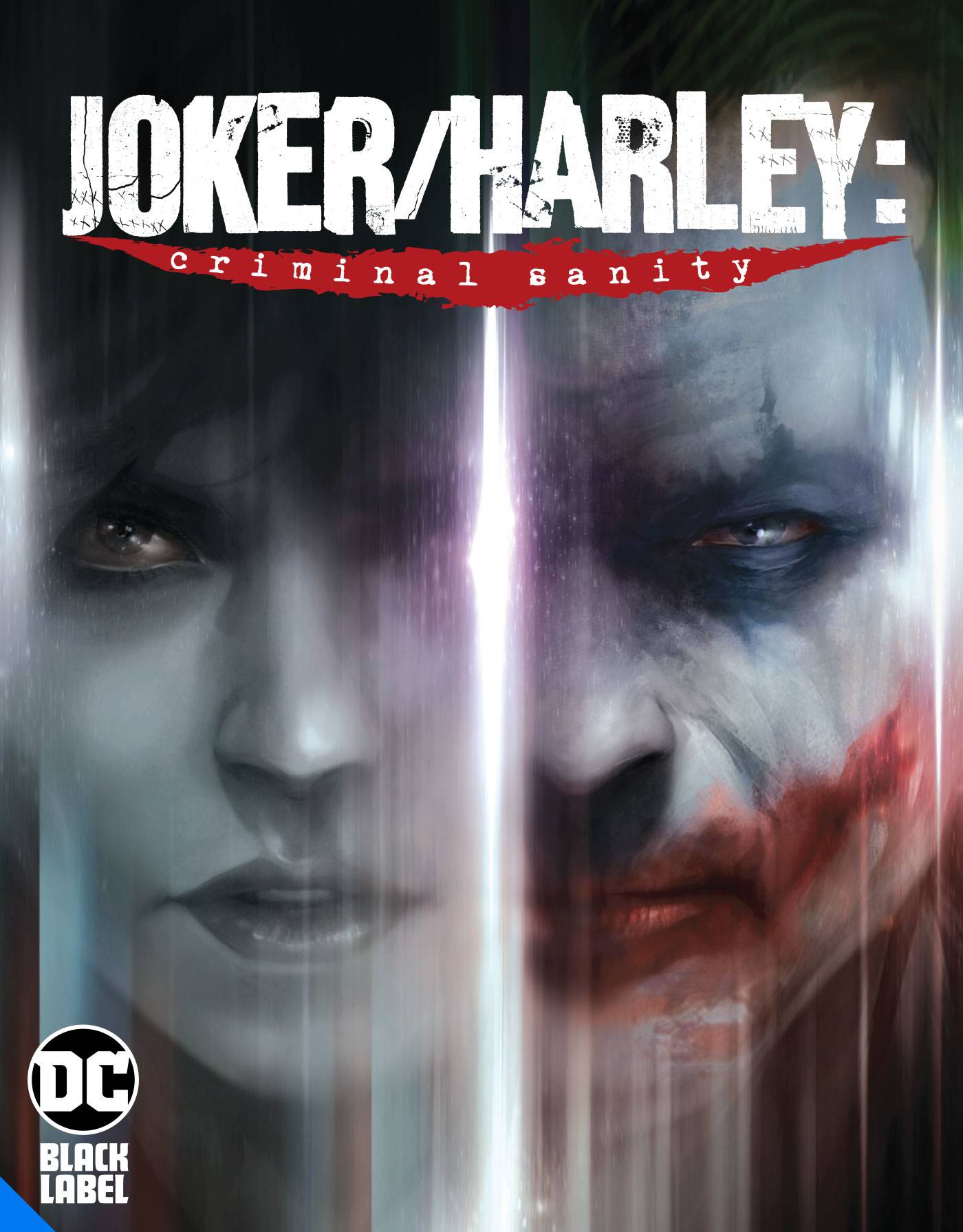 COMICS-TOYS-GRAPHIC NOVELS-POP CULTURE ITEMS ARRIVING THIS WEEK!


AMAZING FANTASY #3 POSTER 11.99
AMAZING SPIDER-MAN #73 BALDEON HANDBOOK VAR SINW 3.99
AMAZING SPIDER-MAN #73 SINW 3.99
ARMY OF DARKNESS 1979 #1 CVR A ALEXANDER 3.99
ARMY OF DARKNESS 1979 #1 CVR B SUYDAM 3.99
ARMY OF DARKNESS 1979 #1 CVR C YOON 3.99
AVENGERS TECH-ON #2 (OF 6) 3.99
AVENGERS TECH-ON #2 (OF 6) MOMOKO VAR 3.99
B&V FRIENDS FOREVER HALLOWEEN SPOOKTACULAR #1 2.99
BARBARIC #3 3.99
BASKETFUL OF HEADS TP 17.99
BATMAN #112 CVR A JORGE JIMENEZ 4.99
BATMAN #112 CVR B JORGE MOLINA 5.99
BATMAN BRAVE & THE BOLD BRONZE AGE OMNIBUS HC VOL 03 99.99
BATMAN CATWOMAN #7 (OF 12) CVR A CLAY MANN 4.99
BATMAN CATWOMAN #7 (OF 12) CVR B JIM LEE & SCOTT WILLIAMS 4.99
BATMAN FORTNITE ZERO POINT HC 24.99
BATMAN IN THE FIFTIES TP 29.99
BLACK COTTON #5 (OF 6) 3.99
BLACK MANTA #1 (OF 6) CVR A VALENTINE DE LANDRO 3.99
BLACK MANTA #1 (OF 6) CVR B SANFORD GREENE CARD STOCK VAR 4.99
BLUE & GOLD #2 (OF 8) CVR A RYAN SOOK 3.99
BLUE & GOLD #2 (OF 8) CVR B JASON HOWARD THE SUICIDE SQUAD 4.99
BORUTO GN VOL 12 NARUTO NEXT GENERATIONS 9.99
CANTO III LIONHEARTED #3 (OF 6) 3.99
CAPTAIN AMERICA REMENDER OMNIBUS HC ROMITA JR CVR 125
CAPTAIN TSUBASA POP UP PARADE TSUBASA OZORA PVC FIG 49.99
CHAMPIONS #9 3.99
CHILDS PLAY CHUCKY BEACH TOWEL 19.99
CINNAMON #2 (OF 3) 3.99
CITY OF DRAGONS GN VOL 01 AWAKENING STORM 12.99
CONAN THE BARBARIAN #25 4.99
CONAN THE BARBARIAN #25 BLANK VAR 4.99
CONAN THE BARBARIAN #25 MOMOKO VAR 4.99
CONAN THE BARBARIAN #25 MR GARCIN VAR 4.99
CONAN THE BARBARIAN #25 PANOSIAN VAR 4.99
COSMIC GHOST RIDER OMNIBUS HC VOL 01 CAMPBELL CVR 100
CREATURE FROM THE BLACK LAGOON BEACH TOWEL 19.99
CRUELER THAN DEAD GN VOL 01 12.99
CRUSH & LOBO #4 (OF 8) CVR A AMY REEDER 3.99
CRUSH & LOBO #4 (OF 8) CVR B PAULINA GANUCHEAU 4.99
CUPHEAD TP VOL 02 CARTOON CHRONICLES & CALAMITIES 10.99
DANCING WITH DRAGON #1 (OF 4) 3.99
DAREDEVIL #34 3.99
DAREDEVIL #34 LIEFELD DEADPOOL 30TH VAR 3.99
DAREDEVIL #34 MILES MORALES 10TH ANNIV LOPEZ VAR 3.99
DC HEROES BATMAN SKYLINE 36IN CANVAS WALL ART 50
DC HEROES JUSTICE LEAGUE 19IN WOOD WALL ART 29.99
DC HEROES WONDER WOMAN 15.5IN CANVAS WALL ART / 34.99
DC HORROR PRESENTS THE CONJURING THE LOVER #4 (OF 5) CVR A SIENKIEWICZ 3.99
DC HORROR PRESENTS THE CONJURING THE LOVER #4 (OF 5) CVR B BROWN 4.99
DC MULTIVERSE 7IN SCALE SHRIEK AF
DC SUPER HERO GIRLS GHOSTING TP 9.99
DEADBOX #1 CVR A TIESMA 3.99
DEADBOX #1 CVR B HOWELL 3.99
DEADLY CLASS #48 CVR A CRAIG & LOUGHRIDGE 3.99
DEADLY CLASS #48 CVR B ANDOLFO 3.99
DEADPOOL BLACK WHITE BLOOD #2 (OF 5) 4.99
DEADPOOL BLACK WHITE BLOOD #2 (OF 5) JOHNSON VAR 4.99
DEATH OF DOCTOR STRANGE #1 POSTER 11.99
DEEP BEYOND TP VOL 01 16.99
DEFENDERS #2 (OF 5) 3.99
DEFENDERS #2 (OF 5) QUINONES VAR 3.99
DEFENDERS #2 (OF 5) RODRIGUEZ TEASER VAR 3.99
DEMON DAYS CURSED WEB #1 POSTER 11.99
DRAGON BALL SUPER GN VOL 14 9.99
EC ARCHIVES SHOCK SUSPENSTORIES TP 19.99
ELRIC DREAMING CITY #2 3.99
ELVIRA MEETS VINCENT PRICE #2 CVR A ACOSTA 3.99
ELVIRA MEETS VINCENT PRICE #2 CVR B SAMU 3.99
ELVIRA MEETS VINCENT PRICE #2 CVR D PHOTO 3.99
EMPOWERED OMNIBUS TP VOL 03 34.99
EVE #5 (OF 5) 3.99
EXCALIBUR #23 3.99
EXCALIBUR #23 RUAN VAR 3.99
EXCELLENCE #11 CVR A RANDOLPH & LOPEZ 3.99
EXTREME CARNAGE TOXIN #1 3.99
EXTREME CARNAGE TOXIN #1 JOHNSON CONNECTING VAR 3.99
EXTREME CARNAGE TOXIN #1 TAN VAR 3.99
EXTREME CARNAGE TOXIN #1 YOUNG VAR 3.99
FANTASTIC FOUR OMNIBUS HC VOL 03 KIRBY DM VAR NEW PTG 125
FANTASTIC FOUR OMNIBUS HC VOL 04 KIRBY DM VAR 100
GOONIES ILLUSTRATED STORYBOOK 18.95
GORGO ATTACKS SC TP 29.95
GREEN LANTERN #6 CVR A BERNARD CHANG 4.99
GREEN LANTERN #6 CVR B BRYAN HITCH 5.99
GREEN LANTERN 2021 ANNUAL #1 CVR A BERNARD CHANG 5.99
GREEN LANTERN 2021 ANNUAL #1 CVR B DAVID NAKAYAMA 6.99
GRIMM FAIRY TALES #51 CVR A VITORINO 3.99
GRIMM FAIRY TALES #51 CVR B GOH 3.99
GRIMM FAIRY TALES #51 CVR C TAO 3.99
GRIMM FAIRY TALES #51 CVR D VIGONTE 3.99
GUNDAM INFINITY GUNDAM ARTEMIS 4.5 IN AF
GUNDAM INFINITY GUNDAM RX-78-2 4.5 IN AF
GUNDAM INFINITY WING GUNDAM 4.5 IN AF
HAIKYU GN VOL 45 9.99
HALLOWEEN 2 BEACH TOWEL 19.99
HELM GREYCASTLE #4 (OF 4) 4.99
INFERNO #1 BY MARK BROOKS POSTER 11.99
INFINITE FRONTIER #6 (OF 6) CVR A MITCH GERADS 4.99
INFINITE FRONTIER #6 (OF 6) CVR B BRYAN HITCH 5.99
IRON MAIDEN TROOPER 1000 PC PUZZLE 17.99
JOKER HARLEY CRIMINAL SANITY HC 34.99
JOKER PRESENTS A PUZZLEBOX #2 (OF 7) CVR A CHIP ZDARSKY 4.99
JOKER PRESENTS A PUZZLEBOX #2 (OF 7) CVR B SHAWN CRYSTAL 5.99
JUSTICE LEAGUE INFINITY #3 (OF 7) 3.99
KA-ZAR LORD SAVAGE LAND #1 (OF 5) 3.99
KA-ZAR LORD SAVAGE LAND #1 (OF 5) CABAL VAR 3.99
KA-ZAR LORD SAVAGE LAND #1 (OF 5) GARCIA MAP VAR 3.99
KA-ZAR LORD SAVAGE LAND #1 (OF 5) LIEFELD DEADPOOL 30TH VAR 3.99
KA-ZAR LORD SAVAGE LAND #1 (OF 5) MOMOKO VAR 3.99
KA-ZAR LORD SAVAGE LAND #1 (OF 5) SILVA STORMBREAKERS VAR 3.99
KA-ZAR MARVEL TALES #1 7.99
KISS PHANTOM OBSESSION #2 CVR A LEE 3.99
KISS PHANTOM OBSESSION #2 CVR B SAYGER 3.99
KISS PHANTOM OBSESSION #2 CVR C SEELEY 3.99
KISS PHANTOM OBSESSION #2 CVR D CELOR 3.99
KISS PHANTOM OBSESSION #2 CVR E PHOTO 3.99
LA MUERTA LIVES TP VOL 02 19.95
LADY DEATH SCORCHED EARTH #2 (OF 2) RAW ED 25
LAST BOOK YOULL EVER READ #2 CVR A LEIZ 3.99
LAST BOOK YOULL EVER READ #2 CVR B HICKMAN 3.99
LAST BOOK YOULL EVER READ #2 CVR C BLACK BAG VAR 5.99
LAST BOOK YOULL EVER READ #2 CVR D BLACK BAG VAR 5.99
LAST FLIGHT OUT #1 (OF 6) 3.99
LAST WITCH GN 14.99
LOCUST #3 (OF 8) 3.99
LOKI OMNIBUS HC VOL 01 BROOKS CVR 125
LOKI OMNIBUS HC VOL 01 SEVERIN DM VAR 125
MALIKA WARRIOR QUEEN TP VOL 01 24.99
MAMO #3 (OF 5) 4.99
MAN AND HIS CAT GN VOL 04 12.99
MARVEL PORTFOLIO HC INHYUK LEE 50
MARVEL WANDAVISION SPECIAL FOC SC VAR 14.99
MARVEL WANDAVISION SPECIAL PX 14.99
MARVEL WANDAVISION SPECIAL SC 14.99
MASS EFFECT LEGENDS PUZZLE 22.00
MASTERS OF THE UNIVERSE REVELATION #3 (OF 4) CVR A WILKINS 3.99
MASTERS OF THE UNIVERSE REVELATION #3 (OF 4) CVR B 3.99
MAZEBOOK #1 (OF 5) CVR A LEMIRE 5.99
MAZEBOOK #1 (OF 5) CVR B SORRENTINO 5.99
ME YOU LOVE IN THE DARK #2 (OF 5) 3.99
MIGHTY MMW AVENGERS COMING AVENGERS GN TP VOL 01 CHO CVR 15.99
MIGHTY MMW AVENGERS COMING AVENGERS GN TP VOL 01 ORIG DM VAR 15.99
MIGHTY MORPHIN #11 CVR A LEE 3.99
MIGHTY MORPHIN #11 CVR B LEGACY VAR CARLINI 3.99
MIRKA ANDOLFOS UNSACRED HC VOL 02 24.99
MONSTER ART OF BASIL GOGOS 2ND ED HC W DUSTJACKET 99.95
MOONSHINE #27 3.99
MS MARVEL STRETCHED THIN GN 12.99
MY HERO ACADEMIA MODEROID IZUKU MIDORIYA PLASTIC MDL KIT
MY HERO ACADEMIA GN VOL 29 9.99
NBX COOKBOOK & ENTERTAINING GUIDE HC 29.99
NEXT BATMAN SECOND SON HC 24.99
NICE HOUSE ON THE LAKE #4 (OF 12) CVR A ALVARO MARTINEZ BUENO 3.99
NICE HOUSE ON THE LAKE #4 (OF 12) CVR B TIFFANY TURRILL 4.99
NINE STONES #1 3.99
NOT ALL ROBOTS #2 3.99
OLD GUARD TALES THROUGH TIME #4 (OF 6) 3.99
ORDINARY GODS #3 3.99
PIXAR LITTLE GOLDEN BOOK LIBRARY 25.95
PLUS SIZED ELF GN VOL 07 12.99
POP TV QUEENS GAMBIT BETH FINALE VINYL FIGURE 11.99
POP TV QUEENS GAMBIT BETH W/ TROPHIES VINYL FIGURE 11.99
REDSHIFT #2 (OF 6) 3.99
REINCARNATED AS A SWORD GN VOL 07 12.99
SAVAGE AVENGERS #24 3.99
SEARCH FOR HU #1 4.99
SENGI AND TEMBO TP 14.99
SENSATIONAL WONDER WOMAN #7 CVR A NICOLA SCOTT & ANNETTE KWOK 3.99
SENSATIONAL WONDER WOMAN #7 CVR B TULA LOTAY 4.99
SEVEN TO ETERNITY TP VOL 04 16.99
SHANG-CHI #4 3.99
SHANG-CHI #4 CLARKE MILES MORALES 10TH ANNIV VAR 3.99
SHEPHERD PATH OF SOULS #1 3.99
SIX SIDEKICKS OF TRIGGER KEATON #4 CVR A SCHWEIZER 3.99
SIX SIDEKICKS OF TRIGGER KEATON #4 CVR B ALLISON 3.99
SNELSON COMEDY IS DYING #2 (OF 5) CVR A FRED HARPER 3.99
SPIDER HAM GREAT POWER NO RESPONSIBILITY GN 8.99
SPIDER-MAN BY MCFARLANE OMNIBUS HC BLCK COST DM VAR NEW PTG 75
SPIDER-MAN BY MCFARLANE OMNIBUS HC RED BLUE COST CVR NEW PTG 75
SPIDER-MAN BY MCFARLANE OMNIBUS HC WOLVERINE DM VAR NEW PTG 75
SPIDER-MAN JUMPING 16IN WOOD WALL ART 24.99
SPIDER-MAN VENOM JUMPING 16IN WOOD WALL ART 24.99
STAR TREK LINE UP 30IN WOOD WALL ART 29.99
STAR TREK MIRROR WAR #0 CVR A NIETO 3.99
STAR TREK MIRROR WAR #0 CVR B EBENEBE 3.99
STAR WARS ADVENTURES (2021) #9 CVR A FRANCAVILLA 3.99
STAR WARS ADVENTURES (2021) #9 CVR B DEVAUN DOWDY 3.99
STAR WARS DOCTOR APHRA #14 SPROUSE LUCASFILM 50TH VAR WOBH 3.99
STAR WARS DOCTOR APHRA #14 VILLANELLI BLUEPRINT VAR WOBH 3.99
STAR WARS DOCTOR APHRA #14 WOBH 3.99
STAR WARS THE MANDALORIAN IG-11 SCENE 13IN WOOD ART 50
STAR WARS THE MANDALORIAN SCENE 12.5IN WOOD WALL ART 24.99
STAR WARS WAR BOUNTY HUNTERS #4 (OF 5) 3.99
STAR WARS WAR BOUNTY HUNTERS #4 (OF 5) BLUEPRINT VAR 3.99
STAR WARS WAR BOUNTY HUNTERS #4 (OF 5) JTC ACTION FIGURE VAR 3.99
STEPHEN MCCRANIES SPACE BOY OMNIBUS TP VOL 01 19.99
STRANGER THINGS LIBRARY ED HC VOL 01 39.99
SUICIDE SQUAD #7 CVR A EDUARDO PANSICA 3.99
SUICIDE SQUAD #7 CVR B KEVIN MAGUIRE 4.99
SUICIDE SQUAD 2021 ANNUAL #1 CVR A EDUARDO PANSICA 5.99
SUICIDE SQUAD 2021 ANNUAL #1 CVR B GERALD PAREL 6.99
SUICIDE SQUAD GET JOKER #2 (OF 3) CVR A ALEX MALEEV 6.99
SUICIDE SQUAD GET JOKER #2 (OF 3) CVR B JORGE FORNES 6.99
SWAMP THING #7 (OF 10) CVR A MIKE PERKINS 3.99
SWAMP THING #7 (OF 10) CVR B FRANCESCO MATTINA 4.99
SW DARTH MAUL PASSENGER WINDOW DECAL 19.99
SW JAR JAR BINKS WINDOW DECAL 8.99
SW LEIA ORGANA REBEL LEADER HOLOGRAPHIC DEVICE DECAL 8.99
SW MANDALORIAN BOBA FETT RE-ARMORED PASSENGER WINDOW DECAL 19.99
SW MANDALORIAN FROG LADY DEVICE DECAL 8.99
SW MANDALORIAN HELMETS AND TRADING CARDS DEVICE DECALS 8.99
SW MANDALORIAN MANDALORIAN PASSENGER WINDOW DECAL 19.99
SW THE MANDALORIAN SUNSET WITH GROGU 6.5IN WOOD ART 15.99
SWEAT AND SOAP GN VOL 05 12.99
THE BEATLES YELLOW SUBMARINE BEACH TOWEL 19.99
THE ORPHAN KING GN VOL 01 (C: 0-1-0) 16.99
TMNT ULTIMATES WAVE 3 APRIL ONEIL ACTION FIGURE
TMNT ULTIMATES WAVE 3 METALHEAD ACTION FIGURE
TMNT ULTIMATES WAVE 3 MICHELANGELO ACTION FIGURE
TMNT ULTIMATES WAVE 3 ROCKSTEADY ACTION FIGURE
TREASURE IN THE LAKE GN 12.99
TROVER SAVES THE UNIVERSE #2 (OF 5) 3.99
UNBELIEVABLE UNTEENS WORLD OF BLACK HAMMER #2 (OF 4) CVR A 3.99
UNBELIEVABLE UNTEENS WORLD OF BLACK HAMMER #2 (OF 4) CVR B 3.99
WHISTLE A NEW GOTHAM CITY HERO TP 16.99
WHITE ASH TP SEASON 1 19.99
WITCHBLOOD #6 CVR A STERLE 3.99
X-FACTOR BY LEAH WILLIAMS TP VOL 02 15.99
X-FORCE #23 3.99
X-FORCE #23 SKAN VAR 3.99
YAKUZA LOVER GN VOL 02 9.99
ZELDA HYRULE MAP 1000 PC PUZZLE 17.99